Of course, most travellers in Mauritius have been lured by thebeautiful stretches of coastline, the warm ocean, plentifulsunshine, numerous watersports, and high-quality resorts. However,things to see and do in Mauritius extend far beyond its white sandbeaches and clear turquoise waters.
See a replica of the legendary Dodo at Port Louis' NaturalHistory Museum, and explore the Central Market, a bustling hub ofculture, colour, and bargains. Visitors also enjoy the impressiveand historic manor houses in Moka and take in Chamarel's rainbow ofcoloured sands, the 'Seven Coloured Earth'.
Black River Gorges National Park is great for picnics, hikingand scenic drives and is home to wonderful waterfalls and wildlife,while La Vanille Reserve des Mascareigne is home to thousands ofcrocodiles and giant tortoises.
It is well worth taking excursions inland to learn about theisland's interesting history and culture, and to see how localMauritians live outside of the fancy beach resorts. Learning thelocal Sega dance is a delight for visitors, and it is particularlyspecial to seek out night spots frequented by locals rather thanjust sticking to the resort entertainment. Its lovely weather makesMauritius a perfect year-round holiday destination.
Port Louis Central Market
The diversity of the Mauritian population is never more obviousthan during a visit to the lively, bustling and colourful CentralMarket in Port Louis, accessed from Farquhar Street, near theharbour. When you enter take note of the intricate ironwork on thegates, erected in 1844, and dedicated to Queen Victoria. Inside themarket you will find a whirl of Muslim traders, swarthy Indiantouts, Chinese and Creoles, all demanding attention as they offertheir wares. You can buy almost anything in the market includingfresh produce, clothes, crafts, art and souvenirs. Textiles, carvedwooden figurines, essential oils and spices are all good buys. Itis advisable to visit the market early, before the heat of the daydescends (it opens at 6am every day including Sundays), and beprepared to have your senses assailed with a variety of odours fromthe fruit, herbs, spices, potions, lotions and various other goodsoffered for sale. Visitors will be expected to haggle and should befirm but friendly; as many of the stalls sell the same merchandiseit is always a good idea to compare prices before settling.Tourists are generally charged far more than locals and having alocal friend along is a big asset.
Address:
Corderie St, Port Louis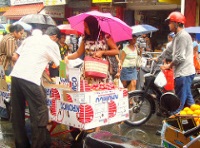 Port Louis Central Market Evan Bench
Blue Penny Museum
The lively Caudan Waterfront in Port Louis features the BluePenny Museum, which is primarily devoted to Mauritian art andhistory, but whose place of pride is given to two of the rareststamps in the world: the Mauritian 1847 'Post Office' Penny Red andTwopence Blue, estimated to be worth more than US$1 million apiece.Mauritius was the fifth country in the world to begin issuingpostage stamps, back in 1847, and some of the few remaining earlyisland stamps are now highly valued around the world. The museum isrun by the Mauritius Commercial Bank, which formed a consortium oflocal companies to purchase the stamps at an auction in Switzerlandin 1993, and bring them home for posterity. The originals arehoused in the museum but are not always on display; forpreservation purposes the Blue Penny Museum also displays replicas.There is a gift shop at the museum which sells all sorts ofsouvenirs - the shop has some wonderful merchandise but it isrelatively expensive. Tours of the museum are available and takebetween 30 and 90 minutes. It is a small museum and is notinteractive or particularly exciting but it is well-organised andhas some fascinating exhibits for visitors interested in artefactsof this sort.
Address:
Caudan Waterfront, Port Louis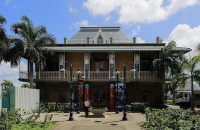 Blue Penny Museum Martin Falbisoner
Royal Botanical Gardens of Pamplemousses
About seven miles (11km) northeast of Port Louis, and easilyreached by regular buses, lies one of the island's premier touristattractions, the Pamplemousses Gardens (now officially called theSir Seewoosagur Ramgoolam Botanical Gardens, in honour of the latePrime Minister, but still colloquially referred to by theiroriginal name). The gardens are enclosed by beautiful wrought ironrailings which are today in disrepair but when first manufacturedin 1862 won a prize at an international exhibition at CrystalPalace in London. The gardens were first laid out in 1735 around amansion house called Mon Plaisir as a vegetable garden to supplyships calling at Port Louis. Later the house was bought byhorticulturalist Pierre Poivre, who introduced plant species fromaround the world interspersed with indigenous species.
The garden is redolent with the perfume of fruit and spicetrees, and the 24 hectares (60 acres) also sport a collection ofstately palms, ebony, mahogony, latania and pandanus. A greatattraction is a pond full of the Giant Amazon water lily. There aresome animals in the gardens, including giant tortoises. There areusually guides available to give informative tours of the gardensfor those who are interested, but it is also just a charming placeto stroll or picnic, particularly on hot days when the shade andgreenery is refreshing.
Address:
Pamplemousses, Mauritius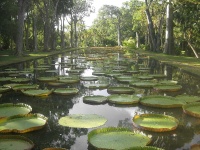 Lilies at the Gardens ofPamplemousses Condem
Casela Park
Home to nearly 150 species of birds, including ostriches andflamingos, Casela Park is a paradise for birdwatching in Mauritius.The park opened in 1979, and is home to many other kinds of animalsas well, including zebras, giant tortoises, lions, monkeys,cheetahs, tigers, and various antelope. There are several differentways to explore the 14-hectare grounds of Casela, and visitors willenjoy exciting modes of transportation like ziplines, segways, quadbikes, and hanging bridges. The park is very family-friendly andthere are programmes for kids and teenagers, as well as a pettingfarm and restaurant. Kids will love being able to hand feed animalsand pet them and the whole family can enjoy game safaris. The parkis perhaps most celebrated for its big cats and going walking withlions or petting a cheetah is indeed a once in a lifetimeexperience; sometimes there are even cubs to meet and cuddle. Someof the animals are kept in cages, but those visitors who disapproveof animals kept in captivity can avoid this section and still enjoysafaris to see the animals that roam the territory. The parkappeals to people of all ages and it can easily keep visitorsoccupied for a full day of fun.
Address:
Royal Road, Cascavelle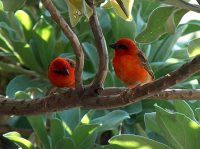 Casela Bird Park Mohammed Al-Naser
Seven Coloured Earth
Promoted as Mauritius' first attraction back in the1960s and located on the island of Chamarel, the Seven ColouredEarth is a magical sight and still quite a mysterious phenomenon.The Seven Coloured Earth is a geological formation of sand dunescomprised of seven distinct colours which give the rolling dunes afantastical, psychedelic look. The colours are usually defined asred, brown, violet, green, blue, purple, and yellow. These warmcolours are all the more striking in contrast to the bright greenof the surrounding forest. The dunes are also interesting in thatthey never seem to erode, despite the tropical storms which lashthe region. The sands have formed from the decomposition ofvolcanic rock and the colours can be traced back to certain mineraldeposits and varying stages of decomposition, but the phenomenonthat keeps the vivid colours so resolutely separate is still notcompletely understood. Visitors can no longer climb on the dunes,which are now protected by a wooden fence and ringed by a woodenboardwalk. The estate which houses the sands is full of lovely lushvegetation and there are some dramatic waterfalls to check outnearby. You can buy test tubes of the colourful sand at a number ofgift shops and stalls in the area. Visitors should note that theweather and time of day plays a role in how dramatic the colourslook - they often look best at sunrise.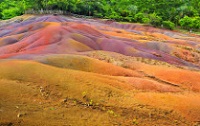 Seven Coloured Earth llee_wu
Rodrigues Island
Sometimes called the 'Cinderella of the Mascarenes', Rodriguesis a tiny island roughly 348 miles (560km) east of Mauritius, and apopular excursion from there. The island is volcanic in origin andis surrounded by stunning coral reef; there are some even smaller,uninhabited islands off the coast. The reef that fringes Rodriguesforms a calm lagoon, which shelters the inlets and beaches of theisland and creates wonderful conditions for swimming andsnorkelling. There are some glorious little beaches to lounge on.Less touristy than the resort towns of Mauritius, Rodrigues Islandoffers visitors a glimpse of a simpler and more authentic way oflife. The island itself is scenic, with unspoiled flora and faunaoffering good opportunities for bird-watching, hiking, fishing, andexploring the wonderful caves. It is the only island in thearchipelago that has extensive limestone deposits and caves.Rodrigues has a unique environment and a number of endemic species,including the critically endangered Rodrigues flying fox. Althoughit was once a district of Mauritius, Rodrigues became an autonomousregion of Mauritius in 2002. The best way to get to RodriguesIsland is by plane from Port Louis to Plaine Corail Airport.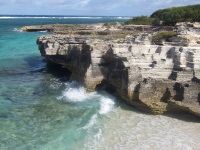 Rodrigues Island Bruno Navez
Ganga Talao
Located in a secluded mountain area in the district of Savanne,and bordering a national park, Ganga Talao (or Grand Bassin) is acrater lake considered to be the most sacred Hindu site inMauritius. According to legend, Lord Shiva and his wife Parvatiwere travelling over Mauritius carrying the Ganges River, and a fewdrops spilled and formed Ganga Talao. On the shores of the lake isa temple dedicated to Shiva, and a number of other shrines, andevery year many Hindus from around Mauritius make a pilgrimage tothe site, often walking barefoot from wherever they live. One ofthe main sights at Ganga Talao is the 108-foot (33m) statue of LordShiva in the middle of the lake which is the tallest statue on theisland, and an exact replica of the Shiva statue of Sursagar Lakein Vadodara, Gujarat, India. The lake, deep in the heart ofMauritius, is a popular attraction and has become quite commercial,with plenty of stalls selling souvenirs and snacks. It is nestledin a picturesque mountainous area and is well worth a stop if youare in the region. Be careful of the monkeys who are residentaround the lake and temple; although they provide visitors withendless entertainment they are also liable to steal anything youleave unattended.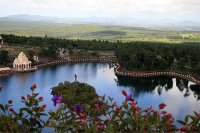 Ganga Talao Girish10
Mauritius has only two seasons, with minimal differences betweenthem, making it a perfect year round destination. Summer runs fromNovember to April, with temperatures reaching as high as 93ºF(34ºC) on the coast.
Humidity is highest from December to April but is neverunbearable, particularly on the coast where there is an almostconstant sea breeze. The northeast (around Grand Baie) is moreprotected from the southeast trade winds.
Cyclones, with strong winds and heavy rain, can occur betweenJanuary and March. Mauritius will normally experience about threeor four cyclones a year during this period, each usually lasting acouple of days, and flooding can result.
During winter, the temperature drops a few degrees; however,there is still plenty of sunshine and it is a very pleasant time ofyear to visit. Sea temperatures vary between 75ºF (24ºC) in thewinter and 82ºF (28ºC) in the summer.
The peak holiday season runs from October to April, with hotelprices dropping over the winter months. If you plan to visit duringpeak season be sure to book accommodation far in advance to avoiddisappointment. To avoid the rainy season, visit anytime betweenApril and December.
Sir Seewoosagur Ramgoolam InternationalAirport
Location:
The airport is 26 nautical miles (48km) southeast of PortLouis.
Time:
Local time is GMT +4
Getting to the city:
There are three bus services that operate to and from SSRInternational Airport: Bus 09, Bus 10, and Bus 198. Buses arefairly frequent but the journey takes over an hour to most majordestinations on the island; passengers should factor this in totheir travel time. Taxis are also available.
Car Rental:
Car hire companies Budget, Europcar, and Hertz are representedat the airport.
Airport Taxis:
Taxis wait outside the terminal, and the journey into Port Louistakes around 45 minutes.
Fascilities:
The airport has a currency exchange office and banks. There areduty-free shops in the arrival and departure lounges, and variousother shops. There is a spa, post office, a children's corner, anda variety of restaurants and bars.
Parking
Parking at Sir Seewoosagur Ramgoolam International Airport costsMUR 30 for one hour, MUR 60 for two hours and MUR 90 for threehours. Parking for 24 hours costs MUR 180 and it costs MUR 90 forevery day thereafter.
Money:
The currency of Mauritius is the Mauritian Rupee (MUR), which isdivided into 100 cents. Foreign currency can be exchanged at banks,bureaux de change and larger hotels. ATMs are widely available inmost big towns and some hotels, and major restaurants and largeretailers accept major credit cards.
Language:
English is the official language of Mauritius, but themost widely used language is French and the local dialect, Creole.Hindi, Urdu, and Chinese are also spoken.
Electricity:
Electrical current is 230 volts, 50Hz. Squarethree-pin plugs and round two-pin plugs are commonlyused.
Entry Requirements:
US citizens must have a passport that is valid for the period ofintended stay in Mauritius. No visa is required for stays of up to90 days.
British citizens must have a passport that is valid for theperiod of intended stay in Mauritius. No visa is required forholders of British passports for stays of up to 90 days,irrespective of the endorsement regarding their national stuatuscontained therein.
Canadian citizens must have a passport that is valid for theperiod of intended stay in Mauritius. No visa is required for staysof up to 90 days.
Australian citizens must have a passport that is valid for theperiod of intended stay in Mauritius. No visa is required for staysof up to 90 days.
South African citizens must have a passport that is valid forthe period of intended stay in Mauritius. No visa is required forstays of up to 90 days.
Irish citizens must have a passport that is valid for the periodof intended stay in Mauritius. No visa is required for stays of upto 90 days.
US citizens must have a passport that is valid for the period ofintended stay in Mauritius. No visa is required for stays of up to90 days.
New Zealand citizens must have a passport that is valid for theperiod of intended stay in Mauritius. No visa is required for staysof up to 90 days.
Passport/Visa Note:Visa:
All foreign passengers to Mauritius must hold (i) a confirmedbooking for accommodation in Mauritius, (ii) return or onwardtickets to their country of origin or residence, (iii) thenecessary travel documentation for their next destination, and (iv)sufficient funds to cover their expenses while in the country (aminumum of USD 100 per day). Note that the final decision to admitany passenger into Mauritius rests solely with the ImmigrationAuthorities, and that any visitor who remains in Mauritius afterexpiry of the period granted on their visa or entry permit, shallbe deemed to have committed an offence, and shall be liable forprosecution by a Court of Law. A yellow fever vaccinationcertificate is required to enter Mauritius, if arriving within 10days of leaving or transiting through an endemic area. NOTE: It ishighly recommended that your passport has at least six monthsvalidity remaining after your intended date of departure from yourtravel destination. Immigration officials often apply differentrules to those stated by travel agents and official sources.
Travel Health:
No vaccination certificates are required for entry intoMauritius, unless travelling from a country infected by yellowfever or where yellow fever is classified as endemic. Vaccinationsare usually recommended for hepatitis A and hepatitis B.
It's also a good idea to pack shoes that can be worn in the seato protect against sharp coral, sea urchins and stonefish.Stonefish stings are uncommon but can in some cases be fatal. Youshould obtain urgent medical attention if stung; many hotels stockanti-venom serum.
Visitors should take precautions against mosquito bites, asthere have been several cases of the Chikungunya virus, which isspread by mosquitoes, although this is more common from October toMay. Malaria medication may also be necessary, if visiting ruralareas. Travellers should stick to bottled water. Medical facilitiesare good and free in public hospitals, but private clinics areexpensive and medical insurance is recommended.
Medications are usually easily available, but for peace of mindit is better to take any prescription medication with you, in itsoriginal packaging, with a signed and dated note from your doctordetailing what it is and why you need it. Note that visitors canbring common medicines for personal use into the country but mustcarry a copy of the prescription and proof that the drugs have beenobtained legally. Other drugs like tranquillisers, hypnotics,narcotics, and other strong pain killers will require priorauthorisation.
Tipping:
Tipping in Mauritius is discretionary. However, some extra moneypaid for services, such as a taxi ride, waitering or cleaning, isappreciated. In the hotels travellers can add around five percentof their incidental expenses when paying the bill on departure, ifservice has been good. Government tax is added to all hotel andrestaurant bills and this is included in the basic price. However,all incidental hotel expenses will incur tax, which is generallyincluded in the price quoted.
Safety Information:
Mauritus is generally regarded as a safe country but visitorsshould take regular precautions against petty crime. Avoid walkingalone in unfamiliar areas at night and keep valuables out of sightat all times. Visitors should be aware of pick pocketing in thecentral market in Port Louis. Care should be taken of bags andvaluables when visiting popular tourist areas such as Pereybere,Grand Baie, Flic en Flac, and Tamarin.
Local Customs:
Homosexuality is not technically illegal in Mauritius, butsodomy is and it is best to exercise discretion as the locals aresometimes conservative. Penalties for drug trafficking and use aresevere, and any personal medicinal drugs should be covered by aprescription. Scheduled drugs, such as tranquillisers, morphine,and other strong painkillers require by law authorisation beforeimport.
Business:
Port Louis is the main business hub of Mauritius. Standardbusiness practice applies to the island: punctuality and politenessis important, handshakes and the exchanging of business cards takesplace at meetings, and business attire is worn.
It is, however, possible to be somewhat more casual in terms ofdress and visitors can take the cue from their hosts. Lightweightmaterials are recommended due to the tropical climate. Businesshours vary, but most businesses are open at least from 9am to 4pmMonday to Friday, with some businesses open for a half-day onSaturdays.
Communications:
The international access code for Mauritius is +230. The wholeisland is covered by the mobile network; the local mobile phoneoperators use GSM and 3G networks, which are compatible with mostinternational operators.
Duty Free:
Travellers to Mauritius over 18 years do not have to pay duty on200 cigarettes or 50 cigars or 250g tobacco; 1 litre spirits and 2litres of wine, ale or beer; perfume and eau de toilette forpersonal use. Prohibited items include sugarcane and fresh fruitfrom parts of Asia. Other prohibited items include dangerous drugs,obscene literature, and pornographic materials.
Port Louis boasts some fantastic attractions to keep touristsoff the beaches, offering lots to see and do away from the sand andsea.
One of the most popular spots to visit is the Champs de Marsracecourse, which is one of the oldest in the world, havingcelebrated its first race in 1812. A day at the horse races iswonderful fun when staying in Port Louis.
The Blue Penny Museum is the cultural and historical highlightof the Caudan Waterfront and contains two of the oldest and rarestpostage stamps in the world; this attraction will only be ofinterest to serious culture vultures, but it is a well-organisedand interesting attraction.
The town also offers a plethora of shopping opportunities,including malls, street-side shops, and vendors, as well asbustling markets. Within the crush of the busy Port Louis CentralMarket, visitors can buy all sorts of treasures, making it adefinite win for shopaholics.
A stroll and picnic in the Royal Botanical Gardens ofPamplemousses is also something to do in town, and there are someworthwhile inland excursions from the city, like a trip to the oldsugar cane estate of Domaine Les Pailles.
And then, of course, there are the beaches. The tourist hubs ofGrand Baie and Flic en Flac, with their long white beaches, calmwaters, and coral reefs are close to Port Louis and are a greatfavourite with visitors.
Travellers in Port Louis will find themselves getting around alot of the town by foot, as none of the distances are too great.Taxis are readily available and efficient, and are easilyrecognisable by their yellow signs. Car rental agencies such asHertz can be found throughout the town for visitors wanting toexplore the island themselves.
Beaches in Mauritius
The beaches of Mauritius are close to perfect, with fine whitesand and clear water running to heavenly shades of blue. Some ofthe island's best beaches, on the west coast, are easily reachedfrom Port Louis. Flic en Flac is the longest beach in Mauritius andfeatures a beautiful lagoon. Grand Baie, 12 miles (20km) to thenorth of the capital, is a major tourist centre, offeringwatersports, shops, nightlife, and restaurants to complement itssplendid beach and deep sheltered bay. Also on the north coast roadis Pereybere, one of the island's favoured swimming spots. Close toPereybere visitors can find the gorgeous little beach, La Cuvette,which is a weekend favourite with locals. The Baie du Tamarin is atthe mouth of the Tamarin River, in a beautiful setting, and ispopular for surfing, with Indian Ocean rollers washing the beachall year round. In the southwest is Le Morne Brabant, characterisedby a basaltic outcrop and beaches shaded by casuarinas and coconuttrees. Snorkellers enjoy Trou-aux-Biches which has shallow watersand coral reefs. On the peaceful east coast of the island you'llfind Constance Belle Mare Plage, a long stretch of beach which isideal for watching sunrises and sunsets. Another east coastfavourite is Roche Noires, named for the dramatic black volcanicrocks that line the water. The east coast is great for sailing.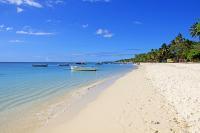 Trou-aux-Biches, Mauritius Romeodesign
Domaine Les Pailles
A short taxi ride to the south of Port Louis is the Domaine LesPailles cultural centre and nature park, covering more than 1,500hectares (3,707 acres) in the foothills of the Moka Mountains andoffering plenty of entertainment for visitors. The centre was oncea sugar cane estate and some of the 18th-century features can stillbe seen. Activities include horse-drawn carriage and train rides,viewing a working replica of an ox-powered sugar mill, a rumdistillery museum, exploring a herb garden and natural spring, andadventure safaris into the mountains in 4x4 vehicles. There is alsoan onsite horse riding centre, several restaurants, a jazz club anda casino. The centre is a wonderful excursion for familiestravelling in Mauritius with children; the perfect place to enjoy along, drawn-out meal while the children scamper all over the lovelygrounds. Visitors should note, however, that Domaine Les Paillesdoesn't always offer all the tours and activities listed above,especially outside of the peak tourist season. It is best to phoneahead to find out what's on offer at any given time, and to seewhich of the four restaurants are open, to avoid disappointment.The drive from Port Louis to the estate takes only ten minutes.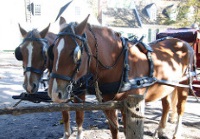 Horse-drawn carriage Joe Ross
Ile Aux Cerfs
The small island of Ile aux Cerfs (Stag Island), off the eastcoast of Mauritius, is one of the country's most popular touristdestinations, managed by the adjacent Touessrok Hotel, but open tothe public. The island, featuring splendid tropical vegetation andencircled by magnificent sandy beaches, can be reached by boat fromthe small fishing village of Trou d'eau Douce. The boat trip onlytakes about 15 minutes. The island is equipped with a number ofbars, restaurant, and shops, as well as watersports facilitiesincluding parasailing, waterskiing, windsurfing, and glass bottomedboat trips. There is also a coral reef and lagoon which are perfectfor snorkelling. The recent, and somewhat controversial,development on the island is an 18-hole Bernhard Langer designedchampionship golf course, which affords a sea view from each holeand promises the novelty of hitting a tee-shot over a natural seainlet onto the fairway. Although there are many activities onoffer, it is also possible to just wander along the idyllic beachesand enjoy sunbathing, swimming, and picnicking. The beach near thelanding jetty is usually quite crowded but a short stroll willreveal more secluded slices of paradise.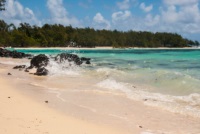 Ile aux Cerfs, Mauritius Sandy Marie
Black River Gorges National Park
Situated in the southwest of the island, the Black River GorgesNational Park is a popular spot for picnics, hiking and scenicdrives. The park encompasses thick pine forests, gorges and ruggedmountains and is a sanctuary for local flora and fauna. In fact,the park protects much of the island's remaining rainforest andsome of Mauritius's endemic species, including the Mauritian flyingfox. Bird-watchers will love the park and should look out for theMauritius kestrel, the green echo parakeet and the Mauritius cuckooshrike. The park's Chamarel Waterfalls are the highest in Mauritiusat 83m (270ft) and are best seen after heavy rains. The bestviewpoints are at the Alexandria Falls or the Black River Gorgesviewpoint. Cars cannot enter much of the park, which has beendesigned primarily for walkers, with 37 miles (60km) of hikingtrails. Cars can be safely left in the car park though. Trails varyin length and difficulty and there are two visitor centres wheretourists can get maps and advice. There are usually souvenir andsnack stands at the popular viewing points, but the best way toenjoy the park is to come prepared with a packed picnic and enjoyone of the lovely picnic spots.
Address:
B103 - Plaine Champagne Road, Mauritius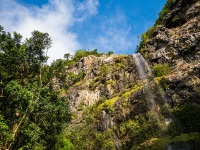 Black River Gorges National Park Ludovic Lubeigt
La Vanille Reserve des Mascareigne
La Vanille Reserve des Mascareigne is a nature reserve in theunspoilt south of Mauritius, best known for its thousands ofcrocodiles and giant tortoises, which they are helping reintroduceto the island of Rodrigues. Reptiles in the park include Nilecrocodiles, iguanas, caimans, geckos, chameleons, and tortoises,and there are also monkeys, bats, mongooses, wild boars, and somedomestic farm animals for children to meet. The park boasts a hugepopulation of butterflies and an insectarium as well. Many of theanimals are kept in enclosures and cages, making it more of a zoothan a nature reserve, but the animals seem well cared for and thebreeding programmes are for conservation purposes. The enormoustortoises, which roam freely, are a highlight, and kids can rideand feed them. The vegetation in the park is lush and there is someinteresting flora to investigate, and plenty of shade. Guides areavailable to show visitors around and give information on thevarious animals. There is a children's playground area, a shopselling souvenirs (including crocodile skin products), and arestaurant which serves crocodile steak, among other things. LaVanille Reserve des Mascareigne is a wonderful attraction forfamilies visiting Mauritius.
Address:
Riviere des Anguilles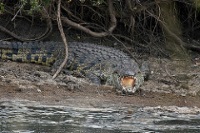 Nile Crocodile Anita Ritenour
Souillac
The small seaside resort of Souillac is situated along therugged coast in the southern Savanne district. The appeal ofSouillac lies in its scenery, as it is not a bathing spot. Instriking contrast to the soft curves of the northern coastline, thehigh cliffs here drop abruptly to the sea to face the bracing windsof the Indian Ocean, which seem to blows all year round. Thedramatic Gris-Gris cliffs are constantly smashed by waves (they arecalled the weeping cliffs - Roche qui Pleure - as a result) andtourists flock to the area to enjoy the rugged coastline. Souillacdeveloped around, and was named after, the port built by theFrench, which gave the area strategic importance. Later, theEnglish also relied heavily upon the port for the transport oftrade goods, but after the introduction of railways to the island,in about 1877, the port gradually went into decline. Places ofinterest in Souillac for tourists include the Telfair Garden, whichis wonderful for picnics, the old port area, the Gris-Gris cliffs,and the beautiful Rochester Falls. There are some great restaurantsin the town and good accommodation for visitors. Souillac isspecial because it allows visitors to experience a different,wilder side of Mauritius.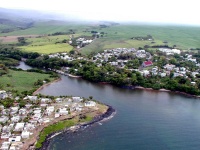 Souillac Arasennaik