Martinique offers travellers a seductive mix of stunningbeaches, tropical gardens and French charm, promising lazy days onthe beach, good quality accommodation, acclaimed diving sites, anda dose of culture. Fort de France is the capital and a worthwhilestop for tourists. Other popular destinations on the island includevolcano-ravished Saint-Pierre, the resort town of Pointe Du Bout,and the quaint coastal villages of Sainte-Anne andGrand-Riviere.
Top tourist attractions on Martinique include the BalataBotanical Gardens near Fort de France, the Musee de la Pagerie,birthplace of Napoleon's Empress Josephine, and the active MountPelee Volcano which destroyed Saint-Pierre in 1902, an eventcommemorated in the Volcanological Museum. There are many lovelyhikes on the island, including La Caravelle Nature Trail in themangroves of eastern Martinique. Of course, the most famousattractions are the beaches, with Les Salines and Anse Mitan beingparticular favourites.
Sainte-Anne
One of the most popular tourist spots in Martinique, Sainte-Anneis a convenient access point for the beautiful beaches of thesouthern tip of the island. The town is arguably the prettiest onthe island and offers a few good restaurants and hotels, whilestill maintaining rustic charm. The most popular beach inSainte-Anne is Les Salines, only a five-minute drive from the city.Les Salines is stunning and has good facilities like snack stands,public restrooms, and showers. The only downside to Les Salines isthat it can be very overcrowded in peak season and on weekends - soit is better to visit during the week to avoid the crowds.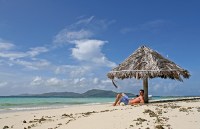 Sainte-Anne, Martinique Håkon Thingstad
Les Trois-Ilets
Across the bay from Fort de France, Les Trois-Ilets is awell-developed resort area which is home to a casino as well asmany shops and restaurants. Nearby attractions include the whitesandy beaches and resorts of Pointe du Bout and Anse Mitan, thechampionship golf course, and the Musée de La Pagerie, thebirthplace of Josephine Bonaparte. There are also many interestingcultural attractions in Les Trois-Ilets, including museums ofcoffee and cocoa, slavery, and military history. There is alsoample opportunity to organise outdoor activities like mountainbiking, hiking, horseback riding, kayaking, sailing, and otherwater sports. The best way to get to Les Trois-Ilets is by ferryfrom Fort de France.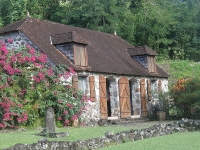 Musee de la Pagerie, Martinique Thérèse Gaigé
Le Diamant
Le Diamant is a scenic resort area dominated by the574-foot (175m) Diamond Rock, the remnants of a volcano destroyedby erosion. Diamond Rock is a small uninhabited island known forthe strategic role it once played in the Napoleonic Wars, when aBritish garrison fortified it for control over the channel, usingthe caves to shelter troops. Le Diamant offers some of the bestscuba diving in Martinique. Great dive sites include the triangularcavern beneath Diamond Rock itself, but as the currents can betreacherous this is not a dive for beginners. The area also hassome beautiful beaches, including Grande Anse du Diamant, wherevisitors will find a number of good restaurants and a shoppingcentre.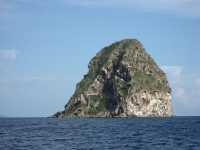 Diamond Rock, Martinique Apmarles
Fort de France has a tropical rainforest climate with year-roundprecipitation. The coolest part of the year lasts from lateDecember to the beginning of March: maximum temperatures generallyhover around 82°F (28°C) with little variation, while lowtemperatures are usually around 72°F (22°C) and rarely drop below68°F (20°C).
The warmest part of the year lasts from late July to lateOctober, with temperatures peaking in September at around 88°F(31°C) while minimum temperatures are rarely lower than 75°F(24°C). Moderate rain is known to occur throughout the year, withthunderstorms occasionally occurring in the warm season. As aresult of Fort de France's warm, wet conditions humidity remainshigh throughout the year.
The average monthly temperatures in Martinique are surprisinglyconstant, with little seasonal variation. This stability is due tothe refreshing breezes that blow from the northeast, known as thetrade winds . The dry season is December through May, whileJune through November is the more humid and damp season. However,rain showers can occur at any time throughout the year.
Average air temperatures in coastal regions range from 72ºF to86ºF (22ºC - 30ºC), while the inland areas average from 66ºF to81ºF (9ºC - 27ºC). The warm coastal waters average between 68ºF and74ºF (20ºC and 23ºC) all year. Hurricanes may occur any time fromJune to the end of November and are most common in September.
Martinique Aimé Césaire InternationalAirport
Location:
The airport is located about six miles (9km) southeast ofFort de France.
Time:
Local time is GMT -4.
Getting to the city:
Taxi and shuttle services are available at the aiport and can beorganised through hotels.
Car Rental:
Car rental agencies are available and companies include Avis,Auloc, Enterprise, Budget, National/Citer, Europcar, Hertz, Rent aCar, Payless, Jumbo Car, and Thrifty.
Airport Taxis:
Licensed taxis are available outside Arrivals, near Exit D.
Fascilities:
Airport facilities include a pharmacy, a medical centre, atobacconist, banks, money changing services, souvenir shops andtax-free shopping, a florist, restaurants, cafés, and bars.Facilities for the disabled are available.
Parking
There are open-air and guarded car parks at the airport and feesvary between each lot. In P1, parking is free for the first 5minutes and then charged at €1 for 15 minutes, €6 for 2 hours and€125.50 for up to 24 hours. Prices in P2 are much lower forlong-term parking. Payment for parking may be made by cash orcard.
Money:
The local currency is the Euro (EUR), but US Dollars and majorcredit cards are also widely accepted.
Language:
French is the official language of Martinique, butAntillean Creole (Creole Martiniquais) is mostly spoken amongislanders. English is typically spoken only in the larger hotelsand tourist areas.
Electricity:
Electrical current in Martinique is 220 volts, 50Hz.European round pin attachment plugs are in use.
Entry Requirements:
US citizens must have a passport that is valid for the period ofintended stay in Martinique. No visa is required for stays of up to90 days.
British citizens must have a passport that is valid for theperiod of intended stay in Martinique. No visa is required forholders of British passports endorsed British Citizen. OtherBritish passport holders are generally exempt for a maximum stay of90 days.
Canadian citizens must have a passport that is valid for theperiod of intended stay in Martinique. No visa required for staysup to 90 days.
Australian citizens must have a passport that is valid for theperiod of intended stay in Martinique. No visa is required forstays of up to 90 days.
South African citizens must have a passport that is valid forthe period of intended stay in Martinique. A visa is required.
Irish citizens must have a passport that is valid for theduration of intended stay in Martinique. No visa is required.
US citizens must have a passport that is valid for the period ofintended stay in Martinique. No visa is required for stays of up to90 days.
New Zealand citizens must have a passport that is valid for theperiod of intended stay in Martinique. No visa is required forstays of up to 90 days.
Passport/Visa Note:Visa:
Martinique is part of the French West Indies. All foreignpassengers to Martinique must hold a return or onward ticket, thenecessary travel documentation for their next destination, andsufficient funds to cover their expenses while in the country.Schengen visas are also valid for travel to Martinique, providedthey are endorsed as such. Note that a yellow fever vaccinationcertificate is required to enter Martinique if arriving in thecountry within six days of leaving or transiting through aninfected area. NOTE: It is highly recommended that your passporthas at least six months validity remaining after your intended dateof departure from your travel destination. Immigration officialsoften apply different rules to those stated by travel agents andofficial sources.
Travel Health:
Medical and health care facilities in Martinique are on a parwith those of France and are considered to be some of the best inthe French West Indies. Specialist treatment is also available.There are around 20 hospitals and clinics located on the island,including 24-hour emergency facilities. Travellers should be up todate on common vaccinations like hepatitis A and hepatitis B,tetanus, and MMR (measles, mumps, rubella) before travelling toMartinique, but no vaccinations are required by immigrationofficials. Medical insurance is advised.
Tipping:
As in France, tips are usually included in restaurant bills inMartinique and taxes and service charges are included in hotelrates.
Safety Information:
There is very little crime in Martinique but visitors shouldtake sensible precautions and avoid isolated areas after dark, andnot carry large amounts of cash or jewellery. Valuables and traveldocuments should, where possible, be left in safety deposit boxesand hotel safes.
Local Customs:
Unlike many tropical islands, Martinique has a thriving economyand is not solely dependent on tourism. Relaxed, informal clothingis acceptable around town, but scanty beach wear is consideredimproper in urban areas. The only officially designatedclothing-optional beaches in the French islands are in Guadeloupeand St. Martin, but at hotel pools and at private beaches nearhotels in Martinique topless swimming and sunbathing is common.
Communications:
The international dialling code for Martinique is +596. Theoutgoing code is 00 followed by the relevant country code (e.g.0044 for the United Kingdom). The island is covered by mobilenetworks, with coverage generally very good, althoughexpensive.
Wifi is freely available at all hotels, cafes, restaurants andguesthouses.
Duty Free:
Those travelling to Martinique may import the following goodsduty-free: 200 cigarettes, or 100 cigars (non-cuban), 250g tobacco,two litres of liquor, and perfume, gifts and film in amountsreasonable for personal use. Currency must be declared onarrival.