While on holiday in Malta, there are variouswonderful things to see and do, as well as beautiful island beachesto enjoy. Visit St John's Co-Cathedral to see Caravaggio's paintingand the inlaid tombstones covering the floor in this celebratedplace of worship.
Still in Valletta, the Malta Experience illustratesthe history of Malta at the Mediterranean Conference Centre. TheThree Cities are home to architectural displays of the island'smaritime history, while Hagar Qim boasts a prehistoric templecomplex, including the oldest human structures in the world.
Visit Marsalforn for great restaurants and bars ordive into the 'blue hole' at the Azure Window's secluded pebbledbathing pool. There is a wealth of historical sightseeing fortourists, and combined with the hedonistic glories of theMediterranean coast makes Malta a superb travel destination.
Getting around in Malta is easy thanks to the cheapand reliable public bus system which has an unexpected charm due tothe use of vintage buses. Services radiate from Valletta, so youmay find yourself doubling back to get to other destinations.
The buses can be uncomfortable in extreme heat sincenone are air-conditioned. But the short rides make it bearable. Youcan pick up schedules at terminals or on the buses themselves. Youcan also take the white taxis that will transport you anywhere onthe island.
Having said that, local pre-booked black cabs arecheaper. Hiring a car in Malta is another option, and you can do soat many hotels, harbours, and the airport. Another pleasanttransport alternative is hiring a bike, which you can do inValletta.
St Johns Co-Cathedral
Valletta's magnificent medieval cathedral is famousfor the painting by Caravaggio, which hangs in its oratory, and the369 inlaid mosaic marble tombstones that cover the floor. Eachtombstone depicts the lives of the Grand Masters of the Order of StJohn, buried beneath.
The façade is rather sever and militaristic. Yetinside, the cathedral is lavishly splendid in the grandesttradition of high Baroque. Carvings cover every each of wall, whilethe vaulted ceiling sports paintings depicting the life of St Johnthe Baptist, patron saint of the Knights.
The cathedral benefitted greatly over the centuriesfrom many donations given by the Knights and their Grand Masters.Some of the most impressive works of art were gifts from the order.It's still an active place of worship, with frequent services, andalso operates as a beautiful venue for cultural events.
The stunningly ornate cathedral is an exceptionalsight and a must for tourist in Malta. Guided tours and rentedaudio guides help to greatly enrich the experience. Travellersshould be sure to check the website for visiting hours to avoiddisappointment.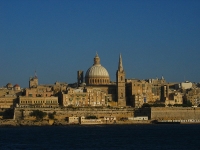 View of St John's Cathedral Briangotts
Palace of the Grandmaster
The Grandmaster's Palace, built around 1571, today serves as theoffice of the President and seat of the Maltese Parliament. Whenparliament is not in session, the palace and its State Rooms areopen to the public.
The palace is a treasure trove of art, from the uniquecollection of Gobelin Tapestries to frescoes depicting the GreatSiege of 1565 by Perez d'Aleccio that cover the walls of the Hallsof St Michael and St George.
The Knights decorated the palace richly and elaborately,conscious of showing off their wealth and influence. For visitors,exploring splendid chambers like the Hall of the Supreme Council ofthe Knights is thrilling.
Visitors can also view the Armoury and state apartments adornedwith friezes depicting the history of the Order of the Knights ofSt John. The Armoury is perhaps the greatest attraction of thepalace and it boasts one of the largest collections of its kind inthe world.
Malta has a tumultuous history and the Armoury holds theassorted weaponry of centuries of invasions, sieges, and battles,making it a paradise for military history buffs. Guided tours areavailable and wonderful audio guides offer comprehensivecommentary.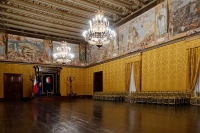 Throne Room Marie-Lan Nguyen
National Museum of Archaeology
The National Museum of Archaeology in Valletta houses one of theinns of the Knights of St John: the Auburge de Provence. Theestablishment's focus on Malta's prehistory includes displays suchas the reconstruction of prehistoric remains found at theHypogeum.
Pottery, sculptures, statuettes, stone tools, and jewellery fromthe prehistoric, megalithic, and temple-building periods feature.Punic and Roman tomb furniture are also present, with all exhibitssourced from excavations across the Maltese islands. The age ofsome artefacts is staggering.
Only those interested in archaeology will fully appreciate thewonders on offer, its treasures wasted on those easily bored byancient histories and cultures. Young children especially shouldgive it a skip. The collection is well-maintained and labelled,with exhibitions in chronological order.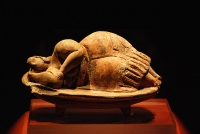 Sleeping Lady at the National Museum ofArchaeology Jvdc
Lascaris War Rooms
Valletta suffered great damage during World War IIbombing raids. The war defence of Malta took place in the LascarisWar Rooms, with the island always holding a strategic militaryimportance far out of proportion to its size,
Some of the most famous battles fought in theMediterranean during the war were coordinated from theseheadquarters, a 17th-century underground complex of tunnels andchambers. Now restored, it acts as a museum with displays ofcharts, models, and dioramas.
It's fascinating to see all the old wartimeparaphernalia and to explore the once top secret military operatingrooms. Guides are enthusiastic and well-informed volunteers whogreatly enrich the experience. Tours are conducted in English andtake 75 minutes, after which visitors can freely stroll thegrounds.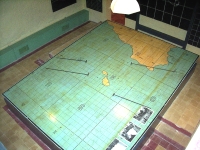 Lascaris War Rooms Charlie Dave
Malta Experience
The Malta Experience is a dramatic presentation that illustratesthe history of Malta, from Neolithic to modern times. Shown at theMediterranean Conference Centre at St Elmo's bastion in Valletta,the building originally served as a hospital by the Knights of StJohn in the 1500s.
Wards are now great sweeping halls with vaulted ceilings andmarble floors, functioning as exhibition areas. A modern theatrethe Malta Experience audio-visual show in 17 differentlanguages.
The show is a sweeping expose of 7,000 years of history coveringthe original stone-age inhabitants, the Phoenicians, the Romans,the Knights of St John, and the nation's modern history. It is asentertaining as it is educational.
Indeed, the Malta Experience is a great way to begin a holidayin Malta as it provides an overview of the archipelagos' dramatichistory and greatly enriches the sightseeing to come. This isparticularly useful as not all sites on the islands have detailedinformation for tourists.
The documentary also offers great insight into the Malteseculture and people. About 45 minutes long, the Malta Experience isimmensely popular and more than four million visitors have seen itsince its opening.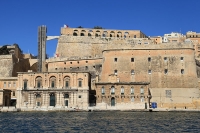 Valletta Frank Vincentz
Three Cities
Malta's main maritime towns have merged into afortified conglomerate known as the Three Cities, resting on thepromontories opposite Valletta. Vittoriosa is the oldest town inMalta after Mdina, featuring plenty of historical architecture,including several of the Inns of the Knights of St John.
There is also a hospital built by the Order in 1672,in which still lives a Benedictine convent of devout nuns. Datingfrom 1274, Fort St Angelo is the oldest fortified part ofVittoriosa and stands at the tip of the promontory. Additionally,the Museum of Maritime History is well worth a visit.
Founded in 1717, Cospicua is the youngest of theThree Cities and features some fascinating churches. Senglea,designed by Grand Master De La Sengle in 1551, exists as animportant pilgrimage destination. Its parish church contains astatue of Christ the Redeemer, said to have miraculous powers.
There are many great restaurants and bars in theThree Cities and the marina area is becoming increasingly popular.The best way to explore is on a walking tour, wandering through theold districts and discovering unexpected joys and treasures.
Apart from the rich history, the Three Cities arefamous for their residents' enthusiastic celebration of holy daysand festas. The most exciting of these is the Easter procession,when status of Jesus Christ are carried at a run through crowdedstrets.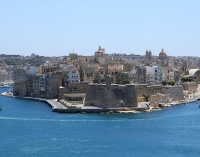 Senglea Frank Vincentz
Hal Saflieni Hypogeum
Just southwest of the Three Cities in the suburb ofPaolo, the Hypogeum is a labyrinthine limestone complex of man-madechambers extending some 36 feet (11m) below the surface. Expertsbelieve it was a burial site and temple for Neolithic humans whoused antlers and stones to carve it out more than 5,000 yearsago.
It's comprised of several interconnecting chambers onthree distinct levels. Used over a span of many centuries, theoldest remains at the site date back to about 4,000 BC. The site isa UNESCO World Heritage Site.
Archaeologists have recovered numerous statues,amulets, figurines, and vases, many of which are on display in theArchaeological Museum in Valletta. The Hypogeum has been open tothe public since 1908 and the droves of visitors have unfortunatelyhad a negative impact on the ancient environment.
Now, only eight tours a day take place with 10 peoplepermitted on each tour. They are often booked up weeks in advanceso tickets should be booked early to avoid disappointment. Thetours are more or less an hour long and provide audio guides.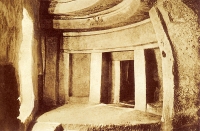 Hypogeum of Hal Saflieni Richard Ellis
Hagar Qim
Haqar Qim is a prehistoric temple complex located in westernMalta. Discovered in 1839, it dates back to around 3,000 BC andboast some of the oldest human structures on the planet. The HagarQim and nearby Mnajdra ruins are close to the village of Qrendi,about nine miles (15km) southwest of Valletta.
The megalithic temples are carved from giant limestone slabs,housing sacrificial altars, oracular chambers, and carved animalsand idols, themselves fashioned by flint and obsidian. The largestmegalith is 23 feet (7m) high and weighs about 20 tons.
Although the ancient ruins of Malta are generally calledtemples, very little is actually known about their purpose. Many ofthe relics recovered from the Hagar Qim site, including the famousVenus of Malta and her accompanying fat lady statues, are ondisplay in the National Museum of Archaeology in Valletta.
Unlike some of the other temples on Malta, Hagar Qim has animpressive visitors' centre that offers plenty of backgroundinformation through interactive displays. While there are sheltersaround the site to protect one from the elements, they hardlydetract from the otherworldly experience of the ruins.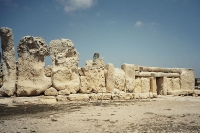 Hagar Qim ERWEH
The Citadel
A good place to begin exploring Gozo is the Citadel,or Citadella, an historic castle right in the centre of Victoria.The area that is now the Citadel was first fortified around 1500BC, with further developments occurring under Phoenician and Romanrule.
Up until the 18th century, it was the only fortifiedrefuge against attack for Gozo's inhabitants. From the ramparts ofthis fascinating sanctuary, visitors can admire sweeping views ofthe whole islands. Happily, the Citadel houses a number ofattractions and makes for an exciting visit.
The Gozo Museum of Archaeology, found just inside thewalls of the Citadel, is a 17th-century building that wasoriginally the town hall. It provides great insight into thehistory of the island, also illustrating the cultural history ofGozo from prehistoric times to the early modern era.
Presented chronologically, this collection covers theNeolithic Period, the Phoenicians, the Romans, medieval times, andthe emergences of the Knights of St John. The Citadel also housesthe spooky Old Prison, which is now a museum.
One of the Citadel's greatest treasures is thebeautiful 17th-century Baroque cathedral. The Citadel could easilykeep tourists occupied for a few hours with the views alonejustifying a visit.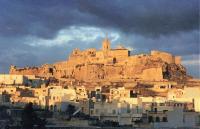 Ggantija Temples
Sometime between 4,100 BC and 2,500 BC,Pre-Phoenician Gozitans carved two massive megaliths into templeswhich now stand as mysterious monuments to a bygone age. Legend hasit that they were transported to the island by a giantess calledSansuna, hence the site's name: Ä gantija.
Large stones balls in the area have ledarchaeologists to conclude that the massive blocks were rolled intoplace. Two temples have a common façade but each has a separateentrance. Inside the walls, animal sacrifices occurred duringritual observances.
The temples, along with other similar complexes onthe main island of Malta, are documented as the oldestfree-standing structures in the world. For this reason, theextremely impressive Ä gantija Temples are a famous UNESCO WordHeritage Site.
But the site is not equipped with as much informationas some visitors might desire. It's best to do some researchbeforehand or to join a guided tour as added knowledge greatlyenriches the Ä gantija experience.
Address:
Temples Street, Xaghra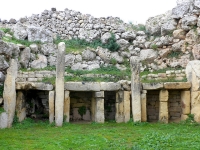 Ggantija Temples Jennifer Morrow
Caves of Xaghra
The alabaster caves at Xaghra feature amazing stalactites andstalagmites. One of them, named Calypso Cave, has an importantplace in Greek mythology and overlooks the red sand of Gozo's bestbeach, Ramla Ihamra.
The grotto is believed to be the one referred to in Homer'sOdyssey as being where the beautiful nymph, Calypso, kept Odysseusfor seven years. Visitors have fantastic views over the bay whilebelow remains a fortification built by the Knights of St John.
Two other caves worth visiting at Xaghra are Xerri's Grotto andNinu's Grotto, both geologically magnificent. Discovered by localfamilies whilst digging wells on their properties, visiting thecaves requires knocking on their doors and descending through theirhouses.
The families are very friendly and happily show visitors around.Children enjoy exploring the caves and are recommended attractionsfor those travelling in Malta with kids or to anybody interested inthe geology of the region.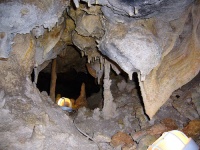 Caves Heini Samuelsen
Azure Window
A marvellous Maltese treat, the Azure Window is adistinctive rock formation forming a large arch over the brilliantblue waters of the Mediterranean Sea. Formed when several enormouscaves collapsed, it's often been a perfect location for filmshoots.
Located in Gozo, near the tourist village of Dwejra,the Azure Window is a popular scuba diving site in Malta.Unfortunately, tourists aren't allowed to walk across the arch dueto erosion, with the site in danger of falling apart altogether. Ifthis happens, it will be renamed the Azure Pinnacle.
This coastline boasts many secluded pebbled bathingpools and crystal clear water. The strange formations formed inlovely little pools makes swimming exciting, providing enjoyablediving in the blue hole near the Azure Window.
The area's most famous formation is Fungus Rock, found near theentrance to a black lagoon. Heavily guarded during the era of theKnights of Malta because of a special plant with healing propertieswhich grew upon it, stealing the plant meant death penalty.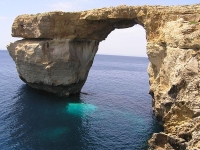 Azure Window anjab1593
Malta has a typically Mediterranean climate with hot,dry summers and mild winters, very similar to the climate insouthern Italy and Greece. Almost all the rain falls betweenOctober and March, making the rest of the year consistentlydry.
The temperature is fairly constant in Malta and thereare frequent and often strong winds. It is humid throughout theyear, seldom falling below 40 percent. In summer, temperaturesfrequently reach 84ºF (30ºC) and can rise above 95°F (35°C). Butthe sea breezes often temper the heat.
July and August are the hottest months. In spring andautumn, a hot wind known as the Xlokk sometimes brings hightemperatures and humidity while autumn gets sporadic rainfall.Winters are mild, with daytime temperatures seldom falling below50°F (10°C).
Nights are somewhat colder but snow never falls inMalta. The wonderful Mediterranean climate makes Malta a year-roundtravel destination. The peak summer months are predictably the mostpopular with tourists.
But some prefer to visit in spring and autumn,between April and early June or in October, when the heat is lessoppressive. If you are travelling primarily for historicalsightseeing, then winters can be a pleasant time to visit as Maltais less crowded and slightly cheaper.
Malta International Airport
Location:
The airport is situated three miles (5km) southwest ofthe capital, Valletta.
Time:
GMT +1 (GMT +2 from last Sunday in March to thelast Sunday in October)
Getting to the city:
Malta Airport has a system whereby passengers pre-pay beforeboarding a taxi. The taxi booth is situated in the Welcomers Hall,where the fare can be paid in exchange for a voucher that is thenpresentated to the taxi driver. Regular buses X1, X2, X3, and X4operate between the airport and various points in Malta.
Car Rental:
Car rental companies at Malta International include Avis,Budget, First Car Rental, Green Motion, Goldcar, Europcar, Hertz,Thrifty, and Sixt.
Airport Taxis:
Taxi service is available 24 hours a day from MaltaInternational Airport to any destination in Malta. Pre-paidtickets, at fixed rates, can be purchased from the ticket boothinside the Welcomers Hall in Arrivals.
Fascilities:
There are several restaurants, bars, shops and a duty-freeoutlet in the departure area. Banks and 24-hour foreign exchangebureaux are also available at Malta International Airport. Disabledfacilities are good; wheelchairs can be organised through theairlines.
Parking
Short-term parking at Malta International Airport is free forthe first 10 minutes, then charged at €2 for the first hour, €3 fortwo hours, and up to €10 for 12 hours. Any duration after thatcosts €15, the same price of each additional day.
Money:
The currency was changed to the Euro (EUR) in 2008 (Maltese liraare no longer accepted). Banks, ATMs and exchange bureaux can befound all over the islands, as well as foreign exchange machines inthe tourist areas.
Banks generally open mornings Monday to Saturday, but exchangebureaux at the international airport are open 24 hours a day. Mosthotels and restaurants, as well as many shops, accept AmericanExpress, MasterCard, and Visa.
Language:
English and Maltese are the official languages; Italianis also spoken
Electricity:
230 volts, 50Hz. UK-style three-pin square plugs areused.
Entry Requirements:
US citizens must have a passport that is valid for at leastthree months beyond the period of intended stay in Malta. No visais required for stays of up to 90 days within a 180 day period.
British citizens and those with passports endorsed 'BritishSubject' (containing a Certificate of Entitlement to the Right ofAbode issued by the United Kingdom), and 'British OverseasTerritories Citizen' issued by Gibraltar need to have passportsvalid for duration of stay. British passports with any otherendorsement must be valid for three months beyond period ofintended stay.
A visa is not required for passports endorsed 'British Citizen'or 'British Subject' (containing a Certificate of Entitlement tothe Right of Abode issued by the United Kingdom), nor for holdersof identity cards issued by Gibraltar authorities, and endorsed'Validated for EU travel purposes under the authority of the UnitedKingdom'. No visa is required for a stay of up to 90 days within a180 day period, for holders of British passports with any otherendorsement.
Canadian citizens must have a passport that is valid for atleast three months beyond the period of intended stay in Malta. Novisa is required for stays of up to 90 days within a 180 dayperiod.
Australian citizens must have a passport that is valid for atleast three months beyond the period of intended stay in Malta. Novisa is required for stays of up to 90 days within a 180 dayperiod.
South African citizens must have a passport that is valid for atleast three months beyond the period of intended stay in Malta. Avisa is required.
Irish citizens must have a passport that is valid on arrival inMalta. No visa is required.
US citizens must have a passport that is valid for at leastthree months beyond the period of intended stay in Malta. No visais required for stays of up to 90 days within a 180 day period.
New Zealand citizens must have a passport that is valid for atleast three months beyond the period of intended stay in Malta. Novisa is required for stays of up to 90 days within a 180 dayperiod.
Passport/Visa Note:Visa:
The borderless region known as the Schengen Area includes thefollowing countries: Austria, Belgium, Czech Republic, Denmark,Estonia, Finland, France, Germany, Greece, Hungary, Iceland, Italy,Latvia, Liechtenstein, Lithuania, Luxembourg, Malta, TheNetherlands, Norway, Poland, Portugal, Slovakia, Slovenia, Spain,Sweden and Switzerland. All these countries issue a standardSchengen visa that has a multiple entry option, and which allowsthe holder to travel freely within the borders of all theaforementioned countries. Additionally, non-EEA passengers to Maltamust hold return/onward tickets, the necessary travel documentationfor their next destination, and sufficient funds to cover theirexpenses while in the country. For visitors who are visa-exempt,extensions of stay are possible, by reporting to the PoliceHeadquarters in Malta, no later than one week prior to theexpiration of the period of visa exemption. Note that a yellowfever vaccination certificate is required, if arriving within sixdays of leaving or transiting through an infected area. NOTE: It ishighly recommended that your passport has at least six monthsvalidity remaining after your intended date of departure from yourtravel destination. Immigration officials often apply differentrules to those stated by travel agents and official sources.
Travel Health:
There are no health risks associated with travel to Malta, andwater and food is generally safe for consumption. Travellers comingfrom recognised infected areas require a yellow fever vaccinationcertificate to enter Malta.
A reciprocal health agreement exists between the United Kingdomand Malta. As a result, British citizens receive emergency medicaltreatment on the same terms as Maltese nationals on presentation ofa European Health Insurance Card (EHIC).
Visitors should, however, take out adequate medical and travelinsurance in case medical evacuation or further treatment isrequired. Medication should be available in Malta but thoserequiring specific prescription medication should take it with themin the original packaging, accompanied by a signed and dated letterfrom a doctor detailing what the medicine is and why it'srequired.
Tipping:
A gratuity of about 10 percent is expected in hotels andrestaurants if a service charge is not included in the bill. Mostservices are tipped about five to 10 percent (including taxidrivers).
Safety Information:
Malta is very safe for tourists. Crime is rare, though theftfrom parked cars and handbag snatching can occur. Local driving canbe challenging so exercise caution on the roads.
Local Customs:
The wearing of skimpy clothing away from the beaches should beavoided, and dress should be conservative when visitingchurches.
Business:
Business in Malta tends to be conducted in the same fashion aselsewhere in Europe. That is to say, both formally and politely.Punctuality is important while dress should be formal. This means asuit and tie being the norm unless the weather is hot, in whichcase one can forgo the jacket.
Handshakes and the exchanging of business cards take place ongreeting. English is widely spoken in business and so a translatoris unnecessary. Business hours can vary but are usually 8.30am to4.30pm, Monday to Friday. Some businesses open for a half-day onSaturdays.
Communications:
The country code for Malta is +356, and the outgoing code is 00followed by the relevant country code (e.g. 0044 for the UnitedKingdom). City or area codes are not required. Local andinternational telephone calls can be made from hotel rooms, andmost hotels also offer fax and internet access.
GO telecommunications offices also provide these services in themain towns. Comprehensive GSM 900 and 1800 mobile phone networks aswell as nationwide 3G coverage cover the islands.
Duty Free:
Travellers arriving in Malta from non-EU countries do not needto pay customs duty on 200 cigarettes, 50 cigars, 100 cigarillos or250g of tobacco; 4 litres of wine and 2 litres of spirits.Travellers may carry personal items of non-commercial nature worthup to €430 when travelling by air or sea.