Dom Cathedral
Dating back to 1211, the red brick Dom (or Dome) Protestant Cathedral is a highlight of the historic centre of Riga. The cathedral is situated near the Western Daugava River and boasts an incredible organ with over 6,500 pipes built in 1844, stained-glass windows, and a beautifully whitewashed interior. There are regular concerts held on the organ, and the cathedral also has its own boys' choir that gives regular performances. A great historical sight in Latvia, that earns rave reviews from all who experience it. The Dom Protestant Cathedral is a great historical sight in Latvia that earns rave reviews from all who experience it.
Address:
Herdera laukums 6, Centra rajon
Opening time:
Open daily: 10am to 5pm.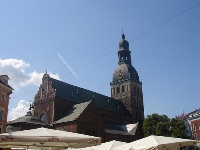 Dom Cathedral anaru
Riga Castle
Riga Castle (or Riga Pils) was built in 1330 on the site of the original settlement of the city as a residence for the master of the Livonian Order, and later it served as the base for the city's occupiers throughout its history. The distinctive yellow castle was destroyed and rebuilt over time, and today it serves as the offices and home of the Latvian president, as well as the Latvian Museum of Foreign Art and the Rainis Museum of Literature and Art History. The castle is strategically placed on the banks of the Daugava, originally in order to oversee all ships entering the city's port, and has four towers and an inner courtyard.
Opening time:
Foreign Art Museum: Open Tuesday to Sunday from 11am to 5pm. The Castle is open daily, though some sections are off-limits to tourists due to the Presidential residence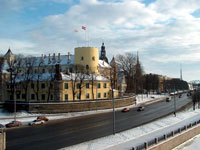 Riga Castle
Open Air Ethnographic Museum
The Open Air Ethnographic Museum is a fascinating reflection of the traditional Latvian way of life. Set on 247 acres (100ha), the museum consists of farmhouses, fishing villages, windmills, and other historic buildings relocated here to create an outdoor exhibit. Visitors to Riga can watch craftsmen at work, sample traditional Latvian cooking and ales, and learn more about the history of this deeply interesting country.
Address:
Brivibas Gatve 440
Opening time:
Open daily from 10am to 5pm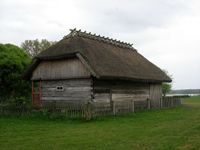 Ethnographic Museum wikipedia.org
Riga Central Market
One of the oldest and biggest of its kind, Riga's Central Market dates back to 1201 and is a riot of sounds, sights, and smells. Anything from fresh fruits, cheeses, and whole sheep carcasses, to appliances, clothing, and CDs are on offer, usually at very reasonable prices. The market was moved from its original home and relocated several times, but since the 1930s has occupied the same space in several World War I hangars, close to the bus and train stations. There is room for over 1,000 vendors, and no visit to Riga is complete without a stroll through its tantalising stalls.
Opening time:
Daily from 7am to 6pm.
The Museum of the Occupation of Riga
Latvia was occupied from 1949 to 1991 by two successive regimes in the forms of Nazi Germany and Soviet Russia. This well-curated museum conveys what life was like during this time, and serves as a memorial to those who died or fled as a result of the occupation. Visitors can view film archives and see a reconstruction of life in the infamous Siberian labour camps. A sobering and humanising experience, highly recommended for those who wish to connect to Latvian culture while on holiday in Riga.
Address:
Raiņa bulvāris 7, Centra rajons
Opening time:
Open Tuesday to Sunday, from 11am to 5pm (October to April); and 11am to 6pm (May to September).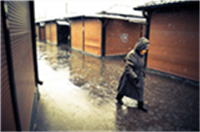 Art Nouveau Architecture
The city of Riga contains the highest concentration of Art Nouveau architecture in the world. Otherwise known as Jugendstil, some of the buildings in central and downtown Riga date as far as the late 19th century. The style is characterised by unusual shapes, curved and organic arches, gargoyles, carved faces, and flamboyant cornices. Over 30 percent of central Riga's buildings were created in this style, many supervised by famous Russian architect Mikhail Eisenstein. The best streets to view buildings on are Elisebetes, Strelnieku, and Albert. The Riga Art Nouveau Centre, located in central downtown, has been furnished in the Art Nouveau style allowing visitors to fully immerse themselves in the early 20th century.
Address:
Albert St 13, Central District
Opening time:
Open 24 hours a day.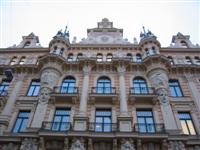 Classic Jurgendstil architecture David Fair
Riga Motor Museum
What is undoubtedly eastern Europe's finest motor museum is tucked away on the outskirts of Riga, and makes for an essential outing if you enjoy classic cars and Soviet history. The museum contains Molotov's limousine, Stalin's bombproof sedan, and the wreck of Brezhnev's car in which he crashed. The model dummies in the vehicles are a nice touch. There is a priceless collection of classic sports cars and motorcycles, irresistibly photogenic for petrol heads.
Address:
Sergeja Eizenšteina iela 8, Vidzemes priekšpilsēta
Opening time:
Open daily from 10am to 6pm.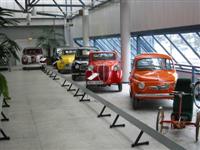 Riga\'s Motor Museum David Fair
Jurmala
Jurmala is the main holiday resort town in Latvia, the place locals go to when they want to relax, catch a tan, and enjoy a spa treatment. The beaches are very good and the seafood restaurants are excellent too. Apart from sand and sea, the main attractions of Jurmala are its spas, which offer a range of therapies and treatments at a fraction of what they'd cost in western Europe. Getting to Jurmala from Riga is easy: by train or bus, the journey takes 30 minutes. Jurmala is fast becoming one of eastern Europe's best spa destinations, and tourists are urged to check it out before the secret gets out and prices begin to sky-rocket.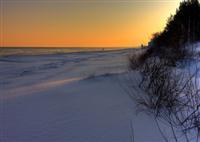 Jurmala beach
Latvian National Opera
The Latvian National Opera building is a magnificent 19th-century structure, home to the National Opera, Ballet, and Orchestra companies. Built in 1863 by the St Petersburg architect Ludwig Bohnstedt, the columned and colonnaded building is not only incredibly photogenic, but lays claim to an interesting history. Guided tours of the opera building take place at 5pm every Friday, and are a very popular tourist attraction in Riga. Culture-vultures should also check out the Latvian National Opera's website for programme information. The country has a proud classical music history, with Richard Wagner being Director of Music in Riga between 1837 and 1839, and recitals are often of rare quality.
Address:
Aspazijas bulvāris 3, Centra rajons
Opening time:
Tours on Friday at 5pm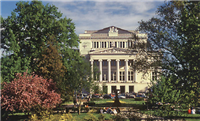 Riga has a moderate climate, influenced by its close proximity to the sea. Summers tend to be short and cool with cloud cover, and high temperatures average around 64°F (18°C). Winters are usually long, dark and cold, with temperatures averaging between 18°F (-8°C) and 28°F (-2°C) in January. Snowfall is heavy and snow cover usually lasts from mid-December to mid-March. The city is overcast for roughly 40 percent of the year.
Riga International Airport
Location:
The airport is situated six miles (10km) from Riga.
Time:
GMT +2 (GMT +3 from the last Sunday in March to the last Sunday in October).
Transfer Between Terminals:
The terminals are all accessible on foot.
Getting to the city:
Bus 22 has a direct service between the airport and the city centre; the bus stop is located opposite the terminal behind the car park. Minibus 222 is a faster service connecting the airport to the city centre; minibuses operated by RÄ«gas Mikroautobusu Satiksme are known to be the most comfortable and efficient. Some hotels provide their own shuttle services. Taxis are also available outside the terminal building, taking approximately 15 minutes to the city centre.
Car Rental:
Car rental companies include well-known names like Avis, Budget, Sixt, and Europcar and can be found in the Arrivals sector E.
Airport Taxis:
Taxis are also available outside the terminal building, taking approximately 15 minutes to the city centre.
Fascilities:
Facilities include banks and currency exchange bureaux, duty-free shopping, restaurants and cafes, left luggage, a pharmacy, a spa, barber, and a variety of shops. Facilities for those with special needs are good and passengers should notify their airline about their requirements before travel.
Parking
Parking is available in the short-term car park (P1) or in one of two long-term car parks (P2 and P3) situated within a few minutes' walking distance from the airport terminal. Short-term parking is situated in front of the terminal building and costs €1.50 for the first 30 minutes. Long-term parking costs €4 per day.
Riga has a varied nightlife, mostly centred round the Old Town, where many clubs, bars, casinos, and live music venues can be found. Riga is also famous for its classical entertainment, with symphonies and operas taking place throughout the year.
A detailed and monthly updated guide to all Riga's nightlife can be found in the Riga In Your Pocket booklet, available free throughout the city. Close proximity makes walking between nightlife venues a viable option.
Visitors should be cautious late at night as muggings are often reported. The larger clubs attract stag groups from the UK and Scandinavian duty-free tourists. Rather stick to the smaller bars if you want a less rowdy experience.
Riga has a well-developed and relatively cheap public transport system that consists of buses, minibuses, trams, and trolley buses. Most services run from 5am to as late as 1am and some routes run a regular night service. Tickets can be bought on the bus, trolley, or tram. Final destinations are marked on the front of all transport vehicles. Taxis are readily available, and it is worth noting that licensed cabs will have a yellow number plate. One can risk an unlicensed taxi, but drivers usually turn off the meter and the price needs to be negotiated beforehand. Riga's ferry terminal is located less than half a mile (1km) north of Old Riga. The central train station will take commuters to destinations in Russia, Belarus, and Ukraine.
Sigulda
Just 33 miles (56km) from the capital, Sigulda is a picturesque little town located in the primordial Gauja Valley. It's well worth the trip for tourists to Riga. Dubbed the 'Switzerland of Vidzeme' due to the steep cliffs and caves that line the sides of the river gorge, Sigulda makes a wonderful base from which to explore Latvia's considerable natural bounty. Notable tourist attractions of the area include the Medieval and Turaida Castles, with the former staging an annual open-air Opera Festival in the summer. Gauja National Park is within touching distance of Sigulda, offering great activities such as walking trails and bungee-jumping in summer; and luge, bobsledding, and skiing in the winter. The town of Sigulda itself is particularly worth visiting in spring, when cherry blossoms bloom; and in autumn, where the town seems to take on the blood-orange hue of the leaves falling from its trees. Be sure to visit the Gutmanis Cave, the largest in the Baltic region, and the setting of the Latvian folktale of the Rose of Turaida.