Nairobi National Park and Sheldrick Elephant Orphanage
Nairobi National Park was established in 1945 and is Kenya's first national park. Uniquely situated on the capital's doorstep it is a well-kept, compact and beautiful area of plains and wild bush containing a large number of Africa's best-known animals. Large herds of zebra, wildebeest, buffalo and giraffe roam the plains and black rhino, ostrich, baboons, cheetah, leopard and lions are some of the other photogenic inhabitants.
In the park is the Animal Orphanage where sick, wounded and abandoned animals are cared for and rehabilitated into the park, as well as an Educational Centre featuring a Safari Walk. Other attractions include the Ivory burning site Monument and some wonderful picnic areas popular for corporate functions, weddings and the like.
Close by is the Sheldrick Elephant Orphanage, where infant elephant and rhino (orphaned because of poaching activities) are cared for and eventually returned to the wild in Tsavo National Park. The centre is open every morning and visitors can watch the calves bathing in the mud hole and being bottle fed by their human surrogate mothers. Seeing these baby animals playing and interacting with them is a special experience and the Elephant Orphanage is one of the top attractions in Kenya for many visitors.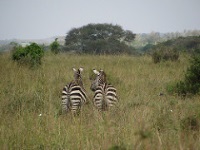 Zebra at Nairobi National Park Luigi Guarino
The Giraffe Centre
Experience giraffes up close and personal at this wonderful centre dedicated to the preservation of the endangered Rothschild giraffe. Not only can you watch them from very close but visitors can experience the rare pleasure of hand-feeding these graceful and gentle creatures from a platform at eye-level with the animals: you can touch them, have them take food out of your hands, or even put a pellet in your mouth and enjoy a sloppy giraffe kiss! The photo opportunities are simply superb. You can also enjoy the nature walk in a lovely area with 160 species of bird and some amazing trees. There are warthogs and giant tortoises to meet as well. This is the single best attraction for children in Nairobi and there are often groups of school kids that come for tours. Guides at the centre give educational talks and answer any questions you may have. Betty and Jock Leslie Melville founded the Giraffe Centre in 1979 to preserve the Rothschild giraffe of which only 120 remained in existence; it is a non-profit organisation and all fees go towards the conservation of these wonderful animals. The manor house on the estate is very charming and a popular venue for weddings and other events.
Address:
Giraffe Centre, Duma Road, Nairobi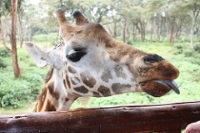 Giraffe Maria Hagglof
Nairobi National Museum
This hugely diverse museum contains some world-class attractions among its dusty relics and stuffed animals. The facility is home to the great pre-historic finds from the Leakey family, including relics from mankind's earliest ancestors. The most famous fossil in the museum is the skeleton of Turkana Boy, the most complete early human skeleton ever found, at 1.5 million years old (Turkana Boy is officially classified as either homo erectus or homo ergaster). There are also fascinating sections on art, geology, wildlife and local history. The Nairobi National Museum is a nice looking building with lots to offer visitors. In many ways it is a bit old-fashioned, but it is a great place to learn about Kenya's culture and history and a worthwhile attraction for visitors to the city. Local guides are available at the museum and hiring one is a good idea because their knowledge enriches the exhibits and fills in any gaps there may be in information.
Apart from the wealth of artefacts and information in the museum, there are some wonderful sculptures and a herb garden in the grounds, and there is an attached snake park where some of the world's largest and also most venomous snakes are displayed, in addition to other animals like tortoises and crocodiles.
Address:
Kipande Rd, Nairobi, Kenya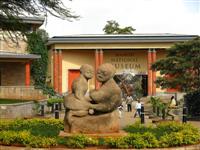 National Museum meaduva
Karen Blixen Museum
Karen Blixen was a notable Kenyan personality who lived and farmed on the outskirts of Nairobi from 1917 to 1931 when she returned to Denmark bankrupt and heartbroken at being forced to leave Africa. Writing under the name Isak Dinesen she authored acclaimed books including Out of Africa which inspired an Oscar winning film of the same name. The main building of the original farmhouse, M'Bogani House, now houses the Karen Blixen Museum and retains much of its original furniture and other photographs and items of interest. The museum is situated in the suburb of Karen, a short drive from the city centre.
Those who have seen the much-loved movie, starring Meryl Streep and Robert Redford, may also be curious about the Muthaiga Country Club featured in the film: tourists can visit the original clubhouse, which is still active, but women won't be allowed in the members' bar - Karen Blixen is, to this day, the only woman who has been allowed to drink there. Fans of the movie should also note that although it was designed to look like it, the house in the film is not M'Bogani House. The stunning landscapes of the area, however, will be instantly recognisable.
Address:
Karen Road, Langata, Nairobi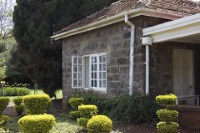 Karen Blixen Museum Fiona Bradley
Nairobi has a maritime climate, tempered by its high elevation and tends to be less hot than the rest of Kenya. As the city is near the equator there is little variation between the seasons and generally people talk about wet or dry seasons as opposed to summer, winter, spring, or autumn. However, summers, between November and February, are warm and pleasant, with temperatures ranging between 50°F (10°C) and 77°F (25°C).
Winter days, between June and August, are mild with slightly cooler evenings, but temperatures much like summer. The rainy season in Nairobi is during late summer and into autumn, when it is often cloudy and damp, but rainfall is seldom very heavy. The drizzliest months are March to May and October to December.
Generally visitors flock to Kenya in the country's dry seasons, between January and March, and July and October, because these are the best months to go on safari in the national parks. The best time to visit Nairobi is in summer, between November and February, but ultimately any time of year is okay in the city and it is recommended that visitors decide on the time of their visit to Kenya according to their desired activities rather than the city's climate.
Jomo Kenyatta International Airport
Location:
The airport is situated 10 miles (16km) southeast of Nairobi.
Transfer Between Terminals:
There is a shuttle service available.
Getting to the city:
The bus services leave fairly regularly for the city centre; most travellers however take a taxi or arrange to be picked up by their hotel or tour operator.
Car Rental:
Most worldwide rental companies are represented at the airport.
Airport Taxis:
Taxis take passengers to the central city hotels and its best to negotiate a fixed fare upfront.
Fascilities:
The facilities at the airport are fairly limited, but include a bank and bureau de change, left luggage, telephones, medical aid, a bar and restaurant, duty-free shops selling curios, tourist information, and hotel reservations. There are disabled facilities, but passengers should advise their airline in advance of any special needs.
Parking
Parking at Jomo Kenyatta International Airport is charged at KSH 60 per hour for short-term parking.
The most popular form of public transport in Nairobi are matatus, minibuses that operate on set routes. Cheap but unregulated, these overcrowded vehicles have become part of Kenyan culture. No less risky are the local bus services, renowned for speeding and dangerous driving.
Taxis are widely available and convenient, usually congregated around hotels and areas frequented by tourists. They aren't metered and the fare should be agreed upon before departure. Nairobi taxis are marked with a yellow line along the side of the vehicle, or appear as large black London taxis.
The better taxi companies have more modern vehicles, which can be booked by telephone. The best option if you are spending a day or two in the city is probably to hire a taxi and driver recommended for you by your hotel or tour operator. Three-wheel auto-rickshaws, or tuk-tuks, are also used as taxis in Nairobi. Walking in the city can be dangerous and is not a good idea after dark or outside of tourist areas.
Nairobi is the largest city between Johannesburg and Cairo, and a trip to the city gives visitors insight into the many facets that make up urban Africa. The main reasons people travel to Nairobi are to either launch into one of Kenya's famous wildlife safaris or travel to the coast. But the city itself offers buzzing markets, some interesting sightseeing, and a lively nightlife.
Many visitors to Kenya don't spend too long in Nairobi, partially because of the city's reputation for danger and congestion. This is a shame because Nairobi is ultimately a welcoming and fascinating place with a range of worthwhile things to see and do. A day or two is all you will need to get the highlights package of Nairobi before setting off on your Kenyan adventures.
It is a good idea to hire a taxi driver, based on a recommendation at your hotel. Some of the top attractions are the National Museum, the delightful Giraffe Centre, the Karen Blixen Museum, and the Sheldrick Elephant Orphanage, not to mention the national park on the city's doorstep. A holiday in Nairobi can be taken virtually any time of year, although the summer months (November to February) are most popular with sunny, warm days.
Amboseli National Park
Amboseli is a park of giants, renowned for its herds of mighty tusked elephants presided over by the magnificent backdrop of Africa's highest mountain, Mt Kilimanjaro. One of Africa's most unforgettable images is the picture of these large creatures standing in silent tribute before the gigantic snow-covered mountain just over the border in neighbouring Tanzania. It is a relatively small park with wide plains merging with the distant skyline, affording good visibility in all directions.
Observation Hill rises from the centre for breathtaking views over the park and towards Mt Kilimanjaro, especially in the pink light of dawn. Meaning 'Place of Water' in the Masai language, it has a continuous supply from Kilimanjaro's snowmelt, forming underground springs that feed the marshy patches and swamps home to hippos and a great variety of bird life. Predators are relatively scarce apart from jackal and hyena, but there are large numbers of grazers such as wildebeest, zebra and gazelles on the grassy plains and giraffe among the thorn trees. A popular way to take in the scenery is by way of a noiseless microlight flight, either from Nairobi or the Amboseli airstrip. There is a wide range of accommodation in and around the outskirts of the park for those wanting to extend the experience.
Address:
Loitoktok District, Rift Valley, Kenya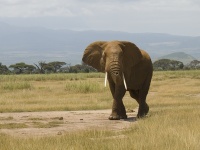 Elephant Paul Mannix
Mount Kenya National Park
This national park encompasses Africa's second highest mountain, Mount Kenya, an extinct volcano with a series of jagged snow-covered peaks. The local Kikuyu people revere the mountain they call Kirinvaga or 'Place of Light' as the home of their Supreme Being, Ngai, and traditionally Kikuyu homes are built to face the sacred summit. Part of the attraction is the incredible variation in flora and fauna found on the mountain due to the changes in altitude and its position on the equator. The slopes are covered in thick forest, home to a variety of animals including the black leopard. Bamboo, moorland and alpine vegetation give way to rock, ice and one of the world's rarest sights - equatorial snow. The summit is a technical climb, but Point Lenana is a popular trekkers' objective; it is the third highest peak and can be reached by a number of different scenic routes, lasting from three to five days. The Mount Kenya National Park is a paradise for climbers who come to summit the various peaks and test themselves against the mountain. For those not wishing to climb the park offers a pristine wilderness, lakes and glaciers, and is good for game viewing and hiking.
Address:
Mount Kenya National Park, Kenya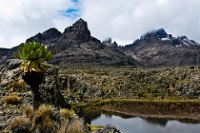 Mount Kenya Chris Murphy
Masai Mara National Reserve
Kenya's most visited park, commonly known as the Mara, is a wildly beautiful place with rolling savannah grasslands. It is an extension of the Serengeti Plains in neighbouring Tanzania. Much of the film Out of Africa was filmed here and it offers wonderful views and an extraordinary concentration of wildlife, including the 'Big Five'. It has the largest population of lion in Kenya, and large herds of grazers also attract many other predators such as cheetah, leopard and hyena.
The annual highlight is the Great Wildebeest Migration, creating one of the world's supreme natural spectacles, when an estimated two million animals form one large herd and leave the dry plains of Tanzania to seek greener pastures in the north, arriving in the Mara from late June onwards and returning again in October. Their entrance into the Mara makes a breathtaking spectacle, as they cross the crocodile infested waters of the Mara River. A once in a lifetime way to experience the magic of an African dawn over such a wilderness is by hot air balloon, drifting silently over the herds below. These can be booked through any safari company and operate daily from several of the lodges in the reserve.
Also within the reserve is a Masai village that holds demonstrations of traditional dances and music as a source of tourist income for the local communities of the Masai Mara National Reserve. Traditionally the lands were used by the Masai for their herds of cattle and the settlement programs set up to compensate for their displacement have only recently been accepted, albeit reluctantly. The proud warriors have become a symbol of tribal Kenya with their beadwork, feathers, spears, decorated gourds and red blankets. Today the Masai communities are allowed to hunt and graze their animals in the reserve, and the occasional flash of red glimpsed between the thorn trees and bush on the fringes of the Mara has become a natural part of the Mara's character.
Address:
Narok County, Kenya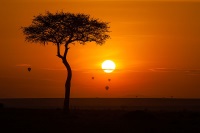 Sunset & Hot-Air Balloons Svein-Magne Tunli