Tokyo Imperial Palace
Japan's Imperial Palace is regarded as the heart and soul of Tokyo, standing on a huge site that still bears the remains of Edo Castle, stronghold of the Tokugawa Shogunate. The present palace was completed in 1888 and is still home to the emperor of Japan. The palace is off-limits but its grounds and surrounds provide a much-needed green open space for the city with Higashi Gyoen (East Garden), site of the Edo Castle keep, open to the public. On January 2nd and December 23rd each year, visitors are able to enter the inner grounds and see the Imperial family make public appearances from the balcony. Guided tours of the palace are offered but only in Japanese, although an English pamphlet and audio guide are provided. These tours must be reserved in advance through the Imperial Household Agency. Be sure to take along your passport when you go to reserve a spot. In spring, the gardens are awash with colour when the cherry blossoms are in bloom, particularly along the castle moat. The Imperial Palace is bustling throughout the year, with lots to see including a few small museums, some wonderful landscaping, and many symbolic ornamental touches like the plants from every prefecture dotted around the palace.
Opening time:
East Garden is closed on Mondays and Fridays. Otherwise it is open daily 9am-4pm (until 3:30pm between November and February). Gardens closed from 28 December to 3 January and when Imperial Court functions take place.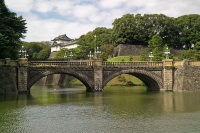 Tokyo Imperial Palace Fg2
Yasukuni Shrine
To the north of the Imperial Palace lies the controversial Yasukuni Shrine, built long ago to commemorate those Japanese who died in war and now regarded as home to the souls of about two and a half million who perished in conflict, mostly in the Pacific War of World War II. Japanese soldiers fought in the knowledge that their spirits would find rest and honour at Yasukuni in the afterlife. The shrine has caused controversy for various political reasons over the years since it was built in 1869 in honour of supporters of the emperor who were killed in the run up to the Meiji Restoration. More recently, with regard to the country's constitution that requires the separation of state and religion, cabinet ministers have been criticised for attending anniversaries of Japan's defeat in World War II held at the shrine. The shrine is confined behind a huge steel torii (gate), opening onto a long avenue lined with gingko and cherry trees. The Worship Hall itself is a simple Shinto style building. North of the shrine is the Yushukan Museum, containing war memorabilia, some of which is disturbing and thought-provoking such as the human torpedo and kamikaze suicide attack plane. The shrine and museum will be fascinating for those interested in military history.
Address:
3-1-1 Kadunkita, Chiyoda-ku
Transport:
Subway to Kudanshita Station
Opening time:
Shrine open 24 hours daily. Museum open daily 9am-4:30pm.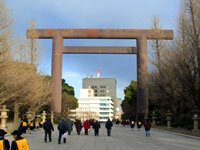 Torii gate, Yasukuni Shrine
Edo-Tokyo Museum
Tokyo's museum dedicated to detailing the city's history, art, culture, and architecture through the medium of visual displays is an impressive attraction not to be missed. Edo was the old name for Tokyo when the country came under the rule of the warlord, Tokugawa Ieyasu. Exhibits include a replica of an ancient Kabuki theatre, maps, photographs, and portrayals of the lives of the city's merchants, craftsmen, and townspeople in days gone by. It is a huge museum which takes a few hours to explore properly and should captivate people of all ages. There are numerous interactive exhibits and many intricate models with such wonderful detail that binoculars are provided for visitors to better appreciate them. Traditional performances are held in the recreated theatre, which is not the only historic building to be recreated life-size. If you are interested in Tokyo's general history then this is the best museum to start with to get an overview of the city's development. Volunteers give regular free tours of the museum and many of them speak fluent English. There is good English signposting and information throughout the museum.
Address:
1-4-1 Yokoami, Sumida-ku
Opening time:
9.30am - 5.30pm. Saturdays: 9.30am - 7.30pm. Closed on Mondays.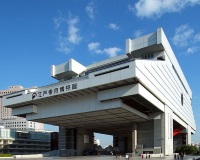 The Edo-Tokyo Museum Wiiii
Akihabara
Tokyo's electronic wonderland has become world-renowned. In a small area west of Akihabara Station lies a bright cluster of electronics shops, manga and anime stores, and video game outlets. The suburb has been specialising in electrical equipment since the 1930s and is now regarded as the world's biggest and best electrical equipment enclave. Although the cheap and impressive technology draws many visitors, this is also a paradise for gamers, geeks, and anime and manga fans, with shops full of merchandise and numerous arcades. The arcades carry everything new and novel but also have many of the vintage games that are difficult to find these days. The neighbourhood is a riot of colourful advertising and a fun place to do some people watching, if nothing else. There are a lot of restaurants and fast food joints to try out and some funky eateries. Akihabara is also an entertaining area to stroll around at night, when everything is lit up in neon.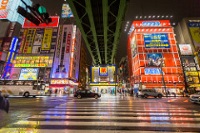 Akihabara by night IQRemix
Senso-ji Temple
The Asakusa neighbourhood of Tokyo draws visitors to admire the city's oldest temple, Senso-ji, founded in 628 AD with a quaint legend attached to it. The story goes that two young brothers fishing in the nearby river netted a golden image of Kannon, the Buddhist goddess of mercy, and the statue kept turning up in their nets no matter how many times they threw it back. The brothers were inspired to enshrine it in a temple dedicated to the deity. The statuette is still inside, but never shown to the public, though pilgrims flock here every day seeking the favour of the goddess. There are also numerous festivals associated with the shrine, and a hugely popular firework display is held on the Sumida River every summer. Tourists enjoy the visit to the temple mainly because the approach is a colourful pedestrian lane, Nakamise Dori, lined with shops and souvenir stalls. The area has become touristy but it is still a stronghold for ancient traditions and a wonderful place to do some people watching. For many tourists the temple is one of the highlights of a visit to Tokyo; the temple complex is usually bustling with activity and there is lots to see and do. Nearby, the Demboin Garden is a good spot to grab a break from the city crowds.
Address:
2-3-1 Asakusa Taito-ku, Shitamachi (downtown)
Opening time:
Main Hall: 6am to 5pm (from 6.30am between October and March). Temple grounds are always open.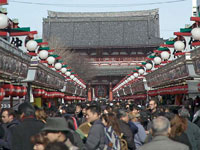 Senso-ji Temple Fg2
Tokyo Disney Resort
There is plenty of fun to be had for the young and young at heart at Tokyo's Disney Resort, in many ways virtually a carbon copy of the theme park found in California in the United States. The Tokyo amusement park was opened in 1983 and it has gradually developed a character of its own, growing into one of the most popular amusement parks in the world and considered by many to have surpassed its American predecessor. The park now has many unique attractions and an interesting fusion of American and Japanese culture, but you will still find all the old favourites. The resort consists of Disneyland Park and DisneySea Park, along with several hotels. It is divided into seven different themed lands: World Bazaar, Adventureland, Westernland, Critter Country, Fantasyland, Toontown, and Tomorrowland. Visitors can expect attractions like the Jungle Cruise, Space Mountain, Splash Mountain and many more, which are all included on this huge site, and are very well-maintained and presented. The Tokyo park is known for its cleanliness and smooth operations but visitors should expect crowds and come prepared for some queuing. The premier attraction for kids in Tokyo, the Disney resort is unmissable for families.
Transport:
The park is reached via the JR Keiyo Line or JR Musashino Line from Tokyo Station; disembark at Maihama Station (South Exit) where there is a Disneyland Welcome Centre.
Opening time:
Check website for details, as hours vary according to season and day of the week. Generally open daily 8am-10pm with shorter hours in winter.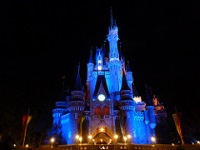 Tokyo Disneyland fortherock
Tokyo National Museum
Close to Ueno Station and enclosed in the beautiful, spacious park of the same name, the National Museum is host to the largest collection of Japanese art in the world. Exhibits range from antique kimonos and delicate pottery to woodblock prints and archaeological finds. The vast collection is displayed on a rotating basis with at least 4,000 artefacts visible at any time, so the museum always has something new to offer. The museum consists of five different buildings containing numerous galleries, so one needs sufficient time to do it justice. The Imperial Gift Park is a lovely place to enjoy a stroll, with big ponds and shaded areas to rest; the grounds also contain some other cultural institutions, including a zoo, the Metropolitan Art Museum, Bunka Kaikan Cultural Hall, the Western Art Museum, and the National Science Museum. There should be something here to interest the whole family and all the educational attractions can easily fill a whole day of sightseeing.
Address:
13-9 Ueno Park,Taito-ku
Opening time:
Daily 9:30am to 5pm, depending on season; closed Mondays. Closing times vary with the seasons, visitors are advised to check before arrival.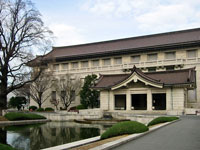 Tokyo National Museum PHG
Inokashira Park
Inokashira Park is a tranquil oasis amid the bustle of Japan's capital city and is often lauded by locals and visitors as the best urban park in Japan. The park contains a temple dedicated to the goddess of love, a petting zoo, and an aquarium, and is lively with musicians, artists, and street performers. There are frequent free magic shows and other entertainments for kids to enjoy. One of the more popular attractions in Inokashira Park is the Ghibli Museum, featuring displays on popular animated films from the studio of the same name, including Spirited Away and Howl's Moving Castle. The park is beautiful all year round but the best time to visit is in spring and autumn when the colours are at their most magnificent. Inokashira Park gets very crowded in the spring when the cherry blossoms are flowering. It's best to arrive early in the morning to avoid the crowds and make the most of the spectacle. Possibly the best activity to enjoy in Inokashira is a drift in one of the swan-shaped paddle boats around the lake. Floating along in the reflective water is particularly romantic in March and April when the trees overhanging the water are in full bloom. The park is a must for anybody visiting Tokyo.
Address:
Gotenyama 1-chome, Kichijoji-Minami-cho 1-chome, Musashino City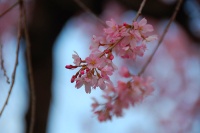 Inokashira Park kanegen
Tokyo Tower
The Tokyo Tower is modelled in the vein of the Eiffel Tower in France, only in true Japanese style, it is more colourful and serves a technological purpose. Tokyo Tower functions chiefly as a television and radio antenna but it is also Tokyo's premier landmark and a proud symbol of Japanese culture, celebrating the country's industrial and technological success. At 1,091 feet (332m) it is the tallest structure in Tokyo and a great vantage point from which to take in the city. There are two observation decks in the tower, both with magnificent 360 degree panoramic views. Admiring the city from this high vantage point is only one aspect of the tourist's experience at the tower, however. At the base of the tower, tucked snugly under its 'legs', is the four-storey FootTown. Inside FootTown visitors will find shops, restaurants, a wax museum, the Guinness Book of World Records Museum, an aquarium, and the Mysterious Walking Zone, a fascinating display of holographic technology and imagery. The top floor of FootTown is an interactive art gallery, featuring optical illusions which can be manipulated by visitors. There is lots to see and do and the Tokyo Tower should delight people of all ages.
Address:
4-2-8 Shiba-Koen, Minato-ku
Opening time:
Daily 9am-11pm. The Special Observatory is currently closed for renovations.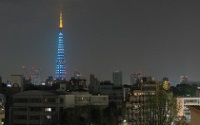 Tokyo Tower Andreas
Meiji Jingu
Close to the Harajuku Station, the Meiji Jingu is an easily accessible shrine and worthwhile stop for tourists in Tokyo. Built in homage to the Emperor Meiji and his wife, the Empress Shoken, this monument is located in a 175 acre (70ha) evergreen forest and consists of two main areas. In the inner Naien, there is a garden featuring shrine buildings and a treasure museum holding articles belonging to the Emperor and Empress. In the outer cloister, the Gaien, the Meiji Memorial Picture Gallery presents murals depicting significant events during the Meiji rule. It also consists of a sports arena, the National Stadium, and the Meiji Memorial Hall, which was an important political meeting place during the Meiji Era. Today, traditional Shinto weddings are held in the hall and newcomers to Japan are always intrigued when witnessing the unique Shinto wedding procession. The lush grounds are wonderful to explore early in the morning when they are peaceful and empty, and the gardens provide sanctuary from the busy city at any time of day. There is a lot to see and do in the complex, which can easily take a few hours to explore properly and should delight the whole family.
Address:
1-1 Yoyogi-Kamizono-cho, Shibuya-ku
Opening time:
Daily from sunrise to sunset. Hours vary month to month.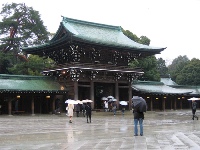 Meiji Jingu shinythings
Tokyo Joypolis
Every child's dream come true, Tokyo Joypolis will thrill and entertain children of all ages. Offering rides, games, and much more, kids will be kept busy for hours on end in one of the world's most famous theme parks and enjoy rides such as Geikon Live Coaster and games such as Halfpipe Tokyo, Let's Go Jungle, and The House of the Dead. There is also a 3D cinema, a caricature booth, and a stage for live entertainment. Apart from all the rides and games, there are several shops and a wide selection of restaurants to choose from (visitors should note that they can't take any food or beverages into the park with them). The park is lots of fun, even for adults, and its reputation is justified; however, although Joypolis once seemed almost futuristic, with groundbreaking forms of entertainment and gaming, the rest of the world has since caught up and things like 3D cinema are no longer as novel as they once were. Despite this, the park provides hours of entertainment for the whole family and is a wonderful attraction for a rainy day. The queues can get frustratingly long so it is best to go during the week, either early in the morning or in the evening.
Address:
1-6-1 Daiba Minato-ku Tokyo
Opening time:
10am to 10pm.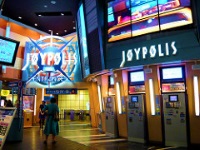 Joypolis Sega Stefan
Though not everyone's ideal holiday destination with children, Tokyo is surprisingly well geared towards kids on holiday. With a dazzling array of technological attractions, scientific museums, and a rich and colourful history, children should find there is plenty to explore in Tokyo.
The Baji Equestrian Park is a great place to take kids to watch horse shows and even have a pony ride, or for a more exhilarating day out, head to the Tokyo Dome City where children can enjoy countless rides and games at the amusement park and parents can relax and pamper themselves in the spa. The Tokyo Metropolitan Children's Hall is also a great attraction for kids to enjoy. With its indoor gyms, computers, crafts areas, mini-theatre, and rooftop playground, it is Tokyo's largest public facility for children.
On a sunny day, why not pack a picnic and the Frisbee and head off to Shinjuku Park, or Hama-Rikyu Sunken Garden, for a stroll or just to admire the cherry trees and blossoms. Or for those days when the weather turns bad and outdoor activities for kids are no longer an option, visit the Panasonic Center.
Alternatively, soak up a bit of culture at one of Tokyo's many museums, such as the National Museum of Emerging Science and Innovation, Museum of Maritime Science, or the National Science Museum. You'll find a number of skating rinks, sports clubs, and swimming pools dotted around the city.
Tokyo has a humid subtropical climate and four distinct seasons. The summer months (June to August) are hot and sticky due to an unpleasant level of humidity, while winters (December to February) can get fairly cold. The warmest month is August, which averages 81°F (27°C), and the coolest month is January, averaging 42°F (6°C). Summers can be rainy and Tokyo's rainy season usually lasts from early June to late July. The rain is not constant and the city still gets plenty of sun over this period. Typhoons are most likely to affect the city in August and September. Snowfall is common in the city in January and February. The best time to visit Tokyo is in the shoulder seasons of spring and autumn.
Tokyo is one of the world's great cities for foodies. Not only is there a fabulous variety of premium eateries, with collectively more Michelin stars than Paris, but the wonderfully diverse and exciting world of Japanese cuisine reaches its highest peaks here.
From kaiseki, the elaborate and expensive multicourse fine dining experience, to street classics like noodle dishes, deep-fried , mouth-watering pork, and chicken grilled on skewers, Tokyo has it all in abundance.
Then there is the perennial Western favourite, sushi, impeccably served in a thousand different varieties around the city. For a light meal on the move, you can also grab a lunchtime box from any convenience store and find a seat in the many quiet enclaves amid the city bustle. For an unforgettable experience, treat yourself to a pricey but incredibly fresh sushi breakfast at one of the restaurants near the Tsukiji Fish Market in Chuo.
You can also visit the basement level of nearly any department store, which will contain a number of shops selling prepared foods. Piece together your own meal, or just browse the free samples. Note that these stores will begin discounting their food around 7pm.
Chopsticks are used in most restaurants, except those serving mainly Western cuisine. However, you can ask for other utensils. When eating noodles, it is quite normal to pick up the bowl and drink from it, using the chopsticks to eat the solid bits. Slurping is also normal; in fact, it is said to improve the flavour of the food and is seen as compliment to the cook.
In most restaurants, you will be given a wet towel known as before eating. Use this to freshen up by wiping your face and hands. While ordering in a restaurant without an English menu can be intimidating, many restaurants have plastic food models on display, and most offer set menus with popular combinations.
Tipping is not customary in Japan, and attempts to provide gratuity are likely to be met with confusion. At more upmarket restaurants a 10 to 15 percent service charge may be added to your bill. Smaller restaurants and roadside stalls will not accept credit cards.
Nanbantei
This well-known establishment has become something of a tourist landmark in Roppongi, probably because of its delicious yakitori cuisine and reasonable prices. Yakitori is the Japanese version of the barbecue, with chicken, beef, pork, or fish kebabs grilled over oak coals, served with large bowls of crudité vegetables like crisp raw cabbage, carrots, and courgettes. Nanbantei offers bargain lunch menus and specialities like namban-yaki (grilled beef dipped in hot miso) and asapura-maki (green asparagus wrapped in thinly sliced pork). Open for dinner only, Monday to Saturday, with the last order at 10.30pm.
Address:
4-5-6 Roppongi, Minato-ku
La Tour D'Argent
Decidedly opulent, the lavish La Tour D'Argent, like its famous sister in Paris, sets the standard for French haute cuisine. The high standard of the food and décor is only matched by the prices in this celebrated establishment situated in the New Otani Hotel. The house speciality is the duck, specially flown in daily from Brittany in France. Other highlights on the menu are pigeon and fricassee of lobster. It is all prepared by chefs trained at the Paris restaurant and an impressive wine list accompanies the outstanding menu, which changes seasonally. Closed Mondays. Dinner only. Reservations essential and dress code is jacket and tie.
Address:
New Otani Hotel, 4-1 Kioi-cho, Chiyoda-ku
What the Dickens?
Good old English steak and kidney pie in the heart of Japan? Charles Dickens himself would feel at home in Tokyo's British pub which serves up a variety of ales and a down-to-earth atmosphere helped along with wooden beams, sprung floors, hand-painted pub signs, and dried hops. It also offers live music every night of the week. The menu is reasonably priced and consists of several traditional British favourites such as cottage pie, accompanied by heaps of potatoes, and vegetables. Closed Mondays.
Address:
4th Floor, Roob 6 Building, 1-13-3 Ebisu-Nishi, Shibuya-ku
La Granata
The twin restaurants of La Granata and Granata Moderna are situated in the basement of the Tokyo Broadcasting Systems building, but the Italian cuisine on offer is top level. La Granata offers a traditional ambience with check tablecloths and brickwork, while Granata Moderna is elegantly modern with mirrors and stained glass. Both offer delicious pasta specialities.
Address:
TBS Garden building, basement, 5-1-3 Akasaka
Tonki
It is worth waiting in line to sample the fare at Tokyo's most renowned tonkatsu (deep fried pork) outlet. Waiters take orders while patrons queue for a spot at the well-worn Formica-topped tables, watching the hustle and bustle of the dozens of busy cooks in action. The reward is delectable treats like hirekatsu (fillet of lean pork) reishoki, or rosukatsu (loin cut), crunchy on the outside and melt-in-the-mouth tender on the inside, or perhaps a tasty kushikatsu (skewered meat with onions). Tonki is closed Tuesdays and the third Monday of every month.
Address:
1-1-2 Shimo-Meguro, Meguro-ku
Roti
Roti serves some of Tokyo's most authentic American grill and rotisserie cuisine. The ambience is relaxed and causal, the waitstaff friendly and helpful, and the food delicious. Many expats frequent this eatery due to its wide selection of beers and old favourites such as the deluxe blue cheese burger, char-grilled steaks, and sticky Shanghai style pork ribs and the classic Mexican tortillas and jalapeno cheese dip. Open daily for lunch and dinner. Booking recommended.
Address:
Piramide Building, 1F, 6-6-9 Roppongi, Minato-ku
Tokyo Narita International Airport
Location:
The airport is located about 45 miles (73km) northeast of Tokyo.
Transfer Between Terminals
A free shuttle bus connects the three terminals.
Getting to the city:
Terminal 1 has a separate railway station from Terminal 2 and 3. Terminal 1 uses Narita Airport Station and Terminal 2 and 3 use Airport Terminal 2 Station. Different train services on the JR or Keisei lines serve Tokyo and surrounding destinations. The journey to Tokyo takes at least one hour. Buses connect to the domestic airport and hotels in the city centre; the journey takes between one and two hours from the pick up at departure lobbies of Terminals 1, 2 and 3.
Car Rental:
Car rentals can be organised at the airport.
Airport Taxis:
Fixed fare taxis are available from outside the airport's arrival area, and there are assistants available at the designated fixed fare taxi stands in the airport.
Fascilities:
The facilities at Narita Airport are extensive and include shops (including duty-free), banks, ATMs, currency exchange bureaux, massage services, baby changing areas, a pet hotel, beauty salons and left luggage. A variety of restaurants catering for Japanese, Chinese and Western tastes are available. Both terminals have shower facilities and Day Rooms (bedrooms which can be hired by the hour).
Parking
Terminal 1 parking is in P1 and P5, while Terminal 2 parking is in P2 and P3. Parking at Tokyo Narita International Airport starts at ¥260 per 30 minutes for the first three and a half hours, with a flat rate of ¥2060 for anything between three and a half and 24 hours.
Tokyo International Airport
Location:
The airport is located about 12 miles (20km) south of Tokyo.
Transfer Between Terminals
The terminals are connected by a free shuttle bus, the monorail line and an underground passageway.
Getting to the city:
There are both railway and monorail connections for getting into Tokyo from Haneda Airport. Nonstop express routes take roughly 30 minutes to get into downtown Tokyo.
Car Rental:
There are car rental facilities in the airport, including Orix, Nippon, Nissan, and Toyota.
Airport Taxis:
Taxis are available at the airport, with taxi stands outside each terminal. Taxis into town tend to be very expensive, however.
Fascilities:
Services and facilities provided at Tokyo Haneda Airport include wifi, currency exchange, ATMs, disabled facilities, hair salons, banks, a post office, medical clinics, baggae storage, a lost and found, and nearly a dozen information desks.
Parking
Long and short-term parking is available in four parking lots adjacent to the terminals.
Sumida River Fireworks Festival
Every summer, Japan prepares for the numerous fireworks (hanabi) festivals held throughout the nation. The biggest of these is the display over the Sumida River, which is a major event on the cultural calendar of Tokyo, with spectacular multi-coloured layers that blossom into the night sky to awe the millions of spectators gathered along the banks or in boats on the river. Many dress in traditional kimono and festival wear for the occasion and although the display is scheduled to end at 8.30pm the festivities run on late into the night.
The highlight of the display is a dazzling competition between highly acclaimed fireworks manufacturers. The element of competition makes the display all the more exciting because the rivalry between the different pyrotechnics groups is fierce and the event is an important showcase for them, as each group tries to outdo the others the spectators gasp at all the beautiful lights and patterns. One of the best ways to experience the event is to go cruising on the river and enjoy the display from the water before partying the night away.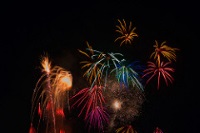 Fireworks DaraKero_F
Japanese Cherry Blossom Festival
Heralding the beginning of spring, cherry trees burst into a riot of pink and white blossoms all over Japan and the spectacle is so lovely that this is the most popular time to visit the country. Tokyo attracts thousands of holidaymakers daily for cherry blossom viewing (hanami).
The cherry blossom, or sakura, is Japan's national flower and a symbol of the country. For many years, the Japanese people have celebrated the cherry blossom annually. Depending on the local conditions, it usually starts in Okinawa in January, reaching Kyoto and Tokyo in late March to early April, and Hokkaido in late May.
They celebrate this popular festival with hanami parties under the trees and picnics, drinking, singing, and dancing. Street stalls are set up and musicians serenade the merry picnickers, many of whom are decked out in outrageous costumes and masks.
Ueno Park is Tokyo's most beautiful spot for hanami parties and it is particularly romantic to enjoy the riot of pink and white from a paddle boat on the water. The Cherry Blossom Festival is a big draw for tourists who want to see Japan at its most beautiful and vibrant.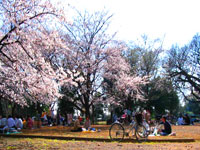 Hanami party Patrice Neff
Sanja Festival
The Sanja Matsuri or Sanja Festival is the biggest of Tokyo's three great festivals, along with the Kanda Festival and Sanno Festival, which alternate every year. During the annual festival thousands of frenzied devotees gather for traditional portable shrine processions, ancient ritual music and dancing, and other festivities.
The processions are in honour of the three resident deities of the Asakusa Shrine, who are paraded through the streets in huge, elaborately decorated mikoshi or portable shrines carried on the shoulders of dozens of strong men dressed in traditional festival clothing and surrounded by chanting worshippers. Up to 100 other mikoshi are carried around in processions meant to bring blessings and good luck to the area and its inhabitants.
About two million people visit Asakusa to pay tribute and celebrate over the three days of the festival. The district is packed with food stalls, festival games, music, and dancing. The festivities begin with the Friday afternoon Daigyoretsu Parade, a large procession of priests, officials, geisha, musicians, and dancers wearing traditional Edo period costumes.
Venue:
Asakusa Shrine area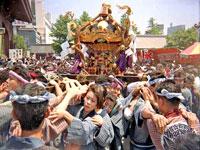 Sanja Festival Fg2
Japanese F1 Grand Prix
The Japanese Grand Prix usually falls towards the end of the Formula One season and has over the years provided much excitement, and often been the track to crown the season's champion. About 13 World Champions have been crowned at the Japanese event.
The Fuji Speedway hosted the first two Japanese Grand Prix in 1976 and 1977 before the country was taken off the F1 calendar. When it was reinstated in 1987 it was at the Suzuka track, which hosted it with great success for the next 20 years and fast gained a reputation as one of the most challenging F1 circuits. The two circuits alternated hosting the event until the Fuji Speedway announced it would not be hosting the 2010 race due to the recession. The Suzuka track now holds the event exclusively.
The Japanese Grand Prix is very well-supported by locals and foreigners alike and, like all the races, is extremely thrilling for spectators. Many F1 fans travel around the world to attend races and the atmosphere is festive; if a World Champion is crowned the ceremony adds extra excitement and there are raucous after-parties to enjoy.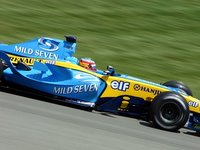 Grand Prix Ripounet
Tokyo International Film Festival
Each year, the Tokyo International Film Festival exclusively screens new and exciting films in cinemas around Roppongi Hills. Film buffs enjoy world premieres by both the world and Japan's top directors and filmmakers, as well as vote for a favourite film in the Audience Choice category.
The festival was established in 1985, with annual events organised after 1991. It is one of Asia's most famous and competitive film festivals and accredited by the FIAPF, the International Federation of Film Producers.
The Tokyo Sakura Grand Prix remains the most coveted award, handed out to the winner of the best film. Other categories on the list are best actor, best actress, and best director, among others. Recent winners have included international productions as well as Hollywood stars like Helena Bonham Carter and Glen Close.
The festival has conventional screenings, fun open-air cinema, screenings with voiceovers, social occasions, and celebrity appearances, as well as lectures, seminars, and workshops. Movie enthusiasts will have lots to learn and lots to enjoy.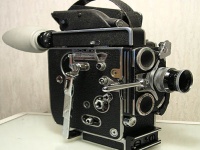 A 16 mm spring-wound Bolex Janke
The nightlife in Tokyo is spectacular. The city has everything from geisha bars to jazz clubs, dive bars referred to as 'shot bars' to themed dance clubs. It is legal to drink out in the streets and vending machines even stock cans of beer.
A good way to enjoy Tokyo's nightlife is in an izakaya, a pub-style watering hole serving food and drink. Western-style bars are much more expensive than those with local flavour, though chains like The Hub have happy-hour prices that are more reasonable.
Roppongi is the top nightlife district in Tokyo, where the locals are very friendly to (Westerners). Be wary of hostesses and patrons who try to lure you into one of the district's many gentlemen's clubs, where drinks are prohibitively expensive.
Shibuya also has a number of nightclubs, and Shinjuku is home to both Tokyo's red-light district and its most popular gay bars. Women are advised not to walk around alone in these areas late at night. For less expensive bars that cater to students and backpackers, go a little further to the Shimokitazawa, Koenji, and Nakano districts.
Many bars and lounges impose a table charge, which includes snacks like nuts or chips. Not all venues charge and policies vary, so ask before you order anything. Note that the legal age for both drinking and smoking in Japan is 20.
Those looking for a more cultured evening can catch a traditional kabuki performance at the Kabuki-za theatre in Ginza - it is possible to attend and pay for only one act as opposed to the whole production to get a taste for the art form. Other popular forms of theatre include the restrained and refined noh, and bunraku puppet theatre.
You can also see traditional Western music performances by the Tokyo and NHK Symphony Orchestras at various theatres around Tokyo. Check the Japan Times for concert information. For detailed nightlife listings, grab a copy of the free Metropolis publication.
Tokyo has refined shopping into an urban art form and essential cultural experience. The result is quite possibly the most futuristic shopping environment in the world, in which you can purchase everything from underwear to watermelons from vending machines while never interacting with a human. The city is at the cutting edge of fashion and design, as a wide-eyed stroll through the Ginza and Shibuya districts will confirm.
Tokyo is also famous for its electronics stores, the biggest concentration of which can be found in Akihabara, Tokyo's 'Electric Town'. Despite the wide range, you will struggle to find genuine bargains and don't expect to negotiate too much on price. Nevertheless, Akihabara is a colourful and exciting shopping district and the manga and anime stores will delight many.
Shopping malls have also been taken to another level in Tokyo. Shinjuku Station is surrounded by multi-level shopping stores selling everything under the sun. Big name chains such as Keio and Isetan can be accessed directly from the station. They both offer tax-free shopping and European language assistance. For a more upmarket department store experience, visit Mitsukoshi, which has several branches throughout the city.
Tokyo isn't known for flea markets, but two that are worth a visit for artisan-style gifts are Togo Shrine in Harajuku, on the first and fourth Sundays of each month, and Nogi Shrine, on the second Sunday of each month. There are many small markets around the various temples and shrines.
Essential purchases in Tokyo include traditional items like Daruma dolls and crafts such as ceramics and chop-sticks. Kimonos are another good purchase although those made from pure silk, as true kimonos are, will be expensive. On a more modern note, the very latest gadgetry and electronics are on offer. A good place to browse for souvenirs is the Oriental Bazaar and Omotesando, both of which offer good value and plenty of interesting human scenery.
One of the surprising aspects of shopping in Tokyo is that despite the vast buildings and slick modernity surrounding everyone, there are still traditional neighbourhoods and quiet districts to be found. Here you can find specialist stores selling unique and frequently handmade items such as micro-brewed or beautiful lacquerware.
Tokyo's public transport system is one of the most efficient in the world and is clean and safe, combining an extensive train network, 13 underground subway lines, and a bus system. Visitors usually find the trains (JR) and subways the best way to get around, although the complexity of the underground network can be intimidating; rush hour, from 7.30am to 9am and 5pm to 7pm, should be avoided. Most stations have English signs.
Because lines are owned by different companies, transfers between trains or subways usually require a transfer between different train systems, with different ticketing systems that can be confusing. Subway tickets are bought at vending machines. The bus system is more complicated for visitors as most destinations are written in Japanese only and bus drivers don't speak English.
Taxis are convenient but never cheap, particularly during rush hour. Taxis can be hailed on the street, except in some central areas, where they only pick up from taxi ranks. Drivers speak little English. Driving a car in the city is not advised. Walking around the city is a delight and the best way to go sightseeing, when possible.
Sightseeing in Tokyo can bring about sensory overload if you're not careful. Animated billboards, the buzz of a densely packed and highly energetic population, and glittering gleaming architecture all compete for your attention. One thing is certain: you'll never be bored.
The transport system is excellent, good value, and easy to figure out, even for Westerners. However, the best way to view the city remains the oldest way: on foot, walking the streets, taking in the multitude of sights and sounds on your way. You'll be sure to find plenty of unexpected treasures, from little temples on side streets, to the warm smiling welcome of a local shop keeper.
Tokyo really does have something for everyone. Honeymooners come to cultivate romance amid the cherry blossoms; shoppers will find exactly what they're looking for and plenty on top of that; and backpackers can find ways to take in the culture without breaking the bank.
The temples and museums listed below are well worth your time, or you can lose yourself in the neon lights of Shibuya, check out the hip Harajuku girls in Takeshita Street, and take the elevated train from Shimbashi station to the bayside district of Odaiba, and ride on the giant Ferris wheel.
If you're curious, you can also take a class in any number of traditional Japanese art forms, including calligraphy, tea ceremonies, martial arts, massage, flower arranging, and meditation. Tokyo has a number of neon-lit pachinko parlours with men, women, and children trying their hand at the popular game. Japanese sports such as baseball and sumo wrestling are also fun ways to get a taste of Tokyo culture.
Mount Fuji
The dormant volcano of Mount Fuji, 62 miles (100km) southwest of Tokyo, has been revered since ancient times and no exploration of Japan is complete without visiting the mountain that is known fondly as 'Fuji-san' by the locals. Its symmetrical 12,388-foot (3,776m) snow-crowned summit has become as symbolic of Japan as the country's own flag, featuring in poetry and art through the ages and considered a holy site in Japanese culture. The mountain, which is the highest in Japan, has many historical and mythological associations; for instance, ancient samurai used the base of the mountain as a remote training area, near the present day town of Gotemba. The closest town to the volcano is Fuji Yoshida, from which buses leave frequently for Fuji's 'fifth stage' (the usual jumping-off point for hikes up the mountain) from outside the train station. There are six trails to the summit, of which the Kawaguchiko Trail is the easiest, being quite manageable even for children and the elderly as long as they have stamina and good shoes. Overnight huts are available for those wanting to stay a night or two on the mountain. The official climbing season is from 1 July to the end of August as in winter snow makes the ascent too dangerous.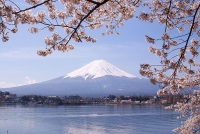 Mount Fuji Midori
Kamakura
The city of Kamakura, about 30 miles (50km) southwest of Tokyo, at the base of the Miura Peninsula, was the political powerhouse of Japan in the middle ages and the seat of government for most of the 13th century. Because of its historic importance, Kamakura boasts numerous monuments, temples, and shrines which are of interest to sightseeing tourists. As an added bonus, the city sports some sandy beaches and good hiking trails in the nearby wooded hills so that a day or two can be spent very happily in the city enjoying both the natural and historical attractions. Kamakura's many sights are too numerous to detail individually, but most important of them all is the Great Buddha. This bronze statue of the seated Amida Buddha is located in the grounds of the Kotokuin Temple and, standing at almost 44ft (13,35m) high, it is the second largest Buddha statue in Japan after that found in the Todaiji Temple in Nara. The Kamakura Great Buddha was cast in 1252 and was originally contained in the temple hall. A tidal wave (tsunami) washed away the temple in the late 15th century, but the Buddha prevailed and has since stood triumphantly in the open. Kamakura is a very popular daytrip from Tokyo, but many visitors will find that they want to spend at least one night in the city to fully appreciate all it has to offer.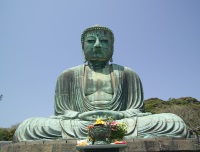 The Great Buddha Statue Fg2
Yokohama
While visiting Japan's largest city of Tokyo, it is quick and easy to pay a visit to the country's second biggest metropolis too. Yokohama can be reached in less than 30 minutes by train from Tokyo, lying south of the capital. The main reason for visiting Yokohama is to marvel at its futuristic new city centre and perhaps take a stroll through Japan's largest Chinatown. Yokohama's Chinatown, entered through four colourful gates and teeming with restaurants and shops, was developed after the city became one of the first Japanese ports to be opened to foreign trade after generations of isolation ended in 1859. Chinese traders flocked to the city, establishing a cultural neighbourhood. Minato Mirai is the new central city area around the harbour, characterised by the Landmark Tower, rising to 971ft (296m). Visitors can ride to the tower's observation deck in the world's second fastest elevator, travelling at 41ft (13m) a second, for a view that on a clear day stretches as far as Mount Fuji. The city also boasts the Yokohama Marine Tower, the tallest inland lighthouse in the world. The city is a commercial hub with wonderful shopping opportunities, restaurants, and a fun nightlife.
Transport:
Toyoko Line from Shibuya, JR Tokaido Line or JR Yokosuka Line from Tokyo or Shinagawa Station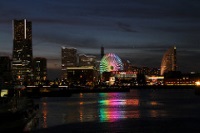 Yokohama By Night Toshihiro Oimatsu