Historical Village
Situated in a corner of the Hokkaido Nopporo Forest Park in Sapporo, this impressive and entertaining outdoor museum village depicts Hokkaido life in days of old. The site features restored or recreated buildings from the Meiji and Taisho periods, and includes edifices like the old Sapporo railway station, old Otaru newspaper company buildings, fishermen's cottages, and mountain villas. Horse-drawn trolleys run through the village and in winter horse-drawn sleighs carry visitors around the site. The historical village should entertain the whole family for a few hours. Those particularly curious about the local culture and history of the area should not miss the Hokkaido Ainu Centre, which is a free attraction a little further out of Sapporo. The Ainu people, with their unique culture, have lived on the island of Hokkaido for hundreds of generations. The Ainu Centre details the history and culture of the island's indigenous people using interesting exhibits and demonstrations and makes the perfect companion attraction for the historical village.
Address:
Konopporo 50-1, Atsubetsu-chyo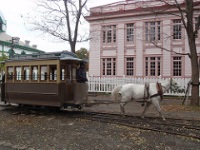 Hokkaido, Sapporo Kzaral
Sapporo Beer Museum
For beer lovers, a visit to the beer museum in the historic Sapporo Brewery building is a must, together with a tour of the brewery itself, which, of course, ends with a tasting. The red brick brewery building was opened first as a sugar factory in 1876, and has been the home of Japan's famous beer since 1887. One-hour tours are conducted at 15-minute intervals every day throughout the year; however, these are in Japanese only. It is possible to book in advance and request an English interpreter and the people at the front desk will happily provide an English leaflet detailing a brief history of Sapporo beer. Despite the fact that the exhibits are almost totally in Japanese it is still interesting to see the old photographs, memorabilia, and visual evolution of the brand. There are lockers at the entrance so you don't have to carry stuff around and there is a little gift shop for souvenirs.
Address:
9-1-1 Kita 7-Jo Higashi, Higashi-ku, Sapporo 065-0007, Hokkaido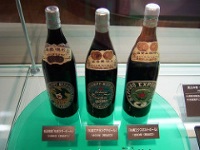 Vintage Beer Display Toby Oxborrow
Mount Moiwa
Fondly known as Sapporo's 'backyard ski resort', Mt Moiwa offers 10 different courses for all grades of skiers from beginners to advanced. There are fun family slopes and a children's play area as well as some more challenging options; advanced skiers may find it a bit too friendly but all levels are ultimately catered for. It is possible to rent all the equipment you might need. Most of the slopes are well lit to enable visitors and locals alike to enjoy the fun of night skiing, taking in the breathtaking view of the city as they fly down the sparkling slopes under the stars. There is an observatory on the mountain which can be reached by cable car, and even if you have no intention of skiing it is worth a trip up to this platform to enjoy the incredible views. There is also a restaurant, a souvenir shop and some tributes to lovers including a bunch of love locks (padlocks bearing the initials of couples and locked to signal eternal love). The best time to go up the ropeway is in the evening so that you can enjoy the daytime views of the slopes and city, and stay as darkness descends to see the city light up beneath you. The cableway may stop running in bad weather but is usually operational.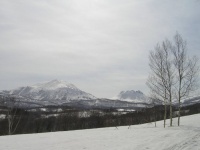 Mount Moiwa world_waif
Noboribetsu
The famous hot-spring resort of Noboribetsu Onsen is situated inside the Shikotsu-Toya National Park. The spa complex is one of many found in Hokkaido, but being closest to Sapporo is very popular. Hot mineral springs gush out about 10,000 tons of water a day, and it is said to have healing properties for a range of disorders. There are more than 30 hotels and bath houses grouped together along a narrow street along with shops, souvenir stores, and whatever else visitors may need. The area is also known for its cherry trees, which make a stunning sight in spring, and there are some worthwhile hiking trails in the park. If you're after luxury, you can find high-end accommodation and spa treatments that are seen as some of the best in the country but there are also cheaper options for those travelling on a budget. It is possible at some spots to bathe in the natural springs outdoors, which is the most atmospheric option. The springs are a popular excursion from Sapporo and the trip can easily be made in a day, which is all you need to enjoy the relaxing hot water.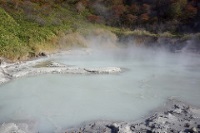 Noboribetsu Onsen Kentaro Ohno
Sapporo has a humid continental climate with precipitation throughout the year. Summers are warm and last from the middle of June to late September; average high temperatures usually don't exceed 79°F (26°C) and lows generally stay above 54°F (12°C). Winter lasts from the beginning of December to late March, with highs that are frequently below 32°F (0°C) and minimum temperatures that can be as low as 19°F (-7°C) at the peak of winter. Light rain is a common occurrence in summer, while winters are known for their heavy snow. Sapporo is one of the few cities in the world with more than 1 million residents that regularly receives annual snowfalls in excess of 16 feet (5m). Sapporo receives the most tourists in summer and winter, for its snow-related activities and festivals.
Sapporo's streets follow a grid plan, making it fairly easy to navigate. The city has a comprehensive public transport system consisting of buses, a streetcar, trains, and several subway lines. The JR Hokkaido Bus Company operates local and intercity bus lines, connecting downtown Sapporo with popular attractions and neighbouring cities. Tickets can be bought from a dispenser at the front of the bus upon boarding. Multiple-use tickets can be bought at larger stations, such as the Sapporo Station Bus Terminal.
The Hokkaido Chuo Bus Company runs a sightseeing route that travels to several areas in Hokkaido. Reservations can be made telephonically or on the company's website. The city's streetcar line, known locally as the shiden, runs along the south of the city, close to Mount Moiwa.
The Sapporo Station also functions as a hub for JR Hokkaido's railway network, which travels to the city's suburbs, neighbouring towns and cities on the island, and connects to the national network. Tickets can be reserved telephonically, purchased at station vending machines, or at the JR Reservation ticket counters in the station.
The Sapporo Municipal Subway system operates out of central terminals at Sapporo Station and Odori Station. The system consists of three extensive lines and is easily accessible in most parts of the city. Tickets and multiple-ride passes can be purchased at station vending machines. Taxis are widely available but drivers are unlikely to speak English and travellers are advised to have their destination written down in Japanese.
Sapporo is a clean, well-organised, and attractive city with plenty of parks and gardens, wide tree-lined streets, a number of good museums, and galleries. On top of this, there are enough shops, restaurants, and bars to keep everybody entertained.
The main attraction of the city is Mount Moiwa and the mountain's ski slopes, which caters to all ski-enthusiasts with its 11 different courses right on the city's doorstep. Sapporo is a great holiday destination for families who are keen to enjoy a skiing holiday in Japan.
For some insight into the fascinating Ainu culture and the region's history visit the outdoor museum in the Hokkaido Nopporo Forest Park, and the Hokkaido Ainu Centre a little way out of the city. For aprés ski relaxation and pampering take an excursion to the famous hot springs of Noboribetsu. Beer lovers should be sure to sample the delicious local brew, and enjoy the free tours offered by the Sapporo Beer Museum.
The city offers many an opportunity for a scenic stroll and those looking for exercise and fresh air should explore Moerenuma Park, Odori Park, or even the pretty Hokkaido University Sapporo Campus. Getting around in the city is easy thanks to modern and extensive public transport systems.