Bob Marley Museum
Jamaica's most famous son, singer and songwriter Bob Marley, was responsible for making reggae music a global phenomenon. The popular Rastafarian became a cult figure even before his death in 1981, caused by cancer when he was only 36 years old.
This museum devoted to his memory is one of the most popular attractions in Kingston. It is the simple clapboard house where Marley lived and recorded his music until he died, and is now packed with Marley memorabilia. There are also screenings of a movie about the singer's life. Memorabilia on show includes Marley's guitar, his old blue jeep, and a number of his awards.
Even for those who aren't big Marley fans, his music was deeply influenced by the social issues of Jamaica during his lifetime and it gives insight into the culture of the country. It is hard to visit Kingston without wanting to pay tribute to the iconic musician.
The Bob Marley Museum dubdem sound system
National Gallery
Kingston's National Gallery displays the works of Jamaica's talented artists, particularly that of Edna Manley (19th-century sculptor and the wife of a former prime minister of Jamaica) and other artists who have been inspired by her work.
Manley's acclaimed stands in the main lobby, along with a bronze statue by Christopher Gonzalez of reggae singer Bob Marley. Other highlights include the religious works of Mallica Reynolds, who has been hailed by art critics as a modern genius. The collection gives the viewer some interesting insights into Jamaican history and culture.
The downstairs area is used for temporary exhibitions and the permanent collection is upstairs. There is a small gift shop which sells some prints and other good gifts, and a coffee shop for refreshments. Photography is not allowed in the gallery. Entrance is free for all but donations are encouraged.
Address:
12 Ocean Blvd, Block C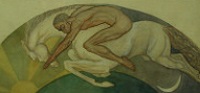 Into The Sun by Edna Manley Michael L. Dorn
Hope Botanical Gardens
This 20-hectare (50-acre) oasis of beauty in the middle of downtown Kingston is the largest botanical garden in the West Indies. Inside, paths meander past manicured lawns and tranquil gardens, including a cactus garden, orchid house, a forest garden and an ornamental pond. The gardens also contain a zoo, where children will enjoy interacting with the animals.
It is ideal to combine a quick exploration of the zoo with a picnic in the lovely gardens. The gardens are often included in birding tours of Jamaica because they offer an interesting overlap of urban and natural habitats. Although parts of the gardens can get crowded at times - and there are frequently weddings and other events at the venue - it is always possible to find a peaceful nook.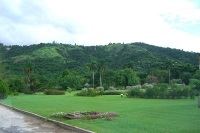 Hope Botanical Gardens RoadtripWarrior
Spanish Town
The neighbourhood known as Spanish Town is on the western outskirts of Kingston, and was capital of the island under Spanish rule between 1662 and 1872. Today the architecture is an interesting mix of Spanish and British Georgian, and there are some historic attractions to explore.
St James Cathedral is the oldest Anglican church outside England, having been built in 1523. Another landmark is the Old Iron Bridge, a cast-iron bridge spanning the Rio Colbre erected in 1801. The Jamaican People's Museum of Crafts and Technology showcases some vintage farm implements, musical instruments and pottery, giving an insight into the traditional lifestyle of the Jamaican people. Town Square is overlooked by the Old King's House, the former residence of Jamaica's British governors.
Spanish Town also has a colourful local market in the Town Square. It's an interesting and historic area to wander through and is best tackled on foot.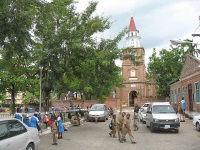 Spanish Town Not home
Port Royal
Port Royal was once a 17th-century haven for hedonistic pirates and malcontents dedicated to looting Spanish vessels throughout the Caribbean, until it was destroyed by an earthquake in 1692. Today, the former haunt of notorious pirates like Henry Morgan, Blackbeard and Calico Jack is just a fishing village, situated at the tip of a narrow peninsula stretching across the entrance to Kingston's harbour.
Relics of the town's wicked past can be seen at the Museum of Historical Archaeology, the Maritime Museum and Giddy House (a building that tilts at an angle). Fort Charles is the last remaining of six forts originally built to protect the port. A highlight of the fort is entering the old prison cells where the pirate prisoners must once have languished.
There is a restaurant, known for its great seafood, that overlooks the harbour. The village can be reached by ferry from West Beach Dock, Kingston, in about 20 minutes.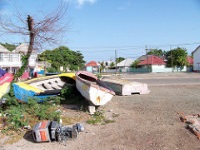 Port Royal Amy Roe
Blue Mountains
Towering across eastern Jamaica, the 28-mile (45km) long mountain range seems constantly shrouded in a mist that gives the mountains their bluish colour. The John Crow National Park, at the base of the mountains, was established to preserve the diverse range of species that call the Blue Mountains home. Among them are more than 800 endemic plant species, 200 bird species and 500 flowering plant varieties as well as the world's second-largest variety of butterflies.
The coffee that is grown on the slopes is world-renowned and visitors can organise tours of some of the larger coffee estates. Visitors to the Blue Mountains can climb the highest peak by way of the Peak Trail, which starts at Abbey Green. Most hikers spend a night in one of the cabins on the mountain. Local advice or guides are highly recommended. Bicycle tours of the Blue Mountains can also be arranged, and are a great way to explore the foothills.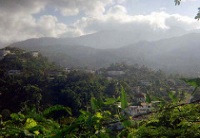 Blue Mountains James Willamor
Jablum Coffee Company
In the Blue Mountain hamlet of Mavis Bank, on the trail to Blue Mountain Peak, lies the Jablum Coffee Company.
The coffee factory was built in 1923 and has remained a family-run business for generations. The production of Blue Mountain coffee dates back to the early 18th century when, in 1728, coffee seedlings were first brought to Jamaica by the British Governor. The plant thrived in the Blue Mountain region and the trade was enthusiastically cultivated by freed slaves who started new lives in the mountains. Today, Blue Mountain coffee is highly acclaimed and sought-after by coffee aficionados the world over.
Visitors can tour the working factory to watch the production process along with sampling the brew. Tours must be arranged in advance. The Jablum Coffee Company sells a variety of coffee merchandise (including antique coffee grinders and mills) and a visit is a treat for coffee lovers.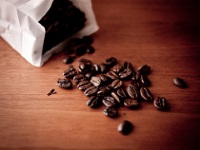 Coffee Beans Sora
Devon House
Devon House in Kingston is a prime example of Jamaican Georgian architecture. The house was built by Jamaica's first black millionaire, George Stiebel, at the end of the 19th Century. It's furnished with a number of antiques and evokes the feel of a 'Jamaican Great House'.
Devon House is a national monument, but also a heritage centre aiming to promote local arts and crafts and keep Jamaican traditions alive. The ice-cream sold here is famous and the dozens of flavours on offer frequently pop up in tourist reviews. There are also baked goods, liqueurs and wines, coffee, cigars, spices, arts and crafts, clothes and much more on sale. The Norma's on the Terrace restaurant comes very highly recommended for sampling Jamaican cuisine.
Devon House also prides itself on maintaining a peaceful and lovely green area in the centre of the city and the gardens are open to the public free of charge.
Address:
Corner of Trafalgar Rd and Hope Rd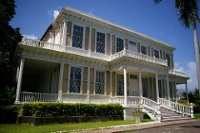 Devon House Christina Xu
Jamaica has a tropical climate with year-round constant high temperatures and humidity and little seasonal variation: there is a dry season and a wet season. The city of Kingston lies on the dry part of the island, which means that it receives less rain on average.
When it does rain, showers are short, heavy and followed by sunshine, and they can happen at any time of year. The locals refer to these brief showers as 'liquid sunshine' and they seldom interrupt the balmy weather for long. The rainiest weather occurs in May and June and later in October and November, sometimes extending into December. Tropical storms and hurricanes can occur between July and November. This is in line with the Jamaican rainy season which runs from May to November.
Although the mountains protect Kingston from the worst of the rain, the Jamaican dry season, between mid-December and mid-April, is still the most popular time to visit the city. If you are travelling on a budget the best time to visit Kingston is during the wet season when prices tend to be lower and things are less crowded. It is hot enough to enjoy the beaches and swim in the warm Caribbean waters all year.
Norman Manley International Airport
Location:
The airport is located 11 miles (18km) south east of Kingston.
Getting to the city:
There's a good, extensive government-run public bus network across Kingston, with three major stations in town - the Downtown Transport Center, the ultra-modern Half-Way Tree Transport Center, or Cross Roads. You can catch buses across Kingston and Jamaica in general.
Car Rental:
Car rental companies represented at the airport include Avis, Budget, Hertz and Island Car Rentals. Their desks are in the Ground Transportation Hall.
Airport Taxis:
You can get a taxi from the airport to town. Look for metered taxis if you'd rather not bargain a flat rate, and be aware that the official taxis have red license plates. It is best to arrange a taxi in advance.
Fascilities:
Facilities include ATMs, currency exchange, lounges, baby changing facilities, wheelchair assistance, a health centre (in the arrivals area), cafes and restaurants, duty-free storesand a good selection of stores.
Parking
Parking is available at the airport. It costs JMD 150 per hour, with a daily maximum of JMD 600.
Bacchanal Jamaica
Bacchanal Jamaica is the biggest festival in the country, jam-packed with spectacle, pageantry and revelry. It's a good-natured annual bash that takes the island's music into the streets of Kingston. Since the first carnival in 1990 the event has grown phenomenally, attracting tens of thousands of costumed merry-makers and spectators who congregate over the carnival weeks and line the route for the final Parade.
The carnival, or bacchanal, lasts for several weeks from February through to April every year. There is always a theme for the annual celebrations. Other centres on the island also hold carnival events, and contestants from the different parishes vie for the title of 'Soca Monarch', dancing in a special competition. The carnival events are fun and worth attending but the real magic of Bacchanal Jamaica is that the whole atmosphere becomes that little bit more friendly and celebratory during the festival months. In a nation which is famed for its singing, dancing, laid-back friendliness and partying, this is saying something.
Check the official website below for dates and events and to get ideas for costumes.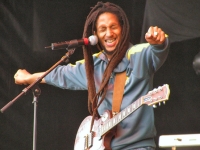 Julian Marley Maykl Tafari
Bob Marley Week
Reggae fans and Rastafarians gather in Kingston during the first week of February each year to enjoy a feast of events lined up to commemorate the life and work of Jamaica's best-known son, Bob Marley. Marley was more than just a musician but a religious leader, activist and philosopher as well. Travels in Jamaica would not be complete without some investigation of this powerful national (and global) icon.
Apart from a concert, the week includes symposiums, lectures, karaoke contests, a fashion show, exhibitions and various other events related to Marley. The week is organised by the Bob Marley Foundation in conjunction with the Bob Marley Museum. Apart from the museum in Kingston, which was Marley's adult home, the small museum in Nine Mile Village near Ocho Rios, where he was born, is also usually a booming centre at this time. For Bob Marley fans, and those interested in Rastafarianism, this is the perfect time to schedule a Jamaican holiday, and there are all sorts of fun spin-off deals and events to enjoy. Marley was born on 6 February so the festival always coincides with his birthday.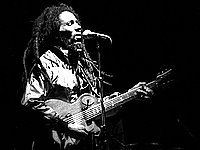 Bob Marley live in concert Ueli Frey
After a long day enjoying in the Caribbean sunshine, what could be better than working up a sweat in one of Kingston's hottest nightclubs? Jamaicans love to dance and it doesn't take long for the rum to get flowing and the party to really kick off.
Most of the nightlife is centred around the tourist areas, but the most popular strip is without a doubt Knutsford Boulevard in Kingston 5, where the highly popular Asylum nightclub, synonymous with Kingston's hip and happening party scene, attracts revellers of all kinds. Quad is also hot on the club scene, with a jazz café, nightclub and Voodoo Lounge, perfect for shaking a tail feather. A variety of music bars and clubs offering all kinds of music abound, with everything from reggae, rock, jazz, latin and house to keep those hips shaking until the early hours.
Kingston can be dangerous after dark so it might be worth finding out where to go from your hotel before heading out for a big night. Walking at night is not recommended, and it is far better to take a registered taxi.
Public transport is not recommended for visitors to Kingston due to overcrowding and unsafe conditions aboard the buses. Taxis are a better option. They come in various shapes, sizes and vintages but should bear a red license plate with the letters 'PPV' indicating it is an authorised taxi. Passengers should negotiate a fare before setting off.
Driving conditions in Kingston are chaotic. Although it may seem the most convenient option, renting a car and self-driving can be stressful. Renting a car and hiring a driver may be a better bet for those planning excursions out of the city because some of the roads are in bad condition and in some areas it is quite easy to get lost. Having a driver/guide can also be very informative and enriching to your explorations.
Downtown Kingston is easily navigable on foot, but walking anywhere at night is not advisable. Walking in touristy areas during the day is a great way to see the city - just be aware of pickpockets in the markets and crowded areas. Many of the popular attractions outside the city provide transport deals, and many visitors to Jamaica choose to use package tours which solves the problem of getting around.
Sightseeing in Kingston has a split personality due to the city's colonial past. Visitors will find attractions like Devon House and Spanish Town with grand British and Spanish architecture next to bustling markets with a distinctly Afro-Caribbean flavour.
Visitors shouldn't miss touring the stately mansions and art galleries alongside the beaches and Bob Marley sights. Further from the city, the Blue Mountains offer a wild experience with waterfalls, hiking, and tours of thoroughly-modernised coffee plantations. Don't miss out on sampling the world-famous Blue Mountain coffee; the best place to do so is at the Jablum Coffee Company in the village of Mavis Bank.
Kingston has come a long way, and is sure to have something to do and see for everyone. Highlights include the Bob Marley Museum, located in the musician's former home in Kingston; Port Royal, the one-time capital of Jamaica, famous for its tales of piracy; and the National Gallery, a small but well-maintained art museum which showcases a number of local artists of international repute. You can also enjoy a picnic and a stroll in the Hope Botanical Gardens, which has a small zoo that will entertain children, and a few hours of shopping and dining at Devon House, a magnificent Georgian mansion which has been turned into a craft and heritage centre.