Treichville
Tourists looking for a little entertainment in Abidjan should head to the area of Treichville, a small commune located in the southwest of the city. Full of bars and restaurants, as well as a race course, swimming pool and sports park, this is the area in which visitors are most likely to run into other tourists or expats based in Abidjan. While visitors should check with their hotel on the safety situation before stepping out at night, Treichville is certainly the place to go if they want to sample some of the city's surprisingly vibrant nightlife. The market is worth a visit during the day, as it offers an array of interesting and affordable items.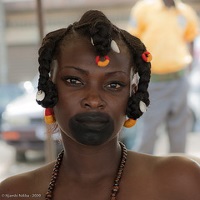 Treichville Njambi Ndiba
Saint Pauls Cathedral
Designed by Italian architect Aldo Spirito and covering a massive 14,625 square feet (4,500m square), this cathedral is reputedly Africa's second-largest church building and can seat more than 3,500 people. Pope John Paul II inaugurated the cathedral in a beautiful opening ceremony in August 1985. The tower itself is said to be a figure of St Paul, while the buildings behind the tower represent his robes. The interior of the cathedral includes a number of beautiful stained-glass tableaux. The building also offers spectacular views of the city that tourists can enjoy.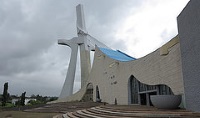 St Paul Sam valadi
Abokouamekro National Park
Located about an hour away from Yamoussoukro, the Parc National d'Abokouamekro (Abokouamekro National Park) is an up-and-coming Ivory Coast tourist attraction of great promise. Covering over 21,000 hectares of verdant grassland, criss-crossed by rivers and punctuated by towering trees, Abokouamekro National Park is also an important game reserve, offering refuge to the region's threatened wildlife. Visitors can gaze in wonder at the seemingly endless rolling green vistas, and be on the lookout for rhinos, giraffe, buffalo, hippos, monkeys and more.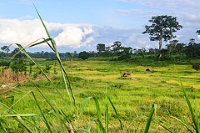 Abokouamekro jbdodane
Abidjan, like the rest of Ivory Coast, enjoys a tropical monsoon climate. Temperatures in this coastal city tend to remain in the region of 70°F (21°C) to 90°F (32°C) year-round. Abidjan experiences the majority of its rain during the monsoon months from May to July. October and November can be wet months but the average rainfall for the rest of the year remains minimal. Humidity is generally high, particularly from January to June when temperatures tend to remain constant at about 86°F (30°C). The best time to visit is during the cooler and drier months between November and January.
There are a few good places for tourists to eat; from local cheap and cheerful spots with brochettes (kebabs) and beer, to Lebanese and French restaurants. Although leaving their hotel at night can be unsafe for tourists, Le Plateau is worth visiting if they do venture out for a late lunch or early dinner. The area has a small selection of restaurants.
Felix Houphouet Boigny International
Location:
The airport is located 14 miles (22km) southeast of the city centre.
Transfer Between Terminals:
You can easily walk between the adjacent Domestic and International Terminals.
Getting to the city:
SOTRA Bus line 6 operates between the airport and central Abidjan. The journey takes about 25 minutes. Orange taxis that charge negotiable fares are available; passengers should negotiate with the driver before getting in the vehicle. Travellers should note that taxi fares often double after dark. Rental cars and mobile app taxi services are also available.
Car Rental:
Car hire companies, including Hertz, are represented at the airport.
Airport Taxis:
The safest taxis are the official orange taxis, although even these are often not metered. Numerous touts will try to offer travellers a deal but they are best avoided. Mobile app taxi services are also available.
Fascilities:
There is a bank with a currency exchange service, an ATM, a VIP Lounge, a pharmacy, shops, a bar and a cafeteria. There is a tourist desk in the main arrivals hall.
Parking
There is one main parking area at Abidjan International Airport, with two parking lots available, located right outside the terminals.
Abidjan's public transport system can be difficult to navigate. There are a number of different taxis operating in the city: Orange taxi cabs operate throughout the city and are the most expensive but also generally the safest option; taxis of other colours operate only in specific areas, are usually shared, and tend to be much cheaper. Taxis are rarely metered and a fare should be negotiated before getting into the vehicle. Motorcycle taxis also operate in Abidjan, and although cheap, they are best avoided due to safety concerns.
Buses operate along fixed routes in Abidjan, but are often overcrowded and plagued by petty theft, especially at bus stations. Ferries travel across the lagoon. Car hire is available at the airport, although self-drive is not recommended as roads can be chaotic and difficult to navigate. Often the best option for visitors is to hire a vehicle with a driver. Mobile App taxi services like TaxiJet (similar to Uber) are also an option for travellers looking for convenience and safety.
Abidjan is not known as a tourist Mecca, but there are a couple of interesting sites to visit while in the city. It is a spread out city made up of a handful of districts but a good place to start a tour (probably the only place) is Le Plateau. Starting at Laza De la Republique and heading into the Tourist Information centre in the Air Ivoire Building will give visitors a good idea of what can be seen in Abidjan. From there they can walk up Blvd De la Republique. Travellers will pass the flea market on the left-hand side of the road and will find places to eat, but they should definitely take some water along.
Visitors who stay on this road will make their way to the Cathedral St. Paul. This modern imposing Cathedral is certainly one of the major landmarks in Abidjan. Built in honour of the Pope in 1985, the architecture is meant to symbolise the form of Jesus, though with hints of elephant tusks, the symbol of Cote D'Ivoire. The National museum is a short walk from the Cathedral. Travellers could make a day of this or at least half of one if they take their time.