Duomo di Milano (Milan Cathedral)
The looming Duomo, one of the world's largest Gothic cathedrals, presides over the Milanese Piazza that bears its name. Its construction began in 1386 and continued sporadically until Napoleon ordered its completion in 1809. Its lengthy creation bestowed on it 3,400 statues, 135 spires and 96 gargoyles. It is best visited in full sunshine when the interior is illuminated by the colourful mosaic of its stained glass windows. The church is a five-aisled cruciform seating 40,000 worshippers. The 16th-century marble tomb of Giacomo de Medici lies in the southern transept, and lying buried at its heart is St Charles Borromeo, the cathedral's most important benefactor. Every year in May and September a nail from the cross of Christ is displayed to worshippers, retrieved from its resting-place by the bishop who is hoisted to the nivola to reach it. Across the piazza, in the Palazzo Reale, is the Museo del Duomo that displays the treasures from the cathedral. It also houses the Museo d'Arte Contomporanea, showcasing a collection of Italian Futurist art. The cathedral is the centre of Milan, both literally and figuratively, and the square is a wonderful meeting place and landmark - the city's roads radiate out from the square and it makes a glorious starting point for explorations of Milan.
There are admission charges for certain parts of the cathedral.
Address:
Piazza del Duomo 18
Opening time:
Open daily from 8am to 7pm.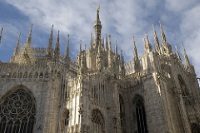 Duomo di Milano Luca
La Scala Opera
This world-famous opera house rests on the site of the Church of Santa Maria alla Scala, its namesake. For opera fanatics seeing a performance at La Scala is the experience of a lifetime. Check the official website below to see what is showing during your visit. Ticket prices vary depending on seating and show but should be booked far in advance.
The La Scala Museum is also well worth a visit and provides a wealth of mementos from the opera house dedicated to the nation's beloved composers and performers. These include Rossini, Puccini and Toscanini. Two halls are devoted to Verdi alone, and contain memorabilia such as the spinet on which he learned to play, hand-written scores and the baton given to him after the momentous reception of his best-loved work, Aida. There are also exhibitions featuring some of the elaborate costumes worn in the theatre over the years, and mementoes from the plays and performances. The museum is a delight for those familiar with the composers and their operas, but probably a bit dull for the uninitiated; however, if there aren't rehearsals on visitors are permitted to go into one of the boxes and see the theatre and this is thrilling for all lovers of the arts.
Address:
Largo Ghiringhelli 1, Piazza della Scala
Opening time:
The museum is open daily from 9am to 5.30pm (last entrance at 5pm).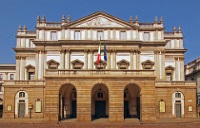 La Scala JohnPickenPhoto
Santa Maria delle Grazie
The church and convent of Santa Maria delle Grazie is a UNESCO World Heritage Site and one of the most popular attractions in Milan. Located next to the church of Santa Maria delle Grazie, in the former monastery's refectory, is Leonardo da Vinci's famous painting The Last Supper (Cenacolo Vinciano) and although the church is an attraction in its own right it is this iconic painting that draws so many admirers. The fresco depicts the moment of Christ's revelation of the betrayal. Judas hovers to the right of the painting, with his hand placed protectively on the bag of silver. Scaffolding covers the bottom of the painting (an ongoing restoration project), leaving the rest in full view. Controversy has erupted over the removal of layers of corrective over-painting completed in the 18th and 19th-centuries. The painting has endured more than hot debate, however, as it managed to escape the bombing during WWII that destroyed the roof of the refectory. There are other notable art works and frescoes at Santa Maria delle Grazie and the architecture is amazing - make sure you explore the church as well as see The Last Supper. You have to book in advance to see the painting and can do so online.
Address:
Piazza Santa Maria delle Grazie 2, Corso Magenta
Opening time:
Open Tuesday to Sunday from 8.15am to 7.30pm. Reservations are essential, and visitors must arrive 15 minutes before their allocated time of visit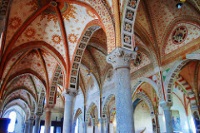 Santa Maria delle Grazie Francesco Sgroi
Museum of Historic Art of the Sforzesco Castle
The gargantuan Sforzesco Castle, built in the 15th Century, is one of Milan's foremost monuments. It was restored after being bombed in 1943. The vast interior, which is broken here and there by smaller courtyards, contains three museums, the most notable of which is the Museum of Historic Art (Museo d'Arte Antica del Castello Sforzesco). Within its collection of sculptures is the famous Pieta Rondanini, Michelangelo's final work. The picture gallery features paintings by Mantegna, Bellini, da Vinci and Fra Filippo Lippi. The two other museums within the Castle's ramparts are the Museum of Applied Arts and the Archaeological Museum and there are lots of unusual little exhibitions showcasing musical instruments, Egyptian art and other unexpected things. There is also a quaint little furniture museum. The castle is vast and to explore it properly you will need a few hours. It is conveniently located in the centre of Milan and the relatively cheap admission cost and amount of material to see encourages repeat visits. The castle grounds are big and lovely for a stroll; visitors can enter them free of charge so it is a good place to come for some fresh air. Castles never cease to captivate the imagination and this ancient fortress is rather unexpected in Milan, making it an exciting attraction.
Opening time:
Castle: Open daily from 7am to 6pm (winter), closing at 7pm in summer. Museums: Tuesday to Sunday 9am to 5.30pm.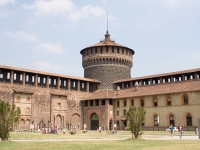 Sforzesco Castle Ben Zibble
Leonardo da Vinci National Science & Technology Museum
This remarkable museum is a popular tourist attraction and a fitting tribute to one of the world's greatest minds. Within the Leonardo Gallery of the museum is a collection of da Vinci's ingenious designs, detailing everything from plans for war machines to architectural visions. Applied physics is the focus of another room, in keeping with the museum's tribute to the history of science, and there are departments for energy, communication and transport as well. The museum is very well-organised and maintained, with a lot of interactive exhibits and scientific experiments to actively participate in. Activities are scheduled daily in the interactive science labs and the admission cost covers all these activities. Children will be enthralled and should learn a lot in this exciting and stimulating environment, experimenting with food, electricity and much more in carefully supervised activities. Adults will also enjoy the museum, particularly the section on da Vinci which is intriguing. There is a bar and a canteen at the museum, as well as a shop for souvenirs. If you are at all interested in science, or Leonardo da Vinci, or if you are travelling to Milan with kids, be sure to include a stop at the Leonardo da Vinci Museum of Science and Technology in your Milanese travel itinerary.
Address:
Via San Vittore 21
Opening time:
Open Tuesday to Friday from 9.30am to 5pm. Open on holidays and weekends from 9.30am to 6.30pm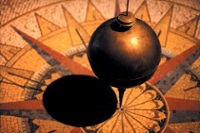 Foucault's Pendulum Sylvar
Pinacoteca di Brera
Housing one of Italy's finest collections of medieval and Renaissance art, the 17th-century Pinacoteca di Brera is by far the best collection of northern Italian paintings. Many of the masterpieces here were secured by Napoleon, who used the Palazzo as a storeroom for all the art he confiscated from public and private holdings. An imposing bronze sculpture in his likeness greets visitors as they enter the courtyard. Three of Italy's great masterpieces can be found here, namely Andrea Mantegna's , Raphael's , and Piero della Francesca's (the ). The collection also includes notable works by Caravaggio. One of Milan's most popular tourist attractions, the Pinacoteca di Brera houses mostly religious art and will impress even the uninitiated with its vast collection and the stunning building, which is an attraction in its own right. The paintings and sculptures are well arranged and, unlike some galleries in Italy, there is a decent audio guide in English to supplement the information mounted for each painting, the majority of which are in Italian. There is a student cafe off from the main courtyard where visitors can get refreshments.
Opening time:
Open Tuesday to Sunday from 8.30am to 7.15pm. Closed Mondays, New Years Day, 1 May and Christmas Day.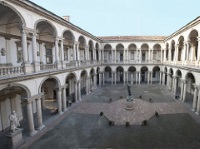 Pinacoteca di Brera Davide Oliva
Orto Botanico di Brera
The Orto Botanico di Brera is a botanical garden located behind the Pinacoteca di Brera in the centre of Milan, and is operated by the Istituto di Fisica Generale Applicata of the University of Milan. The garden was established in 1774 under the direction of Maria Theresa of Austria, transforming an existing Jesuit garden used by students of medicine and pharmacology. The garden has greenhouses from the 19th century that are now used by the Academy of Fine Arts, as well as flowerbeds and elliptical ponds from the 18th century. Orto Botanico di Brera is home to one of the oldest ginkgo biloba trees in Europe, and various other mature botanical specimens can be found within the grounds. It is a true plant-lover's paradise and a wonderful place to take a stroll and admire the romantic features. The Orto Botanico di Brera is small by botanical garden standards but is well worth visiting for its historical charm and the originality of the mixture of art and nature that often results from the influence of the Academy of Fine Arts. Locals enjoy reading, relaxing and soaking up the sun in this lovely green area and the fact that most tourists never discover the rather well-hidden garden is probably a blessing, as it remains a peaceful and beautiful refuge.
Address:
Brera Palace, Via Brera
Opening time:
Open Monday to Friday from 9am to 12pm, and 3pm to 5pm, and on Saturday from 10am to 5pm.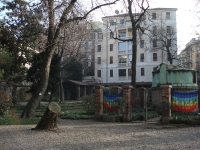 Orto Botanico di Brera Giovanni Dall'Orto
Basilica of SantAmbrogio
The Basilica of Sant'Ambrogio is one of the oldest churches in Milan, built by Bishop Ambrose between 379 and 386 AD. Located in an area where numerous martyrs of the Roman persecutions were buried, it was originally called Basilica Martyrum. In 1099 the church was rebuilt in the Romanesque architectural style but the basilica plan of the original edifice was maintained, including a portico with elegant arches in the front entrance. In keeping with the Lombard style of medieval architecture, the hut-like façade has a typically flat appearance. Of the two bell towers, the left and higher tower dates back to 1144 AD. Inside there is an apse mosaic from the early 13th century that portrays the Christ Pantokrator (Ruler of All), an inspirational religious and artistic artefact. The church also houses the tomb of Emperor Louis II, who died in Lombardy in 875 AD. There are mummified bishops in the chapels of this interesting and ancient church and it is one of the best churches in Milan for religious art and artefacts. Despite its notoriety as one of the oldest churches in the city, the basilica is not overrun by tourists and the place has retained its atmosphere of peace, silence and history; the pleasure of a visit here is seldom marred by crowds.
Address:
Piazza SantAmbrogio, 15
Opening time:
The Basilica is open from Monday to Saturday from 10am to noon, and again from 2.30pm to 6pm. Sundays from 3pm to 5pm.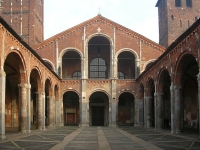 Basilica of Sant'Ambrogio Bernt Rostad
The chic and historic city of Milan provides plenty of mystifying and magical sights for children of all ages to explore while on holiday. From museums to parks, there's something for everyone in Milan. Take the kids on the big red hop-on hop-off city tour bus, to explore the streets of Milan over the space of 90 minutes. The bus departs from various locations every 75 to 90 minutes along two routes, such as Piazza Duomo or Via Montenapoleone. The Milan Aquarium on Via Gardio, which features over 100 species of fish and other marine animals, will mesmerise the children. The Planetario Ulrico Hoepli (planetarium) on Corso Venezia will educate and captivate young minds. Gardaland, a popular theme park located in the Lake Garda area, features about 40 different attractions and activities for kids of all ages, including roller coasters, a dolphin pool, dinosaur island, a rapids ride and a fantasy kingdom with singing animal characters. Aquatica on Via Rivoltana is a popular waterpark, where children can enjoy the pools, slides and rafting. During the winter months, when outdoor activities with children are not an option, take them to the Teatro delle Marionette (Puppet Theatre), where classic fairy tales and folk stories are performed. Toddlers will love the Play Planet on Via Veglia, where ball pits, climbing walls, tunnels, tubes and obstacle courses will tire them out and allow parents to enjoy a night to themselves.
The climate of Milan is Mediterranean, but like any large urban metropolis, buildings and human activity affect the local micro-climate. In the case of Milan this makes the weather rather more extreme. Summers can be hot and humid, with temperatures rising above 86°F (30°C) during August. The mountains behind the city protect Milan somewhat from the severity of winter, but the weather is very chilly with temperatures occasionally dropping below freezing. Winter also brings rain showers and heavy fog. Spring (March to May) and early summer (June) are the best time to visit Milan weather-wise, although autumn (September to November) is also pleasant. In late summer, particularly August, it gets uncomfortably hot and many locals depart for their summer break, leaving some restaurants and hotels closed. Winter is a bit cold for most tourists but Milan's attractions are world-class during any season. Milan has a busy event calendar and unless you are travelling particularly to attend a big festival it is best to avoid international events like Milan Fashion Week, because the city gets crowded and more expensive. Essentially Milan is a year-round tourist destination.
Milan is almost as famous for its cuisine as for its fashion scene, and foodies will be in paradise in this city. Milan's restaurants serve everything from traditional local fare to exotic international cuisine. However, the city is known to be less keen on pasta than the rest of Italy and although there are still sumptuous pasta dishes available there are also more rice-based dishes than the uninitiated might expect. Classic Italian dishes include the usual pastas and pizzas, as well as s (cured meats), risottos and excellent seafood.
Many traditional Milanese restaurants and trattorias (casual Italian eateries) can be found in the Brera, Navigli and city-centre areas. For good pizza when eating out in Milan, try one of the restaurants on Via Palermo. Porta Venezia, Via Victor Hugo and Via Manzoni have more international options, serving Mediterranean, Asian and fusion cuisine.
While there will always be a number of Milan restaurants open to diners, it is best to call ahead for reservations if you are visiting one of the more popular restaurants. Some establishments add a service charge to the bill and if not, a 10 percent gratuity is an acceptable tip. Dining out in Milan can be expensive, but it is extremely rewarding to the palette.
Ponte Rosso
With small tables dotted along the banks of a canal, this trattoria serves simple, hearty and unfussy fare. Guests can sample some Triestino cuisine by starting off with a mixed platter of cured meats called from the region famous for the most delicate prosciutto in Italy and the minestrone soup is to-die-for. Other favourites are Triestino (vinegar-kissed fried sardines) and for the carnivores, the (beef in a herb sauce). Closed Sundays for dinner. Reservations recommended.
Address:
Ripa di Porta Ticinese 23
Premiata Pizzeria
One of Milan's most popular pizzerias is bustling from early dinnertime until the night owls pop by for a late-night snack. The restaurant exudes a wonderfully rustic ambience with exposed copper pipes tracing across the ceilings of rooms overflowing with laughter and long, raucous tables. The wood oven pizzas are excellent while the menu of pastas and meat dishes is equally appetising. Open daily for lunch and dinner. Reservations recommended.
Address:
Via E. De Amicis 22
Da Giacomo
Giorgio Armani and other trendy fashionistas frequent Da Giacomo restaurant, and its elegant dining area was put together by world-famous interior designer Renzo Mongiardino. The menu features a selection of traditional Tuscan cuisine such as grilled turbot, or linguini with scampi and zucchini flowers. Open for lunch and dinner daily, reservations essential.
Address:
Via Pascale Sottocorno, 6
Trattoria Milanese
Established in 1933 and located down a narrow lane in one of the oldest sections of the city, the Trattoria Milanese has a three-beamed ceiling sheltering its long, communal tables. Serving traditional local cuisine such as risotto alla Milanese, with saffron and beef marrow, and an excellent minestrone soup, this is a favourite with locals. Open Tuesday to Sunday for lunch and dinner, and Monday for dinner only, reservations essential.
Cracco Peck
Linked to the Peck Store, adorned with beautifully modern décor and with masterchef Carlo Cracco at the helm, this is a fantastic choice for a night of fine dining. Serving first class starters and mouth-watering mains, this restaurant was voted one of the world's top 50 by Open for lunch and dinner from Monday to Friday. Saturday the restaurant is open for dinner only. Closed on Sundays.
Address:
Via Victor Hugo 4
Armani/Nobu
This eatery is the place to be seen! As part of a worldwide chain of exceptional restaurants, this is where food fanatics can sample such famous dishes as black cod in misu sauce, as well as sushi and sashimi, while sipping on sake with gold leaf. Closed for Sunday lunch. Reservations essential.
Address:
Armani World, Via Manzoni 31
Anema e Cozze
Famous for its Neapolitan pizzas topped with the freshest selection of seafood, such as clams, mackerel, mussels and sardines, Anema e Cozze is a firm favourite in this neighbourhood. It may not be Milan's most stylish restaurant, but it serves tasty affordable food and the fish infused pastas and other antipasti are also delicious. Bookings advisable.
Milan Linate Airport
Location:
The airport is situated five miles (8km) from downtown Milan.
Time:
GMT +1 (GMT +2 between the last Sunday in March and the last Sunday in October).
Getting to the city:
Bus number 73 runs from Linate Airport to Milan Piazza S. Babila every 10 minutes, between 5.35am and 12.35am. Alternatively, there is a bus that travels to Milan Central Station every 30 minutes. All buses departing from Linate Airport depart from the area just outside arrivals.
Car Rental:
Car rental companies at Linate Airport include Avis, Europcar, Hertz, Maggiore/National, and Thrifty, all of which have desks in the arrivals section.
Airport Taxis:
Taxi services are available outside the arrivals hall. The journey to the city centre will take 20 to 40 minutes depending on traffic conditions. Shared taxis are available.
Fascilities:
Facilities at the airport include ATMs, currency exchange, a post office, left luggage and baggage wrapping, a business centre and executive lounge, a pharmacy and first aid station, a hair salon, laundry facilities, a chapel, and an information desk. Duty-free shopping is available, and dining options range from fast food joints to good restaurants.
Parking
Parking comprises about 4,500 spaces. There are both short and long-term parking options available, all within a two-minute walk to the terminals.
Turin Caselle Airport
Location:
The airport is located 10 miles (16km) northwest of Turin.
Time:
GMT +1 (GMT +2 from the last Sunday in March to the the last Sunday in October).
Getting to the city:
The GTT railway has service directly to central Turin from the train station adjacent to the passenger terminal. There are also regular buses to the city centre, which take approximately 45 minutes.
Car Rental:
There are several car hire companies located in the car park, including Avis, Budget, Europcar, Hertz, Locauto and Maggiore.
Airport Taxis:
There is a taxi rank located at the exit of the terminal. The trip to Turin takes approximately 30 minutes.
Fascilities:
The terminal contains duty-free shopping, several restaurants and bars, a bank, baby changing facilities, a first aid station, and a tourist information centre.
Parking
There is a multi-storey car park located near the terminal. Short-term parking is free for the first 10 minutes, and parking rates vary from €5 to €6 per hour, and from €16 to €40 per day, depending on the parking lot.
Milan Malpensa Airport
Location:
The airport is situated in the province of Varese, 31 miles (50km) north-west of Milan.
Time:
GMT +1 (GMT +2 between the last Sunday in March and the last Sunday in October).
Transfer Between Terminals
Malpensa Airport provides a free shuttle service for passengers transferring between terminals.
Getting to the city:
The Train Station is located in Terminal 1 on level 1. The Malpensa Express runs from around 5am until just before midnight and links Malpensa airport with the centre of Milan. There are also several buses that run from Terminal 1 and Terminal 2 to Milan's Central Station, as well as the Malpensa Shuttle which connects each 20-30 minutes from both terminals to Milan's Central Station.
Car Rental:
Car rental companies at Malpensa Airport include Avis, Europcar, Hertz, Maggiore/National, and Thrifty.
Airport Taxis:
Various taxi companies provide service at Malpensa airport. They are located at Arrivals on the ground floor at both terminals 1 and 2.
Fascilities:
Facilities at the airport include ATMs, VIP business lounges, lost property, currency exchange, a post office, left luggage and baggage wrapping, a pharmacy and first aid station, and an information desk. Duty-free shopping is available, and dining options range from fast food joints to good restaurants.
Parking
There are both short and long-term parking options available at the airport. Short-term parking is only minutes away from terminal 1 and payment is calculated according to a parking meter. Long-term parking is low cost and is just a four minute walk to terminal 1.
Milan Fashion Week
Milan has a well-deserved reputation for being the haute couture fashion centre of Europe, and a stroll around the downtown 'fashion block' bounded by Via Monte Napoleone, Via Manzoni, Via della Spiga and Corso Venezia will have fashion fundis drooling over the collections of Italian and international designers concentrated here. The top designers' Autumn/Winter and Spring/Summer collections are showcased on the catwalk during Milan's famed Fashion Weeks, which are hosted twice a year usually in January or February and September. During Fashion Week the big names of fashion come to town, and celebrity spotting is a favourite occupation during the week, but the fashion shows themselves are unfortunately reserved for invitation only. There are many peripheral events in which visitors can be involved as the entire city celebrates fashion in high style. Just putting on a high fashion outfit and strutting around the area is fun, as the always fashionable population of Milan becomes even more stylish during this period - the streets are catwalks!
Venue:
Fiera Milano Exhibition Centre and various historical venues throughout Milan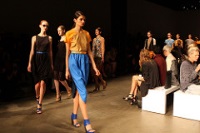 A Milan Fashion Show Eva Rinaldi
Italian F1 Grand Prix
Monza was one of the first F1 tracks ever built, but for more than sentimental reasons it remains one of the highlights on the Formula One calendar as it is also the fastest track in the world. The race circuit is located 10 miles (16km) northeast of Milan, in the small town that gave the track its name.
Although one of the most popular F1 tracks in the world, it can be a little confusing to get to if you aren't a local. If you're travelling by car you should take the A1 and A4 motorway out of Milan, taking the turn onto the S36 road that leads to Monza - there are signs posted along the road prior to races to show the way. The drive takes about half an hour. There is lots of parking available at the track but it is expensive and you will need to arrange a parking permit in advance. Travelling by train is a great option as the trip from Milan Central Railway Station to Monza Station only takes 15 minutes and there are free shuttle buses to ferry people from the station to the Vedano Gate at the track. It is also possible to take trains to Monza from Verona, Turin and Florence as well as a number of other cities. Just be sure to check the train schedule because they change often.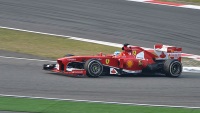 Fernando Alonso emperornie
Milan has perhaps the most talked-about nightlife in Italy, partly because it is a young and hip city, and partly because it has such a high-profile events calendar. The fashionable nightlife in Milan radiates primarily from the Brera Gallery and Navigli areas. Centri Sociali is home to an alternative, less expensive entertainment scene. The city offers visitors a vast selection of vibrant bars, restaurants and nightclubs, as well as live music performances.
The nightlife kicks off early in Milan, by Italian standards, with Happy Hour starting at about 6pm. The evening drinking session, called the apertivito, is an important social opportunity in Milan, a chance to meet and greet and fashionably mingle. Dance venues usually only get going at about 11pm, with nightclubs closing at about 4am.
Although there are a handful of perennial favourites, clubs are likely to change names and owners fairly frequently in Milan, but it is never difficult to find nighttime fun in this glamorous city. Those who want more cultured fun will be spoiled by the opera and theatre scene of Milan.
ATM (Azienda Trasporti Milanesi) operates Milan's metro, bus, tram and trolley services, which have the advantage of being integrated. Tickets, available from shops displaying the ATM logo, are validated on-board and then have a time limit of 75 minutes travel on any of the transport options, or one ride on the metro. The city's metro is particularly inexpensive and user-friendly. Linea 1 covers the most important tourist areas near the Duomo. Taxis are freely available but have to be hired at marked stands. Expect extra charges for luggage, night fares, or Sunday travel. Renting a car and driving yourself is not a fun experience in Milan and is best avoided. The historic area around the cathedral is good for pedestrians and a number of attractions can be reached on foot.
Milan's attractions extend far beyond its fame as a fashion capital: there are many museums, cathedrals and galleries to visit, as well as the Milan Aquarium and the Orto Botanico di Brera gardens. The best time for sightseeing in Milan is spring, early summer, or autumn, when the weather is warm and sunny.
The Galleria Vittorio Emanuele II arcade is a popular place to relax over coffee, while La Scala is a world-famous opera house worth visiting, with a great museum for those who can't get their hands on tickets. The 15th-century Sforzesco Castle's Museum of Historic Art is also a major Milan attraction, as is the Gallery of Modern Art. The Pinacoteca di Brera exhibits collections of medieval and Renaissance art, including the work of Napoleon.
The Santa Maria delle Grazie is home to Leonardo da Vinci's famous painting, , and the Leonardo da Vinci National Science & Technology Museum has a collection of his designs for war machines and architecture. Duomo, which is the world's largest Gothic cathedral, and the Basilica of Sant'Ambrogio, built in the 1st century, are landmark Milan attractions.
The Naviglio Grande is the oldest canal in Milan, built in the 12th-century, and stretches between the Darsena of Porta Ticinese and the bridge of Via Valenza (itself particularly drenched in old world charm). Along the canal's banks in this section, about 400 vendors gather on the last Sunday of every month to set up stalls selling a fascinating selection of furniture, clocks, porcelain, silver, jewellery, dolls, books and numerous collector's items, from comics to walking sticks. On market day the adjacent shops, bars and art studios all remain open, adding to the pleasure of browsing.
Portofino
Nestled in a sheltered inlet within the stretch of the Italian Mediterranean is the coastal fishing village of Portofino which is famous for its picturesque harbour and has become an upmarket resort. It has long been the playground for the rich and famous, attracting the likes of Humphrey Bogart, Sophia Loren, Richard Burton, Elizabeth Taylor and Princess Grace. It is not surprising, therefore, that its prices rose to match the exclusivity demanded by its holidaymakers. The scenic surrounds can be explored from the outlying nature reserve, graced with cypress and olive slopes. Set off from here on a 90-minute trek to San Fruttuoso, or a two-and-a-half hour hike to Santa Margherita. Other sights around Portofino include its castle and the lighthouse (faro), with its breathtaking view of the coastline. The most famous beach in the area is the beautiful Paraggi Beach, which is a few minutes up the coast. Other popular beaches nearby include Camogli, Chiavari, Lavagna, and Sestri Levante. Portofino is sometimes a victim of its own popularity and can get uncomfortably crowded in the summer months, but it is well worth the effort to spend a few hours exploring this famously scenic and famously celebrity-packed village.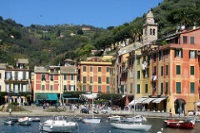 Portofino Alan Kotok
Cinque Terre
Strung along just over 11 miles (18km) of rugged cliffs between Levanto and La Spezia, the UNESCO-listed Cinque Terre is one of Italy's greatest treasures. Cinque Terre means 'Five Lands'. These are the five related fishing villages that nestle precariously on the cliffs, overlooking the azure ocean of the Italian Riviera, off the country's northwestern coast. Cinque Terre is a picture-perfect dream of sparkling clear waters and dramatic vistas, contained within the tranquil embrace of the villages that are connected to one another by a scenic pathway that curves through the hillside among olive groves and vineyards.
Monterosso is the largest of the towns and is recognisable through the huge statues carved into the rocks facing its shores. The village of Riomaggiore is quickly identified through the myriad fishing boats festooning its shores and is linked by the 'lovers lane' to the charming town of Manarola. Corniglia perches precariously on the mountainside and is accessed through a steep climb, and Vernazza's promenade and piazza have beautiful sea vistas. A stroll along these dramatic cliffs is one of the most splendid walks in the country, and photographers will be captivated by the camera fodder. Cars and motorbikes are not allowed in the villages and Cinque Terre is part of a national park.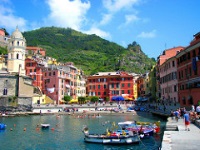 Cinque Terre katiedee47
Dolomite Mountains
Exploring the beautiful Dolomite Mountains and Renon Plateau is a popular excursion from Milan, and quaint mountain villages like Bolzano and Collalbo complete the package for day-trippers. The Dolomite mountains are famously picturesque and are listed as a UNESCO World Heritage Site. Some interesting and unusual rock formations, or 'pyramids', dot the landscape of Renon Plateau. Hiking is naturally a popular activity in the region and photographers will be in their element.
Most tourists travel first to Soprabolzano, a two to three hour drive from Milan, where they can get stunning panoramic views of the Dolomite landscape either by taking the Renon Cable Car up the mountain to Bolzano, or hopping aboard the hundred-year-old electric train, the Ritten Railway, to Collalbo. Bolzano is an interesting town with a distinctly German atmosphere - it was German until World War Two - and Collalbo is a charming, tiny village perched high on the plateau, and a great base for those wanting to do walking trails as it is surrounded by pristine countryside. The Dolomites are best visited in spring and summer but autumn is still a pleasant season in the mountains. Winter gets very cold! Although there are a number of guided package tours available, it is easy and fun to drive yourself around the region.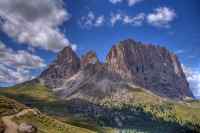 The Dolomite Mountains Roberto Ferrari