Tel Aviv Museum of Art
The Tel Aviv Museum of Art has hosted the country's leading exhibition of modern art since its inception in 1932. It also has one of the best collections of Israeli art in the world.
Art lovers will enjoy the museum's permanent collection of European and American art, which features prominent Impressionist and Post-Impressionist paintings by Chagall, Dali, Cezanne, Vincent van Gogh, Jackson Pollock, and Monet, among others. Regarding the scope of its inventory, the museum showcases many mediums, including paint, sculpture, print, photography, film, design and architecture.
All in all, the institution aims to be a cultural hub in Tel Aviv and offers an active program of changing exhibitions. Visitors can look forward to exciting cultural programs such as music and dance performances, cinema screenings and public lectures.
Address:
27 Shaul Hamelech Boulevard
Transport:
Bus 9,18, 28, 70, 90 or 111
Opening time:
Monday, Wednesday and Saturday: 10am-6pm Tuesday and Thursday: 10am-9pm Friday: 10am-2pm Closed Sundays.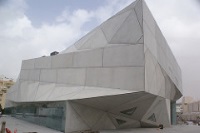 Tel Aviv Museum of Art TijsB
Eretz Israel Museum (The Land of Israel Museum)
The Eretz Israel Museum's unique layout and character make it more like a park than a standalone establishment. It is clustered around the ancient mound of the Tel Kasile, where ongoing archaeological excavations are in progress.
The museum consists of various pavilions, each displaying different cultural artefacts and collections. Visitors can purchase a map to help them navigate through this fascinating campus, which covers 3,000 years of history, culture and art relating to Israel. The permanent exhibits include displays on ethnography and folklore, ceramics, copper, coins, crafts, agriculture, domestic life, and many aspects of social and political history.
The exhibitions are not all equally impressive and some are better organised than others. Still, there are plenty of treasures to be discovered. There are also temporary exhibitions that change on a regular basis. All exhibits are accessible for the disabled. Photography is permitted but only for private, non-commercial use. Flashes and tripods are not allowed.
A special museum shop at the entrance sells clothes, jewellery and all sorts of souvenirs created by talented Israeli designers. Visitors can also buy a wide range of replicas. There is a cafe for refreshments and the Planetarium is right next door - it is possible to buy combined tickets. The air conditioning is a big bonus on hot days.
Address:
2 Haim Levanon Street, Ramat Aviv.
Opening time:
Monday to Wednesday: 10am-4pm Thursday: 10am-8pm Friday: 10am-2pm Saturday: 10am-4pm Closed Sundays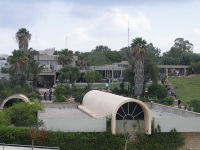 Eretz Israel Museum Yair Talmor
Museum of the Jewish Diaspora (Beit Hatfutsot)
The museum conveys the Jewish people's story, beginning with their expulsion from Israel at Roman hands, and leading to their return. Multi-storey displays and exhibitions show a diverse range of Jewish communities, and the common cultural and religious links that have bound them.
Visitors can engage with murals, reconstructions, dioramas, audio-visual displays, documentary films and interactive multimedia. Also, the Jewish Music Centre has thousands of recordings of Jewish music. Visitors will find traditional fare, music of communities that didn't survive the Holocaust, as well as works by Jewish composers.
The genealogy centre holds thousands of records from around the world, and allows visitors to explore their ancestry. It also welcomes them to register their own family trees.
Address:
Tel Aviv University Campus, Klausner Street, Ramat Aviv
Opening time:
Sunday to Wednesday: 10am-7pm Thursday: 10am-10.30pm Friday: 9am-2pm Saturday: 10am-3pm Closed Sundays and Jewish holidays.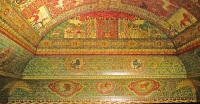 Museum of Jewish Diaspora Sodabottle
Carmel Market
The Carmel Market (Shuk Ha'Carmel) will enthral all visitors to Tel Aviv with its bustling atmosphere and fine selection of goods and produce. It's located on the 'trendy side' of town (just off Allenby Street), and is essentially a long alley, jam-packed with shoppers and vendors loudly advertising their wares.
Although shoppers can buy almost anything at the Carmel Market and usually at better prices than elsewhere in the city, the real attraction is its mouth-watering array of fresh produce. Visitors can shop for the freshest fruit and vegetables, cheeses and baked goods, while soaking up the typically Middle Eastern market atmosphere. The market is frequented by locals and is not designed for tourists, which makes the experience feel exciting and authentic. Many of the vendors will allow shoppers to taste unfamiliar fruits and vegetables. Bargaining is part of the culture.
The Carmel Market operates every day of the week except Saturday. Friday mornings are the busiest and, consequently, best time to experience the place's full impact.
Address:
Near the Hatachana Complex and Allenby Street.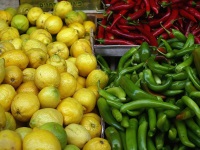 Carmel Market JRodSilva
Beaches
Given that the city's entire western edge is a gorgeous strip of Mediterranean coastline, it's unsurprising that beach visits are among Tel Aviv's most popular tourist activities. The city is blessed with almost year-round sunny weather and warm sea temperatures. Most of its beaches are free and boast decent facilities such as toilets, showers, deck chairs and umbrellas.
The coastline is divided into about ten beaches, all of which have their own appeal. Hilton Beach is best for swimming, while Gordon Beach is popular with tourists and has some good bars and cafes. Backpackers and bohemian types tend to enjoy Drum Beach (where there are frequent evening drumming sessions), and gay travellers will feel especially at home at Atzmaut Beach.
For surfers, Hilton Beach South has some terrific waves. Dog walkers should head to Hilton Beach North. Givat Aliya Beach's calm waters, shallow ocean pool and children's playground make it a great stop for kids. Those who prefer a quieter, less crowded beaches should try Trumpeldor, though it doesn't have lifeguards or much in the way of facilities.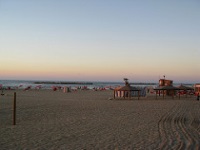 A Tel Aviv beach Chris Yunker
Tel Aviv's climate is dry-summer, subtropical, with hot summers and mild winters. Although it is close to Jerusalem, Tel Aviv has quite a different climate because it is not as highly elevated, making it hotter and more humid. The average summer temperature in Tel Aviv is 77°F (25°C), and the average winter temperature is 57°F (14°C).
November to April is the wet season, and humidity tends to be high year round. In winter rainfall comes in the form of heavy showers and thunderstorms; snow is extremely rare in Tel Aviv. Although summer is the hottest season, Tel Aviv can experience severe heat waves in spring. The city gets plenty of sun, even in winter. July and August are the busiest tourist months in Tel Aviv. October is when Israelis tend to take vacations, so at this time prices will also go up and finding accommodation may be more difficult. The best time to visit Tel Aviv is in March and April or September.
Ben-Gurion International Airport
Location:
The airport is situated 16 miles (26km) southeast of Tel Aviv, and 37 miles (59km) northwest of Jerusalem.
Time:
GMT +2 (GMT +3 from the end of March to the end of October)
Transfer Between Terminals:
A free shuttle service operates between the two terminals at 15-minute intervals.
Getting to the city:
Trains are the best option for getting into Tel Aviv; they're clean, fast and cheap. Trains run from Level S of Terminal 3 to Tel Aviv Savidor Station and a trip into town takes around 20 minutes. Passengers arriving after midnight will have to wait until 3am for the first train of the day. Buses run from the nearby Airport City rather than the airport itself. Passengers can take the free Egged 5 Shuttle from the second floor of arrivals to Airport City.
Car Rental:
Avis, Budget, Dollar, Thrifty, Eldan, Hertz and Sixt have facilities at the airport.
Airport Taxis:
Taxis usually wait outside the arrivals hall. The trip into town is 16 miles (26km). There is an added fare surcharge at night, on Jewish holidays and the Sabbath.
Fascilities:
Airport facilities include currency exchange, ATMs, banks, a post office, luggage storage, business facilities and VIP lounges, information desks, two synagogues, medical clinics, a police station, a VAT refund desk, special-needs-assistance services, a playroom and a mother-and-child room. There are also myriad shopping and dining options.
Parking
The area directly in front of the terminals is reserved for pick-up and drop-offs only. Short-term parking is available in the parking lot in front of Terminal 3. Rates for short-stay parking start at ILS 18 for the first hour, and go up by ILS 4 every fifteen minutes thereafter. The maximum daily rate is ILS 90. Long-term parking is available opposite Terminal 3. A shuttle bus runs from this parking lot to the terminal at 15-minute intervals. Long-stay rates are ILS 80 per day.
Tel Aviv is the irrepressible social hub of Israel, and has a great selection of trendy bars, grinding clubs and pubs with enough loud music, dancing and merriment to keep any party person happy. The saying in Israel goes 'Haifa works, Jerusalem prays, Tel Aviv plays', and this should give visitors some idea of what they're in for.
During the summer months, many visitors kick things off with sundowners at one of the many beach bars, such as the popular Jerusalem Beach or Banana Beach. The nightlife in Tel Aviv doesn't usually get going until around 11pm, so it's best to ease into the swing of things by going out for dinner before hitting the bars and clubs. Even on Friday nights during Shabbat, the locals go wild, while Thursday nights are another big night out in Tel Aviv.
Clubs and bars are constantly changing, but the main areas stay the same. Allenby Street is a good place to start, with more than 20 clubs centred round the small area offering house, disco, funk and techno music. The Tel Aviv port and Rotschild Blvd areas are popular too; while those looking for a gay scene should head to the trendy Florentin district.
Expect traffic jams at 2am, as this city that never sleeps is capable of keeping you up way past dawn.
The easiest way to get around Tel Aviv is on foot or by taxi. Taxi mini-buses (sheruts) follow the same routes as the public buses, often with more frequency, and are slightly cheaper on weekdays. The bus system itself is extensive with a fixed fare in the city centre. Taxi cabs are not of any particular make or model car, but do have rooftop signs and are plentiful. Fares are metered and more expensive at night.
Tel Aviv is known for its lovely Mediterranean beaches, hip nightlife and colourful markets. The city does have an impressive arts and culture scene too and some of the most rewarding and popular attractions in Tel Aviv are museums. Using Tel Aviv as a base, visitors also have some wonderful destinations on their doorstep. The gorgeous holiday resort of Eilat on the Red Sea is great for scuba diving and snorkelling. The ancient port city of Jaffa, and the magical Underwater Observatory Marine Park are also worthwhile.
Museum lovers are unlikely to run out of things to see and do in Tel Aviv. Three of the city's best museums are the Tel Aviv Museum of Art, an absolute must-see for art fanatics, the Museum of the Jewish Diaspora (Beit Hatfutsot), which tracks the history of the Jewish people all over the world, and the Eretz Israel Museum, which is a kind of exhibition park with several different pavilions housing their own distinct collections. Theatre lovers, should attend a show at the Nalagaat Centre, which is renowned for its performances and atmosphere.
For those keen to enjoy sun and sea, Tel Aviv's beaches won't disappoint. Some favourites with tourists are Hilton Beach and Gordon Beach. For those travelling in Tel Aviv with kids, Givat Aliya Beach is wonderful. The old Tel Aviv port area is becoming increasingly popular with tourists, combining the industry of the harbour with cultural attractions and some good bars and restaurants.
Jaffa
The historical port city of Jaffa is within walking distance of Tel Aviv. Its inhabitants have included notable biblical figures, and its name is said to come from Japhet, who was Noah's son. Archaeological finds show that Jaffa existed as a port city thousands of years ago, serving both Egyptian and Phoenician sailors on their sea voyages.
The Old Town's entrance is marked by the Ottoman Clock Tower, a prominent landmark and meeting point. From a visitor's perspective, the area's main draw is its ancient and magical atmosphere.
Jaffa has, indeed, become a popular tourist attraction filled with interesting shops, Mediterranean-style restaurants and sun-drenched cafes. Visitors will find studios, galleries and artist quarters, as well as shops specialising in Judaica and archaeology. There are also some splendid markets, where vendors expect to haggle. At night, the historical walls are illuminated, revealing a beautiful, seaside architectural backdrop.
History lovers should visit the Jaffa Museum, which contains a dazzling collection of artefacts.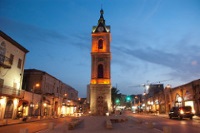 Ottoman Clock Tower Ian McKellar
Eilat
Eilat is a popular holiday resort located at the northern tip of the Red Sea. Its wonderfully warm temperatures seldom drop below 70°F (21°C).
Many travellers visit Eilat to enjoy fantastic diving and snorkelling opportunities in the Red Sea: one of the world's most magnificent marine preserves. Brightly coloured coral fish, moray eels and even manta rays can be seen, while landlubbers will enjoy lazing on the beautiful beach and splashing in the shallows. Swimming with bottlenose dolphins in their natural environment is one of the resort's more popular activities.
Bird-watching is a lesser-known activity in Eilat. But given that over one billion birds navigate between the Mediterranean coast and the Jordan Mountains, the area is certainly a terrific place to watch migratory flight.
The Timna Valley National Park is located just north of Eilat and is a wonderful excursion for those wanting a day in the desert on camel-back or in a jeep. More active travellers can enjoy hiking in the desert mountains. The Red Canyon is a dramatic and beautiful feature of the area and attracts many hikers. Children tend to relish visiting the Hai Bar National Biblical Wildlife Reserve, which is a kind of zoo that collects and protects endangered animals mentioned in the Bible.
Transport:
The best way to travel is by plane from Tel Aviv; otherwise, the journey time is approximately four hours by car from either Tel Aviv or Jerusalem.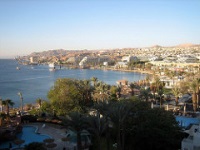 Eilat Prince Roy
The Underwater Observatory Marine Park
The Underwater Observatory Marine Park lies just south of Eilat and is conveniently close to Tel Aviv. Visitors can view a fantastic range marine life in its gigantic, seawater aquarium. Animals such as eels, sharks, turtles and stingrays are part of the population, while the rare-fish aquarium is home to some exquisite (and poisonous) fish.
The Red Sea is renowned for its colourful reefs and rich marine life. The Marine Park's unique Underwater Observatories allow visitors to really immerse themselves in this underwater world, and see reefs and animals in their natural environment.
Visitors can also look forward to daily feedings, with shark feedings typically drawing the most attention. All feedings are accompanied by some information on the species and their eating habits.
The Marine Park is a great stop for kids.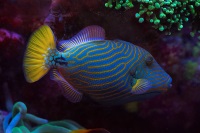 The Underwater Observatory Marine Park Israel Tourism