As the birthplace of Christianity, Judaism and Islam, Israel isdensely packed with enough religious and historical attractions andexperiences to last a lifetime.
Lovers of sun, sand and sea should head to the renowned Red Seaand enjoy floating in its crystalline waters; or for a rejuvenatingexperience, visit one of the many Dead Sea spa resorts. Israel'spopular tourist destination of Masada, located in the JudeanDesert, is a must for anyone in the area.
Some of the country's most fascinating attractions include theChurch of the Holy Sepulchre and the Citadel of David. Bethlehem isworth a visit, as is Nazareth - two of the most important Christianholy sites - while Yad VaShem is a moving and interesting memorialto the Holocaust, providing a multifaceted tribute to the millionsof Jews who died during World War II.
The best time of year to visit is during the spring(March/April) and autumn months (September/October), when theweather is cooler and more tolerable for tourists. Since travellingdistances are not great in Israel, it's often better to drive tosome places than to catch a plane. There are good public transportsystems in place in the major cities. The best way to experienceIsrael is to hire a car and take a relaxed approach to seeing thecountry and exploring all the religious and historical sites it hasto offer.
Church of the Holy Sepulchre
As the site of Jesus' crucifixion, burial and resurrection, theChurch of the Holy Sepulchre is the holiest Christian place inJerusalem. Emperor Constantine constructed it in 326, and itsstructure has suffered frequent damage over the centuries. Repairshave been undertaken by the religious communities that administerit.
The Church contains the Chapel of Golgotha, and the threeStations of the Cross where Jesus was crucified. The Sepulchreitself marks the place of his burial and resurrection.
This incredible church is filled with treasures and should be ofgreat historical and architectural interest regardless of one'sreligious beliefs. It is an absolute must for Christians. Thechurch is home to several Christian denominations.
The church is not a museum and does not display a lot ofinformation. For this reason, travellers should either join a goodtour or do some research before visiting. Also, the church can getvery crowded and visitors may have to queue for a long while. It'sa good idea to arrive early in the morning. Those visiting in thehope of a tranquil environment in which to pray and worship may bedisappointed if they visit at a busy time. The tomb can only beentered by five people at a time so there is usually a long queuefor this privilege as well.
Address:
Via Dolorosa, Old City.
Transport:
Bus to Jaffa Gate; from there, a walk through the OldCity.
Opening time:
Daily from 5am to 9pm (April to September), and 5amto 7pm (October to March).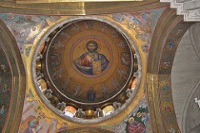 Church of the Holy Sepulchre Meaghan O'Neill
Temple Mount (Al-Haram al-Sharif)
Temple Mount is tremendously important to Jews, Muslims andChristians alike. Located within the Old City's walled section, itsglinting, golden Dome of the Rock is easily Jerusalem's mostdistinguishable feature.
From a Jewish and Christian perspective, the large rock is saidto be where Abraham offered his son Isaac up for sacrifice. Manybelieve that the First Temple once housed the Ark of the Covenant.Visitors should also note that the Israeli government prohibitsnon-Muslim prayer on the site.
Muslims believe that Muhammad ascended to heaven from the samerock. For this reason, they built the Dome over this site in the7th century. Muslims know it as the Noble Sanctuary or Al-Haramal-Sharif, and it's one of the three most important sites inIslamic culture. The Al Aqsa Mosque and the Islamic Museum are alsolocated on the Temple Mount.
Tragically, due to the site's great importance to threereligions, Temple Mount is frequently a focal point for religioustension in Jerusalem. Travellers should investigate the situationbefore visiting.
Address:
Temple Mount, Old City
Transport:
Bus to the Dung Gate.
Opening time:
While the complex is open to all people, non-Muslimvisitors will NOT be allowed entry into the building of the Dome ofthe Rock. Visitors should also note that Temple Mount may be closedto visitors during times of turmoil or religious conflict inJerusalem. Generally, it is open Saturday to Thursday from7.30am-11am and 1.30pm-3pm in summer; and 8am-10:30am and12:20pm-2pm in winter. Closed on Fridays and during prayertimes.
Dome of the Rock James Emery
Western Wall (HaKotel HaMaaravi)
The Western Wall (Wailing Wall to non-Jews) is the most sacredJewish prayer-site in the world. Thousands of worshippers gatheryear-round to pray here, and to place folded written prayers intothe wall's crevices. The wall is all that remains of the SecondTemple of Jerusalem, built by King Herod in 20 BCE. It is made upof enormous stone blocks, and endures as a tribute to the scale ofworkmanship in past eras.
Following Orthodox Jewish practice, the praying sections havebeen separated for men and women. Men are required to wear askullcap (kippah) and women must be modestly dressed. On Fridays(Jewish Sabbath) the men's section pulsates with the faithful'ssongs and prayers. In principle, the whole area is an Orthodoxsynagogue. The wall is also sacred to Muslims, who believe that itis where the prophet Muhammad tied up his winged horse, al-Buraq,before ascending into heaven.
For those interested in the historical and architectural aspectsof the Western Wall, an interesting tunnel tour takes visitorsthrough excavations along the Wall. It is much more extensive thanis visible from the famous square.
Visitors should be prepared to go through security and havetheir bags checked at the site. Also, photography is not allowed atcertain times, like when there are holy events.
Address:
Temple Mount, Old City
Transport:
Bus to Dung Gate.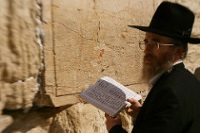 Western Wall Brian Jeffery Beggerly
Via Dolorosa
The Via Dolorosa (Road of Sorrow) is the route Jesus is said tohave followed as he carried the cross to his crucifixion. There are14 stations along the way commemorating different events, startingat Lion's Gate in the Muslim Quarter of the Old City, where Jesuswas convicted by Pontius Pilate, and ending at his tomb inside theChurch of the Holy Sepulchre in the Christian Quarter. A steadystream of pilgrims remember and honour Jesus' sacrifice by walkingthe Way of the Cross every year.
Every Friday at 3pm, priests lead a procession and prayers aresaid at each station. A semi-circle of pavement stones marks everystop, and a wall bears the station's number in Roman numerals. Somestations have additional inscriptions.
Many churches belonging to different Christian denominationsline the path. Visitors usually enjoy entering as many as possibleand comparing different interpretations of the Via Dolorosa and ofChrist. There are also a few secular attractions along the way,with shops, cafes, restaurants and other sights and distractionsfor those who want a less solemn religious excursion.
Historically speaking, the pathway is unlikely to be the exactroute walked by Jesus. Still, it is a profound walk of faith formany Christians, and an interesting cultural experience.
Address:
Via Dolorosa, Old City
Transport:
Bus to Lion's Gate.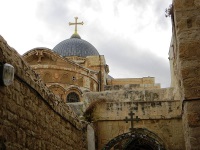 Ninth Station Britchi Mirela
Yad VaShem
The museum documents and commemorates the events of theHolocaust, and also furthers education through ongoing researchinto the period. In this way, it honours the millions of Jews whodied during World War II.
Visitors will find the world's largest and most comprehensivecollection of Holocaust material, which includes documents,photographs, films and videotaped testimonies of survivors. Thesecan be read and viewed in the allocated rooms. Engaging with theinformation is a sobering, emotional experience.
The Hall of Names recognises the Holocaust's six millionvictims, and is an inspiring tribute to them. Symbolic gravestonesdisplay information from the 'Pages of Testimony', which were thedeceased's biographical records. The library contains an impressivecollection of material in many languages.
Regarding its scope, Yad VaShem chronicles the Holocaust'shistory from the implementation of anti-Jewish policies to the massmurders in concentration camps. The display includes photographs,artefacts, documents and audio-visual material. An importantcollection of Holocaust art is also displayed in Yad Vashem's ArtMuseum. The International School for Holocaust Studies andHolocaust Research provides education and ongoing research on theHolocaust at national and international levels.
Otherwise, the Yad Vashem experience includes the RighteousAmong the Nations exhibition, which honours the non-Jews who riskedtheir lives to save Jews. Visitors can also see the Encyclopaediaof Communities. It's a record of the historical-geographicalcommunities of Jews destroyed or damaged during the Naziregime.
Some visitors may find the museum distressing. Children under 10are not allowed to enter.
Transport:
By bus to Mt. Herzl, on Herzl Boulevard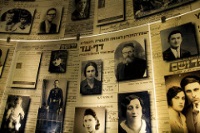 Yad VaShem israeltourism
The Israel Museum
The Israel Museum has achieved world-class status. Itsremarkable collections include displays of archaeology from theHoly Land, a comprehensive compilation of Judaica and the ethnologyof Jewish people, plus a fine-art collection encompassing OldMasters and renowned contemporary works. Many temporaryexhibitions, publications, lectures and educational activities formpart of the museum's cultural programme.
The Dead Sea Scrolls, which date from between the 3rd centuryBCE and the 1st century CE, are perhaps the museum's most excitingartefacts. A young Bedouin shepherd famously discovered them in acave in 1947.
The Museum's Art Garden is another great attraction. Designed bythe Japanese-American sculptor Isamu Noguchi, it is a fusion of Zenlandscaping that incorporates the area's natural vegetation, suchas fig trees, olive trees and rosemary bushes. Within thispicturesque setting, visitors can view famous sculptures by Rodin,Bourdelle, Maillol, David Smith, Henry Moore, Richard Serra, SolLeWitt and James Turrell.
Address:
11 Ruppin Boulevard, Hakyria, near the Knesset (IsraeliParliament).
Transport:
Buses 9, 17, 24, 24a, and 99
Opening time:
Sunday, Monday, Wednesday and Thursday: 10am–5pmTuesday: 4pm-9pm Fridays and Holiday Eves: 10am–2pm Saturdays andHolidays: 10am-5pm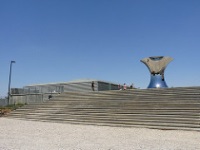 The Israel Museum Ricardo Tulio Gandelman
Citadel or Tower of David
Called the Tower of David, Jerusalem's Citadel is a medievalfortress with architectural elements from later periods. Itstallest tower, the Phasael, is the best place to appreciate itsmagnificent view of the city.
The Citadel contains the excellent Museum of the History ofJerusalem, which displays 4,000 years' worth of the city's past inits rooms and courtyards. Free tours of The Citadel and museum areconducted in Hebrew on Tuesdays at 10:30am, and in English everyday except Friday and Saturday at 11am. The 'light and sound' showheld almost nightly is also a delightful way to learn about thehistory of Jerusalem.
The Citadel of David is a great first stop for visitors toJerusalem, as it covers the city's history from biblical times tothe present in a very accessible and interesting way. English andHebrew captions and audio guides are available for visitors whoaren't with tour groups.
Visitors will also encounter some fascinating architecturalelements. Those who struggle with steps should note that there area lot of them at this site, and that seeing the place properlyrequires a fair amount of climbing.
Transport:
Line 38. Lines 13 and 18 stop at King DavidStreet.
Opening time:
Saturdays to Thursdays: 9am-4pm Fridays:9am-2pm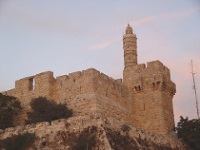 Tower of David israeltourism
Tel Aviv Museum of Art
The Tel Aviv Museum of Art has hosted the country's leadingexhibition of modern art since its inception in 1932. It also hasone of the best collections of Israeli art in the world.
Art lovers will enjoy the museum's permanent collection ofEuropean and American art, which features prominent Impressionistand Post-Impressionist paintings by Chagall, Dali, Cezanne, Vincentvan Gogh, Jackson Pollock, and Monet, among others. Regarding thescope of its inventory, the museum showcases many mediums,including paint, sculpture, print, photography, film, design andarchitecture.
All in all, the institution aims to be a cultural hub in TelAviv and offers an active program of changing exhibitions. Visitorscan look forward to exciting cultural programs such as music anddance performances, cinema screenings and public lectures.
Address:
27 Shaul Hamelech Boulevard
Transport:
Bus 9,18, 28, 70, 90 or 111
Opening time:
Monday, Wednesday and Saturday: 10am-6pm Tuesday andThursday: 10am-9pm Friday: 10am-2pm Closed Sundays.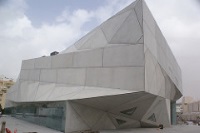 Tel Aviv Museum of Art TijsB
Eretz Israel Museum (The Land of Israel Museum)
The Eretz Israel Museum's unique layout and character make itmore like a park than a standalone establishment. It is clusteredaround the ancient mound of the Tel Kasile, where ongoingarchaeological excavations are in progress.
The museum consists of various pavilions, each displayingdifferent cultural artefacts and collections. Visitors can purchasea map to help them navigate through this fascinating campus, whichcovers 3,000 years of history, culture and art relating to Israel.The permanent exhibits include displays on ethnography andfolklore, ceramics, copper, coins, crafts, agriculture, domesticlife, and many aspects of social and political history.
The exhibitions are not all equally impressive and some arebetter organised than others. Still, there are plenty of treasuresto be discovered. There are also temporary exhibitions that changeon a regular basis. All exhibits are accessible for the disabled.Photography is permitted but only for private, non-commercial use.Flashes and tripods are not allowed.
A special museum shop at the entrance sells clothes, jewelleryand all sorts of souvenirs created by talented Israeli designers.Visitors can also buy a wide range of replicas. There is a cafe forrefreshments and the Planetarium is right next door - it ispossible to buy combined tickets. The air conditioning is a bigbonus on hot days.
Address:
2 Haim Levanon Street, Ramat Aviv.
Opening time:
Monday to Wednesday: 10am-4pm Thursday: 10am-8pmFriday: 10am-2pm Saturday: 10am-4pm Closed Sundays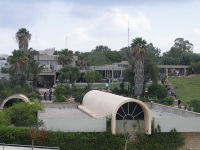 Eretz Israel Museum Yair Talmor
Museum of the Jewish Diaspora (Beit Hatfutsot)
The museum conveys the Jewish people's story, beginning withtheir expulsion from Israel at Roman hands, and leading to theirreturn. Multi-storey displays and exhibitions show a diverse rangeof Jewish communities, and the common cultural and religious linksthat have bound them.
Visitors can engage with murals, reconstructions, dioramas,audio-visual displays, documentary films and interactivemultimedia. Also, the Jewish Music Centre has thousands ofrecordings of Jewish music. Visitors will find traditional fare,music of communities that didn't survive the Holocaust, as well asworks by Jewish composers.
The genealogy centre holds thousands of records from around theworld, and allows visitors to explore their ancestry. It alsowelcomes them to register their own family trees.
Address:
Tel Aviv University Campus, Klausner Street, RamatAviv
Opening time:
Sunday to Wednesday: 10am-7pm Thursday: 10am-10.30pmFriday: 9am-2pm Saturday: 10am-3pm Closed Sundays and Jewishholidays.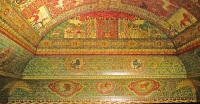 Museum of Jewish Diaspora Sodabottle
Hamat Tiberias National Park
The 17 springs of Hamat Tiberias have been used since antiquityto cure various ailments. In fact, the springs were so renowned fortheir healing properties and the relief they provided for variousmaladies that people were permitted to bath in them without censureon the Sabbath. The pools and various spa facilities and treatmentsare still the greatest draw for visitors, but there are somecultural attractions as well.
Built between 337 and 286 BC, the Hamat Tiberias synagoguecontains the oldest surviving mosaic floor in Israel. The centralmosaic is a beautifully preserved design representing a largezodiac. Helios (Greek sun god) is at its centre, guiding hiscelestial chariot in the direction of the sun. The Hammam SuleimanMuseum is also located in the park and is situated right at theentrance.
Although there are some walking trails, those looking for anunspoilt wilderness area may be disappointed. The popularity of thesprings has led to the area becoming quite built up, and it isfrequently crowded. On the plus side, visitors will find shower andchanging-room facilities, and lockers for personal belongings. Thepark has a restaurant but visitors can also picnic.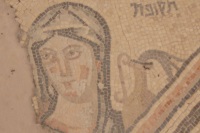 Hamat Tiberias Mosaic Bukvoed
Beit Shean National Park
Beit She'an was established in the 5th century BC. Its hilltoplocation made the settlement strategically valuable, meaning thatmany over the centuries sought to conquer it. It was the seat ofEgyptian rule before falling to the King of Assyria, and was laterresettled as a Hellenistic city during Alexander the Great'stime.
A period of conquests followed until the Romans returned thecity to its former residents. It prospered during the time ofHadrian and experienced its golden age after the Bar Kochva revolt.Numerous buildings were constructed during this time and theresidents enjoyed a period of peaceful coexistence.
Beit She'an's face changed markedly after Christianity wasdeclared the Roman Empire's official religion in the 4th centuryAD. This was followed by further conquests until an earthquake leftthe city in ruins. Settlements later sprang up around the ruins andthe area received an influx of people after the establishment ofthe State of Israel.
Today, this thriving city lies around the remains of an ancientcentre. The Roman theatre, Byzantine bathhouse, Roman street andcolonnade, and the amphitheatre used for gladiatorial battles areBeit She'an's most notable ruins.
Visitors should budget between two and four hours to see thepark properly.
Address:
The Beit Shean National Park is located in the city ofBeit Shean.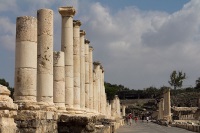 Beit She'an National Park Oren Rozen
Gan Hashlosha National Park (Sahne)
The Amal River's warm waters flow through the Gan HashloshaNational Park and can be enjoyed year round, with temperatures inthe region averaging around 82ºF (28ºC). Park visitors can relax inits warm pools and rejuvenate in the natural Jacuzzi underneath aninvigorating waterfall.
This is a wonderful place to spend the day swimming andexploring walking trails with the family. Lifeguards are on duty,and visitors will find changing-room and shower facilities, a kid'splayground and plenty of tables and shaded areas for picnics. Thereis also a restaurant for those who don't want to bring their ownpicnic.
The hydro-powered flour mill, and the tower-and-stockadereconstruction are of cultural interest. So too is the Museum ofRegional and Mediterranean Archaeology, which contains a collectionof Greek tools and a display of archaeological findings from BeitShe'an Valley, Iran and Egypt.
Address:
Between Hashita junction and the city of BeitShean.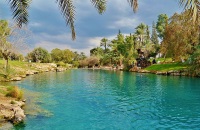 Gan Hashlosha National Park Zairon
Caesarea
Herod the Great established the ancient port city of Caesarea2,000 years ago as a tribute to the Roman Emperor, Augustus Caesar.Before this, it was known as Straton's Tower after its founderStraton, who may have ruled Sidon in the 4th century BC.
Caesarea is conveniently located between Haifa and Tel Aviv andis a popular excursion for visitors. Its rich archaeologicalheritage includes the remains of a Roman aqueduct, a theatre,houses and palaces. The Roman theatre is used as a concert venuefor big Israeli and international stars and is a special place tocatch a show. Some of the archaeological finds from Caesarea can beseen in the museum at nearby Kibbutz Sdot Yam.
For scuba diving enthusiasts, diving among the ruins of Herod'scity is an extraordinary experience. Caesarea has also become wellknown for some of its modern attractions, including some very fineprivate homes, Israel's only international golf course, luxuryhotels, galleries and boutiques. There are some good cafes andrestaurants as well. Miles of sandy beaches stretch along theMediterranean coastline and visitors can enjoy the sun-soakedatmosphere against this luxurious backdrop.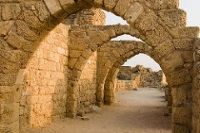 Caesarea audrey_sel
Nazareth
Nazareth is one of the most important Christian holy sites,attracting pilgrims from all over the world. Jesus spent most ofhis life in the area.
Today, the city has both Muslim and Christian residents.Visitors can expect a quaint mix of red roofs and white churches togreet them from the Galilean hillside. The summit offers a gloriousview of the Jezreel Valley.
The area is also home to some significant religious places.Visitors should stop at the Church of the Annunciation, where theupper sanctuary's walls depict scenes from the life of Mary.Catholic communities from around the world donated the work. Thenearby Church of St Joseph houses the remains of Crusaderbas-reliefs and inscriptions found during the Church'sconstruction.
Nazareth's Synagogue Church is thought to stand over the sitewhere Jesus preached of the Messiah's coming. Visitors will find anelegant mosque in the Mosque Quarter. The Turkish-style edifice wasconstructed in 1812 and belongs to the wealthy Al-Fahum family.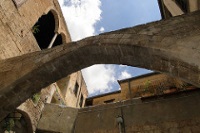 Nazareth Adam Jones
Hezekiahs Tunnel
Hezekiah's Tunnel is an absolute must-see for those who like tocombine their sightseeing with a real sense of discovery andadventure. The tunnel, which is about 2,700 years old, was built byKing Hezekiah in preparation for an invasion by the Assyrians. Hisplan was to shut down springs based outside the city, and redirectwater through a tunnel under the city walls. In this way, he lookedto protect Jerusalem's precious water supply and outlast theinvaders.
The tunnel is made all the more remarkable when considering itsmiddle section, which zig-zags wildly. It was constructed in thisway because two teams of diggers (each operating from a differentend of the tunnel) were trying to meet by the sound of the other'spicks working against the rock.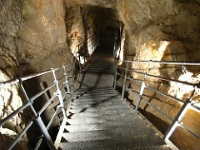 Hezekiah's Tunnel Morgan Levy
Carmel Market
The Carmel Market (Shuk Ha'Carmel) will enthral all visitors toTel Aviv with its bustling atmosphere and fine selection of goodsand produce. It's located on the 'trendy side' of town (just offAllenby Street), and is essentially a long alley, jam-packed withshoppers and vendors loudly advertising their wares.
Although shoppers can buy almost anything at the Carmel Marketand usually at better prices than elsewhere in the city, the realattraction is its mouth-watering array of fresh produce. Visitorscan shop for the freshest fruit and vegetables, cheeses and bakedgoods, while soaking up the typically Middle Eastern marketatmosphere. The market is frequented by locals and is not designedfor tourists, which makes the experience feel exciting andauthentic. Many of the vendors will allow shoppers to tasteunfamiliar fruits and vegetables. Bargaining is part of theculture.
The Carmel Market operates every day of the week exceptSaturday. Friday mornings are the busiest and, consequently, besttime to experience the place's full impact.
Address:
Near the Hatachana Complex and Allenby Street.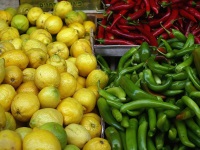 Carmel Market JRodSilva
Beaches
Given that the city's entire western edge is a gorgeous strip ofMediterranean coastline, it's unsurprising that beach visits areamong Tel Aviv's most popular tourist activities. The city isblessed with almost year-round sunny weather and warm seatemperatures. Most of its beaches are free and boast decentfacilities such as toilets, showers, deck chairs and umbrellas.
The coastline is divided into about ten beaches, all of whichhave their own appeal. Hilton Beach is best for swimming, whileGordon Beach is popular with tourists and has some good bars andcafes. Backpackers and bohemian types tend to enjoy Drum Beach(where there are frequent evening drumming sessions), and gaytravellers will feel especially at home at Atzmaut Beach.
For surfers, Hilton Beach South has some terrific waves. Dogwalkers should head to Hilton Beach North. Givat Aliya Beach's calmwaters, shallow ocean pool and children's playground make it agreat stop for kids. Those who prefer a quieter, less crowdedbeaches should try Trumpeldor, though it doesn't have lifeguards ormuch in the way of facilities.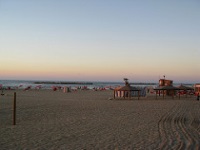 A Tel Aviv beach Chris Yunker
Temperatures and weather conditions in Israel vary widely. Thenorthern and coastal regions have a Mediterranean climate,characterised by long, hot, dry summers and short, cool and wetwinters. The southern and eastern regions are arid. January is thecoldest month, with temperatures ranging from 40°F to 50°F (4°C to10°C), and August is the hottest month with temperatures rangingfrom 64°F to 100°F (18°C to 38°C).
The rainy season runs from October to early May but most of therain falls between December and February. Israel can experiencesevere storms and flooding is not unusual in the wet season. Thesummer months often experience no rainfall at all. Rainfalldecreases as one moves south in Israel and is not evenlydistributed in the country. Israel's higher elevations, includingJerusalem, do sometimes get snow in January and February.
Israel is a year-round travel destination because many of itsattractions are not weather dependant, but many travellers preferto visit in summer, particularly if visiting the beautifulcoastline. Early March is also a lovely time to visit Israelbecause the countryside comes briefly alive with greenery andflowers after the winter rain.
Ben-Gurion International Airport
Location:
The airport is situated 16 miles (26km) southeast of TelAviv, and 37 miles (59km) northwest of Jerusalem.
Time:
GMT +2 (GMT +3 from the end of March to the end ofOctober)
Transfer Between Terminals:
A free shuttle service operates between the two terminals at15-minute intervals.
Getting to the city:
Trains are the best option for getting into Tel Aviv; they'reclean, fast and cheap. Trains run from Level S of Terminal 3 to TelAviv Savidor Station and a trip into town takes around 20 minutes.Passengers arriving after midnight will have to wait until 3am forthe first train of the day. Buses run from the nearby Airport Cityrather than the airport itself. Passengers can take the free Egged5 Shuttle from the second floor of arrivals to Airport City.
Car Rental:
Avis, Budget, Dollar, Thrifty, Eldan, Hertz and Sixt havefacilities at the airport.
Airport Taxis:
Taxis usually wait outside the arrivals hall. The trip into townis 16 miles (26km). There is an added fare surcharge at night, onJewish holidays and the Sabbath.
Fascilities:
Airport facilities include currency exchange, ATMs,banks, a post office, luggage storage, business facilities and VIPlounges, information desks, two synagogues, medical clinics, apolice station, a VAT refund desk, special-needs-assistanceservices, a playroom and a mother-and-child room. There are alsomyriad shopping and dining options.
Parking
The area directly in front of the terminals is reserved forpick-up and drop-offs only. Short-term parking is available in theparking lot in front of Terminal 3. Rates for short-stay parkingstart at ILS 18 for the first hour, and go up by ILS 4 everyfifteen minutes thereafter. The maximum daily rate is ILS 90.Long-term parking is available opposite Terminal 3. A shuttle busruns from this parking lot to the terminal at 15-minute intervals.Long-stay rates are ILS 80 per day.
Money:
Israel's currency is the Israeli Shekel (ILS), which is dividedinto 100 agorot (singular is agora). Money can be changed in thesmall exchange bureaux found on most main streets, or at banks andhotels. ATMs are prevalent throughout the country. Most banks areopen Sunday through to Friday until noon, and are open again from4pm till 6pm on Sundays, Tuesdays and Thursdays. Major credit cardsare widely accepted.
Language:
Hebrew is the official language of Israel. Arabic was anofficial language until 2018, when it was downgraded to having aspecial status in the state. Most of the population also speakEnglish.
Electricity:
230 volts, 50Hz; European-style two-pin and roundthree-pin plugs are used
Entry Requirements:
US citizens must have a passport that is valid for the period ofintended stay in Israel. No visa is required for stays of up tothree months.
British citizens must have a passport that is valid for theperiod of intended stay in Israel. No visa is required for stays ofup to three months for British passport holders, irrespective ofthe endorsement regarding their national status containedtherein.
Canadian citizens must have a passport that is valid for theperiod of intended stay in Israel. No visa is required for stays ofup to three months.
Australian citizens must have a passport that is valid for theperiod of intended stay in Israel. No visa is required for stays ofup to three months.
South African citizens must have a passport that is valid forthe period of intended stay in Israel. No visa is required forstays of up to three months.
Irish citizens must have a passport that is valid for the periodof intended stay in Israel. No visa is required for stays of up tothree months.
US citizens must have a passport that is valid for the period ofintended stay in Israel. No visa is required for stays of up tothree months.
New Zealand citizens must have a passport that is valid for theperiod of intended stay in Israel. No visa is required for stays ofup to three months.
Passport/Visa Note:Visa:
All foreign passengers to Israel must hold proof of sufficientfunds to cover their stay in the country. Additionally, visitorsshould hold return/onward tickets, and the necessary traveldocumentation for their next destination. Holders of a visacategory "Aliyah" are allowed to enter Israel on a one-wayticket.
Passengers intending to proceed from Israel to Arab countriesother than Egypt, Jordan or the United Arab Emirates should ensurethat their passport does not contain an Israeli visa or stamps,since no passenger is allowed to enter other Arab countries withsuch passports. Passengers who, after a three months' stay inIsrael are permitted to stay for a longer period, will obtain theextension stamp in their passport - it is NOT possible to have itstamped on a separate sheet.
Note that travellers may enter Jordan directly from occupiedterritory, but must hold a visa for Jordan (to be obtained from arepresentation of Jordan abroad), otherwise entry will be refused.The Jordanian authorities will NOT permit re-cross to occupiedterritory. Travellers may also enter occupied territory directlyfrom Jordan. The Israeli authorities will permit a re-cross toJordanian territory.
NOTE: It is highly recommended that your passport has at leastsix months validity remaining after your intended date of departurefrom your travel destination. Immigration officials often applydifferent rules to those stated by travel agents and officialsources.
Travel Health:
There are no special health precautions required for travel toIsrael, but insect protection from August to November isrecommended due to the prevalence of the West Nile virus, which istransmitted by mosquitoes. A hepatitis A vaccine is sometimesrecommended by doctors, as is a tetanus vaccine and an MMR(measles, mumps, rubella) vaccination for those who haven't alreadyhad it.
Medical facilities in Israel are excellent but treatment can bevery expensive, so it is essential that travellers take out fulltravel health insurance. It should be possible to get all necessarymedications in the cities but it is always advised that travellerswho need certain medications take them along on their travels,along with the prescription and a letter from their doctor.
Tipping:
Tipping is expected in Israel, according to the level of service(unless a service charge is added to the bill). About 10-15 percentis customary.
Safety Information:
Check with local embassies for the latest travel advisorynotices.
Travellers in Israel should maintain a high level of vigilanceand keep up to date with developments. The risk of terroristattacks remains high and travellers to the region, includingJerusalem, need to exercise caution, particularly around locationsspecifically targeted by attacks in the past such as bars,nightclubs, markets and buses. Suicide bombers and other militantshave targeted crowded public areas, resulting in hundreds of deathsand injuries over the years. Although foreigners have not beenspecific targets, many have been caught up in the attacks becausethey visited famous landmarks and religious sites.
All travel to the Gaza Strip and the West Bank, and the easternborder with Syria should be avoided. Foreign nationals face anongoing threat of kidnapping in the Gaza Strip and West Bank. Thefrequent outbreaks of violence in these areas makes them extremelydangerous, even if tourists are not directly targeted.
Street crime is rare in Israel though, and generally only aproblem in 'bad' areas. The mugging of foreigners is unusual butpick-pocketing is not unheard of in busy market areas, so visitorsshould take normal precautions against this kind of crime.
Local Customs:
Israel is a largely religious society and religious customsshould be respected. Indecent behaviour is not tolerated andoffenders will be arrested and fined heavily or imprisoned. Careshould be taken not to photograph any military or police personnelor installations, and visitors should be discreet about takingphotographs in Jewish Orthodox areas and of Jewish Orthodox people.It is advisable to carry official identification at all times, andto dress modestly.
Business:
The majority of business in Israel is centred in Tel Aviv. Dresstends to be less formal than in the US and Europe, but businesspeople tend to wear suits for important meetings or presentations,so formal attire is recommended. Women should dress moreconservatively, especially in strictly religious areas.
Business cards are usually exchanged, though with littleformality involved. Meetings often do not begin promptly and muchtime can be given to socialising. Business hours are usually from8:30am to 5pm, from Sunday to Thursday, and on Friday mornings.Sundays are regarded as a normal business day.
Communications:
The international access code for Israel is +972. The outgoingcode is 00 (not from public phones) followed by the relevantcountry code (e.g. 0044 for the United Kingdom). There are otheroutgoing codes depending on which network is used to dial out on.City/area codes are in use, e.g. (0)2 for Jerusalem.
Hotels, cafes and restaurants offering free wifi are widelyavailable. As international roaming costs can be high, purchasing alocal prepaid SIM card can be a cheaper option.
Duty Free:
Travellers to Israel do not have to pay duty on 250 cigarettesor 250g of other tobacco products; 2 litres wine and 1 litre ofother types of alcoholic beverages; 250ml of eau de cologne orperfume; 3 kg (6.6 lbs.) of food; and gifts to the value of US$200for residents and US$200 for non-residents. Prohibited itemsinclude fresh meat and fresh fruit (especially from Africa).