Shannon International Airport
Location:
The airport is situated 15 miles (24km) from Limerick city and Ennis, and 56 miles (90km) from Galway City.
Time:
GMT (GMT +1 between the last Sunday in March and the last Saturday in October).
Getting to the city:
Taxis operate day and night; buses and coaches operate during the day to Limerick and other Irish cities. Care rental is also avilable in the arrivals hall.
Car Rental:
There are numerous car rental companies represented at the airport including Hertz, Avis, Europcar, Enterprise Rent a Car and Thrifty Car Rental.
Airport Taxis:
Cabs are available from the cab desk in the arrivals hall. The desk is open for all arriving flights.
Fascilities:
Shannon Airport is fairly small and facilities are not extensive, but include a bureau de change, ATMs, restaurants and bars, a prayer room, a lounge and several shops. There are good facilities for disabled passengers; travellers with special needs should contact their airline in advance.
Parking
Long- and short-term parking is available. Long-term parking at Shannon Airport costs €11 a day or €55 a week. Short-term parking is free for the first 15 minutes, or €3 for the first 60 minutes. The daily rate is €20. The airport offers an online booking service called Park4Less, with prices starting at €30 per week in a dedicated parking lot. This car park must be reserved online in advance.
The nightlife in Galway is renowned, offering a vast selection of pubs, bars and nightclubs to choose from. It is a student city, which makes every night feel like a Saturday. There is always something going on.
There are great traditional music sessions held at the Crane Bar on Sea Road, Taaffes and Tigh Chóilí on Shop Street, and Western Bar near Eyre Square. The smaller country pubs just out of town are also very popular and a great way to experience true Irish culture. On any given night there will be wonderful folk music on offer in Galway and as you wander down the cobbled streets you will be drawn into the pubs and bars by the jolly live music. The legal drinking age is 18 and most nightclubs open at 11pm, closing round 2.30am. There is usually a cover charge at the door but free/reduced admission stamps are often handed out on Shop Street. A few trendy bars stay open till the early hours, including the Front Door on the corner of High and Cross streets and the Quays (which also has a club with live music) on Quay Street. Other good clubs are Halo, Carbon and Karma.
Connemara
Connemara is a wild and barren patchwork of bogs, green valleys, mountains and lakes. On the coast, visitors will find beautiful fishing villages and some superb white beaches washed by turquoise water. Mist and rain transform it into an eerie, magical place. The weather is very changeable and the light fluctuates almost constantly, bringing out the vivid colours of the various landscapes.
The Connemara National Park encompasses the remarkable granite peaks of the Twelve Bens and is wonderful walking country. Travellers could easily spend a whole Irish holiday in this amazing park. Its attractions include hiking, fishing, cycling, painting courses, horse riding, rock climbing, sailing, shooting, and golf at Connemara, among other things. There are also many historical sites and more cultural forms of entertainment, with traditional singing, music and dancing almost nightly, and some superb restaurants, pubs, bars and cafes. There are some wonderful camping facilities but also many upmarket guest houses, so the whole range of accommodation is catered for. Connemara is a must for nature lovers exploring Ireland.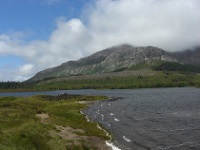 Connemara Oliver Bruchez
Aran Islands
The Aran Islands, with their magnificent wild terrain, show years of wind and water erosion. The islands - Inishmore, Inishmaan and Inisheer - lie about 30 miles (48km) out across the mouth of Galway Bay and are criss-crossed by miles of stone walls. They're also dotted with some fine Iron Age archaeological sites. Ancient forts such as Dún Aengus on Inishmór Island, and Dún Chonchúir on Inishmaan Island, are some of the oldest archaeological remains in Ireland.
The islands were home to a number of ancient monasteries, and some clocháns (dry-stone beehive huts from the early-Christian period) can still be found. The islands' isolation allowed Irish culture to survive when it had all but disappeared elsewhere. Irish is still the native tongue and, until recently, people still wore traditional Aran dress. The women still knit the famous Aran sweaters, which are now popular souvenirs for visitors. Historically, each family used a different pattern in order to recognize fishermen drowned at sea. The islands are a haven for botanists and nature lovers because of their abundance of flora, fauna and nesting birds. Many people recognise the islands from the popular television show Father Ted, which was filmed there.
Transport:
Ferries are available from Doolin in County Clare (Seasonal) or Rossaveal in County Galway (All Year)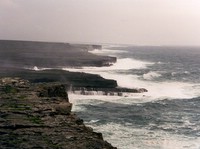 Irishmore Island Pixie from he
Cliffs of Moher
The steep and wondrous Cliffs of Moher overlook the Atlantic Ocean in County Clare, and are one of Ireland's top visitor sights. The majestic cliffs rise from the ocean to a height of 702ft (214m) and extend for a distance of five miles (8km). Formed by layers of sandstone, shale and siltstone, the cliffs have stood unchanged for millions of years. Visitors come to marvel at their splendour, and to enjoy views towards the Aran Islands in Galway Bay, as well as the valleys and hills of Connemara. If at all possible, travellers should visit the cliffs on a clear day to fully appreciate the views and natural beauty. On misty or rainy days, it's impossible see the ocean far below, and the wind on the cliff-tops can be terrifyingly strong.
The award-winning visitor centre offers an ultra-modern interpretive centre, Atlantic Edge, which includes interactive exhibits and displays, images, an audio visual show, and a virtual reality cliff-face adventure. Travellers can quite easily approach the cliffs without visiting the centre, but learning a bit about the place enriches the experience.
Transport:
Direct buses are available from Galway Bus station to the Cliffs of Moher between three and five times a day.
Opening time:
Open 9am year-round. Closing times are as follows: November to February 5pm; March and October 6pm (6.30pm on weekends and bank holidays); April 6.30pm (7pm Weekends & Bank Holidays); May and September 7pm (7.30pm on weekends and bank holidays); June 7.30pm (8pm on weekends and bank holidays); July to August 9pm.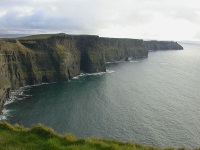 Cliffs of Moher Tobias Helfrich