Trinity College Dublin
Trinity College is Ireland's oldest university and counts Jonathan Swift, Samuel Beckett and Oscar Wilde, along with many other great thinkers and writers, among its past students. It was founded in 1592 by Queen Elizabeth I. The complex is home to many glorious buildings, beautifully manicured lawns, cobbled squares and the campus of the University of Ireland.
The main attraction for many is the Trinity Library. It houses the celebrated Book of Kells, which dates from the 8th century and is considered to be one of the oldest books in the world. Other manuscripts taken from ancient monasteries are also on display. Note that photography in this gallery is strictly forbidden.
The library is also home to the remarkable Long Room, which will delight the scholarly. The chapel on the grounds is absolutely beautiful and a must-see for anybody interested in ecclesiastical architecture. There are lots of sculptures, statues and monuments dotted around the grounds to investigate. One of the best things to do at Trinity, however, is to simply make like a student and lounge on the lovely green lawns!
Address:
College Green Dublin 2, Ireland
Transport:
The easiest way to access Trinity College is by bus. There are a number of stops around the campus.
Opening time:
The Book of Kells is open Monday to Saturday 8.30am-5pm from May to September, and Sundays 9.30am-5pm. From October to April, it's open Monday to Saturday 9.30am-5p, and Sundays 12pm-4.30pm.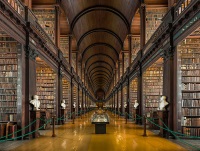 The Long Room David Iliff
Temple Bar District
The Irish capital is known for its nightlife and many visitors come to Dublin primarily to enjoy the great beer, food, traditional music, and friendly locals that make the pub scene so famous.
This quaint, cobbled district is the hub Dublin's toursit nightlight. There are shops, traditional pubs, theatres, cinemas and trendy clubs laid out on pedestrianised streets. Busking fiddlers, an overwhelming choice of restaurants, and beautifully restored buildings add to the feel of the place and make it worth a visit. The streets and drinking holes are always bustling in Temple Bar and the area has been immortalised by many photographers.
The area is bordered by the Liffey River on one side and Dame Street on the other. The main street running through the area is also called Temple Bar. The weekly Temple Bar Food Market takes place between 10am and 4.30pm on Saturdays at Meeting House Square and this is a must for foodies. There are also several regular book markets in the area, and lots of little gems for clothes shoppers. The area has become rather expensive and some find it too touristy. That said, it's the place to be for the young and fashionable.
.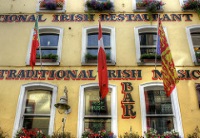 Temple Bar District psyberartist
Dublin Castle
Dublin Castle is at the very heart of the historic city. It was founded in 1204 by order of King John, who wanted a fortress constructed for the administration of the city. It has been added to and rebuilt many times so that all that remains of the original structure is the Norman Tower. By the early 17th century, the castle was fully developed with Law Courts, meetings of Parliament, the residence of the viceroy and a council chamber. The magnificent, gilded State Apartments were added in the 18th century and are still used for state occasions today.
Highlights of the castle include the Throne Room, St Patrick's Hall and the Ladies Drawing Room. The gardens are also great for a stroll or relaxing, and there are some interesting sculptures to investigate. The gardens can be accessed by the public for free. There is a restaurant and a Heritage Centre, as well as a gift shop. You can only explore the castle on official guided tours which start every 20 minutes and take about an hour. Groups are required to book in advance. There are plenty of attractions at the castle to explore in your own time though, like the Chester Beatty Library. Note that the castle is used for state functions and is sometimes closed on short notice. Check the website to ensure it is open for your visit.
Opening time:
Monday to Sunday and Public holidays 9.45am-5.15pm. Admission is by guided tour, with a self-guiding option available.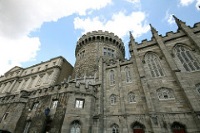 Dublin Castle Barnacles Hostels
National Museums of Ireland
The National Museum's permanent collection is broken up into four seperate museums, which have different locations in Dublin. The National Museum of Archaeology is on Kildare street, the National Museum of Decorative Arts and History is on Benburb street, the National Museum of Country Life is in Turlough Park, and the National Museum of Natural History is on Merrion street. All four establishments are great.
The Natural History Museum is particularly good for kids, but the most popular and impressive is the Archaeology Museum, where many of the treasures of ancient Ireland can be found. Included in this museum is jewellery dating back to the 8th century BC and medieval antiquities such as the Tara Brooch and the Ardagh Chalice. Also housed here is the 12th-century Cross of Cong, an ornate reliquary of wood, bronze and silver, said to contain a fragment of the True Cross. The museum showcases important exhibitions on Irish history, including Prehistoric Ireland, Viking Ireland and The Road to Independence (1900-1921). There are also sections on Ancient Egypt and Life and Death in the Roman World. This is a truly world-class museum, which brings ancient Irish history to life.
Address:
Varied locations. Check website for details.
Opening time:
Tuesday to Saturday 10am-5pm, and Sunday 1pm-5pm. Closed Mondays.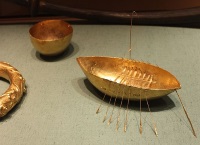 Artefacts from the Iron Age Ardfern
Guinness Storehouse
Although Guinness is now brewed all over the world, St James's Gate, in the heart of Dublin, was where Arthur Guinness set up the business in 1759. The Guinness Storehouse celebrates Ireland's favourite brew by taking visitors on a journey, floor by floor, through the past, present and future of the world-famous beer. The glass atrium is shaped like a pint glass and each floor explores a different aspect of 'everything anyone ever wanted to know about Guinness', from the brewing process to who drank the first pint.
Visitors can't view the actual brewing process but will be introduced to the machinery used through the ages, and watch videos explaining how it all works. The tour finishes with a complementary pint of the famous stout in the top-floor Gravity Bar, which is also the ideal place to watch the sun set over Dublin and admire the 360° views.
Visitors can enjoy tasting sessions during the July and August summer program, as well as exhibitions and delicious Irish meals from a table d'hôte menu in the Brewery Bar or Source Bar. The onsite shop sells some excellent merchandise for Guinness lovers. There is very good wheelchair access to the whole facility.
Transport:
Bus 51B and 78A from Aston Quay, bus 123 from OConnell Street or Dame Street.
Opening time:
September to June: 9.30am-7pm July and August: 9am-8pm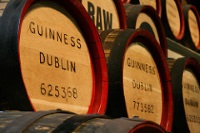 Guinness Storehouse Corey Harmon
National Library of Ireland
The highlight of this historic library is its great, domed reading room, which has been home to many Irish students, including James Joyce. This is a light-filled, peaceful and inspiring place to work, write or read, and should be on every scholar's bucket list. The reading room is open from 9.30am to 7.45pm between Monday and Wednesday, 9.30am to 4.45pm on Thursday and Friday, and 9.30am to 12.45pm on Saturday. Anybody is allowed to enter provided they respect the strict note about silence.
The library also contains a heraldic museum, which exhibits coats of arms and banners. But, the genealogical office, where staff can help trace any Irish roots, may be of of most interest to tourists. Its consultation service on ancestry is available Monday to Wednesday 9.30am - 5pm, and Thursday to Friday 9.30am - 4.45pm. It's a free service and no appointment is required.
One of the library's most famous and popular attractions is the award-winning Yeats exhibit: The Life and Works of William Butler Yeats. The exhibit is magical and compelling, taking visitors through Yeats' fascinating life. The collection includes rare material, which has been generously donated by Mrs George Yeats, the poet's wife, and Michael Yeats, his son, over several years. The library hosts other wonderful temporary exhibitions but the Yeats exhibit has been on show since 2006. It has become a permanent addition due to popular demand. There is also a cafe on the premises.
Address:
2 Kildare Street
Opening time:
Monday to Wednesday 9.30am-7.45pm; Thursday and Friday 9.30am-4.45pm; Saturday 9.30am-12.45pm.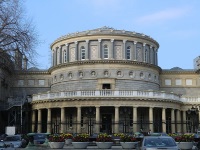 National Library of Ireland YvonneM
St. Patricks Cathedral
St Patrick's Cathedral is Ireland's largest church. It's erected on the site where St. Patrick is believed to have baptized his converts to the Christian faith when he visited Dublin. The current building dates back to the 12th century, although it has been restored and altered over the years.
Jonathan Swift was dean of St. Patrick's from 1713 to 1745, during which time he penned Gulliver's Travels. Visitors can still see his tomb and pulpit. There are many tombs and memorials in the cathedral and it is interesting to get a guided tour to learn more about all the history on show. The cathedral has a nice little gift shop and really lovely grounds to enjoy. Marsh's Library is right next to the church. It is worth a visit for anybody interested in old, rare and unusual books. The cathedral still has daily services, which are open to the public.
The church has a particularly impressive Boys Choir. Tourists have to pay a small fee for entry, with all proceeds going towards maintenance of the magnificent building. If, however, visitors want to attend a service to worship, there is no admission fee. The cathedral is sometimes closed for special services.
Address:
St Patricks Close
Opening time:
March to October: Monday to Friday 9am-5pm; Saturday 9am-6pm; Sunday 9am-10.30am, 12.30pm-2.30pm, 4.30pm-6pm. November to February: Monday to Saturday 9am-5pm; Sunday 9am-3pm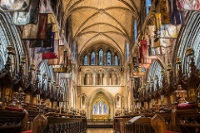 St Patrick's Cathedral Tony Webster
Dublin Zoo
The Dublin Zoo is one of Ireland's most popular attractions for children. It takes visitors on a voyage of discovery from the Arctic to the Plains of Africa via an Indian Rainforest. The zoo houses more than 600 animals and the habitats are impressive, with lots of information provided on each species.
The zoo provides plenty of entertainment for kids, with free arts and crafts activities like face painting, and a number of little playgrounds dotted around the park. Visitors can see lions and tigers, Asian elephants, gorillas, chimpanzees and orangutans, rare monkeys, rhinos, hippos, giraffes and many more exotic and endangered species, including extremely rare species like the snow leopard. There is also a pet's corner for children, a city farm and a safari train ride around the African Plains.
Although it is an old zoo, it is recognised as one of the most modern in Europe, and it places emphasis on learning about wildlife and conservation. The Dublin Zoo is a registered charity and all profits will go towards maintenance and improvement. There are a number of snack stalls and a restaurant on the premises, but visitors can also bring their own picnics.
Transport:
Buses:
 Nos. 25, 26, 46A, 66 / 66A / 66B, 67, 69 LUAS Red Line:
 Dublin Zoo is a 15 minute walk from the Heuston Station stop.
Opening time:
Open from 9.30am Monday to Sunday. Closing times vary between 4pm and 6pm, depending on the season.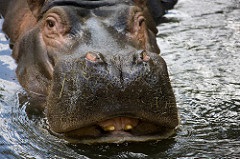 Hippo at Dublin Zoo William Murphy
The Old Jameson Distillery
Jameson, who was actually a Scotsman, moved to Dublin to start a whiskey distillery in the 1770s and clearly made a lasting impression on the industry, despite the many distilleries making fine Irish whiskey in Dublin at the time.
The Old Jameson Distillery is located in the heart of Dublin. Visiting is a treat for whiskey lovers, and there's a taste of Irish culture and history thrown into the bargain. This museum illustrates the history of Irish whiskey, known in Irish as (the water of life). The expert guides will answer any questions whiskey lovers might have. The tour takes visitors through the triple distillation process that sets Jameson apart. In the beginning there is a film explaining the 'Angel's Share', which is very interesting. A free glass of Jameson Whiskey is included in the tour and visitors can choose to partake in a whiskey tasting in the bar after their tour and sample different Irish, Scotch and American whiskeys.
The tour lasts just over an hour, but guests can stay afterwards to enjoy the bars, restaurant and gift shop. A popular souvenir from the gift shop is a personalised bottle of whiskey, which will delight any whiskey drinkers back home.
Address:
Bow St, Smithfield Village
Transport:
Both the Dublin Bus and the Sightseeing Hop On Hop Off bus stop at Smithfield (Stop 20). From there, its a short walk up Church Street and left on to May Lane/Bow Street.
Opening time:
Open daily: Monday to Saturday 9am-7pm, Sunday 10am-6pm (last tour at 5:15pm). Closed Good Friday and Christmas holidays.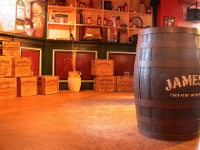 The Old Jameson Distillery German Poo-Caamano
Airfield House and Farm
Kids love nothing more than farms, and there's no better place for them to explore than an actual working one. Airfield is the only active farm left within Dublin's city boundary and the owners aim to connect people of all ages to nature through farming and gardening. Indeed, they want to instill a respect and love for the natural environment. The sheep, horses, goats and pigs will provide endless entertainment for young ones and, with plenty of space to run around and activities for children to get involved in, parents will enjoy themselves too.
The farm has learning programmes for primary school children, secondary school children, and adults. Children participate in seasonal activities and help tend to the animals. They may even be lucky enough to witness a lamb being born. The adult courses teach sustainable living skills, such as cultivating a vegetable garden, keeping chickens, and making cosmetics. The Airfield House and Car Museum are also great to explore, and there is a lovely cafe on the premises as well. Airfield hosts art exhibitions and the like for entertainment, though many visitors come just for the pleasure of a stroll around the farm.
Address:
Overend Way, Dundrum.
Opening time:
September to June: Monday to Sunday 9.30am-5pm July and August: Monday to Sunday 9.30am-6pm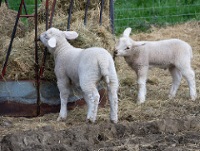 Lambs at Airfield William Murphy
Imaginosity
Imaginosity is an innovative children's museum aimed at stimulating children's imaginations and curiosity. The two-storey climbing structure is a favourite, while the art studio, theatres and galleries provide endless hours of fun. Parents will be thrilled to sneak some education in without the kids even realising it! The museum is designed for kids under nine, but the idea is to engage in creative play as a family, with parents and older siblings getting involved.
Imaginosity is great for a rainy day in Dublin, or as a chance for kids to take a break from traditional sightseeing and let their creativity flow. The museum holds numerous events and competitions - things like Superhero Training Camps and storytelling competitions.
Guests should book ahead to avoid disappointment, particularly on holidays and weekends, as the museum only accepts a certain number of children per session.
Address:
The Plaza, Beacon South Quarter, Sandyford
Transport:
Carmenhall Road is the closest bus stop. The LUAS bus stops at Stillorgan.
Opening time:
Mondays 1.30pm-5.30pm Tuesday to Friday and Bank Holidays 9.30am-5.30pm Saturday and Sundays 10am-6pm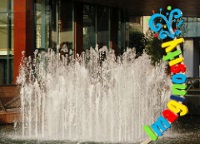 Imaginosity Maurice Frazer
This beautiful, historic and very green city offers plenty of outdoor activities and attractions for children on holiday. With breathtaking scenery, a Viking history and a number of interesting old buildings, castles and cathedrals to explore, Dublin is a sightseeing paradise for visitors of all ages.
On a sunny day, visitors can pack a picnic basket and frisbee, and head down to Phoenix Park for a relaxing day in Europe's largest urban park. St. Stephen's Green is also a great spot to enjoy the sunshine and fresh air. It features playgrounds, gardens and even some resident ducks that love to be fed. For very sunny days, visitors can take the DART to the pebble beach at Killiney, or the National Sea Life Centre in Bray.
Families can spend time with farm animals at one of the city's petting zoos or children's farms, or jump on board one of Dublin's double-decker sightseeing buses. Another original and exciting way to see Dublin's sights is aboard the Viking Splash Tour's amphibious World War II craft, which travels on both land and water.
When the sun hides behind the clouds and outdoor activities are no longer an option, visitors can take children to one of the many indoor playgrounds or museums, or to watch a puppet show at the Lambert Puppet Theatre.
Dublin has a maritime temperate climate, and less rainfall than the rest of the 'Emerald Isle'. However, winters are still very soggy and showers are common all year round. The wettest month, October, averages three inches (76mm) of rainfall. Summers are cool and pleasant, with temperatures in July peaking at around 68°F (20°C), and the most sunshine in May and June. Winters, apart from being wet, are mild, with the mercury rarely dropping to freezing point. Snow is unlikely, but a few flurries can occur. Dublin, like the rest of Ireland, experiences few temperature extremes. The best time to visit Ireland is in the warm summer months between May and August. February receives the least rainfall on average but it is almost impossible to avoid some rain in Dublin. The off-peak months are significantly cheaper in Ireland.
Dublin is a famous destination for nightime revelry, and good food and drink are vital to this reputation. Dublin's dining scene is booming and has improved considerably over the past few years. Much like other international cuisine hot-spots, the city's best culinary experiences can be pricey. Foodies with deep pockets will find many impressive high-end restaurants. For those travelling on a budget, charming eateries and traditional pubs are tremendous options. All varieties of international cuisine are available in the city but visitors must sample the good old home-cooked Irish fare as well.
Irish cuisine consists of simple meat dishes, usually paired with boiled root vegetables such as turnips, carrots, parsnips and an Irish favourite, potatoes. Other popular dishes include mutton and beef stews, often cooked with Guinness, as well as tripe, meat and blood puddings, and sausages. A new trend in Celtic cuisine, known as 'modern Irish', has become increasingly popular and can be described as French cuisine infused with the natural flavours of the Irish countryside and coastal waters.
The cobblestone streets of the Temple Bar district, as well as the Trinity College area, offer a wonderful and eclectic selection of eateries where visitors can whet their appetites.
Abbey Tavern
This 16th century tavern is renowned for its traditional music ballad sessions. The building, complete with blazing fires, original stone walls and gas lights, features a wonderful restaurant upstairs. The menu changes on a seasonal basis but features such culinary delights as (seafood crepes), roast duckling with ginger and pineapple, or spinach and ricotta tortellini. After the meal, guests can enjoy the live entertainment downstairs in the form of some traditional Irish music. Bookings are recommended and credit cards accepted.
Address:
Abbey St., Howth, Northern Suburbs
Mao
Mao has been a firm favourite with Dubliners for over 20 years. The chef's prepare fresh, healthy food with a sophisicated Asian flair. The exposed kitchen lines an entire wall and the rest of the space is wide open, which makes this an excellent people-watching spot.
The menu comprises everyone's favourite Asian dishes, such as Thai fish cakes, chicken hoisin and salmon ramen, to name a few. Everything on the menu is delicious and it is hard to go wrong when dining here. It's open daily for lunch and dinner, and reservations recommended.
Address:
2 - 3 Chatham Row
LEcrivain
L'Ecrivain is one of Dublin's finest restaurants, offering diners a relaxed and unpretentious experience. Chef Derry Clarke's food is absolutely mouth-watering, from his seared wild Irish venison loin with caramelized pear, or Bere Island scallops with lobster strudel.
Menu prices are changed regularly and it's not very affordable, but L'Ecrivain gives guests the opportunity to sample some of its dishes in the form of a two-course lunch menu at a more reasonable price.
The restaurant is open Monday to Saturday for dinner. They're open for lunch Wednesday to Friday, and they're closed Sunday. Reservations are essential.
Address:
109a Baggot Street Lower, Grand Canal Dock
Bad Ass Cafe
This loud and busy restaurant has been a much-loved eatery with Dublin's locals for over 20 years. The menu serves old favourites such as burgers, pasta, steaks and salads, appealing to just about everyone.
Orders are clipped to a wire before being whizzed off to the kitchen, and there's an outdoor terrace looking over the lively Temple Bar scenes. It's also known as the place where Sinead O'Connor used to wait tables. It's open daily.
Address:
9-11 Crown Alley
Yamamori Noodles
Yamamori Noodles has a casual but lively atmosphere with an exciting menu. It's popular at lunchtime, and prices range from bargain to complete over-indulgence. Guest who don't want to break the bank should go for meals like chile chicken ramen or the with its mound of wok-fried noodles piled high with prawns, squid, chicken, and roast pork.
It's open daily for lunch and dinner. Reservations only for parties of four or more.
Address:
71 - 72 S. Great Georges St
Yamamori Sushi
With its long, wooden bench tables, stone pillars, clean lines and light, airy atmosphere, this spacious eatery lends itself perfectly to the ritualistic art of eating sushi. Yamamori Sushi is one of Dublin's favourite Asian restaurants, and for very good reason.
Feast on Karubi beef, salmon teriyaki and Yamamori Ramen, which is made up of char-grilled chicken, king prawns and char shu with crispy tofu, egg, wakame, menma and spring onion in a chicken and pork stock.
It's open daily for lunch and dinner, and reservations are recommended.
Address:
38 - 39 Lower Ormand Quay
One Pico
One Pico has become something of an institution when it comes to dining out in Dublin. This award-winning restaurant serves delicious local fare, including organic smoked salmon with pickled cucumber, remoulade and herb crème freche. A firm favourite on the menu is the filet of Irish Hereford Beef served with a white onion puree, parmesan fondue and crispy tempura onion.
One Pico is open daily for lunch and dinner. Reservations are essential.
Address:
5 - 6 Molesworth Place
Gallaghers Boxty House
Gallagher's Boxty House specialises in traditional Irish food like fish and chips, soda bread, and especially the boxty, a quintessentially Irish potato pancake. It's one of the most popular restaurants in the Temple Bar District. Their slogan is "The Humble Spud, Made Beautiful", and they live up to that. Gallagher's goes through a tonne of potatoes every week, serving them up to buzzing crowds who come for the filling food and lively music.
They're open for lunch and dinner daily.
Address:
20-21 Temple Bar
Dublin International Airport
Location:
The airport is situated seven miles (11km) north of Dublin, near the M50 and M1 motorways.
Time:
GMT (GMT +1 between the last Sunday in March and the last Sunday in October).
Transfer Between Terminals:
A clearly signed walkway connects the two terminals.
Getting to the city:
Several bus services, including Dublin Bus and Airlink, connect the airport to all parts of Dublin and the city's central train station, both day and night.
Car Rental:
Hertz, Avis, Budget, Europcar, Dooley Car Rentals, Enterprise Rent-a-car and Sixt all operate from car-hire desks in the Arrivals Concourse. There are also a number of pre-booked car-hire desks on this concourse.
Airport Taxis:
Taxis are available in front of the Arrivals Hall. All taxis have meters but they are only used for destinations in the 'Dublin City Taxi Metered Area'. It is wise to negotiate the price with the driver beforehand.
Fascilities:
Airport facilities include a bureau de change and ATMs, numerous restaurants, pubs and bars, several shops, a church and tourist information.
Parking
There are plenty of parking options at Dublin International Airport, including short and long stay options. The short-term car park is close to the terminal building, while the off-site long-term car park is serviced by a free shuttle service. Long term stays can be pre-booked via the airport website.
One of the most vibrant and youthful cities in Europe, Dublin has a bustling nightlife that has survived the ages. Known for their love of all things that involve drinking, the Irish take their pubs and pints very seriously and it's little wonder traditional old pubs and bars dominate the nightlife scene.
The Temple Bar district is the hub of Dublin's nightlife scene and by far the most popular place to start. Visitors will find around 24 bars and 73 cafes and restaurants to choose from.
The Grafton Street side of things provides a much quieter and more relaxed alternative to the chaos of Temple Bar, attracting a different type of crowd. Wine bars are also becoming a popular addition to the entertainment scene, providing patrons with a wine list and reasonably priced meals. The gay scene in Dublin is taking off too and there are many gay clubs and bars springing up everywhere. Most pubs and bars close early, around 11pm, but some have official permission to stay open late.
On just about every night, visitors can enjoy rock, jazz, blues and traditional Irish folk concerts at theatres, sports stadiums, churches, clubs and castles.
Dublin has appalling street congestion in the city centre, but the light rail service known as LUAS (the Gaelic word for 'speed') now offers two lines with numerous stations, many of them giving easy access to the main sights and places of interest. The city also has an extensive bus network, with a limited Nitelink service operating from 1.30am. This, however, is most useful for commuters to and from the city centre. There is also a rapid transit train (DART) that links the city centre with the suburbs and seaside communities.
Because most public transport stops before midnight, taxis can be hard to find in the city centre after 11pm, particularly over the weekend. Taxis can be hailed in the street, but it is often easier to find them at taxi ranks or to book ahead by telephone. Renting a car can be impractical and expensive, although they can be essential if visitors want to explore off the beaten track on excursions from Dublin.
With such attractions as the Guinness Storehouse, the Old Jameson Distillery and St Patrick's Cathedral, lovers of all things Irish may have problems finding time to see all the world-class sights in this magnificent city. Travellers can enjoy a voyage of discovery from the Arctic to the Plains of Africa via an Indian Rainforest in the city's most popular attraction, the Dublin Zoo, or take a walk down to Phoenix Park, the largest urban park in Europe. There are many fascinating museums to investigate, such as the National Irish Museum of Archaeology. Dublin is also chock full of literary attractions and the bookish will find plenty to occupy their time.
Visitors who are interested in spending a day exploring the sights should buy a Dublin Pass, available from any of Dublin's tourist offices, the arrivals hall at Dublin Airport and at www.dublinpass.com. It entitles visitors to free entry into 27 of Dublin's favourite attractions. The pass allows bearers to be VIPs and skip queues, as well as gain access to many special offers and discounts at some of Dublin's best shops, restaurants, cafés, theatres, entertainment venues and tours. The pass is available for a duration of either one, two, three or five days for both adults and children.
Glendalough
Located just south of Dublin, Glendalough is a very popular destination for day-trippers. Although it gets busy, the site has a very tangible spirituality that can be experienced whilst standing amidst the remains of the monastic settlement. The Gaelic name translates to 'valley of the two lakes' and there are beautiful walks around the ruined monastery and along the clear-as-glass lakes.
St Kevin founded the monastery in the 6th century and it became a great European centre for learning. His body lies in the 9th century cathedral. The site is adorned with St Kevin's Cross, carved in about 1150. Other buildings here have survived from the 8th and 12th centuries, the most famous of which is the round tower, standing 112ft (34m) high with a base measuring 52ft (16m) in circumference.
Glendalough is a remarkable place both in its profound history and its natural splendour. Photographers will be in heaven with the scenery and the romantic ruins. All told, the place fires up the imagination.
Address:
18 miles (30km) south of Dublin
Opening time:
Visitor Centre opening hours: Mid-October to mid-March: 9.30am-5pm Mid-March to Mid October: 9.30am-6pm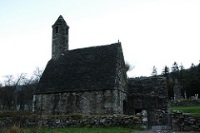 Glendalough Jeremy Rebelka
James Joyce Museum
Located nine miles (14km) south of Dublin, the Martello Tower is one of 34 towers built in 1804 to protect Ireland against a possible Napoleonic naval invasion. The tower was demilitarised in the 1860s and is now home to the James Joyce Museum. Sylvia Beach, the Paris-based publisher of , founded the museum in 1962. It was the place where Joyce stayed in 1904 and where he was inspired to set the opening chapter of his famous book.
The exhibition hall contains first editions of most of Joyce's works as well as other interesting memorabilia, including one of the two official death masks made of Joyce, and reproductions of how the rooms would have looked when Joyce wrote the book. This is essentially a museum for Joyce fans, and it will delight lovers of Ulysses in particular. Those who are not in the know may not be overly captivated. Having said that, everybody who visits will be astounded by the lovely views and picturesque setting of the tower, and many find the historical structure interesting in its own right.
The museum is now run by volunteers who are wonderfully friendly and enthusiastic. There is no charge for admission but donations are welcome.
Address:
Sandycove Point, Dun Laoghaire, Dublin
Transport:
DART to Sandycove, or bus 59 from Dun Laoghaire
Opening time:
Summer: 10am-6pm Winter: 10am-4pm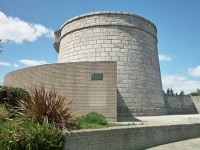 James Joyce Museum William Murphy
Clonmacnoise
Clonmacnoise is Ireland's most important monastic site, and it's situated in Shannonbridge, west of Dublin in County Offaly. It was founded by Saint Ciaran in the 6th-century, on the banks of the River Shannon. It includes the ruins of a cathedral, eight churches (10th to 13th-century), two round towers, and three high crosses.
The site is extremely atmospheric, with some beautiful ancient stonework, and it provides the visitor with a real sense of what monasteries must have been like in their day. Everything still feels authentic and the spirit of the place has been preserved. The Visitor Centre displays a large collection of grave slabs, hosts numerous exhibitions and provides further interest with an audio-visual show. It is a good idea to start with a browse around the museum to get some historical context before exploring the ruins, many of which are remarkably intact. There is lots to see and explore and Clonmacnoise offers some really glorious photographic opportunities. Although it is ideal to visit in good weather, as the whole site is worth exploring, the ancient monastery can ignite the imagination despite mist and drizzle. As this is a very popular attraction, visitors may experience queues during the summer months.
Address:
Clonmacnoise, Shannonbridge, Athlone, County Offaly.
Opening time:
November to mid-March: 10am-5.30pm Mid-March to mid-May: 10am-6pm June to August: 9am-6.30pm September to October: 10am-6p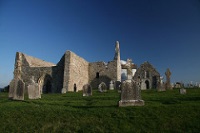 Clonmacnoise Steven Isaacson