When it comes to attractions, Indonesia is as varied as its 17,000 islands, and visitors will be swamped with an endless list of things to see and do. There are cultural, historical, religious and natural attractions aplenty, and as such it may be wise to select one or two islands to explore in order to avoid suffering from a sightseeing overload.
A popular place to tackle first is Java, a touristic favourite not least because of the incredible volcanic scenery in its Bromo-Tengger-Semeru National Park. The island is also home to the grungy metropolis of Jakarta and the historic Yogyakarta. On Java, travellers can find anything from glitzy nightclubs to ancient ruins to traditional puppet theatre. If the laid-back aesthetic of "Eat Pray Love" is what you are after, head straight to Bali. This hugely popular island has been luring in visitors for years thanks to its white sandy beaches, endless surfing spots and inland cultural attractions.
For a wider range of natural attractions, one can get lost on the mammoth island of Sumatra, which offers visitors traditional towns, such as Bukit Lawang and Bukittinggi, and stunning landscapes. Bigger yet is Borneo, which shares its jungle treks with visitors and native orangutans alike and is a delight to explore.
A lumbering ferry line connects all the main islands and attractions and is an adventure itself. The best time is visit is between May and September, during the dry season, which also makes transport easier.
Wayang Kulit (Shadow Puppets)
Shadow Puppet performances are a proud part of Indonesia's cultural heritage. In fact, UNESCO has declared wayang kulit a Masterpiece of Oral and Intangible Heritage of Humanity, which means that the art form is considered a global treasure. The puppets are lovingly handcrafted out of buffalo hide or goat skin, and mounted on bamboo poles, with moveable limbs that are worked by a highly skilled puppeteer from behind a backlit screen, casting the shadows of the puppets onto the surface to tell spellbinding stories.
The puppeteer is usually the creator of the puppets, the director, producer and main narrator of the shadow world. The masters of wayang kulit are called dalangs and these talented artists are known to perform through the night at times. The stories have their origins in classic Hindu mythologies and Ramayana tales and are narrated in the local dialects. Although shadow puppet shows in English are not unheard of it is unlikely that you'll find one. However, don't be discouraged by the language barrier, as even without understandable words the puppets express themselves eloquently through movement and action and the effect is amazing. Watching the story unfold narrated in a local dialect is arguably far more interesting and authentic. Catching one of these unique shows is a wonderful addition to an Indonesian holiday.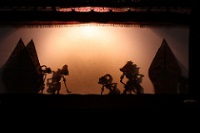 Wayung Kulit Arian Zwegers
Prambanan Temple Complex
Rivalling the Buddhist monument of Borobudur, this magnificent Hindu temple is the largest in Java and arguably the most beautiful in Indonesia. Prambanan was built in the 9th century, possibly to compete with the splendour of Borobudur, or to celebrate the return to power of the Hindu dynasty in Java at the time. The complex is dominated by three main temples, Shiva, Brahma and Vishnu, each dedicated to their namesake, and the walls are decorated with exceptional relief carvings depicting scenes from the famous Hindu classic tale of Ramayana.
The Shiva Temple is the largest of the three, soaring above the others at a height of 154 feet (47m), and contains the impressive statues of Shiva, his elephant-headed son, Ganesh, and the goddess, Durga. From May to October the Ramayana Ballet, a traditional Indonesian dance based on the Ramayana story, is performed on an open-air stage in the complex during the full moon - it is a spectacular sight involving hundreds of dancers, singers and musicians. Prambanan is a UNESCO World Heritage Site and never ceases to amaze visitors; there is nowhere else in the world quite like it. It is a good idea to walk a little away from the temples to get a view of the whole complex, and to walk around the outside is also interesting. Avoid the heat and crowds of midday by going early in the morning or late in the afternoon.
Address:
Bokoharjo, Prambanan, Sleman Regency, Special Region of Yogyakarta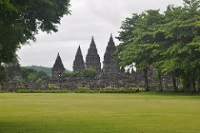 Prambanan Temple Complex Cazz
Borobudur
One of the greatest Buddhist monuments in South East Asia, Borobudur was built in the 8th century and stands on top of a hill surrounded by volcanoes and overlooking green fields. It is an immense, multi-tiered structure with the Great Stupa (bell-shaped monument) at the top standing 128ft (40m) above the ground, surrounded by numerous smaller stupas, some still containing Buddha statues inside. It is part of a 2.5 mile-long (4km) chain of smaller temples, with the Mendut Temple containing three exquisitely carved giant statues of Buddha and two disciples inside. The terraces of Borobudur are covered in sculpted reliefs, with narrative panels illustrating Buddhist beliefs and teachings, and covering an estimated length of 3.5 miles (6km). These masterpieces of individual artistic value have been acknowledged as the most complete and splendid collection of Buddhist reliefs in the world. Built out of millions of blocks of the local volcanic rock joined without the use of mortar, Borobudur is listed as a UNESCO World Heritage Site and is the primary tourist attraction in Java, as well as one of the most iconic sites in Indonesia.
The temple lies 25 miles (41km) northwest of Yogyakarta. Unsurprisingly for such a famous attraction, Borobudur can get very crowded, which diminishes the impact of the place for some - try to get there for sunrise to avoid the throng and for the magical experience of seeing the day begin at the temple.
Address:
Borobudur, Magelang, Central Java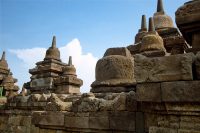 Borobudur null0
Tanah Lot
Meaning 'land in the middle of the sea', Tanah Lot is an exquisite sea temple built atop a rock formation off the island of Bali. A very popular tourist spot and a great location for photographs, Tanah Lot sits on a rocky island, in waters occupied by poisonous sea snakes which are believed to guard the temple from evil spirits and intruders. If you think its sounds like a fairytale you're not wrong; the place has a mystical quality. Despite the alleged presence of the snakes it is possible - and fun - to walk or wade to the temple cave at low tide. The temple was built by one of the last priests to arrive in Bali from Java in the 16th century and unfortunately the main temple can't be entered.
Sunrise and sunset are the best times to visit, although sunset is the most popular time and the crowds can somewhat ruin the atmosphere. There are a number of vantage points from which you can get lovely views of the temple, so its best to find one of them and settle down to admire the views and take some photographs. The complex is very touristy and commercial, with lots of shops and stalls selling souvenirs, snacks and the like, but it is still a remarkable attraction to visit and the coastline is very beautiful in itself.
Address:
Located at Beraban village, Kediri district, Tabanan Regency on the South Coast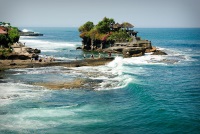 Tanah Lot Jos Dielis
Bromo-Tengger-Semeru National Park
The Bromo-Tengger-Semeru National Park encloses spectacular volcanic landscapes and one of the most impressive natural sights in Indonesia. The ancient Tengger crater in its midst stretches for six miles (10km) and within its sheer volcanic walls are three peaks; Batok, Kursi and the smoking Mt Bromo. Thousands of tourists make the journey up Mt Bromo for the unforgettable spectacle at sunrise (during the dry season) when the surrounding landscape takes on an otherworldly quality. The views from the top and into the smoking crater are unbelievable. To reach the foot of the volcano one must cross the vast Sea of Sand out of which Mt Bromo rises, either on horseback or by foot, and then climb a flight of stairs that leads to the crater rim where the unmistakable smell of sulphur permeates the air. Mount Semeru, another volcano in the park, is one of Indonesia's most active volcanoes and every 20 minutes or so it belches out smoke, to the delight of visitors. The small village of Cemora Lawang, perched at the edge of the Tengger crater, is the most popular place to stay and has the best views of the area. With unique landscapes that look like something out of a fantasy novel, this National Park is an exciting area to explore and a dream come true for photographers.
The nearest big city to the park is Yogyakarta, and although it takes more than 10 hours to drive to the volcanoes, it is a popular excursion and is included in many tour packages.
Address:
Park office: Jl.R.Intan No 6, Malang, East Java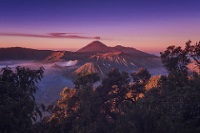 Sunset over Mount Bromo Hasna Syalva
Ubud
Set in the hills north of Denpasar, Ubud is the cultural centre of Bali. The major attractions of the town and its surrounding villages are the art museums and galleries, notably the Neka Museum, containing a huge collection of traditional and modern Balinese paintings. An enormous variety of Balinese art and crafts line the streets and crowd the marketplace of Ubud. Frequent performances of traditional dance and music, and restaurants offering some of the best food on the island, compel visitors to stay much longer than intended.
In response to the demand from visitors all sorts of interesting attractions and activities have sprung up and you can now do things like attend silver smithing classes, learn yoga, or watch locals perform the Kekac Fire and Trance Dance. Ubud is also close to several sites of interest, including the 'Mother Temple' of Besakih, majestically situated high on the slopes of the Agung Volcano, and the popular Monkey Forest, where you can feed the many macaques in the temple complex. Hiking in the scenic Batur region with its volcano and lake are popular excursions. Many adventure trips can be organised from Ubud including canyoning, hiking, bird watching tours and the like.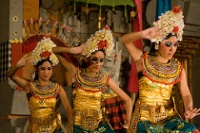 Traditional dancers performing in Ubud Vincent
Ampenan
Ampenan-Mataram-Cakranegara-Sweta, or more simply referred to as Ampenan, is a vibrant district located on Indonesia's lush Lombok Island. The sprawling metropolis is comprised of four towns, the boundaries of which are indistinguishable to the casual visitor, and is host to a population of around 250,000 people. While Sweta is the main transport hub and site of the island's biggest market, it is bustling Ampenan, the old port town furthest west, that is the main tourist area and the location of most shops, hotels and restaurants.
Most visitors pass through the area fairly quickly but there are one or two sights worth seeing nearby, including the weaving factories in the capital Mataram, whose processes have remained largely unchanged for hundreds of years, and a weaving village to the south where traditionally dressed women work on wooden handlooms. There are a number of shrines and temples open to visitors, the best of which are centred around the Mayura Water Palace, dating from 1744 and used by the royal court during the Balinese rule of Lombok.
Ampenan, being an old port town, has a beach still lined with hundreds of fishing canoes. As the fishermen mostly go out at night, it is fun to watch the boats setting off in the late afternoon, and seeing the sun set over the water. Ampenan's market, which is the areas primary attraction, is located along the main road to Senggigi, north of the city proper. The Pura Segara Balinese temple is close by on the beach.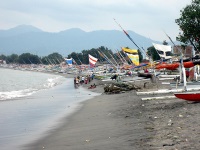 Fishing boats in Ampenan David Stanley
Bukit Lawang
The little village of Bukit Lawang is situated on the eastern banks of the pretty Bahorok River, facing one of the grandest forest areas in South East Asia, the Mount Leuser National Park. With its restful and pleasant setting, this was once one of the most popular tourist destinations in Northern Sumatra, the town existing primarily to cater to the tourist trade, with guides, restaurants and a variety of delightful guesthouses strung along the river. Since November 2003, however, Bukit Lawang has struggled to recover from the massive flash flood that wiped out most of its infrastructure, causing a huge dip in the tourism that once formed the backbone of its economy. Rebuilding is underway and Bukit Lawang has maintained its charm despite disaster. Its major attraction, the Orangutan Rehabilitation Centre across the river, welcomes visitors more enthusiastically than ever.
The Rehabilitation Centre helps orphaned orangutans that have been displaced because of land clearing, or rescued from captivity, and teaches them the necessary skills to be able to survive in the wild. Visitors have an opportunity to view the apes twice daily when they come swinging through the trees to collect the bananas and milk left on feeding platforms in the forest, one of the more memorable experiences in Indonesia. Jungle trekking and tubing down the river are other popular activities.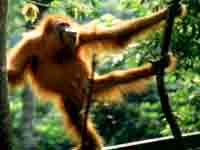 Orangutan Dave59
Bukittinggi
Bukittinggi, or 'high place', is situated on a hill and set among majestic mountains, green plantations and rice terraces. One of the friendliest and most easy-going cities in Sumatra, it is home to the Minangkabau people and the area is steeped in the Minang culture, which is Muslim and strongly matrilineal. Bukittinggi is the commercial, educational and administrative centre of the highlands. One of the features of the town is the characteristic architecture: wooden houses with curved roofs soaring to a point representative of buffalo horns and decorated with beautiful wooden carvings.
The Jam Gadang (Great Clock) is a Minangkabau-style clock tower and the town's landmark, overlooking the bustling market place that is crammed with fruit, vegetables and clothing stalls, and rickety horse carts whose drivers insist on squeezing them through the colourful chaos. Pagaruyung Palace is another famous landmark and example of traditional architecture. Nearby Mount Merapi is an active volcano which can be reached on a beautiful hike; this is one of the most popular excursions from Bukittinggi for tourists. There is lots to see and do in the area and Bukittinggi itself is an intriguing city to explore.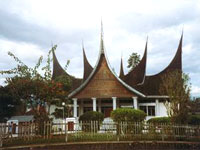 Bukkitinggi, Sumatra Judith Duk
Jalan Jaksa
Most South East Asian capitals have a backpacker area, and Jakarta's Jalan Jaksa district is grubbier than most. Plopped in an unremarkable part of downtown, it is thick with travel agencies, laundromats, currency exchange offices and guesthouses. A few bars and live music venues cater to the travel crowd. The cheapest guesthouses are bare to say the least, and it is perhaps worth spending the extra money on renting a nicer room. Jalan Jaksa is a good place to stay if you want to spend as little as possible on accommodation in Jakarta, but don't expect to get much real local flavour.
Jalan Jaksa is actually the name of a single street but a wider area around the road has started catering to budget travellers. The street was once frequented by students studying at the Jakarta Law Academy, which is perhaps the origin of the area's youthful vibe. It is friendly and cheap, good for those travellers who want to save their money for attractions and activities and don't mind simple sleeping arrangements.
Jalan Jaksa hosts a street festival annually to encourage tourism and showcase local traditions, cuisine, dancing and music.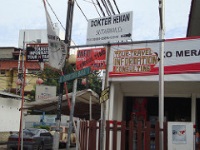 Jalan Jaksa VasenkaPhotography
Jayapura
The city of Jayapura is often the first stop for travellers to Papua, but even so its remoteness is such that many of the visiting Westerners are thought to be either mine workers or missionaries. Although the wilds of Papua are a quick trail away, the city itself provides visitors with reasons to stay. Beautiful beaches and bays stretch below thick jungle hills and some of these contain remnants of WWII landing crafts, just as some of the caves in the area are said to retain Japanese skeletons from the war. The nicest swimming beach is Base G, with aqua blue water and a palmed shoreline. Nightly arrays of seafood tents are erected, allowing eaters to pick their favourite fish to barbecue.
The mix of Indonesian immigrants and Papuan locals seem to get along well in Jayapurna, despite being somewhat locked in conflict elsewhere in Papua. The city is deeply religious and a normal greeting often asks visitors to describe their faith. This also means there is a general lack of nightlife, although the occasional pool hall serves expensive beer and offers free karaoke. There are a number of mid-range hotels and one or two luxury options for accommodation. Papua New Guinea is a hop and a skip away and visas and transport can be arranged in Jayapura.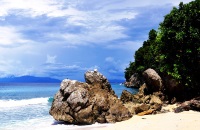 Base G Stenly Lam
Indonesia Miniature Park/Taman Mini
Indonesia is a vast place and it would take many holidays to explore the whole archipelago. A trip around Indonesia Miniature Park is useful and interesting because it offers samples of the different cultures and architecture to be found on some of the islands, including replicas of famous landmarks. Contrary to its name, the park itself is not small and covers 100 hectares of land. It includes examples of traditional buildings and cultural artefacts from all of the 27 provinces that make up Indonesia.
The park also regularly hosts food sampling, dancing and other cultural performances from each province. For those who like even more variety the park has a great orchid garden, fauna museum, and bird aviary - useful for those interested in seeing some of the wildlife found around the archipelago. Visitors can get a bird's eye view of the exhibits on the cable car, and there is even an IMAX movie theatre in the grounds.
Attached to Taman Mini is the Museum Indonesia which exhibits both historic and contemporary art collections. Visiting the museum and the park together gives tourists a great overview of the country and it isn't a bad place to start your Indonesian travels if you have some time to spare in Jakarta.
Address:
Ceger, Cipayung, East Jakarta City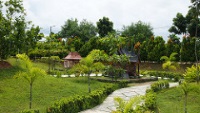 Taman Mini Tun Tun Win
National Monument of Indonesia
Visitors will inevitably be pulled to the National Monument (MONAS) to inspect the enormous obelisk that can be seen from much of the city. The first president, Sukarno, began to build the structure as a symbol of nationalism complete with an impressive weight of gold shaped into the tip's flames. For visitors it serves as a great landmark in an otherwise confusing city centre. Elevator rides to the top are available, providing a bird's eye view of the city. The monument and surrounding park are open to the public and there is a museum to visit which documents the Indonesian fight for freedom and independence; there is also a hall of mediation at the monument's base.
People often gather in the monument grounds at night and it is a popular meeting place for locals and tourists. The grounds are big and there is plenty of room for picnics and social gatherings - on weekends the park can get quite full. Although it is the city's main landmark, and a pleasant place for a stroll, the National Monument has little to offer except the views from the top and the small museum. However, it is still true that a visit to Jakarta would seem incomplete without seeing MONAS, and as it is situated near many other attractions you are unlikely to get through the city without stumbling across it.
Address:
Lapangan Merdeka, Monas, Gambir

National Monument of Indonesia Midori
Kota
Kota, also called Old Batavia or Old Town Jakarta, is the only surviving piece of the Dutch colonial district. The Dutch had their Indonesian heyday in the 16th century when Jakarta was at the centre of Asia's trade with the West. Today, many of the area's colonial buildings are falling into disrepair but the central cobblestone square, Taman Fatahillah, still invites visitors to imagine life in the 16th century, when there was little outside the colonial fortifications of Kota save for orchards and rice fields. The area is open to roam about in and there is no admission charge or distinct boundary to delineate the old district. Although information on what you are seeing is non-existent and landmark attractions are lacking, exploring Kota still allows for a rare glimpse into the city's history which has been mostly swallowed up by new developments.
A few somewhat dilapidated but still interesting landmarks in the area include the Luar Batang Mosque, the Maritime Museum, the Jakarta History Museum (housed in the former City Hall building), the Jin De Yuan Temple, and Sunda Kelapa Harbour. The area is set pleasantly on the waterfront and gives a quiet and cool reprieve from the bustle of Jakarta's inner city. There are plans to rejuvenate this historic area and some of the roads around the square have been pedestrianised as a first step in this process.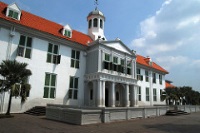 Fatahillah Square Hans Hansson
Gunung Batur Volcano
The still-active Gunung Batur volcano is known as Bali's second holiest mountain and symbolises the female element of the island. The male element is symbolized in Gunung Agung, a neighbouring smaller volcano. The walk up Mount Batur is not easy, but the views are spectacular and if you're lucky you might even spot a few monkeys along the way. Gunung Batur rises from a volcanic crater which also contains a lake and the view of this otherworldly landscape from the crater rim is spectacular. Look out for the remanants of black lava flows on the western side of the mountain from this vantage. There is also a great lookout point for those who'd rather hire a car and drive to the old crater rim overlooking Lake Batur.
The sunrise walks are recommended, and remain the best way to avoid hiking during Bali's infamous year-round heat. Unfortunately, those visiting during the rainy season may be unlucky with the views as visibility is often poor. There is a guide hut situated at the bottom of the path and passing by usually attracts a mob of eager locals who insist on your taking one of them along for safety. If you want a guide, then this arrangement is convenient, however the hut can be avoided by taking alternative paths. It is safe to ascend on your own, but caution is always advised for less experienced hikers.
Mount Batur Jessy Eykendorp
Pura Besakih
Locally known as the Mother Temple of Bali, Pura Besakih is located on the slopes of Mount Agung and is the biggest and holiest of all Balinese temples. Dating back to the 14th century, the three main temples are dedicated to Shiva, Brahma and Wisnu, and another 18 separate sanctuaries belonging to different regencies and caste groups surround these. The complex has been built over centuries and is very impressive.
However, the magnificence of the experience can be somewhat blighted by the insistent local touts at the site. Apart from paying the official entrance fee, visitors are coerced into paying 'donations' to the temple and are forced into hiring tour guides. For this reason you may be advised to skip Pura Besakih in favour of some of the less famous and less crowded temples. Being aware of some of the common tourist scams, however, does makes the visit easier: it is possible to explore without a guide but you will be endlessly bothered, so it may be preferable to be with a local. If you do visit Pura Besakih, or any other temple for that matter, it is customary to wear a sarong out of respect for local traditions. Despite the hassle of dealing with touts, this is a beautiful and interesting attraction and many will find it rewarding regardless.
Address:
Desa Besakih, Kec. Rendang, Karangasem, Besakih, Karangasem, Kabupaten Karangasem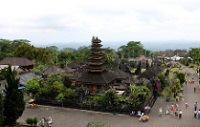 Pura Besakih Benjamin
Pura Kehen
One of the most valued temples in Bali, Pura Kehen is a garden temple located in the town of Bangli in East Bali and can be traced back to the 11th century. Founded by Sri Brahma Kemuti Ketu, Pura Kehen is the second largest temple on Bali and the most sacred in the region. Many visitors are mesmerized by the temple's grandeur and the steep steps leading dramatically up to the gateway. Like the Mother Temple of Pura Besakih, Pura Kehen was built on the slope of a hill and has eight terraces. The temple complex is surrounded by palm tree plantations which adds to the visitor's impression of being a jungle explorer discovering something ancient and profound. The fire god, Brahmen, protects the temple and it is named for him - kehen means hearth or fireplace. The 38 steps lead to an ornately carved entrance and through this doorway there are three courtyards. There is a lot to see but be sure not to miss the remarkable stone lotus throne dedicated to Brahma, Shiva and Vishnu in the third, main courtyard.
You will need to dress appropriately to visit the temple which means that your legs must be covered and you must have a temple-scarf (sarong) around your waist. You can rent sarongs at the temple.
Address:
Desa Cempaga, Cempaga, Kec. Bangli, Kabupaten Bangli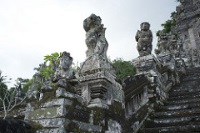 Pura Kehen Aleksandr Zykov
Batubulan
The small village of Batubulan is marked by stone figures of gods and demons on the side of the road. Known mostly for its stone carvings, Batubulan is a popular centre for cultural tourism and attracts travellers looking for a unique souvenir to take home with them. Visitors to the village can even enjoy visiting the workshops and watching the artists at work. Batubulan actually means 'moonstone' and stone carving has been the main industry of the village for a long time. Everybody seems to be an expert in the art and children learn how to coax statues out of rock at a young age. The village does also showcase other crafts, like woodwork and textiles, and is known for its antiques but the stone work dominates.
The temples in the area reflect the traditional talent of the local inhabitants and some remarkable stone carvings are on display at temples such as Pura Puseh. Another of the village's specialities is the performance of the blessing dance of Barong, which is performed on a daily basis at five different locations or stages: the Puseh Temple, Tegal Tamu, Denjalan, Sahadewa and Sila Budaya. As the village has become such an artistic hub, other villages nearby have perfected their own crafts, and the whole region is slowly transforming in to a vast open-air market.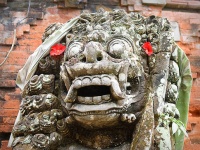 Stone Carving Jos Dielis
Elephant Cave
Built in the 9th century, Goa Gajah, or Elephant Cave, is located near Ubud and originally served as a sanctuary; it is now a UNESCO World Heritage Site. With a wonderfully carved entrance featuring menacing creatures and demons, children will find a visit to this historic cave an unforgettable experience (as will adults!). The main figure was once thought to be an elephant, hence the name, and in the 1950s a bathing pool was excavated, thought to have been built to ward off evil spirits. Visitors can wash their hands and feet in the fountains and there are usually locals on hand selling prayer offerings and the like - sometimes monks will offer blessings for travellers. Those who would like a tour guide will find that there are always locals offering this service and the tours can be very informative. The entrance is the most impressive feature of the cave and the interior will not take long to explore. There are some lovely gardens and trees surrounding the cave though, and a few stone carvings, so it is worth having a stroll around.
All visitors will require a sarong or cover-up to enter the temple and there are many shops selling them on the way but they will lend you one for free (or a very small price) at the entrance. In the early morning the temple grounds are almost deserted and this is a magical time to explore if you prefer to avoid crowds.
Address:
Bedulu Village, Jalan Raya Goa Gajah, Blahbatuh, Gianyar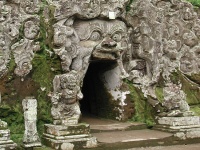 Elephant Cave entrance Jack Merridew
Bali Bird Park
The Bali Bird Park is home to a spectacular collection of more than 1,000 birds of about 250 different species. Kids will love spotting their favourite birds and learning about the exotic species they have never encountered before. Birds such as Macaws, peacocks, parrots, white herons and many more can be seen. The park is divided into regions that recreate natural habitats for the birds, complete with indigenous plant life and other artefacts from the region in question. Regions represented in the park include Bali, Papua, Java, Sumatra, South America and South Africa.
Visitors stroll through giant aviaries on winding pathways and bridges under a jungle canopy, and there are several special vantage points for spotting birds. In the Guyu-Guyu Corner you can experience the creatures in close contact, with birds perching comfortably on your shoulders or in your hands. Visitors can also participate in park feeding times (these times are subject to change - check the website or contact the park for details). A Free Flight Bird Show showcases various birds in flight. The bird park also features a restaurant, café and gift shop for visitors to get refreshments and take home a souvenir. The experience should delight the whole family.
Address:
Jl. Serma Cok Ngurah Gambir, Singapadu, Batubulan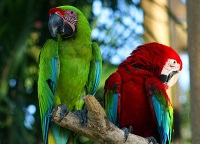 Macaws Andrea Lawardi
Sacred Monkey Forest of Padangtegal
Featuring more than 180 species of trees, many of which are considered holy and used in various Balinese spiritual practices, the Monkey Forest in Ubud is a fantastic place for kids and adults to spend the day exploring. The forest is seen as a marriage of nature with human endeavour and is considered a sacred place - in Balinese culture it is not just the temples which are considered holy but the surrounding gardens and forests as well. Traditionally monkeys are often seen as guardians of temples and are thought to ward off evil spirits. Children can see the Balinese long-tailed Macaques up close as they scramble through the forest of banyan trees and lush tropical vegetation. There are about 700 macaques in the forest which move in four distinct troops. Evidence suggests that although these monkeys can live in developed areas like villages, their survival ultimately depends on the conservation of their natural forest habitat because people tend to eradicate them when they interfere with farmlands, crops and food.
There are also a few temples to explore while visiting the forest: the Bathing Temple seems like part of its natural environment and feels magical. The Cremation Temple is interesting and a good place to learn about Balinese Hindu burial traditions.
Address:
Jalan Monkey Forest, Padangtegal, Ubud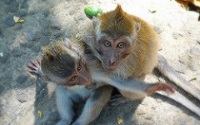 Balinese long-tailed macaques Farley Roland Endeman
Nias Island
Famed for its right-hand reef breaks, Nias is a key surfing destination for many travelling through the area, with the best known surf spots being Sorake Bay and Lagundri Bay. But this fascinating island also boasts a rich cultural history with prehistoric remains which are thought to have been built in the megalithic Stone Age. Tourists visiting Nias Island can enjoy the war dances performed by locals, among other traditional festivities, and the local music, which is mostly sung by women, is known to be hauntingly beautiful and unique. The beauty of the island is the main draw for those who visit its shores but for the anthropologically-inclined this area is of great interest as its relative geographical isolation has allowed its traditional culture to thrive. Popular activities other than surfing include scuba diving and snorkelling in the clear waters, which brim with rich marine life.
More than 1,000 people died in Nias in the 2004 and 2005 earthquakes which shook the region and some evidence of this tragedy may still be visible on the islands, but the tourism industry has recovered. The locals tend to be extremely friendly and they have a respect for the tourism industry as it provides many of their livelihoods.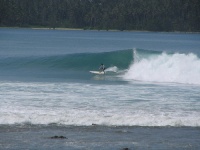 Sorake Bay Jen Joaquin
Lake Maninjau
Lake Maninjau is set like a burning sapphire stone in the crater of the mountain and is a spectacularly beautiful place to relax and unwind. It is a caldera lake, located in west Sumatra, and is thought to have been formed by a volcanic eruption around 52,000 years ago. The lake is set at about 1,545 feet (471m) above sea level, and the average temperature of the water in the lake is around 86°F (30°C). Visitors can enjoy cycling the 37 mile (60km) circumference of the lake, or plodding through the neighbouring rice paddies while others can swim, canoe and hike the surrounding mountains or explore the local villages.
Villages on the shores of the lake include Maninjau and Bayur. Maninjau is a notable tourist destination in the region due to its scenic beauty and situation on the lake; if you're interested in doing some paragliding Maninjau is a great base. There are some hot springs to enjoy close to the village of Mukomuko, on the opposite side of the lake to Maninjau. On the dramatic road that winds down to the lake from Bukkittinggi there are spectacular views and 44 hairpin turns. Beware of the monkeys that gather on the side of the road; they wait there because people throw food out of the cars for them but they are wild animals and shouldn't be approached.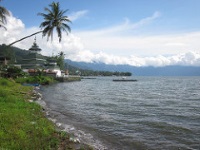 Lake Maninjau Ken Marshall
Padang
The capital of Sumatra, Padang offers a compact and enjoyable cross-section of Sumatran life and its various cultures. Many surfers stop here on their way to the Batu or Mentawi Islands, but the town itself boasts a few noteworthy attractions such as the Adityawarman Museum, which features a collection of antiques, and the cultural centre where locals perform traditional dances on Sundays or even (martial arts). Many people come here for the markets, for which Padang is famed, but Padang Beach is also popular for its spectacular sunsets and hundreds of colourful food stalls. Another popular beach is Air Manis, which gets mixed reviews from tourists - depending on how clean it is when they visit - but boasts the attraction of a small island which can be waded to at low tide.
Lake Maninjau is close enough to make a really pleasant excursion from the city, and Sikuai is less than an hour away by boat. Sikuai Island is renowned for its natural beauty and earns rave reviews from almost all that make the trip. Although not cheap it is still relatively unspoiled and feels like an undiscovered paradise. Padang makes a good base for excursions of this sort and is in close proximity to a number of lovely areas.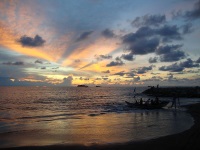 Padang Beach Sunset Fadillah Jafar
Berastagi
A great place to stop off for travellers en route to the holiday resort of Lake Toba, the town of Berestagi is famed not only for its passion fruit, but also for the two active volcanoes on its doorstep: Gunung Sibayak and Gunung Sinabung. Gunung Sibayak boasts fantastic hot springs whose warm waters are not only open to the public, but are also believed to have therapeutic properties.
More active travellers can climb this mountain instead, earning breathtaking views over the island of Sumatra from the top. This is the most commonly climbed volcano in Sumatra as the hike to the top is comparatively easy, with beautiful and unusual scenery to enjoy along the way. It only takes about two hours to summit and can be done safely without a guide. However the addition of a local expert who can explain the geological significance of the area, as well as identify the local flora and fauna, is worth considering. The volcano is still active and as such the boiling sulphur imbues the region with an unmistakable stench, but the breathtaking views will quickly distract you from this unpleasant factor. Why not reward yourself and head to the hot springs after the hike? The pools range in temperature from pleasantly warm to boiling hot, so be sure you test the water and don't burn yourself!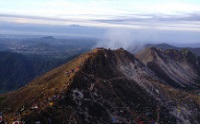 Gunung Sibayak Palma Hutabarat
Sidemen Valley
A typical Balinese village tucked away in a lush green valley, Sidemen is a popular excursion on Bali for tourists looking for peace and quiet. Terraced rice paddies lie under the shadow of a volcano, which offers good opportunities for hiking. Other active pursuits in the valley include cycling and whitewater rafting.
The village of Sidemen is known for its skilful weavers, who make the intricate silver-and-gold songket fabric used in traditional weddings. The Pelangi Workshop allows visitors to watch the weaving process, and there are several shops in town to buy songket fabric along with other souvenirs.
One of the most pleasant activities for those who want a relaxed break is strolling through the rice paddies and exploring the enchanting scenery of the valley. Most of the hotels have basic maps to give visitors and there are some beautiful little temples hidden in the countryside. Getting lost round here is a joy. There are some hotels and restaurants to cater to tourists but there are no real banking facilities and only limited internet access. Sidemen is a truly wonderful place to visit if you want to experience a quiet, traditional village, and it is worth spending at least one night to experience the surroundings. Many choose to spend more than that.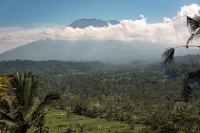 Sidemen Valley Keith Yahl
Gili Islands
Situated a few miles off the northwest coast of Lombok, the three Gili Islands - Gili Trawangan, Gili Meno and Gili Air - were 'discovered' by backpackers in the 80s and until recently remained a laid-back haven for budget travellers in search of a peaceful and secluded holiday paradise. The islands are surrounded by glorious soft sandy beaches, colourful coral reefs and crystal clear turquoise waters, ideal for diving.
There are almost no roads or motor vehicles on the islands, with scooters and donkey-drawn carts acting as their replacements. Small ferries transport guests between the Gili Islands, none of which are more than twenty minutes apart. Most of the holiday accommodation is on Gili Trawangan, and this generally consists of small bamboo bungalows a few metres from the beach, like those found on Thailand's islands twenty years ago.
Mainstream tourism is beginning to establish itself on the Gili Islands and a few exclusive hotels have opened up, most recently on the smallest, least developed island of Gili Meno. While there are no major sights or landmarks to see, the scuba diving and snorkelling opportunities are enough to make it a popular destination and the atmosphere and scenery are splendid enough to enchant visitors.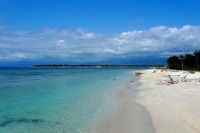 Gili Trawangan Chris Nener
Kuta Lombok
Not to be confused with its better-known namesake on Bali, Lombok's Kuta is almost totally undeveloped by comparison, having only been 'discovered' by surfers a few years ago and still devoid of any large holiday resort hotels. The whole south coast is characterised by miles of stunning curved sandy bays set beneath empty, rolling hills. There are plans for development but that is still many years away, to the delight of many tourists who prefer to explore Indonesia's undeveloped coastlines.
Kuta's southeast peninsula and Awang Bay are dotted with tiny fishing villages untouched by tourism, while inland villages specialising in local crafts such as pottery, weaving, basket ware and carving can be visited. There are bars and restaurants in the town, but no ATMs, and internet is patchy. Locals sell crafts like hand-woven sarongs and even pearl jewellery and they can be a bit persistent and annoying if you don't buy from them - but generally the lack of crowds and touristy stalls is a refreshing change from the most popular areas of Indonesia which have been thronged by tourists. Kuta Lombok is still relatively rustic and unspoiled so it is ideal for those travellers who don't mind foregoing luxury and the occasional convenience to experience a place that still feels like a secluded island paradise.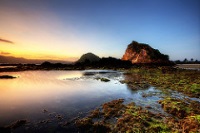 Kuta Lombok Alex Hanoko
Lake Toba
The holiday paradise of Lake Toba, sparkling like a precious stone, is embedded in the northern highlands of Sumatra and is surrounded by steep and fertile mountains. Filling in a giant volcanic crater, it is the largest lake in South East Asia, with depths of up to 1,680 feet (525m) in places. In the middle of Lake Toba sits the jade-green island of Samosir, which is thought to be the origin of the friendly Batak people. Evidence of their culture and traditions is visible in the little Batak villages with their characteristic curved roofs, the traditional dance performances at Simanindo's Batak Cultural Centre, and the distinctive woodcarvings and weavings sold around the island. Apart from this cultural wealth, there are also several hot springs near Pangururan, which attract visitors.
Numerous holiday resorts and villages are scattered around Lake Toba's Samosir; the Tuk Tuk peninsula and village of Ambarita being the most popular places for tourists to linger. The area was once very fashionable for holidaymakers, but is now fairly quiet. Despite the amount of guesthouses and restaurants on Samosir, there is little other tourist infrastructure, but the variety of activities and the cultural experience makes this one of Sumatra's most fascinating and relaxing holiday destinations.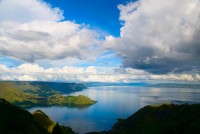 Lake Toba Batubara Ismail Rahmat
Senggigi
Just a few miles south of Ampenan, Senggigi is the most developed holiday resort on Lombok, characterised by broad bays, towering headlands and first-rate hotels and restaurants, and boasting the only real nightlife in Lombok. Being close to the airport it makes a good first or last night stop for those intent on exploring the island. The drive north along the coast from Senggigi to Pemenang is a great day out for those with a car, offering spectacular views of the Gili Islands and across to Bali when the weather is clear. The twisting road takes holiday visitors to an expanse of coast that is totally undeveloped with only a few coastal villages dotted behind sweeping bays of turquoise water and palm trees.
Just south of Senggigi is the Batu Bolong Temple. Weighed down under an excess of lurid pink paint, its shrines are spread around a rocky promontory with fabulous views in both directions along the coast. The main part of the temple is built over an archway in the rock, a hole through which virgins were once supposedly sacrificed to appease the gods. Today this is a quiet and peaceful spot and a favourite with local fishermen. Spear fishing is a popular activity, along with scuba diving, snorkelling, hiking, and cycling.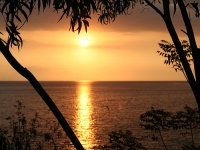 Senggigi Sunset Fery Indrawan
The Indonesian climate is almost entirely tropical. The warm waters of the ocean surrounding the archipelago ensure fairly uniform temperatures on land and there is little seasonal variation. There is also little difference in daylight hours from season to season. Indonesia experiences hot, humid weather throughout the year, especially in coastal areas. The inland highlands are somewhat cooler. The climate of Indonesia is dominated by heavy monsoon rains, which occur between November and March, or to be extra safe between October and April, often causing damage and making local travel difficult (the rainy season is also the worst time for some mosquito-borne diseases). The best time to travel to Indonesia is therefore during the dry season, between May and September. The rainy season varies in impact from island to island and although some areas experience extreme conditions and flooding others are less dire and can safely be visited during the rainy season.
The busiest and therefore most expensive times to visit Indonesia are in the holiday periods: at the end of Ramadan, when domestic tourists fill resorts and prices escalate; at Christmas; and mid-June to mid-July, when graduating high-school students arrive in hordes, mainly in Java and Bali.
Money:
The Indonesian currency is the Rupiah (IDR). Foreign currency can easily be exchanged at banks, hotels and money changers in major tourist destinations; the US dollar is the most accepted currency. Ensure that foreign bills are in good condition, as creased and torn notes may be refused. The best exchange rates in Indonesia are generally found in major centres like Jakarta and Bali. Visa and Mastercard are accepted at more expensive hotels and restaurants, however smaller businesses may not have card facilities (especially in more remote areas). ATMs are available in main centres. Small change is often unavailable so keep small denomination notes and coins for items like bus fares, temple donations and soft drinks.
Language:
Bahasa Indonesia is the official language, but many dialects are spoken. English is widely understood in Jakarta and tourist resorts.
Electricity:
Electrical current is 230 volts, 50Hz. A variety of plugs are in use, including the European two-pin.
Entry Requirements:
US citizens must have a passport that is valid for at least six months beyond the date of their arrival in Indonesia. Those arriving in Indonesia do not need a visa for a tourist stay of 30 days.
UK citizens must have a passport that is valid for at least six months beyond the date of their arrival in Indonesia. They are exempt from visas if staying for 30 days and cannot extend this visa-free stay. Visitors can obtain a visa on arrival for a maximum stay of 30 days, provided they land at a major Indonesian airport, have half an unused visa page available as well as a valid credit card or monetary sum equivalent to USD 1,000. With this, visitors can apply to extend their stay by 30 days.
Canadian citizens must have a passport that is valid for at least six months beyond the date of their arrival in Indonesia. No visa is required for a maximum stay of 30 days.
Australian citizens must have a passport that is valid for at least six months beyond the date of their arrival in Indonesia. A visa is not required for a non-extendable period of one month. An extendable 30-day visa can be obtained on arrival, provided they land at a major Indonesian airport, have half an unused visa page available as well as a valid credit card or monetary sum equivalent to USD 1,000. Holders of an APEC Business Travel Card endorsed 'valid for travel to IDN' may stay for up to 60 days without a visa.
South African citizens must have a passport that is valid for at least six months beyond the date of their arrival in Indonesia. A visa is not required for a non-extendable period of 30 days. An extendable 30-day visa can be obtained on arrival, provided they land at a major Indonesian airport, have half an unused visa page available as well as a valid credit card or monetary sum equivalent to USD 1,000. With this visa, visitors can also apply to extend their stay by 30 days.
Irish citizens must have a passport that is valid for at least six months beyond the date of their arrival in Indonesia. A visa is not required for a non-extendable period of 30 days. An extendable 30-day visa can be obtained on arrival, provided they land at a major Indonesian airport, possess half an unused visa page available as well as a valid credit card or monetary sum equivalent to USD 1,000. With this visa, visitors can also apply to extend their stay by 30 days.
US citizens must have a passport that is valid for at least six months beyond the date of their arrival in Indonesia. Those arriving in Indonesia do not need a visa for a tourist stay of 30 days.
New Zealand citizens must have a passport that is valid for at least six months beyond the date of their arrival in Indonesia. A visa is not required for a non-extendable period of 30 days. Visitors are required to have half an unused visa page available as well as USD 1,000 or valid credit card. An extendable 30-day visa can be obtained on arrival. Holders of an APEC Business Travel Card endorsed 'valid for travel to IDN' may stay for up to 60 days without a visa.
Passport/Visa Note:Visa:
Passengers to Indonesia of most nationalities can obtain a 30-day visa on arrival, provided that: (i) they arrive at a major Indonesian airport; (ii) their passport contains at least one unused visa page for the visa-on-arrival sticker; (iii) they are holding return/onward tickets, and the necessary travel documentation for their next destination; and (iv) they can show proof of sufficient funds to cover their stay in Indonesia (at least USD 1,000 or a valid credit card). The cost of a 30 day visa as of December 2016 is USD 35. Those nationalities not permitted to purchase a visa on arrival must obtain a visa prior to their arrival in the country.
One visa extension, of a further 30 days, is possible, via an application made to the Immigration Office. Note that the day of arrival in Indonesia is counted as the first day of stay, and that fines will be levied against tourists who exceed their permitted period of stay.
Visitors wishing to travel to the Indonesian province of Irian Jaya must obtain a special permit ("Surat Jalan") after arrival in Indonesia from the Dinas Intel Pam Pol MABAK in Jakarta, or other regional police headquarters in Biak or Jayapura. It normally takes about two days to obtain this permit. Upon arrival in Irian Jaya, visitors must report to the local police office.
Note that a yellow fever vaccination certificate is required, if arriving in Indonesia within six days of leaving or transiting through an infected area.
NOTE: It is highly recommended that your passport has at least six months validity remaining after your intended date of departure from your travel destination. Immigration officials often apply different rules to those stated by travel agents and official sources.
Travel Health:
There are a number of health risks associated with travel to Indonesia and medical advice should be taken at least three weeks before departing. Yellow fever vaccinations are required for those coming from yellow fever areas. Vaccinations for hepatitis A and hepatitis B are recommended, and a typhoid vaccination may be recommended for those spending time in rural areas. Malaria is a year-round risk in much of Indonesia, but not in Jakarta or the tourist resorts of Java and Bali. The dengue fever mosquito is found throughout Indonesia and visitors should be aware of a significant increase in reported cases of dengue fever throughout the country during the rainy season. Outbreaks of chikungunya fever, also from mosquitoes, have occurred regularly in Indonesia in recent years. It is recommended that pregnant women, or women planning on becoming pregnant, should postpone their trip wherever possible, as Indonesia has recently been classed as a moderate risk zone for the Zika virus.
Travellers' diarrhoea is a major risk; visitors should only drink sealed bottled water and avoid dairy products, uncooked meat, salads and unpeeled fruit. Poor sanitation and eating contaminated food can increase the risk of cholera, typhoid and other diseases. The standard of local medical care is poor and very expensive. It is essential to take out comprehensive medical and travel insurance.
Tipping:
Major hotels add a 10 percent service charge to bills in Indonesia and, where it is not included, a tip of between five to 10 percent of the bill is appreciated. Airport porters usually receive around IDR 2,000 per small bag. Tipping taxi and rental car drivers is not mandatory but if you do choose to tip IDR 1,000 is sufficient for taxi drivers and a little more for rental car drivers.
Safety Information:
Following the infamous bombings in Bali back in October 2005, there remains a risk of terrorism directed against foreigners throughout the country. It is recommended that visitors contact their foreign office for the latest travel advice before travelling to Indonesia. The security situation remains unsettled in central Sulawesi and foreigners are advised to avoid parts of Maluku, particularly Ambon. Visitors are also advised to be cautious if travelling to Aceh. Religious violence and unstable politics are an ongoing problem in Indonesia and travellers should keep an eye on current affairs.
Indonesia has a high crime rate and theft and petty crime is common in tourist areas and on public transport. Credit card fraud is on the increase. Flooding and landslides occur frequently during the rainy season between December and March. The country is also located on the volatile seismic strip named the "Ring of Fire", and as a result is often subject to earthquakes, volcano erruptions and occasionally tsunamis. Not all Indonesian airlines are considered safe and travellers should do some research into reputable airlines before booking.
Local Customs:
Indonesian people are generally friendly and polite and while they understand that Western culture is different to their own, it will be appreciated if their customs are respected. Religious customs should also be respected, particularly during the holy month of Ramadan when eating, drinking and smoking during daylight hours should be discreet, in accordance with the Muslim culture. Visitors should always be polite and avoid public displays of affection. It is considered impolite to use the left hand for passing or accepting things. Appropriate dress is important in places of worship and women should dress conservatively, covering the shoulders and legs. The concept of 'saving face' is very important and public displays of anger, ridicule and blame are considered extremely vulgar and bad mannered. In Jakarta a law bans people from giving money to beggars, buskers and unofficial traffic guides in an attempt to 'bring order' to the city. Offenders could face imprisonment and fines. Gambling is illegal. Furthermore, the Indonesian government adopts a zero tolerance approach to those engaged in illegal activities, such as dealing or consuming drugs whilst in the country, or the killing or illegal trading of endangered animals. Offenders have been faced with lengthy prison sentences, and have even been sentenced to death.
Business:
Due to the hot and tropical climate, formal business attire in a light, cool material is the best option. Indonesia is largely Muslim so dress should be conservative, especially for women. Business cards are often exchanged and it is customary to shake hands with a slight bow when greeting and departing. Some Indonesian names can be long and hard to pronounce and making an effort to get it right when greeting someone will be appreciated. It is best to use formal titles such as Doctor, or 'Bapak' for Mr and 'Ibu' for Madam. Business hours vary; government offices are usually open from 7am to 3pm and small businesses from 8am or 9am to 4pm or 5pm.
Communications:
The international access code for Indonesia is +62. The outgoing code is 00 followed by the relevant country code (e.g. 0044 for the UK). The area code for Jakarta is 21. Buying a local SIM card is a good option as international roaming fees can be expensive. Free wifi is available in most cafes, restaurants and hotels in main cities, towns and tourist areas.
Duty Free:
Travellers to Indonesia over 18 years do not have to pay duty on 25 cigars or 200 cigarettes or 100g tobacco; alcohol up to 1 litre; perfume for personal use; and personal goods to the value of US$250 per passenger or US$1,000 per family. Travellers not entering on a tourist visa will have to pay duties for photo and film cameras unless these have been registered in their passport by Indonesian Customs. Electronic equipment may not be imported to the country. Prohibited items include Chinese medicines and prints, narcotics, firearms and ammunition, pornography, cordless telephones, fresh fruit or goods to be used for commercial gain.