Fort Area
The magnificent Gothic Victorian buildings in Mumbai's Fort Area highlight the power and wealth of the British Empire at its might. They are reminiscent of many of the great public buildings in London or Glasgow. The Victoria Terminus (known as CST) was opened in 1888, and is one of the world's grandest railway stations, on a par with New York's Grand Central Station or London's St Pancras. Built in the Italian Gothic style, it looks more like a lavishly-decorated cathedral than a railway station: massive arches soar splendidly above the scurrying crowd, and carved into the pillars and buttresses are images of monkeys, peacocks, elephants and lions. The station is topped by a tall dome crowned with a statue representing Progress.
The nearby St Thomas' Cathedral was built between 1672 and 1718, standing witness to almost the entire history of the British in Bombay. Its whitewashed interior contains poignant colonial memorials - including one to Henry Robertson Bower, Lieutenant of the Royal Indian Marine, who lost his life returning from the South Pole with Captain Scott.
The epicentre of the Fort Area is Horniman Circle, which is surrounded by curved, arcaded terraces. The lush and leafy garden in the centre offers a welcome retreat from the hustle and bustle of the surrounding city.
Transport:
The Fort Area is situated 2km from Chhatrapati Shivaji Terminus (CST)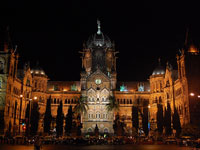 Victoria Terminus Advait Supnekar
Colaba
The southernmost peninsula of Mumbai, known as Colaba, is where most travellers gravitate. It has a good range of hotels and restaurants and houses two of the city's most famous landmarks: the Gateway to India and the Taj Mahal Hotel. The Gateway to India was built in 1911 to commemorate the visit to India of King George V and Queen Mary. The archway is built from honey-coloured basalt in a style derived from Gujarati architecture of the 16th century. In the days of the steam liner, the Gateway was for many visitors their first and last sight of India, but today it acts purely as a colourful tourist stop, and attracts hawkers, snake charmers, and beggars. The neighbouring Taj Mahal Hotel was built in 1902 by JN Tata, after he was allegedly refused entry to one of the city's European hotels on account of being 'a native'. It has since turned into a bit of an institution, and the streets behind it have become a Mecca for foreign shoppers; the Colaba Causeway is the main street, with a melee of street vendors, shops, stalls and cafes.
Unfortunately Colaba was also the site of two of the 2008 Mumbai Attacks and tourists are recommended to remain vigilant when visiting the area. To the north of the causeway, set in beautiful lush gardens, is the fascinating Prince of Wales Museum displaying a collection of ancient and medieval sculpture and Indian decorative arts. Nearby, the new National Gallery of Modern Art showcases Indian modern art. To the south is the Sassoon Dock, which at dawn becomes an area of intense and pungent activity as fishing boats arrive to unload their catch.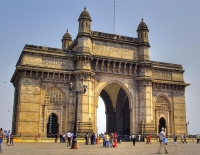 Gateway of India Aashish3000
Marine Drive
Built in the 1920s, Marine Drive runs along the shoreline of the Arabian Sea, from Nariman Point to the foot of Malabar Hill. It is Mumbai's most famous thoroughfare, and a favourite spot for watching the sunset. Lined on the landward side by a crescent of crumbling Art Deco buildings, it is lit up memorably at night, prompting travel agents to dub it 'the Queen's Necklace'. At the top end of Marine Drive is Chowpatty Beach, the only beach in the central part of Mumbai. Though not ideal for sunbathing or swimming, it is a popular (though hectic) place to spend an afternoon, surrounded by beach traders, entertainers and beggars. It is the best place to watch the annual Ganesh Chaturthi Festival (during August/September), when vast models of Lord Ganesha are immersed in the sea. Marine Drive is also an exciting vantage point on Diwali, when there are stunning fireworks in the bay and all over the city. The thoroughfare is best avoided on weekends, when it can get extremely crowded and rather dirty, but the atmosphere is festive and some people love to mingle on busy days. There are many restaurants and cafes lining the street and it is lovely to either walk or drive along the road at night.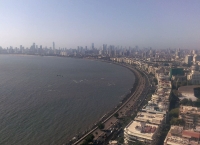 Marine Drive Arun Viswam
Crawford Market
The colourful indoor Crawford Market (Mahatma Jyotiba Phule Market) is where locals of central Mumbai go shopping for their fruit, vegetables and (for the brave) meat. Rudyard Kipling was born just south of the market, in 1865. An ornate fountain designed by his father, Lockwood Kipling, sits between old fruit boxes at the market's centre. He also designed the frieze depicting Indian peasants in wheat fields which hangs above the main entrance. You can find almost anything at the market which is large and full of surprises. The animal market at the rear sells everything from poodles to parrots in small cages.
Visitors will enjoy a stroll around the narrow lanes of Kalbadevi, north of the market. This predominantly Muslim area is a seething mass of people and traffic and is the location of several markets selling jewellery, textiles and leather goods. The most famous is the Chor Bazaar, Mumbai's 'thieves' market', which sells 'antiques' and miscellaneous junk - don't place too much faith in the authenticity of anything sold here. This area is also home to the Jama Masjid and the Mumbadevi Temple, which is dedicated to the patron goddess of the island's original Koli inhabitants.
Address:
Junction of Dadabhoy Naoroji Road and Carnac Road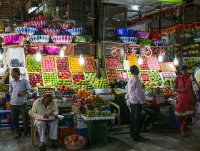 Crawford Market Bernard Gagnon
Mumbai
Mumbai (formerly Bombay) is India's economic powerhouse, and home to more millionaires than any other city on the Indian subcontinent. The city contains a breathtaking array of High Victorian buildings, reflecting the British passion for the Gothic and demonstrating the wealth, panache and confidence of British Bombay. Mumbai's countless attractions are reached via the iconic colonial-era arch that is the Gateway of India. Nearby stands the Taj Mahal Palace. India's second-most photographed monument, and the equally imposing Chhatrapati Shivaji Maharaj Terminus, an extravagant Gothic building.
The Colaba peninsula is a hive of activity, with high-end fashion boutiques, souvenir craft markets, and a collection of restaurants and cafes. Tourists can visit the Iskcon Temple to witness scenes of intense, joyful worship accompanied by dance and music, or plan a trip to Film City to see first-hand how Bollywood shoots its films. For those seeking a break from the madness of modern Mumbai, the 180-year-old village of Khotachiwadi offers a quiet glimpse into life as it was before the high-rise buildings of today's mega-city.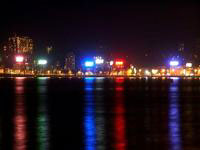 Mumbai skyline at night Jugalkishore Verma
Haji Ali Dargah
The Haji Ali Dargah is both a mosque and a tomb, located in southwestern Mumbai, on an islet off the coast of Worli. The (tomb) was built in memory of Muslim preacher Syed Peer Haji Ali Shah Bukhari in 1431, who was inspired to change the course of his life after embarking on the Hajj to Mecca. Haji Ali is only accessible by a 1500-foot (457m) walkway during low tide. The walkway is generally lined with beggars and vendors, and Thursdays and Fridays see thousands of pilgrims flocking to Haji Ali to receive blessings from the dead saint. People of all religions are welcomed but the mosque is an important spiritual site for Muslims and some respect is due from visitors, who must abide by the mosque's rules - for instance, dress appropriately and use the separate entrances designated for women and men. As with many big attractions in Mumbai the site can get uncomfortably crowded and can be rather dirty, with beggars, touts and salesmen of all kinds thronging the place. The best time to visit is at low tide, early in the morning, as it is less crowded and the high tide washes away some of the rubbish. Although some people lament the crowds and dirt the Haji Ali Dargah is still a powerful and captivating site which impresses many.
Address:
Off the coast of Worli, near Mahalaxmi railway station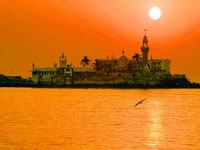 Haji Ali Dargah Humayunn N A Peerzaada
Nehru Centre
The exciting Nehru Centre, which even looks like a UFO, features a world-class planetarium, an art gallery filled with emerging talent, and an interesting culture wing. However, the highlight of the centre is the (permanent) Discovery of India exhibition, with consists of 14 galleries showcasing every aspect of artistic, intellectual and philosophical attainment in India through the ages; visitors walk through the history of India from ancient times to independence. This is a wonderful place to start for those looking to get to grips with the history and identity of India, one of the most mercurial and fascinating countries in the world. The centre is a tribute to its namesake, the first Prime Minister of an independent India, and described on the official website as a 'living testament and monument of faith in Jawaharlal Nehru's vision of man, his compassion for humanity, his concern for humanbeings and his undying passion to lift them to the greatest and highest purpose'. The planetarium is also very popular and offers well-planned and presented shows. There is a restaurant in the centre which has received good reviews from visitors.
Address:
Dr Annie Besant Rd., Worli. Closest Railway Stations: Mumbai Central, Mahalakshmi, Dadar and Byculla.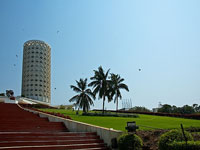 Nehru Centre Carolina Ödman
Prince of Wales Museum
The Prince of Wales Museum, now officially known as the Chhatrapati Shivaji Maharaj Vastu Sangrahalaya, was founded in the early 20th century to commemorate the visit of (eventual King of the United Kingdom) George V. The museum houses more than 50,000 exhibits of ancient Indian history, as well as artefacts from other lands. The museum's greatest areas of focus are art, archaeology and natural history. The Indus Valley Civilisation section is particularly impressive. The museum is surrounded by a lovely garden, which provides a nice area to stroll in after exploring the exhibitions. The building dates back to 1914 but it was originally used as a military hospital and only housed the museum in 1922; it is an acknowledged architectural gem of the city.
There is a cafe where visitors can buy refreshments and it's fun to enjoy them out in the garden. The museum's collection is fairly large so it will take a few hours to see everything. Students should be sure to take their student cards along because the concession for foreign students is substantial. There is no air conditioning in the building so rather don't visit in the midday heat. Visitors are allowed to take photographs, but there is an additional charge to take in a camera.
Address:
159/161 Mahatma Gandhi Rd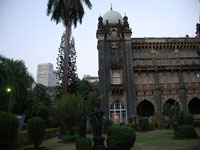 Prince of Wales Museum Baishampayan Ghose
Mani Bhavan Gandhi Museum
The former home of Mahatma Gandhi, the Mani Bhavan Gandhi Museum is a Gujarati-style house featuring three floors for visitors to explore. The house did not belong to Gandhi but served as his home and headquarters in Bombay for 17 eventful years between 1917 and 1934; it belonged to a friend of his, who was his host whenever he visited the city. Several important events and activities in Gandhi's political life took place or were initiated at this place - he was arrested on the terrace in 1932. The museum houses an incredible library, full of Gandhi-related books, periodicals, photographs, posters and even the great man's old (spinning wheel). His old room has been preserved as it was when he lived in it, as far as possible, and there is a Picture Gallery and an Auditorium that plays Gandhi's speeches and films about him. The terrace where he once prayed, spoke and was arrested is open to the public. There is also a Sales Counter which sells memorabilia like stamps, photographs and books. For anybody interested in the life of this global icon the museum is a must.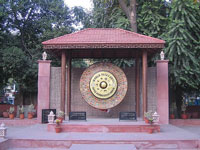 World Peace Gong Sami Ben Gharbia
Dhobi Ghat
Known as the 'world's largest laundromat', the Dhobi Ghat provides a scene many travellers might have already seen in movies. Every day, thousands of (laundry washers) collect dirty laundry and descend upon the concrete washing areas, all fitted with their own flogging stones, to wash the garments. To the dhobis themselves, the washing and drying of clothes is a menial task - but to inquisitive tourists, this practise can be a fascinating insight into India's daily life, as well as a surviving relic of old India. The job is traditionally hereditary, and many of the men at work have families that have been doing the same job, and using the same age-old techniques, for generations. This is not a glamorous attraction but it is a very interesting one and many tourists love to photograph the work and the area and get a taste of the 'real' India. Having a local guide is an advantage because they can explain the history of the area and the job, and because they usually prevent the petty theft and pick-pocketing which sometimes occurs. Generally the people are very friendly and amused by the foreign interest in their menial labour but visitors should watch their belongings carefully. Entrance to the area should be free but there have been reports of locals asking for a small admission price.
Address:
Prakash Pathe Marg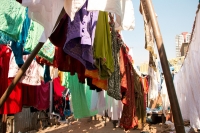 Dhobi Ghat Christian Haugen
Elephanta Caves
Located on Elephanta Island, in the Arabian Sea off the coast of Mumbai, the Elephanta Caves are a UNESCO World Heritage Site and an absolute must for visitors to Mumbai. The island can be reached by an hour long boat ride from the Gateway of India pier. The caves feature (the oldest of the four sects of Hindusm) stone sculptures of Hindu deities important to worshippers of Shiva. Many of the sculptures in the caves were unfortunately defaced by the Portuguese who, in the 17th century, used the sculptures for target practice. However, there is still lots of intricate and impressive art to see. Visitors arrive and step off the ferry to walk through a gauntlet of vendors selling all sorts of food and trinkets. It is possible to take a ride on a small train to get to the cave site, or to be carried up in chairs. The other option is simply to walk. Each year, in February, the Elephanta Dance Festival is held outside the caves with lots of local dance troupes performing. The island can get very crowded on weekends and public holidays so it is best to go during the week if possible.
Address:
Elephanta Island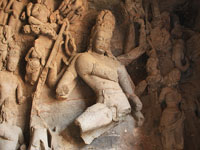 Elephanta Caves Ricardo Martins
Kala Ghoda Bazaar
For three months, between November and January each year, street musicians and performers of all kinds add to the colourful atmosphere of Mumbai's Sunday street bazaars, held near the Jehangir Art Gallery in the city's pedestrian plaza. The area becomes a hive of activity and excitement between November and January, with cultural performances and stalls selling a variety of crafts, folk art and food. The stretch has become such a hub of cultural and artistic activity that it is now known as an art precinct all year round.
The Kala Ghoda Art Precinct stretches from Regal Circle at the southern end of Mahatma Gandhi Road, to Mumbai University, which is further north on the same street. The attractions along this stretch include the Mumbai National Gallery of Modern Art, the Prince of Wales Museum, the Jehanqir Art Gallery, the Kala Ghoda Pavement Gallery (where talented young artists exhibit their work on railings set up along the pavement), the Museum Gallery, and Rampart Row (a restored heritage building packed with stores and restaurants). The area also boasts some of the city's most popular restaurants and is a great place to go shopping and eating-out.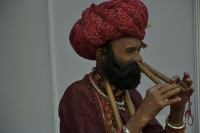 Kala Ghoda Bazaar Satish Krishnamurthy
Mumbai has a tropical climate, with two seasons: wet and dry. Between March and October, the summer months, the weather in Mumbai is uncomfortably hot and humid. Monsoon rains deluge the city in mid-summer, and an excess of 30 inches (762mm) of rain has been known to fall in one day. July and August are the months that suffer most from the monsoon, and travel to Mumbai should be avoided during these months as it is inconveniently wet and travel can be disrupted. Between November and February, winter, the weather is dry and warm, with occasional chilly spells brought on by cold northerly winds. The winter months are the best time to visit Mumbai, as temperatures range comfortably between 74°F (23°C) and 86°F (30°C), meaning that visitors from colder climates certainly won't feel like they are experiencing winter. The spring and summer months are uncomfortably hot, with high humidity and temperatures often reaching 104°F (40°C).
Mumbai is a melting pot of cuisines, both regional and international, and the city is simply bursting with wonderful restaurants. With so many migrants in Mumbai, the city caters to everyone, and travellers can enjoy anything from a modest street-side café meal, to fine-dining and trendy eateries where patrons rub shoulders with Mumbai's silver screen stars.
From traditional Tandoori food, kebabs and the delicious and inventive Gujarati cuisine, to Mughlai and the highly popular Punjabi cuisine, Mumbai represents every single kind of Indian fare. Dishes such as butter chicken and chicken tikka masala have been exported to the rest of the world, but are still staples on most Indian menus. Indians make wonderful use of vegetables and vegetarians will have no problem finding something to suit them. Seafood from the Konkan coast is also quite famous, and considered to be a local specialty in Mumbai. Try the local street-snack pani puri, also known as gup chup, a round, hollow bowl made from crisp-fried unleavened bread and filled with a mixture of tamarind, chilli, chaat masala, onion and potatoes. Authentic masala chai is a must while visiting Mumbai - this sweet tea, boiled in a mixture of water, milk and spices such as cardamom, cinnamon, and ginger, might well be one of the abiding memories of India.
Joss
This diverse restaurant specialises in Japanese, Malaysian, Indonesian and Balinese cuisine, and is a firm favourite when dining out in Mumbai. Dishes such as oriental crab bisque, Nonya bamboo chicken and Norwegian salmon flavoured with dill, lemon butter and crisp seaweed are not to be missed. For those with a sweet tooth, try the chocolate cigar with prune and Armagnac ice cream. Reservations recommended.
Address:
30 K Dubash Marg, Kalaghoda
Rajdhani
Serving traditional Rajasthani, Maharashtrian, Sindhi and Kathiawadi Thali, Rajdhani is a vegetarian restaurant popular with both locals and tourists. Traditional favourites such as roti and are not to be missed. Open daily for lunch and dinner. Closed on Sundays.
Address:
Level 2, Phoenix MarketCity, LBS Marg, Kurla
Jimmy Boy Restaurant
An unusual restaurant, Jimmy Boy Restaurant serves Farsi and Iranian food, with favourites on the menu including the chicken dhansak and chicken jardaloo, which are both specialities here and probably the most flavourful dishes on the menu. This is a great place to sample some of the subcontinent's lesser-known fare. Open daily for lunch and dinner.
Address:
11 Bank Street, Vikas Building, Fort
Trishna
Popular with Mumbai's elite, Trishna has a formidable reputation, and prides itself on its seafood dishes. With a sister restaurant in London, a visit to Trishna is a must while in Mumbai, even if just to sample the flagship dish, the butter pepper garlic king crab. Open daily for lunch and dinner (dinner only on Sundays). Reservations essential.
Address:
Birla Mansion, Sai Baba Marg, Kala Ghoda, Fort Area
Peshawri
Serving up northwestern Indian dishes inspired by the cuisine encountered by the British on the frontier in 1990, Peshawri is a firm favourite with travellers looking for an upmarket restaurant promising authentic Indian fare. The food is cooked in traditional 'tandoor' clay ovens and the ambience is friendly but sophisticated. Open daily for lunch and supper.
Address:
Sahar Airport Rd, Andheri East, Mumbai
Chhatrapati Shivaji International Airport
Location:
The airport is located 18 miles (29km) north of Mumbai.
Transfer Between Terminals:
The two terminals are connected by a free bus service which takes 10-15 minutes.
Getting to the city:
Taxis are the only direct transport from the airport to the city. Make sure to take a government licensed taxi with a fare conversion chart as unlicensed taxis are known to overcharge travellers. The Mumbai Suburban Railway Network consists of three lines, namely the Western, Central Main, and the Harbour Lines; all of which connect to various parts of the city. The closest station to Terminal 1 (Vile Parle), is located in Santa Cruz, while the nearest station to Terminal 2 (Andheri) is located in Sahar. Both may be reached via a quick bus or taxi trip from the airport. Buses also travel between the airport and the nearby railway stations of Vile Parle and Andheri. Auto Rickshaws are also available for transfers to public transport.
Car Rental:
Car hire, with or without a driver, can be arranged in the Arrivals terminal. Passengers are strongly advised not to try drive themselves around Mumbai.
Airport Taxis:
Pre-paid taxis are available outside Arrivals, at both terminals. The journey time is approximately one hour to the city centre of Mumbai.
Fascilities:
Facilities at the airport include ATMs, currency exchange and a post office, left luggage services, executive lounges and a business centre, tourist information counters, duty-free shopping, childcare rooms, medical facilities, a prayer room and a smoking lounge. A variety of restaurants and fast food outlets are available.
Parking
CSIA has a car parking facility at both domestic and international terminals. Parking starts at about INR 130 for the first half hour and goes up to INR 1000 for a 24 hour period.
Many might not anticipate that Mumbai boasts a fabulous nightlife, but this city will not disappoint with its dazzling display of clubs, discos, bars and restaurants all bustling into the early hours. With so many Bollywood stars, millionaires, and high-profile social butterflies around, Mumbai boasts the cream of India's nightlife, with plenty of chic and trendy spots for travellers to enjoy.
Visitors can sip on their favourite drinks in one of Mumbai's rooftop bars overlooking the Arabian Sea, before heading out to a bouncing nightclub to dance the night away. The lively Colaba Causeway is a great place to start, with plenty of down-to-earth pubs with zero pretence.
Those looking for somewhere to shake a tail feather can head to Churchgate or Juhu; while Bandra is a very chic area, where style is the order of the day and everyone seems to work really hard at looking good. Join locals on the dancefloor and jam to some bhangra and RnB, or for something completely unique, go wild to some Hindi house hits.
Being the home of Bollywood, visitors to Mumbai should definitely head to a local cinema to take in a movie. Fort and Churchgate areas are the best places to do this - visitors who make a night out of this will not be disappointed.
The streets of Mumbai are chaotic and difficult to negotiate, but most attractions are fairly central and can be reached on foot. However, visitors generally opt for hiring a car with a driver by the day. The city's public bus service is government-run and consists of a fleet of red single and double-decker buses. The bus service is cheap and extensive, but the buses are almost always hot and crowded and it is not generally a pleasant way to get around. Suburban electric trains connect to the outlying areas, but are crowded, particularly during rush hour. Auto rickshaws are not allowed to operate in the centre of the city, but are cheaper than taxis and good for short distances. Metered taxis are plentiful all over the city and its surrounds. A convenient and comfortable hydrofoil service connects central Mumbai to many surrounding suburbs.
Mumbai's countless attractions are reached via the iconic colonial-era arch that is the Gateway of India. Nearby stands the Taj Mahal Palace. India's second-most photographed monument (after its namesake) has played an integral role in the country's history. Equally imposing is the poetically named Chhatrapati Shivaji Maharaj Terminus, an extravagant Gothic building, and a UNESCO world heritage site.
Mumbai Harbour is home to Elephanta Island, a labyrinth of impressive temple carvings, while the Colaba peninsula hosts Sassoon Docks, the oldest and largest fish market in Mumbai. The peninsula is a hive of activity, with high-end fashion boutiques, souvenir craft markets, and a collection of restaurants and cafes.
Mumbai continues its theme of long names with the Chhatrapati Shivaji Vastu Sangrahalaya museum. Beneath an impressive dome, the museum houses an extensive collection of sculptures, terracotta figures, paintings and ancient weaponry. The Dr Bhau Daji Lad Mumbai City Museum is a beautiful renaissance style building housing exhibits focusing on Mumbai's history, and the Mani Bhavan Gandhi Museum celebrates the life and times of the Mahatma Gandhi
Tourists can visit the Iskcon Temple to witness scenes of intense, joyful worship accompanied by dance and music, or plan a trip to Film City to see first-hand how Bollywood shoots its films. For those seeking a break from the madness of modern Mumbai, the 180-year-old village of Khotachiwadi offers a quiet glimpse into life as it was before the high-rise buildings of today's mega-city.