Cubbon Park
Cubbon Park is Bengaluru's equivalent of Central Park: a place of relaxation, open space and some worthwhile attractions. In and around the park are the State Central Library, two municipal museums, an art gallery and the Government Aquarium. The intensely red Attara Kacheri, which houses the regional high court, is unmistakable and eminently photogenic. The State Archaeological Museum is one of the oldest in India, has artefacts dating back 5,000 years, and is well worth a visit to gain some historical context to this relentlessly modern city. The handsome and photogenic Seshadri Memorial Library is another distinctly red building on the fringes of the park. At the northern edge of Cubbon Park is the imposing Vidhana Soudha, home to the State Legislature and Secretariat. The massive sandalwood doors to the Cabinet are a notable feature of this handsome colonial structure, built in a neo-Dravidian style. The construction work was done by more than 5,000 prisoners, who were set free once the building was finished, in 1956.
First and foremost, however, the park is a green lung, a peaceful and pretty place to take a break from the traffic and noise of this bustling city. It is a great area for walkers and joggers - particularly early in the morning and in the evenings. Tourists travelling with kids in Bengaluru will find Cubbon Park has many lovely picnic spots and open space to let off some steam; there is also boating on the lake and a toy train that runs around the park. Note that there is a busy road running through the area so it is not completely devoid of traffic.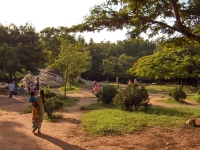 Cubbon Park Chris Conway
Lal Bagh
This splendid botanical garden, laid out by Hyder Ali and his son Tipu Sultan as a private royal garden in 1760, contains more than 1,000 species of rare flora in its enormous grounds. Lal Bagh is an internationally renowned centre for the scientific study and conservation of plants, and also a centre of botanical artwork. The name Lal Bagh means 'red garden', in tribute to its celebrated red roses. The centrepiece of Lal Bagh is the Glass House, which hosts an annual flower show and is modelled after London's Crystal Palace. Apart from the many old and imposing trees which delight visitors, the gardens also house a deer park, an aquarium, a lake and one of the city's four Kempe Gowda Towers.
The gardens are large and very beautiful with a great variety of scenery, many well-maintained paths to explore, and lots of shady nooks and lawns for picnics and relaxation. There are four entrance gates to the botanical garden and it is very popular with locals and visitors alike. None of the features are really stand-alone attractions but the gardens are a refreshing green lung in a crowded city, and a lovely place to take a morning stroll or jog and enjoy the peace.
Address:
Mari Gowda Rd, Shanti Nagar, 2.5 miles (4km) south of the city centre.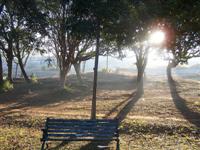 Lal Bagh gardens Symphoney Symphoney
Hampi
The small, relaxed town of Hampi - located in the state of Karnataka, about 220 miles (350km) from Bengaluru, and about the same distance from Panaji (in the neighbouring state of Goa) - not only boasts one of the weirdest, most awe-inspiring landscapes in the whole of India, but is also a fascinating historical site. The capital of the once-great Vijayanagar Empire, the ruins of the 14th-century village and temple complex found in present-day Hampi have been declared a UNESCO World Heritage Site. However, as impressive as these ruins are (especially the multi-tiered, ornately-sculpted Virupaksha Temple), the grandstand attraction of Hampi remains its natural landscape. A severe, desolate and boulder-strewn wilderness, tempered by a slate-grey river surrounded by lush groves of banana, mango and palm trees. Hampi might be slightly off the beaten track, but it is a manageable excursion from Bengaluru and will deeply reward all those who seek out its thoroughly singular charms. Hampi is a must for rock-climbers and is considered the bouldering capital of India.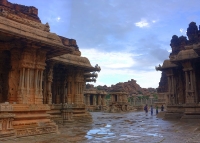 Vittala Temple, Hampi Srikar.agnihotram
Bengaluru's tropical savanna climate is one of the city's chief attractions, especially to sunburnt travellers arriving from the coastal areas of Karnataka or Goa, and is sure to be one of the reasons it has been declared India's most liveable city. The city's altitude of 900 metres (2,953ft) above sea level brings milder daily temperatures than the coastal areas. The summer months of March to May are hot and dry, while June to September is the monsoon season, which is also hot and brings heavy rains. December and January, the peak winter months, are typically cool and dry. In winter, the mornings are often misty but you can still expect plenty of sunshine as the day progresses. April is the hottest month of the year with an average high of 96°F (36°C), and January is the coldest with average temperature between 60°F (16°C) and 82°F (28°C).
Although it is advisable not to visit Bengaluru during the monsoon season, the city is far more pleasant in the summer than most of India. Winter is still the best time to visit Bengaluru though, and any time between October and February is great.
Kempegowda International Airport
Location:
The airport is located around 23 miles (37km) from central Bangalore.
Time:
Local time is GMT +5.5
Getting to the city:
The Bangalore Metropolitan Transport Corporation (BMTC) offers a shuttle service called 'VayuVajra' which operates 24 hours a day. The most current BMTC fares, routes and schedules are displayed in the arrivals hall just before the exit.
Car Rental:
Driving on the often-chaotic roads of India is not recommended and it is better to rent a car with a driver who knows the roads and the rules of the road. Rental operators are located in the arrivals part of the airport. Operators at the airport include Akbar Travels and Carzonrent.
Airport Taxis:
The official airport taxis are operated by Mega Cabs, Karnataka Taxi and Meru Cabs. The 23 mile (37km) drive into central Bengaluru can take anything from 30 minutes to two hours depending on traffic. Air conditioned taxis charge higher rates, and there is a 10 percent charge for night fares between midnight and 6am; non air conditioned taxis are cheaper.
Fascilities:
ATMs and currency exchange facilities are available. Porters are available for hire. Airline lounges have a range of facilities and services. Passengers travelling with infants can also make use of the baby care rooms. There is a duty free shop and a number of other shops as well as a varied assortment of eating options and bars.
Parking
Parking in P2, the Budget Parking lot, is INR 100 for any period of time within the first two hours, and INR 50 per any additional two hours thereafter, up to INR 500 for the first day and INR 300 per day thereafter. P3 Premium Parking cost INR 100 for the first hour and INR 50 per each additional hour. P1 is reserved for two wheel vehicles.
Public transport in Bengaluru (formerly Bangalore) is run by the Bangalore Metropolitan Transport Corporation (BMTC). There are several Traffic Transit Management Centres (TTMCs) in the city. TTMCs are transport terminals, providing passengers with a central location to access multiple routes and forms of transport. Major stations include Kempegowda Bus Station, Shivajinagar and K.R. Market. Buses are broadly categorised as air-conditioned or regular, which have separate fee structures. Single tickets can be purchased upon boarding, while daily and monthly passes can be bought from TTMCs, Bangalore One Centres and major stations.
The Bangalore Metro consists of a north-south corridor (the Green Line) and an east-west corridor (the Purple Line). Single tickets are bought in the form of tokens at station ticket offices. Passengers can also purchase a rechargeable Namma Metro Travel Card for multiple journeys. Metro-Bus Ticket (MBT) Daypasses are also available, and can be used on both transport modes. Tickets can be purchased at station ticket offices and at ticket vending machines (TVM).
Officially recognised taxi services include Mega Cabs and Meru Cabs. Rates are charged based on distance travelled and some cabs will have credit card facilities. Prices may differ based on the time of day.
Bengaluru is not a city packed with traditional tourist attractions, and is often used simply as a base for tourists to explore the charms of southern India. However, that doesn't mean there isn't plenty to see in the city itself. Aside from some attractive buildings and lush parks, what is on show here is the modern face of India: confident, brash and progressive, connected to the world at large and evolving all the time. It's a fascinating and energising glimpse into the future of this developing superpower. Having said that, the city is clean, well-organised and friendly, with a relaxed atmosphere that is almost surprising in India's most modern city.
Apart from the great shopping that Bengaluru has to offer, there are also a number of interesting attractions dotted around the city. Worthwhile and popular attractions include Bugle Hill, the Bull Temple, and Vidhana Soudha. Bengaluru is still affectionately known as the 'Garden City' and two of the best gardens to visit are the enormous Cubbon Park - Bengaluru's equivalent of New York's Central Park - and Lal Bagh, a splendid botanical garden.
Those who have time for an excursion out of the city should visit the nearby town of Hampi, a UNESCO World Heritage Site which boasts some awe-inspiring natural landscapes as well as 14th-century ruins.