Iceland boasts a surplus of natural thrills, makingthe island a playground for adventurous nature lovers in search ofsomething different. An exciting combination of glaciers, hotsprings, icy fjords, volcanoes, snowy slopes, geysers, andotherworldly rock formations ensure a unique holiday in Iceland,and that's not even taking into account the magical NorthernLights.
Although it is one of the most exciting outdoortravel destinations in the world, more conventional sightseeing inIceland is also possible, with Reykjavik providing an impressiveselection of museums and galleries, a famously fun nightlife, goodshopping, and a mouth-watering array of restaurants.
Reykjavik is commonly the starting point forIcelandic holidays and the most well-beaten tourist route on theisland, the Golden Circle, starts in the city. This 186-mile(300km) loop can be driven in a day and covers many of Iceland'smost popular tourist attractions and activities, including theGullfoss waterfalls, the geysers of Strokkur and Geysir, and thebeautiful landscapes of Thingvellir National Park. For a longertrip, and to experience more of the island than the popular south,travellers can drive Iceland's Ring Road, which circles the islandand takes about a week to travel.
Many travellers will find the Reykjavik City Carduseful as it covers not only the major sightseeing attractions inthe city but also a few excursions nearby, including a ferry rideto nearby islands and discounts for activities like whale watchingand horse riding. The tourist card also allows unlimited bustransport and even includes discounts at some restaurants. TheReykjavik City Card is available in one-day, two-day, or three-daypackages.
Hallgrimskirkja
One of the tallest buildings in Iceland, this landmark churchdominates the city from its highest point and is visible on a sunnyday from up to 10 miles (16km) away. Named after the 17th-centuryIcelandic poet, hymn composer, and clergyman Hallgrimur Petursson,the church's unusual design includes volcanic basalt columnsflanking its towering steeple. It took more than 40 years to buildthe edifice, which was finally completed in 1986. In front of thechurch stands a statue of Leif Eriksson, donated to Iceland by theUnited States. The church is lovely inside but even thoseuninterested in exploring this place of worship will be impressedby the striking facade. It is possible to climb the tower for viewsover the city.
Address:
At the end of the Skólavörðustígur
Transport:
Landspitalinn bus stop is a short walk away.
Opening time:
Daily 9am-5pm (October to April) and 9am-9pm (May toSeptember). Closed during Sunday mass.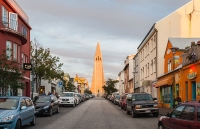 Hallgrimskirkja, Reykjavik Diego Delso
Botanical Gardens
Although Iceland is better known for its stark androcky landscapes, a walk in Reykjavik's gardens will convincetravellers of the country's more lush and flowery offerings. Thepretty Reykjavik Botanic Garden is a haven for strollers,enshrining about 5,000 plant species, including a large collectionof Icelandic indigenous plants and other plant collections, whichgive an idea of the enormous diversity of vegetation in thenorthern temperate zone. Besides walking trails and water features,the garden has a display greenhouse where a cosy café is openduring the summer months. Located close to the garden is theReykjavik Zoo and Family Park. The gardens are open all year round,though opening times may vary season to season and there is less tosee in the colder months. Admission is free.
Address:
Laugardalur Valley 104
Transport:
Laugardalshöll bus stop is a short walkaway.
Opening time:
10am-10pm during summer, 10am-3pm duringwinter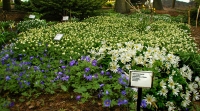 Einar Jónsson Museum
Einar Jónsson was Iceland's foremost sculptor,designing and establishing the Einar Jónsson Museum himself. Itcontains over 300 of his pieces, spanning his 60-year career, andserved as his home, gallery, and studio. The building itself isdeemed to be Jónsson's largest work, with the foundation stone laidin 1916. Iceland's first art museum, it retains pride of place onthe highest point in Reykjavik. It is adjoined by a pristine andleafy sculpture garden, sporting about 26 bronze casts of theartist's work. There is also a museum shop selling plaster casts ofJónsson's works, books, and postcards. Travellers should note thatthe museum is closed on Mondays and for the whole of January andFebruary. All other admission details can be found on the officialwebsite listed below.
Transport:
Snorrabraut bus stop is a short walk away.
Opening time:
10am-5pm Tuesdays to Sundays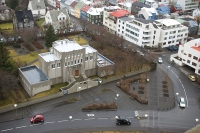 Einar Jónsson Museum, Reykjavik Karl Gunnarsson
Aurora Borealis
The Aurora Borealis is one of nature's most celebrated andbeautiful phenomena. Also called the Northern Lights, the magicaldancing blue and green lights are caused by collisions betweencharged particles in the highest reaches of the earth's atmosphere.The spectacular lightshow is a truly unforgettable spiritualexperience. Due to the country's latitudinal position, visitors toIceland will be pleased to know that spotting the Aurora Borealisis commonplace between September and April. Just head away from thecity lights on a clear, crisp night, and the otherworldly glow inthe night sky soon becomes apparent. Although somewhat of a routinedisplay for locals, the chance of tourists seeing the NorthernLights may well be one of the main motivators for choosing Icelandas a travel destination. There are websites that make predictionson the likelihood of seeing the lights and it may be worth checkingthese out while planning your travel itinerary. Many of the localswill also be able to offer advice about the best places and timesto see the Aurora Borealis. The further away from urban areas youget, the more intense the lights are likely to be.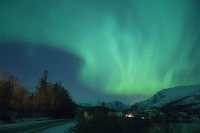 Aurora Borealis Rafal Konieczny
Hidden People
One of the most interesting cultural drawcards ofIceland must surely be the Huldufólk ('Hidden People'). InIcelandic folklore, the Huldufólk are magical invisible beings whocan appear at will. Also called elves, they can be observed byhumans with a talent for communicating with the hidden realm. Whilenot many of Iceland's population believe in the Huldufólk, theyremain an important element of the country's folklore and nationalidentity. Visitors to Iceland who learn about the Hidden Peoplewill gain a lot of insight into local culture. RecommendedHuldufólk-related activities include a visit to Reykjavik'sHellisgerdi Lava Park (which is supposedly full of elven homes); atrip to the Museum of Icelandic Wonders in Stokkseyri (just 37miles/60km from the capital); and, for the really enthusiastic, ahalf-day course at Magnús Skarphedinsson's Álfaskólinn, theIcelandic Elf School, where you'll learn all about their world andeven receive a diploma to prove it.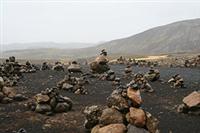 Rock piles for the Hidden People Jeroen
Despite its extreme north Atlantic location, Reykjavik'stemperate subpolar oceanic climate is not as cold as might beexpected, its average mid-winter temperatures being no lower thanthose in New York City.
Winter temperatures average between 28°F (-2°C) and 38°F (3°C).This is because the Icelandic coastal weather is tempered by thewarm waters of the Gulf Stream. The city's coastal position does,however, also mean it is prone to wind, and gales are common inwinter. Summer temperatures in July, the warmest month, peak ataround 59°F (15°C).
As the name suggests, Iceland's climate is cold, but not as coldas might be expected because of the passing warm waters of the GulfStream which regulate the climate. The summer temperatures inReykjavík, between June and August, range from 41°F (5°C) at nightto as high as 77°F (25°C) during the day. The average mid-wintertemperature, in January, is 31°F (-0.5°C).
The south is the wettest part of the country, but snow is rare.Coastal areas tend to experience winter gales and are generallywindy. During the summer months, there is almost continuousdaylight; early spring and late autumn feature long twilights. Frommid-November until the end of January, in the darkness of winter,the opposite is true, with the country only experiencing a fewhours of daylight each day.
The Northern Lights are often visible in autumn and earlywinter. The best time to visit Iceland depends on the desiredactivity: generally summer is the most pleasant time to visit butthe Northern Lights are a big draw card in the colder months.
Although the national diet is quickly diversifying,fish and lamb are still consumed in great quantities in Iceland,and reportedly it can reportedly be quite hard to find a vegetarianoption on restaurant menus.
Despite this, Reykjavik's restaurant scene isexciting and becoming increasingly cosmopolitan as restaurateursrush to embrace fusion cooking, attempting to offer freshinterpretations of international dishes using localingredients.
Traditional fare, available everywhere, but probablyonly tempting for the more gastronomically adventurous, includesharðfiskur (dried fish-meat, eaten with butter); svið (singedsheep's head); slátur (sausage made from blood and offal, likeblack pudding); hrútspungar (pickled ram's testicles); and hákarl(putrefied shark-meat).
There is also, controversially for some, the optionof eating whale-meat while in Iceland. And if you really want topush the boat out, you can get it with some grated puffin on theside. Those with tamer appetites will be relieved to know that astaple of the Icelandic diet is the pylsa, a good, old-fashionedhot dog, served with fried onions, ketchup, and mustard.
Restaurant Lækjarbrekka
Situated in one of the oldest houses in the centre of Reykjavik,Restaurant Lækjarbrekka is a classic Icelandic eatery servingtraditional fare in a warm and relaxed atmosphere. Don't be shockedto find horse carpaccio or whale on the menu as these are localdelicacies in Iceland. Enjoy the langoustine soup with cognac andcream, while brave diners can sample a traditional Icelandic dish,grilled steak of Minke whale with mashed potatoes and Brennivinsauce. After dinner retire upstairs to the bar and cognac room tosip on an aperitif and enjoy the Icelandic hospitality. Open dailyfor lunch and dinner. Bookings recommended.
3 Frakkar
A restaurant perpetually full, and always full of localIcelanders, 3 Frakkar has been described at the 'best-kept secret'of the Reykjavik restaurant scene. Tucked away in a residentialneighbourhood, the restaurant is cosy and quaint, and has aworld-famous selection of (mainly) fish and seafood dishes. Anideal venue for a date, be sure to book well ahead.
Address:
Baldursgata 14, Reykjavik
Kaffi Loki
Named after the Norse god of mischief, Kaffi Loki is a cosylittle place for a quick lunch or a slice of cake. It's centrallylocated just across the street from Halgrimskirkja and has abeautiful mural depicting its namesake. Try the rye bread ice creamfor a unique taste experience or more traditional Icelandic farelike fermented shark. Open daily for breakfast, lunch anddinner.
Fiskfelagid (Fish Company)
Fine dining in Iceland is typically centered on the incrediblyfresh and wholesome seafood. Fiskfelagid makes the most of theseassets with their celebrated cuisine served in stylish surrounds.Try the "tour of Iceland" which is a tasting menu of moderninterpretations of traditional dishes. The lobster pizza is alsointeresting. The service is friendly and skilled.
Keflavik International Airport
Location:
The airport is situated 31 miles (50km) southwest ofReykjavik.
Getting to the city:
The Flybus service leaves Keflavík Airport 35 to 40 minutesafter the arrival of each flight, stopping first at the BSÍ BusTerminal and then proceeding to Hafnarfjörður and Garðabær en routeto Reykjavik.
There are onward transfers aboard smaller buses available to allmajor hotels, the Youth Hostel, Laugardalur camping area, and thedomestic airport at the BSÍ Bus Terminal. Taxi companies alsooperate from a rank outside the arrivals hall.
Car Rental:
Hertz, Budget, Europcar and Avis are represented at theairport.
Airport Taxis:
There are a number of taxi companies operating directly outsidethe arrivals hall.
Fascilities:
The terminal offers an exchange bureau, restaurants, achildren's playground, duty free stores, baby-changing facilitiesand an information desk. The terminal is designed for easy accessfor the disabled.
Parking
Short and long-term parking is available. Short-term rates comeat a cost of ISK 500 for the first hour and ISK 750 per hourthereafter, with daily rates at ISK 5,000 per day. In the long-termlot visitors will pay ISK 1,250 per day.
Money:
The unit of currency is the Icelandic króna (ISK). Almost allbanks offer foreign exchange facilities and can be found in eventhe tiniest villages. Most have ATMs on their premises, availableafter banking hours, which are usually Monday to Friday from 9.15amto 4pm. Credit cards are widely used in Iceland for purchases andcash advances.
Language:
Icelandic, but English is widely spoken.
Electricity:
Icelands electricity supply is 230 volts, 50Hz, as itis in most European countries. Plugs and sockets are of the two-pintype typical of Europe.
Entry Requirements:
US citizens must have a passport that is valid for at leastthree months beyond the period of intended stay in Iceland. No visais required for stays of up to 90 days within a 180 day period.
Passports endorsed 'British Citizen', 'British Subject'(containing a Certificate of Entitlement to the Right of Abodeissued by the United Kingdom), and 'British Overseas TerritoriesCitizen' issued by Gibraltar, must be valid on arrival. Britishpassports with other endorsements must be valid for three monthsbeyond the period of intended stay in Iceland.
A visa is not required for British passports endorsed 'BritishCitizen' or 'British Subject' (containing a Certificate ofEntitlement to the Right of Abode issued by the United Kingdom),nor for holders of identity cards issued by Gibraltar, and endorsed'Validated for EU travel purposes under the authority of the UnitedKingdom'. No visa is required for stays of up to 90 days within a180 day period for holders of British passports with otherendorsements.
Canadian citizens must have a passport that is valid for atleast three months beyond the period of intended stay in Iceland.No visa is required for a stay of up to 90 days within a 180 dayperiod.
Australian citizens must have a passport that is valid for atleast three months beyond the period of intended stay in Iceland.No visa is required for a stay of up to 90 days within a 180 dayperiod. Passport issued more than 10 years prior to date of travelare not accepted.
South African citizens must have a passport that is valid for atleast three months beyond the period of intended stay, and a validSchengen visa, to enter Iceland.
Irish citizens must have a passport that is valid on arrival inIceland. No visa is required for nationals from the Republic ofIreland.
US citizens must have a passport that is valid for at leastthree months beyond the period of intended stay in Iceland. No visais required for stays of up to 90 days within a 180 day period.
New Zealand citizens must have a passport that is valid for atleast three months beyond the period of intended stay in Iceland.No visa is required for a stay of up to 90 days within a 180 dayperiod.
Passport/Visa Note:Visa:
The borderless region known as the Schengen Area includes thefollowing countries: Austria, Belgium, Czech Republic, Denmark,Estonia, Finland, France, Germany, Greece, Hungary, Iceland, Italy,Latvia, Lithuania, Luxembourg, Malta, The Netherlands, Norway,Poland, Portugal, Slovakia, Slovenia, Spain, Sweden andSwitzerland. All these countries issue a standard Schengen visathat has a multiple entry option, and which allows the holder totravel freely within the borders of all the aforementionedcountries. Additionally, foreign passengers to Iceland must holdreturn or onward tickets, the necessary travel documentation fortheir next destination, and sufficient funds to cover their stay inIceland. NOTE: It is highly recommended that your passport has atleast six months validity remaining after your intended date ofdeparture from your travel destination. Immigration officials oftenapply different rules to those stated by travel agents and officialsources.
Travel Health:
There are no specific health risks associated with travel toIceland, and no vaccinations are necessary for entry. Medical carein the country is of high quality. Payment is usually expected incash from visitors. Travel insurance is highly recommended. Areciprocal agreement exists whereby British citizens are entitledto free emergency medical treatment provided they possess aEuropean Health Insurance Card (EHIC).
Tipping:
Service charges are included in bills and tipping is notexpected in Iceland.
Safety Information:
Iceland is an extremely safe country to visit, the only threatsbeing a low level of petty crime and rapidly changing weatherconditions, so keep an eye open if you are on the road.
Local Customs:
Smoking in bars, restaurants and on public transport in Icelandis illegal. Penalties for the possession of drugs are steep.Travellers should note that although whale meat is legallyavailable in Iceland, it is not legal to bring it across bordersinto the UK or EU.
Business:
Most business in Iceland tends to take place in the capital,Reykjavik. Business meetings are usually formal, with smart dressessential. It is worth handing out business cards, and initialgreetings are usually accompanied by a handshake. Punctualityshould be respected. Meetings are usually conducted in English whendealing with foreigners. It is worth noting that Icelandersgenerally go by their first name, and telephone directory listingsare alphabetical by first name. Business hours are usually from 8amto 4pm (summer) and 9am to 5pm (winter). Most offices are closed onweekends.
Communications:
The international country code for Iceland is +354. City andarea codes are not in use. Note that Icelanders are listed by theirfirst name in the telephone directory, not the last. Visitors canrent wifi hotspots. Wifi is easy to access, and free calls can bemade using wifi connections.
Duty Free:
Travellers to Iceland over 18 years do not have to pay duty on200 cigarettes or 250g of other tobacco products. Travellers over20 years are also allowed one litre spirits and one litre wine, orone litre spirits and six litres beer, or one litre wine and sixlitres beer, or two and a quarter litres wine, and food items up tothree kg not exceeding ISK 25,000. Permits from Post & TelecomAuthorities are required for cordless phones, remote controls orradio transmitters, but not for a GSM mobile phone. Prohibiteditems include narcotics and drugs, uncooked meat products, weaponsand powdered or moist snuff.
There may be limited sunlight in the northern city ofReykjavik, but the locals here really know how to make good use ofthose long, cold, and dark winter nights. Be blown away by thebright lights of the bars and clubs that line the streets and heatthings up on the dance floor.
Due to the high cost of alcohol, the nightlife onlygets going very late as most Icelanders tend to have a few drinksat home before hitting the town. Travellers arriving in Reykjavikby air should not pass up the opportunity to buy cheap alcohol inthe duty free store at the airport.
Once sufficiently warmed up for the night, head totrendy Laugavegur where most of Reykjavik's 100 or so bars andclubs are centred, dotted around the strip and its side streets. Onbusy Friday and Saturday nights, it's not uncommon for the streetto be filled with people all night long. On a side note, thedrinking age in Iceland is 20.
Although a beautiful, cosmopolitan, and vibrant city,many of Iceland's best tourist attractions are actually locatedoutside Reykjavik. Luckily for visitors, Iceland is a small countryand none of the tourist attractions mentioned here require asignificant amount of travelling to get to.
As far as attractions in Reykjavik are concerned,don't miss the Botanical Gardens, which are full of interestingindigenous plants and trees; the Einar Jónsson Museum, displayingworks by Iceland's greatest sculptor; Hallgrimskirkja, one of theweirdest, most grandiose churches on the planet; and, to satisfyyour Viking curiosity, the National Museum, Saga Museum, and theReykjavik City Museum.
As one enters the remarkable hinterland, the realtourist gems can be found, and luckily the south of the country ishome to most of Iceland's top tourist attractions. Be sure to checkout the Blue Lagoon, a manmade geothermal spring and spa; Geysir,the world's original hot spring; the truly transcendent GullfossFalls; Thingvellir National Park, with its incredible hikingtrails; and Jökulsárlón, a glacial lagoon full of eerie,luminous-blue ice bergs.
No matter what you decide you to see and do in the'Land of Fire and Ice', one thing is for sure: don't forget to takea camera along with you, as Iceland is a country uniquely full ofsights that beggar belief. Travellers should also consider armingthemselves with the Reykjavik City Card, which gives discounts ontourist attractions and restaurants, and allows unlimited bustransport.
Blue Lagoon
A favourite and unique attraction close to Reykjavik,about 30 miles (50km) southwest of the city, is the manmadegeothermal Blue Lagoon. It is set in a lava field, filled withmineral-rich hot water pumped from about a mile below the surface.The lagoon is flanked by a luxurious health spa where visitors cometo be pampered and treated for skin ailments like eczema andpsoriasis. The lagoon's surreal phosphorescent aquamarine colour iscaused by the therapeutic ecosystem of algae, silica, and mineralsin the water. The Blueline bus company offers transport to and fromthe Blue Lagoon, and other transport options are outlined on theofficial website. Visitors should note that the Blue Lagoon is verypopular and should be booked as far in advance as possible to avoiddisappointment. The opening times change seasonally and can befound on the website listed below.
Address:
240 Grindavik, Iceland
Transport:
Schedules buses are available fromReykjavik.
Opening time:
Opening times are seasonal, but Blue Lagoon isgenerally open 8am to 9pm.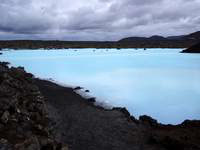 Blue Lagoon Alicia Pettit
Gullfoss Falls
Iceland's famed Gullfoss (Golden) Falls are justlyrated among the most beautiful in the world, and make for a popularexcursion from Reykjavik. The falls, with their awesomedouble-cascade, are incredibly powerful, which has meant they havecome under threat of being utilised as a source ofhydro-electricity. Currently, however, the magnificent naturalwater feature, shrouded in mist and rainbows and gushing into acanyon on the Hvita River, is safely ensconced in a national parkand remains one of the country's top tourist attractions. The fallscan be visited on Iceland's famous Golden Circle route, and manytour operators and public buses make daily trips to the nationalpark during the warmer months.
Address:
Gullfoss National Park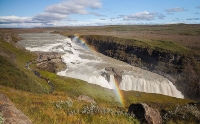 Gullfoss Falls, Iceland Diego Delso
Geysir
The weird landscape of the Haukadalur Valley in the southernlowlands of Iceland has been dominated for centuries by the GreatGeysir. It's from here that all other such phenomena around theworld have gained their name. The geyser once shot boiling waterhundreds of feet into the air, but the height of the eruption hasreduced in modern times. Nevertheless, it's still an impressivesight. The rest of the thermal area, bathed in a sulphuric smell,is just as fascinating, featuring several other spouting vents andgeysers which frequently display their prowess. The Great Geysirhas become a very popular tourist attraction, and a centre has beenopened containing a multimedia geology museum and folkloreexhibits. There is also a hotel, souvenir shop, and restaurant onsite.
Address:
Geysir Center, Geysir
Transport:
Situated on the Golden Circle tour route, or driveyourself.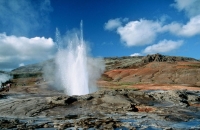 Geysir erupting! Dieter Schweizer
Thingvellir National Park
The national park of Thingvellir, 30 miles (50km)east of Reykjavik, is not only Iceland's most important historicsite, but also a place of natural and geological wonder. It washere that the world's first-ever parliament, the Alting, initiallyconvened in AD 930, and where Christianity was first introduced toIceland. Even today, people gather at Thingvellir to celebrate anymajor national event. Geologically, this is the only site in theworld where the American and European tectonic plates are visible.The park is also home to the largest lake in Iceland, and stunningscenery including a lava gorge, the Oxararfoss Waterfall, and theMoney Chasm, where visitors drop coins down a gorge into water, towitness the strange distorted reflections that result. Activitiesavailable at Thingvellir National Park include hiking, angling,horseback riding, diving, and camping. The national park is openall year and in the warmer months a daily bus visits the park fromReykjavik.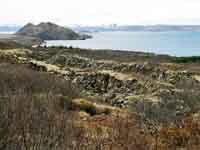 Thingvallavatn Reykholt
Jökulsárlón
Jökulsárlón - literally, 'glacier lagoon' - is the largestglacial lake in Iceland, and an enormously popular touristattraction. The site shot to prominence after being featured inHollywood movies (most memorably, Batman Begins), and now attractsthousands of visitors each year. Caused by the retreat of theglacier known as Breiðamerkurjökull, the lagoon is now nearly amile (1.5km) from the ocean's edge, and is over 814 feet (248m)deep. Most easily approached from the fishing town of Höfn onIceland's southern coast, visitors in search of an indelible memoryof their time in the country should definitely make the trip toJökulsárlón, where luminous blue icebergs float eerily across thefreezing water. Whatever you do, don't forget to pack a camera -Jökulsárlón is undoubtedly one of the best sights Iceland has tooffer, and in such a staggeringly beautiful country, that's reallysaying something.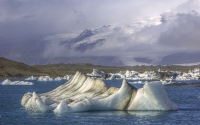 Jokilsarlon Lagoon, Iceland Molechaser