Buda Castle
Buda Castle is the royal complex of past Hungarian monarchs. Sitting atop Castle Hill in the picturesque Castle District of Buda, the royal palace was first inhabited by King Béla in the 13th century. After an invasion, he fortified it against further attacks. Its strategic location straddling the Danube offered whoever controlled the city a defensive position and potential control of the main waterway. The castle has a mixture of architectural styles, ranging from Gothic to Baroque. Today it is the country's most important cultural centre, housing numerous museums with the majority of the buildings being historical monuments. The Budapest History Museum contains an exhibition explaining the history of the city, as well as archaeological remains of the palace. Also within the palace complex are the Hungarian National Gallery, the National Library, and the Ludwig Museum.
Address:
1 Szent, György tér

Royal Palace Cristian Bortes
Fisherman's Bastion
Built in 1905 on the medieval castle walls, the neo-Romanesque ramparts were so named after the city's fishermen whose duty it was to defend this side of the hill during the Middle Ages. But the existing bastion never actually served a defensive purpose. The fairytale-like ramparts are purely ornamental, with gleaming white cloisters and stairways connecting seven turrets symbolic of the Magyar tribes that conquered the Carpathian Basin in the 9th century. Set back from the ramparts is an equestrian statue of King Stephen, a memorial to the founder of the Hungarian nation. The view from Fisherman's Bastion is outstanding, looking over the Danube, the Chain Bridge, and the Parliament Buildings with Pest stretching out into the distance. Floodlit at night, the bastion itself is also a mesmerising sight from across the river. In fact, seeing as entry is free it is definitely worth visiting the Fisherman's Bastion twice, once at night and once during the day.
Address:
District I, Szentháromság tér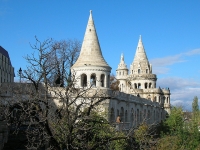 Fisherman's Bastion Julie Lyn
Matthias Church
Situated in the centre of the Castle Quarter, the 700-year-old Church of Our Lady is popularly known as Matthias Church. It's named after the nation's famous ruler King Matthias, a patron of learning and the arts. Matthias Church's architecture is a mixture of styles from the various kings, occupations and periods. When the Turks occupied the Castle in 1541 it was converted into a mosque, and the interior walls were whitewashed and painted over with scenes from the Koran. It suffered heavily in the later siege and was restored again in the 19th century, reconstructed in its characteristic neo-Gothic style. Remains of the original medieval frescoes have been discovered underneath the whitewash. The interior is richly decorated with gilded altars, statues, rose windows, and frescoes. Inside is the Church Museum, which gives access to the crypt and a small collection of religious treasures and jewels. A fantastic contrast is formed by the reflection of the Gothic church in the sleek dark glass sides of the contemporary Budapest Hilton alongside. The church remains operational, hosting organ concerts and choir recitals beneath its multi-coloured tiled roof and Gothic spire.
Address:
H-1250 Budapest, Pf. 22.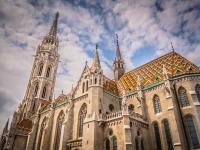 Matthias Church Randy Connolly
Gellert Hill
Gellért Hill offers unrivalled panoramic views of the city, taking in both Buda and Pest and the meandering Danube. A monument of a martyred Bishop stands at the base of the hill while on its summit stands the Liberation Monument, a female figure holding aloft the palm of victory dedicated to the memory of troops who died freeing Hungary in 1945. Behind the monument is the Citadella, built after the Revolutions of 1848 to provide military control against further uprisings. The hill is also home to several historic spas, valued for their medicinal qualities. The city's most famous spa, the Gellért Baths, is attached to the grand establishment of the Art Nouveau Gellért Hotel. Here, visitors can relax in the thermal waters of the Roman-styled pool with its lion-headed spouts, surrounded by columns and mosaic patterns, or indulge in private therapeutic treatments or massages.
Address:
District XI, Szent Gellért tér 2-6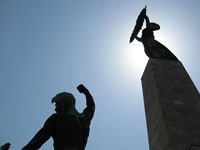 The liberty statues on Gellert Hill Chris Bartle
Chain Bridge
The Chain Bridge was the first stone construction built over the Danube and is the most famous in the city, still featuring its iconic lion statues. Today, nine bridges link Buda to Pest but the Chain Bridge takes pride of place as the city's primary landmark, a magnificent sight when floodlit at night. It owes its existence to Count István Széchenyi who decided to build a permanent crossing after having to wait a week to cross the river to bury his father. The Chain Bridge was built by William and Adam Clark, who also constructed London Bridge. It was considered an amazing feat of engineering when it was opened in 1849. The famous stone lions which guard the bridge were added to the bridge in 1852, miraculously surviving World War II even though the bridge itself was blown up in January 1945 and only resurrected in November 1949.
Address:
Roosevelt Square or Adam Clark Square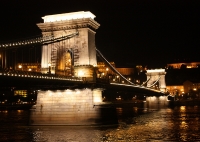 Chain Bridge Arian Zwegers
The Great Synagogue and Jewish Museum
Situated within the charming old Jewish quarter of Pest, the Great Synogogue is one of the largest in the world. Its style is Byzantine-Moorish, with patterned brickwork in the red, blue, and yellow colours of the city's coat of arms. Gilded domed towers, archways, and beautiful windows make this one of Budapest's great landmarks. The splendid interior glitters with lights and gilded arches while balconies line the walls. The ceiling is covered in Stars of David and the floor is tiled in decorative stars. On Jewish festivals, it's packed with Jews from all over Hungary who come to celebrate within its splendour. Next door is the Jewish Museum, containing a Holocaust Memorial Room and relics from the Hungarian Jewish Community. In the courtyard is the Holocaust Memorial in the shape of a weeping willow tree, each metal leaf engraved with the names of those who have passed away.
Address:
Dohany utca 2-8 in VII district.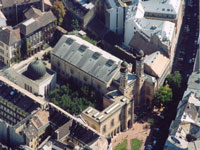 Great Synagogue, Budapest Civertan Grafikai Studio
Parliament Buildings
On the bank of the Danube stands one of the world's most beautiful buildings of parliament, an imposing sight and a prominent feature of the city's panorama. With its red dome, white stone lace ornamentation, and spires, it is the city's most decorative structure. Stone lions flank the entrance guarding a rich interior of marble and gold, statues, and columns. Magnificent artefacts are seen on guided tours, including the 1,000-year-old crown of the first Hungarian King. The grand edifice, stretching for 250 metres (820ft) along the embankment, is one of the biggest national assemblies in the world. The tours take between 45 minutes and an hour.
Address:
District V, Kossuth Lajos tér 1-3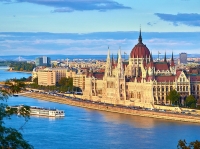 Parliament Buildings Moyan Brenn
Memento Park
A popular yet bizarre attractions, Memento Park contains the giant figures of the communist era that once filled the streets of Budapest. Among them are the forms of Lenin, Marx, and Engels, as well as memorials to Soviet soldiers and communist martyrs. There are also exhibitions detailing the history of the Soviet occupation in Budapest, contributing to a unique collection of artefacts and a fine location to educate oneself on the nature of communism.
Address:
District XXII, corner of Balatoni ut and Szabadkai utca

Memento Park Heather Cowper
Great Circus
There's nothing kids love more than a circus performance and Budapest offers a fantastic display of this Hungarian tradition. The Great Circus (Nagy Cirkusz) features an array of clowns, jugglers, and acrobats of all kinds to keep children happily entertained. Of course, adults should also be enthralled and impressed by the various acts. MACIVA, or The Hungarian Circus and Variety Ltd., plays an important part in Hungarian cultural life and is one of the oldest cultural establishments of Hungary. Built in 1954, the circus has a school for performing artists and holds circus camps for children who want to learn some of the skills on display. Special events like parades and festivals occur at certain times of the year but show times and prices vary according to the season, so please check the website for details. It is possible to book online.
Address:
1062 Budapest, Andrássy út 61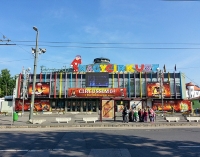 The Great Circus Thanate Tan
Budapest Puppet Theatre
The Budapest Puppet Theatre (Bábszínház) is a great outing for the whole family, ideal for travel in Budapest with kids. While shows are all presented in Hungarian, children remain enthralled by familiar stories like Cinderella and Snow White. During enactments, the crowd may can be heard calling out warnings when villains are approaching or encouraging heroes in their endeavours. It is amazing how little the language barrier matters when it comes to this kind of storytelling. You can book tickets online in advance but it is also suggested asking about what is showing and would be best suited for non-Hungarian audiences. The puppets are works of art and come in all shapes, sizes, and colours, with some easily recognisable characters and some creative originals. Most adults will enjoy the performances but you can also easily head for the cafe during the show.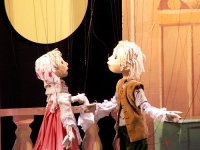 Puppets Jackie
Kecskemet
A 53-mile (86km) drive from Budapest, Kecskemét makes for a wonderful short trip from the city. While this garden city is quite large, with more than 100,000 residents, the place has a uniquely small-town charm. Walking around the scenic city centre is pleasant, with the abundance of open squares and avenues peppered with colourful Art Nouveau buildings. There are a number of attractions in Kecskemét that visitors will enjoy, including the distillery tours at the Pálinka Museum, the Hungarian Photography Museum, the Museum of Hungarian Folk Art and Handicrafts, and the beautiful architecture and art collections at the City Hall. The city has existed in some form since at least the 1300s so it is no surprise that it holds many old and hidden gems for visitors.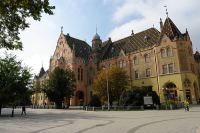 Kecskemet Emmanuel Dyan
Hungary is a wonderful family destination, and Budapest is a particularly good city to explore with children. Not only does the country offer a plethora of sightseeing attractions which would appeal to people of all ages, but there are also a number of places that kids will especially enjoy. Budapest is a safe city and the locals are generally very hospitable, making it feel family-friendly and welcoming.
The Great Circus, complete with clowns and acrobats, is internationally renowned, and the Budapest Puppet Theatre should top the list of things to do in Hungary with kids, even though the shows tend to be in Hungarian. The Budapest zoo is one of the oldest in Europe, adjoining the botanical gardens and delighting the whole family.
There are many lovely parks in which to enjoy games or picnics and let the little ones blow off some steam. If the weather isn't great and you need some indoor entertainment, head to the Palace of Miracles for scientific games and interactive exhibitions that will excite as well as educate, or visit the Tropicarium, a spectacular aquarium in Campona shopping mall.
Budapest's climate is accented with warm summers and bitterly cold winters, with plenty of rain all year round. Winters are short, with the cold weather arriving in mid-December; it is usually cloudy and damp with the odd bright sunny days and frequent, but light, snow. Temperatures in winter range between 25°F (-4°C) and 36°F (2°C).
In summer (late May to September), Budapest is sunny and warm with relatively high humidity and temperatures ranging between 57°F (14°C) and 77°F (25°C). It is generally fairly dry although there can be sudden showers.
In spring (March to early May) there is plenty of sunshine; the weather can be a bit changeable and sometimes windy in early spring but by late April and May the weather is wonderful. Early autumn is also a good time to visit; late autumn (late October to November) starts getting cold and unpleasant as winter draws in.
From street food to gourmet restaurants, dining options in Budapest are endless. While there are offerings from almost all nationalities, it would be a sin not to sample the traditional cuisine. Because Budapest is so beautiful, diners have the added bonus of wonderful scenery from their seats in its eateries and cafes.
Hungarian staples include goulash, soups, (stuffed pancakes), trout, dumplings, and strudels, as well as the iconic and decadent Dobos cake, a five-layer sponge cake layered with butter cream and topped with caramel slices.
Hungarian cuisine is known for using lots of spices, such as paprika and hot chillies, and is arguably some of the spiciest cuisine in Europe. This does mean that you should be careful about ordering traditional food for children as there are mild options as well.
The inner city and Central Pest are the main areas for dining out in Budapest, while Central Buda also boasts some great eateries. It is customary to make reservations at restaurants and waiters usually expect a 10 to 15 percent tip for good service.
Indigo
One of Budapest's finest Indian eateries by far, the trendy Indigo is popular with locals and visitors alike and never fails to please with its mouth-watering curries and fragrant dishes. Stylish, yet modern décor and clean lines create a fresh atmosphere and the great food and service make for a memorable dining experience. Open for lunch and dinner daily. Credit cards accepted.
Café Vian
Those looking for a trendy eatery with both indoor and outdoor dining options need look no further than Café Vian. The food is good, the prices are reasonable and many young and hip locals frequent this popular Budapest restaurant. Try the grilled chicken breast 'Vian' style with ratatouille and candied lemon and potato pancake, or the red wine flavoured beef stew with dumplings. Open daily. Reservations accepted.
Address:
Liszt Ferenc tér 9
Nancsi Neni Vendegloje
Also known as Aunt Nancsi's Restaurant, this family-run place is situated in the peaceful Buda Hills. It serves hearty Hungarian food at its best and is worth the short taxi ride out of the city centre. Try the Hungarian black truffle cream soup or the joy stew.
Baraka
Luxurious but comfortable, Baraka is a great fine dining option in Budapest, serving up contemporary European food with a global twist. The wine list is impressive and the cocktail options are as international as the menu. The restaurant is also conveniently situated in a lovely old part of the city popular with tourists. Reservations are recommended.
Address:
Dorottya utca 6, Palazzo Dorottya
Comme Chez Soi
Comme Chez Soi is known as the best place to go for Italian food in Budapest. The menu is full of simple and delicious pizzas, pastas, seafood, and meat dishes, and there is a varied selection of antipasti options as well. Its generous helpings and reasonable prices have made it increasingly hard to get a table, so reservations are required. Open Monday to Saturday, 11am to midnight.
Budapest Ferenc Liszt International Airport
Location:
The airport is located 10 miles (16km) southeast of Budapest.
Time:
GMT +1 (GMT +2 between the last Sunday in March and the Saturday before the last Sunday in October).
Transfer Between Terminals:
Terminal 2A (Schengen destinations) and 2B (non-Schengen destinations) are close enough to be accessible by foot; there is a covered walkway between these two terminals. All flights are serviced by Terminals 2A and 2B. Terminal 1 is no longer serving any flights.
Getting to the city:
The metro station is reachable via bus number 200E running from Terminal 2. Travel time is approximately 30 minutes to the city centre via the metro. Tickets for public transportation are available at the airport from customer service points, from the post office, the newsagents (Relay) and from ticket machines at the bus stop. There is also an airport minibus service that takes passengers to any destination in the city. Tickets can be purchased in the Arrivals Hall at the Airport Minibus counter. Alternatively, a taxi can be reserved at the arrivals terminal information desk. A ride to the city centre will take approximately 20 minutes depending on traffic conditions.
Car Rental:
Car rental companies include Avis, Budget, Hertz, Sixt and Europcar.
Airport Taxis:
Taxis can be reserved in the arrivals hall. Fares are metered but can't exceed prices set according to city zones. A high speed road connects the airport to the city in 20 minutes. Try not to use unsolicited taxis, as they may charge exorbitant fees. All official taxis are well marked and should display the rate for fares.
Fascilities:
Facilities include ATMs, bureaux de change, first aid, duty-free shops, childcare, post office, chapel, restaurants, tourist information and hotel reservations. There are facilities for disabled passengers and wheelchairs are available from the airport help desks; travellers with special needs are advised to contact their airline or travel agent in advance.
Parking
There are dedicated parking structures for each terminal, offering express, short-term and long-term parking options. Express parking allows five free minutes if you just need to pick up or drop off a passenger. From there short-term prices escalate to HUF 900 for 30 minutes and HUF 1,300 for an hour.
Budapest Spring Festival
What began as a city-centred cultural event in 1981 has now spread its wings and grown to become a nationwide celebration of Hungarian culture and talent, drawing thousands of appreciative classical, opera, and jazz fans from all over Europe.
The Academy of Music and Budapest Convention Centre play host to most of the classical concerts on the programme, opening with the National Philharmonic Orchestra and Choir rendering Wagner and Berlioz. The city resounds with chamber music recitals and church concerts, while opera buffs feast at the State Opera House.
Other Hungarian towns and cities where the festival concerts and events are held include Sopron, Szombathely, Pecs, and Szentendre. The Spring Festival is Hungary's most prestigious arts festival and attracts about 40,000 visitors to Budapest a year. Tickets are available about four months before the event. Check the official website for details on the programme, venues, and ticket availability.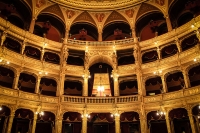 Hungarian State Opera House Pank Seelen
Hungarian F1 Grand Prix
One of the most popular meetings on the Formula 1 motor-racing circuit is the Hungarian Grand Prix. World class race drivers pit their wits and skills against each other on the Hungaroring track about 12 miles (20km) from central Budapest. Hungary had their first grand prix on a small track in Budapest in 1936 but due to the war and ensuing politics it was 50 years before another was held. The 1986 event was the first Grand Prix to take place behind the Iron Curtain. The Hungarian Grand Prix is enthusiastically supported and the narrow and twisty track means that it is associated with tense, processional races where cars are forced to follow the leader due to the difficulty and danger of passing. There have been some famous races on this track as a result of the difficulty of overtaking but in 2003 the track was adapted a little to try and allow more passing. It is a wonderful, extremely exciting, and hugely popular sporting event and shouldn't be missed by petrolheads and fans when travelling to Hungary.
Venue:
Hungaroring Circuit, Mogyorod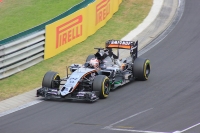 Hungarian Grand Prix Rob O'Connor
Sziget Festival
The green island of Obuda, in the Danube River just north of Budapest, is the venue each summer for what has become one of the largest open-air rock and pop gatherings in Europe. Thousands gather on the island for a week-long music extravaganza with more than 1,000 performances across 60 venues. Famous names that have performed at Sziget recently include The Killers, Placebo, Paolo Nutini, Snoop Dogg, The Subways, Korn, Sum 41, Maximo Park and Anti-Flag. The festival makes every attempt to cover all styles and genres of music and the programme always includes pop, rock, electronic, metal, folk, jazz, blues, alternative, world music and even classical. The island is equipped with basic camping facilities and numerous pubs and restaurants, which make it a bustling 'festival city' of about 400,000 people for the duration of the event. Literary events, theatre, circus acts, dance of all genres and art exhibitions also add spice to the happening festival scene and there are even some interesting lectures and talks to attend if you need a break from all the live music. Check the official website for programmes and ticket information.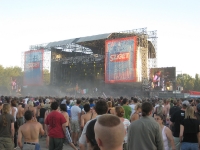 Sziget Festival Paul Williams
Nightlife options in Budapest abound, from music lounges and jazz venues to trendy bars and nightclubs. New clubs open up throughout the city all the time, particularly in the areas around IX Raday Utca and VII Liszt Ferenc Tér.
There are a number of party venues throughout the city with the busiest areas generally being districts 5, 6, and 9. There isn't always an entry fee at the door in Budapest's bars and nightclubs but some places will charge a few euros if there is an international DJ or live performance scheduled. For the high rollers in Budapest, there are a number of casinos to enjoy in the luxury hotels between the Elizabeth and Chain bridges on Dunakorzó.
Hungary takes pride in its performing arts and those with more cultural inclinations will find Budapest a glorious city for opera, ballet, theatre, and classical concerts. Great venues include the Palace of the Arts, the National Theatre, the Budapest Opera, and the Academy of Music, among others.
Budapest has an extensive, inexpensive, and efficient public transport system that includes the metro, trams, buses, trolley buses, and trains. Most transport runs until about 11.30pm after which there is a limited night bus and tram service until about 5am. The metro is clean, safe, and frequent, and although there are only four lines, it reaches most areas of interest to tourists.
Trams are good for travelling around the Great Boulevard or along the embankment; trolleybuses (electric buses) operate in Pest; and although more difficult to use, buses are useful for journeys that can't be made by metro, especially around Buda. There are regular incidents of pick pocketing on buses and metro lines though, particularly when they are crowded.
An over ground HÉV train network services the outer suburbs. All forms of public transport require the self-validation of pre-purchased tickets, which can get complicated; it is best to get a travel pass for convenience and to save money. Day or multi-day passes are inexpensive and hassle-free, although the tourist combining three days of travel with discounted attractions isn't all that good value.
Budapest's taxis have a reputation for cheating foreigners and visitors are warned not to do business with private, unmarked vehicles that hang around stations. Legal taxis should have a yellow number plate, clearly display their rates and have a meter that is switched on. It is cheaper to order one by phone from reputable companies such as Citytaxi, Fo Taxi or Tele-5-Taxi.
Budapest's rich and diverse history makes for some exciting sightseeing opportunities. The attractions are varied, including luxuries like spa treatments courtesy of the city's many thermal springs, culinary adventures sampling delicious traditional cuisine, and leisurely river cruises down the beautiful Danube.
Those interested in the history of the city should stroll through Memento Park, one of Budapest's strangest attractions, which features the giant statues that once lined the city's streets during the communist era, or marvel at the Royal Palace which dates back to the 13th Century.
Other popular cultural sites include the Parliament Buildings along the banks of the Danube River, and the iconic Chain Bridge. Admire the stunning views from the vantage point of Fisherman's Bastion or from Gellert Hill, where you can also visit the Citadella and Liberation Monument.
Visitors would do well to purchase the Budapest Card, allowing them unlimited travel on public transport, free or discounted entry into a number of museums and cultural sites, reductions on sightseeing tours, and discounts on restaurants, spas, and car rentals. The cards are valid for either 48 or 72 hours and can be bought from main metro ticket offices, tourist offices, travel agencies, hotels, or airport.