As one of Europe's most fascinating countries, Hungary offers a wealth of sightseeing attractions. Visitors to beautiful Budapest will marvel at its architecture, enjoy its opera, and take in its musical events. There's also the romance of the Danube River and Budapest's famed spa baths.
Budapest has many celebrated tourist attractions and is a useful transport hub for exploring the rest of the country. Visit Hévíz and soak in the world's second largest thermal lake, Gyógytó. Visit Momento Park, one of the world's most bizarre attractions, where hundreds of giant statues were banished at the end of the communist era.
Take a trip to Szentendre for a spot of shopping and visit the old university town of Keszthely to enjoy the quaint streets lined with trees, trendy cafés, and busy markets. The best season to visit Hungary is in the summer, between April and September, when the days are long and the weather warm.
Most towns and cities in Hungary have reliable and affordable public transport but the best way to see the country is to hire a car and experience it all for yourself as it is not difficult to drive and navigate in the country.
Buda Castle
Buda Castle is the royal complex of past Hungarian monarchs. Sitting atop Castle Hill in the picturesque Castle District of Buda, the royal palace was first inhabited by King Béla in the 13th century. After an invasion, he fortified it against further attacks. Its strategic location straddling the Danube offered whoever controlled the city a defensive position and potential control of the main waterway. The castle has a mixture of architectural styles, ranging from Gothic to Baroque. Today it is the country's most important cultural centre, housing numerous museums with the majority of the buildings being historical monuments. The Budapest History Museum contains an exhibition explaining the history of the city, as well as archaeological remains of the palace. Also within the palace complex are the Hungarian National Gallery, the National Library, and the Ludwig Museum.
Address:
1 Szent, György tér

Royal Palace Cristian Bortes
Fisherman's Bastion
Built in 1905 on the medieval castle walls, the neo-Romanesque ramparts were so named after the city's fishermen whose duty it was to defend this side of the hill during the Middle Ages. But the existing bastion never actually served a defensive purpose. The fairytale-like ramparts are purely ornamental, with gleaming white cloisters and stairways connecting seven turrets symbolic of the Magyar tribes that conquered the Carpathian Basin in the 9th century. Set back from the ramparts is an equestrian statue of King Stephen, a memorial to the founder of the Hungarian nation. The view from Fisherman's Bastion is outstanding, looking over the Danube, the Chain Bridge, and the Parliament Buildings with Pest stretching out into the distance. Floodlit at night, the bastion itself is also a mesmerising sight from across the river. In fact, seeing as entry is free it is definitely worth visiting the Fisherman's Bastion twice, once at night and once during the day.
Address:
District I, Szentháromság tér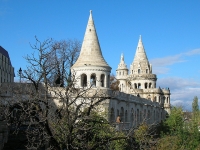 Fisherman's Bastion Julie Lyn
Matthias Church
Situated in the centre of the Castle Quarter, the 700-year-old Church of Our Lady is popularly known as Matthias Church. It's named after the nation's famous ruler King Matthias, a patron of learning and the arts. Matthias Church's architecture is a mixture of styles from the various kings, occupations and periods. When the Turks occupied the Castle in 1541 it was converted into a mosque, and the interior walls were whitewashed and painted over with scenes from the Koran. It suffered heavily in the later siege and was restored again in the 19th century, reconstructed in its characteristic neo-Gothic style. Remains of the original medieval frescoes have been discovered underneath the whitewash. The interior is richly decorated with gilded altars, statues, rose windows, and frescoes. Inside is the Church Museum, which gives access to the crypt and a small collection of religious treasures and jewels. A fantastic contrast is formed by the reflection of the Gothic church in the sleek dark glass sides of the contemporary Budapest Hilton alongside. The church remains operational, hosting organ concerts and choir recitals beneath its multi-coloured tiled roof and Gothic spire.
Address:
H-1250 Budapest, Pf. 22.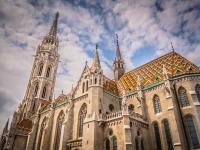 Matthias Church Randy Connolly
Gellert Hill
Gellért Hill offers unrivalled panoramic views of the city, taking in both Buda and Pest and the meandering Danube. A monument of a martyred Bishop stands at the base of the hill while on its summit stands the Liberation Monument, a female figure holding aloft the palm of victory dedicated to the memory of troops who died freeing Hungary in 1945. Behind the monument is the Citadella, built after the Revolutions of 1848 to provide military control against further uprisings. The hill is also home to several historic spas, valued for their medicinal qualities. The city's most famous spa, the Gellért Baths, is attached to the grand establishment of the Art Nouveau Gellért Hotel. Here, visitors can relax in the thermal waters of the Roman-styled pool with its lion-headed spouts, surrounded by columns and mosaic patterns, or indulge in private therapeutic treatments or massages.
Address:
District XI, Szent Gellért tér 2-6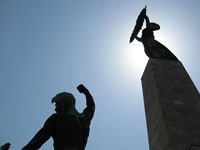 The liberty statues on Gellert Hill Chris Bartle
Chain Bridge
The Chain Bridge was the first stone construction built over the Danube and is the most famous in the city, still featuring its iconic lion statues. Today, nine bridges link Buda to Pest but the Chain Bridge takes pride of place as the city's primary landmark, a magnificent sight when floodlit at night. It owes its existence to Count István Széchenyi who decided to build a permanent crossing after having to wait a week to cross the river to bury his father. The Chain Bridge was built by William and Adam Clark, who also constructed London Bridge. It was considered an amazing feat of engineering when it was opened in 1849. The famous stone lions which guard the bridge were added to the bridge in 1852, miraculously surviving World War II even though the bridge itself was blown up in January 1945 and only resurrected in November 1949.
Address:
Roosevelt Square or Adam Clark Square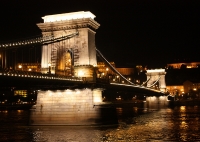 Chain Bridge Arian Zwegers
The Great Synagogue and Jewish Museum
Situated within the charming old Jewish quarter of Pest, the Great Synogogue is one of the largest in the world. Its style is Byzantine-Moorish, with patterned brickwork in the red, blue, and yellow colours of the city's coat of arms. Gilded domed towers, archways, and beautiful windows make this one of Budapest's great landmarks. The splendid interior glitters with lights and gilded arches while balconies line the walls. The ceiling is covered in Stars of David and the floor is tiled in decorative stars. On Jewish festivals, it's packed with Jews from all over Hungary who come to celebrate within its splendour. Next door is the Jewish Museum, containing a Holocaust Memorial Room and relics from the Hungarian Jewish Community. In the courtyard is the Holocaust Memorial in the shape of a weeping willow tree, each metal leaf engraved with the names of those who have passed away.
Address:
Dohany utca 2-8 in VII district.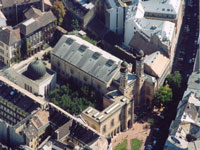 Great Synagogue, Budapest Civertan Grafikai Studio
Parliament Buildings
On the bank of the Danube stands one of the world's most beautiful buildings of parliament, an imposing sight and a prominent feature of the city's panorama. With its red dome, white stone lace ornamentation, and spires, it is the city's most decorative structure. Stone lions flank the entrance guarding a rich interior of marble and gold, statues, and columns. Magnificent artefacts are seen on guided tours, including the 1,000-year-old crown of the first Hungarian King. The grand edifice, stretching for 250 metres (820ft) along the embankment, is one of the biggest national assemblies in the world. The tours take between 45 minutes and an hour.
Address:
District V, Kossuth Lajos tér 1-3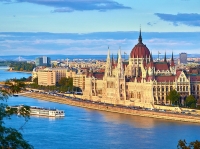 Parliament Buildings Moyan Brenn
Memento Park
A popular yet bizarre attractions, Memento Park contains the giant figures of the communist era that once filled the streets of Budapest. Among them are the forms of Lenin, Marx, and Engels, as well as memorials to Soviet soldiers and communist martyrs. There are also exhibitions detailing the history of the Soviet occupation in Budapest, contributing to a unique collection of artefacts and a fine location to educate oneself on the nature of communism.
Address:
District XXII, corner of Balatoni ut and Szabadkai utca

Memento Park Heather Cowper
Heviz
Hévíz is the site of world's largest thermal lake: Gyógytó. It is the most extraordinary sight with its huge milky blue surface covered in water lilies and steam. The warm water wells up from a volcanic crater spring about 40 metres (128ft) below the surface and provides year round swimming, although the recommended maximum time in the water during any one session is one hour. The mud on the bottom and edges is said to be slightly radioactive which is good for various medical conditions but only in small doses. A pavilion in the centre of the lake is reached by a covered bridge and indoor swimming takes place in an area enclosed with Plexiglas. Gaps in the plastic lead to the rest of the lake where swimmers can float among the water lilies and swim between the platforms bobbing on the surface. There are also various other spa and health treatments that can be enjoyed.
Address:
Lake Balaton region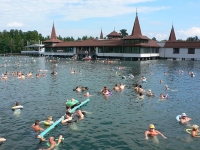 Thermal Lake Heather Cowper
Eger Castle
Sitting on the site of numerous historical events, Eger Castle overlooks its town namesake and is one of the most popular and famous attractions in Hungary. The original buildings included a cathedral and the Bishop's Palace, itself dating back from the 13th century. The castle was later fortified and the walls provided the cover for its determined defence by a small and outnumbered army against a Turkish force. The women who fought alongside the soldiers claimed their place in national consciousness during this much-celebrated historical event. The Dobó István Fortress Museum in the restored palace is one of the most popular museums in Hungary and has exhibitions on the history of the town and castle. Also within the castle grounds is the Heroes' Hall, which holds the grave of the celebrated leader, Dobó István, as well as the Prison Museum, Waxworks, and the underground rock-hewn artillery enclosures.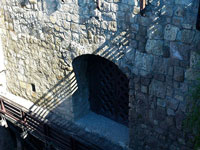 Eger Castle ben britten
Szépasszony Valley (Valley of the Pretty Woman)
With its rolling vineyards and century-old cellars and taverns, Szépasszony Valley is a favourite attraction in Eger. Wine producers welcome visitors into their quaint old cellars, hollowed out of the porous rock hundreds of years ago. Here, some of the country's finest red wines can be tasted, including the unique Bull's Blood. The rows of cellars are numbered and each has a particular charm, whether it's the chequered tablecloths of an underground tavern or the wooden barrels of fermenting grapes in the uneven rock passageway. It is possible to visit, by prior arrangement, the 'Istenes Pince' or Godly Cellar, the oldest historic cellar in the region. It operated as a secret church during the Turkish occupation, and the stone altar and religious works of art still remain in this very special place. Where the name 'Valley of the Pretty Women' comes from is unclear, but it is a charming name for a charming area.
Eger Vineyard Elin B
Keszthely
Keszthely is a university town with trendy cafes, tree-lined streets, and busy market areas. Modern history shows Kesthely dating back some 760 years, inhabited since the Roman Empire. Its most import sight is the Festetics Palace, with the Helikon Palace Museum and Library both in one of its baroque wings. Varosi Strand is great for travelling families, with its beach and amusement area. It has water slides, a big pool, and various play spaces, as well as nice lawns, a beach, and loungers. Keszthely likes to describe itself as the capital of Lake Balaton and it is the best town from which to explore the surrounding lakeside area, including the nearby Kis-Balaton nature reserve (excellent for bird watching) and the thermal lake at Hévíz.
Address:
Western shore of Lake Balaton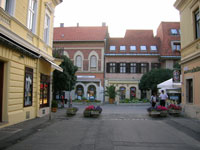 Keszthely town centre Alensha
Szentendre
Known as 'The Pearl of the Danube Bend'. Szentendre is a quaint old market town situated on the slopes of the Pilis Mountains. Meandering cobbled lanes, little squares, red-tiled roofs, brightly painted houses, and Orthodox churches give it a charming and artistically picturesque setting. Serbian refugees inhabited the town in medieval times and their style contributed to the charisma of the town's haphazard structure and Balkan flavour. Numerous Serbian churches add to the collection of historical buildings. In the 1900s, the town became a favourite retreat for painters and sculptors, resulting in a wealth of museums and art collections scattered among the tourist souvenir and handicraft shops. Being close to Budapest, the town is a popular excursion from the capital and has become one of the hotspots for tourism in the country. Be warned though, summer weekends can get rather overcrowded.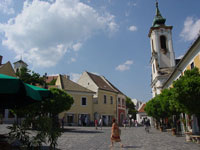 Szentendre main square Stako
Visegrad
Situated on the abrupt loop of the Danube beneath steep hills, Visegrad was once a Roman stronghold on the border of the Roman Empire and the second home after Buda to Hungary's royalty in the 14th and 15th centuries. On the banks of the river are the ruins of the magnificent palace, one of the finest ever built in Hungary. It is now the open air King Matthias Museum. Today the small, sparsely populated town has a pleasantly lethargic atmosphere that belies its past glory and importance and it makes a peaceful excursion from the crowds of the big city. As all of this intriguing history suggests though, the village is a delight for history buffs and retains an old-world feel. The village is also a good base for outdoor activities in the lovely surrounding countryside and there is an excursion centre behind Castle Hill which can organise things like hiking, canopy trails, and cycling in the region.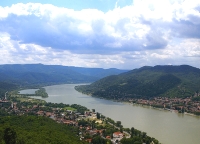 Visegrad Bence Tvarusko
Esztergom
Esztergom combines captivating history with riverside charm. One of Hungary's most historically important towns, it was the capital for over 250 years and the birthplace of their beloved first king and saint, Stephen, who was crowned here in the 11th century. Today, it remains the religious centre of the country, with Hungary's largest church dominating the hill above the town next to the ruins of the medieval royal palace. The colossal basilica was the first cathedral in the country and the instrument for the introduction of Roman Catholicism. It offers wonderful views from its enormous dome and contains a crypt and priceless treasury collection. Below is the pretty Watertown District, with its uneven cobbled streets winding up the hill towards the castle. Esztergom is conveniently close to Budapest and makes a great excursion from the city.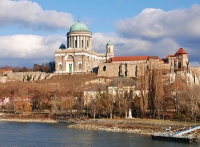 Esztergom Basilica zolakoma
Great Circus
There's nothing kids love more than a circus performance and Budapest offers a fantastic display of this Hungarian tradition. The Great Circus (Nagy Cirkusz) features an array of clowns, jugglers, and acrobats of all kinds to keep children happily entertained. Of course, adults should also be enthralled and impressed by the various acts. MACIVA, or The Hungarian Circus and Variety Ltd., plays an important part in Hungarian cultural life and is one of the oldest cultural establishments of Hungary. Built in 1954, the circus has a school for performing artists and holds circus camps for children who want to learn some of the skills on display. Special events like parades and festivals occur at certain times of the year but show times and prices vary according to the season, so please check the website for details. It is possible to book online.
Address:
1062 Budapest, Andrássy út 61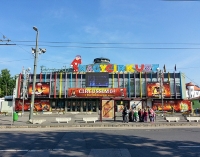 The Great Circus Thanate Tan
Budapest Puppet Theatre
The Budapest Puppet Theatre (Bábszínház) is a great outing for the whole family, ideal for travel in Budapest with kids. While shows are all presented in Hungarian, children remain enthralled by familiar stories like Cinderella and Snow White. During enactments, the crowd may can be heard calling out warnings when villains are approaching or encouraging heroes in their endeavours. It is amazing how little the language barrier matters when it comes to this kind of storytelling. You can book tickets online in advance but it is also suggested asking about what is showing and would be best suited for non-Hungarian audiences. The puppets are works of art and come in all shapes, sizes, and colours, with some easily recognisable characters and some creative originals. Most adults will enjoy the performances but you can also easily head for the cafe during the show.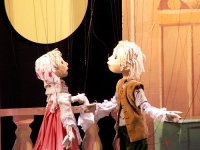 Puppets Jackie
Vác
Vác is a pretty Baroque town on the east bank of the Danube Bend. Vác is an accessible and popular tourist destination in Hungary, especially as a day trip from Budapest. But despite its many attractions and charms, it's wonderfully less crowded than some of the other famous towns on the Danube Bend. The stunning cathedral, founded by the first Hungarian King, St Stephen, is the most popular attraction in Vác, though there are many other sites to visit. A more macabre attraction is the Memento Mori Crypt, which houses a number of naturally mummified corpses and the incredibly well-preserved clothes and decorated coffins belonging to them. The Memento Mori Crypt is a very famous archaeological discovery which has enabled several breakthroughs in science and ethnography and is listed as a World Heritage Site. Vác also has a wonderful pedestrianised town square, surrounded by colourful buildings and a splendid promenade along the Danube River.

Vac beta.robot
Kecskemet
A 53-mile (86km) drive from Budapest, Kecskemét makes for a wonderful short trip from the city. While this garden city is quite large, with more than 100,000 residents, the place has a uniquely small-town charm. Walking around the scenic city centre is pleasant, with the abundance of open squares and avenues peppered with colourful Art Nouveau buildings. There are a number of attractions in Kecskemét that visitors will enjoy, including the distillery tours at the Pálinka Museum, the Hungarian Photography Museum, the Museum of Hungarian Folk Art and Handicrafts, and the beautiful architecture and art collections at the City Hall. The city has existed in some form since at least the 1300s so it is no surprise that it holds many old and hidden gems for visitors.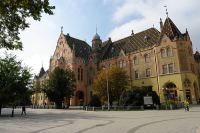 Kecskemet Emmanuel Dyan
Balatonfured
Balatonfüred has been the most fashionable resort on the Lake Balaton since the 18th century when the medicinal centre was established, and people are still drawn here on holiday because of its healing thermal waters. While the mineral baths are reserved for patients, the Balatonfüred resort area remains popular with tourists as there are three good beaches for swimming. The shores of the lake are great for all manner of water activities, from sunbathing to yachting, and there are also a number of cycle tracks along the lake and through the surrounding region. A wine tasting festival is held in August annually and the famous Anna Ball takes place on the weekend closest to the 26 July (Anna Day) at the Anna Grand Hotel.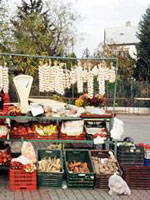 Keszthely, Lake Balaton Judith Duk
Mineral Bath Swimming Pool Park
The Mineral Bath Swimming Pool Park in Eger is considered the biggest and best in the country. It offers a selection of pools and mineral baths. They are indoor or outdoor, hot or cold, and recreational or health-related. It's a great place to visit with children, as they'll have their own special pool. There's an Olympic-sized swimming pool for those who want to exercise, while there is food and drink to keep visitors refreshed. There are also Turkish baths, comfy cabins, and simple sun loungers at an extra cost. Sun protection is required as well as swimsuits, as nudity is not welcomed. The only downside of this fun park is that its popularity can lead to it being too crowded for comfort. If possible, visit on a morning during the week to experience the place at its best.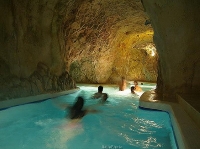 Cave bath Cili Krisztian
Hungary has a continental climate with distinct seasons, and a great variation between winter and summer conditions. During winter (December to February) the weather is bitterly cold, with snow blanketing the ground for weeks and the mighty Danube River freezing over.
Most people would say that the best time to visit Hungary is over the summer period (June to August) when the weather is warmer and the attractions are all open. The weather in spring and autumn can be very pleasant too, but temperatures do drop to around 20°F (9°C). Over winter, temperatures approach freezing.
Some rain can be expected throughout the year and rainfall is largely dependent on the region as there are variations in weather in Hungary according to location. The west of Hungary, including Budapest, starts warming up after a cold winter in April. The weather in this part of Hungary is hot and humid throughout the summer months, which are the most popular time to visit.
Eastern and central Hungary experience hot and dry summers and cold and wet winters. The wind is often strong on the plains and adds to the chill factor. In the south of Hungary, there is a slightly warmer climate and summers are long and hot while winters are shorter and less severe, with temperatures seldom dropping below freezing. In the south, the rainy season is summer.
Budapest Ferenc Liszt International Airport
Location:
The airport is located 10 miles (16km) southeast of Budapest.
Time:
GMT +1 (GMT +2 between the last Sunday in March and the Saturday before the last Sunday in October).
Transfer Between Terminals:
Terminal 2A (Schengen destinations) and 2B (non-Schengen destinations) are close enough to be accessible by foot; there is a covered walkway between these two terminals. All flights are serviced by Terminals 2A and 2B. Terminal 1 is no longer serving any flights.
Getting to the city:
The metro station is reachable via bus number 200E running from Terminal 2. Travel time is approximately 30 minutes to the city centre via the metro. Tickets for public transportation are available at the airport from customer service points, from the post office, the newsagents (Relay) and from ticket machines at the bus stop. There is also an airport minibus service that takes passengers to any destination in the city. Tickets can be purchased in the Arrivals Hall at the Airport Minibus counter. Alternatively, a taxi can be reserved at the arrivals terminal information desk. A ride to the city centre will take approximately 20 minutes depending on traffic conditions.
Car Rental:
Car rental companies include Avis, Budget, Hertz, Sixt and Europcar.
Airport Taxis:
Taxis can be reserved in the arrivals hall. Fares are metered but can't exceed prices set according to city zones. A high speed road connects the airport to the city in 20 minutes. Try not to use unsolicited taxis, as they may charge exorbitant fees. All official taxis are well marked and should display the rate for fares.
Fascilities:
Facilities include ATMs, bureaux de change, first aid, duty-free shops, childcare, post office, chapel, restaurants, tourist information and hotel reservations. There are facilities for disabled passengers and wheelchairs are available from the airport help desks; travellers with special needs are advised to contact their airline or travel agent in advance.
Parking
There are dedicated parking structures for each terminal, offering express, short-term and long-term parking options. Express parking allows five free minutes if you just need to pick up or drop off a passenger. From there short-term prices escalate to HUF 900 for 30 minutes and HUF 1,300 for an hour.
Money:
Although Hungary is part of the EU it does not use the Euro; the official currency is the Hungarian Forint (HUF). It is divided into 100 filler. Most international credit cards are accepted, and these can be used to withdraw cash from banks and ATMs, and to pay bills in hotels, restaurants and most shops. Banks usually open between 8am and 3pm on weekdays and some are open on Saturdays. ATMs and currency exchange machines are available in towns and cities throughout the country. It is advisable to retain exchange receipts for proof of legal currency exchange.
Language:
Hungarian (Magyar) is the official language, but German is widely spoken, especially in the areas close to the Austrian border. English is spoken in tourist areas and most hotels.
Electricity:
Electrical current is 230 volts, 50Hz. European-style two-pin plugs are standard.
Entry Requirements:
US citizens must have a passport that is valid for three months beyond the period of intended stay in Hungary. No visa is required for stays of up to 90 days within a 180 day period.
Passports endorsed 'British Citizen', 'British Subject' (containing a Certificate of Entitlement to the Right of Abode issued by the United Kingdom), and 'British Overseas Territories Citizen' issued by Gibraltar, must be valid on arrival. British passports with other endorsements must be valid for three months beyond the period of intended stay in Hungary.
A visa is not required for British passports endorsed 'British Citizen' or 'British Subject' (containing a Certificate of Entitlement to the Right of Abode issued by the United Kingdom), nor for holders of identity cards issued by Gibraltar authorities, and endorsed 'Validated for EU travel purposes under the authority of the United Kingdom'. No visa is required for stays of up to 90 days within a 180 day period for holders of British passports with other endorsements.
Canadian citizens must have a passport that is valid for three months beyond the period of intended stay in Hungary. No visa is required for stays of up to 90 days within a 180 day period.
Australian citizens must have a passport that is valid for three months beyond the period of intended stay in Hungary. No visa is required for stays of up to 90 days within a 180 day period.
South African citizens must have a passport that is valid for three months beyond the period of intended stay, and a valid Schengen visa, to enter Hungary. Passports issued more than 10 years prior to the arrival date will not be accepted.
Irish citizens must have a passport that is valid upon their arrival in Hungary. No visa is required.
US citizens must have a passport that is valid for three months beyond the period of intended stay in Hungary. No visa is required for stays of up to 90 days within a 180 day period.
New Zealand citizens must have a passport that is valid for three months after the period of intended stay in Hungary. No visa is required for stays of up to 90 days within a 180 day period.
Passport/Visa Note:Visa:
The borderless region known as the Schengen Area includes the following countries: Austria, Belgium, Czech Republic, Denmark, Estonia, Finland, France, Germany, Greece, Hungary, Iceland, Italy, Latvia, Lithuania, Luxembourg, Malta, The Netherlands, Norway, Poland, Portugal, Slovakia, Slovenia, Spain, Sweden, and Switzerland. All these countries issue a standard Schengen visa that has a multiple entry option, and which allows the holder to travel freely within the borders of all the aforementioned countries. All visitors to Hungary, other than EEA members, should ensure that their passports are valid for at least six months beyond the expiry date of their visa. Foreign passengers must be in possession of a return/onward ticket (or sufficient funds to buy one), and the necessary travel documentation for their next destination. Additionally, visitors must hold the equivalent of HUF 1,000 per day of stay, in hard currency, although the following documents are also accepted: a major credit card, a letter of invitation, proof of accommodation (reserved and paid for), or a document authorising the visitor to withdraw cash from a bank in Hungary. NOTE: It is highly recommended that your passport has at least six months validity remaining after your intended date of departure from your travel destination. Immigration officials often apply different rules to those stated by travel agents and official sources.
Travel Health:
No vaccinations are required for travel to Hungary and standards of public health are good, but vaccinations for hepatitis A and hepatitis B are recommended for all travellers. Tap water is safe to drink and food poisoning is not considered a high risk, although visitors are recommended to vaccinate against typhoid if they are spending a lot of time in rural areas and planning to eat outside of hotels and restaurants. Travellers intending on visiting forested, grassy, lakeside or rural areas in spring and summer should also consider a tick-borne encephalitis vaccine but this is usually only necessary for those staying long term.
A reciprocal health agreement with countries in the EU provides nationals with free emergency health care on presentation of a European Health Insurance Card (EHIC). All big towns have pharmacies, but anyone requiring specific medication should bring a supply with them as most medicines are of Eastern European origin and may be unfamiliar. Make sure that if you are travelling with prescribed medications you bring along a letter from your doctor stating your condition and the prescribed medication to smooth your way through customs. Comprehensive health insurance is recommended.
Tipping:
Taxi drivers and waiters expect a tip of 10 to 15 percent in Hungary. Waiters should be handed the cash, rather than have it left on the table. Most people in the service industry expect to be tipped about 10 to 15 percent.
Safety Information:
Most visits to Hungary are trouble-free, but normal precautions against petty crime should be taken. Pick pocketing and bag snatching is a risk on crowded public transport and other places frequented by tourists. Minimise your chance of being targetted by making use of hotel safes to store valuables and not displaying conspicuous wealth. It is also always a good idea to carry copies of important documents like your passport. Some bars, clubs and restaurants in Budapest charge outrageous prices by means of scams that target foreigners in particular. Be cautious of invitations off the street to dine in certain establishments or of recommendations by taxi drivers who are often in on the scam. Some taxi drivers can also overcharge or take passengers on a circuitous route. Any political demonstrations should be avoided, as they have led to violence in the past.
Local Customs:
Hungarians are generally open and friendly people who will readily strike up conversation. Men and women greet each other by shaking hands and close friends kiss each other lightly on each cheek. Older men may bow to women and kiss them on the hand.
Business:
A handshake is the standard form of greeting when doing business in Hungary and in mixed company it is usually women who initiate. Conservative suits and ties are standard business dress and business people should be addressed by their title and surname. Business cards are often exchanged; Hungarians usually list their surnames first. It is useful to have a local representative when doing business in Hungary, somebody who can set up meetings and act as an interpreter. It is important to invest time in building relationships; socialising is a key element of this and face-to-face meetings are vital. Punctuality is important on all occasions, and cancelling a meeting at the last minute may be detrimental to a business relationship. Due to the communist legacy there is often an aversion to risk and plenty of red tape and therefore negotiations can be slow-moving and patience is required. Although business in Hungary remains male-orientated, being female is not a disadvantage to doing business. Business hours are usually from 8am to 4pm Monday to Friday.
Communications:
The international access code for Hungary is +36. The outgoing code is 00 followed by the relevant country code (e.g. 0044 for the United Kingdom). The area code for Budapest is 1. There are often high surcharges on calls made from hotels. Local directory assistance is available by dialling 198, and international directory assistance is 199; callers may have to hold for a few moments, but English-speaking operators are available. Buying a local SIM card is a reasonable option for easy communication while travelling. Free wifi is available in cafes, hotels, and restaurants in larger towns and cities.
Duty Free:
There are no restrictions on the import or export of local currency. For travellers to Hungary arriving from other EU countries, there is no limit on the amount or value of the items that can be imported for personal use.
Travellers arriving by air from countries outside of the EU, over the age of 17, can import the following duty-free: 200 cigarettes or 50 cigars or 250g of tobacco; 4 litres of wine, 16 litres of beer, and either 1 litre of spirits containing more than 22% alcohol or 2 litres of alcoholic beverages containing less than 22% alcohol; and other goods up to a value of €430.