It is easy to forget that Hong Kong is so much more than justbright lights and skyscrapers. Each region has its own uniquecharacter and attractions. Visitors arriving on Hong Kong Islandcan admire the city from the deck of Star Ferry, or take Peak Tramup to the summit of Victoria Peak for panoramic views. Tourists cantake in Man Mo Temple, the oldest temple in Hong Kong, visit thetraditional outdoor street markets of Wan Chai or head to HappyValley for the horse racing. To the south, Stanley Beach hostsDragon Boat racing every year during Tuen Ng festival.
Across the bay to the north lies Kowloon, diverse andatmospheric. Shanghai Street offers a fascinating insight intolocal life. Shopping is king in the popular night market of TempleStreet and the vast retail destination that is Harbour City.Guinness World Records recognise 'A Symphony of Lights' as thebiggest permanent sound and light show in the world. Kowloon alsohosts the Avenue of Stars, celebrating icons of Asian cinema.
Sai Kung peninsula in the New Territories provides a welcomechange of pace. Rural life carries on as it always has, and this isthe gateway to some spectacular countryside. The Ping Shan HeritageTrail, to the northwest, tracks past old face brick homes andforts, and abandoned towns from the agricultural age of the region.Tourists will enjoy a trip to the 10,000 Buddhas Monastery, home ofcourse to nearly 13,000 Buddha statues.
Of the Outlying Islands, Lantau is the most popular, not leastdue to the presence of Disneyland. The Lantau Trail is ideal foradventurous hikers. Visitors will also enjoy Po Lin Monastery, hometo the largest seated Buddha statue in the world.
Victoria Peak
Victoria Peak is Hong Kong's number one tourist attraction andits popularity is unwavering. Much of the pleasure derived from atrip to Victoria Peak lies in the journey to its summit. Thefunicular railway or peak tram has steadily made its way up themountain since 1888 and the route is extremely steep and ratherthrilling, with spectacular views. Energetic travellers can scalethe real peak that extends 140m (459ft) above the tram terminus.From the top, marvellous vistas open out onto central Hong Kong andacross to Kowloon.
Victoria Peak used to serve as a hill station in colonial timesand later became the location of exclusive summer homes. Today itis a popular tourist spot offering a cooler vantage point fromwhich to contemplate the pleasures of travel to the region. ThePeak Tower on the summit houses numerous attractions, like aRipley's Believe it or not 'Odditorium', shops and restaurants. TheSky Terrace offers a stunning 360-degree panoramic view across theHong Kong skyline - probably the best view of the city you couldfind - and there is the added attraction of The Sky Gallery, whichshowcases the works of the city's talented artists. A lot of peoplechoose to go up Victoria Peak at night when the city lights are attheir most magical.
Transport:
Take the Peak Tram from Garden Road or bus 15C. There isalso a shuttle bus (daily 9am to 7pm) that departs from Star FerryTerminal.
Opening time:
The Peak Tram runs every day, including Sundays andpublic holidays, between 7am and midnight. The tram departs every10-15 minutes.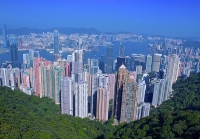 Victoria Peak Bevis Chin
Hong Kong Disneyland
The fifth Disneyland Resort in the world, but also the smallest,Hong Kong Disneyland offers a magical adventure in four themedlands similar to other parks, namely Main Street USA, Fantasyland,Adventureland and Tomorrowland. Two additional areas, designedexclusively for Hong Kong, are The Grizzly Gulch and Toy StoryLand. In Toy Story Land kids can enjoy a number of new attractions,including the Toy Soldier Parachute Drop and the scary RC Racer. Inthe Grizzly Gulch area the Big Grizzly Mountain Runaway Mine Carswill draw shrieks of delight. Classic rides like Space Mountain canalso be enjoyed, and kids can explore Cindarella's Castle, Tarzan'sTreehouse and the world of Winnie the Pooh, among other things.Mickey Mouse and many other famous Disney characters welcomevisitors of all ages to the happiest place on Earth. Particularcare has been taken to incorporate Chinese culture into the design,such as a feng shui layout, and the omission of the number four inthe numbering of floors in each of the hotels. In addition to thenumerous rides and various events and attractions, shops sellDisney souvenirs and restaurants offer a variety of food throughoutthe park.
Transport:
Tung Chung Line of the MTR
Opening time:
Daily 10.30am to 8pm. Opening times sometimes varymonth to month - check the website to confirm times.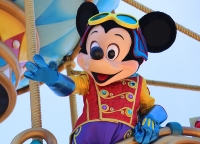 Disneyland Markylim
Western Market
One of the best places to buy souvenirs in Hong Kong, thisindoor market is held in a four-storey red brick colonial buildingthat was constructed in 1906. After extensive renovation itre-opened in 1991 and now occupies an entire block at the westernend of Central Hong Kong. The building houses a variety of shopsand stalls that sell a range of products from jade curios andcloissan jewellery to assorted silks and fabrics. The fabric storesare particularly exciting and the second floor of the building istaken over by a veritable mountain of colourful fabrics of allkinds. There is a small restaurant on the first floor, and toiletson the fourth floor. However, if you aren't interested in shoppingthen this attraction will hold little appeal for you - if you arean architecture enthusiast you can pop in quickly to see thevaulted ceilings but there isn't much to see in the Western Marketapart from the merchandise. Admiring the building from the outsidewill be sufficient for most, and it is often included in walkingtours of the area. From the site one can hop onto Hong Kong'sancient double-decker tram headed for Wan Chai, Causeway Bay andHappy Valley.
Address:
323 De Voeux Road Central, Sheung Wang
Transport:
Take the MTR to Sheung Wan, exit B or C; bus or tramalong Des Voeux Road to Sheung Wan.
Opening time:
Shops are open daily 10am to 7pm; restaurants 11am to11pm.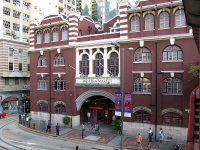 Western Market WiNG
Hong Kong Police Museum
The Hong Kong Police Museum showcases a display tracing thedevelopment and history of the Royal Hong Kong Police Force from1844 to today. The main exhibit encompasses a significant number ofartefacts relating to the Hong Kong Police Force from uniforms andfirearms, to historical archives and photographs. Other exhibitslook at the major factions which have influenced the status quo,namely the triad societies and narcotics (Hong Kong was founded onthe narcotics trade), including a unique look at how heroin isproduced.
The Police Museum is an interesting visit, providing insightinto the dedication of the officers who have served within thiselite force. It is a small but informative museum with a littlegift shop attached. It is not an interactive, multi-media exhibitso much as a simple but interesting archive of police history whichwill delight those interested in the subject but probably boresmall children or those indifferent to the subject. There is apleasant park next door to the museum where you can enjoy someshade and refreshments.
Address:
27 Coombe Road, The Peak, Hong Kong
Transport:
Take NWFB Bus No. 15 (from Exchange Square to the Peak).Get off at the stop between Stubbs Road and Peak Road.
Opening time:
Wednesday to Sunday 9am to 5pm; Tuesday 2pm to 5pm.Closed Mondays and public holidays.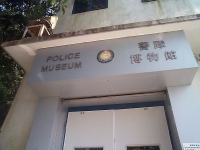 Hong Kong Police Museum Simon Hui
Statue Square
Statue Square is an amalgamation of Hong Kong's contemporaryarchitecture. It reaches its most spectacular manifestation in thedesigns of the Hong Kong and Shanghai Banking Corporation and theBank of China Tower. The most significant feature of the HSBCbuilding is that it has been designed without a central core, afeat of structural engineering blended with the ultimate inaesthetic principles. There is also a statue of Sir Thomas Jacksonoutside the building. The Bank of China Tower became a much-debatedconversation piece following its construction, largely because ofthe asymmetrically-designed pinnacle that acquires differingperspectives depending on one's vantage point. The square alsocontains the Cenotaph, a memorial to those who lost their lives inthe two world wars.
It is a popular gathering place for locals who meet to sharemeals and socialise; there is a fountain and seating areas. OverWinterfest there are usually Christmas displays, trees and lightsput up in the square, although visitors have reported that thedisplays have become less impressive recently and other squares andmalls have better Christmas arrangements. For those interested inarchitecture Statue Square is a treat, and the attraction is almostalways included in walking tours of the city.
Transport:
MTR Central station, exit K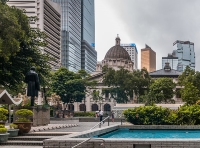 Statue Square The Photographer
Hong Kong Museum of History
The Hong Kong Museum of History showcases Hong Kong'sarchaeological, cultural and natural history through a display ofcultural objects, artefacts, photographs, traditional costumes andmodels that span 6,000 years. Glorious period sets tell the storyof Chinese life in replicas of village houses, streets and stores.These memorials to the past are contained within an incrediblebuilding opened in 2000. The museum was established much earlier,however, in 1975, and contains artefacts which were originallyhoused in the City Museum and Art Gallery, which was established in1962 and became the Hong Kong Museum of Art.
The main museum has five interesting branch museums in HongKong: the Hong Kong Museum of Coastal Defence at Shau Kei Wan, theLei Cheng Uk Han Tomb Museum at Sham Shui Po , Law Uk Folk Museumat Chai Wan, Fireboat Alexander Grantham Exhibition Gallery insidethe Quarry Bay Park, and Dr Sun Yat-sen Museum at Mid-levels inCentral. There is a museum shop selling a selection of souvenirsand replicas, and a cafe for refreshments on the premises.
Address:
100 Chatham Road South, Tsim Sha Tsui, Kawloon (next tothe Hong Kong Science Museum)
Transport:
MTR Tsim Sha Tsiu, then walk via Granville Road; maxicabno 1 from Kowloon Star Ferry in Tsim Sha Tsiu to Science MuseumRoad
Opening time:
Mondays and Wednesday to Friday 10am to 6pm.Saturdays, Sundays and public holidays 10am to 7pm. Closed onTuesdays.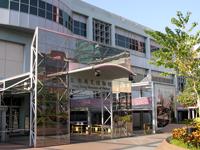 Hong Kong Museum of History Alan Mak
Wong Tai Sin Temple
This grand Taoist temple is one of the most frequently visitedtemples in Hong Kong. It is dedicated to Wong Tai Sin, a legendaryhermit who reputedly had healing powers and could foretell thefuture. A number of fortune tellers ply their trade in the templecomplex and there is also a large pharmacy. There are someEnglish-speaking fortune tellers (although they are more expensive)and they offer a number of soothsaying techniques including palmand face reading. The ornate temple with its red pillars, goldceilings and decorative latticework is in the traditional Chinesestyle and is usually full of people burning incense and makingfloral offerings.
The temple is known as a place where 'wishes come true' andlocals come to pray for good health, success in business andhappiness. Visitors can buy incense to burn just outside of thetemple but there are usually lots of spare sticks left over fromprevious visitors within the temple itself so buying more may provea waste of money. Those who do buy the incense need not purchasethe whole kit as everything other than the sticks themselves willbe taken by the guards at the entrace to the temple proper. Thetemple also has a lovely adjacent park called the 'Good WishGardens', a peaceful green spot with waterfalls tumbling overrocks.
Address:
2 Chuck Yuen Village, Kowloon
Transport:
MTR to Wong Tai Sin, exit B
Opening time:
Daily 7am to 5.30pm, gardens closed onMondays.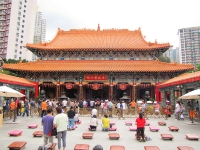 Wong Tai Sin Temple wiredtourist.com
Ocean Park
The Ocean Park is a theme park spread over two parts, connectedto each other by a cable car. A spectacular aquarium, reputed to beone of the largest in the world, is complemented by a funfaircontaining multiple roller coasters, a space wheel, a swinging shipand much more. Ocean Park is Hong Kong's most popular theme park,and is regularly ranked as one of the best in the world. Indeed,when Hong Kong Disneyland opened, Ocean Park renovated extensivelyand has managed to maintain its top spot.
The variety of rides is impressive, ranging from big thrillrides to mild fun, and lots for children and adults alike. Therides are interspersed with other attractions, like the animalenclosures - the pandas are a highlight for many visitors, as isthe Dolphin Show. Areas in the park include Marine World, PolarAdventure, Adventure Land, Thrill Mountain, and the Rainforest. Thecable car rides which transport you from one side of the park tothe other are really splendid in their own right. There are manyrestaurants and stalls in the park. Note that although crowds andqueues are usually manageable at the park it is much better tovisit on a weekday if possible, because on weekends and publicholidays there will be long queues for rides and attractions.
Address:
Ocean Park Road, Aberdeen
Transport:
Take City Bus route 629 from either Amiralty MTR Stationor Central Pier No.7.
Opening time:
Daily 10am to 6.30pm.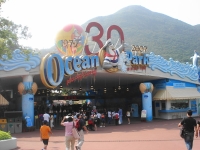 Ocean Park Jackl
Aberdeen
Some 200 years ago, Hong Kong's Aberdeen district was a havenfor pirates. Located on the southern shore of Hong Kong Island, itis home to the Tanka boat people and has become a popular touristdestination. Visitors can experience the traditional lifestyle ofboat dwellers and sample fresh seafood. Aberdeen is a lively marinacrammed with junks, sampans, water taxis (kai do), cruisers andyachts. The fishing harbour is a wonderful way to experience theactivity of life on water. Tours along Aberdeen's watery stretchescan be enjoyed onboard one of the many sampans offering half-hourtrips around the harbour. The sensory delights of Hong Kong cuisinecan be sampled within the unique environment of the famous,ornately decorated Jumbo Floating Restaurant.
Recently some tourists have complained that this attraction isnot as compelling as it once was, partly because the population ofpeople living on the water seems to be decreasing and witnessingthis traditional lifestyle was one of the primary draws of thearea. If you are a lover of boats and harbours you will no doubtstill find much to interest you in Aberdeen, but if you are goingsolely to experience the authentic living conditions of localfishermen you may be disappointed.
Address:
South District, Hong Kong Island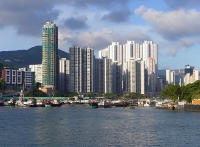 Aberdeen Wing1990hk
Hong Kong Science Museum
This fascinating museum is consistently ranked highly bytourists. Four floors of exhibits cover a range of hands-on scienceand technology related subjects, including light, sound, motion,magnetism, electricity, robotics, virtual reality and much more.This museum is extremely popular because of its hands-on approach,allowing children and adults alike to learn through involvement.The most prominent exhibit is a 72-foot (22m) tall twin towerEnergy Machine which, when activated, triggers a series of displaysto produce spectacular audiovisual effects demonstrating variousforms of energy.
The Science Museum is a great option for entertaining andeducating young minds (and old ones) when the weather is bad, andshould keep the whole family occupied for a few hours. For youngchildren there are fun play areas and a toddler's tumble area.
Address:
2 Science Museum Road, Tsimshatsui East, Kowloon
Opening time:
Monday, Tuesday, Wednesday, Friday 10am to 7pm;Saturday, Sunday and public holidays 10am to 9pm. ClosedThursdays.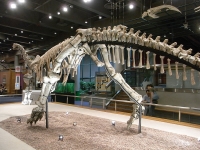 Hong Kong Science Museum Amongesle
Avenue of Stars
The Avenue of Stars is Hong Kong's version of the Hollywood Walkof Fame, celebrating famous icons of Hong Kong cinema. Situatedalong the seaside promenade, there are great views of VictoriaHarbour. The Avenue is also a good place to view the Symphony ofLights, a music and laser show staged every night at 8pm. The showis presented in English on Mondays, Wednesdays and Fridays;Tuesdays, Thursdays and Saturdays it is in Mandarin; and Sundays inCantonese. Although the Avenue is a lovely place to stroll and hassome interesting landmarks, foreigners should bear in mind thatthey may not recognise many of the celebrities being honoured onthe walk. Still, names like Jackie Chan, Bruce Lee and Jet Li mayproduce excitement - there's even a statue of Bruce Lee. The realreason for making the effort to visit the Avenue, however, is thespectacular view. It is worth doing the walk at night, even if youdon't intend to see the Symphony of Lights show. It's also a goodpeople-watching post and it is fun to watch the locals celebratingtheir favourite stars.
Address:
Along the Tsim Sha Tsui Promenade next to the southern endof Salisbury Garden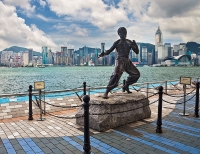 Bruce Lee Statue Benson Kua
Hong Kong Wetland Park
Children on holiday in Hong Kong who want to see crocodiles,butterflies, birds and mangroves should head to the Hong KongWetland Park. The Wetland Park showcases the incredible diversityof Hong Kong's wetland ecosystem and the park's main objective isconservation and the education of the public about the importanceof preserving this natural system. The park is comprised of avisitor centre, Wetland Interactive World, and a big WetlandReserve. The Wetland Interactive World has themed galleries andexhibitions, a theatre, a gift shop, and an indoor play area(theme: swamp adventure). Interactive and educational games are agreat feature of the centre, as are the sound booths where kids cancompose wetland symphonies using the sounds of this fascinatingecosystem. All the games and displays can be absorbing so be sureto actually go outside and enjoy the beautiful walks and the threebird hides, which children will love. The park also hosts some funevents, like bird watching festivals.
This attraction is consistently popular with tourists and makesfor a really lovely break from Hong Kong's indoor, urbanattractions - it'll delight people of all ages interested in natureand animals and will allow kids to blow off some steamoutdoors.
Address:
Tin Shui Wai, New Territories
Opening time:
Open daily 10am to 5pm; except Tuesdays, when it isclosed.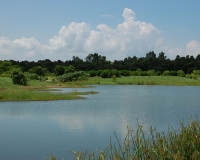 Wetland Park Leonardolo
Hong Kong Museum of Art
Established in 1962 and originally housed in the City Hall, themuseum was moved to its current, purpose-built location in 1991.The Hong Kong Museum of Art's five permanent galleries have a largecollection of ceramics, cloisonné, bronzes, lacquerware, bamboocarvings, jade, and textiles, as well as beautiful scrolls andexamples of calligraphy. While it isn't the biggest art museum inChina, the Hong Kong Museum of Art, conveniently located on theTsim Sha Tsui waterfront, is a great place to visit if you want ataste of Chinese art history on a limited schedule as you can seemuch of the collections in about an hour. There is also a gift shopand a cafe.
Another branch of the Hong Kong Museum of Art is the Museum ofTea Ware, located in a grand old house in Hong Kong Park. It is aninteresting place to visit for those captivated by the finer pointsof one of China's most refined traditions. The Greek revivalarchitecture and decor is typical of the colonial British buildingsof over 160 years ago, and houses more than 600 examples oftraditional tea ware, ranging from earthenware to delicateporcelain and dating back to the 7th century. Also described arethe methods of tea-making and elaborate tea ceremonies that revolvearound the beautiful pieces. The museum shop has a good selectionof tea ware to take home with you. The whole museum is rathersmall, and can be seen in under an hour.
Address:
Art Museum: 10 Salisbury Road, Tsim Sha Tsui, Kowloon. TeaMuseum: 10 Cotton Tree Drive, Central, Hong Kong.
Opening time:
Art Museum: Monday to Friday 10am to 6pm, Saturdayand Sunday 10am to 7pm, closed Thursdays.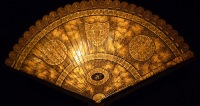 Hong Kong Museum of Art Christopher Luna
The climate of Hong Kong is sub-tropical, with hot humid summersand cool dry winters. Monsoon winds blow in from the north betweenSeptember and March, and from the south between April and August.The winter months of January and February are generally wet andcold, while in the height of summer it is hot and humidity is veryhigh. From June to September (the peak summer months) temperaturesaverage 86°F (30ºC) with 95 percent humidity. Some rain andhumidity can be expected throughout the year. Even during theheight of summer it is worth bringing some warm clothing to combatthe fierce air conditioning in shops and offices.
The best time of year to travel to Hong Kong is in the mildautumn months of October and November when the temperatures arepleasant. It is generally considered a year-round destinationthough, particularly as some of Hong Kong's main attractions, suchas shopping facilities, are indoors. As the Hong Kong streets areknown to get dirty, especially when it is wet, it is advisable towear dark shoes when exploring the city, and always to have anumbrella handy.
Hong Kong International Airport
Location:
The airport is situated 21 miles (34km) northwest of HongKong Island and 14 miles (23km) from Kowloon.
Transfer Between Terminals:
There are people movers to transport passengers betweenterminals.
Getting to the city:
The Airport Express Line is a dedicated airport railwayproviding a fast and reliable service to downtown Hong Kong. Trainsdepart every 12 minutes or less around the clock, and the journeytakes around 25 minutes. Scheduled hotel shuttle buses leave theairport regularly taking passengers to major hotels plus keytransport interchanges, and there are a number of public bus(Airbus) routes from the airport.
Car Rental:
Public transport in Hong Kong is excellent so car rental is notadvised.
Airport Taxis:
Taxis are available from the taxi pick-up area in front of thearrivals hall. Red taxis drive to central Hong Kong, green taxisservice the New Territories, and blue taxis drive to LantauIsland.
Fascilities:
Airport facilities include banks, ATMs, currency exchangeoffices, a post office, beauty salon, a children's play area,showers, restaurants, shops (including duty-free), disabledfacilities, cinemas, a golf course, conference and businessservices and tourist information desks.
Parking
The airport has both undercover and open-air car parks.Long-term parking is located at Car Park 2. Hourly rates rangebetween HK$20 and HK$24, and daily rates are between HK$160 andHK$196.
Money:
The unit of currency is the Hong Kong Dollar (HKD), which isdivided into 100 cents. Major banks are open from 9am to 4.30pmMonday to Friday, and 9am to 12.30pm on Saturday. Banks and moneychangers charge commission, as do hotels that provide exchangeservices. All major credit cards are accepted and ATMs are widelydistributed.
Language:
The official languages in Hong Kong are English andCantonese. The other main language is Mandarin.
Electricity:
Electrical current is 220 volts, 50Hz. The UK-stylethree-pin plugs are standard.
Entry Requirements:
US citizens must have a passport that is valid for at least onemonth beyond the period of intended stay in Hong Kong. No visa isrequired for stays of up to 90 days.
British citizens must have a passport that is valid for at leastone month beyond the period of intended stay in Hong Kong. ExpiredBritish passports endorsed British Dependent Territories Citizen orBritish National (Overseas) issued in Hong Kong are accepted,provided they are accompanied by a Hong Kong Permanent IdentityCard. For British passport holders endorsed British Citizen, novisa is required for stays of up to 180 days. For British passportholders endorsed British Subject, British Overseas TerritoriesCitizen, British National (Overseas), British Overseas Citizen orBritish Protected Person, no visa is required for stays of up to 90days.
Canadian citizens must have a passport that is valid for atleast one month beyond the period of intended stay in Hong Kong. Novisa is required for stays of up to 90 days.
Australian citizens must have a passport that is valid for atleast one month beyond the period of intended stay in Hong Kong. Novisa is required for stays of up to 90 days. Visa exemptions applyto holders of an APEC Business Travel Card, provided that the backof the card states that it is valid for travel to Hong Kong, for amaximum stay of up to 60 days.
South African citizens must have a passport that is valid for atleast one month beyond the period of intended stay in Hong Kong. Novisa is required for stays of up to 30 days (two months, if inpossession of a Hong Kong Travel Pass).
Irish citizens must have a passport that is valid for at leastone month beyond the period of intended stay in Hong Kong. No visais required for stays of up to 90 days.
US citizens must have a passport that is valid for at least onemonth beyond the period of intended stay in Hong Kong. No visa isrequired for stays of up to 90 days.
New Zealand citizens must have a passport that is valid for atleast one month beyond the period of intended stay in Hong Kong. Novisa is required for stays of up to 90 days. Visa exemptions applyto holders of an APEC Business Travel Card, provided that the backof the card states that it is valid for travel to Hong Kong, for amaximum stay of 60 days.
Passport/Visa Note:Visa:
All foreign visitors to Hong Kong must be in possession ofonward or return tickets (except when in transit to mainland Chinaor Macao), the necessary travel documentation for their nextdestination, and proof of sufficient funds to cover their stay inthe country. Note that admission and/or transit will be refused toany national holding a passport issued by Kiribati, and endorsed"N-Kiribati" or "Investor". NOTE: It is highly recommended thatyour passport has at least six months validity remaining after yourintended date of departure from your travel destination.Immigration officials often apply different rules to those statedby travel agents and official sources.
Travel Health:
There are no specific health risks associated with travel toHong Kong. Food and water are generally safe, although visitorsshould consider only drinking bottled water for the first few daysof their stay. Vaccinations are recommended for hepatitis A andinfluenza. Take precautions against mosquito bites, as there is aslight risk of Dengue fever. Outbreaks of Hand, Foot and MouthDisease are reported annually. Hong Kong's health facilities arefirst class, but expect to pay cash. High quality medical care iswidely available but comprehensive medical insurance is recommendedto cover expenses.
Tipping:
A 10 percent service charge is usually added to restaurant billsin Hong Kong, but waiters will still expect some loose change inaddition to this. If no service charge is included, a 10 percenttip is expected. Taxi fares are rounded up to the nearest dollar(usually automatically by the driver).
Safety Information:
Hong Kong is considered a safe travel destination, althoughcaution should always be exercised when travelling. Pickpockets arelikely to target unsuspecting tourists so one should minimise thisrisk through vigilance and by leaving valuables locked up in hotelsafes when possible. Be wary of accepting drinks from strangers, asreports of spiked drinks are on the increase. Robbers have recentlytargeted walkers in Hong Kong's Country Parks so it is advisable tostay on marked trails and not to carry large amounts of cash orcredit cards. All street protests and political gatherings shouldbe avoided.
The typhoon season is usually between April and October, and theheavy rains may cause flooding and landslides.
Note: 29/11/19
Large-scale political demonstrations have taken place in variousparts of Hong Kong since June 2019, including popular touristareas. Many protests have led to violent clashes between the policeand protesters, or between protesters and people who oppose thedemonstrations. Police have used tear gas, rubber bullets, watercannons and other crowd control measures, often causing injury toprotesters. The unrest is likely to continue.
Local Customs:
Littering and spitting are illegal in Hong Kong and will incurspot fines. In Hong Kong the concept of 'face' is very important;avoid causing someone to 'lose face' by publicly insulting them orcontradicting them in front of others as this is considered veryimpolite. The Chinese have great respect for hierarchicalrelationships.
Business:
Despite its close proximity to China, Hong Kong's businessculture is worlds apart. There tends to be a heavy Britishinfluence on business culture in Hong Kong. However, one typicallyAsian aspect is the concept of saving face. Saving face representsan awareness of positive appearances and perceptions of otherpeople or companies. Bad news should never be presented in front ofothers and keeping ones cool is vital. Open displays of emotion,such as anger and irritation, are frowned upon, as is causingembarrassment to another person.
Business culture in Hong Kong is quite conservative. Dressstyles are formal and deference to senior members of companies isvital. Business suits are usually in dark colours. Avoid wearingbright ties, or blue or white coloured clothes, as these coloursare associated with mourning. When greeting business associates,either shake hands or, if no handshake is offered, bowing isappropriate. Respect for personal space is important and physicalcontact should be avoided. Gifts are given during introductions,but never opened in front of the giver. Timepieces as gifts areinappropriate as they are associated with death. The businesslanguages in Hong Kong are both Mandarin and English. Tone shouldalways be even and measured and cultural sensitivity and etiquetteare vital.
When tea is served at a business meeting never sip from your cupuntil your host has taken his first sip. Business in Hong Kong isconducted efficiently and formally and punctuality is vital. It isadvised to allow for sufficient travel time before meetingsconsidering the high traffic congestion. If you are tardy, effusiveand repeated apologies are in order, regardless of whether youcaused the delay. It is customary to exchange business cards(printed in English on one side and Cantonese on the other) at thestart of a meeting, along with a handshake. Business cards shouldbe given and received using both hands, with the Cantonese sidefacing the recipient, and should be treated with respect. It iscommon to greet the more senior person first. Businessentertainment is usually in the form of a lunch or dinner that isorganised by the hosting partner. Food is also usually ordered andpaid for by the host. Finally, the phrase 'have you eaten,' is asubtle form of greeting which generally means 'are you well.'Business hours run from 9am to 5pm during the week and 9am to 1pmon Saturdays.
Communications:
The international access code for Hong Kong is +852. Theoutgoing code depends on what network is used. City codes withinHong Kong are not required. Prepaid Discover Hong Kong SIM cardsare available at any 1010 centres, convenience stores and at HongKong International Arrival Hall. Internet cafes are widelyavailable, and free wifi access is available at most coffee shops,shopping malls and hotels in town.
Duty Free:
There are no restrictions on the import and export of local orforeign currency. Travellers to Hong Kong over the age of 18 yearsdo not have to pay duty on 1 litre of spirits and a reasonableamount of wine or any other form of alcohol containing less than30% of alcohol; 19 cigarettes or 1 cigar or 25g of tobacco.