Prinos Street Market
Located on the northwest coast of Thassos is the major port of Skala Prinos. Each Monday morning, you'll find locals and tourists wandering through the Prinos Sreet Market. The market offers a selection of fresh fruit and vegetables, as well as a good assortment of nuts. Leather goods are also available from the market, as well as shoes and clothes. As with most markets of this kind there are seldom changing rooms to use for trying on clothes so shoppers have to try on what they can at the stall, or guess their size. The market is small enough to feel quaint and friendly but large enough to have a good bustle and selection of goods. Skala Prinos also has some really lovely sandy beaches with shallow, clear, calm waters which are perfect for children and have great views of the mainland. It is wonderful to pop to one of the beaches after a quick exploration of the market for a refreshing swim.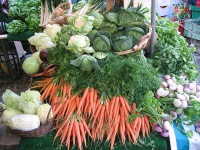 Vegetables Arnaud 25
Theologos
The history of Thassos is uncovered at the Museum Theologos, set in an old mansion that was the home of the mountain village's former mayor, Mr Chatzigeorgiou. The mayor played an essential role in the revolution against the Turks that took place on the island in 1821. Exhibits include displays of olive presses, flour mills, tools, looms and chests from the 18th century, as well as some wonderful pictures.
The museum is only one interesting aspect of this fascinating old town, situated up in the mountains. It is worth visiting just to stroll through the picturesque streets and stumble over all the evidence of antiquity. Theologos used to be the most important village on the island and was both the political and economic centre of Thassos, which is why the museum is situated here. Theologos was declared a cultural capital by the Greek government in 1979, which means that construction or alteration to existing buildings is limited to preserve the authentic old architecture. The village has also preserved many folk traditions and still produces its own olives, vegetables, alcohol and lamb, so that when you have a meal at the local taverna you will almost certainly be eating local produce.
Address:
Theologos, Potos 640 05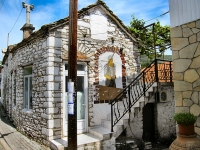 Theologos Ronald Saunders
Thassos Beaches
Most visitors to Thassos are drawn by the stunning white sandy beaches on the east cost of this island. The more popular beaches have all the required tourist amenities, but despite this the beaches have retained their natural beauty and have not been ruined by crowds or infrastructure. The largest and most popular beach is Chrissi Ammoudia (Golden Beach), a sweeping strech of white sand that is set against the towering slopes of Mount Ipsario, which rises to 1,200m (4,000 ft). Tripiti Beach, on the south of the island, is known for its natural bathtub and a cave leading to the Aegean Sea. It is a big beach, quite far from the main town, and boasts rich marine life in its waters. Livadi is popular with campers and backpackers and is a protected cove. Makriammos is a beautiful, long, sandy beach and is a favourite for many - it is also home to some great mussels. Pefkari has bars, taverns and a small kiosk, and watersports include banana boat rides, jet-skiing and paragliding. The nudist beach of Paradise is one of the most beautiful on the island, as the name suggests. It is not exclusively a nudist beach but nudity is tolerated. The eastern beaches are the calmest and Scala Potamia and Golden Beach are two of the best for small kids as they are sandy with shallow, calm waters.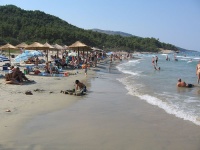 Paradise Sir Adavis
Thassos' location makes it an appealing destination, even by Greece's lofty standards. The mainland shelters it from winds that affect more northern islands, and it's a little cooler than its neighbours to the south. With its Mediterranean climate, rain is unlikely in summer and falls mainly in the winter months. Spring is also a good time to visit, when the island is lush, sun-filled and generally rain-free. Autumn is also popular, as holidays are cheaper, the crowds have gone, and the weather and ocean temperatures remain pleasantly warm.
Kavala International Airport
Location:
18.6 miles (30km) east of Kavala
Getting to the city:
There are buses from the airport to downtown Kavala.
Car Rental:
Europcar, Avis, and Hertz operate car hire facilities at Kavala Airport.
Airport Taxis:
A taxi rank is located in front of the terminal.
Fascilities:
The terminal contains restaurants, duty-free shopping, travel agents, a police station, and first aid facilities.
Parking
There is short and long-term parking opposite the terminal building.
Thassos' nightlife is both lively and varied. For the most part, bars, cafes and restaurants are in the capital, Limenas, though holiday resorts sometimes host events. Visitors will also find live entertainment on many beaches during summer.
Thassos has many wonderful attractions. Visitors can still see the 7th-century ruins of Ancient Thassos in the capital, Limenas, and the 12th-century Archangelou Michail Monastery in the island's southeast region. Thassos also has a number of interesting museums and archaeological sites, plus an excellent street market.
Outside of Limenas, the island's small villages feel authentic and undisturbed. Many have their own markets and quaint folk museums.
Nature lovers will enjoy Thassos' beaches, lakes and waterfalls. Scala Potamia and Golden Beach are both loved for the calm waters that make them child-friendly. Visitors who enjoy wandering along picturesque trails can try horse riding, which is a popular activity on the island.