Skopelos Beaches
The island of Skopelos has plenty of beautiful beaches for visitors to enjoy; in fact, it boasts some of the most beautiful beaches in Greece. Some of them may be recognisable from the film Mamma Mia which was shot on the island. Most are shingle beaches lapped by clear blue waters, great for snorkelling, fishing and swimming. There are usually sunbeds and umbrellas available at the beach, and waterfront taverns nearby. It is ideal to hire a boat to sail to private, secluded coves at one's leisure, but by car or even bus one can still reach lots of great beaches.
Favourite Skopelos beaches include Stafilos, which is just just under three miles (4km) from Skopelos town, and is a very pretty beach with a bar and a lifeguard. There is parking for cars and the bus does stop at this beach. Panormos is another favourite; the bay boasts one of the most beautiful, natural ports in the world and it is celebrated for its sunsets. Beware that the water on Panormos gets deep quite fast. Milia is considered by many to be the most attractive beach on the island - it is long and white and has pine forests descending all the way to the beach. The Amarandos coves are also a popular attraction.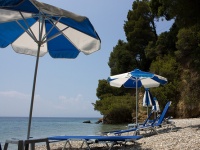 Panormos Beach fortysix_vie
Folklore Museum of Skopelos
The Folklore Museum of Skopelos is housed in a traditional building, its interior reminiscent of Skopelitian homes of the past. The museum exhibits local 19th and 20th-century artefacts focusing on three areas of handiwork practiced traditionally in Skopelos: embroidery, weaving, and handicraft work including ceramics, woodcarving, the making of knives, tools and agricultural implements, and folk art paintings. There are also nautical exhibits and model ships on display, illustrating the proud nautical history of the area. The museum has recreated rooms and outfits to give visitors an idea of how locals lived and looked in centuries past. It is a small but charming museum and should'nt take much time to explore; it is interesting to walk into this old house and become immersed in the belongings and skilled produce of past inhabitants. For those passionate about arts and crafts this is a must. As the collection is modern and not ancient, those tourists who wish to explore ancient Greece need not visit.
Address:
Skopelos Island, Sporades, 37003 - Magnesia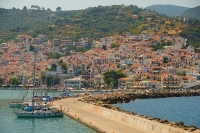 Skopelos www.davidbaxendale.com
National Marine Park
The National Marine Park of North Sporades is a great attraction for visitors to Skopelos. The park was the first designated Marine Park in the country and is currently the largest marine protected area in Europe. Besides the open ocean, the park includes Alonnisos, six smaller islands (Peristera, Kyra Panagia, Gioura, Psathura, Piperi and Skantzoura), and 22 uninhabited islets and rocky outcrops. The waters are a conservation area as they are the breeding grounds for endangered Mediterranean monk seals. There are also a number of dolphin and whale species in the area, including the striped dolphin and the long-finned pilot whale. The park is very beautiful and there is lots to explore. One of the most popular and beautiful beaches is Agios Dimitrios, a pebble beach with stunning turquoise water, which has been voted several times as one of the most lovely beaches in the world. There are many wonderful beaches to explore in the park and several great walking paths. On Alonnisos you will find Patitiri port, from where many boats depart to all the beaches of the island as well as the rest of the islands of the Marine Park, where access is permitted. Some areas are kept completely free from human influence.
Address:
North Sporades (Alonissos)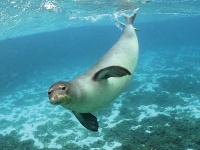 A monk seal Doi
Like all the Sporadic Islands, Skopelos enjoys hot, dry summers and mild winters. Temperatures in July and August range from 82ºF (28ºC) during the day to 72ºF (22ºC) at night.
Rainfall is unlikely in summer but showers can be expected between September and May. The heaviest rain falls in the winter months. Skopelos does sometimes get snow, which can be rather magical.
All of the northern Sporadic Islands receive a strong wind blowing from the north. Consequently, most of their beaches are on the sheltered southern sides.
Summer is by far the most popular time to visit Skopelos. That said, spring and autumn are excellent seasons as well, with lovely weather and far smaller crowds than during the peak summer months.
Skopelos has sand and pebble beaches. Sometimes, a beautiful blanket of snow covers the island during winter.
Among its attractions, the Folklore Museum of Skopelos will appeal to culture lovers. Nature lovers will find the National Marine Park both engaging and informative.
However, the island's beautiful natural landscapes define it as a tourist destination. They create a wonderful setting for family holidays or romantic getaways.
Visitors enjoy swimming and snorkeling at Staphylos and Panormos beaches, and picnicking at Amarandos' deserted coves. Horse riding and sailing trips round out the island's list of activities.