Santorini Beaches
The beaches of Santorini are unlike other Greek beaches and have special and dramatic geological features like black shining pebbles and unique land formations, coloured by black, white and red sands. The beaches tend to be coves surrounded by steep cliffs which add to their beauty. The waters are deep though, so be cautious. The Red beach is possibly the most famous and is located near the village and ancient site of Akrotiri. It is popular because of the stunning volcanic slabs and colour of its sand, although the sand is not comfortable to sit on so the sun loungers on the beach are necessary.
Perissa beach, just southeast of Fira, is another favourite and has an impressively long, black sandy beach with an enormous rock rising out of the sea. For those who prefer a quiet and unspoilt beach environment, Cape Columbo is one of Santorini's most beautiful and most isolated beaches. The waves here are rougher though so beware of a more dangerous sea. The southeastern beaches of Monolithos, Avis and Kamari are family favourites. At Monolithos beach kids love the football pitch, basketball court and play area. Trees at the back of the beach provide shaded respite from the sun, and there are also snacks available on the beach.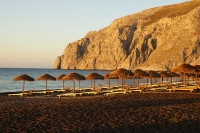 Kamari Beach jjmusgrove
Santorini Wineries
Santorini is a large wine-producing region, which was helped along by a volcanic explosion in 1650 BC. The vines on the island are very old, and are trained into a distinctive basket shape to protect them from the elements. Wine has been grown in the region since ancient times and has been renowned since as early as the Middle Ages, when the Venetians made it famous - the Italian influence is still detectable in the wine tradition of Santorini today. One of the grapes that the region is known for is the sweet Vin Santo (or vinsanto) which is dried in the sun before use. The blended rosé from white grapes likes Athiri, Aidini and Assyrtiko, and red grapes like Mandelaria, is also highly acclaimed.
There are a number of great wineries on the island. Antoniou is very popular, particularly for weddings, and Boutari is the largest vineyard in the region. Sigalas, which has spectacular views from their patio, is a lovely place to while away a day, and Volcan has a Wine Museum which will interest fanatics interested in the production process and history of the area.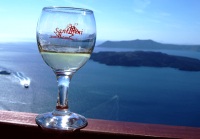 Santos Winery Joye~
Museum of Pre-Historic Thera
The Museum of Pre-Historic Thera has displays of many archaeological finds from the excavations at Akrotiri, including Neolithic pottery from as far back as 3300 BC. The exhibits attempt to show life in prehistoric times, with tools, metalworkings, pottery, furniture, and other artefacts on display. The exhibition is laid out in four parts: the history of research at Thera; the geology of Thera; the island's history from the Late Neolithic to the Late Cycladic I period (early 17th century BC); and the heyday of the city at Akrotiri (mature Late Cycladic 1 period, 17th century BC). Look out for the gold ibex figurine and the magnificent wall paintings, or frescoes, of Ladies and Papyri and of the Blue Monkeys. A visit to this small but interesting museum is a great complement to exploring the archaeological site of Akrotiri as it provides context and displays the impressive artefacts discovered at the site. Often tour guides will combine the site and the museum. The museum is well-organised and informative and offers a lot of good background information; it consistently rates well with tourists in reviews.
Address:
847 00 Fira, Santorini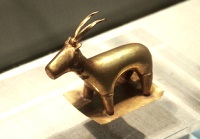 Museum of Prehistoric Thira Klearchos Kapoutsis
Santorini is part of the Cyclades Islands, where the climate is almost typically Mediterranean. The North African climate does influence it to some degree. Visitors will find hot, dry weather in summer and mild winters.
Peak-season temperatures (July and August) range from 86ºF (30ºC) during the day to 72ºF (22ºC) at night. Conditions can get hotter during heat waves. Summer is crowded and temperatures can get oppressively hot. Rainfall is almost non-existent in summer but showers can be expected between October and April.
Spring and autumn are probably the best times to visit Santorini. More specifically, beach lovers will enjoy the sea towards the end of spring, when the water gets warmer. The beginning of autumn is another good moment on the island. The ocean is still very warm, most tourist have left and the rainy season hasn't started yet.
Restaurants in Santorini range from bland and commercial near the tourist traps to unforgettable tavernas where tourists have to compete with locals for seats.
Local specialties include tomato keftedes, white aubergine, and fresh-grilled fish. Fast-food-style gyros places are plentiful in all the larger towns and resorts.
Santorini (Thira) International Airport
Location:
1.6 miles (2.6km) southeast of Fira/Thira Town, near Monolithos
Getting to the city:
There is bus service to many local destinations in Santorini, and several shuttle transfer companies operate from the airport.
Car Rental:
Herz, Avis, Payless, Thrifty and Budget have car hire offices at Santorini Airport.
Airport Taxis:
There are taxis available from the airport.
Fascilities:
The terminal contains duty-free shopping, ATMs, travel agencies and information services.
Santorini has many cafes, bars and nightclubs. Indeed, it has one of the best nightlife scenes in the Cyclades. Visitors will find lots of action along the caldera. Most nightclubs are in the capital, Fira, which is the best place for all-night partying.
As with shopping and accommodation, Santorini is not the cheapest Greek island to party on. That said, it can be very rewarding for visitors who are prepared to pay a little bit extra.
Classical-music performances at the Nomikos Centre in Fira are a good option for visitors who prefer more relaxed evenings. Santorini also has some quieter, more authentic restaurants, where visitors can enjoy drawn out meals with lovely views.
Finding somewhere away from the crowds and bustle can be challenging in summer. As a rule of thumb, visitors should avoid resort areas and big towns, and look out for places that locals frequent.
Santorini is well connected with Greece's main cities by both sea and by air. Ferries and catamarans depart from Piraeus Port in Athens, and there are boats to ports on surrounding islands. All in all, Santorini's ferry system is reliable and convenient, though not always comfortable. The same is true for the entire country.
Athinios is home to Santorini's main arrivals port. Boats departing for the volcano and Thirasia sail from Fira. Santorini airport is about three miles (5km) from Fira and easily reached by bus or taxi.
Although there are not many direct flights to Santorini from overseas, there are some available from the UK. Also, it's easy to fly to Athens and take a connecting flight to the island. Fixed-rate taxis are available throughout Santorini. Visitors will find a well-organised bus network flowing from the main bus terminal in Fira. It's also possible to rent a car, motorbike or scooter, though Santorini's roads are steep and can be unnerving.
Santorini has some great attractions, including volcanoes, beaches and museums.
Visitors will find the volcanic islands of Nea Kameni (Young Burnt Island) and Palea Kameni (Old Burnt Island) in the Santorini caldera. They're the youngest volcanic lands in the Eastern Mediterranean, with Nea Kameni having formed less than 500 years ago.
Perissa and Perivolos are two of Santorini's most popular beaches. Hungry travellers can choose from a selection of tavernas and restaurants on their black-sanded shores. Agios Georgios also has some amenities and tavernas, but the southern tip of the island tends to be quieter.
The Museum of Prehistoric Thera is worth a visit, with its wall-paintings, golden ibex figurine and Neolithic pottery exhibits. Santorini's wineries are appealing, as are the island's smaller villages, where visitors can enjoy a more traditional atmosphere. Megalochori, Pyrgos, and nearby Thirasia Island are all options.
Santorini Water Park is a great stop for kids.