Aegean Maritime Museum
The Aegean Maritime Museum is a non-profit institution. Located on the island of Mykonos, it collects, studies and promotes Greek maritime history and tradition. Visitors can enjoy wonderful models of pre-Minoan ships, a superb collection of old maps and documents, navigational instruments, as well as rare coins and engravings.
The museum is also proud of its three 'living' historical exhibits, namely the 'Armenistis' lighthouse, the Perama-type sailing boat 'Evangelistria', and the cable-laying steamship, 'Thalis o Milissios'. Along with these treasures, visitors can stroll through a picturesque garden courtyard and admire anchors, the top of the old Mykonos lighthouse, and replicas of drowned sailors' gravestones.
All in all, the museum gives fascinating insight into the island's history, and is a good stop for the entire family.
Address:
10 Enoplon Dynameon Street 846 00 Myconos island, Greece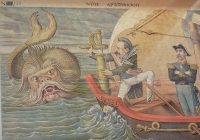 Aegean Maritime Museum Zde
Delos
The island of Delos is a must for history buffs and lovers of Greek mythology. In fact, the UNESCO World Heritage site one of Greece's most important mythological, historical and archaeological locations.
People have lived on Delos since the 3rd millennium BC, with the island serving as a sacred site for multiple religions, cults and sects over the centuries. It has also played a role in numerous historical events and been the subject of myths and prophecies.
Archaeological excavations on Delos are extensive and ongoing, uncovering many valuable buildings and artefacts. Some of these are on display in the Archaeological Museum of Delos.
Visitors should look out for the circular Sacred Lake, the Minoan Fountain, the Terrace of the Lions, and several impressive ancient buildings and temples. Travellers visiting Mykonos should definitely include a trip to Delos in their plans.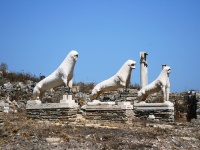 The Lions' Terrace in Delos jandiano
Mykonos Windmills
The white windmills are iconic on Mykonos island and are visible from every part of Hora village. Those interested in the mechanics of windmills - once such common and important technology and now seldom seen - will be captivated by them and children also tend to be enthralled. There is a reason for everybody to take a stroll to the famous windmills though, and that is the spectacular views from the hill. The hill is best visited in the late afternoon, towards sunset, and overlooks the whole town of Hora and the harbour too. There are 16 windmills left on Mykonos and seven of these stand on the hill at Hora (also often called Chora). Some of them were built by the Venetians in the 16th century, but construction continued into the 20th century so they are not all that old, or have been renovated since then. They were once an important means of survival and income for the inhabitants of the town and were used primarily to mill wheat. They are white-walled, thatched-roofed windmills and are rather mesmerising, although they are now out of use. It is a great spot for photographs and picnics and one of the mills has been turned into a small museum. There is no need for directions as the windmills are probably the first thing you see when you enter the village or the port.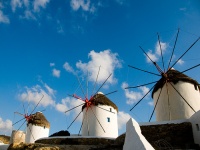 Windmills Clarence
Given its thriving nightlife, Mykonos may not be an obvious holiday destination for children. That said, many of its attractions are wonderfully kid-friendly.
Families often stroll along the harbour, eating ice cream and looking out for Mykonos' official mascot, Petros the Pelican. Also, kids usually enjoy seeing the mechanics behind the windmills of Kato Myli, or day tripping to Delos Island to hear wonderful stories of Greek mythology.
The Aegean Maritime Museum presents another chance to mix fun with learning, as kids absorb aspects of Greek nautical history, and marvel at the models on display.
The Mykonos climate is characterised by hot, dry summer weather and mild winters. Temperatures in July and August range from 86ºF (30ºC) during the day to 72ºF (22ºC) at night. Rainfall is almost non-existent in summer but showers can be expected between October and April.
The island's weather is typical of the region, meaning it's largely Mediterranean, with the odd influence from North African climes. Visitors usually enjoy the temperate weather, though it can be oppressive and quite overwhelming for some.
Mykonos is packed during the peak summer season. Spring and early autumn are less busy and the weather is milder. The water is also warm enough for swimming.
Mykonos Island National Airport
Location:
The airport is located 2.5 miles (4km) from Mykonos.
Car Rental:
Avis and Hertz Rent a Car are available.
Parking
Short and long-term parking is available in the parking lot in front of the terminal.
Often compared to the Balearic island of Ibiza, Mykonos has a pumping party scene. Indeed, its nightlife is famous throughout Europe.
Visitors often stop for sundowners before heading out for the night. Celebrated gay clubs, live jazz, rock and blues all vie for attention in Mykonos. The island also has many popular party haunts with large pools, DJs, theme nights and great places for watching the sunrise.
Visitors can find traditional Greek music and dancing too.
There are good ferry connections between the Cyclades islands and the mainland, and in summer hydrofoils and high-speed catamarans as well. Between May and September it is easy to island-hop, although strong winds can upset the more sensitive hydrofoil services. The ferry system in Greece is reliable and convenient, if not always exactly comfortable. There are airports at Mykonos, Santorini and Paros and during summer many flights land in these resort hubs, often connecting via Athens. Reliable bus services connect the main towns on the islands, and taxis are easily available. Rental car agencies are available all over Mykonos, as well as moped and motorbike hire, but as roads are treacherously narrow and winding it is not advised unless you are an experienced rider or driver. Having your own transport is a great freedom on Mykonos but you can get around easily on public transport if need be, and for some the stress of traversing the dangerous roads (and dealing with the sometimes frightening local driving) makes driving yourself around a burden. Once in the little villages or resort areas you can almost always walk the short distances.
Fun on Mykonos goes beyond good shopping and a cosmopolitan nightlife. In particular, history buffs and mythology fans will find much to their liking.
The Archaeological Museum, the Aegean Maritime Museum and the Folklore Museum are great places to start. The 15th-century Church of Panagia Paraportiani is another must-see attraction. Located near the harbour, it features four churches on the ground and one built on top of them. It's the most photographed church on the island.
Visitors should also look out for Mykonos' official mascot, Petros the Pelican, while strolling down by the harbour. The trademark 16th-century windmills are worth seeing as well. The 18th-century Monastery of Panagia Tourliani and the Monastery of Paleokastro are tremendous religious sites. Both are in Ano Mera.
Visitors can day trip to the UNESCO World Heritage Site of Delos Island. The mythological birthplace of Artemis and Apollo is a national museum, and has famous archaeological sites. Little Venice is enchanting, with its characteristic balconies hanging over the sea's edge.
Otherwise, Mykonos' beaches are popular for a reason. Some are nudity-friendly.