Eftalou Thermal Baths
A trip to the Eftalou Thermal Baths is a wonderful excursion for anyone on holiday in Lesvos. The hot, natural springs are located nearly three miles (4km) outside of Molyvos on the northern coast of Lesvos. Highly popular with tourists, the Eftalou's Springs are located at the beach and are one of the few springs in Greece where men and women can bathe together. The temperature of the water is between 109 and 116°F (43 - 47°C), which is very hot. Bathing in the water is recommended for a number of conditions and illnesses including blood pressure problems, rheumatism, gallstones, and neuralgia. It is also just extremely relaxing and therapeutic! It is recommended, though, that visitors don't stay in the water for longer than 20 minutes in each session due to the extreme heat. There is an old, domed bath house, which has a charming, old-fashioned atmosphere and is an experience in itself, and a newly renovated spa building next door to it which offers a variety of treatments and facilities. The coastal setting is also pretty and enjoyable which adds to the experience. A novelty for children, this is an activity the whole family will enjoy.
Address:
2 miles (3.5 kms) from Molyvos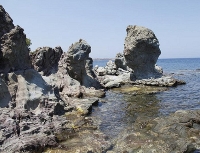 Eftalou siragri
Petrified Forest of Sigri
One of the two largest petrified forests in the world, the Petrified Forest of Sigri on the western edge of the island, dates back 15 million years and is protected as a natural monument. A visit to the Petrified Forest of Sigri is a fascinating outing for families with children or for anybody interested in natural phenomena. The Petrified Forest was the result of a volcanic eruption around 21 to 15 million years ago which buried the flora and trees of the region - including oaks and sequoias - beneath layers of ash. Visitors can view 'the Pompeii of the plant world' which features some impressively well-preserved specimens; on some of the trees you can still see leaves and fruit preserved for millennia. Visitors can view the Petrified Forest along three main mountain trails: Trail One is called 'Discovering the Petrified Forest' and is a good introduction to the area; Trail Two, 'The History of the Petrified Coniferous Forest', details the process by which the trees were preserved; and Trail Three, which is the longest, takes people to the tallest standing trunks. In Sigri there is an interesting museum dedicated to the forest which displays some stunning examples of petrified wood and explains the process well.
Address:
Sigri, 57 miles (92km) from Mytilene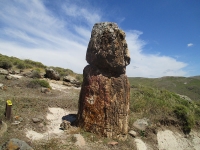 Petrified Forest of Sigri Tomisti
Donkey trekking
Donkey trekking is a great activity for the whole family. Travellers can enjoy day-excursions through verdant green valleys, past olive groves and along mountain paths. Sunset-treks are also wonderful, with tasty, beach barbeques waiting to reward riders at the finish.
Along with being a terrific way to appreciate the island's scenery, donkey treks allow visitors to discover its traditions. Indeed, Lesvos is self-sufficient and proud, with well-preserved local customs. It also has a refreshing lack of tourist trappings, despite its popularity with travellers.
Address:
Michaelis Donkey farm, Petra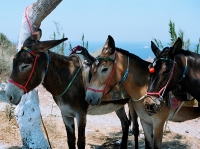 Donkey Trekking unicellular
Though Lesvos isn't a renowned party destination, it has enough bars, clubs and tavernas to satisfy travellers looking for a night out. Most of the action takes place around the waterfront, where a good mix of establishments ensures that younger and older crowds will find appealing spots. The hilltop Byzantine castle occasionally hosts music and drama performances, providing a very special setting for night-time entertainment.
Lesvos is a great stop for gay and lesbian couples.
Lesvos' stunning beaches and breath-taking scenery make it a fabulous stop for sun chasers. That said, knowledge lovers will find much to their liking as well.
History buffs will appreciate the Archaeological Museum and the Theophilos Museum in the capital, Mitilini, as well as the roman aqueduct in Moria. Science enthusiasts should visit the highly-regarded Geological Museum in Sigri.
Visitors also enjoy exploring Mandamados. The scenic town produces very good cheeses. The war ruins at Pyrgi Thermis are another favourite. The holiday resort town of Molivos boasts a fantastic maze of winding streets, red-roofed stone houses, and exciting remnants of its medieval past. The town also offers donkey trekking through the surrounding mountains, with trails leading to views over the sparkling ocean. Sigri's Petrified Forest is one of the world's most important natural monuments, boasting fossilised remains that date back 15 million years.
Molivos' pebble beaches are great for sunbathing, while its turquoise waters provide excellent snorkelling conditions. Plomari and Vatera are also good beaches.