The Palace of Knossos
The Minoan palace at Knossos, covering an area of 215,278 square feet (20,000 sq metres), is one of the world's greatest sightseeing experiences and a must for visitors in the area. It consists of four wings, arranged around a rectangular, central court. The palace originally had many storeys, was built of ashlar blocks, and had walls decorated with splendid frescoes. British archaeologist, Arthur Evans, who excavated most of the labyrinthine Knossos site, has painstakingly restored some sections of the palace. The remains now visible are actually not those of the original palace, which was built around 2,000 BC and destroyed by an earthquake about 1,700 BC. A subsequent, more complex, palace was then constructed and it is these ruins which can still be seen and parts of which have been restored. The palace was first unearthed in 1878 by a Cretan merchant and antiquarian, but was not systematically excavated until 1900. The Knossos site is about three miles (5km) south of Heraklion.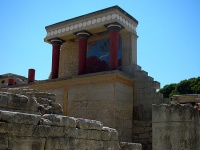 Knossos Palace Aviad Bublil
Heraklion Archaeological Museum
A visit to the Minoan palace at Knossos should be complemented with a visit to the wonderful Archaeological Museum in Heraklion. This is one of the largest and most renowned museums in Greece, and even in Europe, and the Minoan collection is the best of its kind in the world. The museum features artefacts spanning 5,500 years of Cretan history and prehistory from the Neolithic (5000 BC) to the Late Roman Period (late 4th century AD). Thousands of artefacts depicting the intriguing Minoan culture are on display, from magnificent bull-headed drinking vessels to the mysterious Phaistos disk inscribed with undeciphered symbols. The exhibition takes up 20 rooms and is arranged chronologically. There is a museum shop where visitors can buy copies, books, postcards and the like, and a museum cafe for refreshments.
Address:
Xanthoudidou Street, just off Plateia Eleftherias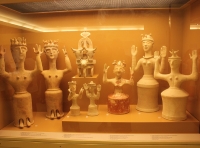 Heraklion Archaeological Museum Shadowgate
Historical Museum of Crete
This museum deals with Crete's more modern history and highlights the islanders' long battle for independence from early Christian times to the present day. The museum is housed in a two-storey neoclassical building constructed in 1903 on the site of an earlier mansion. The Historical Museum has impressive collections of ceramics, sculptures, coins, jewellery, Byzantine art, Ottoman artefacts, and ethnographic displays, and the history of Crete is thoroughly and well laid out. The medieval and Renaissance collection contains the only painting on Crete by the island's famous painter El Greco, The Landscape of God-trodden Mount Sinai, which is one of the museum's treasures. Another world-renowned Cretan, Nikos Kazantzakis, author of Zorba the Greek, is also remembered in the museum, which houses a recreation of his study. There are frequent temporary exhibitions to be enjoyed and a library containing some interesting documents and rare editions which is open to the public.
Address:
7 Lysimahou Kalokerinou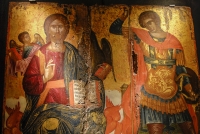 Historical Museum of Crete tedbassman
Monastery of Arkádhi
Situated about 14 miles (23km) south of Rethymnon, the Monastery of Arkádhi is something of a national Cretan shrine. During the 1866 rebellion against the Turks the monastery became a refuge for Cretan insurgents and their families (it was the Cretan Christians who revolted against Turkish rule in the rebellion). They were surrounded by the Turks and after two days of fighting, ignited the gunpowder storeroom, which killed hundreds of both Turks and Cretans. The tragedy brought international recognition to the cause for Cretan independence and those who died in the blast have become celebrated martyr figures. An ossuary displays the skulls of many of the victims and it is possible to see the roofless room where the explosion took place, as well as the surviving 16th-century church that is one of the loveliest Venetian buildings on the island. There is also a small museum which details the history of the monastery and the battle for independence. It is a very interesting, and rather sad, place to explore and gives visitors some valuable insight into Cretan nationalism and history.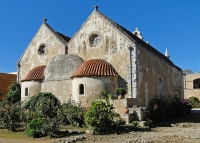 Monastery of Arkadhi Bernard Gagnon
Gortyna
Gortyna is both a municipality in Greece and an archaeological site on Crete which was once the Roman capital of the island. The two are unrelated. The remains of the ancient city of Gortyna, to the south of Heraklion, tell a later tale than that of the other archaeological sites in Crete, despite the fact that there is evidence of human settlement in the area dating back to the Neolithic era. The greatest treasure of the site is the Gortyn Law Code, recorded on important inscribed stones which date back to the 5th century BC. These remarkable stones are a complete code of law based on Minoan tradition. The Code stones are still preserved and exhibited in the north round wall of the Roman Odeon at the Gortyna site (although of course the theatre was built much later, in the 1st century). Other highlights at Gortyna include the Church of St Titus, where Christianity was first introduced to the island, and the Temple of Apollo Pythios, which dates from 700 BC. The city was thriving before Roman invasion but its early alliance with the Romans meant that it was not invaded and became even more powerful in the region. The site is often called Gortyn, rather than Gortyna.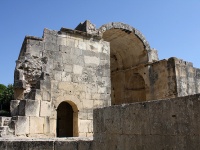 Gortyna Andrew Skudder
Phaistos
South of Heraklion lies Crete's second most important Minoan archaeological site, the Palace complex of Phaistos, considered by many to be a finer example of Minoan architecture than Knossos. The west propylon, the monumental entranceway to the palace, is particularly impressive, and the ceremonial staircase and great court are breathtaking. Like Knossos the site has actually been built on twice, with the original palace, built about 2000 BC, having been destroyed by fire and replaced with a new palace around 300 years later. A number of valuable artefacts have been found on the site including the Phaistos disc which was discovered in 1908 in the basements of the northern complex of the palace. This artefact is a clay disk, dated to between 1950 BC and 1400 BC and impressed with a unique and sophisticated hieroglyphic script. A number of tombs were also found, a short distance from the ruins of the palace complex, and these are thought to belong to the one-time rulers of Phaistos. The city of Phaistos is associated with the mythical king of Crete, Rhadamanthys, and the city is mentioned in many old texts including Homer, who detailed the city's involvement in the siege of Troy. For anybody with an interest in archaeology Phaistos is a must.
Address:
38 miles (61km) south of Heraklion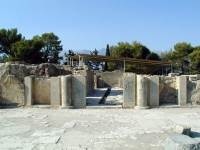 Phaistos Marsyas
The Samaria Gorge
The Samaria Gorge National Park, in the White Mountains of western Crete, is said to be one of the most splendid scenic parks in Europe and the hike through the gorge is breathtaking. It is an arduous trip but well worth it to see one of the great natural wonders of Europe and most people will be able to handle the walk although they may find it strenuous. From the top of the gorge it is a 10 mile (16km) hike through the dramatic geological formations and wildflower-strewn cliff sides of the National Park. There are lots of awe-inspiring views and natural features along the way and it is a dream for photographers. Once inside the gorge hikers tend to follow the water, which helps keep one cool but hikers must note that they will be in direct sun at least part of the time so it is important to come prepared with hats, sunscreen and water. Hikers are always delighted to see that there are restaurants and bars at the end of the walk to provide well-earned refreshment. From the village of Agia Roumeli at the end of the gorge hikers board boats to sail to Khora Sfakion or Paleohora where there are buses back to Haniá, Rethymnon or Heraklion. Nature-lovers will find the gorge one of the absolute highlights of a visit to Crete.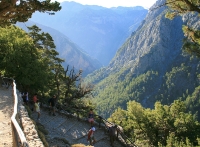 Samaria Gorge Lapplaender
Lido Waterpark
A must for all families on vacation in Kos, especially with young children, Lido Waterpark provides wonderful games, activities, sun, fun and more. It is one of the largest waterparks in Greece and features numerous slides (including Kamikaze, Multi lane and Black Hole), pools (including a wave pool), jacuzzis, hydromassage facilities, tubing courses and even a fish spa where the little critters will massage and clean your feet. For those who prefer land activities there is sunbathing, beach volleyball and even trampolines for amusement. There's a special area for young kids too little to enjoy the slides, where there is a kind of waterworld playground and shallow pools. There is also a bar and multiple restaurants for food, drinks and snacks and even a mini-market for shopping. The park is clean and safe, with the water recycled and renewed on a daily basis and a team of qualified lifeguards permanently on duty. Remember to pack the sunscreen because the summer heat and all the water can mean serious sun exposure.
Address:
Mastichari in Kos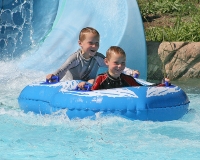 Water Park Fun Visit Finger Lakes
Aquaworld Aquarium
Aquaworld Aquarium features a wonderful array marine creatures, plus reptiles such as loggerhead turtles, Balkan green lizards, skinks, geckos and snakes. All in all, it's guaranteed to keep the little ones captivated.
Aquaworld is, in fact, a rescue centre that has taken in or rehabilitated most of its population. The institution encourages hands-on interaction with many of its animals and offers fantastic photo opportunities.
Although it specialises in local fauna, Aquaworld does collect reptiles and marine life from further afield as well.
Address:
Filikis Etirias 7, Hersonissos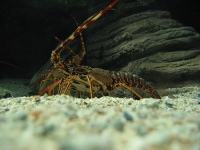 Lobster Jose Maria Mateos
Limnoupolis Waterpark
A fantastic place to take the kids during the heat of summer while on holiday in Crete, the Limnoupolis Waterpark offers fantastic rides, slides and water fun. Limnoupolis is located in a green, scenic area which sets it apart from many other parks of its kind which are often sadly devoid of vegetation. There should be something for everyone at this park: for thrill seekers slides like Kamikaze and the Black Hole should summon up some adrenalin; for more mellow fun there are multiple water slides like the Crazy River, the Multiplista, the Giant Slide, and the Triple Twist; for those who merely want to relax and unwind there is the Lazy River, where you float on tubes through waterfalls and caves, and the jacuzzi area; for kids there is a special pool and play area. In the unlikely event that children get bored there are also video games to play. There is a nicely designed pool bar and rope suspension bridge over the main pool as well as an artificial island in the middle. There are restaurants and a mini-market for refreshments. Lifeguards permanently on duty ensure that visitors stay safe.
Address:
Varipetro, Chania 731 00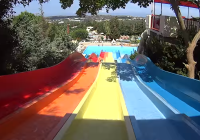 Limnoupolis Water Park AmusementForce
Crete's miles of coastline can delight kids on holiday, though they're far from the only child-friendly attraction on the island.
The pirate-ship cruise from Rethymno is usually a favourite. Kids also enjoy Chania's Limnoupolis Water Park, or jet skiing and snorkelling at Star Beach Water Park in Hersonissos.
A day-trip north to the small island of Spinalonga is another fun option, where families can explore the former leper colony's fortress. Kids tend to find the place spooky and fascinating, as the streets and buildings are abandoned.
Travellers should tell kids the Minotaur story when visiting Knossos Palace. The legendary creature is said to have lived there. Kids can let their imaginations run wild within the ruins, as well as at other ancient, atmospheric places.
Crete has a largely Mediterranean climate, with some influences from North Africa's weather patterns. Visitors will find hot, dry summers and mild winters.
Peak summer temperatures generally range from 86ºF (30ºC) during the day to 72ºF (22ºC) at night, though it can get significantly hotter during heat waves. Rainfall is almost non-existent in summer but showers can be expected between October and April. Crete's mountains sometimes receive snowfall during winter. Otherwise, snow is rare on the island.
Some visitors find Crete uncomfortably hot and humid during mid-summer, so spring and autumn may be the best times to visit for walking and sightseeing, when travellers can expect milder weather and smaller crowds.
Cretan food relies on fresh, healthy ingredients. The region's cheeses include Graviera, Myzitra, or Anthotiros cheeses. Other traditional dishes include snails, Cretan pilaf (chicken and lamb risotto served with goat's butter), and a chicken soup with lemon sauce called kotosoupa.
Dinner is a late affair, with locals usually eating at 10 or 11pm. Resorts and hotels have international restaurants, though they tend to be more expensive and of lesser quality than local tavernas. It's customary to dine 'family style', meaning everyone's welcome to each dish.
Chania International Airport
Location:
Souda Bay, 8.7 miles (14km) east of Chania
Getting to the city:
There is regular bus service to Chania from the airport. Travel time is approximately 30 minutes.
Car Rental:
Hertz, Europcar, and Kappa operate car hire facilities at Chania Airport.
Airport Taxis:
There is a taxi rank located outside the terminal building.
Fascilities:
The terminal contains a bar, duty-free shopping, bank, currency exchange, VIP lounge, police station, lost and found, first aid station, and information centre.
Parking
There is both short and long-term parking available at the airport.
Heraklion International Airport
Location:
The airport is located 1.7 miles (2.8km) east of Heraklion on Crete.
Parking
Heraklion International Airport has parking.
Crete is not as well-known for its nightlife as some of other Ionian Islands. That said, it has its fair share of appeal, particularly within the busy resort towns of Heraklion and Limenas Hersonissos.
Bars, clubs, discos, lounges and pubs abound in Heraklion Town, Iraklio, Hania, Rethymno and Agios Nikloas. By contrast, Malia, Chania and Hersonissos are hot spots for package holiday tourists, though bars and clubs cater to a younger crowd intent on a lively night out.
Older travellers will enjoy Chania's fantastic restaurants, pubs, lounges and tavernas. Other options include joining the locals for their volta: a leisurely stroll or a horse-drawn carriage ride before sundowners or dinner.
All in all, visitors will find different 'moods' on Crete. Some may relish the bustling clubbing scene, while others will prefer experiencing local traditions in quiet villages.
A comprehensive bus system makes Crete easy to navigate. Frequent bus services work the north coast, while less frequent services cater to the south coast via the mountainous interior. Crete's towns and resorts also have many tour companies that offer excursions to all major sites.
Ferries link the towns along the south coast and the islands, but many only operate during summer. Taxis can take visitors to all sites and are reasonably priced, especially if two or three passengers share. Travel agents can find English-speaking drivers to act as guides.
For visitors with limited time on the island, hiring a car is the most flexible way to travel outside the cities and towns. Renting a car allows visitors to leave the overdeveloped tourist trail and explore the real Crete.
Sightseeing on Crete pulls visitors back through time and into the rich mythology of Ancient Greece. Highlights include the Palace of Knossos, the Cave of Zeus, the Monastery of Arkadi, the remains of Gortyna, and the Palace complex of Phaistos in the south. The Archaeological Museum and Historical Museum of Crete in Heraklion are also worth visiting.
Crete's sun-drenched, sandy beaches are the main attraction, but walkers will adore the island's breath-taking scenery, especially the beautiful gorges and mountains in Chania's Samaria Gorge National Park.
In the east, tiny Sitia is worth a peek for its picturesque port. Visitors may enjoy stopping in the town for lunch.