Myrtos Beach
Voted one of Europe's most beautiful beaches, and voted 12 times as the most beautiful beach in Greece, Myrtos is one of Cephalonia's most popular attractions. The pebble beach is set a full kilometre below the road, in a dramatic vista of white limestone, turquoise sea, and green trees. The beach was used as the setting for scenes out of the movie Captain Corelli's Mandolin. Just north of Argostoli, the beach is well-maintained and offers a snack bar and sunbed and umbrella rentals. A steep, winding road - with stunning lookout spots and views along the way - leads down to the beach from the village of Divarata and during peak season there is a public bus service which runs to the beach from the Agia Efimia harbour. Because of the pebbles, visitors are advised to wear some kind of beach shoes. It's best to get to the beach early if you are driving yourself as it is very popular and parking can become scarce later in the day. Thankfully, the beach itself seldom feels too crowded because of its length. It is not the best beach for young children because the waves can get rather rough and little ones are sometimes frustrated by the pebbles.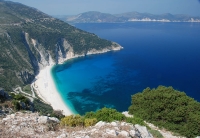 Myrtos Beach Rob Bendall
Melissani and Drogarati Caves
Cephalonia's caves are popular attractions, each offering a unique experience. In Melissani, visitors are taken in boats through a small channel into a brilliant turquoise subterranean lake. In Greek mythology caves have always been associated with the divine and many religious ceremonies were held in caves. It is therefore not surprising that several ancient artefacts have been found in the Melissani cave. Melissani is said to be the place where the nymph of the same name committed suicide because the god Pan would not reciprocate her love. The stalactites within the cave that look like dolphins are said to be her frozen messengers. It is a beautiful and mysterious place to visit.
Drogarati Cave is much larger and has tours 200 feet (60m) below the ground, with lights highlighting spectacular displays of limestone stalagmites and stalactites. The Drogarati Cave is thought to be about 150 million years old and was traditionally said to be the home of a dragon. Drogarati is known for its good acoustics, and has hosted many concerts from international artists including Maria Callas. The caves are usually both open between Easter and the end of October, although Drogarati may be open during the winter months as well. Both are very well known and easy to find.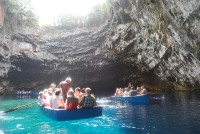 Melissani Cave Matt Sims
Ithaca
The tiny island of Ithaca has a rich history, acting as the scenic backdrop for mythological epics like Homer's Odyssey. Ithaca has been inhabited since the second millennium BC and has been occupied or ruled by the Romans, the Byzantine Empire, the Normans, the Turks, the Venetians and the French, as well as briefly being a British protectorate, so the island has a rich and rather tumultuous history. But you would not think so when exploring the lovely countryside: the mountainous interior hides pockets of cypresses, pines, and olive trees and some of these are ancient; one of the olive trees is thought to be at least 1,500 years old. There are also some Neolithic and Early Hellenic ruins on the island. Nowadays, Ithaca is home to a number of traditional villages, with a few museums and beaches. The best beach is arguably Filiatro, which has olive trees growing all the way down to the shoreline and a peaceful bay which is lovely for swimming. Vathy, also known as Ithaki Town, is the largest town, where many of the island's roughly 3,000 inhabitants live. The town is a popular port for yachts and other small pleasure cruises in the Ionian Islands, and has some good restaurants and shops. In fact, Vathy has one of the largest natural harbours in the world. Ithaca is near enough to Cephalonia to make for a fun and interesting excursion or weekend away.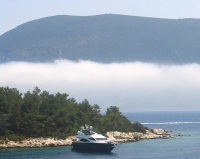 Ithaca legge_e_mare
Like all Ionian Islands, Cephalonia enjoys a moderate Mediterranean climate. Summers are warm, dry and sunny, while winters are wet and mild. Heavy rainfall gives Cephalonia its lush vegetation. Snow sometimes covers its mountain peaks in winter.
Summer is the most popular time to visit the island, even though the heat and humidity can be overpowering for some. July and August are the hottest months and the peak tourism season.
Spring is a good time to visit. Crowds are lighter and the water is warm enough for swimming. The island is also lush and lovely after its winter rainy period.
Autumn is another pleasant season. Visitors can expect warm seas, ripe fruit ready for harvest, and sunny weather.
Kefallinia Airport
Location:
The airport is located 5 miles (about 8km) south of Argostoli.
Time:
Local time is GMT +2
Car Rental:
Cars can be rented from Hertz or Europcar.
Airport Taxis:
Taxis are available outside the arrivals area. Fare should be about €20 into town.
Fascilities:
Facilities include ATMs, bureaux de change, and snack shops.
Parking
Short- and long-term parking available.
Aktion National Airport
Location:
The airport is located 4 miles (about 7km) south of the town of Preveza.
Time:
Local time is GMT +2
Getting to the city:
Bus services connect Preveza Aiport to the towns of Preveza, Lefkas and Vonitsa.
Car Rental:
Several car rental companies operate from Preveza airport.
Airport Taxis:
Taxis are available outside the arrivals area.
Fascilities:
Facilities include ATMs, a cafe, and a duty-free shop.
Parking
Short- and long-term parking available.
Cephalonia (Kefalonia) is a small island in the Ionian archipelago. Its verdant hills, eerie caves, stunning beaches and rich mythological resonances enchant visitors.
Beaches top the list of things to see. Indeed, Cephalonia has some of the best shores in the country. Myrtos Beach is the most famous. Kaminia Beach is home to loggerhead turtles and is great for children. Antisamos Beach and the Blue Flag beach at Skala are also lovely and very popular. Most of Cephalonia's beaches are pebbled so beach shoes are a good investment.
Cephalonia is also richly endowed with subterranean wonders. Melissani and Drogarati Caves are both exciting places to explore. Melissani's underground lake is strikingly beautiful, while Drogarati's enormous stalagmites and stalactites are a must-see. Cephalonia's hiking, horse riding and watersports scenes are good as well.
Culture lovers should add St George's Castle to their itineraries. Located in Peratata, its breathtaking views and slightly eerie atmosphere are terrific. The Monastery of Agios Gerasimos is also worth seeing. Rebuilt by locals after an earthquake in 1953, it houses the remains of its holy namesake. The saint's coffin is opened weekly so that visitors can see the body and pay tribute.
The small island of Ithaca is a popular excursion from Cephalonia. The location is famous as the setting for Homer's Odyssey, and for its scenic beauty.