Acropolis
In Athens, first-time visitors generally flock to the Acropolis. Perched on a steep, flat-topped rock above the sprawling city, the citadel is a striking image of the ancient world. Essentially, it is a timeless collection of magnificent temples, most of which honour Athena, the goddess of wisdom.
The Athenian statesman, Pericles, erected most of the present-day ruins after Persians destroyed the original buildings. Visitors enter through the Propylaea: the monumental entranceway. The tiny, restored temple of Athena Nike is to the entrance's right.
All things considered, the Parthenon may be the Acropolis' biggest drawcard. Built of Pentelic marble quarried from the distant mountains, it's the greatest surviving monument of Doric architecture, and the backdrop to a magnificent view of Athens.
The Erechtheion temple sits alongside the Parthenon. According to mythology, it is the site where Poseidon and Athena contested the right to be Athens' deity. Athena won after gifting Athens the olive tree.
Lastly, the Acropolis' museum is located by the citadel's southern slope. It displays some of the carvings and friezes recovered from the temples.
Address:
Dionysiou Areopagitou Street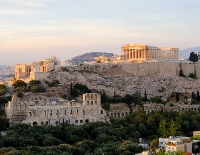 The Acropolis Christophe Meneboeuf
Ancient Agora
The remains of the Agora lie clustered below the Acropolis. As Ancient Athens' commercial and civic centre, it's where the great philosophers Socrates and Plato once walked and talked. In fact, the disgraced Socrates committed suicide in the Agora's southwest corner.
Today, the area is littered with ancient ruins, including the Dionysos Theatre, where Classical Athens' great tragedians put on their work.
Visitors can also see the restored Stoa of Attalos, which served as a law court, municipal office and shopping arcade in 200 BC. The museum on the building's ground floor contains artefacts covering 5,000 years of Athenian history.
Address:
Adrianou 24, Athina 105 55
Opening time:
Summer: 8.30am-7.30pm. Winter: 8am-3pm.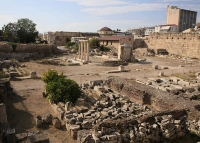 Ancient Agora psyberartist
National Archaeological Museum
This is the largest and most popular of Athens' many museums, and is usually very crowded. Its vast collection includes treasures unearthed from Mycenae by Heinrich Schliemann; a staggering array of sculpture including the earliest known Greek figurines dating from around 2000 BC; frescoes from the volcanic island of Santorini; and so much more that it is recommended visitors make several visits to absorb it all. One of the most popular displays is the Mycenae gold, collected from ancient tombs, including Agamemnon's death mask. The museum is world-class and well-arranged and it hosts regular temporary exhibitions and educational programmes (lectures and workshops) for those interested. There is a gift shop and cafe for visitors to relax in if they get tired, which is often necessary as the museum can occupy one for hours and there is not much seating in the exhibition rooms. Photography is allowed in the museum and the glass display cases have been designed to make photography possible. There is a disabled entrance around the side of the building. By all accounts this is one of the most captivating and impressive museums in the world and it is a must on any visit to Athens.
Address:
Patission 44 Street
Opening time:
Monday 1pm to 8pm. Tuesday to Sunday 9am to 4pm. Closed on some national holidays.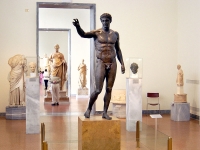 National Archaeological Museum Ricardo André Frantz
Piraeus
The port of Piraeus is the chief port in Greece, the largest passenger port in Europe, and the third largest in the world, servicing about 20 million passengers annually. Although not really attractive to tourists, the confusing, bustling port of Athens is the departure point for hundreds of island ferries and cruise ships, so most tourists will pass through it while visiting Greece. Piraeus has been Athens' port since ancient times and was for many years the chief harbour of Ancient Greece. Piraeus was a city, not merely a port, and was once separated from the mainland, occupying its own rocky island. Today it is part of Athens and the port actually consists of three harbours, with most of the tourist boats using the Zea Limani section. There are several good fish restaurants in the harbour precincts, and a sprawling street market. Visitors with time on their hands while waiting for ferries can also explore the Maritime Museum at Akti Themistokleous, alongside the pier used by the island hydrofoils, which features models of ancient and modern ships. There are also archaeological sites at the port, including the remains of some of the ancient fortifications of the harbours.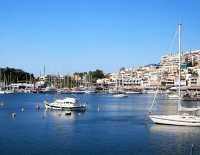 Piraeus Wolfgang Manousek
Plaka
Plaka is the old historical neighbourhood of Athens, clustered around the northern and eastern slopes of the Acropolis, and incorporating labyrinthine streets and neoclassical architecture. Modern Plaka has been built on top of the residential areas of the ancient town of Athens and it is known as the 'Neighbourhood of the Gods' because of its proximity to the Acropolis and its many archaeological sites. The old town is a very popular gathering place for travellers and tourists, particularly in the warm Athens evenings. Strolling the narrow streets of the Plaka flanked by ancient monuments, Byzantine churches and mosques, stately mansions, and inviting tavernas with vine-covered courtyards, makes a pleasant diversion. The Ancient Agora is a central feature of this area and the modern Plaka was built around it. Archaeological excavations have been taking place here continuously for decades and new ruins and artefacts are still being found. No cars are allowed in Plaka, which is completely pedestrianised. There is some great shopping to be done in the area but on busy days beware of pick-pockets who target market places and tourists. A visit to Athens is not complete without a long supper beneath the stars in Plaka.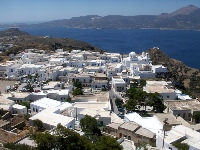 Plaka Daniel Lobo
Kolonaki/Lykavittos Hill
Lykavittos Hill juts a steep 984 feet (300m) right up from the centre of the city of Athens, and is a great vantage point from which to take in the scope of the city and its beautiful views. In fact, this is the best spot from which to view the city, in every direction, and a dreamy place to explore and take photographs. It is said that wolves once inhabited the hill, in explanation of how it got its name, because 'lykos' means wolf in Greek. Another popular myth explains that the hill was formed when Athena, the patron of Athens, dropped a rock she was planning to use for the Acropolis. The St. George Chapel and Lykavittos Theatre perch atop the hill, which can be reached by car, cable car or a healthy hike. There is a restaurant and cafe on the summit to refresh exhausted hikers or provide a romantic location for a dinner. The cable car departs every 30 minutes, from the corners of Aristippou and Ploutarchou Streets in Kolonaki. Those who plan to walk up - which is a really wonderful way to experience the hill - should begin their hike on Ploutarchou Street. After walking about half way up the hill hikers will come upon some steps that take them the rest of the way to the top.
Address:
Mount Lykavittos, Athens 114 71
Opening time:
The funicular runs Friday to Wednesday 8:45am till midnight, and Thursday 10:30am till midnight.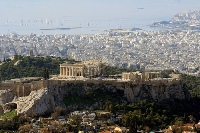 Atop the hill Rob and Lisa Meehan
Syntagma Square
Syntagma Square, or Constitution Square in English, is named for the Constitution that King Otto was forced to grant to the people of Greece after a popular military uprising in September 1843. The square forms the heart of modern Athens and is home to the Parliament Building, built in 1840 as a royal palace. Tourists flock to photograph the unusually clad guards at the palace; the skirted and pom-pommed guard is changed ceremonially, every hour, in front of the memorial to the Unknown Soldier. There are two green areas planted with lots of trees in the north and south of the square which provide some welcome coolness on hot days. The National Gardens are around the Parliament Building and they are a delight in the heat. The square is a central point of access to all the major attractions of Athens, particularly 'museum mile' along Vassilissis Sophias Avenue, which runs from Syntagma Square. Here most of Athens' museums are clustered, including the Benaki Museum, Museum of Cycladic Art and the Byzantine Museum. Syntagma Square is also a transport hub with a metro station.
Recently, the square has been the gathering place for mass protests against austerity and during these demonstrations it is best avoided by tourists.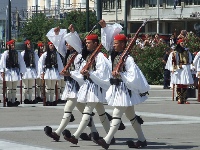 Syntagma Square Britrob
Benaki Museum
The Benaki is one of Greece's most famous museums, where visitors can explore Greek culture through artefacts dating from antiquity to present times.
Paleolithic and Neolithic relics, items from the late Roman Empire, and pieces left after centuries of Frankish and Ottoman occupation are all on display. Greece's struggle for independence in 1821, and the formation of the modern Greek state feature in the more recent content. Visitors should look out for the Museum of Islamic art, temporary exhibitions, as well as restoration and conservation workshops.
The museum's library holds a very valuable and extensive collection on topics relating to its exhibitions. Visitors can't borrow books, though the library is open to the public for onsite use.
Address:
1 Koumbari St. 106 74 Athens
Opening time:
Wednesday and Friday 10am-6pm, Saturday and Thursday 10am-12am, Sunday 10am-4pm, closed Monday and Tuesday and for several holidays - check the website for details.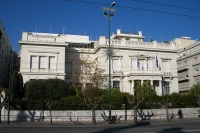 The Benaki Museum in Athens Dimboukas
Attica Zoological Gardens
Attica Zoo is unique in Greece. Featuring exotic animals such as lynxes, Angolan lions, and Persian leopards, plus more than 30 bird species, it's a must for animal lovers of all ages.
Striving to combine education with entertainment, the zoo takes visitors on a journey through a number of themed sections, showcasing more than 2 000 animals from 350 species. Visitors can explore a reptile house, a children's farm, a monkey jungle and other walk-through enclosures.
Address:
Yalou, Spata 19004
Transport:
Bus Lane 319 (From Doukisis Plakentias Station) every 35 minutes.
Opening time:
Open daily from 9am until sunset.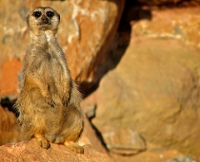 Meerkat at Attica Zoological Gardens Antonis Lamnatos
National Gardens
Picnicking with the children at the National Gardens on a Saturday has become a common pastime for local Athenian families and is a great way to spend a sunny summer's day when the days are long. The gardens used to be called the Royal Gardens because they were the gardens of the king and the locals are very proud of this lovely green space in a city which doesn't actually have many parks. The gardens have a collection of plants and trees from all over the world and plenty of water features which add coolness in the heat. The Gardens feature a small zoo, duck ponds, resident cats, a Botanical Museum, a playground and lots of wide-open space for children to play in. For children who love books, the gardens are also home to a Children's Library. There are many beautiful areas to relax in the shade and get some respite from the busy city of Athens, and the gardens are also wonderful for walking or running. Locals enjoy playing games together at makeshift tables and often they don't mind if you want to join them. The gardens are located just behind the Greek parliament building, next to Syntagma Square, and are easy to locate.
Opening time:
The gardens are open every day, 6am to 9.30pm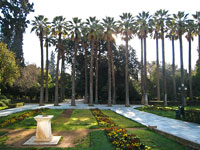 National Gardens Sharon Mollerus
Allou Fun Park
Allou! Fun Park has rides to suit every age group and thrill threshold. Visitors soon realise why it's the city's most popular theme park.
Access is technically free, meaning anyone can enter and soak up the festive atmosphere. Otherwise, all rides and activities accept a variety of payment options. Visitors planning to spend a few hours enjoying themselves should purchase an Allou! Day Pass. It allows limitless access to almost all of the rides and games on offer.
Address:
Agios Ioannis Rentis
Opening time:
Open 5pm-10.30pm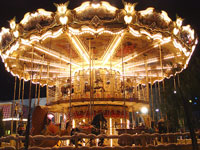 Carousel Elenapaint
Hellenic Childrens Museum
The Hellenic Children's Museum is a non-profit educational and cultural organisation that was established in Athens in 1987 and aims to encourage children to explore, learn, discover and question all around them. The museum is located in two houses which have been specifically designed for use by children, and kids will be excited to find a museum dedicated to their amusement rather than the more traditional ones they get dragged to. The space is full of games and interactive exhibits and a variety of activities are organised for visitors. An activity might be something like learning how chocolate is made, helping to make it, and then getting to eat it! The Hellenic Children's Museum is both educational and extremely entertaining and it is frequented by locals as much as by tourists. The staff are very friendly and capable and know just how to entertain their little visitors. The museum is best for children under 10.
Opening time:
Open Tuesday to Friday 10am to 2pm. Saturday and Sunday 10am to 3pm. Closed on Mondays.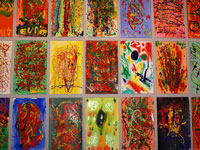 Children's Mosaic Paul J Everett
Athens has a lot to offer children. From a learning perspective, parents can bless kids with rich, authentic history lessons in a city that's been around for thousands of years. Regarding active types of fun, Athens won't disappoint.
With warm summers and mild winters, Athens boasts the perfect climate for outdoor activities. Visitors can picnic with locals in the city's many parks and gardens, some of which have children's playgrounds. Families can also take the cable car up Mount Lykavittos and let kids enjoy the view over Athens. Children tend to enjoy the city's theme parks and local go-kart track as well.
Children's museums make for great outings when Athens does see some rain. Otherwise, the city has a world-class planetarium and many indoor playgrounds.
Athens is one of the sunniest cities in Europe, with a semi-arid climate and little rainfall.
Heat waves are common during summer, when the mercury can soar to over 104°F (40ºC). Winters are mild and sunny, though nights can be cold. The city experiences short, heavy showers.
The best time to visit is during the cooler weather of spring and early summer, between late April and early June. Autumn (September and October) can also be pleasant. That said, summer is still peak tourist season, and the period when beaches and attractions are most crowded.
Travelling taste buds love the exotic and varied nature of Greek cuisine.
A traditional meal typically comes with a selection of hors d'oeuvres, known as mezedes. These include melitzanosalata (mashed eggplant with oil, lemon and garlic), taramosalata (caviar spread), gavros marinatos (marinated anchovies), and saganaki (grilled or fried cheese). Also, while many tourists ask for famous 'Greek' dishes such as dolmades and baklava, restauranteurs are quick to explain that those foods are actually Turkish in origin.
Athens has four tiers of restaurants. In an estiatorio, travellers will get the familiar but more expensive restaurant experience. Tavernas are less formal, cheaper and generally offer traditional dishes. Psistaria are Greece's version of a steakhouse. They're often buffets with spit-fired meat on display. Lastly, psarotaverna specialise in seafood dishes.
Athens also has a culture of street vending. Koulouri (sesame seed bread ring), Galaktoboureko (custard-filled pastry dusted with icing sugar) and Tyropitta (cheese or spinach pies) are among the foods on offer are. Souvlaki is another popular Greek fast food. It consists of meat and vegetables grilled on a skewer, and is often served in a pita sandwich. Visitors will find many of these foods in the Syntagma district.
The strong, anise-flavoured liqueur, Ouzo, dominates the drinking scene. Ouzo originated in Greece and is traditionally served with the mezedes. Greece also has a very long history of wine production, though connoisseurs may be disappointed by the lack of subtlety.
Daphnes
Daphne's is one of the most exclusive restaurants in Athens. Generally on the calendar for visiting celebrities and dignitaries, the establishment serves classic and traditional meals in an idyllic setting of tables positioned around a converted mansion home and a pleasant courtyard.
Address:
Lysikratous 4, Athens
Chez Lucien
Tucked neatly into a cosy and intimate corner of Athens, this French bistro delights palates with a small list of French staples. Customers are expected to share benches with others during busy hour, making for a fun way to meet locals.
Address:
Pireos 84, Athens
Spondi
Voted Greece's best restaurant by the 'Athinorama' Golden Chef's Hat Award on multiple occassions, Spondi will drain wallets but fill stomachs and leave guests wanting more. Operating from a charming 19th-century townhouse with an open courtyard, the venue has a sense of grandeur tempered by friendly service.
Address:
Pyrronos 5, 11636, Pagrati, Athens
Taverna Tou Psirri
Taverna Tou Psiri is delightfully un-touristy and a favourite among locals. Travellers can expect decent, no-frills traditional food.
Address:
Eschilou 12, Athens
Giouvetsakia
Situated in the Plaka area, Giouvetsakia offers authentic, pocket-friendly Greek cuisine. The small family-run restaurant is known for its specialty, Giouvetsi, which is a hearty lamb stew done with orzo in a red sauce. Guests receive a complimentary fruit dish after any meal.
Address:
144 Adrianou and Thespidos Streets
Vlassis
Vlassis is extremely popular among locals. The restaurant relies on traditional recipes from northern Greece and the islands, plus gourmet Mediterranean creations. Pricing is reasonable.
Address:
Meandrou 15 Ilissia, Athens, Greece
Varoulko
Offering seafood with a uniquely Greek twist, Chef Lefteris Lazaro creatively combines various Greek wines and olive oil in his exquisite creations. Situated in the city centre with a striking view of the Acropolis, this is affluent dining at its best.
Address:
Akti Koumoundourou 52 Mikrolimano, Piraeus
Oroscopo
Located in Athens, Oroscopo wins over tourists with its range of traditional and international dishes. All food is prepared with pure Greek ingredients.
Address:
42-44 Antinoros street
Athens Eleftherios Venizelos International Airport
Location:
The airport is situated 20 miles (33km) southeast of Athens city centre.
Transfer Between Terminals:
The two terminals are connected by a walkway.
Getting to the city:
Metro Line 3 connects the airport with central Athens and four public bus routes link the facility to destinations in the greater area of Athens and Piraeus. Travellers can find transport day and night. Athens International is also connected to Athens Central Railway Station (Larissis Station) by the Suburban Rail line.
Car Rental:
Avis, Hertz, Budget, Enterprise and Sixt are all represented at the airport.
Airport Taxis:
Taxis can be found at the designated taxi-waiting area at Exit 3 of the main Arrivals level. The trip to the centre of Athens takes half an hour to an hour depending on traffic and is substantially more expensive at night.
Fascilities:
The airport has banks and ATMs, currency exchange services, a tax refund desk, travel agencies, conference facilities, a business centre, a tourist information desk, numerous shops and restaurants, and a food court.
Parking
Short and long-term parking is available in the airport. Short-term parking is on the arrivals level and costs €3.80 for the first hour (up to 20 minutes are free), while long-term parking is found across the access road in P3. Long-term parking costs €13 for the first day and €50 for a week. Long-term parking is connected to the terminal by a free shuttle.
Athens Festival
The Athens Festival takes place at a number of venues, including the magnificent Herod Atticus Odeon, which dates back to 161 AD. The ancient, tiered theatre nestles at the foot of the Acropolis.
The festival runs through summer and autumn, and graces audiences with marvellous symphony orchestras, classical drama and dance, and operatic performances. The large and varied programme features Greek and international artists.
Travellers can catch the festival's summer section during June and July, and the autumn section during August and October.
Venue:
Herod Atticus Odeon and other venues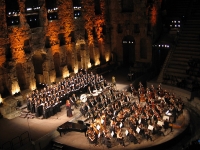 Bolshoi Orchestra, Odeon of Herodes Atticus Yendor Oz
Traditional Greek Dance Festival
Nothing demonstrates the warmth and energy of Greek people as well as their traditional dance. Travellers visiting Athens can catch performances on most summer nights at Dora Stratou on Philopappou Hill.
Established by Greek folk expert, Dora Stratou, the lovely theatre quite rightly describes itself as 'the living museum of Greek dance', where traditional folksingers and musicians accompany the dancers in a charming garden theatre that seats up to 800 people. It's a great place to spend a hot night in Athens.
For visitors who want to learn more about the dance and folk traditions on show, the theatre also doubles as a school offering courses, lectures and workshops on Greek dance, embroidery and culture.
Venue:
Dora Stratou Theatre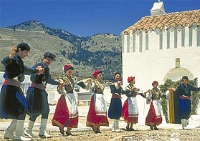 Traditional Greek Dancing Erno Verhoeven
Rockwave Festival
Since its inception in 1996, Athens' Rockwave Festival has become one of Europe's most popular live-rock-music events and continues to draw the hottest performers and an enthusiastic crowd of tens of thousands.
The annual festival takes place over three days and features three stages, where visitors will find metal, rock and dance music respectively. Past performers include big names such as Ozzy Osbourne, The Prodigy and Machine Head.
The well-organised festival has kiosks that work as meeting points, bulletin boards and helpful staff on permanent duty. Fans will find first-aid stations plus loads of food and drink options, though they'll have to pay through the festival's coupon system rather than cash. Sponsors run leisure areas where there are games and activities.
The venue is in the scenically marvellous and protected Malakasa area, so fans are urged to avoid littering, and to respect the natural surroundings.
Venue:
Terra Vibe, Oropos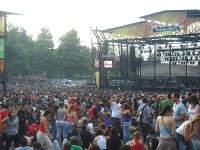 Rockwave Festival Thaliapap
Greece's islands have a global reputation for their vibrant summer nightlife. With everything from sex shows to traditional Greek dancing on offer, Athens is just as lively.
Most parties don't get going until well after dinner, which can be as late as 10pm during summer. The old Turkish quarter, known as the Plaka district, is a great place to start. Diners sip aperitifs on rooftop terraces overlooking the Acropolis, while violins, concertinas and bouzouki play traditional Greek music. Many tavernas host lively dancing. Later, visitors head to the city's music bars, clubs, as well as rock and jazz establishments.
One of the most breath-taking venues for live music is the theatre on Mount Lycavettos, which has hosted many world-famous artists. Visitors will find classical music programmes at the Megaron Mousikis Concert Hall, Olympia Theatre, and the Pallas Theatre. For traditional Greek theatre and dancing, visitors should try the Athens Centre or the Dora Stratou Folk Dance Theatre.
Most tourist sites are within the city centre, which is easy to navigate on foot. However, Athens has an extensive public transport network consisting of buses, trolley buses, trams and a fast, three-line underground metro service. The metro and the tram network are especially useful for tourists.
Transport is cheap, but often overcrowded, especially during rush hour (1-3pm). Most public transport operates until midnight, with a limited night bus and tram service operating along major routes.
Although taxis are plentiful, it may be difficult to get one during rush hour. For this reason, it's not unusual to share the ride with other passengers. Taxis are inexpensive, but visitors should always check that the meter is on and set to the minimum fare. Drivers often attempt to overcharge tourists. Legitimate surcharges can increase the final bill, but these should be displayed on the dashboard.
Athens is an ancient city in the truest sense, with a history stretching back into antiquity. Popular attractions such as the Acropolis, the Temple of Olympian Zeus and the Ancient Agora are among the city's dearest and most admired heirlooms.
Visitors can view Athens' history on 'museum mile' along Vassilissis Sofias Avenue, where most of the city's museums are clustered. These include the Benaki Museum, the Museum of Cycladic Art and the Byzantine Museum. The 'mile' starts from Syntagma Square, which is home to the Greek Parliament. Visitors should stick around for the daily changing of the guard.
For the best view of the city, visitors should climb Lycavittos Hill. It offers a spectacular view of the Parthenon, and what feels like the entire Athens. The tranquil National Gardens make a lovely daytime break from the urban rush. Also, urban beaches such as Agios Kosmas, Attica Vouliagmeni, and Varkiza are only a tram-ride away.
Though Athens is busy and occasionally overwhelming, it's exceedingly rewarding for sightseers.
Cape Sounion
Locals and visitors love Cape Sounion. Around 43 miles (69km) east of Athens, the popular seaside resort is famous in Greek Mythology.
Its best-known feature is the 5th-century BC Temple of Poseidon. Perched on the cliffs above the town, it's said to be where King Aegeus waited for his son, Theseus, who'd left to slay the Minotaur of Crete. The story goes that Theseus hoisted the wrong colour sail on his return, convincing his father he'd died fighting the Minotaur. In his grief, the king threw himself from the cliffs and gave the Aegean Sea its name.
Visitors can enjoy some beautiful views from the temple. Otherwise, the cape's coastline is worth exploring and its restaurants are good.
Address:
43 miles (69km) east of Athens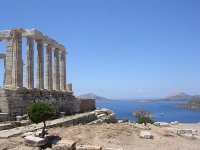 Temple of Poseidon F Mira
Monastery of Daphni
This great Byzantine architectural masterpiece dates from the 11th century AD and has been called the most perfect monument of that century. The monastery was built on the site of an ancient Temple of Apollo and one surviving column can be seen near the entrance. It is situated about five and a half miles (9km) west of Athens on the road to Corinth. The church and monastery have suffered the ravages of invaders and earthquakes through the centuries. During the Crusades Cistercian monks turned Daphni into a Catholic monastery, but today it has been reclaimed by the Greek Orthodox Church and its beautiful mosaic work depicting Biblical scenes has been restored. In between the monastery has had an eventful history - during the War of Independence it was officially deconsecrated and used as a barracks and even as a lunatic asylum. The monastery was declared a UNESCO World Heritage Site in 1990.
Tragically, the monastery was heavily damaged by the 1999 Athens earthquake and is still not completely open to visitors as restoration work continues with no set date of completion. However, you can still visit the monastery and see the mosaics through all the scaffolding. It is best to phone ahead to see if they are open to visitors and when you arrive you will probably have to ring the bell and be buzzed in.
Address:
Athinon Avenue, Daphni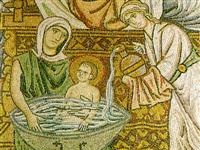 Mosaic from Daphni Monastery Public Domain
Marathon
About 26 miles (42km) northeast of Athens, between the villages of Nea Makri and Marathona, is the site of the great battle between the small force of Athenians and the mighty Persian army in 490 BC. On the plain of Marathon today the burial mound of the 192 Athenians who fell in the fight can be seen, along with a small museum displaying archaeological relics from the battlefield. The battle is famed not only for the Athenian victory against huge odds, but also for the fleetness of the Athenian runner, Pheidippides, who was dispatched to Athens with news of the victory and fell dead from exhaustion after delivering the message to the city; thus the name 'Marathon' was given to long-distance running races. The marathon race in the 2004 Olympics started here, and followed the same route as that run by Pheidippedes in the legend, ending at the Panathinaikon Stadium in Athens, which was built for the first modern Olympic Games in 1896. Marathon remains one of the most famous battlefields in the world and a visit to the site is a must for anybody with an interest in military history.
Address:
114 Plataion Street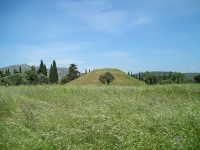 Marathon Burial Mound Verity Cridland
Delphi
Situated on the slopes of Mount Parnassus, Delphi was home to Classical Greece's most important oracle. The country's ancient people visited the site to worship the god Apollo.
Pilgrims came from all over the Classical Greek world to seek Apollo's advice via his oracle. The area also hosted the Pythian Games. Held every four years, they attracted famous athletes from all over the Ancient Greek world. They were one of the four Panhellenic games, which are considered precursors of the modern Olympics.
Today, travellers hike up the Sacred Way much as ancient pilgrims did, and marvel at the site's fantastic ruins. They include the marble Sanctuary of Apollo, the Castalian Spring and the Sanctuary of Athena. Many visit the site's excellent museum.
Scenically, Delphi is spectacular and presents enviable photographic opportunities. Given how extensive the site is, it's ideal to stay overnight.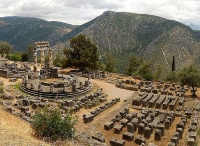 Delphi Ronny Siegel
Saronic Islands
The Saronic group of islands are all within an hour or two of Piraeus by boat, making them ideal destinations for day trips from the city for those who want to experience a taste of Greek island life. Alternatively, visitors can use the islands as tranquil bases on which to stay while commuting to Athens to see the sights. Aegina is the closest island, sporting a sandy beach called Agia Marina, and a quaint fishing village called Perdika. Hydra has no sandy beaches, but the town is picturesque and offers good seafood restaurants. Poros can be reached from Piraeus in little more than an hour and sports beautiful forests that descend to the beach. It offers watersports opportunities and a lively café scene, as well as being a ferry hub offering connections to all the popular Aegean islands. Spetsi has an attractive old harbour and one of the oldest wooden boat-building yards in Greece. It is also renowned for its beaches and pine forests.
Piraeus port may be a little confusing or overwhelming at first but it is also exciting and the boat trips to the islands are usually wonderful experiences in themselves: most of the tourist boats use the Zea Limani section of the port.
Address:
Located between the peninsula of Attica and the north eastern coasts of Peloponnese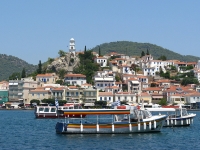 Poros Tilemahos Efthimiadis