Marienplatz
The Marienplatz is the heart of Munich and the site of its most important historic buildings. The square is dominated by the Neo-Gothic Town Hall featuring its famous Glockenspiel, both built in the 19th century, although they look authentically Gothic. The Glockenspiel delights visitors when it chimes the hours every day at 11am, 12pm and 5pm with its 43 bells, accompanied by moving clockwork figures that display vignettes from Munich's history. The Town Hall has a tower that can be accessed by a lift and from the top you get wonderful views of the city.
The centre of the square, once a vibrant farmer's market, features a statue of the Virgin Mary after which Marienplatz was named. Visitors can also explore a toy museum in the Old Town Hall on the square, and the Frauenkirche, Munich's cathedral, dating from the 15th century. The square is full of great shops and pleasant outdoor eating areas where you can sit under trees, refuelling, and watch the world pass by. The Marienplatz is still a social gathering place for locals, just as it has been throughout its long history, and although it can get a bit crowded it is an un-missable attraction in Munich, and a must for photographers.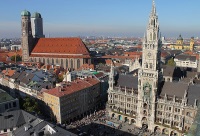 Marienplatz Nicolas Vollmer
Olympiapark
Munich's massive Olympiapark complex was constructed for the 20th Olympic Games in 1972, but remains a marvel of modern engineering. Its main stadium is like an enormous tent, which can seat close on 70,000 spectators, and is topped by one of the largest roofs in the world, extending for 720,000 square feet (66,890 sq metres) and made of tinted acrylic glass. The roof collects rainwater which is used to fill the adjacent Olympic lake. Tent roof tours (with or without an abseiling option) are on offer. Visitors to the site can enjoy a spectacular view from the revolving restaurant and observation terrace which tops the 950-foot (290m) high Olympic Tower. Near the tower is the BMW Museum, which displays the history of Germany's famous automobile manufacturer and is in itself a popular attraction. Far from being a remarkable 'white elephant', the Park is still in constant use not only by tourists but by locals who use it as a lively leisure and recreational centre in the city. On more than 200 days of the year it is the venue for rock and pop concerts, sports events, exhibitions and trade fairs. Check the website to see what's happening at the venue during your stay.
Address:
Spiridon-Louis-Ring 21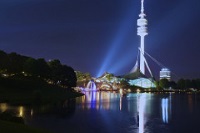 Olympiapark Ole Pophal
Nymphenburg Palace
About five miles (8km) from the city centre, accessible by tram and bus, is the interesting Schloss Nymphenburg, originally a summer home for Munich aristocracy. The palace has been expanded, altered and fitted with various eccentricities by succeeding owners over the centuries since building began on it in 1664. Today it is a delight for tourists who revel in exploring the villa and grounds. Inside there are some interesting frescoes in the main hall. An arcaded gallery features a collection of 36 provocative paintings ordered by King Ludwig I showing the most beautiful women of his day. The surrounding park has some surprises too, with some interesting pavilions hidden among the English-style gardens. There are also collections of Ludwig's elaborate coaches on display, and a porcelain museum. There is information provided in the palace on its history but there are also audio guides available which greatly enrich the experience. Although you have to pay to enter the palace you can wander around the lovely grounds for free.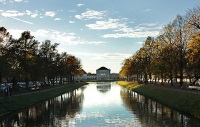 Nymphenburg Palace Edmir Silvestre
Alte Pinakothek
Munich's art museum houses one of the most important collections in Europe on two floors of a large neo-classical building. Roughly 700 paintings are on display, featuring the work of many of the greatest European artists from the 14th to the 18th centuries. Highlights include works by Dutch and Flemish masters, as well as the Italian masters such as Botticelli, Raphael and Titian. Famous masterpieces in the permanent collection include Rembrandt's 'Self-Portrait' (1629), Raphael's 'The Canigiani Holy Famliy' (1505), Guido Reni's 'The Assumption of the Virgin' (1642), and Francois Boucher's 'Portrait of the Marquise de Pompadour' (1756). The gallery is massive, consisting of dozens of rooms, and requires a great deal of time to explore thoroughly. Bags and handbags are not allowed in the museum but there are storage facilities. Photography is allowed but only without a flash. There is a restaurant at the museum.
There are actually three art museums in the location and you can get a discounted rate if you plan to visit all of them in one day.
Transport:
Tram - No 27 to Pinakotheken; U-Bahn - U2: to Königsplatz or Theresienstrasse; Bus - No 154 to Schellingstraße
Opening time:
10am - 6pm daily; 10am - 8pm on Tuesdays, closed on Mondays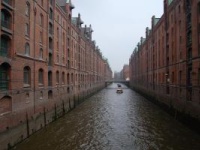 Alte Pinakothek
Deutsches Museum
The Deutches Museum is a great stop for families exploring Munich. It is the world's largest technology and science museum, with roughly 28,000 artefacts on display in exhibits dedicated to themes like Energy, Transport, Natural Science, Communications, Musical Instruments and New Technologies. The museum is located on a small island in the Isar River, with additional facilities outside of Munich and in Bonn.
There is a section especially dedicated to children which is called Kid's Kingdom and features 1,000 fun, interactive activities including things like a giant guitar to be played, enormous building blocks, and a fire department. It is aimed at kids aged three to eight and all children must be accompanied by an adult. For the grown-ups there is a wealth of interesting information and exhibitions on topics like astronomy, chemistry, pharmaceutics, electricity, computers, microelectronics, hydraulic engineering and astronautics. The museum is designed to be accessible and entertaining and even those who have little understanding of technology and science should be enthralled.
Address:
Museumsinsel 1, Munich
Transport:
U-Bahn - Line 1 +2, Fraunhoferstrasse; Bus - Line 132, Boschbrücke
Opening time:
9am to 5pm daily.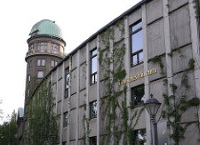 Deutsches Museum Wolfgang Manousek
Munich's weather can be unpredictable. In general summers are fairly warm and very wet, characterised by sunny weather interspersed by dramatic thunderstorms. Winters are cold with light snowfalls. In summer (June to August) average temperatures range between 50°F (10°C) and 73°F (23°C), and in winter (December to February) average temperatures range between 25°F (-4°C) and 39°F (4°C). The Alps cause two unique aberrations in Munich weather. Southwesterly winds crossing the Alps can push up temperatures markedly even in winter, while northwesterly winds blowing from the mountains bring unseasonably low temperatures, rain and even snow on odd days. You can easily end up experiencing quite a variety of weather on a stay in Munich. The most popular time to visit is in September and October, for Oktoberfest, but summer is the peak tourism season. Munich is really a year-round holiday destination because so many of the city's attractions can be enjoyed regardless of the weather.
Visitors should be sure to bring their appetites along when visiting Munich. Eating and drinking are extremely popular activities in this city and travellers will be hard-pressed not to gorge themselves. Eating out in Munich is a fun and friendly affair and there are plenty of restaurants to choose from.
Munich is celebrated for its simple Bavarian fare and jolly approach to eating. The Gaststattend restaurants (bistros) in Munich are the best places to enjoy traditional Bavarian food and eat like a local. You can find these bustling eateries all over the city. Of course, the famous beer halls are great fun and are also frequented by the locals in droves. Munich has more than one Michelin-starred restaurant and there are many sophisticated and creative menus in the city for discerning foodies looking for something more high-brow than the rowdy beer tents. If either your stomach or your wallet need a break from the yummy but heavy Bavarian food, there are many Italian, Indian and Japanese restaurants in Munich and these often provide cheaper options.
Bavarian meals are generally meaty but vegetarians will not starve. Specialties include leberkassemme, a spicy meatloaf, and weisswurst, a veal sausage usually served for breakfast. Knodels (dumplings) also feature prominently. Eating out in Munich is not cheap - it is probably Germany's most expensive city - but there are options for those on a budget. The portions of meat and starchy Bavarian staples served in the beer halls and Gaststatten are usually enormous so one meal can go a long way for hungry travellers. Visitors also won't struggle to find restaurants in Munich that are open late at night. Indeed some of the pubs and eateries in the city only close at 4am.
Promising places to sniff out great local food include the Schwabing district, which overflows with good restaurants, and the Viktalienmarket, a square adjoining Marienplatz which hosts a large food market.
Cafe Glockenspiel
For breath-taking views of Munich, the ideally situated and aptly-named Café Glockenspiel overlooks the famous Glockenspiel clock. With friendly and efficient wait staff and delicious, wholesome fare, the café is one of the most frequented in Munich and is a popular meeting place for locals and tourists alike and a great location to enjoy a spot of people watching either over a meal, sunny breakfast, coffee or after work drinks. Open daily for breakfast, lunch and dinner. Bookings recommended.
Hirschgarten
A popular beer garden that sees locals mingling with international visitors, Hirschgarten is the largest open-air restaurant in Munich featuring hunting lodges and lakes and is an ideal location for tourists to mingle with the locals over a couple of pints. Start off with potato, marjoram and bacon soup followed by prime boiled beef with fresh horseradish and salted boiled potatoes, or the mouth-watering roast venison from the haunch with a mushroom and cream sauce, Swabian egg pasta and lingonberries. For something sweet try caramelised pancake slices with raisins and apple sauce. Open daily for breakfast, lunch and dinner; 9am to midnight. The beer garden is open from 11am until midnight.
Address:
Hirschgarten 1, Nymphenburg
Tantris
Serving some of Schwabing's finest haute cuisine, and boasting one of Munich's best chefs, the exterior of this restaurant is misleading, but step inside and you are magically transported into another world where fine wines and décor are accentuated with tantalisingly tasty and attractive dishes. The menus can cover three to eight courses and are offered for lunch and dinner. Try the terrine of duck liver with braised figs and roasted duck breast, or the medallion of young venison saddle with red cabbage and semolina dumpling, and let your taste buds be thrilled by the chocolate soufflé with marinated port wine figs and vanilla-brittle ice cream. Perfection! Open Tuesday to Saturday for lunch and dinner. Reservations essential.
Address:
Johann Fichte Straße 7, Schwabing
Hofbrauhaus
Beer has been swilled at this world-famous tavern site in the centre of Munich since it became a royal brewery in 1605. Equally famous is the Bavarian jollity and conviviality, known as 'gemuchtlikheid', which has emanated directly from the Hofbrauhaus in Munich along with the beer which flows freely there each day, served by robust rosy-cheeked young women clad in Bavarian dress in litre-sized beer steins. The cheerful atmosphere that reigns constantly in the establishment's different halls is helped along by the foot-tapping strains of traditional Bavarian 'oom-pah' bands and drinking songs. When the beer becomes too much, soak it up with a delicious salty pretzel or a German speciality from the menu, such as liver dumplings, potato soup or a variety of delicious sausages.
Address:
Platzl 9, behind Marienplatz
Gasthof Weichandhof
Gasthof Weichandhof is less of a tourist destination and more of a local favourite. Situated in an old farmhouse near the autobahn, the restaurant serves traditional Bavarian cuisine like pork knuckles, suckling pig, and strudels. The atmosphere is always lively, and there's a quaint vine-covered terrace open during summer months. Gasthof Weichandhof is open Sunday to Friday from 11am to midnight, and Saturday from 5pm to midnight. Reservations are recommended.
Munich International Airport
Location:
The airport is situated 18 miles (29km) northeast of the centre of Munich.
Time:
GMT +1 (GMT +2 between the last Sunday in March and last Sunday in October).
Transfer Between Terminals:
The Airport Shuttle Bus travels between the two terminals.
Getting to the city:
Frequent commuter trains run by day and most of the night to various Munich stations, including the main stations for connections to major European cities. The airport train station is just outside the terminals. Taxis are available, as are buses to many regional destinations and the main train station. It takes about 20 minutes by train and about 45 minutes by road to reach the city centre.
Car Rental:
Car hire companies represented include Avis, Europcar, Hertz, Budget and Sixt.
Airport Taxis:
Taxis are available from both terminals. The journey time to the city centre is approximately 45 minutes.
Fascilities:
The airport has several restaurants and bars, duty-free and other shops, shower facilities and a pharmacy. ATMs and currency exchange desks are available in Arrivals and Departures.
Parking
Parking in airport lots costs between €1 and €4 for the first hour, up to about €20 per day. Long-term parking is cheapest in lots P41, P80 and P81. There are drop-off zones where parking is free for the first 10 minutes.
Oktoberfest
For two boozy weeks towards the end September/beginning of October each year all roads in Munich lead to the Theresienwiese, a giant grass meadow about the size of 20 football fields near the centre of the city. The occasion is the world's biggest party, the Munich Oktoberfest. The field becomes a beer-drinking city, complete with its own post office, police force and fire department, and most importantly numerous huge tents, erected by the various Bavarian breweries, that serve as massive beer halls. The first keg is tapped in ceremonial style to open the two-week celebration, which draws hundreds of thousands of revellers from all around the world.
Apart from the rollicking beer halls where traditional Bavarian bands belt out old favourites, the festival offers a host of carnival games and fun park rides, as well as stalls selling a range of German delicacies. Many people also like to dress up in traditional Bavarian garb for the celebrations. Entry to the enormous beer tents is free. Oktoberfest is one of the most popular and best-known festivals in the world, and certainly the biggest drinking festival, and flights and accommodation should be organised far in advance to avoid disappointment.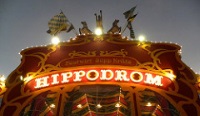 Hippodrom Tent at Oktoberfest Jason Paris
Munich Opera Festival
The Opera Festival is the most important event on the Munich's music calendar, held every summer since 1876 in one of the world's most beautiful opera houses. Enthusiasts from around the world gather to listen to the renowned Bavarian State Opera, with a programme of about 70 different performances. Two free, open-air performances are also held outside the opera house in the square. The festival is not limited to opera and also celebrates theatre and ballet as well as other kinds of musical performances. As the festival is so popular and attracts so many visitors this is also generally a boom period for arts and culture in the city as a whole. Every year the programme changes but it is always impressive and includes a range of styles and genres to cater to all tastes. For information on the programme and ticket cost check out the official website.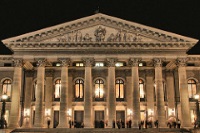 Munich opera house Reinhard Kuchenbacker
From bustling traditional beer halls to pumping dance clubs, the nightlife in Munich has it all, and the mix of foreigners and locals gives this city a welcoming cosmopolitan feel. Unlike Frankfurt and Berlin, Munich is best known for its bars and beer halls rather than its clubbing scene, but those in search of some serious clubbing still won't struggle in Munich.
Those looking for a night of dancing and revelry should explore Munich's 'party banana', which consists of Sendlinger Tor, Karlsplatz and Odeonsplatz, where many of the city's favourite clubs are located. Other popular nightlife districts in Munich include Schwabing, which boasts numerous traditional Bavarian options and lots of live music; Maxvorstand, near the university and frequented by students; the Glockenbachviertel, popular with the most trendy denizens of the city and home to a number of gay and lesbian venues; and the area around the Munich East Station, which is known to be dingy but cheap.
Travellers should note that the friendly, welcoming attitude of the beer halls is not always matched by the more upmarket and fashionable clubs in Munich, where would-be partiers should dress appropriately and anticipate some selectivity from bouncers.
Munich's city centre is a pedestrian zone, so many of its attractions can be reached on foot, which is also the most pleasant way to explore certain parts of the city. The efficient and integrated public transport system is excellent for getting around beyond the centre. It consists of buses, trams, the U-bahn (subway) and the S-bahn (suburban train) that operate from about 5am to 1am, with hourly buses and trams servicing main routes throughout the night. Tickets must be validated on entering stations or on boarding, are transferable between all forms of transport, and valid for two hours after being stamped as long as one travels in the same direction. Fares are zone based and the system is well-organised and easy to understand.
There are various day passes available as well as the Munich CityTourCard, which covers all transport within the city and includes discounts to the main attractions. Taxis are safe and convenient, but expensive. You can hire a car easily but it is often better to use public transport in the big European cities to avoid frustration and confusion. You can also hire bicycles at very little cost and this is a lovely way to get around.
This charming Bavarian city is a popular tourist destination and a quaint combination of old world allure and modern flair. The city boasts numerous attractions, including some wonderful museums, such as the BMW Museum, Deutsches Museum, Museum Brandhorst, the City Museum of Munich and the National Bavarian Museum, to name a few. Head to Marienplatz to see some historic buildings and marvel at the uniquely German architecture. Visit Olympia Park and eat lunch in the revolving restaurant from the adjacent observation tower to enjoy breath-taking views over the city. Head to the Englischer Garten in Schwabing to relax and unwind in the picturesque gardens, and visit Munich's second biggest beer garden. Those coming in autumn can look forward to the world famous Oktoberfest.
For travellers looking for a bit more adventure, Munich is also the gateway to the Bavarian Alps and sport enthusiasts from near and far flock here each winter.
Visitors planning on doing lots of sightseeing should consider purchasing the Munich CityTourCard which entitles the bearer to free public transport in Munich and a discount on as many as 70 tourist attractions. Several versions of the card are available.
Berchtesgaden
The name Berchtesgaden is most closely associated with Adolf Hitler's country house, but it is in fact a delightful Bavarian alpine village with ancient winding streets and a medieval marketplace, popular as an excursion from Munich. Hitler's holiday house, the Berghof, is actually at Obersalzberg about half a mile (2km) up the Kehlstein Mountain. Afternoon bus tours to the Fuhrer's playground can be undertaken from the tourist office in the village, but there is little to see besides some underground bunkers, which are open to the public. Most tourists, however, do delight in visiting the Kehlsteinhaus (or Eagle's Nest), a remarkable building perched precariously atop the mountain, originally commissioned by Martin Bormann as a 50th birthday present for Hitler (although the notorious Nazi leader seldom visited it because of his fear of heights). Today it is the site of an excellent Bavarian restaurant and provides breath-taking views at the end of a stunning winding mountain road.
The town of Berchtesgaden itself has some interesting attractions, besides its 16th-century architecture and enticing inns. There is a small wood-carving museum at Schloss Aldelsheim which can be viewed on a guided tour. Wood sculptures, Renaissance furniture and some art works are worth seeing at the Konigliches Schloss, which was originally an Augustinian monastery. The most fun to be had, however, is in the salt mines to the east of the town, which offer guided tours. Visitors wear protective clothing and ride on wagons to the mine, then explore the mine on foot and ride miner's slides, finishing with a trip on the salt lake ferry. The mine has been in operation since 1517. Berchtesgarten also boasts a world-class ice-skating rink, the Eisstadion, which is sought after by winter sports enthusiasts in the winter months, along with the skiing opportunities in the surrounding area.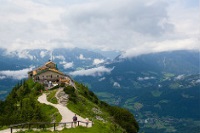 Kehlsteinhaus Andre Zehetbauer
Dachau Memorial Site
About 10 miles (16km) to the northwest of Munich on the Stuttgart Autobahn is the town of Dachau. Once a quiet artists' community, it became the site of the first notorious Nazi 'death camp', where thousands of perceived enemies of the Third Reich were imprisoned, starved, and killed between 1933 and 1945. The camp has now been turned into a memorial museum to the prisoners (67,000 were liberated alive by the US Army on April 28, 1945). The museum contains three memorial chapels. The Lagerstrasse, the main camp road, still exists, lined with poplar trees, but only two of the original 32 barracks that lined it remain, having been rebuilt to illustrate the conditions endured by the prisoners. The original kitchen, laundry and shower block is now a museum containing exhibits, photographs and documents depicting the persecution of Jews and other prisoners. The exhibitions are often very personal and include the accounts and stories of prisoners. The memorial is a sobering experience, and may not be suitable for young children.
Address:
Alte Römerstraße 75, Dachau
Transport:
From Dachau train station take bus 726 to the main entrance of the Memorial Site. S2 train from Munich
Opening time:
Memorial/Museum open daily 9am to 5pm; Library and Archive available by appointment only between 9am and 5pm Tuesday to Friday.
Bunker Glen Bowman
Chiemsee
One of the most beautiful lakes in the Bavarian Alps, Chiemsee boasts two islands and is lined with resorts. A popular weekend excursion in Germany, it can be reached by train from Munich in an hour, or by road via the A8 Autobahn. Visitors can take a steamer cruise around the lake from Prien on the west shore to explore the islands in the lake. The scenery is breathtaking and in summer there is great swimming and sailing to enjoy. Even in winter the lake is beautiful, and much less crowded.
Frauenchiemsee is the smaller island and the site of a quaint fishing village with some colourful traditional customs, and a Benedictine nunnery known for its liqueur. The larger island, Herrenchiemsee, bears one of King Ludwig's famous fairy-tale castles. This one was never completed, but was intended to be a replica of the palace of Versailles. The centre of the palace still stands, complete with a splendid hall of mirrors and surrounded by gardens and woodland. It is an extremely popular tourist attraction with its gaudy splendour and picturesque location.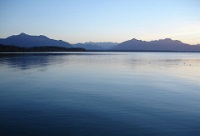 Chiemsee Mathijs Koenraadt