Cite De Lespace
This theme park in Toulouse has its head firmly in the clouds, dedicating its 8.6 acres (3.5 hectares) to celebrating flight and outer space. Children will love exploring full-scale models of rockets and space stations, and teens will enjoy the feeling of anti-gravity in the Gyro simulator. There's a moon-walk simulator; and the enormous planetarium, IMAX theatre, and Terradome show educational films about space flight and the history of the universe. The park is located on the outskirts of the city, and is a great activity for the whole family. Visitors will need a full day to explore the whole site and there are guided tours and audio guides available. There is a restaurant at the park, and a shop which sells a variety of fun, educational books, movies and toys.
Address:
Avenue Jean Gonord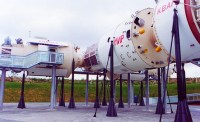 Cite de l'espace Jamie
St Sernin Basilica
Of the many beautiful buildings in Toulouse, the St Sernin Basilica is one that should not be missed. The church, built from the region's distinctive rose-coloured bricks, is the largest Romanesque church in Europe and contains many beautiful frescoes and sculptures. The Basilica was built around 1100, and contains many relics, as well as the graves of Saint Sernin and Saint Honoratus. Saint Sernin was the first Bishop of Toulouse and was martyred in the year 250; it is largely due to his remains in the crypt that the basilica is an essential stop on the pilgrimage of Saint Jacques de Compostela which culminates in Arles. There are also some 19th-century treasures on display for visitors, including chalices and ciborium. The main attraction, however, is the building itself, which is astounding in its size and design and quite unlike most churches found in France. The mix of architectural styles from different centuries is what makes it feel so original. There are free guided tours of the basilica on weekends but they are conducted in French only. Although entrance to the main area of the church is free, visitors will have to pay small amounts to enter certain areas.
Address:
Place Saint-Sernin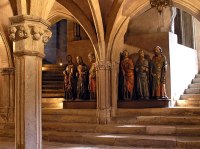 St Sernin Basilica Eric Pouhier
Albi
While Toulouse is known as the 'pink city' for its facebrick buildings, Albi, a UNESCO heritage site and historical city, is often called the 'red city' due to the spectacular crimson hue of the buildings at sunset. With a skyline dominated by the magnificent Cathédrale Ste-Cécile, there is plenty to see in the medieval town centre. Just wandering around the picturesque and ancient streets of the old city is the main attraction.
Albi is also known as the birthplace of famous French painter Toulouse-Lautrec, and there is a great museum containing more than 600 of his works, along with those of Degas, Matisse, and Roualt. There is also an interesting museum dedicated to explorer Jean-François de la Pérouse. The Cloitre de la Collegiale Saint Salvy is also a lovely, serene religious site to visit in Albi. And the Park Rochegude is a small but beautiful park, formerly the garden of an aristocrat, which boasts a wonderful collection of trees.
Situated on the lovely River Tarn, this historic city is a popular excursion from Toulouse. Albi is only an hour or so away from Toulouse by car, so easily reached on daytrips.
Address:
85 kilometres outside Toulouse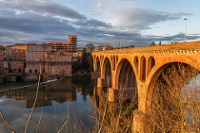 Albi Caroline Lena Becker
Toulouse has a temperate climate, and enjoys moderate, sunny weather for most of the year. Summers (June through August) have the hottest temperatures, averaging around 68°F (20°C), although the mercury can climb as high as 85°F (30°C). Summers tend to be humid, though there is little rainfall, and around 250 hours of sunshine per month. Winters (December to February) are fairly mild, with January temperatures averaging 42°F (5°C) and dipping as low as 36°F (2°C). Snowfall is rare, but winters in Toulouse tend to be wet, with up to 10 days of rain per month. The best time to visit Toulouse is in the late spring or early autumn, when the weather is generally warm and sunny.
Toulouse Blagnac International Airport
Location:
The airport is located four miles (7km) northwest of Toulouse.
Time:
GMT +1 (GMT +2 between last Sunday in March and last Sunday in October).
Getting to the city:
Buses leave every 20 minutes for Toulouse from outside Arrivals.
Car Rental:
All major car rental companies are represented at the airport.
Airport Taxis:
Taxis are available outside the terminal building.
Fascilities:
There are bars, shops and a restaurant in the terminal. Other facilities include banks, bureaux de change, internet access, travel agencies and a business centre. Disabled facilities are good; passengers with special needs should ideally contact their airline in advance.
Parking
Six car parks are available at Toulouse Blagnac International Airport. At least the first 15 minutes are free, thereafter the cheapest rates range from about €3.90 for the first hour to about €18.70 per day depending upon proximity to the terminal building.
Downtown Toulouse is fairly flat and compact, so visitors can comfortably see most sights on foot or by bicycle. Longer journeys can be conquered with the city's public transport, which includes bus, tram and metro lines throughout the city. There are also free shuttle buses circling the historic city centre, which can be hailed. Taxi service in Toulouse is considered poor, by European standards, and taxis must be pre-booked. Driving in the city can be frustrating as parking is extremely limited, and hiring a car is not recommended unless for excursions outside of town.
The soft rose-coloured bricks that give Toulouse its nickname, 'The Pink City', belong to beautiful historic buildings that make up the town centre. The Capitole building is the star attraction, with both municipal offices and the Théâtre National du Capitole housed within. The 11th-century St Sernin Basilica is among the largest in the world. Other beautiful buildings worth visiting include the Hôtel d'Assézat, the Musée des Augustins, and Les Jacobins Monastery, which houses relics of Thomas Aquinas.
Toulouse's attractions are not limited to the historical. The Cite De L'espace theme park celebrates the city's large aerospace industry with flight-themed interactive exhibits and a huge planetarium. This amusement park masquerading as an educative museum will enthral children and adults alike.
Boat trips are a great way to relax and take in the sights of Toulouse, and are conducted along the Garonne River. Pretty parks like the Japanese gardens also offer space to sit and relax or run around and play, depending on your age and energy levels. There are many parks and green spaces in Toulouse which adds to the aesthetic appeal of the city.