From the pulsating cultural scene in the capital of Helsinki to the striking natural beauty of the jagged and icy countryside, Finland remains one of the more unexplored places in Europe. While the cities and towns offer many unique cultural and historical attractions, the natural surroundings serve as a playground for both winter and summer activities.
Helsinki is the main point of entry for most visitors to Finland. This is where sightseers will find the country's finest museums, art galleries, restaurants, and shopping. It's easy to spend a week exploring the city and enjoying the cultural attractions. Some of the most important sights in the city include Finlandia Hall, the architecture around Senate Square, Suomenlinna, and the underground Rock Church.
Those with an interest in history or art will also want to allow some time to wander through the Finnish National Museum or the Finnish National Museum of Art. Nearby, the Open-Air Folk Museum on the island of Seurasaari, with old houses and timber buildings, reveals an in depth historical perspective on Finland.
From Helsinki there are a number of great day trips. Northeast of the city is the historic town of Provoo, which can be reached by road or by boat. To the north of Helsinki lies the medieval castle at Hameenlinna. To the west lies Turku, the ancient capital of Finland. Those looking to venture further afield will find a countryside of forests and lakes.
Suomenlinna Fortress
The historically significant Suomenlinna Fortress is not only a major military monument worthy of the UNESCO World Heritage List, but also home to about 800 Finns who live in the renovated barracks. The entire site is a fun, multifaceted attraction for Helsinki residents and visitors. Built during Swedish rule in the 18th century, the fortress is situated on an island at the entrance to Helsinki's harbour. The fortification became a strategic military shipyard with one of the biggest dry docks in the world, comparable to the fortress at Gibraltar. Apart from admiring the architecture, there is plenty to experience at Suomenlinna, which contains six museums, galleries, restaurants, cafes, several parks, beaches, and nature areas. Guided walking tours are offered and there are always events taking place like exhibitions, jazz shows, and theatrical performances, particularly during summer.
Transport:
Ferry or water bus.
Opening time:
Open daily 10am-6pm during summer and 10.30am-4.30pm during winter.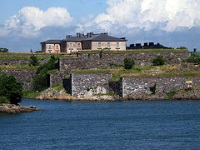 Suomenlinna Leo-setä
Senate Square
Architecture buffs will enjoy sitting in a cafe admiring the buildings surrounding Helsinki's lively Senate Square, renowned for some of Europe's finest examples of the neoclassical style. But you don't need any knowledge of architecture to enjoy this lovely square, which has a great atmosphere and is one of the central meeting places of the city. The square is dominated by the city's main landmark, the Lutheran Cathedral, designed by Carl Ludwig Engel and consecrated in 1852. The interior is as perfect as the exterior design, and is open to the public daily for no charge. Other buildings on the Square designed by Engel are the Government Palace, completed in 1822, and the University buildings, completed by 1832. The square is a thrilling place to be on New Year's Eve as this is where the locals come to celebrate with singing, dancing, and brilliant fireworks displays. There are bus and walking tours of Helsinki departing from the square, which is a good starting point for exploration of the city.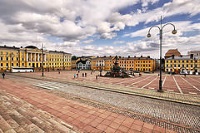 Senate Square Miguel Virkkunen Carvalho
Uspenski Cathedral
Many have compared Helsinki to the beautiful Russian city of St Petersburg, a close neighbour across a strait of water. The exotic redbrick Uspenski Cathedral cements the Russian connection, designed by Aleksei Gornostayev of St Petersburg in the mid-1800s. The ornate cathedral sits atop a rocky outcrop on the Katajanokka Peninsula opposite the fish market, fronted by a statue of Tsar Alexander II as a memento of Russia's occupation of Finland until 1919. The magnificent Byzantine edifice is topped with a characteristic golden onion dome, and the interior is opulently decorated with valuable icons. The cathedral is beautifully situated and very eye-catching as it can be seen from many places in the city. There are wonderful views of Helsinki from the hill. Parts of the church are off-limits when there is not a service being conducted but there is still plenty to see. Flash photography is not allowed inside.
Address:
Pormestarinrinne 1, Katajanokka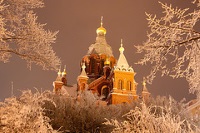 Uspenski Lassi Kurkijärvi
Market Square
Known locally as Kauppatori, the Market Square in Helsinki is the central meeting point of the city. The space is sandwiched between the sea and a row of impressive historic buildings which include the City Hall, the Swedish Embassy, and the Presidential Palace. Trams and waterbuses converge on the square, where visitors gather to watch the changing of the guard at the palace and admire the Havis Amanda mermaid statue at the west end of the Square in front of Esplanade Park. There is a longstanding tradition of displaying old American cars in the square on the first Friday of every month, which is fun for motor enthusiasts. The square is also a departure point for the ferries that travel to Suomenlinna, and it is possible to hire private vessels for sailing trips out to other nearby islands in summer. The Baltic Herring Festival occurs every year in October, serving as the oldest recurring festival in Helsinki. It's a particularly good time to visit as lots of food and craft stalls spring up in the square, with plenty of herring to sample. Seagulls have become something of a menace in the Market Square, swooping down to snatch food of all kinds from the hands of unsuspecting tourists.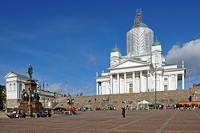 Market Square Dennis Jarvis
Temppeliaukio Church
An awesome and unique piece of architecture, the Temppeliaukio (Church in the Rock) was designed by brothers Timo and Tuomo Suomalainen and carved out of solid granite as recently as 1969. It has become one of Helsinki's most famous attractions, its rock walls roofed over with a massive concave copper ceiling, which gives it excellent acoustics and makes the roof seem like an enormous sun. From the outside, it still feels like part of the rock that surrounds it. The interior is magnificent and quite the opposite of the dark cave you would expect when looking at the rock-hewn building. It is an unusual place of worship but clearly a spiritual attraction and no matter what your beliefs this artistic church will surprise and perhaps inspire you. The church is often used as a venue for musical events due to its wonderful acoustics and there are sometimes piano recitals in the afternoons; if you visit during one of these performances you can leave a donation to show your appreciation. English services are occasionally conducted on Sundays at 2pm.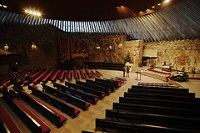 Temppeliaukio Rob Hurson
Seurasaari Open Air Museum
The Seurasaari Open-Air Museum allows visitors to step back in time and glimpse the traditional way of life in the Finnish countryside, and all this in the heart of the capital city, Helsinki. Situated on a lovely green island accessed from the mainland via a footbridge, the museum consists of a collection of cottages, farmsteads, rural churches, manor houses, and other old buildings, all preserved and relocated from their original sites around the provinces of Finland. The 87 buildings currently on the museum site have been arranged to form a complete replica of a country district, reflecting what life was like in various levels of rural society between the 18th and 20th centuries.
Address:
Seurasaari Island
Transport:
By bus and car.
Opening time:
Monday to Friday 9am-3pm, Saturday to Sunday 11am-5pm mid-May to mid-October.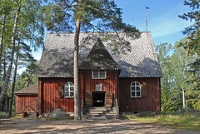 Seurasaari Jean-Pierre Dalbéra
National Museum of Finland
History enthusiasts will enjoy the National Museum of Finland in Helsinki, which depicts Finnish life from prehistoric times to the present. Housed in an impressive Romantic-style building, it looks a bit like a castle. The museum's permanent exhibition is divided into different sections: the Treasure Trove, which is a display of coins, medals, and weaponry, while the archaeological section features some rare Stone Age finds. In addition, the cultural heritage collection displays folk costumes, textiles, and furniture. The Workshop Vintti offers an exciting interactive approach to history, letting you sit on a throne, saddle a horse, or build an authentic Finnish wall. Other highlights include the section on the Vikings and the exhibition on jewellery through the ages in Finland. One common criticism of this otherwise popular museum is that there is not adequate coverage of the Finnish wars, which may be a disappointment to military history lovers. The museum has regular temporary exhibitions as well as the extensive permanent collection but these usually carry an extra cover charge. The rich history of the Finnish is relatively unknown to outsiders, which makes this museum especially intriguing. The museum also has a cafe and shop.
Address:
Mannerheimintie 34
Transport:
By foot (10 minute walk from Central Station), by tram or by car.
Opening time:
11am-6pm Tuesday to Sundays, closed Mondays and public holidays.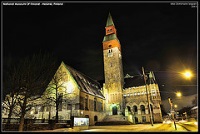 National Museum Urko Dorronsoro
Santa Claus Village
Santa Claus Village is a popular daytrip from Helsinki via trains to Rovaniemi. Every day is Christmas in this rather commercialised but still quaint Lapland hideaway of northern Finland. Here, Mr Claus spends his time preparing gifts for the world's children and meeting and greeting an estimated 500,000 delighted visitors a year. Coincidentally, the valley inside the Arctic Circle where Santa's Village is set is shaped like an ear, so it is said that Santa can listen to all kids across the planet. All sorts of activities are on offer at the village, including a reindeer park, snow safaris, and Santa's personal post office, from which you can mail letters or cards home. There are beautiful Christmas decorations on sale, along with plenty of opportunities for present shopping. Santa Claus Village and Santa Park are located just a mile from the international airport of Rovaniemi (capital of Lapland), and is also accessible by bus or train from Helsinki.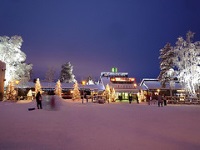 Santa Village Timo Newton-Syms
Helsinki Zoo
Situated on the popular island of Korkeasaari, the Helsinki Zoo is one of the best family attractions in Helsinki and can be reached by bus, car, or ferry during the summer. Home to about 150 different animal species and almost seven times that many varieties of plant life, the zoo makes a great stop for anyone travelling with children in Helsinki. The place is arranged in different habitats so that visitors move from one world to another through tundra, rainforest, mountains, wetlands, deserts, and tropics. Each season also presents visitors with different experiences, ranging from autumn when the big cats get more active to greeting the newborns in spring. Visitors can see Finnish wildlife like musk ox, reindeer, and snowy owls, or more exotic flora and fauna from all over the world, including rare animals like the majestic snow leopard and the red panda. As part of its mission to preserve and protect biodiversity the Helsinki zoo breeds and raises endangered animals. The zoo, founded 120 years ago, also offers rest areas, restaurants, and souvenir shops and you can bring your own picnic and enjoy it sitting on the cliff tops with lovely views.
Address:
Mustikkamaanpolku 12, Korkeasaari
Transport:
By bus, car or ferry (only in summer).
Opening time:
Daily 10am-8pm in summer and 10pm to 4pm in winter.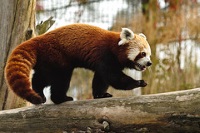 Helsinki has a climate that is transitional between maritime and continental. Summers (June to August) are warm and bright, with average temperatures ranging from a cool 59°F (15°C) to 72°F (22°C) in the warmest month of July. Days are long and sunny, with up to 19 hours of daylight. Towards the end of September temperatures cool down drastically as days grow shorter, and by November the weather is at freezing point as the cold, snowy winter sets in. The city is blanketed by snow in winter (December to February), with temperatures plummeting well below freezing to the point where the sea itself freezes over, and it is never fully daylight. Spring arrives late, in early April. The best time to visit is in summer, which is also when many of the city's festivals happen. Spring can also be pleasant as the natural areas of the city come alive with flowers and new greenery. If you are planning a trip to Finland in winter, Helsinki will be very cold but is not without its comforts and attractions.
Considering how far north Finland is, the country has a milder climate than one might expect. In general, Finland has an extreme swing between summer and winter, with bitterly cold winters when temperatures drop to -4ºF (-20ºC) in many areas, particularly in northern Lapland. Summer, by contrast, can be surprisingly warm with temperatures rising to 68ºF (20ºC) or more. Temperatures as high as 86ºF (30ºC) are possible in the south and east of the country.
The capital, Helsinki, remains fairly temperate varying between an average of 63ºF (17ºC) in July to 23ºF (-5ºC) in February. February is the coldest month in Finland and July is the warmest. Snow usually covers the ground in southern Finland from December to April, and northern Finland is snowbound from October to April.
In the far north, the sun does not set for about 73 days during summer, while in winter the sun remains below the horizon for a 51-day stretch. The winter night sky - especially in the northern areas of Finland - is often lit up with the seemingly magical light displays of the Northern Lights. If you want the mildest weather, the best time to visit Finland is between May and September. But when you should go is dependent on what you want out of your holiday.
Money:
The official currency of Finland is the Euro (EUR), which is divided into 100 cents. Banks, ATMs and bureaux de change are available in all cities and airports; banks are closed on weekends. American Express, Diner's Club, Eurocard, Access, MasterCard and Visa are accepted in hotels, restaurants and larger shops. ATMs are the easiest and most economical way to get cash.
Language:
Finnish and Swedish share status as Finlands official languages. Sami is spoken by an isolated population group in Lapland. English is taught at schools and is widely understood.
Electricity:
Electrical current is 230 volts, 50Hz. Standard European two-pin plugs are in use.
Entry Requirements:
US citizens must have a passport that is valid for three months beyond the period of intended stay in Finland. A visa is not required for a stay of up to 90 days in a 180 day period.
British passports endorsed 'British Citizen', 'British Subject' (containing a Certificate of Entitlement to the Right of Abode issued by the United Kingdom), and 'British Overseas Territories Citizen' issued by Gibraltar, only need to be valid for period of intended stay in Finland. All other endorsements require at least three months validity beyond the period of intended stay in Finland.
A visa is not required for passports endorsed 'British Citizen', 'British Subject' (containing a Certificate of Entitlement to the Right of Abode issued by the United Kingdom), and 'British Overseas Territories Citizen' issued by Gibraltar. No visa is required for stays of up to 90 days in a 180 day period for holders of passports with any other endorsement.
Holders of identity cards issued by Gibraltar authories, and endorsed 'Validated for EU travel purposes under the authority of the United Kingdom', do not require a visa to visit Finland.
Canadian citizens must have a passport that is valid for three months beyond the period of intended stay in Finland. A visa is not required for a stay of up to 90 days in a 180 day period.
Australian citizens must have a passport that is valid for three months beyond the period of intended stay in Finland. A visa is not required for a stay of up to 90 days in a 180 day period.
South African citizens must have a passport that is valid for three months beyond the intended period of stay, and a valid Schengen visa, to enter Finland.
Irish citizens must have a passport that is valid on arrival. No visa is required.
US citizens must have a passport that is valid for three months beyond the period of intended stay in Finland. A visa is not required for a stay of up to 90 days in a 180 day period.
New Zealand citizens must have a passport that is valid for three months beyond the period of intended stay in Finland. A visa is not required for a stay of up to 90 days in a 180 day period.
Passport/Visa Note:Visa:
The borderless region known as the Schengen Area includes the following countries: Austria, Belgium, Czech Republic, Denmark, Estonia, Finland, France, Germany, Greece, Hungary, Iceland, Italy, Latvia, Lithuania, Luxembourg, Malta, The Netherlands, Norway, Poland, Portugal, Slovakia, Slovenia, Spain, Sweden and Switzerland. All these countries issue a standard Schengen visa that has a multiple entry option, and which allows the holder to travel freely within the borders of all the aforementioned countries.
Additionally, travellers to Finland must hold sufficient funds for their duration of stay in the country, a return or onward ticket, and the necessary travel documentation for their next destination. Also note that joint passports must include a photograph of the spouse and, if issued after May 1, 2004, a photograph of each child over seven years of age and up to and including 15 years of age. Otherwise, a photo identification card showing the child's name, date of birth and nationality must be presented, together with the passport.
It is highly recommended that your passport has at least six months validity remaining after your intended date of departure from your travel destination. Immigration officials often apply different rules to those stated by travel agents and official sources.
Travel Health:
There are no major health risks associated with travel to Finland. British and other EU nationals should ensure they have a European Health Insurance Card (EHIC), which entitles citizens to emergency medical treatment on the same terms as Finnish citizens. Comprehensive travel insurance is advised.
Tipping:
Tips are not expected in Finland because a service charge is generally added to restaurant, bar and hotel bills, but customers often choose to round up the bill when paying in cash. Taxi drivers also appreciate any small change or coins that are added to round up the fare.
Safety Information:
Crime levels are low in Finland and visitors can be assured of a trouble-free vacation. Drug offences and drinking and driving are dealt with very harshly. The main danger in the country is driving during the winter months, when icy roads are a hazard and cars must be fitted with snow tyres.
Local Customs:
The sauna is a Finnish way of life, so they are extremely popular. Words are taken seriously in Finland and people are held to what they say, so be sure of what you're saying before you speak.
Business:
Business is conducted formally in Finland. A formal, understated sense of dress is important. Punctuality is also very important in Finland and being late is considered rude. Appointments should always be made and confirmed.
Meetings are often strictly business and are not often over lunch. Finns do not require a strong relationship prior to doing business, and business often takes place over the phone, fax, and via e-mail. However, the sauna is an important part of the culture and it is not unusual for business to be discussed in this environment on a more sociable level.
Finns are very direct and prefer getting straight to the point. Often a verbal agreement may hold. At meetings business cards are exchanged and should have, on the alternate side, details in Finnish. Business hours are generally 8am to 4pm Monday to Friday.
Communications:
The international country dialling code for Finland is +358. Free wifi is available in hotels, cafes, restaurants, and similar establishments in all major towns and cities. There are free wifi hotspots with high speed internet in Helsinki.
Duty Free:
Travellers to Finland arriving from the EU can enter Finland without restrictions on the quantity of purchases, provided they have been bought in the EU for personal consumption or as gift items. No restrictions are placed on meat and dairy products. Some restrictions may apply to selected tobacco products. Travellers over 20 years arriving from non-EU countries are allowed to bring in the following items without incurring customs duty: 200 cigarettes, or 100 cigarillos, or 50 cigars, or 250g of tobacco. With regards to alcohol, one litre of spirits with maximum 22 percent alcohol content, or two litres of alcoholic beverages not exceeding 22 percent alcohol content, and four litres of wine and 16 litres of beer is allowed duty free.
Helsinki may be cold, but the pulsating nightlife is enough to get this city hot and sweaty. With a number of trendy nightclubs, bars and pubs, visitors will have no problem making full use of the long, dark winter nights. Most of the nightlife in Helsinki is centred round Uudenmaankatu and Eerikinkatu, where bars and clubs abound and crossing from one to the other is a quick dash across the cold street. Finns love their tango music too so expect to find plenty of sultry dancing in restaurants, bars and even the streets during the summer months, with a few of the favourite outdoor dancing spots nearby the Vantaa area.
Head to the stylish bars in Uudenmaankatu 9 for a night out with the local trendoids and mingle with the ultra-hip, while sipping on designer beers and nibbling on tapas. Eerikinkatu 27 is the place to be seen working up a sweat to local techno music and a few bars here are synonymous with the gay scene of Helsinki. While in Simonkatu there are megaclubs, with some boasting up to three storeys, six bars and hundreds of Helsinki's hottest people partying the night away. For live music, Telakkakatu 8 is where some of Helsinki's hottest new bands showcase their talents, while Mikonkatu 15 is great for those looking for a heavy rock gig and a little moshing for good measure.
For a more cultured evening, head to Finlandia Hall for the Helsinki Philharmonic Orchestra and other concert performances (this is the home of Sibelius after all). The Finnish National Opera performs regularly, and Helsinki's thriving jazz scene is personified in the UMO Jazz Orchestra, which plays at various venues around town.
For updated concert listings and gig guides, pick up a copy of the Helsinki Guide, available for free at most hotels and tourist centres.
Helsinki has a simple and extremely efficient public transport system, rated one of the best in Europe, making it easy to hop onto trams, buses, the metro or a ferry with a single ticket purchased from the driver, ticket machines or even by SMS on a mobile phone. Special tourist tickets are available for visitors allowing for one, three or five days' unlimited use of the public transport system. There are also plenty of taxis available to be hailed, ordered by telephone or boarded at one of the many taxi ranks. A car in the easily navigable city of Helsinki poses no problems and it is easy to drive yourself around should you so desire. There are several car hire agencies available.
The city is compact and pleasant so that getting around on foot is an attractive option. Many of the most popular attractions are clumped together and can be easily navigated on foot. There are also many lovely parks to walk through. Alternatively, in summer make use of the hundreds of kilometres of bike trails by picking up a bicycle for a small coin deposit at one of the bike racks dotted around the city centre.
Straddling islands and lapped by the Baltic Sea, Helsinki is a uniquely attractive and interesting city to visit. Many travellers choose to enjoy the sea air and enjoy the walk along the seaside which covers around four miles (7 km), taking visitors along Lapinlahti Bay past sights like the Sibelius Monument, Seurasaari Open-Air Museum, Hietaniemi Beach, a mini golf course and Mäntyniemi, one of the official residences of the President of Finland. The best time to enjoy this stretch of coastline is on a warm summer's day.
Visit the old Swedish fortress of Suomenlinna, admire the engineering genius of the Temppeliaukio Church (Church in the rock), have your picture taken in front of the Uspenski Cathedral or sip on a cup of coffee while you watch the world go by in neoclassical Senate Square. More active visitors should hire a bike and make their way around this picturesque city as it has an impressive network of bicycle routes.
There are many things for kids to do in Helsinki, including visiting the Helsinki Zoo on Korkeasaari Island or the interactive Heureka Science Centre. There are many parks in Helsinki that offer space to run around in, with Sinebrychoff Park being popular in the wintertime for sledding. Pihlajasaari Recreational Park has a nice beach, but look carefully where you go, as some areas are designated for nudists.
Travellers should look into buying the Helsinki Card which entitles the bearer to unlimited free travel on public transport within the Helsinki area, free admission to a number of the city's attractions, and provides discounts on restaurants and other activities around Helsinki. Helsinki Cards are available for 24, 48 or 72 hours and prices start from EUR 46 for adults.