An ancient and beautiful country, there is plenty tosee and do in Ethiopia. But getting to attractions isn't alwayseasy and visitors may find sightseeing challenging. However, manyof the attractions in Ethiopia are incredibly impressive andrewarding and worth negotiating the chaos.
Most tourists travel to the colourful capital ofAddis Ababa to start their exploration. It's worth spending atleast a day here to experience the vibe of this enormous Africancity. It has some lively markets and worthy attractions, includingthe Ethiopian National Museum which is home to Lucy, the famousearly hominid fossil.
Northern Ethiopia holds the greatest attraction forvisitors as one of the country's richest regions for culture,history, and natural splendour. The Historic Route has somebreathtaking assets and constitutes a fairly well-beaten trail onwhich travellers can feel safe.
With more castles, palaces, and churches than anyother city in Africa, the medieval city of Gondar is a wondrousplace. Alternatively, the city of Axum is said to contain the Arkof the Covenant, while also being the ancient capital of the Queenof Sheba and the country's holiest city.
The ancient city of Harar, fourth holiest city in theworld for Islam, boasts 82 mosques within its fortified walls. ButEthiopia's top attractions are undoubtedly the 13th-centuryrock-hewn churches of Lalibela. They are among the most incrediblemanmade structures in the world, revered and renowned amongEthiopians and foreigners alike and the venue for some of the mostfamous religious festivals in Ethiopia. Having taken at least 24years to complete, the astounding churches are believed to havebeen created with the help of angels.
Mercato
The Mercato is one of the largest outdoor markets inAfrica and Addis Ababa's most colourful sight. Ideal for souvenirs,there are tailors, spice merchants, and purveyors of just aboutevery commodity under the sun, including wonderful Ethiopiancoffee. Mercato is memorable but not for the faint hearted, withwandering animals, hollering vendors, and a riot of colour, aromas,and sensations. The spice market is particularly interesting withits exotic colours and smells. The Mercato is a pick-pocketinghotspot so visitors should be careful with their valuables. It'sbest to wear a money belt under clothes rather than keeping cash inan accessible place. Shoppers should bargain hard as prices areenormously flexible and foreigners are routinely charged three tofour times the going rate. Often shoppers can bargain their waydown to as little as 20 percent of the original asking price.Travellers should be careful of purchasing antiques and historicalartefacts as, without a certificate, they may not be genuine and,even if they are, they could be confiscated at the airport. Themarket is enormous, chaotic, and easy to get lost in, so manytravellers prefer to hire a local guide to show them around.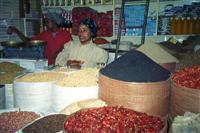 Mercato, Addis Ababa Philip Kromer
National Museum of Ethiopia
This museum has a varied range of exhibits displayedacross three floors and covering a wide scope of Ethiopian historyfrom the prehistoric to the contemporary. The museum is notworld-class in terms of its facilities or exhibition space, but itdoes contain some genuinely fascinating artefacts and givesvisitors a good historical overview of Ethiopia. The most famousexhibit is the replica statue of Lucy, thought to be the oldesthominid skeleton ever found and estimated to be 3.18 million yearsold. Lucy was discovered in 1974 and named for the Beatles song.The fragile original skeleton is in the vaults of the building.Also of interest is the selection of celebrated Ethiopian artworksfrom Axum, Lalibella, and the Tana Monasteries, as well as relicsfrom Haile Selassie's reign. Visitors should check ahead of time asto whether there is a power cut scheduled because they are commonin the city and it is impossible to appreciate the museum in thedark. Another great museum in Addis Ababa, ten minutes walk fromthe National Museum, is the Ethnological Museum inside the mainuniversity campus at Sidist Kilo. The two museums are easilycombined on a morning of sightseeing.
Address:
King George VI St, Piazza.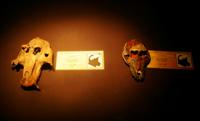 National Museum Philip Kromer
St Georges Cathedral
St George's Cathedral was founded by the greatEmperor Menelik to commemorate his 1896 victory over the invadingItalian army. A relic of St George was carried into battle by theEthiopians and the emperor built the cathedral to pay tribute tothe saint that ensured his victory. The cathedral is a holy placeof pilgrimage for Rastafarians. It has a traditional Ethiopiandesign and octagonal shape and the outer walls of the building arecovered in wonderful artwork and mosaics, including work by AfewerkTekle. Inside, beautiful stained glass windows enhance the sacredatmosphere. In 1930, the church hosted the coronation of EmperorHaile Selassie and he and Empress Menen are two of the famousEthiopians buried here. Travellers should attend a service (enquirefor times) to experience the wonderful singing and prayerfulchanting so typical of Coptic Christianity. If they do attend aservice, they should be aware that the congregation stands for theduration of the service with men to the left and women to theright. Visitors must take off their shoes before entering thechurch. There is a small museum at the church which has some usefulinformation and interesting displays. Visitors can also get somegreat views of the city by climbing the museum's tower.
Address:
Fitawrari Gebeyehu St, Piazza.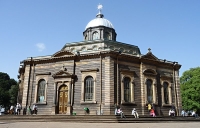 St George's Cathedral, Addis Ababa Ondřej Žváček
Addis Ababa has a subtropical highland climate, which means thetemperature stays relatively constant, hovering between 46°F (8°C)and 77°F (25°C) for most of the year. The rainy season lasts fromJune to September, with July and August being the wettest time ofyear, with around 27 days of each month receiving significantrainfall. These are also the coolest months. The best time to visitAddis Ababa is from October to February, when the temperatures arewarm and the days are sunny.
Ethiopia is in the tropical zone lying between theequator and the Tropic of Cancer. There are three different climatezones in Ethiopia and weather varies substantially depending onaltitude. The lowlands are generally hot and humid, with coolertemperatures in the Ethiopian Highlands.
Although the low-lying areas are tropical in climatedue to the proximity to the equator, the mountainous regions canget chilly and the climate is more alpine. The average annualtemperature in the highlands is about 61°F (16°C), while thelowlands average about 82°F (28°C).
In Addis Ababa, which ranges from 7,218 feet to 8,530feet (2,200m to 2,600m), the maximum average temperature is 79°F(26°C) and minimum 39°F (4°C). May is the hottest month and Augustis the coolest.
There are two rainy seasons in Ethiopia: a short,mild one between February and April, and a more intense rainyseason from mid-June to mid-September. Although travel is easilypossible during the spring rainy season, it is generally avoidedduring the far wetter summer period as road travel can becomedifficult. Visitors should be aware that Ethiopia can get rainyear-round and that rainfall, like everything else, is dependent onregion.
The best time to visit Ethiopia is in the dry seasonbetween mid-October and March, but travellers should be sure tocheck out the climate for the particular region they want toexplore before making a decision.
Addis Ababa Bole International Airport
Location:
The airport is situated five miles (8km) from AddisAbaba.
Transfer Between Terminals:
The terminals are close to each other, but a free shuttleservice is available.
Getting to the city:
Most hotels offer shuttle services from the airport, howeverthese should be booked in advance. Local minibuses are alsoavailable but these tend to be crowded and can be uncomfortablewith luggage.
Car Rental:
Car rental is available at the airport.
Airport Taxis:
To avoid haggling and overpricing, travellers should use theyellow/cream coloured government taxis parked at the terminal.These are more comfortable and reliable than the unofficial blueand white cabs. Passengers should make sure to agree on a fee withthe driver before starting their journey.
Fascilities:
Facilities include a bank and bureau de change, restaurants andbars, duty-free and gift shops, travel agents, a post office, and atourist help desk.
Parking
Public parking is located near the entrances of eachterminal.
Money:
The official currency is the Ethiopian Birr (ETB), which isdivided into 100 cents. Foreign currency can be exchanged at banksand authorised hotels. Credit cards have limited usage outside ofAddis Ababa, and even in the capital they are only accepted bymajor establishments. Visitors should carry hard currency withthem, preferably in US dollars. ATMs are sparse, but banks areusually open every day except Sundays from 8am to 11am and 1pm till4pm.
Language:
Amharic is the official language, although over 80 locallanguages are also spoken. English and Arabic are widely spoken aswell as some French and Italian.
Electricity:
Electrical current is 220 volts, 50Hz. Two-pin plugsare used. Even in Addis Ababa, electricity supply is irregular andblackouts are common.
Entry Requirements:
US citizens must have a passport that is valid upon arrival inEthiopia. A visa is required and can be obtained online or onarrival in the country for those travelling as tourists andarriving at Addis Ababa.
British citizens require a passport that is valid upon arrivalin Ethiopia. A visa is required, and can be obtained online or onarrival in the country for those travelling as tourists andarriving at one of the main airports. Holders of British passportswith endorsements other than 'British Citizen' should check withthe embassy to confirm their entry requirements.
Canadian citizens must have a passport that is valid uponarrival in Ethiopia. A visa is required, and can be obtained onarrival in the country for those travelling as tourists andarriving at Addis Ababa.
Australian citizens must have a passport that is valid uponarrival in Ethiopia. A visa is required, and can be obtained onlineor on arrival in the country for those travelling as tourists andarriving at Addis Ababa.
South African citizens must have a passport that is valid uponarrival in Ethiopia. A visa is required, and can be obtained onlineor on arrival in the country for those travelling as tourists andarriving at Addis Ababa.
Irish citizens must have a passport that is valid upon arrivalin Ethiopia. A visa is required, and can be obtained online or onarrival in the country for those travelling as tourists andarriving at Addis Ababa.
US citizens must have a passport that is valid upon arrival inEthiopia. A visa is required and can be obtained online or onarrival in the country for those travelling as tourists andarriving at Addis Ababa.
New Zealand citizens must have a passport that is valid uponarrival in Ethiopia. A visa is required, and can be obtained onlineon arrival in the country for those travelling as tourists andarriving at Addis Ababa.
Passport/Visa Note:Visa:
Foreign visitors to Ethiopia may obtain a tourist visa onarrival, if arriving at the international airports in Addis Ababa.E-visas can be obtained before departure online atwww.evisa.gov.et/. Work visas are also obtainable, but requirementsshould be confirmed in advance. A yellow fever vaccinationcertificate is required to enter Ethiopia, if arriving within sixdays of leaving or transiting through an infected area. It ishighly recommended that travellers' passports have at least sixmonths' validity remaining after the intended date of departurefrom their travel destination. Immigration officials often applydifferent rules to those stated by travel agents and officialsources.
Travel Health:
Travellers to Ethiopia are recommended to havehepatitis A, hepatitis B, yellow fever, meningococcus, and choleravaccinations. Malaria is prevalent in the lowlands (below 6,562feet/2,000m) and altitude sickness may affect travellers to thehighland areas, including Addis Ababa.
Bilharzia is present in many of the lakes in Ethiopiaand travellers are advised to drink boiled or bottled water, aswaterborne diseases are prevalent. A rabies vaccination isrecommended for anyone who will be spending a lot of time inwilderness areas or around animals, and a polio booster isrecommended for adults who had the vaccine as children.
Medical facilities are poor outside of Addis Ababa,while in the capital, hospitals are available but medical suppliesare erratic. Visitors should bring their own regular medicationswith them and arrange comprehensive travel insurance.
Tipping:
Tourist hotels and restaurants usually add a 10 percent servicecharge to the bill. Otherwise, tipping is fairly common, but onlysmall amounts are customary. Tourists should note that locals mayexpect a tip for being photographed.
Safety Information:
The vast majority of trips to Ethiopia are trouble free, butsafety precautions are recommended. Visitors are cautioned to avoidall public demonstrations and large crowds, particularly in AddisAbaba, and to keep a low profile in public places. Valuables shouldnot be displayed.
Most of Ethiopia can be explored in relative safety, but thereare travel warnings in place for some areas and travellers areadvised to check travel warnings on reputable government websitesbefore planning their itineraries. Caution should generally beexercised in all border areas and the British FCO advises againstall travel to within six miles (10km) of the borders with Eritrea,Sudan, South Sudan and Kenya, though there are a few exceptions tothis rule made for prime tourist hotspots and main roads.
Travel warnings are also in place for parts of the Somaliregion, parts of the Danakil desert, parts of the Gambella regionand the town of Jijiga. Overland travel to Sudan or Kenya isdangerous due to armed bandits, and should only be attempted in aconvoy. There is a high threat from local terrorism in the country,and, although it is not directed at foreigners, visitors need to becautious in public places.
Flooding often affects Ethiopia between June and September eachyear, with flash floods sometimes killing hundreds of people inlow-lying areas.
Local Customs:
The Ethiopian Highlands are mainly Orthodox Christian andrestaurants do not serve meat dishes on Wednesdays, Fridays, andduring Lent. The Ethiopian calendar, which is similar to the Juliancalendar, consists of 13 months (12 months of 30 days, and athirteenth month of five or six days).
Moreover, homosexuality is illegal in Ethiopia. Shoes should beremoved before entering mosques and churches. Photographs shouldnot be taken of military buildings and airports, and permissionshould be asked before photographing religious festivals andpeople.
Business:
Etiquette is very important in Ethiopia, both socially and inbusiness. Formal attire is expected of men and women. Greetings arevery important and the shaking of hands is the norm for firstmeetings. Ethiopians like to establish good relations with oneanother and personal relationships are the cornerstone ofbusiness.
English is understood by most businessmen in Addis Ababa, aswell as some French and Italian. Ethiopians respect their elders,so visitors should show the same courtesy. Business hours aregenerally 8.30am to 5.30pm Monday to Friday, with an hour taken atlunch, but may vary from business to business.
Communications:
The international dialling code for Ethiopia is +251. Theoutgoing code is 00 followed by the relevant country code (e.g.0027 for South Africa). The area code for Addis Ababa is (0)1.Telephone, fax and postal facilities are available in most maintowns. Internet services are increasing in availability.
Duty Free:
Travellers to Ethiopia over the age of 18 years do not have topay customs duty on 400 cigarettes or 50 cigars or 250g of tobacco;2 litre of alcoholic beverages; 2 bottles or 600ml of perfume.
A large and efficient network of blue and whiteminibuses covers the city of Addis Ababa. These minibuses are easyto hail from the side of the road, though it is worth having anEthiopian guide along if it is a tourist's first time using thesetaxis. Small blue taxis are more expensive. Negotiation is the normand foreigners often have to press quite hard to get a bargain.They can be contracted for a full day after some negotiation.
Walking is still the preferred method of transportaround this city. The road names are few and often don't match theones written on maps, so it is best to navigate by using landmarks.Churchill Avenue is the main thoroughfare and shopping street inAddis Ababa.
Car hire can be organised through internationalagencies in Addis Ababa and a full valid international licence isrequired and the licence from country of origin must be endorsedlocally. Drivers must be a minimum of 18 years old. It is a goodidea to hire a car and a driver if visitors plan to travelextensively.
Vehicle travel outside the city after dark can berisky. Autobus Terra, near Mercato, is where most of the nationalbuses arrive and depart and is the main bus terminal. The onlyworking railway line runs between Addis Ababa and Djibouti, viaDire Dawa and Harar. Travellers should be prepared for occasionaldelays. The Ethiopian ride-hailing app, ZayRide, is anotheroption.