As a travel destination, Ecuador is most famous for itsecological wealth. Indeed, the country's most notable touristattraction is the Galapagos island chain, once the scientificplayground of Charles Darwin. On this small archipelago of volcanicislands, weird and wonderful animals like the giant tortoise andmarine iguana can be observed. Tourism on the Galapagos is strictlycontrolled to preserve the famous eco-system.
Other breathtaking natural wonders in Ecuador include the manyvolcanoes, particularly Cotopaxi, which is one of the highestactive volcanoes in the world, and home to one of the fewequatorial glaciers in the world. The Amazon rainforest attractsmany adventurous travellers, with the town of Tena the most commonlaunching point for jungle treks. Nature lovers will appreciate theCuyabeno Wildlife Reserve as well. It lies in the Andeanfoothills.
Those wanting to experience the scenic Ecuadorian coastlineshould to head to the southern coast, where numerous picturesquebeach resorts can be found. The most popular of these is the prettytown of Montanita.
The capital, Quito, is the transport hub of the country andattracts tourists in its own right, thanks to its colonialarchitecture, colourful markets, and Cotopaxi looming in thebackground. Cuenca is also a very attractive town and a hotspot onEcuador's tourist circuit.
Plaza de la Independencia
The Plaza de la Independencia has always been the heart ofQuito. As the hub of the old centre, it is the best place to sit,enjoy a meal, and people-watch. The City Hall, the cathedral, theArchbishop's Palace and the Government's Palace are all locatedaround the square. The cathedral is the oldest church in SouthAmerica, and is one of the city's most impressive historical andarchitectural sites. Both the Government Palace and the cathedralwere scenes of shocking murders. In 1875, President García Morenowas murdered by machete, and in 1877 the Bishop of Quito waspoisoned during a Good Friday Mass. But despite this gory history,the Plaza Grande is now the happy, atmospheric heart of Quito andshould be the first stop for travellers.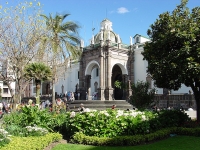 Plaza de la Independencia, Quito Byron.calisto
Plaza San Francisco
The Iglesia de San Francisco is a peaceful place, without theshady benches full of people and the business of Plaza de laIndependencia. Inside, visitors will find chapels gilded in gold,splendid altars and many religious paintings and carvings producedby the Quito School. Its monastery holds some priceless examples ofSpanish sculpture and art. It is one of the biggest religiouscompounds in South America, with seven courtyards and buildingsstretching behind the church. These only become evident once thevisitor has ventured through the stone doorway of the mainentrance. The Iglesia de San Francisco is arguably Quito's greatesttourist attraction and a must-see for travellers in the city.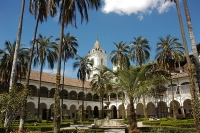 The Monastery on Plaza San Francisco Francesco Bailo
Museo del Banco Central
One of the few sights in Quito's New City is the round,glass-plated building of the Casa de la Cultura. It houses atheatre, a cinema, and two museums, the most impressive being theMuseo del Banco Central. Ecuador's premier museum, it contains anastonishing assembly of religious art, Columbian ceramics andpre-Hispanic gold, and a huge archaeological repertoire. Ofparticular interest are the ceramics of the La Tolita society (600BC to 400 AD) and the Gigantes de Bahía. On show too is the Sala deOro (an exhibition filled with gold), and the Sala de ArteColonial, which is packed with religious paintings and sculptures.English-speakers may find the information provided on exhibitslimited, but the artefacts themselves will not disappoint.
Address:
Quito, Av. Patria y 6 de Diciembre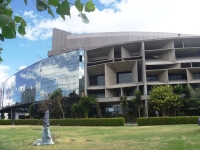 Banco Central, Quito, Ecuador H3kt0r
Money:
The US Dollar (USD) is the official currency in Ecuador. It isrecommended that travellers bring US dollar notes as other foreigncurrencies are difficult to exchange outside of Quito, Guayaquil,and Cuenca. Small denominations in good condition are the easiestto exchange outside of the main cities.
In the main centres, most currencies can be exchanged at banksand exchange houses (casas de cambio) at variable commission rates.ATMs are available in the cities, and major credit cards areaccepted in tourist areas and large hotels, although a commissionof six to eight percent is often charged.
Language:
Spanish is the official language, but many speak anAmerindian language called Quichua.
Electricity:
Electrical current is 120 volts, 60Hz. Two-pin, flatprong plugs are standard.
Entry Requirements:
US citizens must have a passport valid for six months beyond thedate of their arrival in Ecuador. No visa is required for stays ofup to 90 days.
British citizens must have a passport valid for six monthsbeyond the date of their arrival in Ecuador. No visa is requiredfor stays of up to 90 days, irrespective of the endorsement withregard to national status contained in the visitor's passport.
Canadian citizens must have a passport valid for six monthsbeyond the date of their arrival in Ecuador. No visa is requiredfor stays of up to 90 days.
Australian citizens must have a passport valid for six monthsbeyond the date of their arrival in Ecuador. No visa is requiredfor stays of up to 90 days.
South African citizens must have a passport valid for six monthsbeyond the date of their arrival in Ecuador. No visa is requiredfor stays of up to 90 days.
Irish citizens must have a passport valid for six months beyondthe date of their arrival in Ecuador. No visa is required for staysof up to 90 days.
US citizens must have a passport valid for six months beyond thedate of their arrival in Ecuador. No visa is required for stays ofup to 90 days.
New Zealand citizens must have a passport valid for six monthsbeyond the date of their arrival in Ecuador. No visa is requiredfor stays of up to 90 days.
Passport/Visa Note:Visa:
Passports should be valid for at least six months beyond thedate of arrival in Ecuador. All visitors should hold an onward orreturn ticket, and must demonstrate proof of sufficient funds fortheir stay in the country. Extensions are possible for travellerswho do not need a visa to enter Ecuador. Those who are travellingto the Galapagos Islands need to register with the government priorto arrival on the following website:http://www.gobiernogalapagos.gob.ec/pre-registro-tct/. It is highlyrecommended that travellers' passports have at least six monthsvalidity remaining after the intended date of departure from theirtravel destination. Immigration officials often apply differentrules to those stated by travel agents and official sources.
Travel Health:
A yellow fever certificate is required for those arriving frominfected areas, and is recommended for everyone entering Ecuador,particularly for those travelling to the Amazon basin. Vaccinationsare recommended for hepatitis A and hepatitis B. There is a highrisk of malaria and dengue fever in areas below 5,000 feet (1,500m)in Ecuador. There has been a dramatic increase in the number ofreported cases of dengue fever primarily in coastal and Amazonregions. The best prevention is to cover up and use mosquitorepellent liberally throughout the day. High altitude can affectsome people's health so visitors to Quito (6,500 feet/2,800m), forexample, are advised to take it easy for the first few days. It isadvisable to take seasickness tablets on a Galapagos boat cruise.Tap water should not be consumed; bottled water is available. Milkis unpasteurised so it is best to avoid dairy products. Medicalfacilities are often inadequate, especially outside of Quito, andcomprehensive medical insurance is highly recommended.
Tipping:
A 10 percent service charge is usually added to good qualityhotel and restaurant bills, but often the waitron does not receivethis fee, so it is discretionary to add another five to 10 percentas a tip. Taxi drivers do not expect to be tipped but tour guidesusually do.
Safety Information:
Ecuador is generally a safe country to travel to but visitorsshould be vigilant with their belongings as most crime isopportunistic. Travellers are warned not to store belongings in theoverhead lockers or under seats on public buses and trains.
Due to a risk of kidnapping and armed crime, travel to thenortheastern areas bordering Colombia is not advisable, and travelto the northern provinces of Sucumbios and Orellana should beavoided. Travellers should also avoid hiking to Volcan Pichinchavia Cruz Loma as violent gangs are known to operate in the woodedareas; a cable car provides access, but there have been severalcases of armed robbery and rape reported in the area. Severalincidents have also occurred along the hiking trail up CerroMandango near Vilcabamba, Loja, in which hikers have been robbed ofall valuables by masked men.
Ecuador has many active volcanoes, which are rather poorlymonitored. Eruptions have caused the evacuation of thousands ofpeople, particularly in the Baños area.
There is an ongoing risk of disruption to travel due to socialand political unrest; all public gatherings and demonstrationsshould be avoided - as they should be in all foreign countries.
Note:29/11/19
Violent demonstrations and road blockades have occurredthroughout Ecuador since October 2019, causing disruption tointer-city, inter-provincial and international travel. Protestaction can take place with little or no warning in anylocation.
Local Customs:
Always ask permission to take photos of the local people. A tipis often requested for taking a photo. It is a legal requirement tocarry identification at all times. Dress is more conservative andmodest in the highlands compared to the coast. Politeness and goodmanners are essential for communication and a light handshake isthe practiced form of greeting.
Business:
An essential aspect of conducting business in Ecuador is havinga link with a reputable local partner. Business dealings aresomewhat formal; dress is usually smart and conservative,punctuality is important and greetings are made with a handshake.Dress can be more casual in hotter regions such as Guayaquil.Business cards are usually exchanged and it is recommended to havesome business cards, company brochures and presentations translatedinto Spanish. Note that business disputes that would in countriessuch as the United States be dealt with by civil litigation areoften, under Ecuadorian law, viewed as criminal, and can lead toarrest and imprisonment. Although the official language is Spanish,English is widely spoken and understood in the business sector.Business hours are usually 8:30am to 4:30pm Monday to Friday, withsome businesses closing during lunch.
Communications:
The international access code for Ecuador is +593. Hotels, cafesand restaurants offering free wifi are widely available. Asinternational roaming costs can be high, purchasing a local prepaidSIM card can be a cheaper option.
Duty Free:
Travellers entering Ecuador do not have to pay customs duty on400 cigarettes or 25 cigars or 500g tobacco; 3 litres of alcoholicbeverages; perfume for personal use; and gifts and personal effectsto the value of US$500.