Cuba is a country like no other: visitors here experience thethrill of novelty, of being in unfamiliar territory. There is muchto see and do, particularly if you enjoy Havana's majesticallydecaying colonial architecture and revolutionary artefacts infusedwith communist iconography. Cuba is a vibrant, fun and uniqueholiday destination and just wandering around the streets or alongthe beaches is entertainment enough for most visitors. There are,however, plenty of cultural and historical attractions for thosewho enjoy more traditional sightseeing, including the Museo de laRevolucion, the Capitolio Nacional, and the Museo Nacional deBellas Artes.
Then there are the fabulous beaches, mercifully largely free ofthe rampant resort development you'll find elsewhere in theCaribbean. And the beaches are not the only natural wonders. It isa pity that many visitors never get out of the capital because thecountryside holds a wealth of natural splendour and interestingattractions, such as the sugarcane palaces of Trinidad and thecolonial city of Sancti Spiritus. Cuba is also developing itspotential for eco-tourism with environmentally stunning areas likethe Montemar Natural Park which includes forests, marshes andbeautiful clear lagoons. The cave systems of Gran Caverna de SantoTomas are also pleasantly unspoiled, allowing for a more authenticcaving experience than many of the glitzy tourist-orientated cavesfound on the international circuit.
Museo de la Ciudad (Museum of the City)
Built in 1791, the stately Baroque residence of Cuba's colonialgovernors and former Presidential Palace, the Palace of theCaptains General, stands as an impressive sight on the Plaza deArmas and is now the repository for the city's primary museumcollections. The building itself is truly wonderful, with a centralcourtyard containing a white marble statue of Christopher Columbus.It has been beautifully restored and by itself justifies theentrance fee.
The museum's displays and exhibits tell the tale of Havana, fromits founding to the present day, including rooms devoted to theCuban wars for national independence. The colourful Hall of Flagscontains the original Cuban flag, as well as a number of othersused by the Spanish colonial government. There are also exhibitsrelating to archaeology, folklore and weaponry, and an artcollection that includes porcelain, paintings and furniture ofhistoric value and great beauty.
The treasures are varied and interesting but a guided tour doeshelp supplement the labels which are not comprehensive. Visitorsshould note that there have been reports of the museum attendantstrying to hustle tourists out of money by offering to take photosfor them, so be aware that they may approach you.
Address:
Calle Tacón, Plaza de Armas, Habana Vieja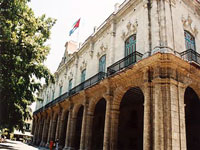 Museo de la Ciudad, Havana Judith Duk
Cigar Factories
Even non-smokers have to agree that a visit to Cuba would not becomplete without investigating the island's most famous export:cigars. The art of cigar-making in Cuba is old and a source ofnational pride. The three main factories in Havana offer tours forvisitors to see how the cigars are still rolled by hand.
In the oldest factory, Partagas, founded in 1827, a reader istraditionally employed to keep workers entertained while theyfashion the famous cigars; apparently this is the reason some ofthe famous cigars are named after literary characters. Tours runevery 20-30 minutes, depending on what language you want to beguided in. A tour lasts about 45 minutes.
Havana's other cigar factories are La Corona and thelesser-visited Romeo y Julieta. There are shops attached to thefactories where cigars can be purchased. Visitors are advised notto buy cigars from people off the street, as these are usuallyrolled banana leaves fashioned into cigar look-alikes and thesellers are persistent hustlers. Los Cohiba Esplendidos aresupposed to be the best cigars in Cuba, formerly only available toFidel Castro.
Address:
Partagas Factory: Calle Industria 520, CentroHabana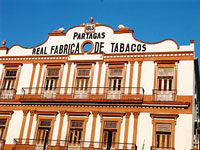 Partagas Cigar factory Judith Duk
Plaza de la Revolución
The Plaza de la Revolucion is a famous landmark in Havana. Thegigantic square, which is dominated by the imposing José MartíMemorial, has provided the setting for numerous political rallies,and the podium in front of the memorial is where importantpolitical figures, like Fidel Castro, have addressed more than amillion Cubans on important occasions, such as 1 May and 26 Julyeach year.
At the foot of the memorial is a museum dedicated to José Martí,a national hero who would most likely have become Cuba's firstpresident had he survived the Second War of Independence in 1895.It is possible to take the elevator to the top of the 138-foot(42m) memorial, the highest structure in the city, to see somegreat views of Havana and get some photographs. Located behind thememorial are the closely guarded offices of Castro.
Opposite the memorial, on the far side of the square, is themuch-photographed Che Guevara image with the slogan (Forever Onwards Towards Victory),that identifies the Ministry of the Interior building. The squareis worth a visit if for no other reason than the important role ithas played in Cuban history.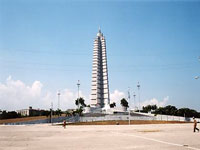 Revolution Plaza Judith Duk
Museo Nacional de Bellas Artes
The Bellas Artes Museum was founded in 1913 and is now splitinto two buildings, both architecturally interesting andimpressive, housing International and Cuban art respectively. Bothfine art collections are worthy of detailed exploration and shoulddelight any visitor interested in art.
The Colección de Arte Universal covers everything from ancientGreek artefacts and Latin American pieces to art by French, Dutchand Italian painters, and includes work by masters such asGainsborough, Goya and Rubens. The Colección de Arte Cubano is alsooutstanding and covers works from the 16th to the 20th centuries byprominent Cuban artists.
The Cuban galleries have rooms dedicated to religion, landscape,portraits and scenes from Cuban life. Of course, the hyperrealismof the revolution and post-revolution years is also prominent andthis has probably become the style of art most associated withmodern Cuba. Famous paintings in the contemporary section includeGitana Tropical by Victor Manuel Garcia (the 'Cuban Mona Lisa') andEl Rapto de las Mulatas by Carlos Enriquez.
Address:
Corner of Calle Trocadero (between Calles Zulueta andMonserrate) and Calle San Rafael (between Calles Zulueta andMonserrate)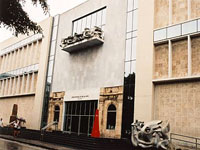 Bellas Artes Museum Judith Duk
Museo de la Revolución
Formerly the Presidential Palace and headquarters of the Cubangovernment, this impressive building now houses documents,photographs and artefacts pertaining to the Cuban Revolution. Themuseum provides an excellent introduction to Cuba's historicalstruggle for independence - there are even blood-stained andbullet-riddled uniforms on display!
Prepare to spend a few hours wandering from room to room as thestory unfolds, from Spanish colonial times to the present day. Infront of the museum entrance stands a watchtower that was part ofthe old city walls, as well as a tank used by Fidel Castro duringthe battle of the Bay of Pigs in 1961. Behind the museum is theglass-encased yacht, the 'Granma', which brought 82revolutionaries, including Che Guevara and Fidel Castro, fromMexico to set the 1956 Revolution in motion.
The anti-imperialist tone of the museum will delight some andpossibly upset others but for history buffs and those interested inthe revolution this museum is a treasure trove. Make sure to getthe correct change at the museum counter as there have been reportsof minor money scams.
Address:
Calle Refugio, between Calle Agramonte and Av de lasMisiones, Centro Habana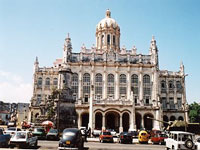 Revolution Museum Judith Duk
Montemar Natural Park
Cuba is developing its eco-tourism potential and one of theprime spots for getting back to nature is the Montemar Natural Parkon the Zapata Peninsula in the province of Matanzas (about 75miles/120km from Havana). The hour long drive from Havana is wellworth the effort as the park can occupy the whole family for atleast a day.
The peninsula is home to one of the largest swamps in theCaribbean, and its vast area also includes forests, crystal-clearlagoons and canals. Its exuberant flora, including more than 900species of plants (115 of them endemic to Cuba) is complemented byits rich fauna, consisting of 160 bird species and 12 types ofanimal, including crocodiles.
One of the park's many interesting features is the Laguna delTesoro (Treasure Lagoon), a fresh water reservoir inhabited bygolden trout. In the midst of the lagoon is a reproduction Tainovillage with its houses built on pillars. There are also naturetrails, a bird watching centre, and the largest flooded cave inCuba. There is also a scuba centre, crocodile farm and severalrestaurants. Kids will love the chance to be outdoors and expendsome energy, and things like the crocodile farm and the floodedcave are delightful attractions for children and adults alike.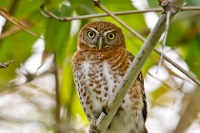 Cuban Pygmy Owl Shawn McCready
Capitolio Nacional
One of Havana's grandest pieces of architecture, the Capitoliois an important landmark and one of Centro Habana's major touristicsights. It was designed to resemble the US Capitol in WashingtonDC, and the similarity is obvious. A monumental stone stairwayleads to the vast domed hall, from where tours will take visitorsbeyond the doors to elaborately decorated chambers that once housedthe seat of Cuban Congress.
Today, it is home to the National Library and Academy ofSciences, and many of its rooms are still used for state events. Italso houses a planetarium and a museum. Directly beneath the domelies an imitation 24-carat diamond set into the marble floor, fromwhere all highway distances between Havana and all sites in Cubaare measured.
The building is today a bit rundown and the inside is oftenclosed for renovations. Even so the outside makes a great photospot. The area is a hot spot for vendors, artists and beggars whichcan make it interesting but be sure to watch your belongingscarefully.
Address:
Paseo de Marti, Centro Habana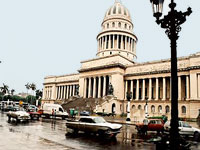 Capitolio, Havana Judith Duk
Baconao Park
The large park region, which is a World Heritage BiosphereReserve, is filled with attractions, including wildlife refuges andcoffee plantations. It is possible to climb 459 stone steps to thesummit of the huge rock, La Gran Piedra, and stand 4,049ft (1,234m)above sea level for a beautiful view. It is said that on a darknight, one can see the lights of Jamaica in the distance.
The park boasts extremely varied attractions and their relationto a general theme is not always obvious but there is an attempt tomove chronologically through history beginning with the prehistoricand ending with the Cuban revolution. In the Valle de laPrehistoria visitors are awed by dozens of life-size modeldinosaurs and other prehistoric creatures lurking in lushvegetation.
There is also a magnificent 45-hectare (111-acre) garden, theJardin Ave de Paraiso, dating from 1860, that was laid out on aformer coffee plantation and features a series of colour-codedgardens with unique scents and displays in each. An artisticcommunity consisting of 10 families have formed a fieldstonehamlet, offering artwork of a high standard at Comunidad ArtistasOasis.
There is also an Auto Museum, an aquarium, and multiple museumsdedicated to Cuban history and the revolution. This is the areafrom which Castro planned the July 26th movement and it is of hugenational importance to the Cubans. At Baconao Park there really issomething for everyone.
Address:
Poblado de Siboney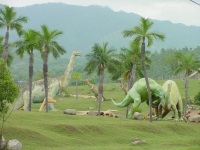 Baconao Park rdmazo
Castillo de San Pedro del Morro (Morro Castle)
Santiago's most impressive structure is poised ominously atopthe cliffs at the narrow entrance to Santiago Bay, about nine miles(14km) south of Santiago. This enormous piece of militaryarchitecture, a maze of stairways and dungeons, was begun in 1640and was originally built to defend the bay from pirates and navalattack.
The Morro was rebuilt in 1664 after the English pirate, HenryMorgan, reduced it to rubble. At one stage in its long history thecastle was also used as a prison before being converted once againinto a military fortress. The castle now houses the Museum ofPiracy, featuring excellent displays on piracy, colonialism andslavery. There are old blunderbusses, muskets, cutlasses and Toldeoblades in glass cases.
The Morro is one of the best-preserved 17th-century Spanishfortresses in the world and it has been declared a UNESCO WorldHeritage Site. There are amazing views from all over the fortressand many enviable photo opportunities. There is also a restauranton the terrace. The Morro is a fascinating place to explore andvisitors to Santiago are encouraged not to pass this attractionup.
Address:
Six miles (10 km) southwest of the city centre, near thebay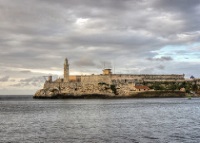 Castillo de San Pedro del Morro Rodger Evans
Emilio Bacardi Moreau Museum
Bacardi, the world's largest family-owned spirits company,started producing rum in Santiago way back in 1862. The family wasforced to flee Cuba after the revolution in 1959, and Bacardidrinks are not found in Cuba today, but the brand still stronglyassociates itself with the country.
Interestingly, it was the fruit bats that nested in the raftersof the original rum factory that gave Bacardi rum its world-famousbat logo. The company's current production sales exceed 240 millionbottles a year, in about 170 countries.
Emilio Bacardi's private art and antique collection is still inSantiago, as is the original family rum distillery, and it is thiscollection that you can view in the Emilio Bacardi Moreau Museum.It is not a rum museum or a distillery tour but an eccentriccollection of the famous family's historical artefacts and art.
A fun and educational outing, the Emilio Bacardi Moreau Museumis well worth a visit when in Santiago. Budget at least an hour totake in all the sights the museum has to offer. Those who want totake photographs in the museum must ask permission and pay anadditional fee.
Address:
Calle Pio Rosado No. 552 e/Aguilera y Heredia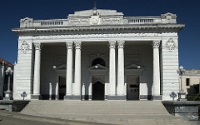 Emilio Bacardi Moreau Museum CNPC Cuba
Santa Ifigenia Cemetery
Santa Ifigenia Cemetery was officially founded in 1868 -although some of its graves are older - and declared a NationalMonument in 1937. It now shelters a number of important historicaland cultural figures including war heroes and famous politiciansand artists.
The gateway to this cemetery is dominated by a memorial to Cubansoldiers who died fighting in Angola. From here, the visitor is ledto the impressive tomb of Cuban national hero, revolutionary andwriter Jose Marti. The tomb is in the form of a crenulatedhexagonal tower with each side representing one of Cuba's sixoriginal provinces. The round mausoleum is designed so that the sunwill always shine on Marti's casket, which is draped with the Cubanflag.
The cemetery also contains a shrine to the Virgin of Charity,Cuba's patron saint, in the form of the Basilica del Cobre. Thislittle church is said to be the scene of miracles performed by thesaint. It is a very attractive cemetery with a number of impressiveand quite original tombs and strolling around it is intriguing; alot can be learned about a culture from the way they commemoratetheir dead.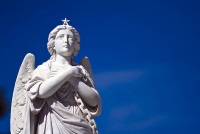 Santa Ifigenia Cemetery Jack Wickes
Habana Vieja (Old Havana)
Old Havana (Habana Vieja) is a very special area in Cuba whichdelights travellers and locals alike. This historic section ofCuba's capital was founded in 1519 and for centuries was animportant naval port of colonial Spain. Being in such a strategicposition, the city was targeted by pirates and fought over onnumerous occasions, and the ruins of the defensive walls thatsurrounded the city can still be seen.
During the years of Prohibition in the United States, HabanaVieja turned into a playground for Americans who flocked here forthe cheap liquor, gambling, prostitution and hedonistic lifestyle.One of the district's most famous bars is La Bodeguita Del Medio,which was the favoured haunt of legendary US writer, ErnestHemingway.
The Old City now also contains museums, hotels, restaurants andshops lining the original cobble-stoned streets. Surrounding thepicturesque squares (plazas) are beautiful restored colonialbuildings with grand facades, and striking churches that form amagnificent setting for the late afternoon chess and domino gamesand salsa music. The Plaza de Armas was the seat of power in Cubafor 400 years, being the base of operations for the SpanishCaptain's General, US military governors and the Cuban president,and today is home to an interesting book market, among otherthings.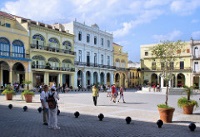 Old Havana Byron Howes
Gran Caverna de Santo Tomás
Cuba's largest cave system, with more than 29 miles (46km) ofunderground galleries spanning eight different levels, the SantoTomás caves are situated about 10 miles (16km) west of Vinales.
Very informative, 90-minute guided tours take visitors 138 feet(42m) above the valley floor into the sixth gallery, wherefantastic limestone formations, glittering stalactites andstalagmites, underground lakes and vast caverns are revealed by thelight of headlamps. You may be taken to level seven as well butunless you are an advanced caver you will most likely be limited tothese two levels; the entrances to levels six and seven aresemi-hidden on a forested slope overlooking the valley and theyprovide wonderful vantage points for views and photographs.
The cave system includes a tiny museum and visitor centre butfor the most part the caves have been kept in their natural state,avoiding the tourist traps of electrical lighting and souvenirstands. In accordance with this lack of commercialisation, theplace is refreshingly devoid of large crowds and tour groups whichallows for a more mysterious and authentic tour than is usuallypossible in famous cave systems.
Address:
El Moncada, 11 miles (17km) west of Vinalesvillage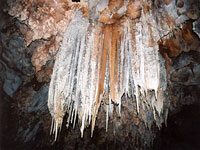 Santo Tomas caves Judith Duk
Museo Romántico
Trinidad has a number of museums housed in colonial mansions,but one of the best is the beautifully renovated Museo Románticooverlooking the main square, Plaza Mayor. The Plaza Mayor is thehistoric centre of Trinidad and has been declared a UNESCO WorldHeritage Site. The mansions, or palaces, that surround the squaredate back to the 18th and 19th centuries when trade in sugar andslaves brought great wealth to the area.
The Museo Romántico, or Brunet Palace, was built in 1812 by thewealthy Borrell family but it takes its name from the Brunetson-in-law who took over the house. The museum displays mostly thebelongings and personal collections of these two grand families andboasts an excellent exhibition of paintings, decorative furnitureand porcelain from the 1830s.
The mansion itself is the main attraction, however, with theoriginal marble floors still on display and splendid frescoes andneoclassical architecture and decoration. The Plaza Mayor is anun-missable attraction in Trinidad and visitors will do themselvesan injustice if they don't explore some of these magnificent oldhouses, which provide so much insight into a certain period ofCuban history.
Address:
Calle Echerri 52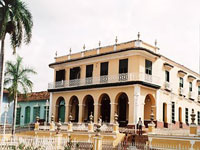 Museo Romantico Judith Duk
Museo Histórico Municipal
This neo-classical mansion belonged to one of the richestfamilies in Cuba, the Borrell family, between 1827 and 1830 but itwas bought by German sugarcane plantation owner Justo Cantero, acontroversial figure in local gossip. The mansion, now a museum, isstill called Casa Cantero.
The grandiose house, just off Plaza Mayor, is in itself the mainattraction, with beautiful wall murals depicting classical scenesand splendid decor in the rooms. Apart from the cool, stylishrooms, the museum also displays some exhibits relating to the sugarindustry and history of Trinidad, including collections ofweaponry, furniture, art and important documents.
One of Casa Cantero's most popular attractions is the superbview that can be seen from the mansion's tower - from here you cansee wonderful vistas of Trinidad and the Escambray Mountains. Thisview alone will more than justify the entrance fee forphotographers. The museum starts getting crowded after 11am, whenthe tour buses arrive, so it is best to visit early in the morningto enjoy the charm of the place.
Address:
423 Simón Bolívar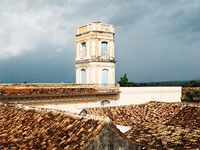 Museo Historico Municipal Judith Duk
Ancón Beach
The soft sand and still, warm waters backed by palm trees makethe beach at Playa Ancón a popular excursion from Trinidad.Situated at the end of the peninsula, seven miles (12km) south ofTrinidad, Playa Ancón offers watersports and some good offshoresnorkelling and diving sites. The colourful coral, rock tunnels andother exciting features of the seabed make this beach a scubadivers playground.
Visitors can take a yacht out into the ocean for a swim, or hireboats to explore the coast or go fishing. The beach is famous amonglocals and travellers alike and the crowds there are a great mix ofthe two: it can be pleasant to go during the week when it isquieter; but, although it can get crowded during the weekend, it isquite fun watching the locals cavort and it is a good opportunityto mingle and meet people.
Make sure to bring snacks or a picnic because food stalls at thebeach are limited and the hotels along the beach front generallyonly cater for their guests. A lovely way to see the countryside isto cycle from Trinidad to this beautiful beach - passing through apicturesque little village on the way - which is not strenuous.
Address:
Seven miles (12km) south of Trinidad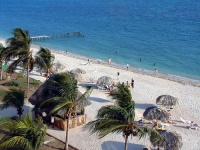 Playa Ancon Esteban De Sousa
Moncada Barracks
If you are interested in the history of the revolution thenvisiting Moncada Barracks is something you must do in Cuba. Thebullet-ridden Moncada Barracks and adjacent Parque Historico AbelSantamaria were the setting for very important events in Cuba'shistory.
In 1953, a group led by Fidel Castro attacked the barracks in anattempt to steal weapons and launch the revolution, but the planfailed and 61 of them were killed. The rest were captured and manytortured to death by Batista's army. Castro himself was later triedin the Escuela de Enfermeras for leading the attack, and this iswhen he wrote his famous 'History Will Absolve Me' speech.
This failed attack is widely considered to mark the beginning ofthe Cuban revolution and the date of the attack, 26 July, wasadopted by Castro as the name for his revolutionary movement(Movimiento 26 Julio) which succeeded in overthrowing Batista'sdictatorship in 1959. The barracks was converted into a schoolafter the revolution and in 1978 the perimeter walls were rebuiltand half of the building became a museum.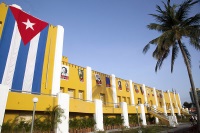 Moncada Barracks Fernanda LeMarie
Cueva del Indio
Located in the Viñales Valley, the Cueva del Indio is a magicalplace for kids to visit. In addition to the caves, the areaprovides some great family activities such as hiking and climbing,as well as some gorgeous rock pools for swimming in the stunninglybright green water.
The caves are named for the local Indians who once inhabitedthem, the Guanajatabey Amerindians, who carved shelters into thelimestone rock and hid in the caves from Spanish colonialists. Someof their bones were unearthed in the cave system and their art isstill visible on the walls. The caves were rediscovered in 1920and, with a gallery spanning 27 miles (45km), the Cueva del Indiocave system is very impressive.
Travellers with kids in Cuba will find this a wonderful familyactivity; children will love the boat ride across the undergroundlake in the cave, and discovering the stalactites, stalagmites andpetroglyphs on the walls of the cave. There is a museum and acafeteria within the cave system. It doesn't take long to take thetour through the caves but it is quite a magical experience andworth a quick detour.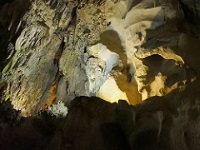 Cueva del Indio Dainis Matisons
Acuario Nacional
This aquarium, located in Habana Vieja, is a scientific researchcentre which aims to educate the public and conserve marine life.The aquarium features about eight big tanks displaying some trulybeautiful freshwater and saltwater fish, along with coral and othertropical species.
The first marine mammal the aquarium collected was a seal calledSilvia and seals remain a popular attraction at the AcuarioNacional: The Seal Stage has capacity for 1,000 spectators. Thedolphins are also popular and have won awards for theirperformances. The Dolphinarium can hold 1,200 spectators and up toeight dolphins perform simultaneously.
Two exhibits which particularly please kids are the reproductionof a mangrove forest and the marine grotto. Children will love theaquarium and will delight in watching the dolphins, sea lions andseals, while parents can enjoy lunch in the aquarium's underwaterrestaurant.
The aquarium has consistently been voted one of Havana's toptourist attractions for kids and those travelling with children inCuba shouldn't miss it.
Address:
Third Ave and 62 St. Miramar, Playa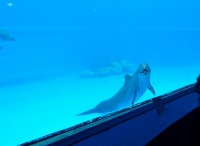 Acuario Nacional Patrick Nouhailler
Camera Obscura
A Camera Obscura is a dark room in which a lens and a series ofmirrors reflect images of exterior surroundings onto a concavesurface. Leonardo da Vinci first described such a camera in 1490.The Camara Obscura in Havana is in the old city, on the corner ofPlaza Vieja, and it offers spectacular 360-degree views over thecity of Havana from a telescopic lens located atop a 115-foot (35m)tall tower.
Guides give ten-minute tours of the old city and the bay, usingthe camera to point out special places, architectural highlightsand Old Havana's attractions. Some of the guides also use thecamera to spy discreetly on people in the area in a veryentertaining way; it is a great opportunity for people watching!The guides have various language skills and it is not difficult tofind one that speaks English.
If you are travelling with kids in Cuba then the Camera Obscurais a great activity; children love the camera and the feeling ofbeing a spy with access to a whole city. Apart from the camera touryou also gain access to a roof garden which is a nice spot fromwhich to take photographs.
Address:
Corner Mercaderes and Brasil, Habana Vieja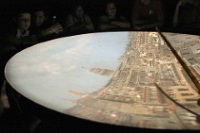 Camera Oscura Brian Snelson
Parque Nacional Alejandro de Humboldt
This UNESCO World Heritage Site is located in the Cubanprovinces of Holguín and Guantánamo, and features an impressiveselection of flora and fauna, such as parrots, lizards andhummingbirds, which are unique to the area. The amount of endemicspecies in the park has made it one of the most valuable areas inthe world for research and conservation.
The area is said to be the most humid place in Cuba and this, inaddition to the incredibly varied topography, may well be a factorin encouraging the diversity of species. The region has seen verylittle habitation by humankind and it remains a remarkablyunspoiled wilderness area. In fact, it is widely hailed as the mostimportant nature reserve in the Caribbean.
The well-visited park is a firm favourite among young travellersto Cuba, and regularly features on lists of the best things to dowith kids while in the country. It should appeal to all ages: whocan resist pristine waterfalls and stunning natural rock pools toswim in? A guide is compulsory when touring the reserve. Althoughit is a few hours from Santiago de Cuba by bus or car to thisincredible park it is a worthwhile excursion and makes for awonderful weekend getaway.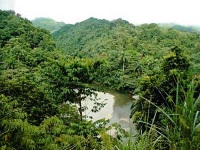 Parque Nacional Alejandro deHumboldt Antonio Nunez Jimenez
Ernest Hemingway Museum
Ernest Hemingway may be an American by birth, but Cubans haveadopted this rambunctious writer/adventurer as their own -especially in Havana, where you'll find memorials to hisapartments, regular haunts, and even favourite drinks. Hemingwaywas a keen fisherman (and a keen drinker) and the bars and harbourin Cuba are full of references to him and his escapades.
Finca Vigia, his home just outside Havana, has been restored andnow functions as a museum to the famous author. The residence iskept as it was when he lived there, and visitors can see histypewriter and library of over 8,000 books. It was in this housethat Hemingway wrote two of his most famous books, For Whom theBell Tolls and The Old Man and the Sea (for which he was awardedthe Nobel Prize for Literature).
Walking around the house feels very personal and informal whichmakes it a special experience for fans of Hemingway. The museum hasbeen known to close often for renovations so try to ensure that itis open for visitors before setting off. Although, a walk aroundthe house and area may prove sufficiently exciting for many.
Address:
Finca Vigía, Havana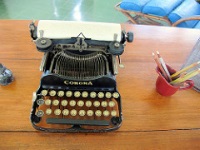 Hemingway's typewriter at FincaVigia Bruce Tuten
El Malécon
A five-mile (8km) esplanade, roadway and seawall, runningbetween the harbour in Old Havana and the historically Russian areaof Vedado, a stroll along El Malécon is the perfect way to startany Havana adventure.
The two-hour walk, described by many as a cross-section ofCuba's history, begins in Habana Vieja, where the buildings havehad their famous pastel colours faded by the sun and the saltysea-wind, and goes past various monuments to significant figures inCuba's struggle history (including Máximo Gomez and CalixtoGarcía), before ending up in the area of Verdado, a funky downtowndistrict with great sights and vibrant nightlife.
Walking El Malecon one bears witness to the strange disparity inCuba between the wealthy tourist hotels and the rundown localjoints. Construction of the walkway began in 1901 and its mainpurpose was to protect the city from the sea but today it is a verypopular social haunt.
It is very different to do the walk during the day and at night;perhaps the best way is to begin in the afternoon sun so that youcan see the colours of the city, and finish in the evening when thelights come on.
Address:
Between the harbour and Vedado, Havana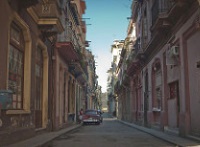 El Malecon Matias Garabedian
Vinales Botanical Garden
Almost all of the Vinales Valley attractions revolve aroundnatural splendour and the Vinales Botanical Garden, the Jardin delas Hermanas Caridad y Carmen Miranda, is a special addition tothis panoply of natural bounty. This small botanical garden ranksvery highly among things to see and do in Vinales, partly becauseit is so refreshingly intimate and un-touristy.
The garden was cultivated by a local family, who still live onthe property, in order to preserve samples of indigenous tropicalplants. It feels like a Cuban version of the Secret Garden; a riotof colour and controlled jungle which delights travellers of allages. This is an ideal place to familiarise yourself with the floraof the region. Usually there is a family member available to showyou around and teach you about all the different species of plantswhich makes for a lovely, personal experience. Roosters andchickens roam freely in the rambling garden and there are lots oflizards and birds. There are also some quirky decorations (dollsheads adorn some of the fence posts).
You can simply stroll into this garden from the main road of thevillage, and it is a wonderful place to wander alone, but be awarethat although entrance is free small donations are expected,particularly if one of the family members gives you a tour. If youare lucky enough to be invited be sure to have a peek inside thehouse as it is also very charming.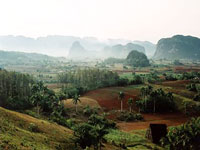 Vinales Valley Judith Duk
Cuba has a semitropical, temperate climate and experiences twoseasons: a rainy season from May to October, and a dry season fromNovember to April. Generally the weather in Cuba is sunny, hot andhumid. The average minimum temperature is 70°F (21°C), and theaverage maximum temperature is 81°F (27°C). In summer (June toAugust) the heat can get uncomfortably intense, with temperaturesreaching 100°F (38°C) and high humidity. The sea breezes tend tomake conditions more pleasant on the coast. The rainy seasonincludes a hurricane season from July to November, with Septemberand October being the months most likely to experience serioustropical storms. Cuba has a very good public safety record when itcomes to handling these storms but travellers ought to be awarethat travel itineraries can easily be thrown by such weather.December, January and February are the coolest months. December toMarch is also the most popular time to visit Cuba due to the coolerweather and lack of rain and storms. However, as it can get verycrowded over this peak period, March, April and May are alsoconsidered good months in which to visit Cuba. Although Junethrough August is a hot period many people do flock to Cuba tocelebrate carnival during the summer months.
Jose Marti International Airport
Location:
The airport is situated 9 miles (15km) fromHavana.
Time:
Local time is GMT -5 (GMT -4 from second Sunday inMarch to first Sunday in November).
Transfer Between Terminals:
A bus services the four terminals, with the fifth one being afreight terminal and not for passenger use.
Getting to the city:
Buses depart the airport for Havana every 30 minutes from 10amto 10pm, but require payment in local currency. Private transportis advisable.
Car Rental:
Transtour, Rex and Cubanacar operate car hire facilities at theairport.
Airport Taxis:
Official taxis are available outside all terminal buildings.
Fascilities:
Airport facilities include VIP lounges with business facilities,banks and currency exchange, disabled assistance, a lost and found,and a variety of shopping and dining options.
Parking
There is short and long-term parking available roughly 500 feet(150m) from the terminal buildings.
Money:
The official currency is the Cuban Peso (CUP), divided into 100centavos, but the 'tourist' currency is the Peso Convertible (CUC),which replaces the US Dollar as currency in tourist relatedestablishments like hotels, restaurants and so called 'dollarshops'. US Dollars are no longer accepted as payment, and a 10percent commission or more is charged to exchange them, thereforethe best currency to bring along is Euros, the British Pound orCanadian Dollars. The CUC is almost equal in value to the USDollar. Some places only accept Cuban Pesos and others only PesosConvertible (usually tourist related establishments). Money shouldonly be changed at official exchange bureaux or banks to avoidscams confusing the two currencies. Visa and MasterCard aregenerally accepted only in major cities and hotels as long as theyhaven't been issued by a US bank; Diners Club has limitedacceptance, and American Express is not accepted anywhere on theisland. No US-issued credit or debit cards will work in ATMs, butthose holding cards issued in other countries should be able to getpesos at most major tourist destinations.
Language:
The official language is Spanish, but English is spokenin the main tourist spots.
Electricity:
Most older hotels use 110 volt power, 60Hz, whilenewer hotels use 220 volts, 60Hz. A variety of outlets are in use,but the flat and round two-pin plugs are most common.
Entry Requirements:
US nationals must have a passport valid on arrival. A visa isalso required if the visitor does not have a Tourist Card.
British nationals must have a passport valid on arrival. A visais also required if the visitor does not have a Tourist Card.
Canadian citizens must have a passport valid on arrival. A visais also required if the visitor does not have a Tourist Card.
Australian citizens must have a passport valid for a minimum of2 months from the arrival date. A visa is also required if thevisitor does not have a Tourist Card.
South African citizens must have a passport valid on arrival. Avisa is also required if the visitor does not have a TouristCard.
Irish nationals must have a passport valid for two months beyondthe date of arrival. A visa is required if the visitor does nothave a Tourist Card.
US nationals must have a passport valid on arrival. A visa isalso required if the visitor does not have a Tourist Card.
New Zealand citizens must have a passport valid for two monthsbeyond the date of arrival. A visa is required if the visitor doesnot have a Tourist Card.
Passport/Visa Note:Visa:
In lieu of a visa, a Tourist Card ("Tarjeta del Turista") may beissued by tour operators, travel agents, or airlines for asingle-entry holiday trip of up to 30 days, provided accommodationhas been pre-booked and paid. A return ticket or proof of onwardtravel is required, as well as sufficient funds to cover the periodof intended stay in Cuba (US$50 or equivalent per person per day).All those entering Cuba must hold travel insurance, with coveragein Cuba, to ensure cover of medical expenses for the period ofstay. It is highly recommended that your passport has at least sixmonths validity remaining after your intended date of departurefrom your travel destination. Immigration officials often applydifferent rules to those stated by travel agents and officialsources.
Travel Health:
Health insurance, with provision for emergency repatriation, iscompulsory for visitors to Cuba. Those travellers without adequatehealth insurance will be obliged to purchase Cuban health insuranceon arrival. No vaccinations are officially required, howevervisitors are advised to take precautions against typhoid,particularly if travelling to rural areas. Vaccinations are alsorecommended for hepatitis A and hepatitis B. Most of the moreserious tropical diseases are rare in Cuba, but viral meningitisand dengue fever do occasionally break out, even in urban areaslike Havana. Dengue fever is on the increase in most of theCaribbean and the best prevention against it is mosquito repellentand suitable clothing to avoid being bitten. Rabies should only bea risk for those at risk of animal bites, but if you are planningto spend a lot of time outdoors a vaccination should be considered.Food in Cuba is generally considered safe. Bottled water isavailable and advised for the first few weeks, although mains wateris chlorinated. Cuban medical facilities are mediocre and manymedicines are unavailable, so those requiring regular prescriptiondrugs should bring them with, along with a copy of the prescriptionand a doctor's letter to facilitate entry through customs.
Tipping:
Tipping in convertible pesos is very welcomed as salaries in theservice industry are small. A 10 percent tip is appreciated inrestaurants and by taxi drivers. Although giving out items liketoothbrushes and pens is popularly recommended by travellers, thispractice is sometimes frowned upon and certainly not necessary -service staff would almost always prefer a tip to these sorts ofgifts.
Safety Information:
Cuba is considered comparatively free from the threat of globalterrorism, but has an increasing crime rate. Visitors are warnedthat theft from baggage during handling in airports is common, andvaluables should not be packed in suitcases. Be wary of pickpocketsand bag snatchers in Old Havana, at major tourist sites and onbuses and trains. Visitors are advised to take taxis after darkrather than walk but you should always make sure taxis areregistered and not just private cars. If there are politicaldemonstrations of any kind during your holiday you should avoidthem; Cuban authorities are known to clamp down on street protestsquickly and sometimes violently. Tropical storms and hurricanesusually occur between June and November; although good warning isgiven, electricity, water and communications can be disrupted forweeks.
Local Customs:
Visitors should address Cuban men as 'señor' and women as'señora'. While many Cubans will engage in political discussion anddebate, it is not advised to criticise the government too vocally,and one should be respectful of revolutionary figures such as FidelCastro and Ernesto 'Che' Guevara. Homosexuality is legal in Cubabut public displays of affection between same-sex couples are notalways well-received by locals. The penalties for possession ofillegal drugs are very strict, as are the penalties for any breachof Cuban immigration rules.
Business:
Cubans tend to be warm and hospitable, and business is conductedmore informally than in many other countries. Establishing a goodrelationship is vital to successful business and some time may begiven over to small talk. Due to relative isolation from the globaleconomy, business in Cuba tends to take some time and effort, andone is often hemmed in by the country's communist practices.Punctuality is always important, but don't expect meetings to beginon time or deals to be struck quickly. The dress code tends to bemore casual than elsewhere but businesspeople still usually wearcollared shirts and the dress code for women is sophisticated.Business hours are usually about 8.30am to 12.30pm and 1.30pm to4.30pm, Monday to Friday. Some businesses are open every secondSaturday.
Communications:
The international access code for Cuba is +53. Public telephonesare widely available for domestic as well as international calls,but international calls are expensive. Prepaid phone cards areavailable. Wifi availability in Cuba is expanding rapidly but thereis still limited connectivity and internet access is oftenexpensive. A prepaid NAUTA internet card is needed; which you canpurchase from a ETECSA station located throughout major cities orat upscale hotels. Once you have a NAUTA card you will need to finda wifi hotspot, in a modern hotel or in a wifi park.
Duty Free:
Travellers to Cuba over 18 years do not need to pay customs dutyon 400 cigarettes or 50 cigars or 500g of tabacco; 2.5 litres ofalcohol; medicines and perfume for personal use; and gifts to thevalue of CUC 60. The import and export of local currency isprohibited.