Forest of Steles
Though there are many collections of steles (stone tablets) in China, only Xi'an's is large enough to warrant being called a forest. There are more than 3,000 ancient steles in this library, dating back to the Tang Dynasty (618-907). The Beilin Museum itself is nearly as old, having been established in 1087. The steles are divided into seven exhibition halls, and display classic examples of traditional Chinese calligraphy, painting, and historical records. It is a scholarly museum, and perhaps not as thrilling as some other sites, but travellers interested in history, writing, calligraphy, poetry, or philosophy will be enthralled by the ancient collection. It is recommended that visitors hire one of the library's excellent English guides, as without some assistance, a lot of the interesting history and the cultural relevance of the inscriptions will be inaccessible. Apart from its impressive collection, the museum building has lovely grounds with fountains and pagodas, making it a great place to relax after a long day of sightseeing. It is also one of the less crowded tourist attractions. Ink rubbings of some of the most famous tablets are for sale in the gift shop.
Address:
15 Sanxue St, ZhongLou ShangQuan, Beilin Qu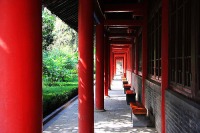 Stele Forest Museum Fan Yang
Qin Terracotta Army Museum
In 1974, a group of peasants digging a well north of Mount Lishan in Lintong county, about 18 miles (30km) from Xi'an, unearthed fragments of a life-sized warrior figure. Because the site of the discovery was just one mile (2km) from the as yet unexcavated tomb of Chinese emperor Qin Shi Huangdi, who ruled between 246 and 210 BC, archaeologists grew excited. Further excavation revealed several timber-lined vaults filled with thousands of greatly detailed terracotta soldiers and their horses and chariots: an entire army assembled in position to follow Emperor Qin into eternity. The pits containing the army are now open to public viewing and thousands of visitors flock to gaze at the stunning array of figures with their vivid facial expressions.
The Terracotta Army Museum consists of the original pit that was discovered in 1974, which has been enclosed within a hangar-like building to preserve the ranks of 6,000 soldiers found there. A second pit, containing 1,400 figures of cavalrymen, horses and infantrymen, and 90 wooden chariots, is also part of the museum. Visitors can also see Qin's Mausoleum and view almost 100 sacrificial pits containing the skeletons of horses, complete with hay, that were buried with him. There are also about 20 tombs holding the remains of his counsellors and retainers. The emperor's tomb itself is under a 249-foot (76m) high mound that has not yet been excavated, but is believed, according to historical records, to have contained rare gems and other treasures.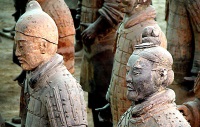 Terracotta Soldiers Peter Morgan
Shaanxi Provincial History Museum
The graceful complex of buildings that constitute the Shaanxi Provincial History Museum in Xi'an's southern suburbs is built in the style of a Tang Dynasty pavilion, and is itself a sight worth seeing. The museum's exhibits, however, are even more breathtaking, consisting of about 113,000 artefacts unearthed in the province and chronologically arranged in three exhibition halls. The exhibits cover the Han, Wei, Jin, North and South, Sui, Tang, Song, Yuan, Ming, and Quing dynasties, as well as the prehistoric and bronze period. Shaanxi province was a vital region for the cultural development of China; it was the capital of 13 glorious dynasties. The Shaanxi Provincial History Museum stands as testament to the area's importance: it is a treasure trove of Chinese civilization. The museum is China's premier history museum and everything is world-class. The lines at the entrance can be extremely long, so travellers are advised to get there early to avoid the crowds and to get a free ticket (4,000 free tickets are available every day, visitors must just present their passport to get one).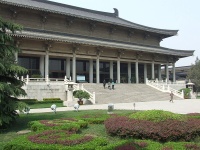 Shaanxi Provincial History Museum Robin
Banpo Village Remains
On the outskirts of Xi'an city, on the bank of the Chanhe River, are the remains of the ancient settlement of Banpo, dating from about 5000 BC. The remains were discovered in 1953 by workers laying the foundations for a factory. Upon further investigation, the site proved to make up one of the most complete example of an agricultural Neolithic settlement in the world. The site contains the ruins of more than 40 homes, 200 cellars, numerous storage pots, a collection of pottery and tools, a pottery-making centre, and more than 250 graves belonging to a matriarchal community of the Yangshao culture. There is an on-site museum constructed over the excavation site with two smaller exhibition halls displaying the archaeological artefacts that have been unearthed. More than 400 archaeological sites similar to Banpo have been discovered in and around the Yellow River Valley in China, giving the area the reputation of being the birthplace of ancient Chinese culture. Banpo is an essential visit for those interested in archaeology and ancient history.
Banpo Village skull Scott Swigart
Huaqing Hot Springs
The Huaqing Hot Springs, located about 22 miles (35km) east of Xi'an city, at the base of the Lishan Mountains, is where the ancient emperors bathed and relaxed in scenic surroundings. Huaqing is one of the Hundred Famous Gardens of China and the setting of the baths is very beautiful. The spa has been operating since the days of the Tang Dynasty, and its warm (109°F/43°C) mineral waters, containing lime, sodium carbonate, and sodium sulphate, are still enjoyed by locals and visitors today.
The waters are particularly recommended for the treatment of dermatitis, rheumatism, arthritis and muscular pain. The ancient imperial bathing pools can be visited, including the Hibiscus pool, dating from the year 712, which has been restored and is open to the public. There is also a fascinating museum at the site containing building materials from the Tang Dynasty.
Another attraction at the springs is the Hovering Rainbow Bridge, which reflects the sunset in such a way that it appears to be a rainbow. Visitors can take a cable car up the mountain to experience the aerial view. Huaqing is the setting for a famous Chinese love story about the Emperor and his lover and this romance is the central theme of the attraction. Visitors will only need a few hours here, but it makes for a good side excursion on their way to the Terracotta Warriors.
Address:
No. 3 Huaqing Road, Linyi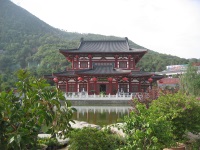 Huaqing Hot Springs David Wiley
Great Mosque
The Great Mosque is the pride of China's Islamic community and is a popular tourist attraction. The mosque is near the Drum Tower in the Islamic residential area. Islam came to China along with Arab merchants and travellers in roughly the year 600. The Great Mosque in Xi'an is the best-preserved ancient mosque in China, having been built in 742, during the Tang Dynasty. It is built in traditional Chinese style with platforms, pavilions and halls, and is rectangular in shape, divided inside into four courtyards. Visitors can explore the passages, courtyards and archways and admire the furniture and fittings, most of which date from the Ming and Qing Dynasties. The main prayer hall can accommodate 1,000 and its ceiling bears more than 600 classical scriptures in colourful relief. The Great Mosque is a rewarding travellers destination, particularly because the mix of Islamic and Chinese architecture and design is interesting and unique. It is surrounded by landscaped gardens which make for a quiet sanctuary and are worth strolling around. It is a place of worship though, so visitors should dress appropriately and behave respectfully.
Address:
30 Huajue Alley, Xincheng District
Opening time:
Daily 8am-7pm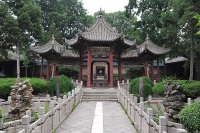 Great Mosque Chensiyuan
Xi'an is semi-arid and has a continental monsoon climate, with four distinct seasons. The range in temperatures throughout the year is fairly steep, with hot days in summer, between June and August, reaching 93°F (34°C), and winter days, between December and February, getting as cold as 21°F (-6°C). Summers are usually hot and stormy and can be uncomfortably humid. Autumns are pleasantly cool and temperate, but can be rainy. Although early autumn tends to be overcast, it gradually becomes more pleasant and sunny. Winters are cold and dry with some snowfall. Springs are warm and pleasant, but highly changeable. There are occasional dust storms in spring due to the rapid rise in temperature. July to September is the wet season. The weather is actually quite pleasant all year round, with the possible exception of winter, but the best times to visit Xi'an are spring, between March and May, and autumn, from September to October.
Xian Xianyang International Airport
Location:
The airport is located about 19 miles (31km) northwest of Xian.
Transfer Between Terminals:
A free shuttle bus transports passengers between terminals.
Getting to the city:
Airport bus shuttles, intercity buses, a metro line, and taxis are available from the airport to the city centre. Bus tickets can be bought from the Passengers Service Centre in T2 and in the arrival hall of T3.
Car Rental:
Car rental services are available.
Airport Taxis:
Taxis are available outside Arrivals.
Fascilities:
Airport facilities include pay phones, drinking fountains, ATMs, nursery rooms, smoking rooms, mobile charging facilities, restaurants, shops, currency exchange services, an hourly hotel, a clinic, VIP lounges, and police services.
Parking
Parking is available at the airport.
Getting around in Xi'an is fairly easy. Buses run frequently, linking most attractions, and they are generally less daunting and more reliable than the buses in big cities like Beijing and Shanghai. There are also smaller and more crowded minibuses available. Taxis are plentiful and easy to find, but visitors should ensure that the meter is switched on as drivers tend to overcharge with 'fixed rates'. As in most Chinese cities, hiring a bicycle is also a popular option, although one should be careful on the busy streets. Bicycles are best for the more touristy areas and for taking a ride along the city wall.
The best way to see the city, or at least parts of the city, is to walk. Xi'an is relatively small and compact and easy to navigate on foot. It is also generally a safe city, which makes walking a more viable option. For slightly longer distances, tuk-tuks are available in the city. Tuk-tuks are covered wagons connected to motorcycles and are cheaper than taxis. Travellers should make sure to bargain with drivers before getting in so that they don't overcharge.
Xi'an is a treasure trove for travellers interested in archaeology and ancient Chinese history. The Shaanxi Provincial History Museum stands as testament to the importance of this region in the development of Chinese culture. The museum houses about 370,000 artefacts collected in the area and is well worth a visit. Another exciting archaeological site is the Banpo Village, which dates back over 6, 000 years and is one of the most well-preserved and complete examples of an agricultural Neolithic settlement in the world. Xi'an is also home to the Forest of Steles, a collection of 3,000 steles (stone tablets and ancient inscriptions) collected over the centuries in a library which is a haven for travelling scholars or anyone interested in the history of language and the written word.
Of course, when it comes to sightseeing, Xi'an is synonymous with its foremost attraction: the famous Terracotta Army Museum. The collection of nearly 8,000 warriors, unearthed in 1974 is a not-to-be-missed experience for any visitor to China. The recently opened Tomb of Emperor Jingdi in Xi'an also displays a number of terracotta statues and it is a far less crowded museum. On the way to the Terracotta Army it is a good idea to stop off at the Huaqing Hot Springs to bathe in the same pools used by ancient emperors and their concubines.
The Xi'an city wall is one of the largest in the world and hiring a bicycle to cycle along the top is a wonderful introduction to the city. Travellers can also walk the wall, stopping along the way to take some amazing photographs of both ancient buildings and new age skyscrapers.