Victoria Peak
Victoria Peak is Hong Kong's number one tourist attraction and its popularity is unwavering. Much of the pleasure derived from a trip to Victoria Peak lies in the journey to its summit. The funicular railway or peak tram has steadily made its way up the mountain since 1888 and the route is extremely steep and rather thrilling, with spectacular views. Energetic travellers can scale the real peak that extends 140m (459ft) above the tram terminus. From the top, marvellous vistas open out onto central Hong Kong and across to Kowloon.
Victoria Peak used to serve as a hill station in colonial times and later became the location of exclusive summer homes. Today it is a popular tourist spot offering a cooler vantage point from which to contemplate the pleasures of travel to the region. The Peak Tower on the summit houses numerous attractions, like a Ripley's Believe it or not 'Odditorium', shops and restaurants. The Sky Terrace offers a stunning 360-degree panoramic view across the Hong Kong skyline - probably the best view of the city you could find - and there is the added attraction of The Sky Gallery, which showcases the works of the city's talented artists. A lot of people choose to go up Victoria Peak at night when the city lights are at their most magical.
Transport:
Take the Peak Tram from Garden Road or bus 15C. There is also a shuttle bus (daily 9am to 7pm) that departs from Star Ferry Terminal.
Opening time:
The Peak Tram runs every day, including Sundays and public holidays, between 7am and midnight. The tram departs every 10-15 minutes.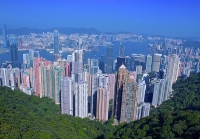 Victoria Peak Bevis Chin
Hong Kong Disneyland
The fifth Disneyland Resort in the world, but also the smallest, Hong Kong Disneyland offers a magical adventure in four themed lands similar to other parks, namely Main Street USA, Fantasyland, Adventureland and Tomorrowland. Two additional areas, designed exclusively for Hong Kong, are The Grizzly Gulch and Toy Story Land. In Toy Story Land kids can enjoy a number of new attractions, including the Toy Soldier Parachute Drop and the scary RC Racer. In the Grizzly Gulch area the Big Grizzly Mountain Runaway Mine Cars will draw shrieks of delight. Classic rides like Space Mountain can also be enjoyed, and kids can explore Cindarella's Castle, Tarzan's Treehouse and the world of Winnie the Pooh, among other things. Mickey Mouse and many other famous Disney characters welcome visitors of all ages to the happiest place on Earth. Particular care has been taken to incorporate Chinese culture into the design, such as a feng shui layout, and the omission of the number four in the numbering of floors in each of the hotels. In addition to the numerous rides and various events and attractions, shops sell Disney souvenirs and restaurants offer a variety of food throughout the park.
Transport:
Tung Chung Line of the MTR
Opening time:
Daily 10.30am to 8pm. Opening times sometimes vary month to month - check the website to confirm times.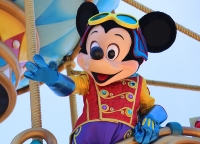 Disneyland Markylim
Western Market
One of the best places to buy souvenirs in Hong Kong, this indoor market is held in a four-storey red brick colonial building that was constructed in 1906. After extensive renovation it re-opened in 1991 and now occupies an entire block at the western end of Central Hong Kong. The building houses a variety of shops and stalls that sell a range of products from jade curios and cloissan jewellery to assorted silks and fabrics. The fabric stores are particularly exciting and the second floor of the building is taken over by a veritable mountain of colourful fabrics of all kinds. There is a small restaurant on the first floor, and toilets on the fourth floor. However, if you aren't interested in shopping then this attraction will hold little appeal for you - if you are an architecture enthusiast you can pop in quickly to see the vaulted ceilings but there isn't much to see in the Western Market apart from the merchandise. Admiring the building from the outside will be sufficient for most, and it is often included in walking tours of the area. From the site one can hop onto Hong Kong's ancient double-decker tram headed for Wan Chai, Causeway Bay and Happy Valley.
Address:
323 De Voeux Road Central, Sheung Wang
Transport:
Take the MTR to Sheung Wan, exit B or C; bus or tram along Des Voeux Road to Sheung Wan.
Opening time:
Shops are open daily 10am to 7pm; restaurants 11am to 11pm.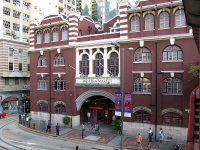 Western Market WiNG
Hong Kong Police Museum
The Hong Kong Police Museum showcases a display tracing the development and history of the Royal Hong Kong Police Force from 1844 to today. The main exhibit encompasses a significant number of artefacts relating to the Hong Kong Police Force from uniforms and firearms, to historical archives and photographs. Other exhibits look at the major factions which have influenced the status quo, namely the triad societies and narcotics (Hong Kong was founded on the narcotics trade), including a unique look at how heroin is produced.
The Police Museum is an interesting visit, providing insight into the dedication of the officers who have served within this elite force. It is a small but informative museum with a little gift shop attached. It is not an interactive, multi-media exhibit so much as a simple but interesting archive of police history which will delight those interested in the subject but probably bore small children or those indifferent to the subject. There is a pleasant park next door to the museum where you can enjoy some shade and refreshments.
Address:
27 Coombe Road, The Peak, Hong Kong
Transport:
Take NWFB Bus No. 15 (from Exchange Square to the Peak). Get off at the stop between Stubbs Road and Peak Road.
Opening time:
Wednesday to Sunday 9am to 5pm; Tuesday 2pm to 5pm. Closed Mondays and public holidays.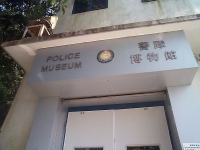 Hong Kong Police Museum Simon Hui
Statue Square
Statue Square is an amalgamation of Hong Kong's contemporary architecture. It reaches its most spectacular manifestation in the designs of the Hong Kong and Shanghai Banking Corporation and the Bank of China Tower. The most significant feature of the HSBC building is that it has been designed without a central core, a feat of structural engineering blended with the ultimate in aesthetic principles. There is also a statue of Sir Thomas Jackson outside the building. The Bank of China Tower became a much-debated conversation piece following its construction, largely because of the asymmetrically-designed pinnacle that acquires differing perspectives depending on one's vantage point. The square also contains the Cenotaph, a memorial to those who lost their lives in the two world wars.
It is a popular gathering place for locals who meet to share meals and socialise; there is a fountain and seating areas. Over Winterfest there are usually Christmas displays, trees and lights put up in the square, although visitors have reported that the displays have become less impressive recently and other squares and malls have better Christmas arrangements. For those interested in architecture Statue Square is a treat, and the attraction is almost always included in walking tours of the city.
Transport:
MTR Central station, exit K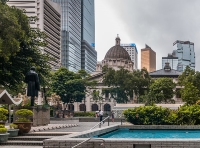 Statue Square The Photographer
Hong Kong Museum of History
The Hong Kong Museum of History showcases Hong Kong's archaeological, cultural and natural history through a display of cultural objects, artefacts, photographs, traditional costumes and models that span 6,000 years. Glorious period sets tell the story of Chinese life in replicas of village houses, streets and stores. These memorials to the past are contained within an incredible building opened in 2000. The museum was established much earlier, however, in 1975, and contains artefacts which were originally housed in the City Museum and Art Gallery, which was established in 1962 and became the Hong Kong Museum of Art.
The main museum has five interesting branch museums in Hong Kong: the Hong Kong Museum of Coastal Defence at Shau Kei Wan, the Lei Cheng Uk Han Tomb Museum at Sham Shui Po , Law Uk Folk Museum at Chai Wan, Fireboat Alexander Grantham Exhibition Gallery inside the Quarry Bay Park, and Dr Sun Yat-sen Museum at Mid-levels in Central. There is a museum shop selling a selection of souvenirs and replicas, and a cafe for refreshments on the premises.
Address:
100 Chatham Road South, Tsim Sha Tsui, Kawloon (next to the Hong Kong Science Museum)
Transport:
MTR Tsim Sha Tsiu, then walk via Granville Road; maxicab no 1 from Kowloon Star Ferry in Tsim Sha Tsiu to Science Museum Road
Opening time:
Mondays and Wednesday to Friday 10am to 6pm. Saturdays, Sundays and public holidays 10am to 7pm. Closed on Tuesdays.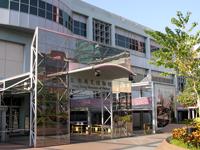 Hong Kong Museum of History Alan Mak
Wong Tai Sin Temple
This grand Taoist temple is one of the most frequently visited temples in Hong Kong. It is dedicated to Wong Tai Sin, a legendary hermit who reputedly had healing powers and could foretell the future. A number of fortune tellers ply their trade in the temple complex and there is also a large pharmacy. There are some English-speaking fortune tellers (although they are more expensive) and they offer a number of soothsaying techniques including palm and face reading. The ornate temple with its red pillars, gold ceilings and decorative latticework is in the traditional Chinese style and is usually full of people burning incense and making floral offerings.
The temple is known as a place where 'wishes come true' and locals come to pray for good health, success in business and happiness. Visitors can buy incense to burn just outside of the temple but there are usually lots of spare sticks left over from previous visitors within the temple itself so buying more may prove a waste of money. Those who do buy the incense need not purchase the whole kit as everything other than the sticks themselves will be taken by the guards at the entrace to the temple proper. The temple also has a lovely adjacent park called the 'Good Wish Gardens', a peaceful green spot with waterfalls tumbling over rocks.
Address:
2 Chuck Yuen Village, Kowloon
Transport:
MTR to Wong Tai Sin, exit B
Opening time:
Daily 7am to 5.30pm, gardens closed on Mondays.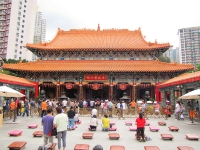 Wong Tai Sin Temple wiredtourist.com
Ocean Park
The Ocean Park is a theme park spread over two parts, connected to each other by a cable car. A spectacular aquarium, reputed to be one of the largest in the world, is complemented by a funfair containing multiple roller coasters, a space wheel, a swinging ship and much more. Ocean Park is Hong Kong's most popular theme park, and is regularly ranked as one of the best in the world. Indeed, when Hong Kong Disneyland opened, Ocean Park renovated extensively and has managed to maintain its top spot.
The variety of rides is impressive, ranging from big thrill rides to mild fun, and lots for children and adults alike. The rides are interspersed with other attractions, like the animal enclosures - the pandas are a highlight for many visitors, as is the Dolphin Show. Areas in the park include Marine World, Polar Adventure, Adventure Land, Thrill Mountain, and the Rainforest. The cable car rides which transport you from one side of the park to the other are really splendid in their own right. There are many restaurants and stalls in the park. Note that although crowds and queues are usually manageable at the park it is much better to visit on a weekday if possible, because on weekends and public holidays there will be long queues for rides and attractions.
Address:
Ocean Park Road, Aberdeen
Transport:
Take City Bus route 629 from either Amiralty MTR Station or Central Pier No.7.
Opening time:
Daily 10am to 6.30pm.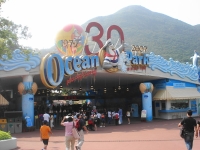 Ocean Park Jackl
Aberdeen
Some 200 years ago, Hong Kong's Aberdeen district was a haven for pirates. Located on the southern shore of Hong Kong Island, it is home to the Tanka boat people and has become a popular tourist destination. Visitors can experience the traditional lifestyle of boat dwellers and sample fresh seafood. Aberdeen is a lively marina crammed with junks, sampans, water taxis (kai do), cruisers and yachts. The fishing harbour is a wonderful way to experience the activity of life on water. Tours along Aberdeen's watery stretches can be enjoyed onboard one of the many sampans offering half-hour trips around the harbour. The sensory delights of Hong Kong cuisine can be sampled within the unique environment of the famous, ornately decorated Jumbo Floating Restaurant.
Recently some tourists have complained that this attraction is not as compelling as it once was, partly because the population of people living on the water seems to be decreasing and witnessing this traditional lifestyle was one of the primary draws of the area. If you are a lover of boats and harbours you will no doubt still find much to interest you in Aberdeen, but if you are going solely to experience the authentic living conditions of local fishermen you may be disappointed.
Address:
South District, Hong Kong Island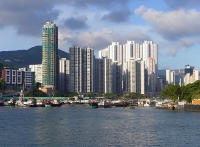 Aberdeen Wing1990hk
Hong Kong Science Museum
This fascinating museum is consistently ranked highly by tourists. Four floors of exhibits cover a range of hands-on science and technology related subjects, including light, sound, motion, magnetism, electricity, robotics, virtual reality and much more. This museum is extremely popular because of its hands-on approach, allowing children and adults alike to learn through involvement. The most prominent exhibit is a 72-foot (22m) tall twin tower Energy Machine which, when activated, triggers a series of displays to produce spectacular audiovisual effects demonstrating various forms of energy.
The Science Museum is a great option for entertaining and educating young minds (and old ones) when the weather is bad, and should keep the whole family occupied for a few hours. For young children there are fun play areas and a toddler's tumble area.
Address:
2 Science Museum Road, Tsimshatsui East, Kowloon
Opening time:
Monday, Tuesday, Wednesday, Friday 10am to 7pm; Saturday, Sunday and public holidays 10am to 9pm. Closed Thursdays.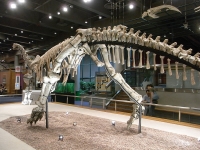 Hong Kong Science Museum Amongesle
Avenue of Stars
The Avenue of Stars is Hong Kong's version of the Hollywood Walk of Fame, celebrating famous icons of Hong Kong cinema. Situated along the seaside promenade, there are great views of Victoria Harbour. The Avenue is also a good place to view the Symphony of Lights, a music and laser show staged every night at 8pm. The show is presented in English on Mondays, Wednesdays and Fridays; Tuesdays, Thursdays and Saturdays it is in Mandarin; and Sundays in Cantonese. Although the Avenue is a lovely place to stroll and has some interesting landmarks, foreigners should bear in mind that they may not recognise many of the celebrities being honoured on the walk. Still, names like Jackie Chan, Bruce Lee and Jet Li may produce excitement - there's even a statue of Bruce Lee. The real reason for making the effort to visit the Avenue, however, is the spectacular view. It is worth doing the walk at night, even if you don't intend to see the Symphony of Lights show. It's also a good people-watching post and it is fun to watch the locals celebrating their favourite stars.
Address:
Along the Tsim Sha Tsui Promenade next to the southern end of Salisbury Garden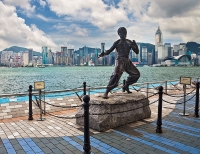 Bruce Lee Statue Benson Kua
Hong Kong Wetland Park
Children on holiday in Hong Kong who want to see crocodiles, butterflies, birds and mangroves should head to the Hong Kong Wetland Park. The Wetland Park showcases the incredible diversity of Hong Kong's wetland ecosystem and the park's main objective is conservation and the education of the public about the importance of preserving this natural system. The park is comprised of a visitor centre, Wetland Interactive World, and a big Wetland Reserve. The Wetland Interactive World has themed galleries and exhibitions, a theatre, a gift shop, and an indoor play area (theme: swamp adventure). Interactive and educational games are a great feature of the centre, as are the sound booths where kids can compose wetland symphonies using the sounds of this fascinating ecosystem. All the games and displays can be absorbing so be sure to actually go outside and enjoy the beautiful walks and the three bird hides, which children will love. The park also hosts some fun events, like bird watching festivals.
This attraction is consistently popular with tourists and makes for a really lovely break from Hong Kong's indoor, urban attractions - it'll delight people of all ages interested in nature and animals and will allow kids to blow off some steam outdoors.
Address:
Tin Shui Wai, New Territories
Opening time:
Open daily 10am to 5pm; except Tuesdays, when it is closed.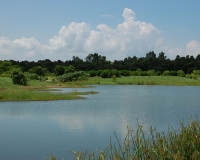 Wetland Park Leonardolo
Hong Kong Museum of Art
Established in 1962 and originally housed in the City Hall, the museum was moved to its current, purpose-built location in 1991. The Hong Kong Museum of Art's five permanent galleries have a large collection of ceramics, cloisonné, bronzes, lacquerware, bamboo carvings, jade, and textiles, as well as beautiful scrolls and examples of calligraphy. While it isn't the biggest art museum in China, the Hong Kong Museum of Art, conveniently located on the Tsim Sha Tsui waterfront, is a great place to visit if you want a taste of Chinese art history on a limited schedule as you can see much of the collections in about an hour. There is also a gift shop and a cafe.
Another branch of the Hong Kong Museum of Art is the Museum of Tea Ware, located in a grand old house in Hong Kong Park. It is an interesting place to visit for those captivated by the finer points of one of China's most refined traditions. The Greek revival architecture and decor is typical of the colonial British buildings of over 160 years ago, and houses more than 600 examples of traditional tea ware, ranging from earthenware to delicate porcelain and dating back to the 7th century. Also described are the methods of tea-making and elaborate tea ceremonies that revolve around the beautiful pieces. The museum shop has a good selection of tea ware to take home with you. The whole museum is rather small, and can be seen in under an hour.
Address:
Art Museum: 10 Salisbury Road, Tsim Sha Tsui, Kowloon. Tea Museum: 10 Cotton Tree Drive, Central, Hong Kong.
Opening time:
Art Museum: Monday to Friday 10am to 6pm, Saturday and Sunday 10am to 7pm, closed Thursdays.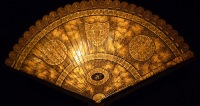 Hong Kong Museum of Art Christopher Luna
Bustling Hong Kong may seem best suited as a holiday destination for adults but this fun city also has more than enough to entice and amuse kids. Children on holiday in Hong Kong will be enthralled by a medley of zoos, museums and markets, not to mention the incredible theme parks and amusement parks to visit. There are also nearby beaches, islands and nature reserves to explore.
There are a number of museums for kids to enjoy in Hong Kong, including the Hong Kong Science Museum and the Hong Kong Toy Library, which is situated on the second floor of Central Library. Children can learn about traditional Chinese culture in Aberdeen and the outer islands, which are also very picturesque. Other adventures include the fun-filled Victoria Harbour tours, while Central Hong Kong and Kowloon have markets where children's clothes and toys can be found. Hong Kong Disneyland and Ocean Park will thrill children for whole days, and the inner-city Kowloon Park is a great place for kids to let off some steam on a day of urban sightseeing.
The best time of year to take children to Hong Kong, with good weather for outdoor activities and attractions, is between October and December when the days are warm, sunny and dry, and the evenings are comfortably cool. Children's Day is celebrated in Hong Kong on 4 April each year, a very festive time for families to visit.
The climate of Hong Kong is subtropical for half of the year and temperate for the rest, with hot, humid summers and cool, dry winters. Winter lasts from December to February. The coldest month is January, when the temperatures average between 58°F (14°C) and 66°F (19°C) and the city gets cooled by strong, cold winds from the north. In spring the wind blows from the south, bringing in warm, humid air and a rainy season that extends through summer. Temperatures in summer, between June and August, regularly climb above 86°F (30°C) and typhoons are possible.
Hong Kong is a little too hot and humid in the peak summer months to be comfortable, but in late spring (May) or autumn (September) the temperature is just right, making these the best times to visit Hong Kong.
Hong Kong is quite simply one of the best places on earth to dine out and experience cuisines from around the world. Some writers have dubbed the city the 'World's Fair of Food' and a 'Gourmet Paradise'. One thing is certain: with over 7 million residents, Hong Kong is one of the most densely populated places in the world and that means cut-throat competition and very competitive pricing. There are over 10,000 licensed restaurants and countless more traders, stalls and mobile eateries in the city.
Hong Kong is best known for its outstanding Cantonese cuisine. The freshest ingredients and finest chefs can be found here. The city's cosmopolitan nature also ensures that there is a dynamic mix of other cuisines. Sushi joints abound, as do pasta houses, bakeries, sandwich shops and just about every other style of food you can imagine.
One experience you should not miss is trying the local dim sum. These are delicious snacks prepared in steaming bamboo baskets and eaten as breakfast or lunch along with copious quantities of Chinese tea. Typical dim sum includes favourites like steamed pork buns, shrimp dumplings, beef balls and pan-fried squid with spicy salt.
Hong Kong residents generally eat five times per day and most meals are eaten outside the home. Meals are typically small, and always accompanied by a generous portion of carbohydrates such as rice or (noodles). For the visitor this means plenty of places to snack and experience a diversity of dishes in one day.
In a Chinese restaurant waiters will commonly bring tea, condiments and snacks to your table, which will be added to the bill. Most restaurants will automatically add 10 per cent to your bill as gratuity. During Chinese New Year, this charge may be a bit higher. Make reservations whenever possible, especially over lunchtimes.
The Bostonian Restaurant
The Bostonian has been included in the influential dining handbook The Hong Kong Best Restaurant Guide and has been a Hong Kong favourite for more than a decade. The restaurant has a lively atmosphere and its menu offers a wide choice of American fare, from the signature US prime rib to Boston lobster - all in huge portions! Creole dishes are also popular here, as is the award winning collection of Californian wines. The Bostonian is tucked away in the basement of the Langham Hotel, with a bar upstairs serving lunchtime sandwiches, and tapas in the evening. Bookings recommended for dinner.
Address:
Langham Hotel, 8 Peking Road, Tsimshatsui, Kowloon
Yung Kee
Dim Sum is a Chinese tradition: an array of steaming baskets of dumplings and other delicacies from which diners make a selection, usually for late breakfast or a light lunch. Dim Sum is one of the specialities for which the Michelin-starred Yung Kee is famed, along with the restaurant's renowned Cantonese roast goose served up with sweet, tasty stewed beans, nick-named the 'flying goose' because so many visitors have insisted on taking a sample of this delicious dish home with them. Enjoy the clean Asian décor of this restaurant while being served by their well-mannered staff.
Address:
32-40 Wellington Street, Central District (near Lan Kwai Fong)
Jumbo Floating Restaurant
Hong Kong's famous floating restaurant, gently riding the swells in Aberdeen Harbour, consists of three sections which are all brightly lit by a myriad of dazzling lights making a fairy-tale night-time spectacle for the thousands who come to dine here every week. Jumbo in Chinese means 'gem' or 'treasure', but the western meaning fits it just as well with its massive capacity for seating 2,300 diners simultaneously. The cuisine on offer is varied, but mainly seafood, which diners can pick out themselves from a selection swimming in a tank - the Flamed Drunken Shrimp is extraordinary. Open daily for lunch and dinner.
Address:
Shum Wan Pier Drive, Wong Chuk Hang, Aberdeen, Hong Kong. (Shuttle ferries depart from Shum Wan Pier and Aberdeen Pier)
Dan Ryan's Chicago Grill
Homesick Americans visiting Hong Kong will find solace in the carnivorous cuisine served up at Dan Ryan's Chicago Grill. The menu tempts with sumptuous feasts such as rack of lamb roasted with rosemary, or char-grilled porterhouse steaks. Not-so-meaty specialities on the menu include homemade pasta dishes, as well as thick satisfying soups served in bread bowls. The bar is also popular for its informal beer-swilling atmosphere. Reservations are essential for this taste of gratifying down-home cookin'. Open daily for lunch and dinner.
Address:
315 Ocean Terminal, Harbour City, Kowloon
Felix
This elegant and trendy restaurant's sleek interior boasts a long table occasionally used as a catwalk, suggesting Felix's fashion-venue ambitions match its culinary aspirations. The Dungeness crab cake, with an avocado and jalapeño remoulade, and the lobster risotto top the haute cuisine list but there's no telling what the haute couture has to offer. Reservations are recommended, open every night for dinner.
Address:
28/F, The Peninsula Hong Kong, Salisbury Rd, Tsim Sha Tsui, Hong Kong
Din Tai Fung
One of the most popular restaurants in Hong Kong for local cuisine, Din Tai Fung specialises in dim sum - small tapas-style dishes like Xiao Long Bao (steamed pork dumplings). Earning a Michelin star in 2011, Din Tai Fung is known for its excellent service and child-friendliness. Be prepared to wait at least 30 minutes for a table however, and even longer at peak times.
Address:
Shop 130, 3F, Silvercord, No.30, Canton Rd, Tsimshatsui, Kowloon
Hong Kong International Airport
Location:
The airport is situated 21 miles (34km) northwest of Hong Kong Island and 14 miles (23km) from Kowloon.
Transfer Between Terminals:
There are people movers to transport passengers between terminals.
Getting to the city:
The Airport Express Line is a dedicated airport railway providing a fast and reliable service to downtown Hong Kong. Trains depart every 12 minutes or less around the clock, and the journey takes around 25 minutes. Scheduled hotel shuttle buses leave the airport regularly taking passengers to major hotels plus key transport interchanges, and there are a number of public bus (Airbus) routes from the airport.
Car Rental:
Public transport in Hong Kong is excellent so car rental is not advised.
Airport Taxis:
Taxis are available from the taxi pick-up area in front of the arrivals hall. Red taxis drive to central Hong Kong, green taxis service the New Territories, and blue taxis drive to Lantau Island.
Fascilities:
Airport facilities include banks, ATMs, currency exchange offices, a post office, beauty salon, a children's play area, showers, restaurants, shops (including duty-free), disabled facilities, cinemas, a golf course, conference and business services and tourist information desks.
Parking
The airport has both undercover and open-air car parks. Long-term parking is located at Car Park 2. Hourly rates range between HK$20 and HK$24, and daily rates are between HK$160 and HK$196.
Chinese New Year
When it comes to Chinese New Year celebrations, nobody does it better than Hong Kong. The streets are jammed with dragon dancers, street performers and illuminated floats. Doors are hung with colourful messages of good fortune and lights are draped over all the city's skyscrapers. Markets and temples become magical places filled with flowers, incense and celebration. The highlight of the festivities is the glittering night parade that is complemented by special lighting effects and concluded by traditional fireworks over the harbour, which is said to scare away demons and ensure good luck. Chinese New Year is a truly special time to visit Hong Kong and allows visitors to see the city at its most glittering, vibrant and colourful. Hong Kong's celebrations run for much longer than the three days usually set aside for Chinese New Year on official calendars.
Venue:
Wan Chai Harbour front; parade route in Tsim Sha Tsui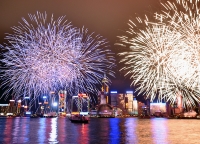 Chinese New Year Michael Elleray
Hong Kong Arts Festival
As a major international arts festival and the city's premier arts event of the year, the Hong Kong Arts Festival presents a fabulous assortment of music, theatre, dance and a wide range of creative visual arts by top international and local performers. The festival is renowned for the richness and diversity of its programme, ranging from classic entertainment to modern and innovative forms of performing arts. The festival is opened with the Piazza Party, which is a special open-air extravaganza of music, dancing and free entertainment. The Hong Kong Arts Festival also sees unofficial performances spring up all over the city, with street musicians and performers adding to the atmosphere, and smaller art and theatre venues contributing their own artistic gems. For lovers of the arts this festival is an exciting international event showcasing some of the very best that the world, and especially Hong Kong, has to offer.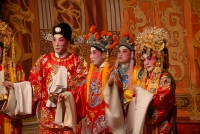 Cantonese Opera Jo Schmaltz
Dragon Boat Festival (Tuen Ng)
The Dragon Boat festival commemorates the death of a national hero, Qu Yuan, who drowned himself in protest against the corrupt rulers of the 3rd century. Legend has it that the villagers threw rice dumplings into the river and beat drums to scare the fish away from his body in an attempt to rescue him. There are many variations of this myth but the main festival activities today bring to mind the event. Rice dumplings are eaten and teams of local and international racers compete in fast and furious dragon boat races to the pounding of drums, as well as competing in various other water-based activities. The elaborately carved, brightly painted dragon boats are the highlight of the festivities, combining heritage, sport and spectacle. It has become quite a prestigious sporting event and teams come from foreign countries and clubs to compete. Recently the event attracted nearly 5,000 athletes, representing 180 clubs and 20 countries. The Dragon Boat Festival is also a huge party and the Victoria Harbour event attracts around 400,000 spectators all intent on a good time. The festivities in Victoria Harbour are the main event in Hong Kong, but the festival is celebrated all over China and some races are held in rivers in the New Territories as well.
Venue:
Victoria Harbour and other venues in the New Territories.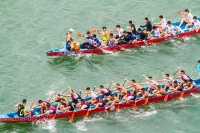 Dragon Race See-ming Lee
Mid-Autumn/Moon Festival
One of the major festivals celebrated in Hong Kong, the Moon Festival is also one of the most widely celebrated festivals for Chinese all over the world, and is traditionally a time for family reunions. At this time of year the moon is thought to be the biggest, brightest and most beautiful, and to celebrate this sighting colourful lanterns in a variety of traditional shapes are lit and all open spaces and hilltops are crowded with families and bright lanterns, watching the full moon rise and eating traditional sweet moon cakes. As with many Chinese celebrations there are numerous ancient myths and legends to explain the festival. In Hong Kong the traditional ceremony retains its charm but the city also adds its own modern, neon touches to festivities, with light and laser shows and impressive exhibits. Moonlight cruises in Victoria Harbour are a popular Moon Festival activity and a delightful way to experience the bright lights and floating lanterns - not to mention the full moon over the harbour.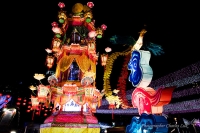 Moon Festival Charles Luk
Hungry Ghost Festival (Yue Lan)
It is believed that the gates of the underworld open for a month, once a year, and the discontented and vengeful ghosts of those who died without proper funeral rites, who met a violent death, or whose living relatives neglected their after-life spirits, roam the earth looking to satisfy their hunger for attention and peace. The purpose of the festival is to prevent these ghosts from inflicting harm on the living in order to gratify their needs. Elaborate religious parades with food offerings fill the streets, and roadside fires are built to burn gifts of money and crafted paper objects such as cars or furniture to appease the wandering ghosts. Various types of entertainment also take place to keep them happy. The festival's origins are similar to Halloween but the Chinese culture of ancestor worship makes it a far more personal festival in some ways; families often leave out food for their lost loved ones. One of the main highlights of the festival is the Chinese opera. Operas in honour of the dead, showcasing their great deeds in life, are performed all over the city.
Venue:
Various. Popular venues are King George V Memorial Park, Kowloon and Moreton Terrace Playground, Causeway Bay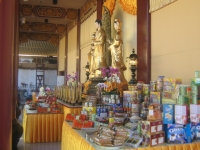 A table at the Hungry Ghost Festival Thetruthaboutfgs
Hong Kong Sevens
The Hong Kong Sevens is one of the biggest sporting events in the city and one of the most exciting rugby events on the international calendar. Top national teams compete in this famed event, while enthusiastic spectators party it up in the stands, particularly in the legendary South Stand where the music blares and the beer flows among the outrageously dressed fans intent on enjoying the rugby as well as having a good time.
All the world's best rugby nations compete in the event and the competition is furiously contested. The games are short (15 minutes long) and fast - quite different to regular rugby matches - and the atmosphere for spectators is more light-hearted and festive than in big international matches. 40,000 spectators can pack into the stadium but this is just the centre of festivities and the event spurs a carnival feeling all over the city, with the party spilling into the streets and venues of Hong Kong.
Venue:
Hong Kong Stadium, Causeway Bay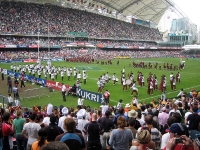 Hong Kong Sevens Parade Jon Parise
Hong Kong Summer Spectacular
Hong Kong is synonymous with shopping, so it is only fitting that the city would choose to dedicate a festival to it. Special offers and big sales are in abundance, from retailers to restaurants across the city. The diverse shopping experience features a host of summer events and promotions. The festival lasts the whole of the peak summer period in Hong Kong and incorporates the Hong Kong Spring/Summer Fashion Week. The celebrations of the sizzling season also incorporate the Dragon Boast Festival, which is a very popular event at Victoria Harbour and a giant party for spectators. Big music events and international concerts are always staged in Hong Kong during this period. The whole city comes alive with celebrations, sales, special deals and events during the Hong Kong Summer Spectacular, which has become a general celebration of summer and all that the city has to offer - it is no coincidence that it occurs in the busiest months of the year. For many people, however, it remains first and foremost a shopping and fashion extravaganza and the best time to find bargains in Hong Kong's famous variety of shops.
Venue:
Throughout Hong Kong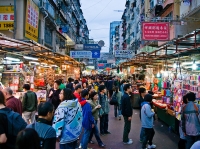 Shopping in Hong Kong Mitch Altman
Hong Kong is renowned for its jam-packed nightlife and the city covers all its bases for after-dark entertainment, with a feisty nightclub scene, lots of good live music, and some world-class performing arts for more sophisticated tastes.
Notoriously naughty Wan Chai has calmed down a lot over the last few decades, and although it has retained some of its seediness and a few girlie bars can be found, there are also many British-style pubs frequented by expatriate locals in the area. The Central district's Lan Kwai Fong is known for having one of the biggest drinking crowds in Hong Kong and the bars to sustain it, and is also a well-known people watching spot. SoHo has a number of ethnic bars and restaurants, and off-the-path Knutsford Terrace is popular for its open-fronted bars and cafes.
Live music has become a standard feature of so many restaurants, cocktail lounges, and bars in Hong Kong that actively seeking it out is seldom necessary. The Fringe Club is Hong Kong's most well-known venue for all things alternative and live acts can be seen here on most weekends, for a price. As it gets later and more alcohol is consumed, most of Hong Kong's small bars tend to evolve into raucous nightclubs. Trendy dance clubs impose a strict dress code and often only grant entrance to members.
Those looking for a quieter night out may enjoy seeing Chinese opera, performed at City Hall in the Central district and the Hong Kong Cultural Centre in Tsim Sha Tsui. The Hong Kong Ballet Company and various theatre groups also stage performances throughout the year, though the highlight of the arts calendar is definitely the Hong Kong Arts Festival in February and March.
To find out what's happening in Hong Kong, pick up a copy of the weekly What's On Hong Kong from any HKTB branch, or the free HK Magazine, distributed weekly at restaurants and bars.
Hong Kong is considered by some to be the shopping capital of the world. Two factors translate this bold claim into reality. Firstly, all goods, other than alcohol and tobacco, are tax-free. Secondly, there is an unparalleled concentration of high-quality goods and vigorous competition. The customer is king here, and with credit card in hand you can rule this shopping empire like nowhere else on earth.
Best buys include jewellery and wrist watches, especially pieces using gold, jade and pearl; and custom clothing and haute couture. Electronics, gadgets, and audio-visual gear like cameras and ipods are not the deals they once were, but you may still find some good prices.
The most popular shopping districts in Hong Kong include Causeway Bay, which contains giant department stores like Sogo and WTC More; the Central district, with high-end boutiques and haute couture; the Admiralty, with a number of shopping malls; and the Peak area, which has an abundance of souvenir shops and brand-name stores. Mongkok is the place to go for bargain shopping on clothing and electronics, but be aware of what you're buying as many products do not come with warranties.
The contrast between the gleaming modern stores and old-world markets gives variety and excitement to a Hong Kong shopping experience. Don't miss Stanley Market's historic fishing lanes, filled with vendors selling Chinese handicrafts and silk creations (a great place to buy gifts and souvenirs). Yuen Po Street's melodious Bird Garden is a magnet for songbird owners, while Hong Kong's Flower Market is a bright and busy scene that makes for wonderful photo opportunities. The Ladies' Market in Tung Choi Street is renowned for its handbags, but the touts are just as famous for their pushiness. Other great markets include the Temple Street Night Market, and Jardine's Crescent. There are several regular Hong Kong weekend markets that have great shopping opportunities as well.
If you have any problems, queries or disputes, hang on to your receipts and call the Consumer Council Hotline on +852 2929 2222 for assistance.
With one of the best public transport systems in the world and a compact city centre, getting around Hong Kong is easy enough for even inexperienced travellers. The underground Mass Transit Railway (MTR) is efficient and inexpensive. Double-decker and single-decker buses cover all of Hong Kong Island, Kowloon and the New Territories with final destinations displayed in both English and Chinese. Bus fares are low and distance-based; exact change is required. Small mini-buses are more expensive but also more flexible, stopping for passengers to board or disembark on request. Hong Kong's old-fashioned trams are also a cheap and convenient way of getting around. On the water, fleets of ferries connect Hong Kong Island, Kowloon, and the Outlying Islands. Last but not least there is an abundant supply of taxis, colour-coded according to their area of operation. Taxi fares are low, but many drivers don't speak English and visitors are advised to have their destination written down in Chinese characters.
Hong Kong is many different things to many different people. Its status as a commercial capital means business travellers arrive in their droves. It is also increasingly popular as a holiday destination for China's mainland population, and with international tourists looking for unparalleled shopping deals and renowned cuisine.
For those heading over to Hong Kong Island from Kowloon, crossing the harbour by ferry is unforgettable, especially in the evening with the lights of Central on dazzling display. Just beyond the skyscrapers sits Victoria Peak, affording spectacular panoramic views over the city. Peak Tower itself can be busy and pricey, but Lions View Point Pavilion, just a brief walk from the summit, is equally stunning, and there are beautiful gardens nearby offering peace and quiet.
Hong Kong is a shopping paradise. There is an endless array of malls, boutiques, vintage stores and bazaars to trawl through. Western Market is a must see, and all the leading fashion brands can be found during an immersive shopping experience at Pacific Place. Ambitious sightseers can also get an HKTB Museum Pass, valid for one week, which gives unlimited admission to a host of museums and provides discounts in the museum shops.
Hong Kong is one of the culinary capitals of the world, even worshipping a god of cookery. Many come to taste the divine inspiration given to a range of Cantonese, Sichuanese and Japanese food. Unique offerings include dim sum, pineapple buns, and stinky tofu.
There are many wonderful attractions just outside of Hong Kong. The city is a great base for excursions and day-trips. For a fashionable day out, horse racing season runs from September to July with weekly races to attend. March/April sees the Hong Kong Sevens come to town, the most prestigious rugby sevens tournament on the calendar, and one massive party.
Lantau
Lantau is the largest of the 235 outlying islands in Hong Kong, being almost twice the size of Hong Kong Island. It is best known for its walking trails and beaches and provides a pleasant respite from crowds and shopping. The main arrival point to the island by ferry is at Mui Wo (Silvermine Bay). The finest beaches are located along the west coast, most notably Cheung Sha. Besides beaches, Western Lantau is the location of the Po Lin Monastery, the largest temple in Hong Kong. Beyond the doorstep of this vast temple is one of the world's largest outdoor Buddha statues. Aptly named Tian Tan Buddha (Big Buddha), the bronze statue sits contemplatively looking over the reaches of Ngong Ping Plateau.
From the monastery buses will transport visitors to the quaint fishing village of Tai O. Here little wooden houses perch on stilts and much of life flows from the fishing industry that sustains it. Lantau's north shore is predominantly a farming region. The main attraction here, however, is the historical Tung Chung Fort, which was built in the early 19th century as part of a short-lived attempt to suppress the opium trade and defend the coastal area from pirates. Six old Qing Dynasty cannons dating back to 1832 stand on the ramparts. Development has changed the landscape of the Northeastern stretches of Lantau, known as Discovery Bay. Here upmarket housing complexes, shopping malls, yacht clubs and golf courses promise to provide the ultimate designer lifestyle at a price.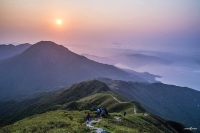 Lantau Island Peak Ching Ching Tsui
Macau
The cultural influence of the Portuguese, combined with traditional Chinese life, has produced a unique landscape in Macau. Here Baroque churches and colonial mansions rise from cobbled pavements interspersed with plazas and cafes. Visitors are enticed here by the lure of gambling, but many of Macau's attractions result from its architectural heritage. St Paul's Cathedral is one such legacy that dates back to the early 17th century. It is an Italian-designed building perched on a hilltop that is most spectacular when illuminated against a night sky. The vantage point from the Fortaleza de Monte is a good place to reflect on the defensive role it played against Dutch assault in 1622, and it is worth exploring the museum and meteorological observatory.
The classic Chinese temple of A-Ma rests at the base of Penha Hill. Its name derives from Tin Hau, Queen of Heaven, or the Honoured Mother. Myth has it that a poor girl saved the fishing vessel, on which she was travelling, from the ravages of a storm. In tribute to her this temple was built and has been established as a place of pilgrimage for Macau's fishing community. Another temple dedicated to the power of female intervention is the Kun Iam Temple, built in honour of the Goddess of Mercy, located in the northern reaches of the peninsula. It was here, in 1844, that the first trade and friendship treaty between the USA and China was signed. Macau is 37 miles (60km) west of Hong Kong; ferries take around an hour to get there and leave roughly every fifteen minutes.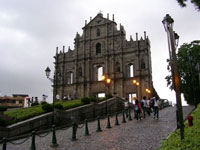 Ruins of St Paul's Cathedral, Macau Arman Aziz
Big Buddha
The Big Buddha, or Tian Tan Buddha, is one of the tallest outdoor seated bronze Buddha statues in the world, and can be found near Po Lin Monastery. The giant Buddha is a popular tourist destination and a major centre of Buddhism in Hong Kong. The 112-foot (34m) high statue sits on a lotus throne on top of a three-platform altar and is surrounded by eight smaller statues of gods. Inside the three floors beneath the Buddha visitors can access the Hall of the Universe, the Hall of Benevolent Merit and the Hall of Remembrance. Visitors can also climb the 268 steps to reach the platform where the impressive figure is seated, and admire the view from the top.
The Tian Tan Buddha is a lovely excursion from the city and the short trip is a great break from the crowds and noise of Hong Kong. You can take the cable car either one way or both - some people prefer to either hike down through the hills after taking the cable car to the site, or to get there on the ferry and buses before taking the scenic cable car route back down into the city. There are many places to get refreshments at the site with both traditional meals and international fare like Starbucks on offer. Try to visit the Buddha on a clear day, when the views are at their best.
Address:
Ngong Ping plateau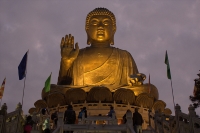 Big Buddha travelwayoflife
Ngong Ping 360
The Ngong Ping 360 Cable Car is a spectacular four-mile (6km) ropeway that affords panoramic views over the bay and surrounding area on its 25-minute journey to the Ngong Ping Village. As visitors approach the cable car terminal on top of the plateau views will include the huge Tian Tan Buddha Statue and the Po Lin Monastery. The Ngong Ping Village is situated right next to the cable car terminal, which features attractions such as 'Walking with Buddha', the 'Monkey's Tale Theatre', and the 'Ngong Ping Teahouse', as well as an assortment of shopping and dining options. Walking with Buddha plunges visitors into a multimedia presentation that follows the life of Siddhartha Gautama (the man who became Buddha) and his path to enlightenment, while the Teahouse provides demonstrations of traditional Chinese tea ceremonies. The Monkey's Tale Theatre presents a charming and comical show inspired by famous Buddhist Jataka stories that will enchant both old and young.
The cable car is an incredible experience and there are a variety of packages to choose from. For instance, you can choose between the more expensive Crystal Cabin - which has a transparent floor - and a regular one. Note that queues for this attraction can get very long.
Opening time:
Monday to Friday 10am to 6pm, Weekends and Public Holidays 9am to 6.30pm.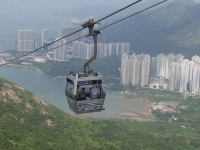 Ngong Ping Cable Car Sue Waters
Ten Thousand Buddhas Monastery
One of the most dramatic sacred sites in Hong Kong, the Ten Thousand Buddhas Monastery is perched at the top of a hill in the town of Sha Tin. Visitors must climb more than 400 stairs to reach the temple and the famous nine-storey pagoda. The monastery actually contains nearly 13,000 Buddha statues within its walls alone, and many more stand sentinel along the pathways and stairs. The statues come in a great variety of shapes and sizes and the temple complex is breathtakingly colourful with beautiful views. Sadly, there are no resident monks and the temple is managed by laypersons; you do not therefore feel as though you are visiting an active monastery. However, unlike many famous temples in Hong Kong, the Ten Thousand Buddhas Monastery has retained its tranquil atmosphere and still feels like a holy place. It is not commercialised and is seldom swamped by crowds. This is partly why it tends to make such an impression on tourists. There is a small restaurant selling simple refreshments at the top but it is advisable to bring your own water for the climb, which some find tiring. In some parts of the complex photography is not allowed - be sure to take note of the signs.
Address:
220 Pai Tau Village, Sha Tin
Transport:
Take the East Rail line to Sha Tin.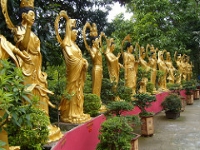 Ten Thousand Buddhas Monastery John Seb Barber
Stanley
Located just 40 minutes from downtown Hong Kong by bus, the small fishing village of Stanley is a popular day trip for tourists looking to escape the congestion of the city. A bustling village, Stanley is home to a number of attractions and diversions, including several scenic temples and museums.
The famous Stanley Market is a winding maze of stalls selling souvenirs like t-shirts, keychains, and knock-off goods, although there's a better selection in Hong Kong City. Bars and restaurants along the waterfront provide good food with great views of the harbour, and the amphitheatre hosts free concerts on the weekends.
Stanley is also popular for its beaches. Stanley Main Beach is a pleasant sandy beach only ten minutes' walk from the centre of town. It has good facilities and shark nets, but can get crowded with locals on the weekends. Stanley Main beach is good for windsurfing, and hosts dragon boat races each summer. St Stephens Beach, on the western side of the peninsula, is more secluded but just as popular.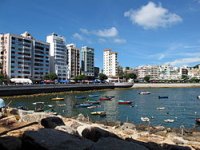 Stanley Waterfront WiNG