The Bund
No trip to Shanghai would be complete without a walk along the famous Bund. This picturesque street, Shanghai's waterfront promenade, stretches for one mile (2km) along the bank of the Huangpu River, and was once the most famous street in Asia. It is still renowned for its strip of Art Deco buildings. One of the grandest of these buildings, formerly the City Communist Party headquarters, is now the home of the Shanghai Pudong Development Bank. On the skyline, visitors can see the Jin Mao Tower, one of the tallest buildings in China. The wide riverfront promenade on the east bank of the river provides a captivating view of Shanghai, particularly at night.
From the Bund visitors can take a river trip down the Huangpu to the mouth of the Yangtse. Boats leave regularly from the Shiliupu Pier south of the Bund and the trip takes about three hours. Those preferring to see an aerial view with a drink in hand could visit Char Bar of the Indigo Hotel for an astounding view of the Bund. However it's done, this area promises incredible photo opportunities and is a good way for travellers to familiarise themselves with what Shanghai has to offer.
Address:
Zhongshan East 1st Rd, Huangpu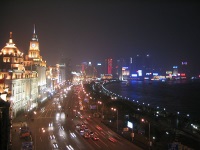 The Bund Ruazn2
Shanghai Museum
The new Shanghai Museum is situated on the People's Square, the political and cultural centre of Shanghai. The square boasts a giant musical fountain and several attractive green recreational areas where locals dance and fly kites. It is surrounded by the City Hall, an underground shopping centre, and the Grand Shanghai Theatre. However, the Shanghai Museum, opened in 1996, draws the most interest from tourists. The building is shaped like a giant bronze urn, and the museum contains a collection of about 123,000 cultural artefacts in 21 categories. The permanent galleries of this impressive museum include: Chinese Ancient Bronze, Chinese Ancient Ceramics, Chinese Paintings, Chinese Calligraphy, Chinese Ancient Sculpture, Chinese Ancient Jade, Chinese Coins, Ming and Qing Furniture, Chinese Seals, and Chinese Minority Nationalities' Art. There is a restaurant and an art store within the museum. If visitors do not speak Chinese, they should look out for the museum's advanced audio tour, which is offered in eight languages. As the lines can get rather long, it is worth getting to the museum early. If it is a hot day, visitors should enter via the south entrance rather than the north, as it is possible there to queue undercover.
Address:
201 Renmin Avenue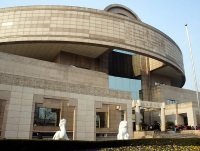 Shanghai Museum David Veksler
Yuyuan Gardens
The Yuyuan Gardens or the Gardens of Contentment, date back to 1559 during the Ming Dynasty, and are the best example of Chinese classical gardens in Shanghai. While Yuyuan is a popular tourist attraction, it is still a peaceful refuge from the city, with koi ponds amidst the trees and pagodas. The relatively small gardens are laid out in an intricate design with pavilions, rockeries, ponds, and a traditional theatre arranged in an ornate maze. The gardens consist of six sections: The Grand Rockery, the Hall of Heralding Spring, the Hall of Jade Magnificence, Ten Thousand Flower Pavilion, Inner Garden and Lotus Pool.
The gardens are on Yuyuan Street in downtown Shanghai and can be reached via the Town God Temple Market, a warren of shops and stalls that is becoming increasingly popular as a tourist bazaar. The market boasts both international staples like Starbucks and Dairy Queen, as well as unique local stalls. After the bustle of the market, the gardens provide welcome shade and calm. It is best to visit the gardens during the week because they are very busy during weekends and the crowds can detract from the spirit of the place.
Address:
218 Anren St, Huangpu, Shanghai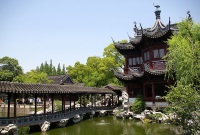 Yuyuan Gardens Jakub Halun
Shanghai has a humid, subtropical climate with four distinct seasons. The range in temperature between the hottest part of summer (June to August) and the depths of winter (December to February) is extreme. In summer, temperatures can reach 95ºF (35ºC) and the hottest months are July and August, with about 80 percent humidity. Most of Shanghai's rainfall occurs during this period but Shanghai is a rainy city year round, due to its location on an estuary, and it rains for about a third of the year. Despite the heat, and the high chance of rain, summer is still a popular time for tourists to visit Shanghai. In winter, temperatures can drop below zero and conditions tend to be grey and dull, though snowfall rarely occurs. Springtime (March to May) is perhaps the best time to travel to Shanghai, with more moderate conditions than summer, although weather can be variable at this time of year. Autumn (September to November) also tends to be moderate, with sunny, dry weather, though the odd typhoon can occur between September and October; typhoons and cyclones can cause considerable damage in the city and it is worth checking for storm warnings before travelling. All in all, spring and autumn are the best seasons to visit Shanghai.
While Shanghai doesn't really have a celebrated cuisine of its own, local chefs and restaurants have taken the opportunity to combine the best China has to offer with smatterings of international inspiration. Indeed, dining in Shanghai is a great opportunity for visitors to sample Chinese food of all kinds as well as interesting fusion cuisine.
Traditional Shanghai cuisine is known as benbang cai, and tends to be sweeter than food from other Chinese regions, flavoured with sugar, vinegar, ginger, and soy for a distinct flavour. Whether dining in style at a chic hotel restaurant or indulging at a roadside cart, tourists are spoiled for choice with delectable treats like xiao long bao (steamed soup-filled buns) and Shanghai hairy crab. The city's location at the mouth of the Huangpu River means fresh seafood is abundant, and the soy fields of the region provide the city's unique 'stinky tofu'.
Shanghai's food streets, some of the best of which are Huang He Lu, Yunnan Lu, and Zhapu Lu, boast a variety of cheap eateries, while flashier districts like the Bund and Luwan offer pricier fine-dining restaurants. Shanghai's major shopping malls all have food courts with many vendors offering everything from stir fries to dim sum for low prices, a great way to sample a variety of dishes.
Being a cosmopolitan city, Shanghai is home to a number of good international restaurants serving Thai, Japanese, French, Italian, and other world cuisines. There are also a number of new international chain restaurants.
The more expensive restaurants in Shanghai generally accept credit cards, but street vendors and takeaway joints usually expect cash. While hotel restaurants sometimes include a 10 to 15 percent service charge, tipping is not generally practised in Shanghai.
Hakkasan
This fine-dining restaurant, located on the Bund, is part of a highly respected international chain, serving exceptional Chinese fusion cuisine. There are three different dining spaces: the Ling Ling Lounge offers a stylish setting for cocktails with beautiful views; the main dining area, known as the 'Cage', is enclosed in delicate woodwork; and there is a set of luxurious private dining rooms which can be reserved. Reservations are essential and smart casual dress is encouraged, though dress jackets are not required.
Address:
5F, 18 Zhongshan East 1st Road, Huangpu District
Scena
Scena is located within the glitzy Ritz-Carlton Shanghai Pudong Hotel and serves authentic Italian cuisine. The restaurant is on the 52nd floor of the hotel, with floor to ceiling windows and provides spectacular views over the city. Although comparatively expensive Scena gets consistent rave reviews from travellers and the service is known to be of a very high standard. Reservations are recommended.
Address:
52/F, The Ritz-Carlton Shanghai Pudong Hotel, 8 Century Avenue
Din Tai Fung
This Shanghai restaurant serves Chinese staples like wonton soup, sweet-smoky fried fish, and braised bamboo shoots, but what it's known for is the best xiao long bao (steamed soup buns) in the city. They're roughly ten times what you'd pay at a street stall, but most who have tried them say they're worth it. Located in the Super Brand Mall, the walls are covered in watercolour sketches of famous Chinese celebrities. Din Tai Fung is a child-friendly restaurant, and even has special Mickey Mouse cutlery for kids.
Address:
123 Xing Ye Road
The Camel
For those looking for a sports bar in Shanghai to have a pint and watch the game, The Camel is the best place in town. The restaurant is broken up into three viewing areas, so multiple games can be seen simultaneously on the 14 flat-screen televisions. The menu is standard gastropub, serving classics like fish and chips, steak, burgers, and pies, and there's a good selection of beers and cocktails to go with them.
Address:
1 Yue Yang Road (near Dong Ping Road)
Shanghai Hongqiao International Airport
Location:
The airport is situated eight miles (13km) southwest of central Shanghai.
Transfer Between Terminals
The two terminals are linked by free shuttle buses and subway line 10.
Getting to the city:
Public buses serve the airport, linking to People's Square and the main railway stations; buses depart regularly from 6am to around 11pm. Line 2 and 10 of the Shanghai Metro connects the airport to the city, found outside terminal 2. The bigger hotels offer shuttle bus services to and from the airport.
Car Rental:
Car rental is available.
Airport Taxis:
Taxis are available outside the airport but finding the right one can be confusing without assistance. Taxi drivers usually do not speak English so it is best to indicate your destination on a map, or have it written down in Chinese.
Fascilities:
There are ATMs and currency exchange facilities, as well as duty-free shops. There are also a variety of food outlets, bars, an information counter, a post office, a children's playground, medical facilities, and business centre. Smoking is banned throughout the airport but there is a smoking room. If you want to shop in earnest there is a shopping centre just outside of the airport.
Parking
Parking is available outside terminal 2. The first two hours cost RMB 10 per hour, after two hours, its costs RMB 5 per hour. A day costs RMB 60.
Pudong International Airport
Location:
The airport is situated about 19 miles (30km) east of central Shanghai.
Transfer Between Terminals
Shuttle buses run between the terminals at 10 minute intervals between 6am and 12am.
Getting to the city:
Metro Line 2 (Green Line) connects the airport with the city, with regular departures between 6am and 10pm. Public buses also service the airport. Taxis are available and are a convenient way to get to the city, but they are a more expensive option. Many hotels provide an airport pick-up service for their guests.
Car Rental:
Car hire is available at the airport and vehicles can be booked in advance.
Airport Taxis:
Taxis are available outside the airport terminal. Do not expect drivers to speak English; use a map to indicate your destination, or get it written down in Chinese. The drive into central Shanghai takes about 45 minutes.
Fascilities:
Facilities at the airport include banks, ATMs and currency exchange, a post office, luggage storage, a children's playground, medical facilities, and business facilities. There are also several restaurants and shops, including duty free.
Parking
Short-term and long-term parking is provided at Shanghai Pudong Airport. Rates range from CNY 10 per hour, for the first two hours, up to a daily maximum of CNY 60.
Moon Festival
One of China's most beloved cultural celebrations is the Moon Festival or Mid-Autumn Festival, marking the end of the harvest season. Celebrated during the full moon, the festival has been held annually since the Shang dynasty dating back about 3,000 years. It is now a Chinese public holiday as well, where families and friends gather together to give thanks for the harvest. The main symbol of the festival is the baking and eating of Moon Cakes: round pastries with sweet fillings, in Shanghai the favourite filling is red bean paste. Houses are decorated with coloured animal-shaped paper lanterns and altars are piled with round fruits to symbolise the shape of the moon. The evening is spent moon-gazing and enjoying the company of family, before a celebratory feast at midnight. Apart from being a traditional time for family reunions, the Moon Festival is also a romantic day in the Chinese calendar: many love poems have been written about it. It is thought that it is especially poignant for couples who are not together because watching the moon separately, from wherever they are, unites them. Matchmaking dances often take place for those who are unattached and looking for romance.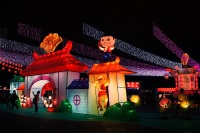 Moon Festival Malcolm Koo
Shanghai Tourism Festival
The massive Shanghai Tourism Festival, also called the people's festival, showcases not only all the city has to offer visitors, but is the perfect event for locals and foreigners to interact and discover China's fascinating culture and history. The opening ceremony takes the form of a grand-scale parade of floats and international performance troupes telecast live to the whole country. The parade has a very 'mardi gras' feel to it, with sparkling costumes, dancing, and festivities. The floats tour every district in Shanghai after the opening ceremony and audiences vote for their favourite. Millions of locals and visitors participate in the hundreds of events and activities presented at the festival, ranging from Chinese cooking classes and bicycle tours, to fireworks displays. Like the National Arts Festival in Shanghai, the Shanghai Tourism Festival brightens up the city and generates a wonderful festive atmosphere, making it a great time to visit the city, especially seeing as many museums, restaurants, and other tourism attractions offer discounts of up to 50 percent during the festival.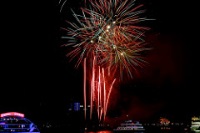 Fireworks in Shanghai Sung Ming Whang
Known as the Paris of the east, Shanghai has a long-standing reputation as one of the world's top 'sin cities'. The nightlife can be seedy and there are many warnings given to visitors, but the ever-changing face of Shanghai's nightlife is vibrant and exciting and the diversity of offerings these days makes it easy to avoid the dodgier elements of this port city if desired.
The Bund has recently been given new life as a night time destination, with dilapidated buildings demolished to make way for neon-lit jazz clubs, cocktail lounges, and restaurants. Bustling bar and restaurant areas in Shanghai include the pedestrianised Nanjing Road, Hengshan Road, and Maoming South Road, all increasingly popular with expats.
The district around the Julu Lu and Tongren Lu intersection is a cheaper and more exciting option for those who want to party hard. There is still a booming sex trade in Shanghai and some areas of town are safer than others and it is best to stay in groups when going out at night.
Shanghai is a major concert destination in Asia, and travellers will find large international concerts on the calendar all year round along with a number of local Mando-pop or Canto-pop acts. There are also a number of good jazz clubs on Fuxing Lu.
If classical entertainment is what visitors are after, Shanghai has a number of options, including the Shanghai Philharmonic Society or the Shanghai Yueju Opera Group. They can also see acrobatic performances and touring productions of major Broadway shows, as well as touring ballet companies.
Taxis are the preferred mode of transport for visitors in Shanghai. The metered Volkswagen cabs in primary colours are easy to identify and plentiful. The smaller, older cars are generally cheaper. All can be hailed on the street or booked by telephone. Tipping is not expected but welcome. Most drivers speak limited to no English, so be sure to write your destination down.
The Shanghai subway, costing just a few cents a ride, is cheap, clean, and reliable, perfect for covering long distances. It covers the entire downtown area and connect to the airports. Alternatively, public buses are common and extremely cheap; however, they can be an uncomfortable and inconvenient experience for travellers, being hot, crowded, unreliable, and frequented by pickpockets.
Many visitors opt to join the city's millions of cyclists and rent bicycles from their hotels or one of the numerous hire shops in the city. Shanghai is also a good city to explore on foot and sometimes the best way to get around in the city is just to walk.
Shanghai is a slick modern city with millennia of rich Chinese cultural history to draw on. Travellers can float along the Huangpu River on a scenic boat cruise, get lost in the maze-like Yu Garden, or have a drink in a traditional tea house. Shanghai is a great place to start a trip to China, as the blend of western and eastern culture makes for a pleasant combination between the familiar and the exotic.
No vacation in Shanghai is complete without a stroll along the Bund. The waterfront embankment affords visitors a great view of the city's most spectacular buildings by night and day, and while it is generally crowded with tourists and vendors during the daytime, the mornings and evenings offer great opportunities for photography.
Shanghai has a number of museums worth a visit, including the Shanghai Museum - which houses about 120,000 historical artefacts - and the Bund History Museum. Travellers can also see many beautiful temples and pagodas, like the Jade Buddha Temple, Longhua Temple and the magnificent Jinshan Donglin Temple.
Jinshan City Beach is a nice break from the city on sunny days. There are plenty of opportunities for water sports and other activities, including boating, bungee jumping and other fun activities. The beach also hosts annual international volleyball and kite-flying competitions.