Stone Forest
The Stone Forest of Shilin, about two hours' drive from Kunming, is a breathtaking and eerie landscape which is a must-see for tourists in the area. It is called a forest because the limestone pillars and stalagmites poking out of the green hillsides look like petrified trees. The rock formations are believed to be over 270 million years old and were formed by the slow erosion of the limestone over time. The Shilin National Scenic Area includes seven areas: the Greater and Lesser Stone Forests (also called Lizijing Stone Forest), Naigu Stone Forest, Zhiyun Cave, Lake Chang, Lake Yue, Dadie Waterfall and Qifeng Cave. The Naigu Stone Forest and Suogeyi Village, also within the scenic area, are both UNESCO World Heritage Sites.
It is a distinctive, and highly unusual landscape and is definitely worth seeing, but can be crowded with tourists at peak times (over three million people visit every year). Visitors can avoid the masses by going in the morning or early evening, and avoiding weekends and Chinese public holidays. Another good reason for getting there early is that very few of the hundreds of guides speak English. Visitors are advised to wear sensible walking shoes and pack for the weather: the stone forests are actually quite wonderful in rainy weather if in possession of an umbrella or waterproof clothing.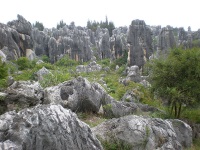 Stone Forest BrokenSphere
Jiuxiang Scenic Area
The Jiuxiang Scenic Area near Kunming is only 7.7 square miles (20km sq) but packs a big punch in terms of important sights with five very popular tourist attractions: Diehong Bridge, Alu Long, Dasha Dam, Mingyue Lake and Sanjiao Cave. Diehong Bridge, Dasha Dam and Sanjiao Cave all have picturesque 'stone forests' with China's distinctive karst limestone formations, while Diehong Bridge also has twin waterfalls with a large natural stone dam cluster, and Dasha Dam has lush green forest.
Jiuxiang is the home of the aboriginal Yi people, and Alu Long is home to the excavated Yi cliff paintings of the Qin (221 BC - 206 BC) and Han (206 BC - 220 AD) dynasties. Yi customs and culture are still evident today in the many legends and folk stories. These stories come to life in the magical subterranean world of the Jiuxiang area, which includes more than a hundred caves, featuring natural underground waterfalls, bridges, valleys and rivers. Jiuxiang Scenic Area is located 55.9 miles (90km) from Kunming, and makes an excellent day trip. Visitors should bring warm clothes, as the interior of the caves can be quite cool. It is also recommended that travellers bring water and comfortable shoes, because all the climbing and walking (and paddling if seeing the caves by boat) can be tiring.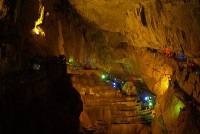 Jiuxiang Scenic Area Deadkid dk
Yuantong Temple
Unsurprisingly, the ancient Yuantong Temple in Yunnan Province, with its unique setting and architecture, is easily one of the most popular tourist attractions in Kunming. The temple is situated in a natural depression at the foot of Yuantong hill, in northern Kunming, and was built in the late 8th century. Today it showcases an interesting mixture of architectural styles, mainly from the Yuan and Ming Dynasties. It is an active temple, where visitors can hear chanting and classes being conducted as they explore; monks and pilgrims can be seen going about their daily business in the complex, which makes the experience truly authentic and allows some insight into the functioning of a Buddhist temple in the 21st century.
For a remarkable panoramic view of the temple complex, travellers can climb Yuantong Hill by taking one of the stone staircases carved into the mountain on either side of the main hall. These stairways boast the most ancient inscriptions in Kunming, carved into the stone wall and still readable after centuries of exposure to the weather. There are also some impressive statues and carvings within the temple, including two ferocious dragons carved into pillars dating from the Ming Dynasty.
Green Lake, a lovely scenic area, is a ten minute walk from the temple and there is a popular vegetarian restaurant just outside the complex.
Address:
Juantong Jie, Kunming.
Opening time:
Daily from 9am-5pm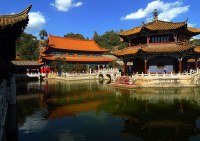 Yuantong Temple Gisling
Kunming's subtropical highland climate causes dry winters and warm summers. The city's position on the Yunnan-Guizhou Plateau makes its conditions moderate by Chinese standards.
The warmest part of the year lasts from early April to the middle of September, with average high temperatures sitting between 68°F (20°C) and 77°F (25°). Light to moderate rains and thunderstorms are frequent during this period, especially in July. Summer can have humidity levels of over 90 percent.
The cold season lasts between the end of November and early February. Winter temperatures tend to average between 39°F (4°C) and 63°F (17°C), with occasional showers and little chance of snow.
Even though conditions suit travel for most of the year, the period between March and October is popular with both locals and tourists.
Kunming Changshui International Airport
Location:
The airport is located 24 miles (39km) from Kunming city centre.
Getting to the city:
Several bus routes connect the airport to the city.
Airport Taxis:
Taxis are available at the airport.
Fascilities:
Airport facilities include shops, restaurants, snack bars, coffee shops, banks, a first-aid room, lounges, and a children's play area.
Parking
Parking is available at the airport.
Most people use buses and taxis to get around Kunming, while inter-city travel is usually done in trains. The Kunming Railway Station is the most useful for travel to other parts of China. Long distance buses can also be used for travel between cities, with the South Bus Station providing access to most regional destinations.
For local transport, the partially completed Kunming Metro has several operational lines in the city. In addition, Kunming has a highly developed bus system that is affordable and runs until around 10:30pm. Taxis are widely available except at peak traffic times, but travellers should have their destination written down in Chinese as very few drivers speak English. Travellers also have the option of hiring a bicycle from a hostel or hotel in the city.
Although parts of Kunming are industrial and unattractive, its dramatic setting among limestone hills makes it special. Its tourist attractions are varied and impressive.
Jiuxiang Scenic Area tops many travel itineraries, given that it's packed with natural phenomena that it could easily occupy visitors for a day or more. Jiuxiang has a magical subterranean world made up of more than 100 caves, as well as cliff paintings that date back to the Qin and Han dynasties. It also has several waterfalls and 'stone forests': striking limestone formations eroded over centuries to look like frozen trees. The Stone Forest of Shilin has the most impressive examples of these rather eerie formations.
Travellers who want to venture off the beaten track should head to the Dongchuan Red Land in Huashitou Country. Although the area's lack of infrastructure can make travel less comfortable, the landscapes are unspoiled, colourful and startlingly beautiful.
Yuantong Temple is one of the most popular tourist attractions in Kunming. This active, beautiful Buddhist temple's history spans over 1 000 years. Green Lake is a popular park and lakeside area for relaxation, exercise and leisurely strolls.
Otherwise, Kunming has many malls, cinemas, shopping streets and entertainment complexes.