Lingyin Temple
The Lingyin Temple in Hangzhou is one of the top 10 most famous Buddhist temples in China, and it consistently ranks even higher when voted on by tourists who have been there. It was built in 326 AD, at the foot of Lingyin Mountain, and in its heyday housed around 3,000 monks. Today, it is still one of the largest and wealthiest temples in China and is situated in the breathtaking Lingyin-Felai Feng Scenic Area.
The walkway to the temple, which winds through a beautiful forested area, is strewn with hidden grottos, alcoves and sculptures and this collection of ancient art work is a highlight for visitors. The Laughing Buddha sculpture, jovial and beautifully carved, is particularly beloved. The temple's name can be translated as Temple of the Soul's Retreat, or Temple of Inspired Seclusion, both of which aptly illustrate the wondrous atmosphere, and its situation in a lovely wilderness area.
Although you can view the famous statues carved into the mountain by gaining admission to the scenic area, the Lingyin Temple complex is definitely worth exploring. One of the many treasures Lingyin displays is a Sakyamuni statue 82 feet (24.8m) tall, which is one of the largest wooden statues in China, and has been covered in gold leaf. The temple also stores an important collection of Buddhist literature that makes it popular with scholars.
Address:
1 Fayun Alley, Lingyin Road, Xihu District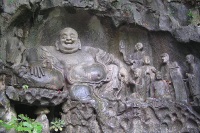 Lingyin Temple Mr. Tickle
Grand Canal
The Grand Canal in China is the largest man-made canal in the world, eclipsing the Suez Canal and the Panama Canal. It once ran from Hangzhou all the way to Beijing, covering a stunning 1,115 miles (1,794 km). The canal played a vital role in Chinese history, not just as a trade route for the transportation of foods and goods, but also as a military asset, and an important cultural and economic link between the north and the south of the country. Unfortunately, today the only section of this 2,000-year-old waterway that is still functioning and navigable is the route from Hangzhou to Jining. The Grand Canal was built section by section over many centuries but the majority of it was developed during the Sui Dynasty, around the 7th century, as a major transportation development. Today it is used mainly for water diversion and tourism. Boat trips along the Grand Canal are a popular way to see scenic river towns in southern China, with many beautiful views and some attractive bridges and old buildings on the riverbanks. It is also lovely to walk or cycle along the canal through central Hangzhou.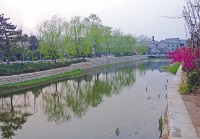 Grand Canal Daniel Case
West Lake
An area famed for its natural beauty, West Lake in Hangzhou is, in many ways, the landscape most representative of ancient China due to its immortalisation in art. This is where visitors will recognise those dainty 'willow pattern' scenes of waterscapes, bridges, and gardens. The lake itself is sheltered on three sides by mountains where travellers can truly feel that they have escaped the city.
West Lake is a UNESCO World Heritage Site full of historical points of interest, including the various temples, pagodas, and museums. Visitors can easily hire a boat to take them to the islands in the centre of the lake, which is a lovely way to view the area. Many visitors hire bicycles and ride all the way around West Lake, a trip of about six miles (10km) depending on which route is taken.
There are so many things to see and do in West Lake that visitors will need at least a day to explore. Famous scenic spots worth seeking out include Broken Bridge (the most romantic spot in West Lake), Su Causeway, Crooked Courtyard and Flower Pond.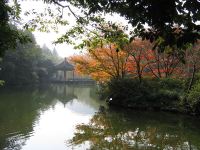 West Lake Mywood
Hangzhou has a humid, subtropical climate, with generally warm and mild conditions all year round. The pleasant and temperate weather is probably one of the reasons the city is so popular with foreigners.
As with most of China, the four seasons are distinct. Summer is long, hot and humid, and sees average highs of up to 93°F (34°C). Autumn is cool and clear, while winter is dry and cold, with average lows of 36°F (2°C). Spring is warm, rainy, and short.
There are two rainy seasons in Hangzhou. The first is a brief period between late June and early July, when Hangzhou experiences the Asian monsoon season. The second is Hangzhou's typhoon season, which brings heavy rains in August and September. Although the area is prone to typhoons during this time, the storms very seldom hit Hangzhou directly, so it's usually less dramatic than it sounds.
The best time to visit Hangzhou is in autumn (September to November), when the average low temperatures remain above 50°F (10°C) and high temperatures can reach 83°F (28°C). Summer in Hangzhou is also a fairly popular time to visit but the heat and humidity can be uncomfortable for some travellers. Spring is stunningly beautiful because of all the blossoms, but the rain can deter some visitors.
Hangzhou Xiaoshan International Airport
Location:
The airport is located 19 miles (31km) from downtown Hangzhou.
Transfer Between Terminals:
The terminals are close to each other and can be reached on foot.
Getting to the city:
The Airport Bus shuttle service links the airport to points in city. Taxis are also available.
Car Rental:
Car rental services are available at the airport.
Airport Taxis:
Taxis are located outside Gate 4 and Gate 10 of the domestic arrival area.
Fascilities:
Facilities include medical services, ATMs, currency exchange, a children's play area and a designated smoking section.
Parking
Parking is available at the airport.
Like many cities in China, a good way to get around in Hangzhou is by bicycle. A public bike system is available, giving travellers access to bikes located across the city for a small fee, plus a deposit.
Buses are another good way to get around the city, as the networks are extensive. However, all signage is in Chinese. There are several kinds of buses operating in the city, with tourists preferring the routes prefixed with a 'Y'. A limited, but expanding metro system operates in the city and some of the surrounding suburbs.
Taxis are also available. The bright turquoise city taxis are easily spotted on the streets, and are more reliable than those offered by touts at tourist spots. Few drivers speak English, however, so travellers should have their destination written down or be able to point it out on a map. Visitors in Hangzhou are not advised to drive, as the traffic is known to be chaotic and road signs confusing.
West Lake tops Hangzhou's list of attractions. In fact, a bicycle ride around the area is the perfect introduction to the city. Visitors will find many lovely parks, most with free admission. The Prince Bay Park is particularly beautiful in March and April, when the tulips and cherry trees are blossoming.
Nature lovers should also stop at the Lingyin-Felai Feng Scenic Area. This stunning forested and mountainous area is home to Lingyin Temple: the Temple of the Soul's Retreat. The numerous sculptures carved into the mountain are some of its treasures.
Hangzhou is also full of interesting museums, including the History Museum, the Hangzhou Lianzhu Cultural Museum and the National Tea Museum. The area is famous for its green tea and, apart from the museum, travellers may want to visit the Hangzhou Longjingshan Tea Cultural Village, where they can learn to make and serve tea using traditional methods.
Travellers more interested in simply enjoying the tea, and various other culinary treats should visit Hefang Street: a delightful old Chinese pedestrian shopping street bustling with shops and stalls. This street offers all the usual touristy stock, but also has a few charming restaurants and teahouses.