Chimelong
The Chimelong Group is the leading park operator in China, offering a variety of attractions including a circus, a waterpark, and a theme park. Chimelong Paradise Amusement Park is one of China's largest theme parks and it is recognised internationally as a quality establishment, with one of its rollercoasters even being featured in the Guinness Book of Records! The park has more than 100 rides and is guaranteed to delight thrill seekers and kids of all ages. The water world section boasts one of the largest water stunt shows in the world and is a famously enjoyable place to spend a sunny day.
The Chimelong International Circus is said to be the world's largest permanent circus and the theatre can hold nearly 7,000 people. This show is endlessly popular and it is recommended that visitors book their tickets in advance, especially if going over the weekend. This can be done online. The Chimelong International Circus includes award winning acts from all over the world and its set, lighting, and costume design is fantastic. The Chimelong Park and circus top the list for families when it comes to things to do in Guangzhou.
Address:
Yingbin Road, Panyu District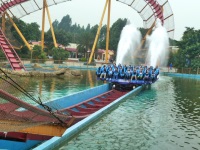 Chimelong Paradise Amusement Park Stdragon04
Temple of the Six Banyan Trees
A must-see attraction in Guangzhou is the impressive Temple of the Six Banyan Trees. This ancient Buddhist temple was built around the year 537, during the Liang Dynasty, and still attracts many local and foreign visitors. The three Buddha statues in the temple are famous, but one of the temple's best features is the magnificent statue of Kuan Yin. Kuan Yin is the Buddhist bodhisattva associated with compassion and mercy. Interestingly, perhaps due to the temple's proximity to foreign consulates, it has become traditional for foreign families adopting Chinese children to come to this statue and receive a blessing for their new families. The nearby six-story pagoda is a beloved landmark, and the view from the top is spectacular. It is called the Flower Pagoda because of its distinctive petal-like layers, and is used to store a rich collection of cultural treasures. The temple is surrounded by some lovely gardens which add to the impression of it being a centre of serenity in a bustling city. The temple still feels very authentic and quiet and it doesn't have a gift shop, but souvenirs, like replicas of the pagoda, can be bought at nearby shops.
Address:
87 Liurong Road, Yuexiu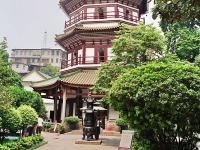 Temple of the Six Banyan Trees Airunp
South China Botanical Garden
The South China Botanical Garden, formerly known as the Institute of Agriculture and Forestry, was founded in 1929. Apart from being a botanical garden of stunning beauty and variety, it is one of the most important botany research centres in China. The garden is one of the largest in China and is divided into three regions: a nursery and arboretum area, housing modern conservatories and over 30 specialised gardens; a research and residential zone; and Dinghushan Nature Reserve, which was the first national nature reserve in China. The South China Botanical Garden has a plethora of local flora for visitors to admire, including collections of magnolias, orchids and medicinal herbs. Various examples of bonsai, as well as bamboo and endangered plants, are also featured in the gardens. Long Dong Magic Forest is a particularly special attraction, as it is one of the top eight scenic spots in Guangzhou. Non-botanical attractions at the gardens include the Science Education and Information Centre and Guangzhou's Oldest Village, which was rebuilt on Neolithic ruins. There are also entertainment areas in the garden with several restaurants and various activities on offer, including paintball and fishing.
Address:
723 Xingke Road, Tianhe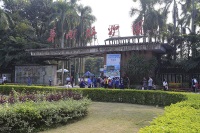 South China Botanical Garden Zhangzhugang
Baiyun Mountain
Baiyun Shan (White Cloud) Mountain is a popular tourist attraction just outside of Guangzhou, with the lofty heights providing phenomenal views of Pu Valley, the Nengren Temple, and the sprawling cityscape of Guangzhou. The mountain lies just north of Guangzhou and on a clear day visitors can see the whole city. There are cable cars running for just over a mile (1.7km) between Yuntai Garden and Peak Park, a fun and exhilarating way to see the area. The park consists of 30 peaks and covers over 17 square miles (28 sq km). It is a stunningly beautiful scenic area that includes well-maintained gardens, numerous temples, a Sculpture Park, a golf course, and what is said to be Asia's largest bird cage. However, the majority of time in the park is spent walking along the winding paths up in the clear mountain air and relishing a break from the city. Unfortunately though, as with most monitored nature areas in China, visitors are not really given the freedom to wander, hike, or picnic beyond the paths. It can also get very crowded, but with a little effort travellers can find the more peaceful areas. While there are a few stalls and vendors, visitors are advised to take their own drinks and snacks.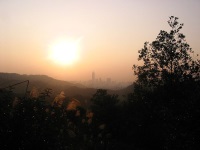 Baiyun Mountain Popolon
Guangzhou is part of the Pearl River Delta and has a humid subtropical climate. The city is situated just under the Tropic of Cancer and the generally pleasant weather is a big advantage for travellers. Guangzhou has fairly good weather year round with a generally warm and humid climate. As with most of China, the four seasons are distinct. Summers (June to September) are wet, humid, and hot, and winters (December to March) are mild and dry. Springs and autumns are temperate and very pleasant, but as spring is prone to rain, autumn (September to early December) is probably the best time to visit Guangzhou. The daily mean temperature range is from 57°F (14°C) in winter to 84°F (29°C) in summer. Guangzhou does experience the Asian monsoon and actually has a lengthy monsoon season from April to September. The heat and humidity can be a bit overwhelming in summer and good sun protection is required if you are travelling at this time.
Guangzhou Baiyun International Airport
Location:
The airport is situated 17 miles (28km) from Guangzhou city centre.
Time:
Local time is GMT +8
Getting to the city:
There are 5 Airport Express lines and 6 Airport Non-stop lines to round-trip between airport and downtown. There are also local taxis that transport passengers to and from Guangzhou city.
Car Rental:
Rental cars are available at the airport, or in downtown Guangzhou.
Airport Taxis:
There are taxis available at Guangzhou Airport.
Fascilities:
There is a post office, bank, business centre and information desk at the airport, as well as leather, cosmetics, and local speciality stores. The airport also has dining facilities and a wine and cigarette shop. Special facilities for the disabled are provided.
Parking
There is both covered and uncovered parking at Guangzhou Baiyun International Airport.
There is an efficient and expanding public transportation system that makes getting around in Guangzhou relatively simple. The Yang Cheng Tong card, available from convenience stores throughout the city, offers discounted travel using local buses, subways, and even some taxis. The subway covers much of downtown, and the stations are clearly marked with the Guangzhou Metro logo. The bus system has a more comprehensive service, but is slow if you travel long distances. Buses require exact change or a Yang Cheng Tong card.
Taxis are a popular form of transport in Guangzhou for visitors, as they are cheap and reliable. Many drivers will not speak English, however, so it is best to have your destination written in Chinese to show them. Renting a car is possible, but driving in the downtown area can be confusing and possibly dangerous for those unfamiliar with Chinese as the road signs are not in English.
China has a reputation for being bicycle-friendly, but Guangzhou does not have necessary amenities like bicycle lanes. You can rent a bicycle on Shamian Island, but for longer stays it is preferable to buy one, as rentals are often in bad repair. It is also possible to explore some areas of the city on foot, but the various districts are far apart.
Being a thriving metropolis and the third largest city in China, it comes as no surprise that Guangzhou is filled with a sites that captivate all who visit it, including historic religious structures, an array of interesting museums, and some beautiful parks and gardens. The ChimeLong Group offers exciting theme parks set up for visitors to enjoy with circuses and waterparks, while the Guangdong Provincial Museum provides a good overview of the region and its history. The Guangzhou City Art Museum is one of the best in China, with impressive exhibits of traditional Chinese calligraphy and paintings. Other favourites include the Guangdong Folk Arts Museum, situated in the Chen Clan Ancestral Hall, and the Museum of the Western Han Dynasty, which includes the Mausoleum of the Nanyue King.
Guangzhou has a unique tourist attraction in Shamian Island, a former colonial outpost. The European architecture and manicured lawns are dotted with shops and cafes, making it a relaxing refuge from the bustle of the city. The Temple of the Six Banyan Trees is another popular Guangzhou attraction, an oasis of peace in the city.
For those who like outdoor activities there is the South China Botanical Garden and the beautiful Baiyun Mountain. Another exciting attraction, especially for those travelling with children in Guangzhou, or who just particularly like animals, is the Chimelong Safari Park, where China's beloved Giant Pandas can be observed.