Forbidden City
The impossibly majestic Forbidden City is a historical precinct situated in the heart of Beijing. Almost a city in its own right, the UNESCO World Heritage Site has been declared the largest collection of preserved ancient wooden structures in the world. The Forbidden City, called Gu Gong in Chinese, was the imperial palace during the Ming and Qing dynasties. It is the biggest and best preserved complex of ancient buildings in China, and the largest palace complex in the world. Construction of the palace complex began in 1407, and for 500 years this inner sanctum was off-limits to most of the world as the emperors lived in luxury, secluded from the masses, and surrounded by their families, court officials, servants, eunuchs, concubines, and other members of court. The Forbidden City and its centrepiece, the magnificent palace, have a permanent restoration squad that works continuously to keep the 800 buildings and 9,999 rooms inside the Forbidden City complex in perfect condition. The once Forbidden City is now open to all visitors, and is home to the Palace Museum, home to a priceless collection of ancient artefacts. The complex can get very crowded so it is best to go early in the morning to fully appreciate the layout of the place.
Opening time:
Daily 8.30am - 4.30pm (November to March); 8.30am - 5pm (April to October).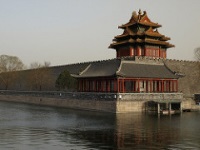 Forbidden City Peter Rowley
Tiananmen Square
This famous square at the heart of Beijing attracts tourists not only with its pleasing design and views of numerous landmarks, including the famous painting of Chairman Mao, but also because it was the scene of so many historic events and is said to be the largest city square in the world. In the ancient imperial days, the square was a gathering place and the site of government offices, but more modern history, particularly the 1989 massacre of pro-democracy demonstrators, has made it a site of great political significance. Major rallies took place in the square during the Cultural Revolution when Mao Tse Tung reviewed military parades up to a million strong.
The square is surrounded by several monuments, some ancient and some modern, including the former gates to the Forbidden City, the Gate of Heavenly Peace and Qianmen (the front gate), the Chinese Revolution Museum, and the Mao Mausoleum, where China's former leader lies preserved. There is also an underground walkway connecting Tiananmen Square with the Forbidden City. Like most big tourist attractions in China, it is best to try and go early in the day to avoid the masses (the square opens to visitors as early as 5am). Visitors in summer are advised to wear sunscreen or a hat, as there is little shade to be found.
Address:
Dongcheng, Beijing
Opening time:
Open all day.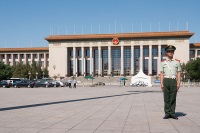 Tiananmen Square Uwe Aranas
Summer Palace
The magnificent Summer Palace at Kunming Lake, in northwest Beijing, was built in 1750 by the Emperor Qianlong, and continued to be an imperial residence until the Empress Dowager Cixi died in 1908. It is the largest and most well-preserved royal park in China, and has been declared a UNESCO World Heritage Site. The palace and stunning gardens are open to visitors, who enter through the East Palace Gate, pass through a grand courtyard into the Hall of Benevolent Longevity, the Hall of Jade Ripples, and the Hall of Joyful Longevity. Empress Cixi's private theatre in the Garden of Moral Harmony is a must-see, as is the long corridor that skirts Kunming Lake's northern shoreline to reach the marble boat, an elaborate two-storey structure of finely carved stone and stained glass. All in all the Summer Palace boasts not only famously beautiful grounds but also 3,000 man-made ancient structures, including mansions, temples, pavilions, bridges and towers. Once a place for weary royals to relax, the Summer Palace is now a sanctuary for travellers and, although it can get crowded, it always seems calmer and cooler than the rest of the city.
Opening time:
Daily 7am - 5pm (November to March); 6.30am - 6pm (April to October)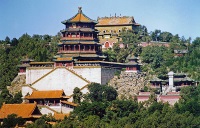 Summer Palace Andre Holdrinet
Chairman Mao Mausoleum
Although Chairman Mao Zedong of the Central Committee of the Communist Party of China requested to be cremated, it was decided hours after his death in 1976, that he would be instead be embalmed. It is said that after his death, doctors pumped him so full of formaldehyde that his body swelled excessively. After draining the corpse and getting it back to a suitable state, they created a wax model of Mao Zedong, as a backup. It is unknown today which version of the Great Helmsman is on display at the Mausoleum at any given time.
The Mausoleum itself was built in 1977 on the prior site of the Gate of China, the main gate of the Imperial City during the Ming and Qing dynasties. On the first floor people can visit the tomb of the leader himself, and on the second floor there is a museum of sorts dedicated to six great communist leaders, including Mao himself. Those interested in visiting the Mausoleum can join the long line of visitors outside the building every day. Visitors should remember to dress respectfully and maintain silence in the mausoleum, as the site is a place of worship more than a tourist destination. Those dressed in casual wear like vests and flip flops may be denied entry.
Address:
South end of Tiananmen Square
Opening time:
7am-11pm, Tuesday to Sunday. The Memorial Hall may be closed for special occasions.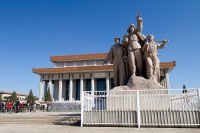 Chairman Mao Mausoleum Morio
Beihai Park
A place of tranquillity and grand imperial beauty, the Beihai Park is one of the great attractions of Beijing. The park is centrally located and close to the Forbidden City and Jingshan Park, providing a peaceful, natural haven after a long morning of busy sightseeing. Beihai Park is one of the oldest and best preserved imperial gardens in China; its history extends over 1,000 years to the ancient Liao dynasty, which ruled between 916 and 1125. Built up through five dynasties, the park is an emblem of old-world China, designed according to the ancient Chinese art of landscaped gardens with artificial hills, colourful pavilions, and intricate temples. Kublai Khan lived in what is now the Circular City of Beihai Park, and the Tibetan-style White Dagoba, built in 1651 on Jade Island, is a landmark for both Beihai Park and Beijing, having been constructed on the suggestion of a famous Tibetan Lama priest, NaomuHan. Apart from the famous White Dagoba and the Circular City, landmarks within Beihai Park include Hao Pu Creek Graden, the Quiet Heart Studio, Nine-Dragon Screen, and the Five-Dragon Pavilions. The Fangshan Restaurant, on the northern shore of the lake, is also worth a visit.
Address:
Wenjin Jie 1, Xicheng Qu
Transport:
Underground rail to Tiananmen Xi, then bus number 5.
Opening time:
Open daily 6.30am-9pm (April to October); 6.30am-8pm (November to March).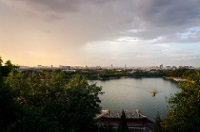 Beihai Park Luca Casartelli
798 Space
Beijing's prominent art district is home to 798 Space, an art gallery housed in a former electronics factory that built components for China's first atomic bomb and early satellites. The gallery is large and airy, capable of comfortably holding more than a thousand people, providing an unusual and stimulating background for the modern art on display. Exhibiting the latest in contemporary Chinese art in its lofty viewing rooms, 798 Space is a visual delight for any traveller. Besides regular national and international exhibitions, 798 Space also hosts corporate and commercial events like fashion shows, product launches, conferences, and fairs. Within the gallery there is a film and video viewing area and a tempting gallery bookshop. There is also space for eating, relaxing and socialising, in a colourful little restaurant within the gallery.
The art precinct itself is dotted with avant-garde statues, charming coffee shops and noodle bars, and a plethora of other wonderful art galleries to visit. Art lovers will need at least a day to explore the trendy neighbourhood.
Address:
2 Jiuxianqiao Road, Dashanzi Art District, Chaoyang District
Opening time:
Open daily from about 10.30am until about 7.30pm.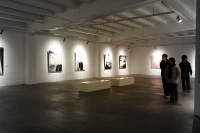 798 Space Charlie Fong
Great Bell Temple
The Qing Temple is home to the Ancient Bell Museum (Gu Zhong Bowuguan) and is a great stop for travellers en route to the Summer Palace. The temple, originally known as 'Awakened Life Temple', apparently wasn't experiencing enough 'awakening' and a 47-ton bell, with a height of 22.7 feet (6.9m) was transported to the temple on ice sleds in 1743. The bell is inscribed with Buddhist Mantras on both the inside and outside of the body and features over 227,000 characters in all. The bell was often chosen by the emperors to pray for rain and blessings for the people of China and was one of three projects that Emperor Yongle of the Ming Dynasty (1368-1644) commanded after re-establishing Beijing as the capital; the other two were the Forbidden City and the Temple of Heaven. The bell is considered as an auspicious article in Chinese tradition and nowadays it is rung 108 times to begin the celebrations at grand ceremonies. There are a further 31 bells on display in the Ancient Bell Museum, most with tributes to various emperors inscribed on them. Like many tourist attractions in China, the written material in English is limited, but the temple is definitely still worth a visit.
Address:
Bei San Huan Xi Lu 31A
Opening time:
Open Tuesday to Sunday 9am - 4.30pm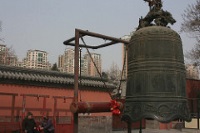 Great Bell Temple Bridget Coila
The Underground City
For more than 20 years, Beijing's Underground City, a bomb shelter just beneath the ancient capital's downtown area, built in case of nuclear attack, has been virtually forgotten by Beijing locals, despite being rather famous among foreigners since its official opening in 2000. A sign near the entrance announces this rarely visited attraction a 'human fairyland and underground paradise'. Aside from some rather odd recent additions, the Underground City features factories, stores, guesthouses, restaurants, hospitals, schools, theatres, reading-rooms, a roller-skating rink and many other curious features, like a mushroom farm to provide food easily cultivated in darkness. On Mao Zedong's orders, it was built from 1969 to 1979 by more than 300,000 local citizens including school children, mostly by hand. The tunnels were initially intended to accommodate all of Beijing's six million inhabitants upon completion. Winding for over 18 miles (30km) and covering an area of nearly 53 square miles (85 sq km) from eight to 18 meters under the surface, the underground City includes more than 1,000 anti-air raid structures.
Address:
Xi Damochang Jie 64
Transport:
Metro: Qianmen (exit B)
Opening time:
Open daily 9am - 4pm but appointments are by arrangement only and must be booked in advance.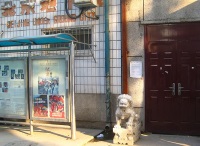 The Underground City Well-rested
Beijing Aquarium
Located within the Beijing Zoo, the Beijing Aquarium is one of the world's largest inland aquariums. Its interactive exhibits provide an immersive experience that cannot fail to delight, such as an imaginative Amazon rainforest, complete with piranhas and pandas, as well as an exquisite shark aquarium where the brave can plunge into the tank with these infamous predators. Other attractions include whales and a number of rare or endangered fish. Families flock to see the dolphin shows at 11am and 3pm but, although these displays are a consistent favourite with kids, they are conducted in Chinese only.
A boat from the canal south of the aquarium runs to the Summer Palace, giving visitors the opportunity to sightsee while en route to the attraction. The Beijing Aquarium offers a great mix of entertainment and education and is the perfect departure from more traditional cultural and historical tourism. For those travelling with children in Beijing, the aquarium is sure to delight the whole family. The fact that it is wonderful no matter what the weather also makes it a useful venue to have on the travel itinerary.
Address:
18 Gaoliangqiao Byway, Haidian District.
Transport:
Bus 4 (from Qianmen)
Opening time:
9am-5.30pm (summer); 10am-4.30pm (winter).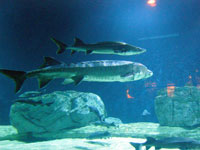 Beijing Aquarium shizhao
The Beijing National Stadium
The Beijing National Stadium, also known as The Bird's Nest due to its appearance, was the hub of the 2008 Summer Olympic Games, hosting all of the track and field events as well the opening and closing ceremonies. The unique-looking steel support structures framing the stadium, weigh in at 110, 000 tons (99,790kg), making the stadium the largest steel structure in the world. The colossal structure was created using a web of steel frames converging in a grid formation. The visual effect is unique and impressive and it was designed to symbolise harmony between technology and nature. The stadium has reopened as a tourist attraction, and the public can tour the facilities, or visit the ski resort now housed inside during the Happy Snow season (ticket prices go up during the skiing season). The area surrounding the stadium complex comes alive in the evenings with music, hawkers and vendors. Even if visitors only go to have a look from outside, and decline to do the tour, it is well worth visiting The Bird's Nest. The best time of the day to visit is late afternoon to evening when the lights come on, creating an incredible effect.
Address:
Olympic Green, Beijing
Transport:
The entire Olympic park can be accessed via subway line 8.
Opening time:
April to October 9am - 7pm; November to March 9am - 5.30pm.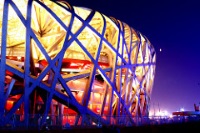 Beijing National Stadium Dora Hon
Happy Valley Amusement Park (Beijing Huanle Gu)
This amusement park, which opened in 2006, is a fantastic place to spend the day with the little ones, or even without little ones! Happy Valley features about 40 rides, such as the Energy Collector, Trojan Horse and the Crystal Wing Rollercoaster, an IMAX Theatre and even a shopping centre. It is very similar in style and layout to Disneyland, featuring six theme parks: Firth Forest, Atlantis, Ant Kingdom, the Aegean Sea, Lost Maya, and Shangri-La. Atlantis is probably the favourite of these, with a massive palace built in its centre. There is a mini train that circles the outer rim of the park offering scenic tours. Kids of all ages will have a screaming good time at the Happy Valley Amusement Park, and in the right conditions it is a wonderful way to spend a few hours for the whole family. However, Happy Valley gets very crowded on the weekends, with queues of up to three hours for rides; during the week, when it is much quieter, not all the rides stay open. Therefore, to avoid disappointment, visitors are advised to find out ahead of time whether the state-of-the-art roller coasters will be running when they visit. Happy Valley is best when it is warm and sunny.
Address:
Xiao Wu Ji Bei Lu, Dong Si Huan (East Fourth Ring Road)
Opening time:
Mid-March to mid-November: 9.30am - 5.30pm Monday to Friday; 9am - 5.30pm weekends. Mid-November to mid-March: 10am - 5.30pm daily.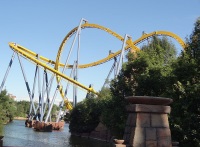 Happy Valley Martin Lewison
Sony ExploraScience
The fascinating Sony ExploraScience museum is an interactive educational centre that encourages children to take an interest in science. The museum features live science shows and interactive educational exhibits combined with Sony's latest digital technology. The museum is divided into four themed sections, covering illusion, refraction, light and sounds. Attractions include robotic dogs that play soccer, musical sculptures, soap bubble rings, and much more. All small enquiring minds will love a trip to the Sony ExploraScience, but it is probably an experience best-suited to kids aged five to 12. Tickets can be purchased from the Sony booth outside the south gate of Chaoyang Park, to avoid paying for park admission separately. Profit made from ticket sales goes towards supporting rural education in China, so it is money spent for a good cause. The Sony ExploraScience museum is located in Chaoyang Park, the largest park in Beijing, which boasts multiple attractions including lakes, swimming pools, a bungee jumping tower, sports fields, a wetland area, fountains and a funfair. It is a beautiful area and a fun place to spend the day, especially for those travelling with children in Beijing.
Address:
Inside Chaoyang Park South Gate (Chaoyang Park), Chaoyang Gongyuan Nanmen
Opening time:
Open Monday to Friday 9.30am - 5pm; Saturday and Sunday 9am - 6.30pm.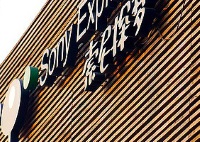 Sony ExploraScience Michael Coloso
Beijing World Park
The Beijing World Park is must see on the itinerary of those traveling with children through Beijing. The park features about 100 miniature models of some of the world's most famous tourist attractions from over 50 countries across the globe, and is designed to let visitors experience a trip around the world without ever having to leave Beijing. It has become such a popular spot for taking photos that many couples have used it as a backdrop for their wedding photos. The sights include Egypt's Great Pyramids, France's Eiffel Tower, India's Taj Mahal, England's Stone Henge, and even New York City's Manhattan Island, complete with landmarks like the Empire State Building. Although the park can be a bit empty, depending on the season, it is a great place for kids to learn and enjoy naming the attractions as they stroll through the replicas. Summer is the best time to visit Beijing World Park, as it is a venue designed for sunny weather.
Address:
158 Dabaotai, Huaxiang Fengbaolu, Fengtai District
Transport:
Bus routes 477, 480, 987, and 692 provide transport to Beijing World Park.
Opening time:
Open daily 8am-5.30pm (April to October); 8am-5pm (November to March).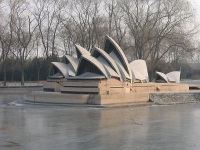 Miniature Sydney Opera House Tohuchar
Steeped in a mystical and fascinating ancient history, Beijing may not, at first glance, seem ideal for travel with children. But those who look past the old buildings and temples will find more than enough fun activities and attractions while on holiday with kids in Beijing.
The Summer Palace is a good place to start sightseeing with the kids. With magnificent gardens open to visitors, children will have plenty of space to run around. The Happy Valley Amusement Park never fails to entertain and thrill the whole family as moms can wander around the shopping centre while the kids are at play. Milu Park ranks as one of the best places to enjoy a picnic outdoors and do some milu deer spotting, while spectacular sealife waits at Beijing Aquarium. Another highly entertaining park is Chaoyang, which is the biggest in Beijing.
On rainy or particularly hot and humid days, visitors can take the kids to Le Cool, an indoor ice skating rink, or to one of the many indoor playgrounds around the city, such as Fundazzle. It's a great way to ensure happiness and tiredness.
The humid continental climate of Beijing is rather extreme. There are four very distinct seasons, with a wide temperature variation between winter (December to February), which is well below freezing, and summer's hot humidity and 79°F (26°C) average daily temperatures. Most of the rain falls in the summer (June to August); the sudden downpours make an umbrella a necessary travel accessory. Spring and autumn are relatively short seasons. Spring (March to May) has warm and windy conditions. Autumn (September to November) brings blue skies, pleasantly mild temperatures, and slight humidity. Spring and autumn are the best seasons to travel to Beijing.
The multitude of local dishes in Beijing has made for some of the longest menus in the world. Whether diners choose traditionally cooked meals or new takes on old favourites, eating out in Beijing will be like nowhere else in the world. From ingredients meant for royalty in Imperial Cuisine to the more 'mysterious' ingredients of a street-side Jianbing (savoury pancake), food preparation in Beijing adheres to old traditions that reflect culinary styles from all over China.
Chinese food in Beijing differs dramatically from the fare in Chinese restaurants worldwide. Beijing's famous Peking roast duck is the star attraction, with several restaurants devoted entirely to the one dish. For a chance to sample many different kinds of local food, visit one of the 'snack streets', like Guanganmen Snack Street, or Gui Street, all with dozens of vendors plying their specialties. The more adventurous visitors can peruse the Donghuamen Snack Night Market in Wangfujing, which is famous for Chinese delicacies such as centipedes, grasshoppers, sheep privates and offal soup.
Migrants have infused the city's cuisine with new cultures and tastes, reflected in the blossoming choices in Beijing restaurants. International-style restaurants are popping up all over the city, with top international chefs enjoying great success.
More expensive restaurants in Beijing will generally accept credit cards, but street vendors and takeaway joints will expect cash. While hotel restaurants will sometimes include a 10 to 15 percent service charge, tipping is not generally expected in Beijing.
Cafe Sambal
The word is that this modest looking little courtyard restaurant has an impeccable menu and flawless delivery. Everything from their (water spinach) to the spicy signature dish, the Kapitan chicken, is exquisite as their Malaysian chef takes great pride in his work.
Address:
43 Doufu Chi Hutong
Fangshan
Chinese royalty were renowned picky eaters and ate only specialty dishes with carefully selected ingredients and even more carefully selected names. Such dining gave way to its own culinary tradition, which can be enjoyed at Fangshan's enormous banquet-style dining hall with such imperial classics as 'jade phoenix returning to the royal'. Choosing from a huge selection of dishes is a perfect way to go back in time and eat like an emperor.
Address:
Beihai Gongyuannei, inside Beihai Parks south gate
TRB
Providing top-notch international cuisine in a uniquely Chinese setting, TRB is set in a 600-year-old temple which has been tastefully renovated to create a modern fine-dining haven. The food is mostly European but with a bit of local flavour thrown in. The restaurant is open for lunch and supper on weekdays and brunch, lunch and supper on weekends. Reservations are recommended.
Address:
23 Songzhu Temple, Shatan North Street, Dongcheng District
China Grill
Sixty six floors above the sparkling city makes any dish seem dazzling, but the views aren't the only reason to eat at China Grill. The international menu is a simple selection of fine dining with both Chinese dishes and grilled western classics. The romantic ambiance is set by a surprisingly cosy interior surrounded by floor to ceiling windows for a 360-degree view of the city.
Address:
Park Hayatt, 2 Jianguomenwai Street, Chaoyang District
Capital M
Centrally located near Tiananmen Square, the lovely outdoor terrace at Capital M is a popular place to have Sunday brunch in Beijing. The menu offers modern European food including Crispy Suckling Pig, Hot House-Smoked Salmon, and the restaurant's famous Pavlova. They offer a special afternoon tea as well, with a selection of fresh-baked scones, finger sandwiches, and pastries that add up to a perfect mid-afternoon break for tired sightseers. Open daily 11:30am-10:30pm.
Address:
2 Qianmen Street, Pedestrian Area
Beijing Capital International Airport
Location:
The airport is situated 20 miles (32km) northeast of Beijing.
Time:
Local time is GMT +8.
Transfer Between Terminals:
A shuttle bus service runs between the terminals.
Getting to the city:
Beijing Airport is serviced by the Airport Express Line, a rail link that runs form Terminal 3 to Terminal 2 and then to the city with stops at Sanyuanqiao and Dongzhimen. The trains run every 15 minutes from 6am-11pm. Shuttle buses run regularly (about every 45 minutes) to the city centre, Beijing Railway Station and major hotels. Metered taxis are also available, but it is recommended that passengers have their destination written in Chinese to avoid confusion.
Car Rental:
Car rental is available.
Airport Taxis:
Taxis are metered and tips are not expected. Any road tolls and bridge tolls will be expected to be paid for by the passenger. Avoid taxi drivers that approach customers and instead wait in the taxi line and insist on using the meter.
Fascilities:
There are several bureaux de change, a bank and ATMs, telephones, tourist information, numerous shops and duty free shopping, and a business centre. A food corridor provides a range of eating and drinking options, while an entertainment centre offers everything from films to Chinese massage.
Parking
There are 4 parking garages, which are connected to the terminal buildings by means of an underground walkway. There is also an airport subway linking the parking garage to the terminals. Parking costs RMB 2.5 per 15 minutes, is free for the first 30 minutes, and RMB 5 for every subsequent 30 minutes. The maximum daily charge is RMB 80 for the first day.
Longqing Gorge Ice and Snow Festival
Those in Beijing between January and March should pay a visit to the magical Longqing Gorge Ice and Snow Festival. The magical winter wonderland provides a fun day out for locals and tourists alike at the ice spectacle held annually just north of Beijing. Marvel at the intricately carved ice sculptures and ice lanterns on display, while fireworks turn the icy gorge into a colourful light show.
Visitors can try their hand at ice-fishing, tobogganing, ice-slides, skating, or one of numerous other ice or snow sports. There is also a human-sized ice maze to get lost in. Looming spectacularly above all the attractions and activities there is a 230 feet (70m) high frozen waterfall. There is something on offer for all age groups, making for a thrilling excursion for the whole family. Longqing is under two hours' drive from central Beijing so it is possible to visit just for a day, but, as the ice sculptures are at their most beautiful and magical at night, it is recommended that visitors stay in the area overnight to enjoy the full experience.
Venue:
Longqing Gorge in Yanqing County, 56 miles (80km) north of Beijing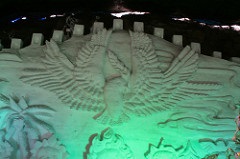 Snow sculpture Bridget Coila
Great Wall Marathon
The longest man-made structure in the world lends just a small portion of itself for one of the most beautiful and challenging races in the world. Apart from the full marathon, which is approximately 26.2 miles (42km), and half marathon which is about 13.1 miles (21km), there is a Fun Run in which anybody over the age of 12 can participate. Up until 2013 there were two additional races of three miles (5km) and six miles (10km) each but they have been cancelled in favour of the Fun Run which will go the same route. The race has two basic sections, one on the wall itself (in which runners famously climb 5,164 steps) and one which sees contestants running on reasonably flat terrain through picturesque villages and rice fields. Although much of the Great Wall is very uneven, steep, and treacherous in parts, the marathon route is even and well-maintained so that no special shoes are required and injuries should be minimal. There are refreshment stations every few miles giving away water, energy drinks, and bananas. From a scenic point of view, it is without a doubt one of the most spectacular marathons in the world.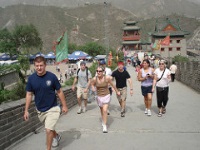 Runners on the Great Wall The Great Wall of China
Chinese New Year
Chinese New Year is a famously festive period. In Beijing it is a noisy, colourful, and riotous occasion. Boys and girls on stilts, life-sized puppets, and costumed carousers sing and dance in the streets. Not a whole lot of sleep is possible during this week of celebration. The Eastern Mountain Taoist Temple on the east side of the city hosts the New Year Temple Fair, where one can find some respite from the revelling in the main hall, featuring a Taoist orchestra playing traditional flutes and pipes.
New Year also starts with a bang in Shanghai, where exuberant and exceedingly loud fireworks displays resound across the city all night long on China's most merry of celebrations. Not everyone appreciates the scale of the fireworks, but traditionally the noise is necessary to frighten off evil spirits for the coming year. During the national holiday the Bund and clubs throughout the city are thronged with revellers, making for a city-wide party.
All over China there are raucous celebrations over this period, making it a truly thrilling time to visit any of the big cities.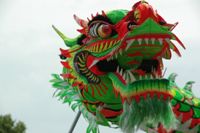 Chinese New Year Caseman
Neon lights are a staple of Beijing nightlife, with a predictable swarm of DJ dance clubs and karaoke bars lighting up most corners of the downtown districts. This is encouraging, as not too long ago there wasn't much nightlife in Beijing at all. The city is just beginning to create the modern discos and chic bars favoured by foreigners. Beijing's nightlife still doesn't quite compare to that found in cities like Hong Kong and Shanghai for pure hedonism, but its cultural offerings and diversity of entertainment are unrivalled.
Those wanting an authentic Beijing experience should probably avoid the hotel venues and their cookie cutter disco offerings. Some unique areas popular with locals include Hou Hai Bar Area, a picturesque lakeside nightlife hub, and Sanlitun Pub Street in the Embassy Area of Chaoyang District, a favourite for westerners keen on cheap drinks and a vibrant atmosphere.
There still isn't too much crossover between western and Chinese clientèle, but it can be interesting to soak in some Chinese karaoke and liquor at local haunts. Many venues stay open until the early morning, although most people in Beijing go to sleep before some of them even open!
For the more artistically inclined, there are a host of Chinese art shows to enjoy. These include top-quality Chinese opera, dancing, and theatre most nights of the week. Many visitors enjoy seeing kung-fu demonstrations and acrobatic shows. The Laoshe Tea House and the Tianqiao (Overbridge) Area are great places to explore traditional Chinese performances.
A note of caution: it is advisable to research and plan your night out rather than leave matters to spontaneous choice as one might do in other cities. Be very cautious of allowing taxi drivers or helpful locals guiding you to an off-the-beaten track bar or club - these arrangements are often designed to fleece visitors of money.
Grab a copy of Timeout Beijing or That's Beijing for updated event listings and gig guides.
Shopping is a delight in Beijing, and the haggling and bargain-hunting is a cultural experience.
Walking and bargaining in the countless markets in Xiu Shui Jie Shopping Mall or the Xiu Shui Market will no doubt build up an appetite but luckily there are plenty of food stalls where shoppers can refuel. Popular buys include fake designer labels, clothing and bags. Bargaining is an essential skill and an expected part of the transaction but remember to keep smiling.
The main shopping area is around Wangfujing Dajie, where a number of department stores can be found, including the Beijing Department Store. The Xidan area offers wonderful big department stores selling fixed-price goods including electronic equipment. The Hong Qiao Market is a popular indoor market in the south central area of Beijing, where bargaining is expected. Here buyers can haggle for goods such as cheap no-name or fake brand electronics, sunglasses, batteries, watches and jewellery.
Panjiayuan Collectors Market is an outdoor market with a good array of arts and crafts from all over China, including popular Beijing souvenirs like jade bracelets, cloisonné and lacquerware, silk, calligraphy, porcelain and vintage Cultural Revolution books and posters. The Maliandao Tea Street is the best place to find anything associated with tea, including tables, tea sets and a wide variety of teas; it can be found in the southwestern Xuanwu District, near the Beijing West Railway Station.
Liulichang, in south Beijing, is a great place for Chinese antiques. Buyers should be aware that authentic antiques over 100 years old display a red wax seal. An export licence must be issued before these can be taken out of the country.
Travellers are advised to avoid shopping sprees on evenings and weekends when possible, as the crowds can be overwhelming. Shops in Beijing are generally open daily from 9am to 8pm.
The subway is a great way to get around in Beijing, though it can be very crowded at peak hours. The subway shuts down at midnight and starts again at 5am. Travellers can buy a prepaid card (Smart Card) for travel on subways and buses. The fare is the same for the subway, but reduced for buses. Most buses operate from 5am to 11pm, but buses can be slow.
Driving in Beijing is a complicated and sometimes frightening process, with few English signs and non-stop traffic jams. Taxis are plentiful, but be sure to have your destination written in Mandarin as few taxi drivers speak English.
Cycling is a good alternative with numerous bicycle rentals around the city, and well-defined bike lanes, bike parks and the company of millions of other cyclists, especially at rush hour. It may look intimidating, but can be the best way to get around for the more adventurous traveller. Over 40,000 bicycles are available to be rented at outlets close to subway stations, commercial districts, hotels, and office buildings.
Beijing's most interesting attractions previously only related to the spectacular history of China's capital city: these wonderful examples of ancient innovations and well-preserved glimpses into millennia of Chinese history are still here, but the city is no longer only viewed as a large-scale museum. Currently, eye-catching structures and modern architectural wonders are among the city's most visited attractions. These include the National Stadium, better known as the Bird's Nest, and the National Grand Theatre, known as the Eggshell. It is no surprise that some traditionalists believe the modern attractions detract from the city's ancient treasures, but many more enjoy the stark contrast.
Still, the iconic historic Beijing sites remain the most popular. The Great Wall of China and the mysterious Forbidden City at the heart of Beijing compete for the title of the city's most visited attraction. Beihai Park and the Summer Palace are also immensely popular. For truly ancient history, visit the Zhoukoudian Cave, which boasts the largest collection of Homo Erectus fossils in the world. More recent history can be explored at the infamous Tiananmen Square or the Chairman Mao Mausoleum.
Being able to walk through some of the world's most ancient and modern attractions in a single day makes Beijing eternally captivating.
Great Wall of China
The Great Wall of China, a UNESCO World Heritage Site, is a perennial favourite among tourists, and with good reason. The magnificent Great Wall, stretching 4,000 miles (6,350km), was built in stages from the 7th century BC onwards, snaking its way across the mountains and valleys of five provinces in northern China as a mammoth defence bulwark against the neighbouring Manchurian and Mongolian peoples.
Several sections of the wall, which has become the most prominent symbol of Chinese civilisation, can be viewed in the greater Beijing area. In Yanqing county, in northwest Beijing, is the 600-year-old Badaling Fortification, representative of the Ming dynasty sections of the Great Wall. Other sections can be seen at Jinshanling, Mutianyu, and Simatai. The more popular sections can be very crowded, but generally if travellers walk a little way they can escape the worst of it. There are some wonderful stretches of the wall to hike, such as the roughly six-mile (10km) section between Jinshaling and Simatai, but visitors should be careful about setting off alone as parts of the wall are unstable and unsafe. It is best for visitors to take their own water and snacks and to pack very warm clothes if planning to go in winter, because temperatures at the wall can be freezing. There are countless vendors, but their goods are usually very expensive and of questionable quality. It is illegal to remove stone from the wall and Chinese authorities are clamping down on the practice.
Transport:
To Mutianyu: Travellers can take the 916 bus from Dongzhimen station (in downtown Beijing) to Huairou, where they can take a minibus taxi to the wall.
Opening time:
April to October 7am - 6pm; November to March 7.30am - 5.30pm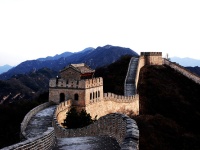 The Great Wall of China Marianna
Zhoukoudian Cave
About 25 miles (40km) south of Beijing, in the Fangshan District, is the Zhoukoudian Cave, the source of the largest collection of Homo erectus fossils from any single site in the world. The fossils recovered from the cave represent about 40 individuals, most famous of which is a cranium element commonly known as the 'Peking Man', the world's earliest fire-using primitive man who lived between 200,000 and 700,000 years ago. German anatomist Franz Weidenreich studied the Peking Man remains in the 1930s and recognised 12 anatomical features that he believed Peking Man shared with modern man, a milestone in the study of palaeoanthropology.
Visitors to the Zhoukoudian site on Dragon Bone Hill can view a comprehensive seven-room exhibition of fossils and artefacts depicting human evolution and the lifestyle of primitive man. The exhibits showcase fossils from all over China, allowing visitors to compare the different lifestyles of the primitive communities that have been discovered. They can also explore the cave where the Peking Man cranium and other Homo erectus remains were found. The area surrounding the caves has several animal sculptures and pleasant shady areas in which to relax. Travellers who go early might even have the site to themselves.
Address:
Zhoukoudian, Fangshan
Transport:
Bus 917 from Tianqiao station to Zhoukou Cun Lukou, before taking Fangshan Bus 38 to Yuan Ren Yi Zhi (Zhoukoudian Cave)
Opening time:
April to October 8.30am - 4.30pm; November to March 8.30am - 4pm.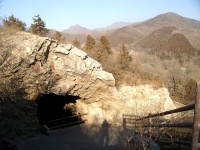 Zhoukoudian Cave Mutt
Tombs of the Ming Dynasty
Built by the emperors of the Ming Dynasty of China, the majority of surviving Ming tombs are clustered near Beijing and easily reached on short excursions out of the capital. Thirteen emperors' mausoleums, dating from between 1368 and 1644 and collectively UNESCO-listed, can be seen in the Ming Tombs Scenic Area at the foot of Tianshou Mountain.
Currently only three of the tombs are open to the public (Chanling, Dingling and Zhaoling) but this is more than sufficient as all the tombs are similar in design and the three that can be explored are arguably the most interesting. The Changling Tomb is the largest, oldest and best preserved, looming majestically at the end of the Sacred Way. The Dingling Tomb is the only one which has been properly excavated but tragically many of the artefacts and the remains of the emperor and empresses entombed in the mausoleum were destroyed during the Cultural Revolution. Even so, the excavated Underground Palace in Dingling is fascinating and some magnificent artefacts can still be viewed.
Many operators in Beijing offer tours to the Ming Tombs, often combined with trips to the Great Wall and other nearby attractions. Visitors travelling independently will need to pay entry to each tomb separately.
Opening time:
April to October 8am - 5.30pm; November to March 8.30am - 5pm.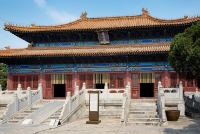 Ming Dynasty Tomb xiquinhosilva