The list of attractions in Chile is as long as the country itself. The best of these lie in the country's vast wilderness areas, although Santiago, the capital city, also has an impressive sightseeing offering, and the nearby city of Valparaiso is increasingly drawing global attention with its street art and bohemian atmosphere.
In Chilean Patagonia both Parque Nacional Laguna San Rafael and Parque Nacional Torres del Paine are among the most impressive scenic sites in the world, encompassing mountains, ice fields, glaciers and lagoons, all of which can be explored on extensive and well-maintained hiking trails.
Interesting towns like Castro, Puerto Montt and Pucon provide springboards into The Lake District and Parque Nacional Chiloe, where the rivers, lakes and volcanoes promise a playground for adventure sports enthusiasts and the age-old Chilean folklore enchants the more cultural-minded.
Chile continues to amaze with weird and wonderful landscapes and natural features like the El Tatio Gyesers and The Valley of the Moon in the northern Reserva Nacional Los Flamencos.
Those willing to make a trip into yet more remote country can hop across to the mysterious Easter Island, where the giant stone Moai stare out to sea, guarding the ancient secrets of one of the most isolated places on earth.
Chile is truly one of the most diverse countries in the world and it is best to pick a region or two to explore to avoid travelling long distances - popular regions like Chilean Patagonia, the Lake District and the Atacama Desert can all easily occupy an entire holiday. Travellers should also note that Chile covers a number of different climate zones and there is no one best season to visit - trips should be scheduled according to the desired destination.
Plaza de Armas
The Plaza de Armas is both the heart of Santiago and the city's historical centre, a square hemmed in by impressive Spanish colonial public buildings, including the 18th-century Cathedral and elaborate main post office that was once the Spanish governors' residence. As with most colonial squares of this kind, and as the name suggests, the Plaza de Armas was designed to be the open space in which the armed forces of the city could gather to parade and to protect Santiago's most important buildings.
The square became the hub of administrative, commercial and social life when the city was founded in 1541, and today it remains the centre of life in the city. Never a dull place to be by day, with its constant activity and throngs of people entertained by buskers and local artists, the evenings are just as lively when passers-by can become embroiled in chess games on temporary tables set up under the trees.
This square is the point from which all distances are measured in Chile, and the central point for the grid pattern of the streets. Visitors should be aware of their belongings here as it is a popular target spot amongst pickpockets. The square is a useful starting point for sightseeing in Santiago as many attractions are close by.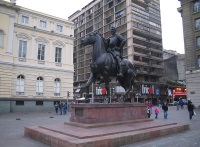 Plaza de Armas Carlos yo
Chilean Museum of Pre-Columbian Art
The Chilean Museum of Pre-Colombian Art is housed in the old Royal Customs House in Santiago. The collection is impressively large compared to many other museums in a similar vein, and it spans 4,500 years and about 80 pre-Colombian civilisations of South America. The Museo Chileno de Arte Precolombino, as it is known to locals, is a fascinating place to spend a few hours and is a great find for art and archaeology enthusiasts.
The exhibits are beautifully curated throughout four rooms set around a central courtyard. The collection provides an informative insight into the cultures of the Incas, Mayans, Aztecs and other proud civilisations of the continent, illustrating their artistic diversity and advancement.
It is worth paying extra for a guided tour though, because the labels are not translated into many languages and are not as comprehensive as some might like. Having said that, the museum is a worthwhile attraction in Santiago, especially if travellers are not familiar with the intriguing ancient cultures on display.
Address:
Calle Bandera 361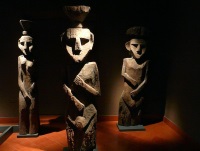 Chilean Museum of Pre-Columbian Art Bkwillwm
Mercado Central
Santiago's colourful Mercado Central, housed in an 1872 wrought iron structure, has a fruit and vegetable market as well as a buzzing fish market where an assortment of glistening fresh seafood is packed onto the tables. Mussels, oysters and clams sit in buckets among an unidentifiable variety of crustaceans and tentacled creatures. The fishmongers demonstrate their skill at gutting and filleting amid a cacophony of frenzied buying. The best time to visit is at lunchtime when a delicious sampling of the wares can be enjoyed in the happily chaotic atmosphere of the central hall.
There are many restaurants to choose from and often the smaller ones are the best - and a bit cheaper. Mercado Central can be a bit expensive because its popularity with tourists has grown so be on the lookout for bargains. It is crowded and chaotic, but the seafood is excellent and fresh, the architecture is interesting, and there is a festive feel to the place (partly thanks to the street musicians who frequent it). It is essentially a food market but there are usually some vendors selling souvenirs, jewellery and the like as well. Visitors are warned to stay aware of their possessions because markets of this kind are often targetted by pickpockets.
Address:
Corner of Calle Puente and Calle San Pablo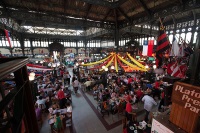 Mercado Central Matthew Roth
Cerro San Cristóbal
Cerro San Cristóbal is a 2,752-foot (860m) hill rising above central Santiago which, on a clear day, affords magnificent views of the surrounding city, all the way across to the Andes.
The easiest way to the top is by funicular, but there is also a teleférico (cable car), bus or hiking path leading up from the bottom through the forested slopes. There are many walkways and at the summit is the 70-foot (22m) high statue of the Virgin Mary to mark where the Pope held a mass in 1987.
There is also a zoo on the lower slopes, and picnic sites and two outdoor swimming pools spread throughout the park. The hill is situated within Santiago's biggest open space, the peaceful Parque Metropolitano; it makes for an escape from the hustle of the city. Visitors need a few hours to enjoy the park and on a sunny day the swimming pools are a delight.
Address:
Calle Pedro de Valdivia or Calle Pio Nono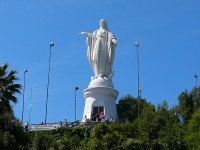 Statue of the Virgin Mary Craton
Reserva Nacional Los Flamencos
This popular nature reserve in northern Chile (many claim it is the most popular) is 459 square miles (740km sq) and is divided into seven sections, all offering highlights of their own. One of the most interesting areas within the Reserva Nacional Los Flamencos is the Valle de la Luna (Valley of the Moon), a surreal landscape of salt peaks formed by uplifted lake sediments that have been shaped into dramatic formations by wind erosion. With a surreal blend of pastel colours the valley is even more enchanting at sunset. Close to San Pedro de Atacama, the valley can be reached by mountain bike or on a guided tour.
A striking feature of northern Chile's geography is the shimmering and apparently endless salt lakes that are home to many bird species; the Salar de Atacama in the reserve has a lagoon, Laguna Chaxa, which supports three species of flamingos as well as other bird life. The salt lake also affords good views of the volcanoes in the Andean chain of mountains on the nearby altiplano. The stunning desert landscape offers many attractions: hiking, horse riding, bird watching and photography are some of the most popular activities. Be aware that in this desert region temperatures vary dramatically and can drop suddenly.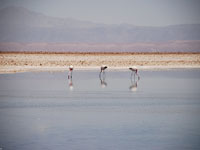 Laguna Chaxa, Reserva Nacional Los Flamencos Daniel Galleguillos
El Tatio Geysers
At an altitude of 13,760 feet (4,300m), El Tatio is one of the world's highest geyser fields, and possibly the hottest. Surrounded by volcanoes and fed by 80 geysers and hundreds of gassy fumaroles the geyser fields are best viewed at sunrise when there are changes in atmospheric pressure; the steaming fumaroles are particularly spectacular at this time, shooting up clouds of steam about 35 feet (112m) into the air.
Mineral deposits left behind after the evaporation of the boiling water have formed other interesting structures on the thin crust of the geyser field. While it is possible to bathe in the hot geyser water in a small pool, parts of the field are very dangerous with only a thin crust over nearly boiling mud so it is always a good idea to visit the geysers with a knowledgeable guide. This is a glorious attraction for photographers as the steam and the odd landscape make for dramatic pictures. The geysers are not great for anybody who has respiratory issues though, so visitors with breathing problems should proceed with caution. Also, be sure to wear layers because although the pre-dawn temperatures are freezing, it is much warmer at the geysers.
Most travellers visit the geysers as part of a guided tour. These usually leave San Pedro de Atacama early in the morning. Many operators offer this trip and it is worth shopping around to find the best option. Many geyser tours include a stop at nearby hot springs in the desert which is a great addition.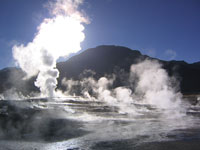 El Tatio Phil Whitehouse
Parque Nacional Chiloé
Following in the footsteps of Darwin after 150 years, visitors will find an isolated but wildly beautiful assortment of rolling hills, native forests and pristine coastline in Parque Nacional Chiloé. It is home to the Chilote fox, the rare pudú (miniature deer) and over 100 species of birds, including the Magellanic penguin. The park offers a variety of walking trails, through forests and under twisted tepú trees, along miles of unspoilt coastline or along nature trails that lead up onto the hills for superb views of the surrounds. One of the draws of the hiking trails in Chiloé is the wide selection of short hikes, making it a good activity even for visitors who aren't in the best shape. There are also epic hikes for those who want to walk long-distances. The park is home to several Huilliche Indian communities.
The information centre at the entrance has good displays on the flora, fauna and the traditions and folklore of the Huilliche people. This amazing wilderness area is only 18 miles (30km) west of Chonchi and 34 miles (54km) west of Castro, making it easily accessible. The area receives a huge amount of rain year round so be sure to dress appropriately.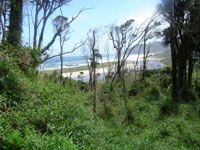 Parque Nacional Chiloe Lin Linao
Parque Nacional Torres del Paine
A UNESCO Biosphere Reserve, this 180,000-hectare (442-acre) park is the pride and joy of southern Chile. The park takes its name from the towering granite pillars that rise over 6,560 feet (2,000m) above the Patagonian plains. It is a hiker's paradise with many excellent, well-developed trails that traverse astounding changes in scenery. The hikes consist of several circuits which vary in length and difficulty; there are very competent and informative guides available, but unaccompanied hikes are also allowed. This amazing freedom is part of the appeal of the wilderness area for adventurers. Turquoise lakes and roaring waterfalls, forests and magnificent rambling glaciers, icy rivers, daisy-filled meadows, harsh mountain passes and plenty of wildlife, including the protected guanaco (wild relative of the llama), are some of its attractions.
Visitors can also try their hand at outdoor activities like horseback riding, sailing and kayaking, rock climbing and fly-fishing. Two famous areas within the park are the French Valley and Silence Valley (only accessible with a guide). The sunrise hike to the towers that give the park its name is also highly recommended. For many people the world over the Parque Nacional Torres del Paine features prominently on their bucket list, and for very good reason.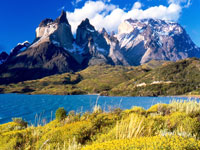 Parque Nacional Torres del Paine Miguel Vieira
Parque Nacional Laguna San Rafael
Created in 1959, Parque Nacional Laguna San Rafael covers an area of 6,726 square miles (17,420 sq km) and includes the Northern Patagonian Ice Field. It was named after the San Rafael Lagoon that was created by the retreat of the San Rafael Glacier, and has been designated a World Biosphere Reserve by UNESCO. A fjord more than 10 miles (16km) long is one of the park's principle attractions, along with some of the highest peaks in Patagonia, several glaciers, lakes and a rich variety of bird and sea life.
While the majority of visitors to Laguna San Rafael never set foot on land, the magnificent views from the boat will no doubt stay with them for a lifetime. If you take one of the larger boat trips to see the famous glaciers in the park you will almost certainly be given the opportunity to approach the ice flow in smaller boats and get up close to the glacier. For the really adventurous there are also multi-day sea kayaking tours of the area. Most visitors describe the trip as a once-in-a-lifetime, unforgettable experience and it is not hard to see why when looking at photos of the landscape. The glaciers are melting, making this attraction even more poignant and special; in a few years' time the landscape may be very different.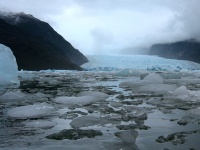 San Rafael Lagoon Vincent Huang
Castro
Castro is the main town (technically a city) on Chiloé Island. It is actually the third oldest city in Chile, founded in 1576. Castro is famous for its colourful rows of palafitos (stilted houses) lining the estuaries, excellent seafood and traditional handicrafts. With an eclectic blend of Chilote culture and modern development, Castro is a popular summer destination for Chilean and Argentinean tourists and has a laid back feel to it.
One of the town's most interesting features is the San Francisco Church, painted in dazzling pastel colours. The town itself is full of interesting features however, including craft markets, the regional museum, and the MAM Gallery. There are a range of restaurants and shops, and a few bars to keep the fun going at night. The central town square, Plaza de Armas, is the heart of Castro and here you will find a number of great places to eat, as well as a prime people-watching position.
Cycling around the island is a popular activity and a good way to see the sights. The town also provides access to the nearby islands of the Chiloé archipelago and the Parque Nacional Chiloé, which make for wonderful excursions.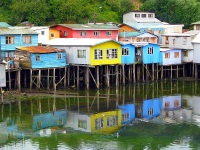 Castro Christian Cordova
Wooden Churches of Chiloe
The Spanish, who arrived in the 16th century, and Jesuit missionaries that came to Isla Grande de Chiloe in the 17th century, built hundreds of wooden churches in the archipelago in an attempt to 'civilise' the three local Indian tribes that occupied the islands. The Jesuits built more than 80 of these places of worship, and the Franciscan order later joined them and added to the region's astounding collection of chapels and churches. The 16 churches which still remain well-preserved have been jointly UNESCO-listed. Visiting some of these old buildings is one of the most interesting things to see and do in Isla Grande de Chiloe.
Apart from being very old, the churches have a unique architecture which makes them special; in fact, the whole archipelago benefits from its own style of building which visitors find delightful. Although recognisably colonial in some ways the mix between the local and the European is unexpected and original to the area, possibly because isolation allowed the architectural style to develop largely undisturbed for centuries. The churches are wooden, often painted with the pastel colours associated with Castro. Three of the most famous can be found in the villages of Chonchi and Dalcahue, and in Castro itself.
The churches are a popular tourist attraction in Isla Grande de Chiloe and for those lucky enough to travel to this region should try to visit as many as possible.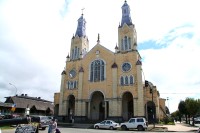 Wooden churches of Chiloe Alastair Rae
Chilean Tierra del Fuego
In the farthest southern reaches of Patagonia, at the tip of South America, lies the archipelago of Tierra del Fuego, which translates to 'Land of Fire'. It is a dramatic name for a dramatic place, as the harsh winds of the sub-polar climate sweep over rocky mountains, sparse tundra, and hardy forests. Tierra del Fuego is an increasingly popular eco-travel destination, and adventurous travellers come to see wildlife that includes sea lions, foxes, condors, owls, and firecrown hummingbirds. Hiking and camping are popular activities, and the archipelago offers some of the best trout fishing in South America.
While the savage natural beauty of the area is the main attraction for travellers there is also more traditional touristic sightseeing on offer: much of the tourism in Tierra del Fuego revolves around 'southernmost' things. The port town of Puerto Williams claims to be the southernmost city in the world, while the southernmost cathedral and temple are located in Punta Arenas. While Cape Horn is widely thought to be the southernmost island in South America, that title actually goes to The Diego Ramírez Islands, which are nesting grounds for many species of southern seabirds, including albatross, penguins and petrels. Travellers with a sense of adventure looking to get off the beaten track will find Tierra del Fuego to be quite a revelation.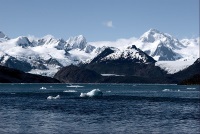 Chilean Tierra del Fuego Luis Alejandro Bernal Romero
Magdalena Island Penguin Reserve
The Magdalena Island Penguin Reserve is a paradise for birdwatchers, or for anybody who is fond of penguins. Magdalena Island is located 21.7 miles (35km) south of Punta Arenas. The reserve is a natural bird sanctuary, and is home to more than 100,000 birds, including about 95 percent of the world's population of Magellanic Penguins as well as cormorants and seagulls.
Because it is a sanctuary, the only facilities on Magdalena Island are for scientific research and not tourism. Guided tours are available to see the penguins in their natural habitat, and the lighthouse at the Environmental Interpretation Centre provides stunning panoramic views of the region. There are ferries available from Puntas Arenas, which take approximately two hours each way and provide snacks and coffee. These ferry rides are in themselves thrilling in that to reach Magdalena Island the boat crosses the famous Straits of Magellan, traversing the same waters as Sir Francis Drake and Charles Darwin.
Generally, visitors are allowed about an hour on the island to observe the penguins in their natural habitat. The birds are naturally curious and very amusing to watch. They return every year between October and March to lay their eggs and raise their young - if you are lucky you may well see chicks.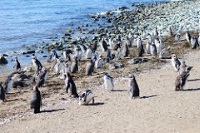 Magdalena Island Penguin Reserve Rachel Hobday
Pukara de Quitor Ruins
The Pukara de Quitor Ruins are a very short distance from the town and one of the most popular attractions in San Pedro de Atacama. The fortifications were built by the Atacameno people, a pre-Incan civilization, in the 12th century. The ruins have not been excavated fully, despite being incredibly well-preserved, because they will be quickly destroyed by the elements if they are exposed further. The way they stand, half-uncovered, actually adds to the mysterious atmosphere of the place, and visitors can still have a fair idea of what the structures looked like originally. To help travellers envisage the buildings as they once were a replica of one of the 800-year-old houses has been built.
A bike ride or a quick hike to the ruins is one of the most popular things to do in San Pedro de Atacama. The distance is under three miles (4km) and can be walked in about an hour. The path is well sign-posted and not demanding. Possibly the most astounding thing about the fort are the views from the site and those visitors who have seen more extensive and impressive ruins - like those just north in Peru - will still be blown away by the surroundings. The ruins can be explored with remarkable freedom which is also a bonus.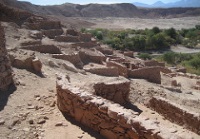 Pukara de Quitor Ruins Pablo Trincado
The territory of Chile extends from the tropics down almost to Antarctica, and from sea level up to breath-taking altitudes, therefore the country has a wide variety of climate zones. In the north there is hardly any rainfall and conditions are very hot and arid. The climate in central Chile is Mediterranean, with cool, wet winters between April and September. Average annual rainfall increases, and temperatures decrease, as one moves further south. In Santiago average temperatures vary between 68ºF (20ºC) in January, the height of summer, and 46ºF (8ºC) in July, midwinter. In the extreme south the weather is cold and wet most of the year, with snow covering the mountains and the sky cloudy. Because the weather in Chile varies so much there is no ideal time to visit the country as a whole; depending on your desired area and activities the best time to visit Chile will change. However, in every season the country has something to offer which makes it a year-round travel destination.
Comodoro Arturo Merino Benítez International Airport
Location:
The airport is situated nine miles (15km) northwest of Santiago.
Time:
Local time is GMT -3 (GMT -4 from the second Saturday in May to the second Saturday in August).
Getting to the city:
Several bus services leave regularly for the city centre. Official airport taxis are also available from outside international and domestic arrivals.
Car Rental:
International companies such as Avis, Alamo, Sixt and Europcar are represented at the airport as well as several local companies.
Airport Taxis:
There are taxi ranks located outside both the Domestic and International Arrivals areas.
Fascilities:
Facilities at this well-equipped airport include business and internet centres, bureaux de change, banks and ATMs, duty-free shops as well as a variety of other retail stores, restaurants, cafes and bars, tourist information, travel agencies and hotel reservations.
Parking
Parking spaces are charged for in half hour increments; there are three different zones and expense varies according to proximity to the terminal building.
Money:
The local currency is the Chilean Peso (CLP), which is divided into 100 centavos. Visa, MasterCard, Diners Club and to a lesser extent, American Express, are accepted in most large shops and hotels. ATMs are widely available.
Language:
The official language is Spanish.
Electricity:
Electrical current is 220 volts, 50Hz. Round two-pin plugs and round three-pin plugs are used.
Entry Requirements:
No visa is required by US nationals for visits of up to 90 days. A passport valid on arrival is required for travel to Chile.
UK nationals do not require a visa for visits of up to 90 days. A passport valid on arrival is required.
No visa is required by Canadians for visits of up to 90 days. A passport valid on arrival is required for travel to Chile.
No visa is required by Australians for visits of up to 90 days. A passport valid on arrival is required. Visa exemptions also include passengers with an APEC Business Travel Card, valid for travelling to 'CHL' on business, maximum stay of 90 days.
South African nationals must hold a passport valid on arrival. A visa is not required for stays of up to 90 days.
Irish nationals must hold a passport valid on arrival, but a visa is not required for a stay of up to 90 days.
No visa is required by US nationals for visits of up to 90 days. A passport valid on arrival is required for travel to Chile.
New Zealand nationals must hold a passport valid on arrival. A visa is not required for a stay of up to 90 days. VISA exemption also includes those travelling with an APEC Business Travel Card, valid for travelling to 'CHL' for business, a maximum stay of 90 days.
Passport/Visa Note:Visa:
A return or onward ticket is required. We always recommend that passports be valid for six months after intended period of travel. Extension of stay possible for additional 90 days for visa exempt visitors.
Travel Health:
There are no vaccination requirements for entry to Chile, but vaccination for hepatitis A is recommended and a typhoid vaccine may be recommended for long-term travellers who plan to visit rural areas and eat outside of hotels and restaurants. Water is generally safe in the cities, but should be treated in the rural areas; bottled water is widely available for drinking. Santiago is severely polluted and this could cause respiratory problems or eye irritations, particularly between May and August. Travellers visiting the Andes Mountains should be aware of altitude sickness, and ascend slowly to allow the body to adjust. Healthcare in urban areas is generally good, but hospitals and clinics are expensive and usually require payment in cash. Comprehensive travel health insurance is recommended.
Tipping:
Tips of about 10 percent are expected in restaurants. It is not customary to tip taxi drivers but it is usual to round up the fare if they help with luggage. In general tipping small amounts is customary for most services.
Safety Information:
Chile is a politically stable country with few safety threats to travellers. Incidences of pick-pocketing and mugging are on the increase in big cities and travellers should take care of their belongings, especially around tourist areas and bus stations, and avoid walking alone late at night. Tourists should be particularly cautious in the Lake District as theft is on the increase, and muggings are becoming more common in popular walking areas such as Cerro San Cristobal, Cerro Santa Lucia and Cerro Manquehue. There has been an increase in reports regarding people receiving spiked drinks at nightclubs and bars, particularly in Santiago. Avoid any involvement in political protests and demonstrations, which take place from time to time. Chile has a landmine problem, mainly restricted to border areas adjacent to Peru and Bolivia. These areas are seldom visited by most travellers so landmines shouldn't be a problem but visitors are advised to stick to marked roads, obey all signs and seek the advice of local authorities if travelling to the border areas of regions I, II or XII.
Note: 28/11/19
Large-scale demonstrations have taken place across Chile since October 2019. They can proceed with little or no notice and can result in violence and travel disruption in cities and towns. Affected areas include Santiago, Temuco, Iquique, Conception and Rancagua. Large cities such as Santiago, Vina del Mar, Arica, Puerto Montt, Valparaiso, Antofagasta and Iquique expect daily demonstrations, and consular support in parts of the country may at times be limited.
Local Customs:
Bargaining is unusual in street markets or stores in Chile - if there is a price on goods it is seldom negotiable. Although Chile is largely conservative in outlook, homosexuality is legal and is increasingly widely accepted socially. Punishment for the possession and consumption of drugs is strict in Chile.
Business:
Chilean business culture tends to be formal, and this includes dress, which should also be conservative. In business, Chileans should be addressed by their titles and surnames, unless otherwise stated. Businesses are often family-run. Third party introductions are indispensable when arranging a meeting, and developing a personal relationship is key. Chileans often stand very close when conversing and it is impolite to pull away. Visitors are also expected to re-confirm appointments before arriving at a meeting. Foreigners should be on time for meetings, but it is not unusual for the host to be 15-30 minutes late. On introduction, a firm handshake and exchange of business cards is usual - cards should be printed in both English and Spanish and care should be taken to pay attention to the card before putting it away carefully. Business hours are generally 9am to 5pm Monday to Friday, often with a siesta over lunch.
Communications:
The international access code for Chile is +56. The outgoing code is 00 followed by the relevant country code (e.g. 0044 for the United Kingdom). The area code for Santiago is (0)2. Hotels, cafes and restaurants offering free wifi are widely available. As international roaming costs can be high, purchasing a local prepaid SIM card can be a cheaper option.
Duty Free:
Travellers entering Chile do not need to pay customs duty on 400 cigarettes, 50 cigars (large or small) and 500g tobacco; 2.5 litres of alcohol; and perfume for personal use. Meat products, flowers, fruit and vegetables may only be imported if permission is given by the Department of Agriculture.