Plaza de Armas
The Plaza de Armas is both the heart of Santiago and the city's historical centre, a square hemmed in by impressive Spanish colonial public buildings, including the 18th-century Cathedral and elaborate main post office that was once the Spanish governors' residence. As with most colonial squares of this kind, and as the name suggests, the Plaza de Armas was designed to be the open space in which the armed forces of the city could gather to parade and to protect Santiago's most important buildings.
The square became the hub of administrative, commercial and social life when the city was founded in 1541, and today it remains the centre of life in the city. Never a dull place to be by day, with its constant activity and throngs of people entertained by buskers and local artists, the evenings are just as lively when passers-by can become embroiled in chess games on temporary tables set up under the trees.
This square is the point from which all distances are measured in Chile, and the central point for the grid pattern of the streets. Visitors should be aware of their belongings here as it is a popular target spot amongst pickpockets. The square is a useful starting point for sightseeing in Santiago as many attractions are close by.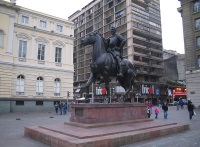 Plaza de Armas Carlos yo
Chilean Museum of Pre-Columbian Art
The Chilean Museum of Pre-Colombian Art is housed in the old Royal Customs House in Santiago. The collection is impressively large compared to many other museums in a similar vein, and it spans 4,500 years and about 80 pre-Colombian civilisations of South America. The Museo Chileno de Arte Precolombino, as it is known to locals, is a fascinating place to spend a few hours and is a great find for art and archaeology enthusiasts.
The exhibits are beautifully curated throughout four rooms set around a central courtyard. The collection provides an informative insight into the cultures of the Incas, Mayans, Aztecs and other proud civilisations of the continent, illustrating their artistic diversity and advancement.
It is worth paying extra for a guided tour though, because the labels are not translated into many languages and are not as comprehensive as some might like. Having said that, the museum is a worthwhile attraction in Santiago, especially if travellers are not familiar with the intriguing ancient cultures on display.
Address:
Calle Bandera 361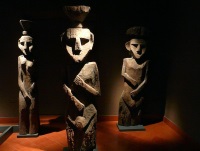 Chilean Museum of Pre-Columbian Art Bkwillwm
Mercado Central
Santiago's colourful Mercado Central, housed in an 1872 wrought iron structure, has a fruit and vegetable market as well as a buzzing fish market where an assortment of glistening fresh seafood is packed onto the tables. Mussels, oysters and clams sit in buckets among an unidentifiable variety of crustaceans and tentacled creatures. The fishmongers demonstrate their skill at gutting and filleting amid a cacophony of frenzied buying. The best time to visit is at lunchtime when a delicious sampling of the wares can be enjoyed in the happily chaotic atmosphere of the central hall.
There are many restaurants to choose from and often the smaller ones are the best - and a bit cheaper. Mercado Central can be a bit expensive because its popularity with tourists has grown so be on the lookout for bargains. It is crowded and chaotic, but the seafood is excellent and fresh, the architecture is interesting, and there is a festive feel to the place (partly thanks to the street musicians who frequent it). It is essentially a food market but there are usually some vendors selling souvenirs, jewellery and the like as well. Visitors are warned to stay aware of their possessions because markets of this kind are often targetted by pickpockets.
Address:
Corner of Calle Puente and Calle San Pablo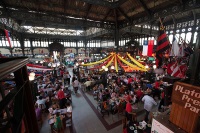 Mercado Central Matthew Roth
Cerro San Cristóbal
Cerro San Cristóbal is a 2,752-foot (860m) hill rising above central Santiago which, on a clear day, affords magnificent views of the surrounding city, all the way across to the Andes.
The easiest way to the top is by funicular, but there is also a teleférico (cable car), bus or hiking path leading up from the bottom through the forested slopes. There are many walkways and at the summit is the 70-foot (22m) high statue of the Virgin Mary to mark where the Pope held a mass in 1987.
There is also a zoo on the lower slopes, and picnic sites and two outdoor swimming pools spread throughout the park. The hill is situated within Santiago's biggest open space, the peaceful Parque Metropolitano; it makes for an escape from the hustle of the city. Visitors need a few hours to enjoy the park and on a sunny day the swimming pools are a delight.
Address:
Calle Pedro de Valdivia or Calle Pio Nono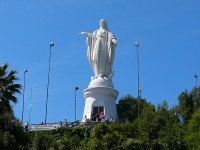 Statue of the Virgin Mary Craton
The climate of Santiago is Mediterranean, with typically hot, dry summers and mild, moist winters. In summer, November to February, average temperatures hit highs of around 95°F (35°C). The summer months can be quite windy, with prevailing winds from the southwest. In winter, May to August, temperatures average around 57°F (14°C). Rain falls mainly during winter, which is a more humid season in Santiago. Snowfall is extremely rare in the city, although it is common in the Andes mountain range that looms above Santiago. Temperature inversions cause smog to be trapped in the valley for spells during the winter months, bringing heavy pollution. Unfortunately, the city is considered one of the most polluted in the world, largely due to its location in a natural bowl, and the smog is at its worst in winter. The best time to visit Santiago is in the summer months of December, January and February, although many people do visit in the winter to enjoy the skiing.
Comodoro Arturo Merino Benítez International Airport
Location:
The airport is situated nine miles (15km) northwest of Santiago.
Time:
Local time is GMT -3 (GMT -4 from the second Saturday in May to the second Saturday in August).
Getting to the city:
Several bus services leave regularly for the city centre. Official airport taxis are also available from outside international and domestic arrivals.
Car Rental:
International companies such as Avis, Alamo, Sixt and Europcar are represented at the airport as well as several local companies.
Airport Taxis:
There are taxi ranks located outside both the Domestic and International Arrivals areas.
Fascilities:
Facilities at this well-equipped airport include business and internet centres, bureaux de change, banks and ATMs, duty-free shops as well as a variety of other retail stores, restaurants, cafes and bars, tourist information, travel agencies and hotel reservations.
Parking
Parking spaces are charged for in half hour increments; there are three different zones and expense varies according to proximity to the terminal building.
A famously nocturnal city, the nightlife in Santiago often stays lively until the sun comes up. Locals may only go to dinner at 11pm, getting to nightclubs after 1am and staying until dawn. While some visitors may not have that sort of stamina, they shouldn't be surprised to find that clubs in Santiago often don't fill until midnight.
Much of Santiago's nightlife caters to people between 18 and 35, and live music is popular, spanning a wide range of musical styles from electronic to rock and jazz. Internationally-renowned bands and musicians play at venues like the Estado Nacional Julio Martinez Pradanos (the national stadium) and the Espacio Riesco. Pio Nono has the highest density of bars in Santiago, and there are a number of high-end nightclubs surrounding the Plaza San Enrique. The Bellavista neighbourhood has a large number of nightclubs and bars, many of which stay open until as late as 5am, as well as a few relaxed venues with local music like tango, bolero and Latin jazz. Avenida Suecia, in the generally upmarket Providencia neighbourhood, was once considered the nightlife centre of Santiago, especially for foreigners, but the road developed a reputation for seediness and debauchery and most of the best venues have since closed down.
The legal drinking age in Chile is 18 and the locals are generally very welcoming and friendly on a night out. The party tends to spill out into the streets in a festive manner, especially in Bellavista where the sidewalks are extensions of the various bars and restaurants.
There is a huge theatre community in Santiago, with offerings ranging from small independent productions to large-scale operas. Established theatres like the Teatro Bellavista, Teatro Alcalá, and Estación Mapocho stage productions on a regular basis, but performances in English are few and far between. Tourists who don't speak Spanish will enjoy symphonies or ballets at the Teatro Municipal, Teatro Oriente and Teatro Universidad de Chile.
Public transport in Santiago is both efficient and practical for tourists. The Metro de Santiago is an easy and efficient way to get around in Santiago at a reasonable price and the system services most places of interest. MetroBuses serve the Metro stations to act as an extension to the rail system. Competing private companies run Santiago's many minibuses (micros), with their drivers working on a commission basis dependant on collecting as many fares as possible. Buses tend to race each other chaotically through the city's main streets and can be a dangerous option. Quicker and more comfortable are the colectivos, which have fixed routes and can take five passengers. They look like regular taxis, but display their route on the roof. Taxis can be hailed on any street corner, or radio taxis can be called to the door. Taxis are relatively inexpensive, but it is always best to decide on a rate before setting off as not all of the taxis are metered. Although renting a car is possible, driving yourself around in Santiago is not recommended due to heavy congestion and limited parking. Santiago is also a good city for getting around on foot because it is arranged on a simple grid system that makes it easy to negotiate with a map.
There are many worthwhile things to see and do in Santiago for travellers. A fantastic way to start familiarising yourself with this vibrant and busy city is to pay a visit to the Plaza de Armas, Santiago's central square. Many of the main attractions of Santiago are in walking distance of this classic colonial meeting space. There are also brilliant walking tours with a group called Spicy Chile who offer about three different walks a day to give tourists an introduction to the city. The guides are knowledgeable locals and the tours are free (although tips are expected).
There are a number of small but interesting museums in Santiago, the best of which is the Chilean Museum of Pre-Colombian Art, a must-see for those interested in the ancient cultures of South America. Visitors travelling in Santiago with kids should also pop into the Museo Interactivo Mirador, a huge interactive museum with lots of educational activities and play areas. Another deservedly popular attraction in Santiago is Pablo Neruda's home: the late Nobel-winning poet's house is colourful, eccentric and romantic and worth a visit even for those unfamiliar with his poetry. It is called La Chascona, which means Tousled Hair, a name given in honour of his third wife.
San Cristobal Hill is a must for great views of the city and a refreshing dose of greenery and clean air. Santiago's parks and green spaces are a delight and it is never hard to find somewhere to relax in the shade. For not-so-clean air try the Mercado Central seafood market, a bustling market which offers a massive variety of seafood fresh from the ocean.
Many travellers stop off in Santiago as a base for adventures out in the surrounding mountains; it has become a renowned area for ecotourism and you can take your pick of exciting outdoor activities, including skiing, horse riding, climbing and hiking. If you are looking for a more mellow experience of the beautiful surroundings of Santiago then take a tour of the famous wine country just outside the city.
Wine Country
Chilean wine enjoys a good reputation with sommeliers all around the world, with its popularity soaring in the last decade. Central Chile's Mediterranean climate is ideal for vineyards, and some of the best wine comes from the Central Valley, around Santiago. Wine tastings are a popular activity in Santiago, and there are many wineries to choose from. Valle de Maipo, Valle de Casablanca and Valle de San Antonio are the closest to the city, and there are nearly 30 wineries in Valle de Maipo alone. Wine country in Chile stretches for many miles along the coast, from Valle de Elqui in the north to Valle de Malleco in the south.
Chilean wine country is an especially beautiful region in the summer, and a great way to explore the area is on bicycles which can easily be hired in nearby towns. Some groups of wineries have banded together to offer established tours along 'wine routes', of which the circuit of the Colchagua Valley is the most popular. Many tour operators in Santiago offer wine tasting packages as well. There is much to delight sommeliers in the region but it is also a fun experience for the uninitiated.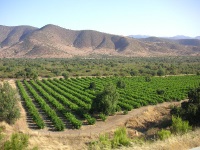 Chilean Wine Country Beatrice Murch
Vina del Mar
Vina del Mar is a short bus ride from Santiago, right next to Valparaiso; in fact, travellers could be forgiven for thinking the two coastal cities are one and the same. Vina del Mar has a very different character to bohemian Valparaiso though - it is a safer, more manicured city celebrated for its fun resort culture, its malls and its beautiful beaches. Vina del Mar translates as Vineyard of the Sea, and the city's beautiful parks have earned it the romantic nickname of Ciudad Jardin, or Garden City.
Pretty Vina del Mar is a popular summer resort and weekend retreat for the wealthy inhabitants of Santiago and the beaches and casinos boom in the peak summer months between December and February. Like neighbouring Valparaiso, the city boasts a rollicking nightlife and a good restaurant scene.
Vina del Mar's beaches are its biggest asset but although they are very picturesque they are not always safe for swimming. Visitors should be careful not to underestimate the power of the waves and currents and should obey directives from lifeguards when they are present.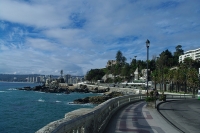 Coastal Road, Vina del Mar mig rod
Valparaiso
Valparaiso, only 75 miles (120km) from Santiago, has a real bohemian spirit. It is an historic port city; in fact, in the 1800s it was the main shipping hub of the Southern Pacific, which brought wealth, floods of European immigrants, and that deliciously naughty atmosphere found in places frequented by sailors. Valparaiso clings to the steep sides of 45 hills along the coast, a tricky geography that makes epic staircases and quaint old funiculars integral to getting around.
The city is a UNESCO World Heritage site and home to a wealth of well-preserved historic architecture, but it is the very modern street art phenomenon which truly sets the place apart. The sheer amount of murals and graffiti, mixed up with grand old buildings, makes the whole city feel like a weird work of art. To add credence to this artsy atmosphere there are musicians busking on seemingly every corner and artists selling their work at improvised stalls all over the picturesque hillside districts.
Unsurprisingly, Valparaiso is renowned for its vibrant nightlife and there is a surplus of cool places to eat and drink in the city. Apart from taking in the art, colourful architecture and numerous pubs, travellers should be sure to visit the quirky home of beloved poet Pablo Neruda, which offers glorious views over the city as well as insight into his life.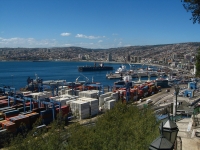 Valparaiso, Chile Hector Garcia