Casa Loma
Casa Loma is the only full-sized castle in North America. Formerly the home of Canadian financier, Sir Henry Pellatt, it is a wonderland of secret passageways, and elaborately decorated rooms.
Pallet used his immense personal fortune to build the chateau, though financial troubles meant he could not sustain it. Today, the City of Toronto owns the castle and welcomes guests in daily. All in all, visitors enjoy touring the authentically furnished rooms and splendid gardens, and appreciating stunning views of Toronto from one of the castle's towers.
Address:
1 Austin Terrace
Transport:
From Dupont station, walk to Spadina Ave and Davenport Rd, then climb the Baldwin Steps to the castle.
Opening time:
Open daily, from 9.30am to 5pm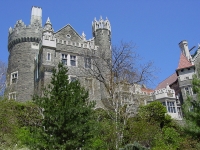 Casa Loma nicblockley
CN Tower
Standing 1,815ft (553m) high, Toronto's CN Tower was the world's tallest building until 2007. Today, it remains a renowned architectural masterpiece, and is perhaps Canada's most celebrated icon.
One of the tower's top attractions is the award-wining 360 Restaurant. It offers guests breath-taking, revolving views of the city, and dishes created with the finest Canadian ingredients. Another drawcard is EdgeWalk. At 1168ft (356m) above ground, it is the world's highest 'hands-free' external walk and must for all thrill seekers.
Address:
301 Front Street West
Transport:
Take the subway to Union Station. Then take a short walk west along Front Street.
Opening time:
Open daily 9am to 10:30pm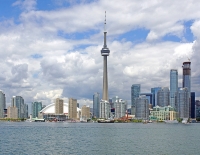 CN Tower Dennis Jarvis
Royal Ontario Museum
The Royale Ontario Museum treats visitors to displays of art, culture and nature from around the globe and across the ages. It ranks as one of North America's premier cultural institutions, and is Canada's largest and most comprehensive museum.
Its 40 gallery and exhibition spaces house 13 million artworks, cultural objects and natural history specimens, including dinosaurs, galleries of Chinese art, a bat cave, a gem and gold room, exhibits about Ancient Egypt and Nubia, and the Samuel European Galleries. Visitors will not be disappointed.
Transport:
Museum subway station, or Avenue bus #5 from Eglington station
Opening time:
Open daily, from 10am to 5.30pm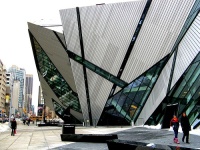 Royal Ontarion Museum Randy OHC
Toronto Zoo
The Toronto Zoo is one of the largest zoos in the world, with more than six miles (10km) of walking trails spread over 700 acres. Over 5000 animals representing over 450 species call it home.
Visitors will enjoy touring the zoo's seven geographic regions and encountering animals that are native to them. Favourites include hippos, lemurs, otters, gorillas, bears, Giant Pandas, snow leopards, lions, penguins and cheetahs.
All told, award-winning exhibits await the entire family, as do many seasonal activities. The zoo's interactive wildlife experience is especially popular with kids.
Address:
Meadowvale Road, Scarborough
Transport:
Rouge Hill GO Train station, #86A Scarborough bus route or #85 Sheppard East bus route
Opening time:
Open daily, from 9.30am to 4.30pm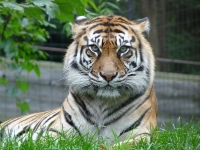 Tiger at Toronto Zoo Roger Ahlbrand
Distillery Historic District
The Distillery Historic District is a much-loved centre for arts, culture, food and entertainment in Toronto. Said to contain the finest collection of Victorian-era industrial architecture in North America, it is indeed a worthy national historic site.
The district had its beginnings 1832 and eventually became the largest distillery in the British Empire. It assumed its current role as an arts and culture centre during the 1990s, doubling as one of Canada's most popular film locations. As of 2003, it has been a pedestrian-only village dedicated to the arts. Anyone visiting Toronto should explore the district's many art galleries, artisan boutiques, specialty retail stores and restaurants. Also, festivals and special events often take place.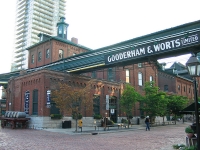 Distillery Historic District Peter Kudlacz
Museum of Contemporary Art Toronto Canada
The Museum of Contemporary Art, Toronto Canada (MOCA) looks to exhibit, research, collect and promote innovative art by Canadian and international artists whose works tackle the most relevant issues of our times. Formerly the Museum of Contemporary Canadian Art, the institution has been praised for its incisive, artist-centric approach to programming, and its friendly visitor experience.
MOCA is very much a hub for creative exchange, and is definitely worth a visit.
Opening time:
Open Monday, Wednesday, Thursday, Saturday and Sunday, from 10am-5pm. Open Friday from 10am-9pm. Closed on Tuesdays.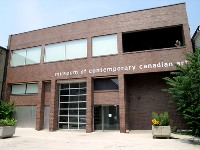 Museum of Contemporary Canadian Art Roberta Cibin
Gardiner Museum of Ceramics
Housed in an award-winning piece of architecture, the Gardiner Museum of Ceramics showcases a craft that has existed for centuries. With earthenware of all different shapes and sizes from the ancient Americas, China, Japan, the Italian Renaissance and more, a tour through the museum will shape visitors' understanding of the ceramic process, and its place in world history. The museum hosts drop-in classes on Wednesdays, Fridays and Sundays, and is home to 'Toronto's Best Gift Shop', Vogue.
Opening time:
Monday to Thursday from 10am to 6pm; Friday from 10am to 9pm; Saturday and Sunday from 10am to 5pm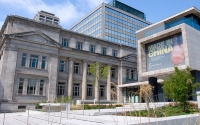 Gardiner Museum of Ceramics End User
Kensington Market
Kensington Market embodies Toronto's multicultural society. Since the 1960s, immigrants from Eastern Europe to China and the Caribbean have injected their customs into the market, creating an area that is a model of open-mindedness. Today, this national historic site remains one of Toronto's oldest, most diverse and liveliest neighbourhoods. Essentially, it's an eclectic mix of cafes, restaurants, vintage stores, bars and speciality food shops where nobody's really foreign. Visitors enjoy getting lost here for hours.
Address:
Area bordered by Spadina Avenue, Dundas Street, Bathurst Street and College Street
Transport:
The market is served by streetcar stops College, Spadina and Dundas
Opening time:
Open seven days a week. Most opening hours are from 11am to 7pm, although fresh produce stalls usually open earlier, and restaurants usually close later
Kensington market Accordion Chick
Harbourfront Centre
The Harbourfront Centre remains at the heart what's current and creative in Toronto. The innovative not-for-profit cultural organisation has been around for more than 40 years, and specialises in creating events and activities that wake up and entertain a diverse public. Locals gather at the centre's distinctive waterfront venues for some weekend gallery hopping, shopping, biking and concerts. Visitors enjoy strolling along the promenade, indulging in theatrical performances and browsing craft boutiques. Or, they head to Queen's Quay Centre for some superb shopping. Year-round features at this urban playground include film, dance, theatre, music, children's and marine events.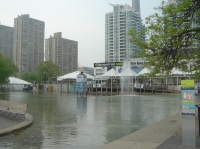 Harbourfront Centre Ivan Hernández
Hockey Hall of Fame
Avid hockey fans should visit Toronto's Hockey Hall of Fame. Within this shrine to Canada's national sport, visitors can learn about the history of the game through memorabilia from every era, hockey artefacts from around the world, themed exhibits, multimedia stations and images of great moments in hockey history. Iconic players' goalie gear, skates and sticks are also on display. Visitors usually relish having hands-on access to the Stanley Cup, and trying out state-of-the-art games that challenge shooting and goalkeeping skills.
Address:
30 Yonge Street, Brookfield Place
Opening time:
Monday to Friday, 10am-5pm. Saturday, 9.30am-6pm. Sunday, 10.30am-5pm.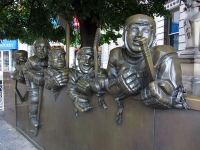 Hockey Hall of Fame Richie Diesterheft
Paramount Canadas Wonderland
Boasting more than 200 attractions, Splash Works and a huge variety of roller coasters, Paramount Canada's Wonderland is deservedly the country's favourite theme park. Its menu of rides includes carousels, train rides and the Time Warp ­- Canada's only flying roller coaster.
The park also has lots of shopping and dining options. All told, this attraction has a variety of rides and amusements to suit all age groups, and is a must for the entire family.
Address:
9580 Jane Street, Vaughan
Opening time:
Opening times vary according to season - check the official website for details.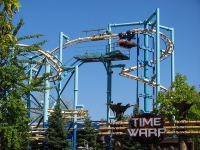 Paramount Canada's Wonderland Jeremy Thompson
High Park
Along with being Toronto's largest public park, High Park is also one of the city's most important natural areas. Visitors will encounter woodland, wetlands, a beautiful lakefront, prairie habitats and a preserved slice of the black-oak savannah ecosystem that once covered most of southern Ontario. It all makes for an idyllic setting in which to enjoy the park's playgrounds, zoo, dog park, hiking trails, greenhouses, picnic areas, eateries and sporting facilities. Parking is convenient and public-transport access is easy. All said, High Park makes for a complete day out.
Address:
1873 Bloor Street West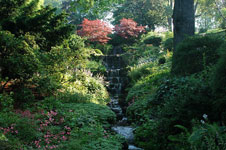 High Park Sandra McKeown
Toronto has places for children to play, and expand their young minds. Indeed, the city has enough on offer to entertain kids for days on end.
Paramount Canada's Wonderland is the country's answer to Disneyland. Families will relish the mix of rides. Travellers looking for kid-friendly ways to enjoy the outdoors should head out to High Park and Centre Island's Centreville Amusement Park.
For a change of pace, parents can add a touch of learning to family holidays by visiting the Toronto Zoo, the Jungle Cat World Wildlife Park or the Ontario Science Centre. Kids may also appreciate a visit to the CN Tower. The view from Toronto's most iconic landmark (one of the tallest buildings in the world) is a treat.
Lake Ontario takes some of the edge off Toronto's humid continental climate. Summer (June to August) tends to be hot and very humid, while winter (December to February) is severe with heavy snowfall. The average maximum temperature in January is 28°F (-2°C), while the average maximum temperature in July is 80°F (27°C). Rainfall tends to occur throughout the year, but summer, though the sunniest season, is also usually the wettest. Autumn is perhaps the best time to travel to Toronto, as temperatures are less extreme than in summer or winter, with mild days and cool nights.
Given that locals speak over 140 languages in Toronto, the city's restaurant scene is understandably diverse. Diners can expect the best of culinary adventures when visiting.
As a starting point, travellers should remember that certain cuisines cluster in distinct areas. College Street, better known as Little Italy, is home to the city's best Italian restaurants and trattoria. The Danforth area serves up Greek food, while authentic Chinese establishments are abundant in Chinatown. Visitors should check out King Street West for excellent Indian, Japanese and sushi restaurants.
Otherwise, Lai Wah Heen, Bangkok Garden, 360 and Canoe are among the titans of Toronto's restaurant scene, and are definitely worth visiting. Tips of 15 to 20 percent are expected for good service. City law requires all restaurants, bars and pubs to be smoke-free.
Lai Wah Heen
Located within the sophisticated setting of the Metropolitan Hotel, Lai Wah Heen is renowned for turning the finest local produce into authentic dishes from different regions of China. The large menu offers some of the best dim sum in the city, as well as other intriguing options. Service is attentive and the food is elegantly served. The restaurant opens daily for lunch and dinner.
Address:
Metropolitan Hotel, 108 Chestnut Street (Downtown)
Senses
Senses Cafe is the perfect place to launch a bright day in Toronto. Fresh-brewed artisanal coffee, decadent treats, seasonal fruit and guilt-free comfort food are all on offer to feed the body and nourish the soul. Patrons enjoy themselves before emerging into a city full of possibilities.
For those wishing to sleep in, the cafe does made-to-order brunch favourites on weekends, and a selection of chef-curated lunches on weekdays.
Address:
318 Wellington Street West
North 44
Named after Toronto's latitude, North 44 has been one of the city's most genteel eating places for many years and is an experience in pampering. The artistic interior bathes diners in a warm glow, the food is superb and the service flawless. The seasonal menu is influenced by Mediterranean, American and Asian flavours and might include pepper and sesame crusted tuna, lamb shank or stuffed quail, as well as a few exciting pastas and pizzas. Desserts such as the lemon meringue mille-feuille are the best in town. Reservations essential. Closed Sunday. Dinner only.
Address:
2537 Yonge Street (Uptown)
360 Revolving Restaurant
For foodies visiting Toronto, 360 Restaurant is a definite bucket-list item. Located in one of the world's tallest free-standing structures, the CN Tower, it offers patrons breath-taking, revolving views of the city, and dishes created with the finest Canadian produce. Daily lunch service runs from 11am-3.15pm. Dinner is from 3.30pm-10.15pm. Visitors should also note that the summer menu starts in May, while the winter menu begins in November.
Address:
CN Tower, 301 Front Street West (Downtown)
Bangkok Garden
Established over 30 years ago, Bangkok Garden is noted for introducing Thai cuisine and culture to Toronto. The Thai Consulate has since awarded the restaurant the Thai Select Premium designation, recognising the authenticity of its food and the tremendous quality of its service. Bangkok Garden is open Monday to Friday for lunch and dinner, while Saturdays and Sundays are dinner only.
Address:
18 Elm Street, Toronto
Canoe
Widely considered one of the country's best restaurants, Canoe is renowned for crafting dishes that reflect Canada's diverse landscape and heritage. House chefs use only the finest produce from around the country, sourced through their close relationships with domestic farmers and suppliers. Canoe is open for lunch and dinner from Monday to Friday, while Saturdays and Sundays are for private events.
Address:
54th Floor, Toronto Dominion Bank Tower, 66 Wellington St.
Toronto Pearson International Airport
Location:
The airport is located 17 miles (28km) northwest of downtown Toronto.
Time:
GMT -5 (GMT -4 from the second Sunday in March to the first Sunday in November).
Transfer Between Terminals:
The Terminal Link train system operates a 24-hour free service between Terminals 1 and 3, as well as to the Sheraton Gateway Hotel, ALT Hotel, the Value Park Garage and Value Parking Lot.
Getting to the city:
The Terminal Link train offers free transportation between Terminals 1 and 3, the Sheraton Gateway Hotel, ALT Hotel, the Value Park Garage and Value Park Lot. Several companies provide bus and shuttle transit services to and from the airport into Toronto and surrounding areas. The Union Pearson Express train links the airport to Downtown Toronto in just 25 minutes. The airport is also easily accessible on various public transportation routes with providers such as Toronto Transit Commission (TTC) and GO Transit.
Car Rental:
Rental companies include Avis, Budget, Dollar, Thrifty, Hertz and National/Alamo.
Airport Taxis:
There are authorised taxis available outside the arrivals halls.
Fascilities:
All terminals are well-supplied with facilities, including bureaux de change and ATMs, wifi, shops and duty-free outlets, hotel-reservation services, bars and restaurants.
Parking
Parking at Toronto Pearson International Airport ranges from C$5 for 30 minutes or C$50 per day in the Express Car Park, to C$20 per day or C$105 per week in the Value Park Lot. The Daily Park Lot costs C$30 per day and is within walking distance of Terminals 1 and 3.
From swanky clubs to cosy bars, Toronto's nightlife has something for everyone. Visitors can expect action and a cosmopolitan vibe in this big, energetic city.
On the ethnic front, Little Italy has a number of trattorias that double as bars, while Greektown has its own flair and party atmosphere. Broadly speaking, bars and pubs close around 2am, while dance clubs stay open till dawn. Late-night buses pick up after-hours commuters when the subway shuts down.
Clubs come and go fairly quickly in Toronto, so visitors should check out local nightlife guides for the hottest spots. The legal drinking age in Ontario is 19, which is well below the 21-year-old limit in the neighbouring USA. It is strictly enforced at most venues. Dress codes tend to be relaxed, but many will refuse entry for people wearing blue jeans or trainers.
Public transport in Toronto is fast, safe and reliable. It consists of an integrated system of subways, buses and streetcars that reach every part of the city. The subway has four lines and is easy to use, and there are bus and streetcar stations next to every major stop - taking over where the subway leaves off.
Fares are standard, and a single fare will take commuters anywhere on a single trip. Commuters can use tokens to avoid the hassle of having to pay with exact change. To freely change from one form of transport to another, commuters should get a transfer slip when paying for the fare.
The subway runs from 6am-2.00am, while buses and streetcars operate from about 6am-12.30am. Both start at around 8am on Sundays. The Blue Night Network services main street routes after 1.30am. Taxis are always available and ferries travel to the Toronto Islands. Driving a hired car is not recommended due to traffic congestion and expensive parking.
Toronto guarantees something for everyone. With striking natural scenery, charming neighbourhoods, and one of the world's tallest towers all on offer, visitors truly are spoiled for choice.
The city has a range of fantastic museums, including the Royal Ontario Museum, the Museum of Contemporary Art, the Canadian Air and Space Museum, the Ontario Science Centre, and the Hockey Hall of Fame. There are also numerous art galleries, like the OCAD Professional Gallery, the Art Gallery of Ontario, and the Gardiner Museum of Ceramic Art.
Visitors can enjoy many distinct neighbourhoods, like Toronto's huge Chinatown, which is home to the city's 350,000 Chinese-Canadian residents. There's also Little Italy, the lively Art and Design District, and Leslieville, with its antique and vintage shops. The funky West Queen West has boutiques, art galleries and restaurants. The Toronto Islands and harbour front areas are perfect places to relax without having to travel far from the city.
Travellers can save money on many of Toronto's attractions by buying a Toronto CityPass online. It provides discounted tickets to places like the Ontario Science Centre, the CN Tower, and the Toronto Zoo.
Niagara Falls
Straddling the Canadian-United States border between Ontario and New York, the awesome Niagara Falls attracts millions of tourists every year. The visit makes for a spectacular day trip from Toronto.
Indeed, there is plenty of action on the Niagara peninsula. Apart from appreciating one of the tallest waterfalls in the world (perhaps from a spray-filled boat tour), visitors can enjoy wine-tasting, skydiving, and spectacular helicopter rides above the thundering falls.
Opening time:
Different attractions have different opening hours and seasons. Check website for details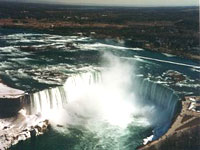 Niagara Falls Judith Duk
Toronto Islands
The Toronto Islands are only a short ferry ride from the mainland, and provide a peaceful green refuge from the hubbub of the city. Whether alone or with company, visitors can enjoy a world of tree-filled picnic spots, car-free streets, quaint old cottages and beachfront attractions.
Three major islands - Centre, Ward's and Algonquin - make up Toronto Island. Paths, bridges and boardwalks connect all of them. Also, short walks or bike rides separate visitors from four sandy beaches named Centre Island Beach, Gibraltar Point Beach, Hanlan's Point Beach and Ward's Island Beach.
Centre Island is normally a hit with kids, who relish its huge picnic areas, bike paths and maze. It even has an amusement park, a petting zoo and picturesque swan boats for younger children.
.
Address:
Toronto Island Ferry Docks, foot of Bay Street and Queens Quay
Transport:
The Toronto Island Ferry operates daily from 9am to 10pm, and leaves every 30 minutes. It travels to Hanlans Point, Centre Island and Wards Island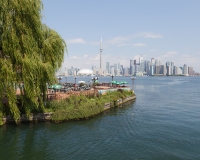 Toronto Islands Norman Maddeaux
Jungle Cat World Wildlife Park
Jungle Cat World Wildlife Park is one of Ontario's most popular tourist attractions. Just 45 minutes east of Toronto, the park is home to a diverse collection of mammals, such as wolves, skunks, lemurs and chimpanzees. That said, its collection of big cats makes the park truly special.
When it opened in 1985, the park's purpose was primarily recreational. These days, it has taken on a more pronounced environmental-education role. The park's chief enterprises include housing rare and endangered cats, and running a variety of fun, kid-friendly programs. The goal is to educate visitors about the dire need to protect snow leopards, Siberian tigers, and the other magnificent animals on display.
Visitors should strive to catch the park's Feeding Tour, which occurs at 1.30pm daily.
Address:
3667 Concession Road 6, Orono
Opening time:
Open daily, from 10am-5pm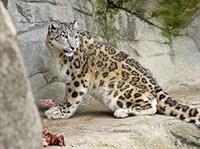 Snow Leopard Tambako The Jaguar