Fort William Historical Park (formerly Old Fort William)
Visitors can travel back to 1816 at Fort William Historical Park (formerly Old Fort William). Located at Thunder Bay, it is an authentic duplicate of the North West Company of Montreal's inland headquarters. The company was a major player in the fur-trading business.
Indeed, the North American fur trade is a part of Canada's colourful past. The fort brings this history to life through recreations of the characters, sounds, sights and smells that would have existed almost two centuries ago. The sprawling 250-acre site contains more than 57 heritage and modern buildings, which visitors are free to explore.
Visitors can also enjoy overnight experiences, education programs, artisan workshops, conferences, banquets, festivals and recreational opportunities.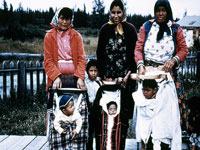 Ontario fur trade Don Pugh
Amethyst Mine
Ontario's official gemstone, amethyst, is one of the many natural resources found on the north shore of Lake Superior. The violet-coloured semiprecious stones native to this area come in beautiful shades, like Precious Purple and Thunder Bay Lavender. Visitors can mine their own at the Panorama Mine, 35 miles (56km) east of Thunder Bay. The site contains the largest deposit of amethyst in Canada. The mine currently produces 40 percent useable amethyst by volume, and has a large digging area open to the public that contains 20 percent useable amethyst. All visitors need is a bucket and spade to enjoy a fun mining experience.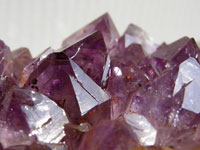 Amethyst Zopilote0
Sleeping Giant Provincial Park
Sleeping Giant Provincial Park is set on a rugged peninsula near Thunder Bay. Known as the 'park of legends', it was once home to the region's natives, who fished and hunted the rolling, forested terrain for some 9000 thousand years.
Today, hikers will enjoy the park's trails, which run to the tops of granite cliffs and open onto spectacular views of Lake Superior. Winter travellers can explore these on skis or snowshoes. The park also supports an exceptional mix of plant life, with two rare orchids, the Adder's Mouth and the Striped Orchid, growing in the southern end.
In fact, 24 types of orchid grow in the park, as do ferns. Wildlife includes more than 200 species of bird, white-tailed deer, red foxes, porcupines, moose, bears, wolves and lynx.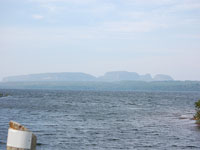 View of Sleeping Giant Graham M Fawcett
Lake Superior
Lake Superior is the largest of the Great Lakes of North America. Ontario shares this vast expanse of water with the American states of Minnesota, Wisconsin and Michigan. The main attractions for visitors are the rugged shoreline and beautiful wilderness landscapes, which, together, can keep lovers of nature interested for hours.
Visitors tend to feel life slowing down as they immerse themselves in all the area has to offer. Scenic tours, hiking trails and kayaking on the world's largest body of fresh water are among the most popular things to do.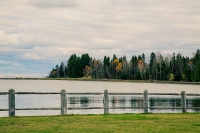 Lake Superior, Thunder Bay, Ontario Tony Webster
Thunder Bay's humid continental climate produces hot summers and cold winters. However, Lake Superior influences conditions and gives the city cooler summers and warmer winters than other places in the region.
The best time to visit is from June to September, when temperatures are warmer. The average high temperature in summer is around 73.4°F (23°C). The hottest month is July, while January is the coldest, when temperatures can dip to -2.2°F (-19°C). Winters can be bitterly cold for visitors not used to extreme temperatures.
Thunder Bay International Airport
Location:
The airport is located three miles (5km) from Thunder Bay city centre.
Time:
GMT -5 (GMT-4 from the first Sunday in March to the first Sunday in November).
Getting to the city:
The airport is serviced by local buses, on line #3 Memorial - Airport. Taxi services at the airport are provided on-demand by Roach's Yellow Taxis.
Car Rental:
Car rental companies represented at the airport include Avis, Budget, Enterprise, National and Hertz.
Airport Taxis:
Taxi services at the airport are provided on-demand by Roach's Yellow Taxi.
Fascilities:
Airport facilities include wifi, shopping, a restaurant, a lounge and security services.
Parking
Long-term and short-term parking are available at the airport's 500-plus bays.
Thunder Bay has a large fleet of fully wheelchair accessible buses that service the city and surrounds. The local council has also transformed the city into a pleasant place to walk or bike, meaning locals and visitor can enjoy an extensive network of cycle lanes, recreational trails, wide sidewalks and active living corridors. Taxi services are available; drivers will find ample parking.
Ontario boasts about 330 parks, attracting more than 10 million visitors annually. Many of these lovely protected areas are clustered near Thunder Bay and around the massive Lake Superior, offering travellers numerous options for outdoor recreation. Lake Nipigon and the township of the same name are close to Thunder Bay, and are also a hub for outdoor pursuits such as hiking, camping and water sports.
The region has some cultural diversions as well. The Amethyst Mine Panorama is a working quarry offering walking tours. It is a great favourite with visitors, who get to poke around for souvenirs in one of the largest Amethyst deposits in the world. The Fort William Historical Park is a living history attraction that recreates the days of the North West Company and the Canadian fur trade. Also, the Magnus Theatre gets rave reviews.