Glenbow Museum
Located in the heart of Calgary opposite the tower, the Glenbow Museum is Canada's largest museum, with more than 93,000 square feet (8,640 sq metres) of exhibition space, spread over three floors. It houses more than a million objects that fill up its 20 galleries and showcase the colourful history of Canada's West.
Explore the exhibits to discover the people, stories, and events that shaped the region, from its First Nations to the arrival of the European settlers. There is a family-friendly Discovery Room, which is an open studio full of educational activities and crafts that bring the museum to life. A special feature is the Blackfoot Gallery, which tells the story of the Nitsitapi people through interactive displays, artefacts, a film, and circular narrative path.
There are also some 28,000 artworks dating from the 19th century to the present on display in the museum. Glenbow's library is a treasure trove of reference materials on western Canada, with the Glenbow Archives serving as a major research centre for historians, writers, students, and the media.
Address:
130 9th Avenue SE
Opening time:
Tuesday to Saturday 9am-5pm; Sunday 12pm-5pm. Closed Monday.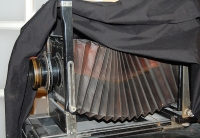 Camera, Glenbow Museum Rick Goldman
Calgary Zoo
Canada's second largest zoo is home to more than 1,000 animals from all over the world, as well as a variety of fish and insects in natural habitat enclosures. It also features a prehistoric park with 19 life-size animatronic dinosaurs on display.
The botanic gardens include a 20,000 square foot (1,858 sq m) conservatory, butterfly garden, and a special Rocky Mountains exhibit featuring many indigenous Alberta animals, including the endangered Whooping Crane. The zoo is situated close to the downtown area, on St George's Island, and is a wonderful treat for the whole family.
Address:
210 St. Georges Drive North East
Opening time:
Daily 9am-5pm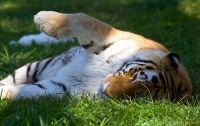 Tiger at Calgary Zoo Tony Hisgett
Fort Calgary
This historical site chronicles Calgary's history between 1875 and the 1940s, allowing visitors to step back in time and explore the early days of the city through interactive exhibits, costumed interpreters, hands on activities, guided tours, and an entertaining audio-visual presentation.
Fort Calgary is situated on the site of an original North West Mounted Police Fort and is designed to preserve the history of the founding, development, and growth of the city. The 40-acre riverside park includes the reconstructed 1875 fort, 1888 barracks, the interpretive centre, and Deane House Historic Site and Restaurant.
Address:
750 - 9th Avenue SE
Opening time:
Daily 9am-5pm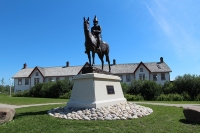 Fort Calgary davebloggs007
Columbia Icefields
Made up of eight major glaciers, this massive field of ancient ice is situated near the town of Jasper in the middle of Jasper National Park. The icefield covers 125 square miles (325 sq km) and in places is estimated to be 1,270ft (385m) deep.
The icefield feeds four of North America's major river systems: the Columbia, Fraser, Mackenzie, and Saskatchewan Rivers. Its meltwaters flow into three different oceans: the Pacific, Arctic and Atlantic.
Tours of the glacier are offered on snowcoaches between April and October each year. Ice-walk tours are also offered by the Jasper Adventure Centre. The icefields are one of Alberta's natural marvels and a must-see for outdoor enthusiasts in the region. Of course, the Jasper National Park also has many other attractions and activities on offer.
Address:
Jasper National Park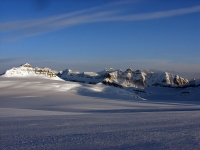 Columbia Icefield Rufus Hawthorne
Heritage Park Historical Village
Heritage Park is a village of living history, comprising more than 180 exhibitions that attempt to show what life was like in Alberta in the 19th and 20th centuries. Set on 127 beautiful acres of parkland and located just 15 minutes from Calgary's central business district, Heritage Park makes for a worthwhile daytrip, especially if you have kids in tow.
Highlights include steam train rides and an impressive collection of vintage automobiles. Thousands of genuine historical artefacts have been used in the creation of the park, while other buildings and scenes have been faithfully recreated. Costumed interpreters educate and entertain visitors, bringing history to life.
Address:
1900 Heritage Drive Southwest
Opening time:
Monday to Friday 10am-5pm, Closed Saturday and Sunday.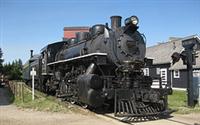 Heritage Park Historical Village Phil Whitehouse
Canada Olympic Park
Canada Olympic Park was a major venue during the 1988 Winter Olympic Games and now hosts skiing and snowboarding programmes every winter. It also houses the Canadian Olympic Hall of Fame and Museum, and is frequently used as a venue for festivals and events in Calgary.
Known to locals as COP, it remains a chief tourist attraction for casual visitors and winter sports enthusiasts alike. The park is operated by WinSport Canada and is used year-round. In summer, it is used for sports like mountain biking and there are obstacle courses and zip lines to conquer.
Address:
88 Canada Olypmic Road Southwest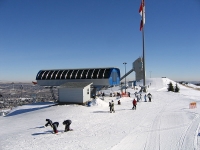 Canada Olympic Park Tyson2k
Calgary Tower
The city's most recognisable structure, Calgary Tower is a must-visit landmark which looms 626 feet (191m) above the city. The glass-floored observation deck offers spectacular 360 degree views of the city below, while there's a revolving restaurant on offer.
Tours of the city are offered by guides on the Observation Deck, allowing visitors to take in many of the city's major attractions from their vantage point in the sky. Calgary's Tourist Information Centre is located at the base of the tower, a useful stop for all visitors, and there are also gift shops selling Calgary souvenirs and the like.
Address:
101 9th Avenue Southwest
Opening time:
Daily 9am-9pm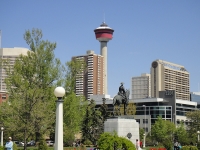 Calgary Tower Calgary Reviews
Calgary experiences a humid continental climate, warm summers and cold winters, with temperatures often dropping below freezing. The mountains cause Calgary's climate to be rather dry, the little rainfall that does occur falls in summer (June to August).
Winters (December to February) are long and cold and occasionally relieved by a warm wind called a Chinook. Average daily temperatures in Calgary are 62°F (17°C) in summer and 20°F (-7°C) in winter. The weather in Calgary is highly changeable and daily predictions are often off the mark.
Calgary's affluence has meant a restaurant boom that encompasses nearly every worldwide cuisine, so eating out in Calgary can include a range of experiences. The city's specialty is Alberta beef, generally acknowledged to be some of the best in the world. But expect to see elk or bison on the menu as well. There are a range of great international options as well, from sushi and Asian to French and Italian cuisine.
The best Calgary restaurants are generally located within easy distance of the city centre and are concentrated in three areas: the Eau Claire district on Prince's Island, the chic 4th Street and 17th Avenue Mission district, and the downtown area that includes Chinatown and the Stephen Avenue pedestrian mall.
All restaurants in Calgary are smoke-free, even outdoor dining areas. Nearly all restaurants will accept credit cards and Canadian cash, although some will take American dollars at their own discretion. The exchange rate is never in your favour, though. A service gratuity of 10 to 15 percent is expected for good service and is not included in the bill.
1886 Buffalo Café
Calgary's 1886 Buffalo Cafe specialises in one thing: breakfast. Locals know it as the place to go for hearty meals to start the day, including the hashbrowns, vegetarian chilli omelette, and breakfast burrito. It's housed in the former site of the Eau Claire and Bow River Lumber Company's offices, built in 1911, overlooking the trendy Eau Claire downtown district. 1886 is open weekdays from 6am to 3pm, and weekends from 7am to 3pm.
Address:
187 Barclay Parade SW
Vin Room
The elegant and upmarket Vin Room is a restaurant where everything is designed to complement the wine, from the decor to the menu. The food is predominantly tapas, with fusion options ranging from meat and cheese platters to bison short ribs, fish tacos, and oysters.
Lunch entrees include choices like salads, pasta and steak. They have a number of interesting wines available, with small tasting options before you commit to a glass or bottle. The tables are close together and it gets crowded, so it's always a good idea to call ahead.
Vin Room is located in the chic Mission District. It is open Sunday through Wednesday from 3pm to 10pm, Thursday from 3pm to midnight and Friday and Saturday from 3pm to 1am.
Address:
2310 4th Street SW
Calgary Stampede
For ten exciting days each July, the Wild West wins the day in Calgary when the city comes alive with a celebration of true western hospitality and rousing fun. The Calgary Stampede centres around a myriad of rodeo events that see top professional cowboys compete in bull riding, roping, bareback riding, and steer wrestling.
Meanwhile, the gathered crowds join in the festivities with pancake breakfasts, square dancing, and cheering on a two-hour parade, ground-shaking chuckwagon races, and a spectacular evening Grandstand Show extravaganza. The celebration is enhanced by other attractions like an authentic Indian village, recreated frontier town, gambling hall, and dazzling fireworks display.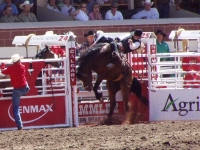 Calgary Stampede Rodeo JamesTeterenko
Morningside Music Bridge International Music Festival
The Morningside Music Bridge International Music Festival is a month-long summer classical music programme, established in 1997 to promote interaction between talented Chinese and Canadian music students.
Polish students are also now featured prominently, and the festival attracts students from Japan, Taiwan, the Netherlands, Norway, Russia, Korea, New Zealand, France, and the US. The students earn places in the scholarship programme through a competitive auditioning process.
Concerts featuring both students and faculty take place throughout July and early August in venues all over Calgary. Lovers of classical music in Alberta during the festival will be delighted by the amount of quality recitals on offer.
Venue:
Mount Royal University's Lincoln Park Campus, and other Calgary venues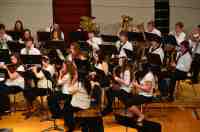 Concert band Sheila Herman
Calgary Folk Music Festival
A well-respected music festival, the Calgary Folk Fest (as it's commonly known) attracts about 50,000 music fans to Prince's Island Park every year. Featuring more than 60 local and international acts each year and spread across seven stages, the Calgary Folk Music Festival is considered to be a bit of a purist's festival, known for listening and appreciative audiences.
Venue:
Princes Island Park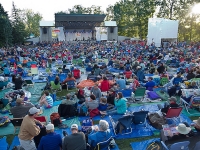 Calgary Folk Festival Larry Kwan
Calgary's nightlife is thriving, which is no surprise considering more than half of its population is under 30 years old. The most popular nightlife areas are in the city centre, including the lounges, pubs, and restaurants in the Mission district, focusing at the intersection of 4th Street and 17th Avenue. Stephen Avenue is bustling in the early evening as young professionals empty their offices downtown, and you'll find quite a few clubs, pubs, and live music venues there.
There are a number of live music venues, including the Ironwood Stage and Grill in 9th Avenue, which hosts country, blues, and folk bands, while there are establishments catering to the varied tastes of Mount Royal College's students.
Calgary's dance clubs are as varied as its live music, so you'll find offbeat places, which play everything from retro funk to breakbeat, alongside more mainstream entertainment venues. For those who enjoy live comedy, you can visit the Comedy Cave in MacLeod Trail, or the Laugh Shop Comedy Club at the Blackfoot Inn in Blackfoot Trail.
Getting around in Calgary is easy as most of the city's attractions are concentrated within the city centre. The streets downtown are laid out in a numbered grid with avenues running east to west and streets running north to south, while in outlying areas neighbourhoods have more meandering streets which can be confusing to visitors.
Because of the grid system, walking around downtown Calgary is a simple way to get around. The Eau Claire market area and the Stephen Avenue Mall are pleasant pedestrian-only areas. Calgary's public transport system is efficient and reliable, with a light rail and bus system servicing the city centre. The light rail runs from 4am to midnight every day, and the buses operate from 5am to midnight, with some routes continuing until 1am. There is a fare-free zone in the middle of town, and in other areas a pass can be purchased at many convenience stores.
There are plenty of taxis available, either by hailing them in the street or calling the dispatch. Note that taxis cruise mainly the central areas of the city. Driving in Calgary is relatively stress-free. Many streets are one-way, and streets marked 'transit only' are for public transport vehicles only.
Parking downtown can be scarce and confusing, as the city uses an automated pay system that requires you to enter your zone and license plate number into a pay station. It is often easier to park in a private lot. There are numerous companies from which you can hire a car in Calgary.
The bustling metropolis and vibrant culture is a treat, but sightseeing in Calgary is dominated by the natural wonders that surround the city. Calgary is the gateway to Alberta's many impressive landscapes, which include mountain lakes, rolling prairies, and icy glaciers.
If you do find yourself exploring the city, there are many museums and cultural sites in Calgary worth visiting, all located within easy distance of the city centre. The Glenbow Museum is Alberta's largest history museum, with nearly 30,000 artefacts from Canada's history. It has archives onsite, along with a cafe, shop, and library.
The Tsuu T'ina Museum looks more specifically at the history of the Sarcee tribe, complete with antique headdresses and a model tepee. The Heritage Park Historic Village takes a living look at Canada's history, with an antique midway, old-fashioned bakery and candy store, and authentic steam train among the attractions. Fort Calgary is another place to explore frontier life, with 40 acres of land set up to resemble life in 1875.
Prince's Island Park brings nature into the heart of the city, with fishing sites and a network of hiking and biking trails. The park also features the Eau Claire Market, with its array of funky boutiques, restaurants, theatres, and art galleries. The Olympic Park is also a popular spot for lovers of sports. Whatever visitors enjoy, there is something for everyone in Calgary.
Moraine Lake
Located within Banff National Park and close to the popular resort towns of Lake Louise and Banff, Moraine is a spectacular glacially-fed lake. Its waters are a vivid turquoise colour due to rock flour, which are tiny particles of suspended sediment. On a clear day, the lake reflects the surrounding mountains in its mirror-smooth surface.
There's plenty to see and do in the snow-capped and pine-strewn Valley of the Ten Peaks, including an assortment of scenic hiking trails, kayaking facilities at the Lodge, and an onsite café serving wonderful food and refreshments.
Although not impossible, getting to Moraine can be difficult if you are without a car. Take a bus to Banff station, and from there you can either walk the nine miles (14km) to the lake; rent a bicycle; take a taxi; or make use of the Park-run Vista shuttle service, which departs every 30 minutes from the Lake Louise campsite.
Address:
9 miles (about 14km) from Lake Louise, located within Banff National Park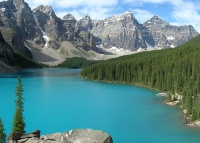 Moraine Lake Tobias Alt
Calaway Park
The kids won't let you get away with not visiting Calaway Park, western Canada's largest outdoor amusement park. Calaway Park is the ideal destination for a fun-filled family outing, with thrilling rides and entertainment. The park has been in operation for more than three decades and is greatly enjoyed by locals and tourists alike.
Open seven days a week during the warmer months, this outdoor park closes during the frosty Alberta winters. Check the calendar on the official website listed below for exact opening times and dates.
Address:
245033 Range Road 33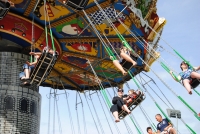 Calaway Park trec_lit
Head-Smashed-In Buffalo Jump
A buffalo jump is a ledge or cliff traditionally used to lure stampeding buffalo to their deaths. Head-Smashed-In is one of the oldest, largest, and best preserved in the world and was used by the native people for about 6,000 years.
Head-Smashed-In not only has a wonderfully descriptive name, but also boasts its status as a UNESCO World Heritage Site. It proudly displays exhibitions detailing the life and history of the Blackfoot people, the original inhabitants of the Great Plains region of southern Alberta. It is now a remarkable archaeological site and well worth a visit for any traveller interested in Canadian history.
Address:
92 Township Road, Willow Creek
Opening time:
Daily 10am-5pm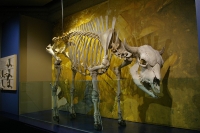 Head-Smashed-In Buffalo Jump Kim Siever