Temples of Angkor
The magnificent Temples of Angkor are a must-see on any trip to Cambodia, taking the visitor into the heart of the ancient Khmer Empire. Built between the 9th and 13th centuries, more than 100 temples have been uncovered as evidence of this impressive ancient civilisation and one of the biggest cities of its time. Angkor Wat is the largest religious monument ever built, an impressive Hindu temple surrounded by a moat, and acknowledged as one of the wonders of the world. The walled Royal City of Angkor Thom is home to the Bayon Temple and its huge stone faces, another fascinating attraction. Khmer architecture is unique and although it evolved from that of the Indian subcontinent, and borrowed from neighbouring traditions, Angkor Wat stands as testament to the power and individuality of the Khmer's ancient oriental art form.
The complex includes ancient ruins, well-preserved temples, religious sites, monuments and lots of stone work and will take you a few days to explore in entirety. If your budget allows, you can see Angkor from the air in a hot air balloon or helicopter. It is particularly special to see the temple complex at sunrise and sunset, and it is best to avoid going during the midday heat. Don't forget hats and drinking water and wear comfortable walking shoes. Also note that visitors are expected to dress respectfully and ticket vendors may refuse entry to those showing too much skin.
Address:
Three miles (5km) outside Siem Reap.
Opening time:
Daily 5.30am-6pm.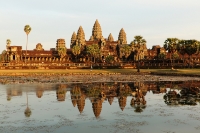 Angkor Wat, Cambodia Juan Antonio F. Segal
Aki Ras Landmine Museum
The Aki Ra Museum, often simply called the Cambodian Landmine Museum, provides a jarring counterpoint to the ancient Khmer glories on display at Angkor Wat by showcasing the more recent horrors of Cambodia's political and social upheavals. This museum, founded by Aki Ra, a former Khmer Rouge child soldier, provides a clear and compelling account of this troubled time, and the appalling legacy of landmines and unexploded ordinance that are still a blight on the lives of Cambodian people today.
Despite ongoing efforts to find and defuse these sleeping weapons, it is estimated that about five million still remain. Aki Ra himself deactivated over 50,000 of them, many using his own homemade tools. The museum contains hundreds of these landmines, and many other weapons, providing a useful service by teaching visitors and locals how to recognise these devices and what to do should they encounter them. The museum exists primarily to tell Aki Ra's fascinating story, and to gain exposure for the Cambodian struggle with landmines. It is also home to a number of children supported by the museum, who are all victims either of landmines, disease, or simply poverty.
Address:
Located four miles (6km) south of Banteay Srey Temple, within the Angkor Wat Archaeological Park.
Opening time:
Open daily 7.30am-5pm.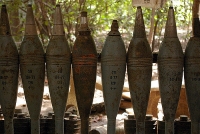 Landmine Museum, Cambodia spiraltri3e
Psar Chaa - Old Market
Psar Chaa, the Old Market, is Siem Reap's most popular shopping experience for visitors. The outside stalls sell every kind of souvenirs including silk, carvings, stoneware, faux vintage items, clothes, paintings, and photos of Angkor Wat temples. You can even get very reasonably priced haircuts at the market. Further inside are fresh produce and seafood stalls. The food stalls are an excellent opportunity to sample authentic Khmer food, invariably served with the distinctive local prahok, a type of fermented fish paste. A good accompaniment is coconut milk drunk directly from the fruit. The ubiquity of baguettes and frog legs is a clear and delicious legacy of the French colonial era.
Be aware that some merchants have learnt to exploit naive tourists; you are expected to bargain and can get up to 75 percent off the asking price if you do so well. Be patient and good-natured and maintain your sense of humour and you can get wonderful deals. The Old Market is very central and conveniently located close to the river and the popular Pub Street.
Opening time:
Daily 7am-8pm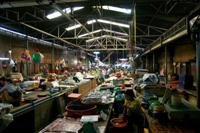 Psar Chaa Market Allie_Caulfield
Angkor National Museum
This museum is an archaeological museum dedicated to the preservation and presentation of the Angkorian articles. It convenient and useful stop-over en route to the temples of Angkor, allowing visitors insight into the centuries of history, culture, rich symbolism, and myth associated with the temple complex which often remains hidden when viewing the Angkor temples without a guide. The museum's main attractions are its archaeological treasures, including the lion and demon heads missing from the temple statues, Khmer artefacts predating the Angkor period, and a fascinating collection of ancient Khmer and Sanskrit inscriptions on stone tablets. There is a striking gallery dedicated solely to images of Buddha and a gallery featuring the ancient costume of the Angkor period, including jewellery and headdresses.
The museum uses multimedia displays and various artefacts to evoke the golden age of Khmer culture. Displays are colourful and vibrant and the information is informative and accessible. The building itself is fairly recent, with a modern, lavishly air-conditioned, and enormous 20,000 square metres of floor space and some dramatic fountains. There is also a museum gift shop for souvenirs. Allow at least an hour for a visit. In addition to the entrance fee, and the optional extra cost for taking in a camera, visitors can pay for an educational headset.
Address:
No.968, Vithei Charles de Gaulle, Phoum Salakanseng, Khom Svaydangum, Siem Reap
Opening time:
Daily 8.30am-6.30pm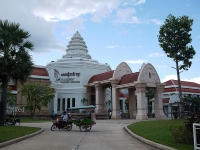 Angkor National Museum e_chaya
Siem Reap's climate is typical for Cambodia, and can be described as tropical with seasonal monsoons. The weather is warm year-round and temperatures do not range drastically.
There are two distinct seasons: the rainy season and the dry season. Temperatures during the rainy season (June to October) average at about 93°F (34°C). Dry season high temperatures, from November to May, average slightly higher at 97°F (36°C).
Visitors should bear in mind that roads can get very muddy and rain showers can disrupt activities during the rainy season. The city can be dusty and very hot when it's dry. The cooler winter months running from November to February may be the best time to visit Siem Reap.
Siem Reap's variety of restaurants cater to every taste. Visitors will find traditional Cambodian (or Khmer) food as well as Western staples.
The Old Market area boasts a wonderful assortment of restaurants, as do Wat Bo Road and Sivatha Street. Pub Street is a great favourite among tourists. Psar Chaa (Old Market) is home to a group of restaurants selling local food for foreign palates. Most restaurants stay open late and it's easy to find reasonable prices. Local markets, like the Old Market, are also exciting and wallet-friendly places to sample local cuisine.
Regarding Khmer cuisine, visitors must try the national dish, Fish Amok, which is cooked with chillies, onion, spinach and coconut milk, and served with rice in banana leaves. The more adventurous should try exotic Khmer staples, like red tree ants and fried tarantulas.
Siem Reap International Airport
Location:
The airport is three and a half miles (6km) west of Angkor Wat, half an hours drive from Siem Reap city centre.
Getting to the city:
There are taxis available outside the airport terminal, and some hotels arrange private airport transfers if requested.
Car Rental:
It is possible to rent a car at Siem Reap International.
Airport Taxis:
There are taxis available from outside the Siem Reap International Airport and the journey to the town centre takes about half an hour.
Fascilities:
There are ATMs, duty-free shops, food vendors, restaurants, a smoking lounge, and a lost and found available to visitors at Siem Reap International Airport.
Parking
Parking is available at the airport.
Chaul Chnam Thmey
A Cambodian event not to be missed is the Chaul Chnam Thmey (Khmer New Year), a three day festival held in April each year featuring colourful processions, music, dancing... and a lot of water and talcum powder bombs! People douse each other with water as a blessing, with coloured water signifying the wish for a colourful future. The local Khmer people make offerings and exchange gifts at the end of the harvesting season. Traditionally, houses are cleaned and decorated with flowers, streamers, and balloons and an altar is set up to welcome the spirit of new year. People wear new clothes for the celebrations and children give gifts of money, fruit, or other foods to their elders as a sign of respect. Many children also wash the feet of their parents or other elders to show their devotion and respect. Cambodians have many traditional games and these are played enthusiastically over the Cambodian New Year on street corners and in homes.
Chaul Chnam Thmey marks the beginning of the new year but also the end of the busy harvesting season, when farmers give thanks and celebrate the fruits of their labour. It is a fun and exhilarating time to visit the country, particularly the Angkor Wat Temple complex, where celebrations reach their peak.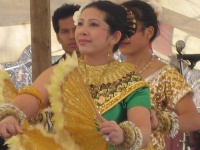 Fan dance cambodia4kids.org
Angkor Wat International Half Marathon
The Angkor International Half Marathon attracts more than 8,000 runners annually, with nearly 78 countries represented in recent years. This 21km race through the magnificent Angkor temples has become increasingly popular.
All funds raised are devoted to victims of landmine explosions and a number of other pressing issues in Cambodia including the education and prevention of HIV Aids. There is also an Angkor bike race which has three categories: the 100km race, the 30km race, and a fun family race event.
The bike race usually takes place the day before the marathon. Participants can also choose to attend a number of related celebrations and events including a Gala Dinner Party at the Prasat Bei Temple which includes a traditional dance show.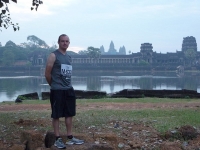 Angkor Wat Half Marathon ronan crowley
Siem Reap is small enough for most of its attractions to be within walking distance. Otherwise, visitors can choose between taxis, tuk-tuks, rental cars, and motorcycle taxis to get around the city. Scooter or bicycle rentals are also options, though motorcycle accidents involving tourists are common enough for Siem Reap's authorities to periodically ban rental outlets from servicing foreigners.
The roads in and around Siem Reap are generally poor and Cambodia has one of the highest rates of traffic accidents in Southeast Asia. Wearing a helmet on scooters and motorcycles is compulsory (there are spot fines).
Tourists mostly use tuk-tuks for travel within the city. Indeed, English-speaking tuk-tuk drivers can double as very effective and informative guides. It's important to negotiate rates with them before setting off.
Though there are plenty of things to experience in Siem Reap, many top attractions lie just outside the city. The famous Angkor Archaeological Park is the most notable sightseeing destination. Stretching over 150 square miles (400 sq km), it houses some of the most important archaeological sites in Asia. More specifically, the park contains the magnificent remains of several buildings and monuments from the ancient Khmer Empire (9th to 15th century). The most famous sites include the Temple of Angkor Wat and the Bayon Temple. Adventurous travellers may want to visit temples like Beng Mealea, which nestles in the jungle. The Angkor temples can easily occupy visitors for several days, particularly as the Angkor Archaeological Park's landscapes are magnificent in and of themselves.
There are several notable tourist attractions within Siem Reap, including the Angkor National Museum, which is a useful complement to the archaeological wonders of the Angkor Temples. This modern museum is home to impressive galleries of artefacts taken from the temple complex. Another not-to-be-missed museum in Siem Reap is rather a different experience. Aki Ra's Landmine Museum lays out the modern strife of a country still struggling with landmines.
Visitors must be sure to visit Psar Chaa (the Old Market), a bustling collection of merchant stalls. This is a good venue for shopping and experiencing daily life in Siem Reap.
Villages on Stilts
Most tuk-tuk and moto drivers in Siem Reap will be only too happy to take you on a tour of one of the area's famous 'villages on stilts'. Many of the houses lining Tonle Sap Lake are built on ten foot (3m) poles, so that when the water rises - as it does every year during the monsoon - the homes are not flooded or washed away. There are three main floating villages around Siem Reap located around the Tonle Sap Lank. The closest floating village is situated in Chong Khneas, just an hour's drive from Siem Reap. Villages closer to Siem Reap tend to be touristy, while those further away are far more picturesque and authentic.
A two-hour boat trip through Chong Khneas village costs about $8 per person or around $20 for a boatload. While the stilted homes are at their most practical during the wet season, the villages are most visually spectacular during the dry season, when their long stilts rise up eerily out of the mud or shallow water. Be aware that there have been tourist scams in the villages and that the poverty witnessed can be disturbing.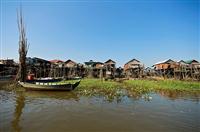 Floating Village Paul Stocker
Tonlé Sap Lake
Boeung Tonlé Sap (Tonlé Sap Lake) is one of the largest freshwater lakes in Asia, containing a rich and diverse eco-system. Inhabitants include multiple bird and fish species, crocodiles, turtles, macaques, and otters, as well as villagers living in stilted or floating houses. The Prek Toal Bird Sanctuary in the Tonlé Sap Biosphere Reserve is home to ibis, stork, pelicans, and fish eagles; the best time to view these birds is in the dry season. There is also a Tonlé Sap Exhibition in Siem Reap, showcasing Khmer heritage through a display of the local people's culture and environment.
Boat tours on the lake are popular and an enthralling way to see the riverside villages and interact with the locals. Be aware that while the majority of guides are friendly and competent, there have been reports of some trying to scam tourists and charge ridiculous rates for boat trips. It usually costs well under $20 to hire a boat and you can share it between a few people. Tips for the guides are also expected.
Address:
The lake is about nine miles (15km) south of Siem Reap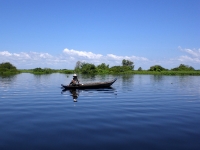 Tonle Sap Lake K-ro27
Beng Mealea
For those visitors especially charmed by Tah Prom's jungle-clad stones within the Angkor Wat complex, it is well worth making the five-hour round trip to visit Beng Mealea. Its name meaning lotus pond, this little-visited sandstone temple, has now almost completely fused with the surrounding jungle. Built in the 12th century as a Hindu temple, and long since abandoned, this sprawling complex is on a similar scale, and built in a very similar style, to Angkor Wat. The temple is so well preserved that it looks nearly identical to what the first western visitors there must have experienced when stumbling upon these forgotten wonders.
Little is known about the temple's history, what is known is that it was once the centre of a town taken over by the dense Cambodian jungle. If you prefer to travel off the beaten track then Beng Mealea, overgrown and largely unrestored, will captivate you with its mystery and the relative freedom of the experience of exploring it. Visitors are allowed to climb and investigate freely, and the peaceful atmosphere encourages many to spend time reading, writing, or relaxing in a chosen spot among the ruins. Many of the carvings have been desecrated by earlier souvenir hunters, but in other ways the integrity and atmosphere of the structure has benefitted from the small number of visitors.
Address:
45 miles (70km) from Siem Reap
Opening time:
Daily 7am-5.30pm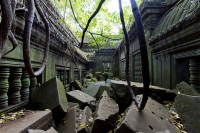 Beng Mealea Lawrence Murray