Bulgaria is a country rich in both natural and cultural attractions and from a sightseeing perspective it caters to all tastes. Popular things to see and do in Bulgaria include myriad outdoor activities and opportunities for ecotourism, and the country's mountain scenery is unsurpassed. In addition to this natural splendour, Bulgaria has a rich history and folklore and visitors can enjoy a wealth of archaeological sites, religious institutions, museums and ethnographic attractions.
The capital city, Sofia, boasts a number of the most popular sightseeing attractions in Bulgaria, including the Boyana Church, Alexander Nevsky Cathedral, St George Rotunda, the SS Cyril and Methodius National Library, and the St Sophia Church. Looming over the city is another great Bulgarian tourist attraction, the Vitosha Mountain, which provides a natural playground for visitors and locals alike in all seasons.
Bulgaria is half covered in mountains and it is the craggy beauty of its many ranges that most characterises the country in the global imagination. The more delicate, flowery mountains in the Rhodope range, which is scattered with picturesque villages, is complemented by the rugged splendour of the Pirin and Rila mountain ranges. Some of the most popular attractions in the mountainous regions are the 10th-century Rila Monastery, the Pirin National Park, the folk centre of Momchiloutsi village, and a number of ancient Thracian sites. This is, of course, in addition to the natural wonders of caves, hot springs, alpine lakes and dense forests.
Bulgaria's tourism tends to be dominated by its many beach and ski resorts but these holiday centres, enjoyable though they are, should only serve as a doorstep into the country, which has a lot to offer travellers, and is often overlooked as a great European destination.
Pirin National Park
Situated in the highest reaches of the Pirin Mountains, Pirin National Park encompasses rugged alpine peaks that rise 8,202ft (2,500m) into the atmosphere with more than a hundred glacial lakes spread at their feet. The magnificent landscape is made up of old forests, waterfalls, caves and areas of limestone that are home to near-extinct flowers like the edelweiss and Pirin poppy. Boasting an abundance of rare and endemic species of plants and animals, this unique national park is listed as a UNESCO World Cultural and National Heritage Site.
Alpine mountaineering and skiing are popular activities in Pirin, as is hiking. The park boasts numerous, well-maintained hiking trails which wind through stunning scenery. There are also little wooden huts with bunk beds for hikers to sleep in on the trails. The hiking trails are generally pleasantly uncrowded but if you want to spend the night in one of these rustic huts then it is best to book it in advance. The popularity of the park with outdoor enthusiasts, together with the cultural heritage of the surrounding mountain settlements and stunning scenery, make Pirin National Park an attractive tourist destination which usually rates highly on a Bulgarian travel itinerary.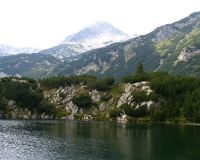 Pirin National Park Madcat87
St. Sofia Church
The St Sofia Church, also called the Hagia Sophia Church, is the oldest Eastern Orthodox church in the city, dating from the 4th to 6th century, and is regarded as one of the most significant examples of early Christian architecture in the Balkans. In the 14th century the church gave its name to the city of Sofia, meaning 'holy wisdom'.
The church was built on the site of several earlier churches and places of worship, dating back to the days when the site was part of the necropolis of the Roman town of Serdica. As a result, several tombs have been discovered under and around the church which are incredibly interesting for history buffs.
During the Turkish rule the church was converted into a mosque, but was abandoned after two successive earthquakes destroyed one of the minarets almost 30 years later, and it was again converted into an orthodox church. Local legends credit St Sofia's miraculous powers for its protection over the centuries, surviving occupations and natural disasters to remain a spiritual inspiration to the city.
Address:
ul. Paris 2, 1000 Sofia, Bulgaria.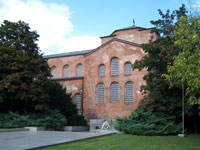 St Sofia Petar Iordanov
St George Rotunda
The rotunda church of St George is considered to be the oldest building in Sofia, dating back to the 4th century, and is situated amid the remains of the ancient Roman town of Serdica. The St George Rotunda is famous for its exquisite architecture and layers of medieval frescoes that were discovered under a covering of plaster.
The church currently functions as a museum and the magnificent dome is protected by UNESCO. It is located in a square enclosed by the Presidential Buildings and this makes the contrast between the ancient and the modern quite striking. There is a fair amount of information on the history and significance of the site available at the entrance, which is worth reading. There is a pleasant restaurant next door to the site where you can enjoy a meal with views of the church, and if you linger for a while you might well see the guards marching by.
Visitors must ensure that they are dressed appropriately and conservatively as people with bare arms or legs will not be allowed entry into the church.
Address:
bul. Kniaz Aleksandar Dondukov 2, 1000 Sofia, Bulgaria.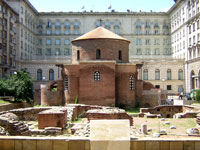 St George Rotunda Preslav
Alexander Nevsky Cathedral
One of the finest examples of 20th-century architecture in Sofia, and one of the most iconic buildings in the city, the magnificent Alexander Nevsky Cathedral was built between 1882 and 1912 to honour the Russian soldiers who died fighting to liberate Bulgaria from Turkish rule in the war of 1878 under Tsar Alexander II. It is one of the biggest cathedrals on the Balkan Peninsula. The famous religious monument is situated in the centre of Sofia, on the tree-lined square of the same name, which also contains the Monument of the Unknown Soldier.
The impressive five-nave basilica houses an interior just as splendid, with mosaics, stained glass windows, marble and woodcarvings as well as frescoes that cover the walls and domes. The underground crypt houses the Icon Museum featuring icon paintings from across the country that represents masterpieces ranging from the 9th to the 18th century. For those who fall in love with the Bulgarian icons, there is often a local artist who paints and sells replicas in the little museum gift shop. There is also a souvenir market very close by.
The cathedral is an active place of worship, so services and events may disrupt sightseeing, but entry to the main building is free.
Address:
pl. "Sveti Aleksandar Nevski", 1000 Sofia, Bulgaria.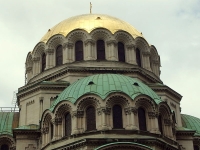 Alexander Nevsky Cathedral, Sofia, Bulgaria Mark Ahsmann
National Ethnographic Museum
The National Ethnographic Museum in downtown Sofia has one of the richest collections of cultural artefacts on the Balkan Peninsula, representing the traditions, arts, crafts and lifestyle of the Bulgarian people from the 17th to the 20th century. The museum contains a wealth of exhibits from around the country, amounting to over 50,000 items including national costumes, jewellery, art works and musical instruments.
If you are lucky, and the place is not crowded, one of the staff members may give you a personal tour. This is the best possible place to find out about local folklore and to gain an understanding of the traditional clothes (the embroidery on the borders serve a purpose in Bulgarian mythology), customs and beliefs. It is also a popular cultural and educational centre.
The National Ethnographic Museum is located in the same building as the National Gallery, the old Royal Palace, and you can buy a joint ticket to see both of these worthwhile attractions if you prefer. A great museum shop on the premises sells crafts and other traditional items from all over Bulgaria - a useful place to shop for presents for those waiting at home.
Address:
1 Prince Alexander Square.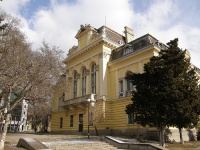 National Ethnographic Museum Klearchos Kapoutsis
Vitosha Mountain
Rising above the capital city of Sofia, Vitosha Mountain is one of the symbols of the capital and is the most visited mountain in Bulgaria. Starting where the suburbs end, the whole mountain has been designated a national park - the oldest in the Balkans - and is home to deer, bear, wild boar, fox and a variety of rare birds. Vitosha is known for its 'stone rivers', or moraines, piles of huge rounded granite boulders carried and deposited by glaciers thousands of years ago, as well as for its restorative mineral springs.
Vitosha is popular during all seasons and the well-known resort of Aleko is the most established winter ski resort in the area, offering modern hotels and ski facilities within easy reach of the capital. Although you could spend a good portion of your holiday enjoying this mountain and staying in its resorts, you can just as easily head up the mountain for a hike one afternoon and experience some beautiful views of the city below. There is a cable-car and several bus routes which can take you part of the way up Vitosha. There are several great picnic sites to enjoy if the weather is good and an excursion up the mountain is a lovely activity for the whole family.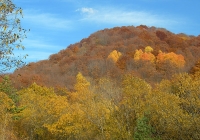 Forested Hill, Vitosha, Bulgaria Edal Anton Lefterov
Rila Monastery
The biggest and most famous of Bulgaria's monasteries is situated in the northwestern part of the Rila Mountains and is one of the most significant monuments on the Balkan Peninsula. Rila Monastery was founded by a hermit, St John of Rila, in the 10th century, and eventually became a monastic complex that played an important role in the spiritual history of medieval Bulgaria.
Having survived fire, abandonment and plunder, the monastery fascinates visitors with its exquisite architecture, rich murals and icons and valuable museum collection, including old manuscripts, jewellery, textiles, church treasures and a library containing thousands of books. The Rila Monastery is a UNESCO World Heritage Site and a must-see attraction for anybody visiting Bulgaria.
Photography is not allowed inside the Monastery, and although the monastery does provide shawls to borrow for those who are underdressed, it is best to go prepared in respectful and conservative clothing when you visit this religious site.
Transport:
There is regular bus transport to the monastery from the town of Rila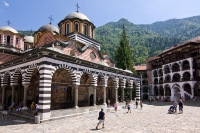 Rila Monastery, Bulgaria Raggatt2000
Momchilovtsi
In the heart of the Rhodope Mountains lies the picturesque village of Momchilovtsi, a popular cultural and ethnographic centre that has preserved its original folklore, traditions and crafts. The Centre for Traditional Bulgarian Arts and Crafts provides a unique opportunity for visitors to attend courses to learn about, and participate in, traditional crafts like folk dancing, weaving, woodcarving, cooking, music and various artistic handicrafts.
In winter it is a popular base from which to visit the famous ski resort of Pamporovo, which is only four miles (7km) away, and the surrounding mountains and rivers offer superb hiking, spelunking, trout fishing, and hunting. The village is set in beautiful surroundings and many use a holiday here as a retreat from the bustle of city life; like a number of other areas in Bulgaria, Momchilovtsi is known for its clean air and is often promoted as a good spot for health and rehabilitation holidays. There are 24 churches and chapels in the village and its immediate vicinity, including the famous SS. Constantine and Helen Church, built in 1836. The village offers a number of guided walking tours which help visitors make the most of the local scenery and nearby attractions.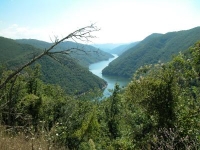 River Mesta, Rodopis, Bulgaria Nikos Kanellopoulos
Petrified Forest
Just 13 miles (about 20km) west of Varna, Pobiti Kamani (the Petrified Forest) makes for an interesting and worthwhile daytrip. The origin of the stone columns - which measure up to 23 feet (seven metres) in height, and 10 feet (three metres) in girth - remains a mystery, with geologists holding differing opinions about how they were formed.
Regardless of their origin, however, Pobiti Kamani's columns are unique, and make for a fascinating, photo-filled excursion from Varna. Needless to say, visitors and locals come up with their own, more mystical explanations for the phenomenon, and many feel that it is a magical place.
Occupying an area of 27 square miles (70 sq km), the Petrified Forest is a wonderful place to spend the day, exploring the strange terrain, and enjoying a picnic in the sun. It is best to go in April or early May, when the weather is idyllic, but even if it is not sunny the landscape will intrigue visitors. You have complete freedom to wander about the area at your leisure and it is a great excursion for the whole family.
Address:
Varna Province, on the road between Varna and Sofia.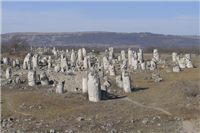 Pomiti Kamani, the Petrified Forest Juha-Matti Herrala
Boyana Church
The Boyana Church complex - located on the outskirts of Sofia - is a UNESCO World Heritage Site, and one of Bulgaria's most important tourist attractions. The first of the three buildings that make up the Boyana Church complex was built in the 10th century, but it is the second building - constructed in the 13th century - that is the obvious tourist draw card.
Containing frescoes painted in 1259, the second Boyana Church building is nothing less than the site of the most important collection of medieval eastern European art in the world. The paintings, which conform to a Byzantine aesthetic, are almost perfectly preserved and offer visitors a rare insight into the long, proud history of Bulgarian art and culture. The church complex also houses the National Museum which boasts a rich collection of historical and cultural artefacts. It is recommended that visitors hire one of the professional guides available to give them a tour of the church and museum as they greatly enrich the experience.
Address:
ул. Боянско езеро 3, 1616 Sofia, Bulgaria.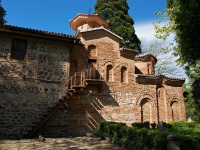 Boyana Church, Bulgaria Todor Bozhinov
Bulgaria has a temperate-continental climate, which is typical for Central Europe.There are four distinct seasons: summer is long, hot, and generally considered peak tourist season; autumn is also a pleasant time of year popular with tourists for its rich, autumn colours and the fact that it is less crowded; winter is long and cold, but opffers great skiing opportunities; while spring is warm and lovely for all of the blossoming flowers.
Bulgaria is generally a sunny country with between 2,200 and 2,500 hours of sunlight every year. It can rain throughout the year and thunderstorms are common in the summer months. Snow falls abundantly between December and March, especially in the mountainous areas. There is a marked difference in weather between the mountains and the milder, southern regions near the Mediterranean sea. Summer temperatures, between June and August, average around 75°F (24°C); whereas winter temperatures, between December and February, average around 32°F (0°C). Bulgaria is a year-round tourism destination because it attracts off-season visitors for skiing, but the most popular time to visit is summer.
Money:
The official currency is the Lev (BGN), which is divided into 100 stotinki. Bulgaria has strict currency regulations. If you enter Bulgaria with cash of any currency amounting to the equivalent of BGN 8,000 or more, you must declare it to customs officials. Foreign currency may be exchanged in banks, hotels, or at one of the numerous bureaux de change; however, due to a common practice of misleading rates of exchange it is better to go to banks to change money. A receipt called a bordereaux is issued when exchanging currency, indicating the amount that will be given, and it must be kept until departure. Major international credit cards are increasingly becoming accepted by tourist hotels, upmarket shops,and restaurants, travel agents and car rental agents, but Bulgaria is still largely a cash economy. There are ATMs in the main cities and at Black Sea resorts.
Language:
Bulgarian is the official language, which uses the Cyrillic alphabet, but English, German and French are spoken in resorts, hotels, and restaurants.
Electricity:
Electrical current is 230 volts, 50Hz. European two-pin plugs and schuko plugs are in use.
Entry Requirements:
Citizens of the US do not need a visa to visit Bulgaria for a period of up to 90 days. Passports must be valid for at least three months beyond period of intended stay.
British Citizens do not need a visa to visit Bulgaria for a period of up to 90 days. A passport valid for at least three months beyond period of intended stay is required.
Canadians do not need a visa to visit Bulgaria for a period of up to 90 days. A passport valid for at least three months beyond period of intended stay is required.
Australians do not need a visa to visit Bulgaria for a period of up to 90 days. A passport valid for at least three months beyond period of intended stay is required.
South Africans need a visa to enter Bulgaria, except for stays of up to 90 days for holders of a Schengen visa. A passport valid for at least three months beyond period of intended stay is required.
Irish nationals do not need a visa to visit Bulgaria. A passport valid for the period of intended stay is required.
Citizens of the US do not need a visa to visit Bulgaria for a period of up to 90 days. Passports must be valid for at least three months beyond period of intended stay.
New Zealanders do not require a visa for a maximum stay of 90 days. A passport valid for at least three months beyond period of intended stay is required.
Passport/Visa Note:Visa:
Visitors must have proof of sufficient funds or onward or return tickets in addition to other documents needed for the next destination. Immigration and entry regulations are very strictly enforced. Passports of all visitors should be valid for at least three months after leaving Bulgaria. We recommend that passports be valid for three months after intended period of travel. Visa requirements vary from country to country.
Travel Health:
Bulgaria poses few health risks and there are no vaccinations required for entry. Vaccinations for hepatitis A and hepatitis B are, however, always recommended for travellers, and a typhoid vaccination is recommended for travellers who may be eating and drinking outside of hotels and restaurants and travelling off the beaten track. Similarly, a rabies vaccination is recommended for travellers who will be spending a lot of time outdoors or who will be exposed to animals.
Travellers should note that medical treatment can be expensive and payment is expected immediately. Facilities in local hospitals are basic and specialised treatment or equipment may not be freely available. Medical insurance, with provision for emergency evacuation, is therefore vital. Travellers from the UK should also hold a European Health Insurance Card (EHIC) in case of emergency medical treatment.
Tipping:
Tips of 10 percent of the bill are customary for most services, including restaurants, while hotel porters and taxi drivers expect visitors to round up the bill for good service.
Safety Information:
Most visits to Bulgaria are trouble-free. Violent crime is rare, but criminal groups target casinos and nightclubs and groups of young pickpockets are active in city centres and the Black Sea holiday resorts. Car theft is also relatively common.
Local Customs:
Foreigners should be aware that traditionally a shake of the head means 'yes' and a nod means 'no', although allowances are often made for visitors; it is useful to clarify the answer verbally to avoid confusion. Family values are extremely important in Bulgaria, so treating seniors with deference is important.
Business:
Relationship building is important in Bulgaria, and initial meetings may be used as an introduction, after which more business-related meetings can be planned. Face-to-face meetings are therefore preferred over communication by email, fax or phone. The use of English in business is increasing, however the services of a translator might be required, and presentations should include the use of visuals where possible. Introductions include firm handshakes, and the exchange of business cards. Dress should be conservative business attire and punctuality is expected. Business hours are generally 9am to 6pm, Monday to Friday.
Communications:
The country dialling code for Bulgaria is +359, followed by the relevant city code. The city code for Sofia is (0)2. The outgoing code is 00 followed by the relavent country code (e.g. 0044 for the United Kingdom). Betcom or Bulgarian Telecommunication Company phone booths require a special card available from kiosks. Telephone offices are also available and are attached to post offices. Bulgaria is one of the few countries in Europe that has no peak or off-peak call times. The country has mobile operators, and several Internet Service Providers. Internet cafes can be found across big cities.
Duty Free:
Travellers to Bulgaria, aged 17 and older, do not need to pay customs duty on 200 cigarettes or 50 cigars or 250g of tobacco; 1 litre of spirits and 2 litres of wine; 50g of perfume or 100g of eau de toilette; and gifts. Allowances are larger for goods purchased within the EU. Prohibited items include arms and ammunition, narcotics and pornography.