Ibirapuera Park
The Parque do Ibirapuera is a large park near the centre of Sao Paulo with many interesting features, including a planetarium, a Japanese pavilion, a gymnasium, the Obelisk of Sao Paulo (a symbol of the Constitutionalist Revolution of 1932), and the Cicillo Matarazzo Pavilion, which houses the Museum of Contemporary Art and is typically the venue for large events like the São Paulo Art Biennial and São Paulo Fashion Week. The park is home to many other museums, including the Air Force Museum and Folklore Museum. It also has jogging and walking trails and a picturesque lake. Generally the park is a good spot to explore for those wanting a bit of holiday exercise or some fresh air in the heart of this sprawling city.
Address:
Avenida Pedro Alvares Cabral, Vila Mariana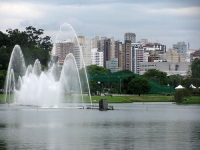 Ibirapuera Park Mathieu Plourde
Julio Prestes Cultural Center
This cultural centre and concert venue is located in what was once the Julio Prestes Train Station, an imposing and meticulously restored building. The highlight of the centre is the Sala Sao Paulo, a concert venue which seats nearly 1,500 people and is home to the renowned Sao Paulo State Symphonic Orchestra (OSESP). Specifically designed as a venue for symphonic and chamber music, the Sala has world-class acoustics and is the best place for classical music lovers to catch a concert in the city. Other events are also hosted at the cultural centre, including a vast variety of musical concerts, with pop and rock featuring alongside the traditional, classical offerings.
Address:
Praca Julio Prestes 16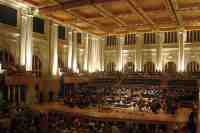 The Sala Concert Hall Luis Guilherme Fernandes Pereira
Despite its reputation as a grey urban metropolis, there is a lot for kids to see and do in Sao Paulo. The city's wide array of museums and cultural centres offer children fun and educational experiences, while the various parks and gardens give them a chance to run around.
Sao Paulo's museums cover so many themes and areas of interest that there's bound to be one for everyone, like the Science Station in Lapa, housed in a formerly abandoned factory, which has children's exhibits dedicated to astronomy, physics, meteorology, math, geology, geography, and more.
The Sao Paulo Zoo is a great place to start, giving kids the opportunity to interact with a variety of animals, both local and international. Many animals, including the lions, giraffes, bears and elephants, were rescued from a circus, while the zoo is focused on conservation of indigenous animals like marmosets, macaws, and neotropical cats. The nearby Safari Zoo experience is a bit wilder, with animals roaming free while visitors drive themselves through in their cars.
There are a lot of other great parks in Sao Paulo as well, including the Ibirapuera Park, which has great family attractions like a planetarium, gymnasium, and Air Force Museum. The Parque Siqueira Campos has a miniature rainforest, and the Praça da República is a great place for family picnics.
Children's attractions in Sao Paulo also include several amusement parks great for families. The Playcentre in Barra Funda has Brazil's biggest roller coaster, along with other rides and games. It's conveniently located within walking distance from the metro. The city centre is also where you'll find children's attractions dedicated to South American pop culture figures like television personality Xuxa and comic book character Mônica.
Less central is Hopi Hari, a large amusement park about 45 miles (72km) north of Sao Paulo. The park has several themed areas focusing on European and local culture, and rides including roller coasters, a haunted house, and a Ferris wheel.
For hot days, families can head to Wet'n Wild, about 50 minutes from Sao Paulo. The popular water park offers water slides, wave pools, a lazy river, and 'Bubble Up' attraction as ways to beat the Brazilian heat.
Cold days are also taken care of if you head 34 miles (54km) out of town to Ski Mountain Park, which offers skiing, snowboarding, tobogganing, a skating rink, and more. There's also horseback riding, mountain biking, and a playground for the summertime, giving older kids and teens something to do in Sao Paulo all year long.
Taxis to theme parks outside of town can be expensive, but most have dedicated buses that leave from various points around the city every morning.
The climate of Sao Paulo is a humid subtropical one and may not be as congenial as other Brazilian cities, but it is warm and sunny enough by world standards. The weather remains mild to warm all year round, the lowest average temperatures of around 58°F (14°C) being experienced during July and the summer averages of around 73°F (23°C) being enjoyed during the hottest month of February. Summer is rainy season (October to March), and winter is dry season (April to September). Sao Paulo receives around 56 inches (142cm) of rain a year, mostly during the summer months.
Governador André Franco Montoro International Airport
Location:
The airport is located 16 miles (26km) northeast of Sao Paulo.
Time:
GMT -3 (GMT -2 between the third Sunday in October and the third Sunday in February)
Transfer Between Terminals:
Terminal 1 is small and handles only domestic flights. A free shuttle bus connects it to Terminals 2 and 3, which are themselves linked by a walkway. There is a fourth terminal that handles large air cargo, and is off limits to passengers.
Getting to the city:
EMTU buses depart from GRU Airport, bound to Congonhas Airport, Praça da República, Tietê Bus Terminal, and Barra Funda, Itaim Bibi, Circuit Paulista, and Brooklin Novo. There is an airport shuttle bus which drops off at the main hotels. Taxis are available outside the terminals.
Car Rental:
Car hire companies include Avis, Hertz, Localiza, Movida, and Unidas.
Airport Taxis:
Taxis are available outside the terminals. Visitors are advised to take the official airport Guarucoop taxis; they are usually a little more expensive but give peace of mind.
Fascilities:
There are a number of bars, restaurants, and shops at the airport. There are banks, currency exchange bureaux, postal services, gift shops, restaurants, bars, cafes, gift globes, and ATMs. There is duty-free shopping before customs for Arrivals. Tourist information desks are available as well as business facilities and conference rooms in nearby hotels.
Parking
Parking is available at a variety of different parking buildings around the terminals, including standard and premium parking options.
Sao Paulo Carnival
Although Sao Paulo's carnival is less famous than Rio's version, travellers will still be enthralled by the glittering, colourful, riotous fun of a city-wide party, and may even find that the comparative lack of tourists makes the festival seem more authentic. Tickets are also significantly cheaper and easier to come by in Sao Paulo.
The main parades of the carnival (called blocos) make their way down Avenue Paulista, and the samba school competitions that form the backbone of the festival programme are held in the Sambodromo, which accommodates up to 30,000 people. As elsewhere in Brazil, the residents of Sao Paulo dress up in vibrant costumes to celebrate carnival.
Venue:
Sambodromo and Avenue Paulista are central to the festivities.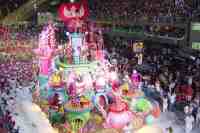 Samba Parade, Sao Paulo Alan Betensley
Brazilian F1 Grand Prix
Often selected as the site of the final race of the Formula One season, the bumpy Interlagos Circuit of Autódromo José Carlos Pace is not a favourite with the drivers. But for spectators, it is one of the most thrilling circuits.
The track is 10 miles (16km) away from the city centre and is a challenging course, making for an exciting and often unpredictable race. There is always a great atmosphere, with the stands often filled with the yellow, blue, and green of the Brazilian colours.
Venue:
Autódromo José Carlos Pace (Interlagos)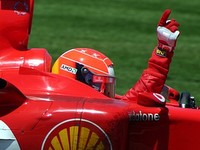 Michael Schumacher Rick Dikeman
Sao Paulo LGBT Pride Parade
The Sao Paulo Gay Parade is one of the city's major tourist events and the highlight of a month-long programme of events that includes parties, street fairs, film festivals, shows, and the traditional Gay Day at Hopi Hari amusement park. The LGBT (Lesbian, Gay, Bisexual, Transvestite, and Transsexual) Parade in Sao Paulo is said to be the biggest event of its kind in the world, having grown from 2,000 people in 1997 to include more than three million people today, who gather on the streets waving rainbow flags in condemnation of homophobia, racism, and sexism. As with most Pride parades, many people choose to dress up extravagantly and the parade is accompanied by lots of parties and festivities.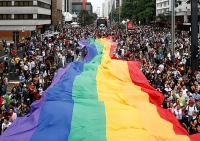 Sao Paulo Pride Parade Ministerio da Cultura
Sao Paulo's party scene is a late-night one: most Paulistas (locals) don't go out until midnight. In fact, there's a saying in the city: 'when the sun comes up, you hardly notice'.
Sao Paulo's nightlife is a reflection of its cosmopolitan image. Its bars and clubs are spread out around the city, though you'll find clusters in neighbourhoods like Vila Olímpia, where the dance clubs are popular with twentysomethings, and Vila Madalena, where you'll find restaurants and bars that appeal more to revellers in their thirties. Because bars and clubs are so spread out, it can be a good idea to stick to venues in one area, rather than running up large taxi bills getting caught in Sao Paulo's late-night traffic jams. It is not advised to walk around the city at night.
Bars in Sao Paulo have their own system for payment. Instead of or in addition to the entry charge, there will be a drink minimum. You'll get a card that will record all your expenses for the night, and pay everything when you leave. Be careful not to lose this card, as the penalty is very steep!
Live music in Sao Paulo is among the best in Brazil, with a wide variety of styles to suit every taste. The formal Teatro Municipal and the Sala São Paulo, where the Sao Paulo Symphony Orchestra performs, have good programmes of classical music, theatre, and dance. The Teatro Italia hosts regular Brazilian contemporary dance performances. For a more relaxed evening, head to Bourbon Street, a popular jazz club founded by BB King himself. Villa Country hosts Brazilian Country music, and Armazem da Vila plays pagoda, which is a simpler form of samba.
If you feel like dancing, Sao Paulo has many options for that as well. Azucar has a reputation as the best Latin dance spot in the city, with meringue, salsa, and mambo playing all night long. Bar Favela is a popular option too, and includes pop and hip hop music along with Latin dance. Blen Blen Brasil is also popular, with a more relaxed and eclectic feel, mixing deejays and live bands. If you're unsure of your steps, you can go to the Buena Vista Club, which offers dance lessons in traditional Latin club styles like the gafieira and the zouk.
Sao Paulo also has a few popular gay clubs, including Lov.e in Vila Olímpia, and Bendito Fruto Bar in Vila Madalena.
Visitors should be aware of local terms: the words boate or boite, which in Rio mean nightclub, refer almost exclusively to sex clubs and strip bars in Sao Paulo.
Pick up a copy of the Friday Folha de São Paulo newspaper, which has a great concert and event guide. Veja magazine also has a good entertainment guide that comes out on Sundays, and the monthly Revista Cultural, a government publication, has up-to-date information on more formal events like theatre, exhibitions, classical music and dance.
Shopping in Sao Paulo is a big deal, as the city is the major luxury shopping destination for all of Brazil. Visitors will find designer labels and haute couture to rival the best boutiques of New York or London, small outdoor craft markets, and everything else in between.
Popular things to buy in Sao Paulo include religious antiques, soapstone carvings, leather goods and gemstone jewellery, which are offered by various shops throughout the city. You can also find local gemstones carved into shapes like toucans, jaguars, and other wild figures.
If your budget is bigger, though, you won't find a better place to look for Brazilian fashion than Sao Paulo. Neighbourhoods like Jardins, Rua Augusta or Alameda Lorena have many high-end fashion boutiques carrying designer Brazilian labels like Animale, Victor Dzenk, Ellus, and Totem.
Sao Paulo has a few worthwhile outdoor markets, including the Saturday market Feira do Bixiga, which has crafts, antiques, clothing and live music; and Feira Moderna, offering high-end local goods, set in a flower garden with a relaxed cafe. The Museu de Arte hosts an antique fair every Sunday, and the predominantly Japanese neighbourhood of Liberdade has its own Saturday market. Markets can be a great way to get bargains on Sao Paulo souvenirs, but petty theft can be a problem, so always keep a close watch on your belongings.
There isn't a central shopping district in Sao Paulo, but stores tend to be clustered in groups: Rua 25 de Março has an abundance of market stalls, and Jardins is where you'll find a lot of high-end Brazilian fashion. Daslu is a posh department store catering to every whim of its customers, from free espresso to a sushi bar, and all the designer labels you need to max out your credit card.
There are also a few shopping malls in Sao Paulo, including Patio Higienópolis, Morumbi, and Iguatemi. These tend toward upscale stores, with fine dining and expensive boutiques next to cinemas and food courts.
Shops in Sao Paulo accept credit cards with few exceptions. High-end stores won't bargain, but feel free to haggle at markets. Sales tax is 18 percent, and there is no tax refund scheme for departing tourists in Brazil.
In a huge city like Sao Paulo, roads can be extremely congested, with peak traffic between the hours of 6am to 9am and 4pm to 8pm. Driving is not recommended in the city, as parking can be as much of a problem as the traffic. There are hundreds of buses covering the city, but these can be very crowded and slow during peak hours. Buses won't stop unless hailed from the sidewalk, and pickpocketing is common.
The subway system is usually the fastest option for getting around in Sao Paulo. The metro system consists of five colour-coded lines: Line 1 (Blue), Line 2 (Green), Line 3 (Red), Line 4 (Yellow), and Line 5 (Lilac), all of them operating from Sunday to Friday, from 4.40am to midnight, and on Saturdays until 1am for most lines.
The Bilhete Único is a smartcard that makes it easy to pay for transport on Sao Paulo's buses, subways, and trains. You can buy them at underground stations, and charge them at newspaper stands with credits for public transportation.
Taxis are freely available and absolutely essential after dark. White cabs can be found at stands near big venues and central areas. Radio taxis are more reputable and favoured by tourists, but are more expensive and must be ordered by phone.
Sao Paulo is large and spread out. You won't be able to walk everywhere, but the various neighbourhoods are easy to negotiate on foot and are usually safe by day.
On the surface, Sao Paulo can't begin to compete with the spectacular sights of Rio de Janeiro, but underneath the grey, concrete exterior beats the heart of a vibrant cultural and artistic metropolis. Sao Paulo's artistic community is large, ensuring that there are many art galleries and museums scattered around the city. Clustered in neighbourhoods like Jardins, Cerqueira César, and Bela Vista, you'll find both local and international talent at places like the Luisa Strina Gallery, Arte 57 Escritorio de Arte, Choque Cultural Gallery, and the Museu da Tatuagem (Museum of Tattooing). Sao Paulo is also home to a number of interesting museums, including those dedicated to immigrants, the African Diaspora, the Japanese community, revolutionary heroes, and Brazilian language and literature.
Sao Paulo is the home of Brazil's famous combination of dance and martial art: capoeira. There are several capoeira schools for tourists wanting to give it a try, including the Salão De Festas or Academia Spah.
The city also has some notable green spaces, including the manicured Botanical Gardens, the Sao Paulo Zoo, and the miniature rainforest in the Parque Siqueira Campos. The Praça da República in the city centre is surprisingly green as well, with lagoons, a fountain, and a bandstand.
Sao Paulo has many interesting buildings for architecture enthusiasts, including whimsical Victorian mansions in Bela Vista, and modern skyscrapers like the curving Edifício Copan, the colourful Instituto Tomie Ohtake, the Victorian train station Estação da Luz, and the Baroque cathedral Igreja de São Francisco de Assis. The Italia and Banespa buildings offer panoramic views of Sao Paulo from their viewing decks.
Most attractions in Sao Paulo are easy to get to through a combination of walking and taking the metro. Pickpockets and muggings are common, but visitors are generally safe in well-populated areas during the day.